The 5 Best Land Surveyors in Toronto
When buying a house, financing a property, or owning a construction project, it's important to get your land surveyed to know the boundaries of your property and any attached structures.
In this article, we reviewed the best land surveyors in Toronto that can help you get ready when owning a property. Read on to see what we think about these companies and to help you narrow down your choices.
Reviewing the best land surveyors in Toronto
We assessed the best land surveyors in Toronto using the following criteria:
How much does it cost to hire a land surveyor in Toronto?
In Toronto, the average cost of residential property survey services ranges from $150 to $600.
Meanwhile, surveying a bigger property can range from $2,500 to $4,000 depending on the type of survey that will be conducted. Take note that surveyors also charge for their travel fee, so be mindful if you will choose a surveyor located far from you.
Of course, the final fee depends on factors such as the land's location, existing materials or evidence needed on the land, vegetation, existing records and the property's measurement.
1. Genesis Land Surveying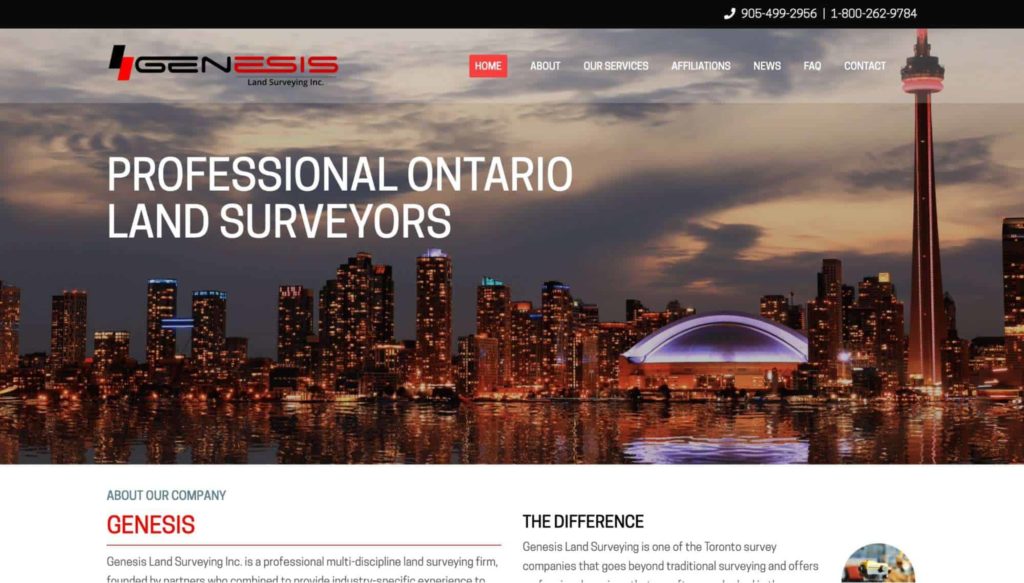 | Test | Info |
| --- | --- |
| KEY SERVICES | Land Surveying, Topographic Surveys, Boundary Disputes, Railway Surveys, Underground Utility Mapping, Underground Utilities, Lot Grading , Deformation Monitoring, LiDAR Scanning, Rentable Area Certificates, Ontario Land Surveyors |
| WEBSITE | https://genesislandsurvey.com/ |
| ADDRESS | 10 Four Seasons Place, 10th floor, Toronto, Ontario M9B, CA |
| CONTACT DETAILS | 905-499-2956 or 1-800-262-9784 |
| OPERATING HOURS | Monday-Friday, 8AM-6PM |
| | |
| --- | --- |
| EXPERIENCE | ★★★★☆ (4/5) |
| SERVICES OFFERED | ★★★★★ (5/5) |
| CUSTOMER SERVICE | ★★★★★ (5/5) |
| RATES | ★★★★★ (5/5) |
Genesis Land Surveying impressed us with its excellent customer service and responsiveness to its clients.
Despite being a relatively small team, they've apparently been able to deliver prompt and elaborate responses to clients with inquiries.
Former clients we've spoken with commend their staff's professionalism and detailed explanation of their services. A couple of them mentioned that top management (including the owner!) personally looked after their account, which is impressive.
We think the hands-on approach of their leadership team increases the clients' trust in the company.
Prices for land surveying range from $1,900 to $3,500 depending on what type of service is being asked, which isn't bad.
Frankly, the only two things that we feel would give some clients pause are the size of the team with the range of 2-10 employees, and their limited experience – the company is quite young at five years old.
Having said that, we've encountered generally positive feedback on them so far – which tells us that they're worth giving a try.
All in all, we think that Genesis Land Surveying is ideal for clients with time-sensitive projects and discerning landowners who like services with a personal touch.
Highly responsive team
Reasonable price for excellent service
Relatively less experienced compared to its competitor
Relatively small team
Customer Reviews
Excellent staff
"Our simple summary is – excellent. Maaz led the Genesis effort, from discussion prior to engagement, the work with the technicians, and drawing up and providing the survey. Best of all, he (and his technician on site) patiently and fully answered my stream of questions! Including a key one after the job was done.
Cost noted includes everything." – Murray, HomeStars
Smooth transaction
"Excellent service from Genesis Land Surveying. Easy communication and clear quote from the beginning. The survey included at no additional charge the CAD files which is often an costly extra with other surveyor (if at all available).
After sending deposit, a technician came onsite to take all the measurements. At the completion of the job, the technician came back to install survey monuments on all property corners and explain to me how to read the survey report and find the property line based on reference points on the survey."–Dave, HomeStars
2. Aksan Piller Corporation LTD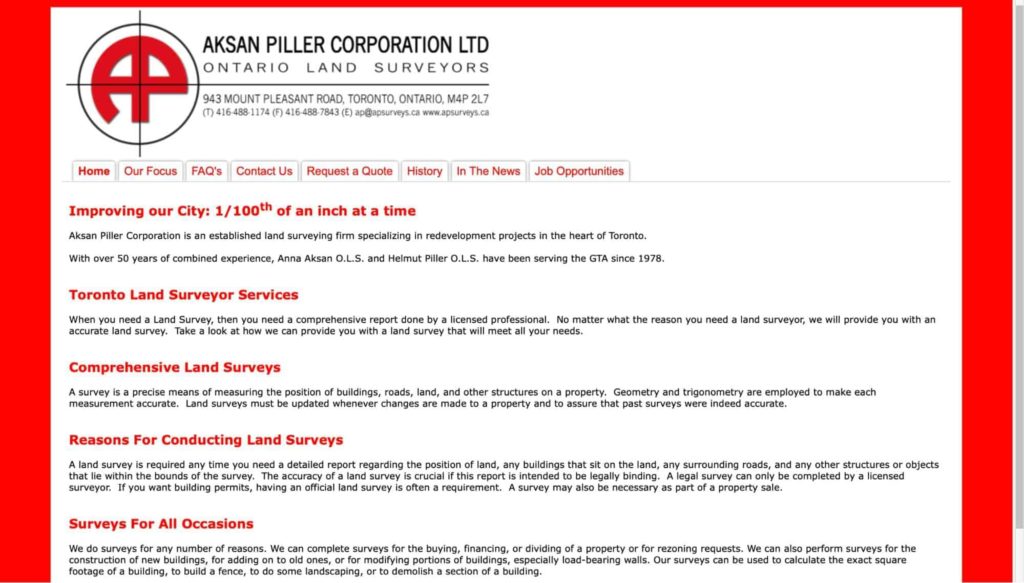 | Test | Info |
| --- | --- |
| KEY SERVICES | Redevelopment projects, excavation work, renovation and rebuilding |
| WEBSITE | http://www.apsurveys.ca |
| ADDRESS | 943 Mt. Pleasant Road, TORONTO, Ontario M4P2L7, CA |
| CONTACT DETAILS | +1 416-488-1174 |
| OPERATING HOURS | Monday-Friday, 7AM-5PM |
| | |
| --- | --- |
| EXPERIENCE | ★★★★★ (5/5) |
| SERVICES OFFERED | ★★★★★ (5/5) |
| CUSTOMER SERVICE | ★★★★☆ (4/5) |
| RATES | ★★★★★ (5/5) |
With over 50 years of experience in the land surveying industry, Aksan Piller Corporation is one of the industry's most seasoned companies. This increases our confidence in their credibility and workmanship.
According to the clients we've spoken with, company founder Mr. Helmut Piller impressed them with his patience, humility, and professionalism as he personally accommodated them with their queries and explained everything with clarity.
We think Aksan Piller Corporation LTD will be the perfect land surveyor if you are planning to upgrade your existing property, as they specialise in renovation and rebuilding land projects.
It wouldn't hurt for them to work on their responsiveness, though. Apparently, they can be difficult to reach, which can be off-putting to clients who prefer to constantly be in the loop.
This may be due to the fact that they're quite a small team. With all hands on-deck, it may be difficult to accommodate queries – but to us, this shouldn't be an excuse for poor communication.
Still, it doesn't negate the fact that they've been around long enough to be deemed industry veterans, and for many good reasons. We just hope that they consider expanding their team and improving their communication.
Over 50 years of experience
Respectful and engaging owners
Some reports of unresponsiveness
Relatively small team
Customer Reviews
Quality service
"The quality of the work was excellent, and we received our survey in a timely fashion. However, what really stood out was the responsiveness of this company. A couple of years after we received our survey, Mr. Piller himself went over and above the call of duty by answering questions that arose with patience, kindness, and clarity. He was professional, knowledgeable, and sympathetic. Highly recommend." – J Reich, Google Reviews
Responsiveness
"Has completed a number of surveys and property line layouts for me over the past few years. Each time the service has been responsive, quick, and and cost efficient. Respectful service, and professional in completing the work timely and safely." – Robert Netopilik, Google Reviews
3. Rouse Surveyors Inc.
| Test | Info |
| --- | --- |
| KEY SERVICES | Construction Surveys, Topographic Surveys, 3D Laser Scanning, Railway Surveys, Amberg Trolley, Cadastral Surveys, Legal Surveys, and Boundary Surveys |
| WEBSITE | https://rousesurveyors.com/ |
| ADDRESS | 56 Fort York Boulevard, Toronto, ON M5V 4A6 |
| CONTACT DETAILS | 416-598-3933/647-436-7940 |
| OPERATING HOURS | Monday-Friday, 8AM-5PM |
| | |
| --- | --- |
| EXPERIENCE | ★★★★☆ (4/5) |
| SERVICES OFFERED | ★★★★☆ (4/5) |
| CUSTOMER SERVICE | ★★★★★ (5/5) |
| RATES | ★★★★★ (5/5) |
What impressed us most about Rouse Surveyors is their strong dedication to their clients. Majority of those we've spoken to commended them for their responsiveness and availability, as well as the detailed way that they address their questions.
Not only does this reflect great client servicing, but also expertise – two of the main criteria we're assessing. That said, they get top marks for these.
The company makes use of the latest and most advanced technologies, such as 3D scanning softwares, to increase the accuracy of the surveys. This will be especially advantageous to clients with more complex properties.
While they have relatively less experience than their counterparts, 12 years in the industry is no small feat. In fact, they are the most-trusted survey service provider for numerous government agencies and privately-held companies.
Most of their clients are construction companies, property developers, engineers, and other property managers, which says a lot about the calibre of their work and the high level of trust they're able to establish in terms of bigger projects.
One of the downsides that we see is that they don't have many services for residential clients. And since they service mostly the commercial sector, it might be difficult for a homeowner to book a slot with them.
That said, we're happy to share that despite a largely commercial client roster, they've apparently kept their rates reasonable.
Use of the latest equipment and technology
Trusted provider for numerous government agencies
Limited range of residential survey services
Relatively less experience compared to competitors
Customer Reviews
Exceptional customer service
"I have a long lasting working relationship with Rouse Surveyors, and they always deliver exceptional service! Tracy and her team are easy to work with, very efficient, friendly and professional. They provide immediate response with a detailed explanation of the whole process. The job they do is very thorough and performed in a timely manner. I feel at ease referring my real estate clients to Rouse Surveyors, as I know they will be in good hands.
If you are looking for a surveying company, I highly recommend choosing Rouse Surveyors!"- Oksana Jancevic, Google reviews
Professional management
"Management is professional and fast at responding to questions and concerns."- Evan Bucholc, Google reviews
4. Geoplan Surveying Ltd.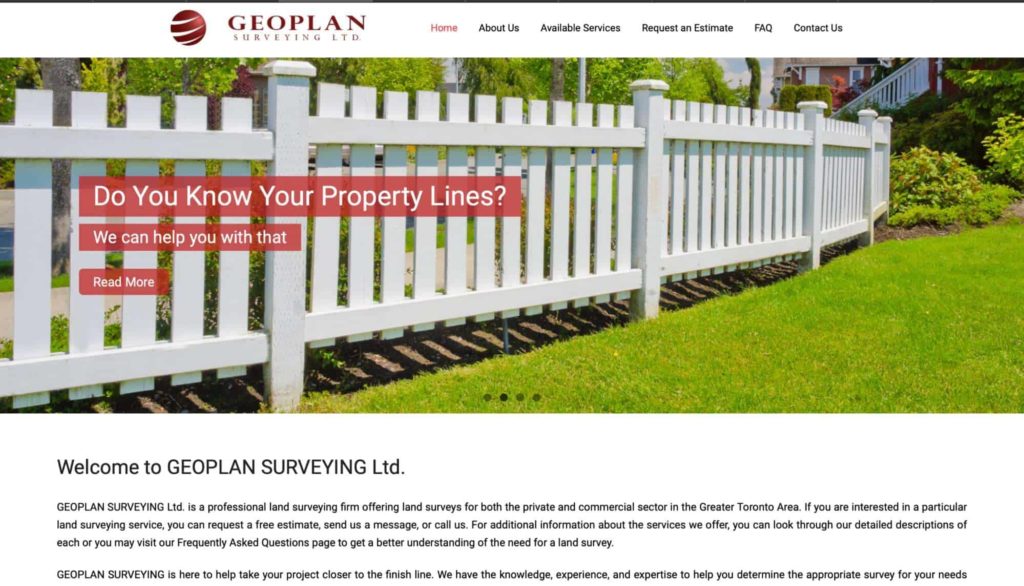 | Test | Info |
| --- | --- |
| KEY SERVICES | Land Surveying, Boundary Surveys, Reference Plan, Severances, Topographic Surveys, Construction Surveys, Subdivision Plans, and Surveyor's Real Property Reports |
| WEBSITE | http://geoplansurveying.com/ |
| ADDRESS | 40 Wynford Drive, Suite 209, Toronto, ON M3C 1J5, CA |
| CONTACT DETAILS | (647) 479-4649/(416) 309-8838 |
| OPERATING HOURS | Monday-Friday, 8AM-5PM |
| | |
| --- | --- |
| EXPERIENCE | ★★★★★ (5/5) |
| SERVICES OFFERED | ★★★★★ (5/5) |
| CUSTOMER SERVICE | ★★★★☆ (4/5) |
| RATES | ★★★★☆ (4/5) |
Geoplan Surveying Ltd. offers a wide range of services not only to big construction projects, but also homeowners. This reflects their deep expertise, showing us that they're able to handle projects of different sizes and complexities.
With over 20 years of experience, Geoplan Surveying's founder Tania Batchvarova is an industry pro, assuring us that the company's clients are in extremely capable hands.
Batchvarova is commended by her clients for her meticulousness, responsiveness, and proficiency.
Those we've spoken with appreciated her counsel on their property requirements, as well has the way she made herself personally available to drop by the site.
One thing that we appreciate about Geoplan is that they value long-term partnerships. This tells us that they're not in it for the quick money; they intend to form strong relationships with their clients no matter the size of the project.
Just a couple of things to keep in mind when it comes to this company: first, they've got quite a lean team. Don't expect immediate responses to your queries – you'd have to be willing to wait a bit.
Second, they're one of the more expensive land surveyors in the city. Rates can go uo to $5,000– which is beyond the usual maximum amount of $4,000.
All that said, we would recommend Geoplan for their industry experience and approach to client servicing.
Founder has over 20 years of experience
Values long-term partnerships
Can take a while to respond to inquiries, depending on season
Lean team
Quite expensive compared to competitors
Customer Reviews
Professionalism
"Geoplan Surveying Ltd. is the most professional company that I have ever dealt with. I highly recommend them to anyone, Tania was amazing she took the extra time to explain detail and to ensure that I was completely satisfied with the work being done. Thank you for the great work" – Popova, HomeStars
Approachable founder
"We bought a house without a survey and decided to have one done as there was a question as to whether the property had a private drive. I contacted GEOPLAN Syrveying Ltd. and was in contact with Tania almost immedidate​ly. As I have absolutely no experience with surveys, she helped me decide on the kind of survey I would need and had it finished within the timeline she quoted. Once completed I was unable to go to her office to pick up the survey, so she had delivered it to me as she had found a clerical error in the deed to the property (passed onto us from the 90's). She explained in detail why the error was worth correcting and exactly what it said (as it had to do with an adjacent lot). She also explained in great detail everything the survey had found so I was well prepared for any changes I needed to make. I would fully recommend GEOPLAN Surveying Ltd. If I ever need another one done, they are who I will be calling for sure!" – Amy Agur, HomeStars
5. Avanti Surveying Inc.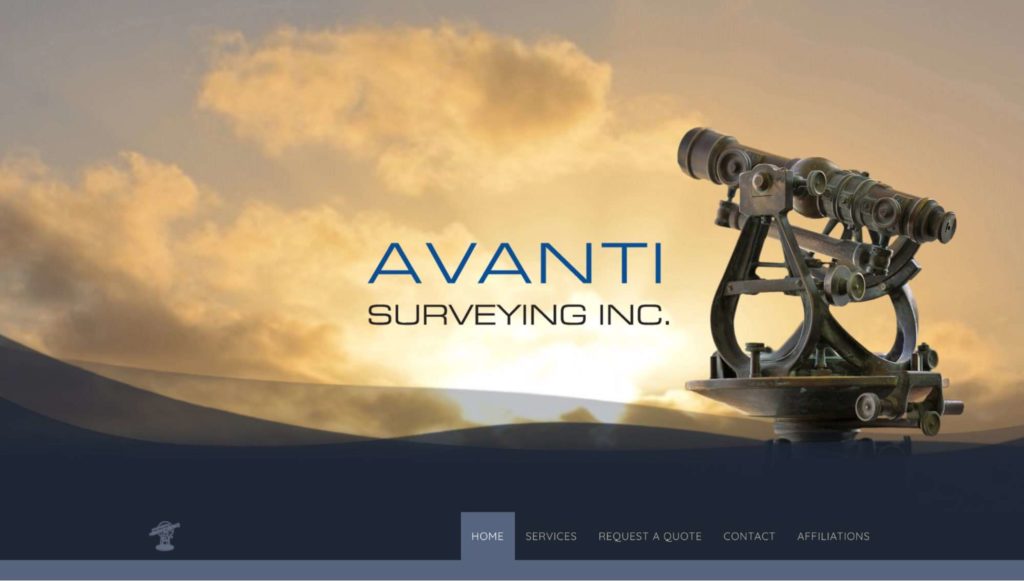 | Test | Info |
| --- | --- |
| KEY SERVICES | Legal Surveying, Surveyor's Real Property Reports, Topographic Surveys, Reference Plans, Site and Grading Plans, Construction Services, Subdivision Plans, Condominium Plans |
| WEBSITE | https://www.avantisurveying.com/ |
| ADDRESS | 310 North Queen Street, Suite #102, Toronto, Ontario, M9C 5K4 |
| CONTACT DETAILS | 416-231-1174/416-621-3360 ​ |
| OPERATING HOURS | Monday-Friday, 8:30AM-4:30PM |
| | |
| --- | --- |
| EXPERIENCE | ★★★★★ (5/5) |
| SERVICES OFFERED | ★★★★★ (5/5) |
| CUSTOMER SERVICE | ★★★★☆ (4/5) |
| RATES | ★★★★☆ (4/5) |
What we like about Avanti Surveying Inc. is the team's expertise on various aspects of land surveying, from survey reports to condominium plans. With 20 years in the industry, this certainly doesn't come as a surprise to us.
They also offer decent rates ranging from $1,800 to $3,200, which fall nicely within the Toronto average. They also get plus marks for flexibility – a client shared that the company was even willing to negotiate the rate for their requirements.
They're also part of the the Association of Ontario Land Surveyors. With the group assessing various aspects of the business such as quality assurance, client relartions, and record-keeping, this is a clear testament to their integrity.
However, we're concerned about how long it apparently takes them to complete a project. We've heard of delays extending up to 5 days beyond the agreed-upon completion date, which caused disappointment among some former clients.
Communication also doesn't seem to be their strong suit either as it reportedly takes them a while to respond to phone calls. This can be a major turn-off clients with time-sensitive requirements.
We hope that the team can work on their client servicing. Years of experience won't matter if they aren't able to deliver at the standard they promise.
20 years of experience in the industry
Open to negotiating their price with their clients
Reports of project delays
Can be difficult to reach via phone
Customer Reviews
Great value
"Avanti honestly did a very good job of our survey (topological) at a very competitive price. Their staff was friendly, courteous and very responsive. The only thing that could have been improved upon is the timing – receiving the survey was slightly delayed by 5 days. For us, this was not a problem since we were doing a survey in January for work to be done in the Spring. If you are not in a super huge rush to get everything done at very specific times, then you really should consider them. Reading the other reviews, it is clear that technically, they are a great choice for your survey, the only issues others seem to have had was slight delays in timing. If you are okay with a 5 day delay, then do not hesitate. You'll be happy not to have paid premium prices for the luxury of getting your survey 5 days sooner." – Zheve, HomeStars
Good service
"I'm not sure why people complained about this company. In my experience the person who picked up the phone was courteous, explained that it would be 3-4 weeks before someone could come out. I was explained that I would be receiving digital and physical copies of my survey and I would get a call notifying me that the surveyor would be coming out. Maybe there was someone else on the phone previously that left a bad mark? I'm not sure.
All in all, I'm happy with the service and would use Avanti again for future projects."- Cam, HomeStars
FAQs about the Best Land Surveyors in Toronto
---
That ends our review of the best land surveyors in Toronto. We hope it will help point you in the direction of the ideal surveyor for your personal home or commercial project!
If you have plans on developing or selling your land property, feel free to check out these reviews: