The 6 Best Fridge Repair Services in Toronto
Broken fridge? Don't worry – we've got you covered!
We hunted down the best fridge repair services in Toronto for you. These companies met our criteria for competitive prices, promptness, and customer satisfaction.
The Cost of Fridge Repair Services in Toronto
Let's talk about prices first.
Naturally, the cost of fridge repair depends on the type of fix required. The price is different for common cosmetic issues compared to part replacement or repairs.
In general, the median cost for fridge repairs in Toronto starts from $260 to $520. Take a look at the table below to see a breakdown of estimated costs for common fridge problems:
| | |
| --- | --- |
| Repair | Estimated Cost |
| Compressor | $25 – $375 |
| Ice Maker | $325 – $430 |
| Freezer | $260 – $325 |
| Defroster | $130 – $260 |
| Gas Leak | $225 – $500 |
| Thermostat | $100 – $440 |
| Control Board | $500 – $800 |
| Rattling Sounds | $60 |
Top Fridge Repair Companies in Toronto
Now that you know how much common repairs would cost, it's time to find the companies that will make every penny worth it for you. Take a look and see if they meet your standards too.
1. High Tech Appliance Service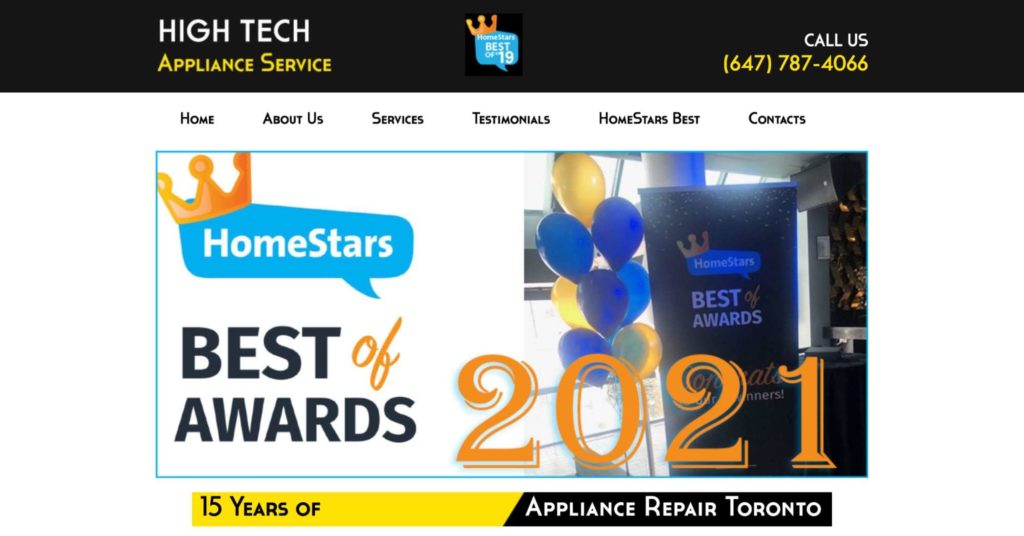 SERVICES
Appliance repair, fridge repair, washer repair, stove repair, dryer repair, dishwasher repair
WEBSITE
https://hightechappliance.ca/
ADDRESS
80 Bridlegrove Dr, Toronto ON M1M 3W9
CONTACT DETAILS
(647)-787-4066
OPERATING HOURS
Monday – Friday: 8:00 AM – 6:00 PM
Saturday: 8:00 AM – 5:00 PM
Sunday: 10:00 AM – 5:00 PM
If you're a fan of speedy service and reasonable rates like us, you'll enjoy working with High Tech Appliance Repair. Here are some highlights we think you'll appreciate:
First, they have a standardized technique of checking your fridge before doing any repairs. This inspection will help you identify other problems you may have not seen at first glance.
Second, their 24/7 emergency isn't just marketing bait. In fact, many past clients praised their prompt response, even during busy hours.
Third, they offer reasonable rates – we're not the only ones who think so, as a survey of their past clients showed most think their prices truly affordable. Top that up with priceless customer service and you have a great package deal.
Finally, we can't pass up on notable business integrity. This is the type of company that would offer to return your money if they can't fix your appliance – but take note, we said "offer" because it's not really on contract.
By the way, they repair almost every appliance too, so they're pretty convenient if you need a go-to repair service.
Of course, we came across complaints as well when checking their history: particularly on installations and replacement parts (not just for fridges). But these issues are relatively small compared to the services they can offer.
TSAA certified
15 years of experience
24/7 same day service
Fair pricing
Standardized inspection before repairs
Services major brands with or without warranty
Open every day
Insured
Has workers' compensation
May not be able to supply the right replacement parts at times
Will offer payment back for failed services, but it's not a guaranteed 100% money-back agreement
Customer Reviews
Take a look at some comments from past customers:
I highly recommend! Atair came within 24 hours of my call, showed up right on time, was polite and dog friendly! He did an excellent job for a very reasonable price!! – Jane Brigman
Called High Tech Appliance to fix my fridge after seeing the great reviews on Google. Atiar was here in a few hours, replaced a couple parts and removed some ice buildup. Super nice guy and excellent service. Thanks Atiar! – Matt Donnelly
2. Modern Appliance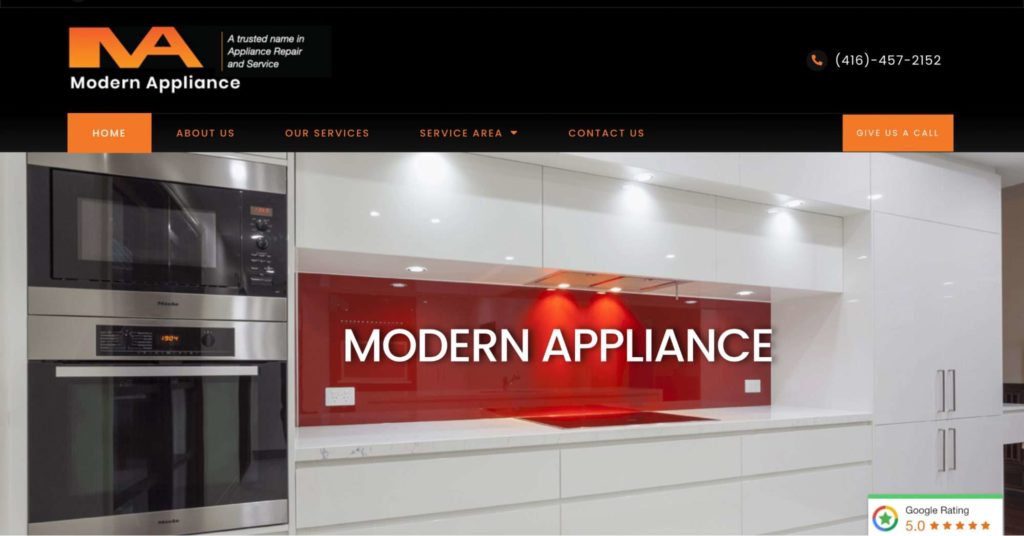 SERVICES
Service and repair on refrigerators, washers, dishwashers, dryers, gas appliances, ovens,
WEBSITE
https://modernappliance.ca/
ADDRESS
Toronto Toronto ON M2H 2X1 26 Horsedreamer Ln, Whitchurch-Stouffville, ON L4A 0G6, Canada
CONTACT DETAILS
(416)- 457-2152


[email protected]

OPERATING HOURS
Monday – Sunday: 9:00 AM – 7:00 PM
Let's get right to what we like about Modern Appliance: they just know how to take care of you. And they do it at a price that won't break your bank.
Our favorite part is the way they diagnose problems and walk customers through possible fixes – all over the phone! So, they'll give you instructions in case you want to try to solve the problem first, potentially saving you money on repair costs.
Of course, they'll come to your home if you can't fix it on your own, which is also a plus considering how fast they are. We found them to be responsive, professional, and charge their services fairly, which are things most customers look for.
Another thing worth noting is the fact that they service 20 fridge brands, from Samsung to Bosch. Speaking of service, their service area includes GTA, Richmondhill, and Markham.
The only negative point we came across is about replacement parts coming in late for some models – but, that's more of a black mark on the supplier side, actually. What we would really love is if they added emergency services, but overall, we're cool with what they currently offer.
25 years of experience
Over-the-phone diagnosis and fix
Fair pricing
Services 20 fridge brands
Open every day
Insured
Has workers' compensation
Issues with delays in ordering replacement parts
No emergency services
Same-day service is not guaranteed
Customer Reviews
Here's what past customers have said about this company:
The Best of The Best! I had an issue with one of my major appliances. I reached out to Peter, and he was able to visit my place the next day. After quickly and effectively diagnosing the issue; he was back the next day with the part in hand. He completed the repair. Flawless process! I wish all techs worked like him. Very knowledgeable & professional. Great work! – Andy
Peter responded to my request for a freezer repair very quickly but before scheduling a service call, he suggested I try to fix the issue on my own and gave me detailed instructions over the phone. It worked! Peter helped me save time and money with his generous and kind advice. I will not hesitate to call again for any other appliance repairs that come up. – Ellen
3. ARS Repair & Installation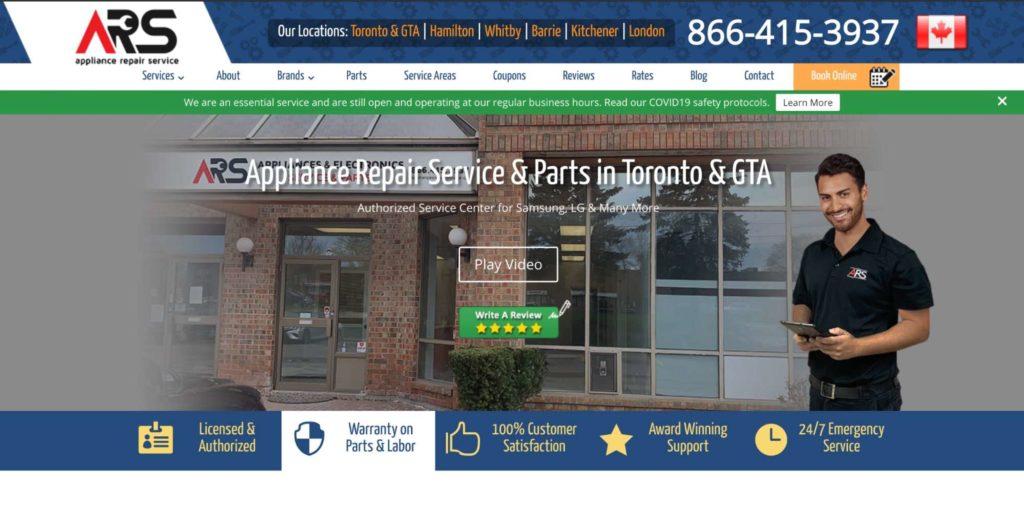 SERVICES
Repairs refrigerators, dishwashers, washing machine, dryers,, freezer, electric oven, electric cook top/stove
WEBSITE
https://appliancesrepairservice.ca/
ADDRESS
15 Connie Cres, Unit 7, Concord, Ontario, L4K 1L3 (Head Office)
CONTACT DETAILS
866-415-3937
289-796-1537 (Toronto)


[email protected]

OPERATING HOURS
Monday – Friday: 8:00 AM – 6:00 PM
Saturday: 10:00 AM – 5:00 PM
ARS Repair & Installation wins our favor by providing the basics and going the extra mile for better customer service. Here's why think it should be on your list:
For starters, we find that their customer service is faultless from start to finish. Setting up an appointment online is easy and they'll still be in touch with you after the repair is done.
Of course, their 24/7 emergency service is also worth mentioning, making it fit for sudden fridge issues. Speaking of issues, past clients told us that they always arrive on time to fix problems and work fast.
Right off the bat, we liked their three-month service warranty – it's not amazing, but it's a common one among repair services. It could've been better with a longer effective period of six months to a year, but it's still better than none at all.
We also have a bit of a love-hate relationship with the company's service call and diagnosis. We like that they diagnose issues fast, but they do sometimes get the initial diagnosis wrong, some past clients shared.
Just a heads-up that for this service call, there's a diagnosis fee of $120, which is waived if you proceed with the service. The thing is, most companies don't even charge for diagnosis, so it's a small mark in our book.
Fortunately, it offers great things that redeem some of the negatives. Our favorite is their system of updating the clients on their technician's whereabouts, so clients aren't left wondering whether or not someone's on the way.
It's also a plus for us that they have 25 employees on their team. This means that they have enough people on board to accommodate your needs.
24/7 emergency services
Easy online appointment setup
Offers a technician tracker
Three-month service warranty
25 employees on board
Insured
Has workers' compensation
Charges for diagnosis fee
Tendency to make mistakes in the initial diagnosis as pointed out by past customers
Not open every day
Customer Reviews
Take a look at what past clients have said about this company:
The tech that arrived to service my fridge was friendly and professional, and efficiently diagnosed the issue. The best part was they had the part on hand and was able to complete the repair in one visit. The tracking system in order to see where in line you are for that days service calls is a very helpful feature which allowed me to minimize the time spent waiting for the technician to arrive. Overall, I would highly recommend ARS. – Jared Cook
I was highly impressed with the calibre of the services I received from Appliances Repair Service — from the technical support over the phone to the scheduling of my refrigerator repair to the actual provision of the in-home repair service. This company is highly customer-focused. I would therefore highly recommend ARS to others. I wished I had called ARS first. Next time, I definitely will! – Teresa Holden
4. Rick Appliance Repair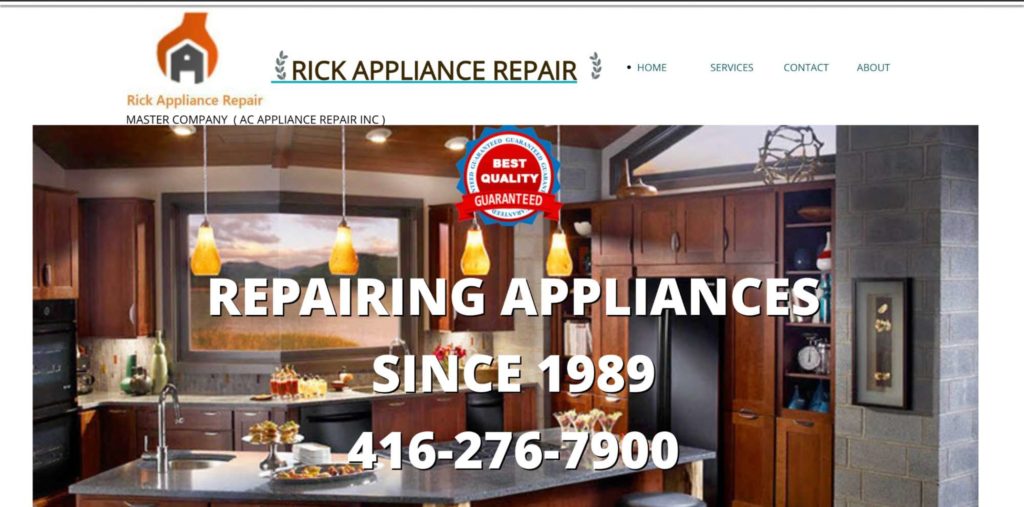 Rick is all about getting his hands dirty with real hard work. Many past clients attested to this, particularly for the following reasons:
One, the company generally gives reasonable quotes and honors them. In fact, many past clients commended the service for being cheaper than other businesses.
Second, Rick's top-notch troubleshooting skills have been praised by a lot of customers. He can diagnose issues over the phone or just send him a picture and he'll tell you what you need.
Third, their professionalism reflects how prompt they are. In fact, they may even be already on your doorstep even before your panic settles in
Finally, Rick has become a lot of people's go-to repair guy, which is always a good sign. Repeat customers are a strong indicator of customer satisfaction, and we found a lot of repeat customers when surveying his past clients.
His team's service warranty also starts from three months to one year. It's a fairly standard period, but we're pleased there's a warranty of any kind here.
On the downside, Rick manages a small company with only three employees on board. He also doesn't offer emergency services or any of the fancy tech stuff that others have to offer.
But these are also the reasons that make him a wonderful service provider to work with. He doesn't complicate things, he just gets the job done, and he offers personal and attentive service that can be rare from bigger competitors.
32 years of experience
Reasonable prices
Great troubleshooting skills
Three months to one year of warranty
Insured
Has workers' compensation
A small team of three employees
No emergency services
Not open every day
Customer Reviews
Here are some reviews from its past customers:
We had called around inquiring about fridge repair services. Several companies gave outrageous quotes without even asking us what the problem was! So I was fortunate to come upon Rick Appliances Repair, and after reading his positive reviews we decided to give him a call. He listened to what the problem with our fridge was, asked for pictures, and then gave us a reasonable quote, which we were very happy with. He was very accommodating, prompt, and professional. When he came into our apartment he wore foot slips, told us exactly what the problem with our fridge was and our options. If I could say one thing it would be that he was sincere and honest. I highly recommend anyone who needs appliance repair and want someone who is trustworthy, honest, and knowledgable to give Rick a call. Thank you Rick. – Lola
Rick is very professional, knowledgeable, personable and experienced, and as importantly, he responds promptly and arrives punctually as he promises, and this is something we rarely see. Now we know for sure Rick is our safe choice for a technician to go to anytime an appliance pulls a trick on us. Cannot recommend him strongly enough! – Hugo Lauz
5. Maydone Appliance Repair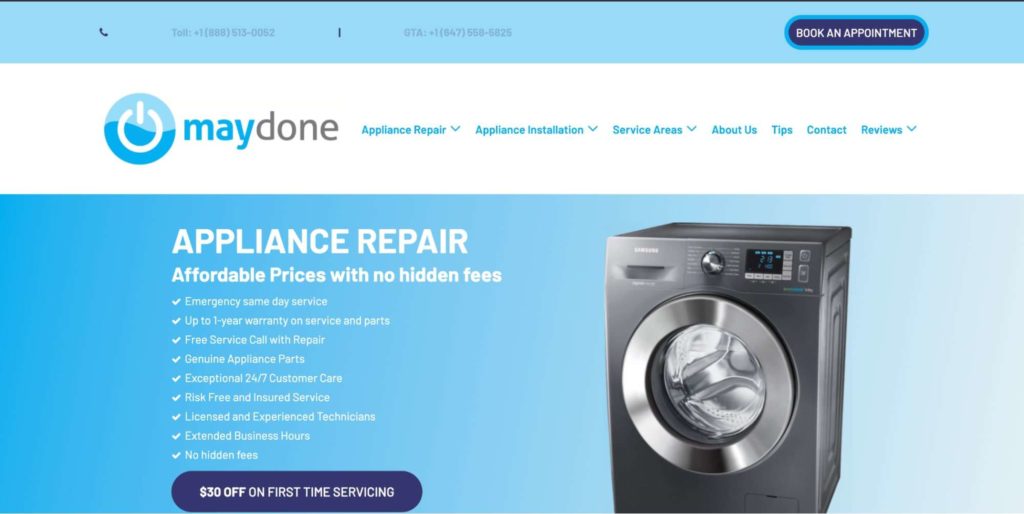 SERVICES
Installs and repairs fridges, washing machine, dryers, ovens, cooktops, microwaves, range hoods
WEBSITE
https://maydone.com/
ADDRESS
70 Angelina Ave, Woodbridge, ON, L4L 8N9
CONTACT DETAILS
+1 (289) 801-7857
+1 (888) 513-0052
OPERATING HOURS
Monday – Friday: 8:00 AM – 10:00 PM
If you're looking for a great mix of customer service, 24/7 availability, and upfront costs, MayDone will likely do the job for you. In fact, we think it's the holy grail among fridge services in Toronto for many reasons.
Let's start with availability. You can reach them 24/7 for emergency services and same-day repairs. Clients told us they reply quickly, and we certainly saw that ourselves.
We also love how upfront they are with their costs. They're confident that they're among the most affordable in Toronto, with the promise of no hidden charges to customers.
Speaking of costs, they offer a $30 discount for first-time clients. It may not be a lot, but it's a really great welcome gift to new customers.
In addition, the company offers a one-year warranty in labor and parts. They also service 18 fridge brands – a good number for a serious appliance repair center.
Finally, it hit our sweet spot with its disposal services, making fridge installation/replacement waste-free. Don't know where to put your old fridge after installing a new one? They'll just take it with them!
With a 4.9-star rating on Google Reviews, customer satisfaction is evident. There's only one bump, in particular, where a client pointed out that a technician was rude and condescending, but it's been sorted out since we last checked.
Probably more significant is that they're often booked to the ceiling, so to speak. Even with emergency services being available, there are days when it's almost impossible to book them, thanks to high demand.
Same-day repairs
24/7 emergency services
Discounts for new clients
Services 18 brands
Waste-free disposal services
Up to one-year warranty on parts and labor
Insured
Has workers' compensation
Difficult to book at times, even with 24/7 service being offered
Customer Reviews
Here's what past customers have said about this company:
My freezer and fridge stopped working and there was ice buildup. I called another place but they never returned my phone message. I wish I had called maydone Fort they picked up right away I gave my information amd the tech was onsite at my house wishing 2 hrs of placing the appointment. He changed his shoes to wear inside and wore a mask as per covid. I showed him the fridge and problem and he quickly diagnosed what the issue was I needed a new temperature controller. Within 30 min Max had finished the work. Very pleased with this service amd technician would highly recommend MayDone.
The fridge was leaking periodically through the bottom of the freezer door and onto the floor. The technician came to check it out and arrived on time and the very next day. He ordered the part right there and I paid for it on the spot. The technician returned a few days later once the circuit board was available and installed it. He also unclogged the drain pan in the back of the fridge which I thought was a great preventative step. The fridge is now fixed and hasn't leaked now after a few weeks. They have a 90 day warranty in case it's not resolved at no extra cost. I'm very happy with the service and wouldn't hesitate to call them again!
6. Star Appliance Repair
| | |
| --- | --- |
| SERVICES | Refrigerator repair, dryer repair, washer repair, stove repair |
| WEBSITE | https://starappliancerepair.ca/ |
| ADDRESS | 19 Bathurst St, Toronto, ON M5V 2P1, Canada |
| CONTACT DETAILS | +1 647-847-8774 |
| OPERATING HOURS | Monday – Saturday: 7:00 AM – 9:00 PM |
Star Appliance Repair made our list by providing excellent services and after-service tips to customers. Here are a few more reasons to consider this company:
For starters, it's easy to get started with a phone consultation with them. According to past clients, you can also get them in as soon as 24 hours after you've booked a service.
Of course, same-day services are also available. And we love how punctual they are and how fast they work, making sure clients can go back to their daily routines easily.
If you want to save a bit on repairs, they offer a $35 discount for first-time customers. Plus, their prices are within the Toronto average anyway so you won't have to worry about ridiculous fees.
Apart from all these, we also like the company's flexible three-month to a one-year warranty on labor and parts. On top of that, they'll also give you maintenance tips to ensure that your washing machine gets the best care after the repair.
Easy phone consultation setup
Same-day or next-day services
$35 discount for first-time customers
Three-month to a one-year warranty on labor and parts
Provides maintenance tips for optimal care
No emergency services
Not open daily
Signs That You Need Fridge Repair Services
Now that you have a list of the best fridge repairs in Toronto, it's time to figure out if you actually need them in the first place. Look out for these signs so you know when to start calling for repairs:
Your fridge is not as cold as before.
Noticed that whenever you open your fridge, it isn't as cold as it used to be? Often finding that the butter you left inside is a bit mushy and soft?
Then maybe you should have your fridge checked.
Not only will this problem be costly if you ignore it because your food will spoil faster, but it can also incur higher energy bills since your fridge is using twice the energy to keep the temperature. Make sure to contact a fridge repairman as soon as you notice the temperature going up.
The food is spoiling too quickly.
Sometimes the temperature issue isn't noticeable the moment you open the fridge, but that doesn't mean that there's nothing wrong with it. Even the slightest lift in temperature can cause your food to spoil faster.
Before you throw your spoiled food away, take time to see whether it has passed its expiration date. And if not, then consider seeing if the fridge is the problem.
The motor is hot.
Warm motors are normal, but if your fridge's motor is burning hot, there must be something wrong with it.
Even if your fridge is maintaining the temperature inside, a hot motor is a sign of an overworking motor. It could also mean that the fridge is close to breaking and is consuming more energy.
Your fridge is making loud noises.
Refrigerators don't make loud noises, at most they'll make some soft humming. If you notice that your fridge is clanging and making loud sounds, it could be a sign that it's time to have it fixed.
If your refrigerator is often kicking on and off or if the continuous humming becomes loud enough to notice, your fridge may be broken. Other sounds to look out for include clicking, buzzing, and hissing.
FAQs about Fridge Repair Services in Toronto
---
A broken fridge can snowball into more problems, which is why prompt and high-quality repairs are necessary. If you need to see more repair services for your home's gadgets, by the way, check out our list of the best appliance repair services in Toronto too.