The 5 Best Dishwasher Repair Services in Toronto
Dirty dishes piling up because your dishwasher is broken? Worry no more because we've compiled companies that can solve your dishwasher problem!
For today's article, we've reviewed centers that offer the best dishwasher repair services in Toronto. We covered the quality of their work, rates, and certain highlights that make them better than the rest.
Read ahead so you can find out which repair centers made our cut!
The Cost of Dishwasher Repair Service in Toronto
Before we get to the reviews, let's run through the potential costs first.
When you pay for dishwasher repair, you're actually paying for a lot of things. You pay for expert diagnosis of the problem, labor, and the technical knowledge of the technician/s.
If your repair demands replacement parts, the cost will go up too. Most of the time, the technician shoulders the responsibility of procuring these parts.
In general, the median cost in Toronto is $100 to $375. Still, there are certain problems that can only cost $50, while others can reach $500.
See the table below to find the estimated costs for certain issues:
| | |
| --- | --- |
| Service | Estimated Cost |
| Dishwasher pump replacement | $225 - $375 |
| Dishwasher heating element replacement | $150 - $375 |
| Leak | $150 - $425 |
| Consultation / diagnosis fees | $115 - $135 |
| Labor (per hour) | $100 |
The Top Companies for Dishwasher Repairs in Toronto
We hope you found our price guide useful before choosing a repair center. You can use it as a benchmark to know if you're really getting your money's worth for a dishwasher repair.
Now let's take a look at what Toronto's best dishwasher repair service providers can offer:
1. Max Appliance Repair
SERVICES
Stove repair, washer repair, dishwasher repair, dryer repair, fridge repair, oven repair
WEBSITE
https://www.maxappliancerepair.ca/
ADDRESS
314 Torresdale Ave, North York, ON M2R 3N3, Canada
CONTACT DETAILS
647-477-0946


[email protected]

OPERATING HOURS
Monday – Sunday: 7:00 AM – 10:00 PM
Max Appliance Repair makes our list for same-day services and quick fixes. There are a few reasons we think they should be up on your contact list now.
The first thing that caught our interest is that they have flexible working hours. Not only are they open every day, but they also serve clients up until 10:00 PM in the evening.
Now, with that working period, same-day services are totally possible, as many past customers confirmed. But of course, if your dishwasher needs replacement parts, they would have to come back on another day.
If it's possible to fix your problem on the same day, they can fix it in as fast as 30 minutes, diagnosis included. Plus, by the end of the repair service, they'll give you recommendations to avoid the issue in the future – quite standard but still helpful to know.
While many praised the company's work, many complained about the hourly labor cost. On the bright side, you do get a $25 discount if you book them online, plus service calls are also free.
The diagnosis fee is pretty fair at around $98. What you do have to prepare for is the total cost of your service, because many clients shared that they're expensive, especially with replacement parts.
As a final note, they work with 29 dishwasher brands, accept quote requests for services, and have a talented team of technicians. Sending payments is also a breeze through various online payment channels.
Offers same-day repairs
Flexible working days and hours
Fast repair services
Offers a $25 discount for online bookings
Free service calls
Services 29 dishwasher brands
Accepts online payments
Expensive total cost of service, especially with replacement parts
Customer Reviews
Fast, punctual, and polite technician
My dishwasher had error code that indicates leak sensor activation. Called Max Appliance. The technician came on time, went to see the dishwasher, quickly figured out that water valve was the problem. Then he explained to me what was wrong and how much the replacement part costs. Came next day and fixed everything in less than 40 mins. The technician was punctual and polite. Moreover they offer free service call if you do a repair. Affordable service. Will definitely call them to fix other appliances. – Dmytro Olkhovyk
Quick fixes without leaving a mess
We had a leaky dishwasher that we called Max Appliance Repair to come in and look at. The tech arrived on-time, was very friendly, and was able to diagnose the problem quickly.
When the part arrived, the same tech came back (again on-time and very friendly) and had us up and running again in less than 30 minutes with no mess. Easy interact payments via e-transfers, as well. Definitely a good experience and would recommend. – Craig Horsman
2. Same Day Appliance Repair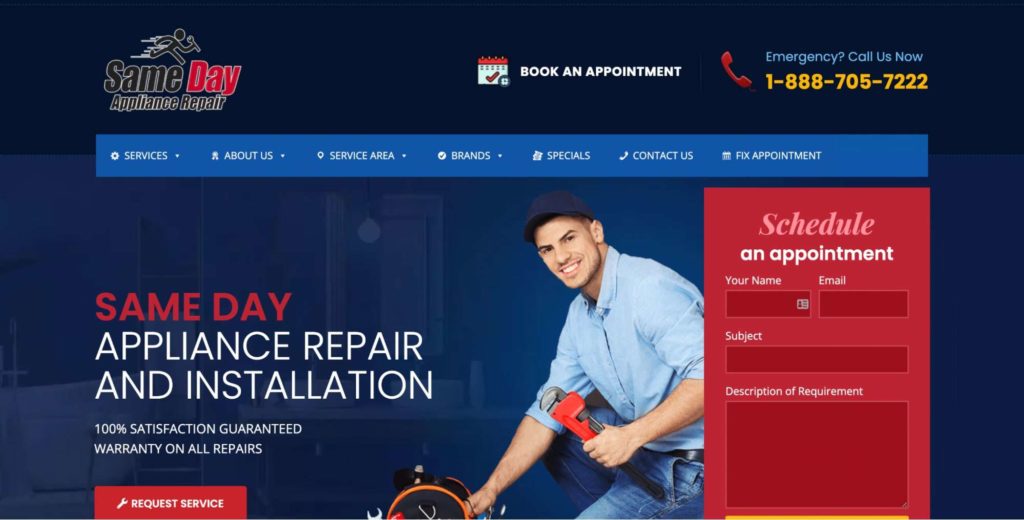 SERVICES
Repairs washing machines, refrigerators, dishwashers, dryers, stoves, ovens, cooktops, freezers, ice makers, wine coolers
WEBSITE
https://samedayappliancerepair.ca/
ADDRESS
411 Confederation Pkwy #12, Concord, ON L4K 0A8, Canada
CONTACT DETAILS
647-725-2212


[email protected]

OPERATING HOURS
Monday – Sunday: 9:00 AM – 9:00 PM
Same Day Appliance Repair won a spot on this list with 24/7 emergency services, special discounts, and of course, same-day repairs. But they have a lot more in stock to offer so we'll discuss them today.
The first thing we liked is the wide range of dishwasher brands they can repair. As of writing, they can service 34 brands, including giant and common names which you most likely own.
We also like the coupons they offer to offset a bit of your total costs. For instance, they offer a $25 discount for any repairs and a $35 discount for senior clients.
As most repair centers do, they also charge a service fee, and theirs is $80. It's lower than the average in Toronto and it will go towards the final bill if you proceed with the repair.
As we mentioned, they're open 24/7 for emergency repairs, so they can come to the rescue as soon as you need them. Of course, the rates here are different and obviously higher.
If it's not an emergency, you can easily book them online and they'll get to the issue on the same day. The best part is, many customers said that their prices were reasonable, which is always a good thing.
Just be mindful of your booking though, because they have a cancellation policy. If you fail to cancel within 4 hours of the appointment time, you'll be charged $80.
Finally, as an endnote, many clients vouched for their fast and responsive service. They also have a three-month warranty on labor and parts so that's an absolute plus in our book.
Open 24/7 for emergency repairs
Services 34 dishwasher brands
Easy online booking option
Offers same-day repairs within their usual working hours
Reasonable fees according to past clients
Three-month warranty on labor and parts
Offers various discounts for certain repairs and customers
Lower-than-average service call fee
Has a cancellation policy that may cost you $80
Customer Reviews
Fast services and fair pricing
Very recommended! My SAMSUNG dishwasher wasn't draining. I called and got a quick booking for a technician to come. Very professional, fast, and fair pricing. Everything works like new! Thanks. – Luke Martin
Goes above and beyond during emergencies
I would like to highly commend your Appliance Repair Technician Arti. He went above and beyond to make sure the emergency issues I had today with the dishwasher were repaired and taken care of. Thank you for being there! – Elise Trepanier
3. Maydone
SERVICES
Installs and repairs fridges, washing machine, dryers, ovens, cooktops, microwaves, range hoods
WEBSITE
https://maydone.com/
ADDRESS
70 Angelina Ave, Woodbridge, ON, L4L 8N9
CONTACT DETAILS
+1 (289) 801-7857
+1 (888) 513-0052
OPERATING HOURS
Monday – Sunday: 8:00 AM – 10:00 PM
Maydone earns our favor with its one-year warranty on labor and parts, 24/7 emergency services, and free service call with repair. Let's break down each of their most notable features in this review:
One of our favorite things about them is their waste-free approach to appliance disposal. In case you need to install a new dishwasher, they'll take your old one, taking the responsibility off your hands.
Another thing we appreciate is their welcoming gift to first-time customers and loyal patrons. For first-time services, you get $30 off, and if you're a loyal customer, you get a $20 discount.
While we're pretty underwhelmed that they only service 18 dishwasher brands (decent but low compared to the others on this list), we do like their 24/7 availability. Same-day repairs are also available for non-emergency services.
We also like how fast they work even when there are replacement parts required. One client shared that it only took them a few hours to gather the parts and then they were right back to work.
Speaking of parts, they also provide a one-year warranty for parts and services. This is one of the longest warranty periods we've encountered so we reckon that it's enough to give you peace of mind.
With all these fantastic offerings, it's not surprising that they tend to charge high and booking appointments is hard. Plus, their service call only costs $80 but it's waived when you proceed with the repair.
24/7 emergency services
Same-day repairs
Waste-free appliance disposal
Offers discounts for first-time and loyal customers
One-year warranty for labor and parts
The service call is waived if the client proceeds with the repair
Services fewer dishwasher brands compared to others on this list
Repairs can be expensive
High customer traffic on booking times
Customer Reviews
Fair and honest repair service
Called for leak on a 3 year old Maytag Dishwasher and paid the $90.40 for initial Service. Received and accepted quote for repair and waited for the parts to arrive. Installation of the parts were attempted but it was discovered that a manufacturing defect was causing the leak and the repair could not be completed. Recommendation is that the machine be replaced. We were not charged for the failed repair parts or labor which was most appreciated. This is a Fair, Honest and Reliable Service Agency I will call once I need the new Dishwasher installed. Maytag will not help as the Unit is past its 1 year Warranty. Will never buy Mayag again. – Frances
On-time and efficient technician
Technician was on time, got the job done successfully and efficiently, and advised me on how to avoid the issue in the future. Was completely satisfied, and will not hesitate to use this company again. – Conrad Sterling
4. RA Appliance Repair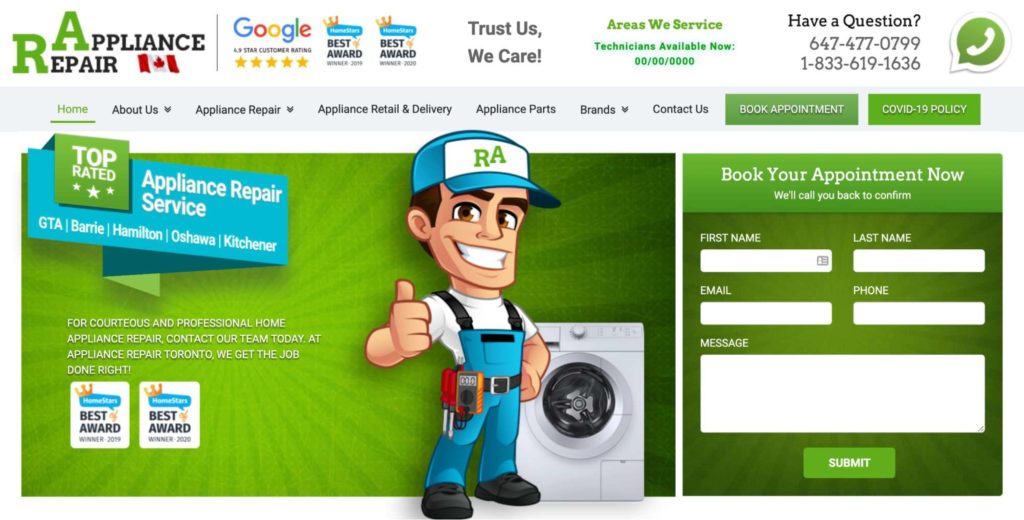 SERVICES
Fridge repair, oven repair, stove repair, dryer repair, dishwasher repair, washer repair
WEBSITE
https://raappliancerepair.ca/
ADDRESS
4548 Dufferin St #206, North York, ON M3H 5R9
CONTACT DETAILS
647-477-0799
1-833-619-1636
OPERATING HOURS
Monday – Friday: 8:00 AM – 11:00 PM
Saturday – Sunday: 8:00 AM – 10:00 PM
If you need replacement parts for your broken dishwasher, RA Appliance Repair is your best choice. Being North America's largest appliance parts supplier, they can provide every single part for nearly any dishwasher.
You need to wait for around two to four days before they can get the appliance part for you. It may be longer compared to other companies, but at least you're sure that you're getting the exact and original parts.
All their parts are also covered by a 30-day warranty. It's a bit short for our liking but they also offer a 1-year warranty for selected parts, which can make up for that slight drawback.
Another thing we like about them is their availability for emergency services. They can respond to your repair needs 24/7/365, even on holidays!
Booking an appointment online is also easy and they'll call you back to confirm the schedule. And once you're booked, they'll arrive at your doorstep on time with a friendly attitude, from what we've seen and heard.
Due to the high demand, booking an appointment can be a struggle. Plus, other clients noted that the replacement parts and labor are expensive… so that's a downside if you're a bit low on cash.
To wrap it up, we like that they can work on 22 dishwasher brands (not great, but decent) and offer services in 17 areas in Toronto and GTA. And if the problem persists, the technician will come back and fix it again free of charge.
Best for original parts replacement
30-day warranty on all appliance parts
1-year warranty on selected appliance parts
Available for emergencies 24/7/365 including holidays
Calls clients to confirm the appointment, for surety
Offers services in 17 areas around Toronto and GTA
Difficult to book an appointment online
Expensive parts and labor according to past customers
Customer Reviews
Original replacement parts with warranty
Tom was a pleasure to deal with. He was punctual and efficient. He came initially to diagnose the problem with my dishwasher, ordered the parts and came back a couple of days later and fixed it all up. It's as good as new now with a 90 day warranty. Will use this company again for anything to do with appliances! – Eugenia Chee
Courteous and competent technicians
We had a leak in our dishwasher and it was pretty serious in our condominium. We turned to an expert and in our hour of need Tom appeared. He is professional and courteous and takes care of business in a very thorough and competent manner. We were able to rectify our problem with no hassle and every ease and convenience, thanks to Tom's hard work. We strongly recommend his services to one and all and we will gladly and swiftly turn to Tom again in any future emergencies. There are a lot of less professional people operating out there, but why take any chance at all. Go with the best bet, go with Tom at RA Appliance Repair! – Mister Bee
5. iFix Appliances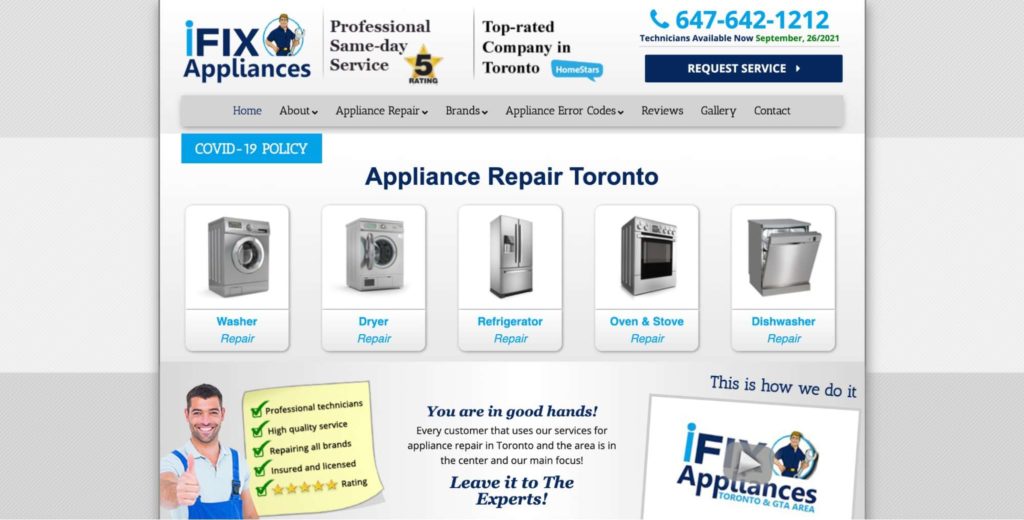 | | |
| --- | --- |
| SERVICES | Repairs washing machines, dryers, refrigerators, ovens and stoves, and dishwashers |
| WEBSITE | https://ifixappliances.ca/ |
| ADDRESS | 1656A Eglinton Avenue West, Toronto, ON M6E 2H2 |
| CONTACT DETAILS | 647-642-1212 |
| OPERATING HOURS | Monday – Sunday: 7:00 AM – 10:00 PM |
iFix Appliances landed among the best with fair pricing, prompt services, and fast repairs. Of course, we also like that they serve various areas in Toronto and GTA, including Scarborough and North York.
One of the things we appreciate most about them is how prompt and efficient they are – and to be sure our experience wasn't a one-off, we confirmed it with past customers. It also doesn't take them more than an hour to finish repairs (depending on the issues, of course).
Past clients also said that they were able to diagnose the issues over the phone. This helps in speeding up the repair process, so that's a plus for us.
Next, they're also available 24/7 for emergency services, so we know they can keep up with the competition. Plus, they're open every day (even on weekends).
Another thing we liked was how easy it was to book them for an appointment or request a quote. They promise to get back to you within 24 hours, but many customers said that they called them back within five minutes after booking.
It's also worth noting that they service most major brands and models, even discontinued ones. This makes them a top choice if you have a dishwasher that's been phased out in recent years.
Finally, we love the fair pricing. What you get quoted will obviously depend on your repair and unit, but we found them falling within the average in our case and confirmed it with other customers; they're also upfront with the costs, with no hidden fees to bug you at night.
The only downside to their rates is that they tend to go higher if you don't have insurance. Oh, and their booking system is well-organized, but some complained about availability too, which can be an issue.
Same-day services
24/7 emergency repairs
Gives diagnosis over the phone
Confirms back in as short as five minutes after setting an appointment
Fair prices according to past customers
Services major brands and models, including discontinued ones
Costs tend to be expensive without insurance
Difficult to book an appointment sometimes
Customer Reviews
Prompt and professional with concerns
David and his team provide amazing service. Always courteous, polite and professional when they enter your home. They will fix the problem and provide reasonable solutions and advice. David answers your texts, questions and concerns promptly and professionally. I am so glad I found a service company that is so trustworthy. – Lisa
Worth the price
Called them at 5pm and they were able to give me a time slot of 10am-12pm the next morning. Very happy for the quick appointment, especially since I had a different company not show up the day before. They were on time and professional and wore face masks the entire time (COVID precaution). They were also upfront about the pricing, as soon as they came. They fixed the clog in my dishwasher drain hose and also fixed a problem that we caused, while trying to fix the initial problem ourselves. Not sure if the pricing is competitive, but it seemed reasonable to me. Two guys came and fixed my appliance, within 24 hours of calling them. Seemed worth the price to me. – Evdokia Flook
Signs That You Need a Dishwasher Repair Service
A dishwasher is one of the greatest conveniences in life. Therefore, it's good to know the signs that indicate that your dishwasher needs repair.
Here are some signs that you need a dishwasher repair service:
Your dishwasher has leaks.
Dishwashers are made to be watertight, so if you're noticing some leaks, this could mean that something is wrong. If you see leaks in your dishwasher, the gasket might have a tear, is loose, or is starting to break.
If the water is pooling around the washer, this could be a different issue. This could mean that your dishwasher isn't draining properly, and it's time to call for repair service.
Water isn't pumping in or out of the dishwasher.
All dishwashers come with a water pump and a sensor that tells the washer that it's time to pump water. If the sensor is broken, then you might need to call for a dishwasher repair service… but if it fails to work completely, then it might need replacement.
This type of repair requires a professional since it needs to disassemble all parts of the dishwasher. If the water won't pump, try checking if the drain is blocked by food particles. If it isn't, then it's best to call for repair service.
Dishes come out spotty or dirty.
There are a lot of reasons why your dishes come out as spotty or dirty, most of it being a problem with the kind of soap you use, hard water, improperly loading the dishes, etc. But if the problem isn't due to the things stated above, then you could have a bigger issue.
Note that the drain screen could have something to do with your dishes coming out with spots. If the drain screen is clogged from the previous wash cycle, then this could result in dirty dishes.
Your dishwasher is making weird noises.
If you've been hearing weird noises from your dishwasher, then it might be time to call for repair service. Usually, a weird noise could have something to do with the motor and if so, you might want to buy a new washer altogether.
However, before doing so, have a plumber check your dishwasher. Have them see if the noise is due to dishes clanking with each other or if something is stuck in the mechanism.
FAQs About Dishwasher Repair in Toronto
---
Want to help expand this list of the best dishwasher repair services in Toronto? Tell us about the companies you like and what makes them best in your opinion!
While we're still at it, you can also check out our list of the best appliance repair services in Toronto if you need more than your dishwasher repaired. Our comprehensive reviews will help you find the top service providers in the city!