WHERE TO GET THE BEST MANICURES IN TORONTO
Your hands are a reflection of your personal style and attention to detail. Ready to nail the manicure game like a pro?
Whether you're a fashionista searching for the latest nail art trends or a busy professional in need of a flawless, long-lasting polish, finding the best manicure services in Toronto can make or break your style game.
Don't miss out on the opportunity to treat yourself to a little nail TLC — it's time to put your best hand forward!
How We Chose the Best Manicure Services in Toronto
How Much Do Manicure Services Cost in Toronto?
For basic manicure services in Toronto, expect to pay an average of $30. However, if you want to have shellac, acrylic, or gel manicures, the price ranges from $30 to $100, depending on the salon and type of service.
1. Loft Nail Studio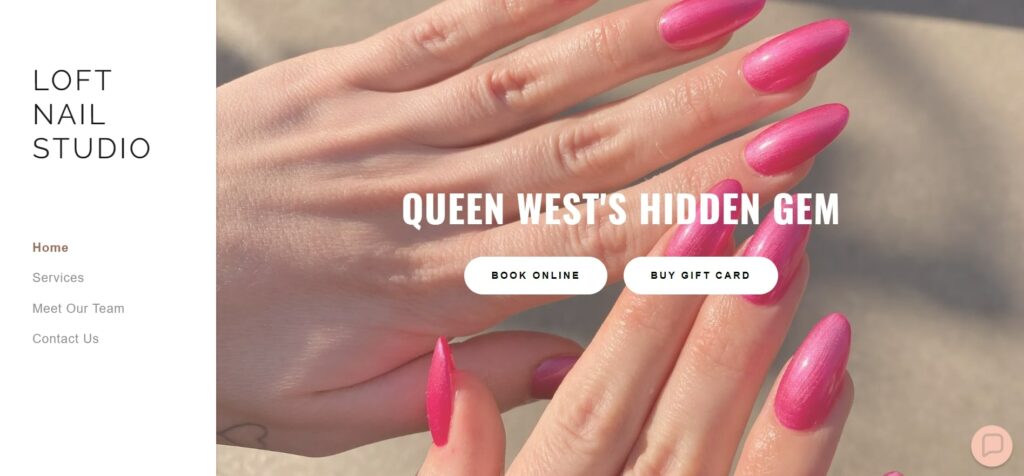 Test
Info
WEBSITE
https://loftnailstudio.com/
ADDRESS
250 Queen St W, Toronto, ON M5V 2Z5
SOCIAL MEDIA
INSTAGRAM
CONTACT DETAILS
PHONE: (416) 597-8686
OPERATING HOURS
Tuesday - Wednesday: 10:00 am - 7:00 pm

Thursday - Friday: 10:00 am - 8:00 pm

Saturday: 9:00 am - 4:00 pm

Sunday - Monday: Closed
Stumble into this hidden gem in the heart of Toronto's Queen West. Loft Nail Studio is a cozy, trendy, and comfortable salon that specialises in gel polish, manicures, a wide variety of nail art options, and pedicures, all reasonably priced.
Lanna, Ibolya, and Nicola, whose combined experience in the nail industry spans a whopping three decades, will look after all your manicure needs.
Budget-conscious nail aficionados would be happy to know that their manicures start at $45, their pedicures start at $65, and their nail art designs won't leave them penniless either. Plus, the salon also accepts Apple Pay in addition to traditional payment methods.
And let's not forget about the gender-neutral restrooms, because who needs those pesky gender norms when you're rocking killer nails?
Reasonable prices 
Free Wi-Fi for customers 
Apple Pay option for payments 
Bike parking available nearby
Not wheelchair accessible 
Warm, inviting and friendly
"First time at Loft will most definitely not be the last. Lanna and her associates are so warm, inviting and friendly. Lanna is an expert at Gel X. She shaped the nails to my exact liking and duplicated the creative French tip I shared from Pinterest. Absolute perfection! Highly recommend Loft."
Kim Johnson, Google Review
Obsessed with this place
"I absolutely LOVE how they did my nails. Also my technician (I don't remember her name but she's Hungarian, and speaks Spanish) was the absolute best. Loved talking with her. Obsessed with this place. My shellac came out shinier than I've experienced with other places, and she did my cuticles expertly. Update: it's been 12 days since I got my nails done and they honestly look like I just got them done.
"
Nicola Hadwen, Google Review
2. ONYX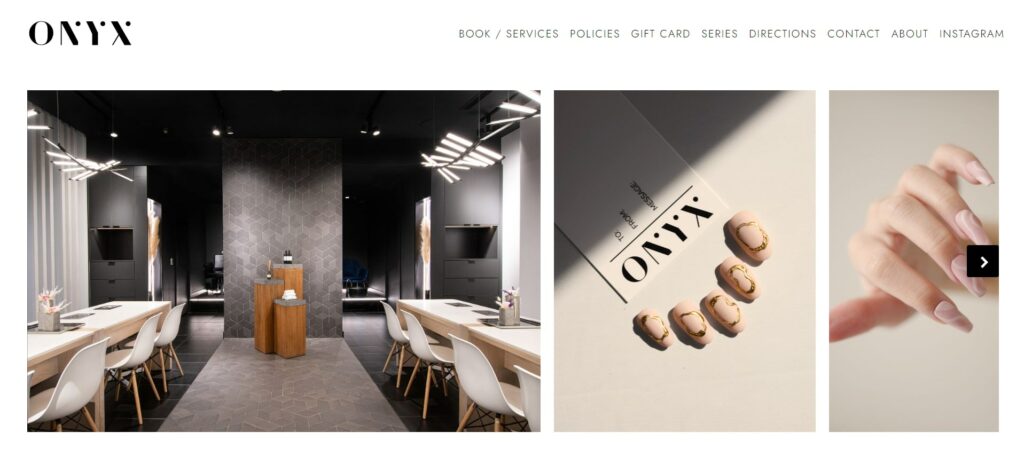 Test
Info
WEBSITE
https://www.onyxnails.co/
ADDRESS
181 Bay St. Unit C380, Toronto, ON M5J 2V1
SOCIAL MEDIA
INSTAGRAM
CONTACT DETAILS
PHONE: (647) 352-1086
OPERATING HOURS
Monday - Friday: 7:00 am - 7:00 pm

Saturday - Sunday: Closed
ONYX is a chic, upscale spa that also specialises in basic manicures and pedicures and nail enhancements such as bio-gel extensions, dip powder overlays, and shellac.
It's smack-dab in the heart of Toronto, so you won't have to trek through the seven seas to get there. Plus, their gender-neutral decor and services provide a more inclusive environment for their clients.
Bored with your basic manicure? Their artists can turn your nails into tiny canvases and create nail art that will make Picasso jealous.
But it's not all about the luxurious setting; ONYX knows how to pamper you like the royalty you truly are with their custom-built manicure stations that provide privacy and peace of mind.
Safety is a top priority at ONYX, and they take it seriously. All tools are single-use and pre-packaged; they even use Accelerated Hydrogen Peroxide® (AHP®) technology to disinfect their tools.
Single-use nail kits
Medical-grade sanitation of tools
Gender-neutral environment
Pricier than competitors
Requires credit card info to book appointments
Strict 24-hour cancellation policy
Limited space 
10/10 will definitely be going back
"This was my first time at Onyx, and I had a great experience. Shiwangi did a fantastic job, I asked for a neutral shellac set, and that's exactly what she did. 10/10 will definitely be going back!"
EM, Google Review
Paid so much attention to detail
"Made an appointment to get a bio-gel nail fixed with Niusha and she did an amazing job. Paid so much attention to detail and was super kind. Also loved the hand scrub and lotion bar. This salon is on the expensive side but I can see why!"
Rebecca Cai, Google Review
3. N Bar Toronto Nails & Lashes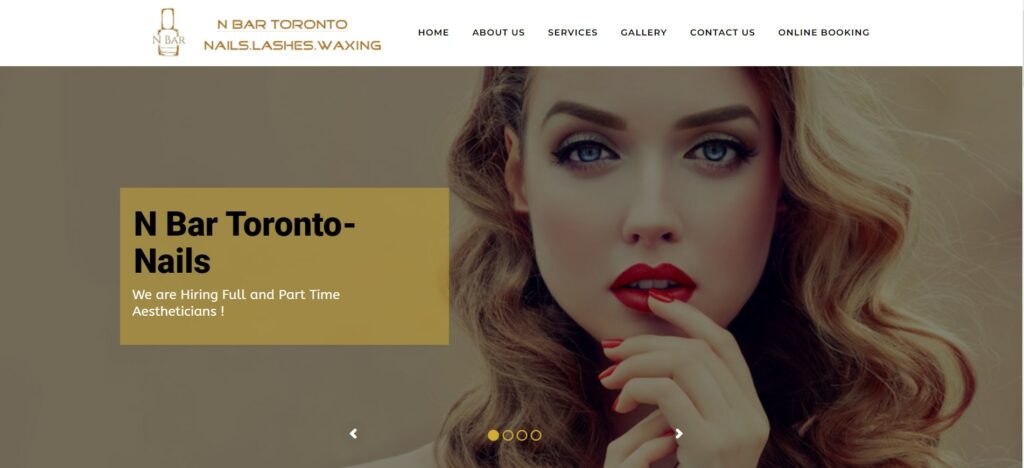 Test
Info
WEBSITE
https://nbartoronto.com/
ADDRESS
60 Dan Leckie Way, Toronto, ON M5V 2V6
SOCIAL MEDIA
INSTAGRAM
CONTACT DETAILS
PHONE: (647) 350-1965
OPERATING HOURS
Tuesday - Friday: 11:00 am - 8:00 pm

Saturday: 10:00 am - 6:00 pm

Sunday: Closed
Located conveniently in the heart of Downtown Toronto, this salon is the perfect spot to get your nails looking fresh while being surrounded by the buzz of the city.
The first thing you'll notice as you strut into N Bar is the warm welcome from their multilingual staff. They provide a comprehensive range of services, including nail treatments, lash extensions, waxing, threading, and more.
Their signature treatments feature premium products and techniques, such as honey-infused manicures and pedicures with seaweed and green tea extract scrubs.
And they've got your back for five whole days post-manicure! If you accidentally chip your nail or lose an enhancement, they'll schedule a free repair within 48 hours.
The salon also has accessibility features that enable individuals with disabilities to avail themselves of services. And parents, rejoice! N Bar is not just for adults; they welcome kids who need some pampering too.
Competitive pricing 
Kid-friendly services
Accessibility features for clients with disabilities
Space can be too crowded during peak times 
Reasonable prices
"OMG! Such a cozy and lovely place in downtown Toronto 😍 I did my Shilac Pedicure here. It's a very clean and chic salon with reasonable prices. The owner, Bahar, is very careful about her clients and she is veryyyy nice. I would definitely go back again and highly recommend N bar for your beauty stuff 😉"
Keyhaneh Vaseghnia., Google Review
Friendly, professional, and attentive to all needs
"I had the most fantastic experience at N Bar! The service is always excellent. The staff is friendly, professional, and attentive to all needs. I've been coming for a year.. are the best! I loved the relaxing atmosphere and the attention to detail given to every service aspect. I highly recommend N Bar to anyone looking for a great nail experience. Thank you, girls!"
Daniela Ovando, Google Review
4. Naked Beauty Bar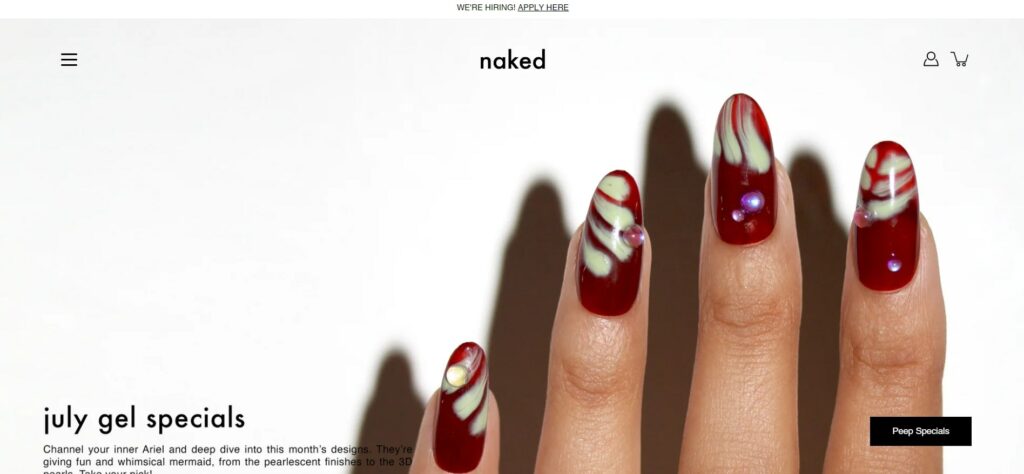 Test
Info
WEBSITE
https://nakedbeautybar.com/
ADDRESS
889 Dundas St W, Toronto, ON M6J 1V9
SOCIAL MEDIA
INSTAGRAM
CONTACT DETAILS
PHONE: (647) 748-8899
OPERATING HOURS
Tuesday - Friday: 11:00 am - 7:00 pm

Saturday - Sunday: 10:00 am - 6:00 pm

Monday: Closed
Established in 2015, Naked Beauty Bar is a family-owned salon that specialises in manicure, pedicure, waxing, and eyelash extension services with an eco-friendly, toxin-free approach. They've got soy-based nail polish removers, natural scrubs, and creams—no harsh chemicals here!
They utilise medical-grade disinfectants and strictly adhere to the use of single-use tools. They also installed an air purifying system and sanitising stations to improve the cleanliness of their space.
Booking is a breeze. Just go online and secure your spot—no more waiting in long lines for you. But hey, if you're feeling spontaneous, they welcome walk-ins too. Just remember: it's a peaceful retreat, so leave the pets and extra guests at home.
But wait, there's more to love! They've got a loyalty program that treats you like the VIP you are. Collect those rewards and feel pampered like royalty.
Accepts walk-in clients
Eco-friendly products and practices
Clean space and practices
"Visiting Naked is always a great experience! Clean space and practices, good vibes, and guaranteed healthy, and cool looking nails. Cathy is my go-to but everyone is too notch. Profesh and down to earth staff, but if you're lucky, you might get to meet a cute lil pup too!"
Rachel Kelly, Google Review
Relaxing, cool and inviting
"Love getting my nails done here!!! The nail techs are all very knowledgeable, friendly and take great care of you, Maya the receptionist is awesome and super helpful. The atmosphere is relaxing, cool and inviting. Love the naked fam"
Ana García Sosa, Google Review
5. Deco De Mode Toronto
Test
Info
WEBSITE
https://www.decodemodetoronto.com/
ADDRESS
112 Scollard St, Toronto, ON M5R 1G2
SOCIAL MEDIA
INSTAGRAM
CONTACT DETAILS
PHONE: (416) 888-0991
OPERATING HOURS
Monday - Saturday 10:00 am - 7:00 pm

Sunday: Closed
Deco De Mode is a full-service nail spa specialising in gel nails, manicures, nail art, and pedicures. They also have shellac, gel manicures, acrylic, and dip powder nails; you name it, they've got it.
But their Russian Gel Polish Manicure is the star of all their manicure services. No, it's not some top-secret spy stuff, but it's equally intriguing. It's "dry" and "e-file," which means goodbye to soggy fingers and hello to healthier nails!
Deco De Mode also embraces sustainability. There's no toxic stuff here; only scent-free, non-toxic products and cruelty-free practices. Plus, their gender-neutral restrooms welcome everyone.
Booking an appointment is highly recommended, but if you need some nail therapy ASAP, just waltz in and see if they've got a technician available.
Gender-neutral restrooms
Sustainable products
Free Wi-Fi
Multiple branches
Accepts walk-ins
Not wheelchair accessible 
So helpful and they are very thorough
"Such a great experience! The staff is some of the friendliest I've ever encountered and always check up on you to make sure you're satisfied. They're so helpful and they are very thorough with your nails. Definitely coming here again!"
Sofia F, Google Review
Very professional people and reasonable price
"I had an amazing experience getting hard gel nails! Staff was friendly and professional, and Maria made my nails look really good and they were exactly what I wanted. The salon was clean and had a great vibe to it. I was especially impressed with the attention to detail and quality of the nail service. I'll definitely be back, the price is worth it :)"
Cassandra Julienne Mojica, Google Review
---