WHERE TO FIND THE BEST VIOLIN LESSONS IN TORONTO
Can any human being resist the sound of a violin? Whether it's a mournful symphony or a frantic progression, the music emanating from violin strings can stop just about anyone in their tracks.
With all due respect to other instrumentalists out there, the ability to wield a violin is simply next-level. If you're interested in adding this to your arsenal of skills, check out these noteworthy violin instructors.
How We Chose the Best Violin Lessons in Toronto
How Much Do Violin Lessons Cost in Toronto?
In general, expect to pay between $50-$100 per hour for a violin lesson. Factors affecting the cost include the length of the lesson and the credentials of the teacher.
1. Canada Music Academy
For 25 years (and counting), Canada Music Academy has provided music lessons that are both engaging and structured. At present, the Academy gives learners the option to take up lessons online, in a physical studio, or in the comfort of the pupil's own home.
To ensure the quality of its lessons, Canada Music Academy selects only teachers that have a minimum of a bachelor's degree in music. A number of the Academy's teachers, in fact, are Juno Award and Grammy Award nominees!
Violin instructors at the Academy typically have an hourly rate of over $50. You can choose to book 8, 16, 24, or 32 lessons with an instructor whose location is most convenient for you.
Rigorous screening of teachers
Reasonable rates
Virtual and in-home lessons
Unreliable telephone line
Patient, encouraging, fun
You are never too old to learn something new. After retiring last year I decided to take violin lessons an instrument I have always wanted to learn to play. Due to the pandemic I wanted to be able to take lessons on line so I did some research and decided on Canada Music Academy.
I then went thru the profiles of the teachers and picked Joe Poirier as he matched what I wanted in a teacher. Its been 8 months since I started taking weekly lessons and I absolutely love it. Joe is an excellent teacher!
He is patient, encouraging, fun and very knowledgeable. If your a adult and always wanted to learn an instrument, pack away your fears of being to old to learn and give the Academy and teachers a try! I will be continuing to take lessons for the foreseeable future with Joe at the Canada Music Academy.
Linda, Google Reviews
Without any fuss
Exceptionally helpful – have a chat with a very helpful team member, she guided me to all the available teachers. The teachers can be shortlisted by music instruments, availability, location and price per class – all of these are really helpful and makes getting the sessions you desire very easily and without any fuss. Great job Canadian Music Academy.
Rishi B, Google Reviews
2. Melody School of Music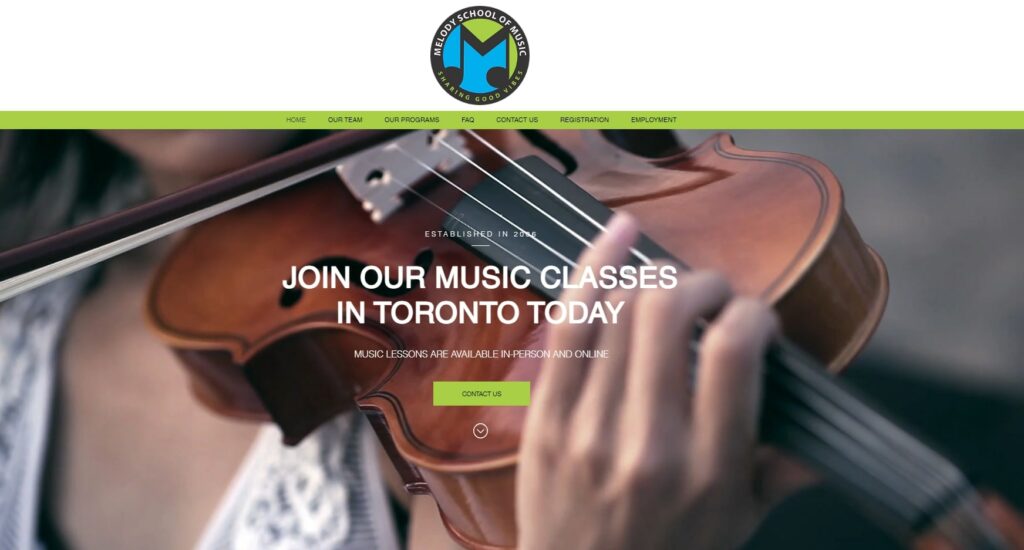 Test
Info
WEBSITE
https://www.melodyschool.ca/
ADDRESS
1624 Bayview Ave
SOCIAL MEDIA
INSTAGRAM
CONTACT INFORMATION
Phone: (416) 423-5999
OPERATING HOURS
Mon-Fri: 3:00pm – 9:00pm

Sat: 9:00am – 5:00pm
Since 2006, Melody School of Music has cultivated young musicians' passion through a plethora of programs. These include lessons in piano, strings, drums, woodwind and brass, and voice. Melody School also offers options for learners to sharpen their songwriting skills and even become part of a band!
Talk about learning by doing: Melody School stages recitals twice a year so that its learners can have a feel of the big stage. Thanks to this practical approach—not to mention the tutelage of credentialed instructors—pupils are able to enhance their musical skills.
As is the case with other instruments, learners can sign up for five introductory lessons. If they decide to go the distance, they can book five more. Ten half-hour lessons cost $384, while ten hour-long lessons are pegged at $708 (not counting a $45 registration fee).
Online and in-person modes of learning
Opportunities to stage live performances
Unique offerings (e.g. rock band, songwriting)
Higher-than-average hourly costs
Closed on Sundays
Goes above and beyond
Ana has been an exceptional violin teacher who consistently goes above and beyond to ensure a fun and enjoyable learning experience.
Rohith, Google Reviews
Easy and fun
My son is 6 and has been taking lessons at Melody School since last September. He loves his lessons and is always motivated to practice at home. And the practice chart and prizes from the treasure chest make practising easy and fun. They have accommodated on several occasions. Thanks Melody!
Manana Min, Google Reviews
3. Neighbour Note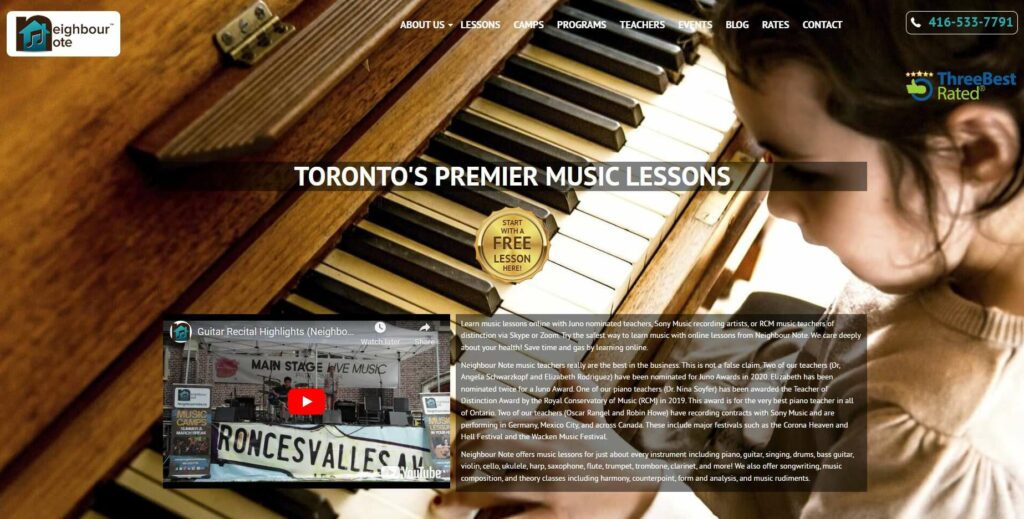 Neighbour Note provides a comprehensive suite of music lessons—from music theory and composition all the way to varied instruments. In the eyes of founder John Force, the only way to conduct music education is through unquestionable credibility. As such, the wide range of music lessons at Neighbour Note is handled by doctorate degree holders and Grammy Award-nominated musicians.
Interested students can avail of a free trial lesson (though they have to procure their own violin and bow). Five hour-long classes in a studio cost $70 CAD each; on the other hand, if five 60-minute sessions are conducted in the learner's home, the hourly rate is $75 CAD.
Want to take it a step further? You can join the String Initiative Chamber Music Camp. This five-day program has half-day and full-day options, which cost $425 and $525, respectively.
Open all week long
Well-credentialed instructors
Music camp for chamber music
Free trial lesson
Higher-than-average hourly costs
Love of music is infectious
The studio itself is newly renovated/designed with love/well kept and clean. John is v patient and his love of music is infectious and evident in his teaching style. We are lucky to have him as an instructor and look forward to music lessons weekly!
Rachel Zhou, Google Reviews
Excellent relationship between students and teachers
The highest educated teachers create an excellent relationship between students & teachers. Develop a life-long love for music and help students to share the music they are learning with other through different performances and recitals during the year! The only music school in Toronto that organizes so many free performance opportunities for students!!!Fully satisfied!!!
Margareta Vukas, Facebook Reviews
4. Classical Music Conservatory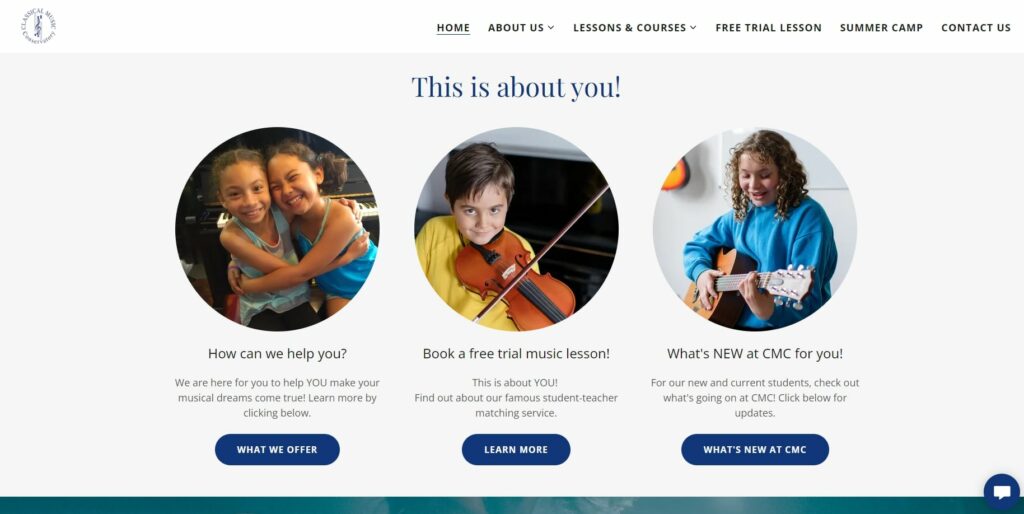 Test
Info
WEBSITE
https://cmccanada.com/
ADDRESS
314 Roncesvalles Ave.
SOCIAL MEDIA
INSTAGRAM
CONTACT INFORMATION
Phone: (416) 537-5995
OPERATING HOURS
Mon-Thu: 1:30pm – 8:30pm

Fri: 1:30pm – 7:30pm

Sat: 9:00am – 4:00pm
Classical Music Conservatory (CMC) provides music lessons in individual and group settings. CMC instructors deliver lessons in various stringed and woodwind instruments, as well as piano, trumpet, and drum.
Learners can book a free trial lesson, which allows the CMC director to find the most suitable instructor for each pupil. Modes of learning include in-person and virtual; and sessions can last 30, 45, or 60 minutes.
Here's a special treat for the kiddos: every year, CMC holds a summer camp for 4- to 7-year-olds. Here, young learners indulge in music and art lessons, which heighten their creativity and self-expression. This camp is a three-week endeavor that costs $295 per week.
25 years of experience
Individual and group options
Free trial lesson
Summer camp for kids
Really great experience
Our son spent years taking violin lessons here. He progressed from a few screechy notes to be really great, now performing for real audiences and doing really well in his high school orchestra. His CMC instructor took him through this journey and has somehow felt part of our family over the years. Really great experience.
Matthew Roorda, Google Reviews
They are worth it
CMC is hands down the best music school in the city. They have the best teachers that nurture children's music ability and confidence at any age. My daughter has been going to CMC for over 12 years. They have encouraged her talent and coached her and laid out the path for her to study music at university providing all the support required by organizing all exams and concerts at each stage along the way. We have crossed the city with a 30-40 minute drive each way because they are worth it. They have brought out a confidence and belief in my daughter that would not exist without them. They are the reason she has become successful and believes in herself. I am in debt to them always for truly bringing out her gift.
Karrin Bates, Google Reviews
5. Greater Toronto Music School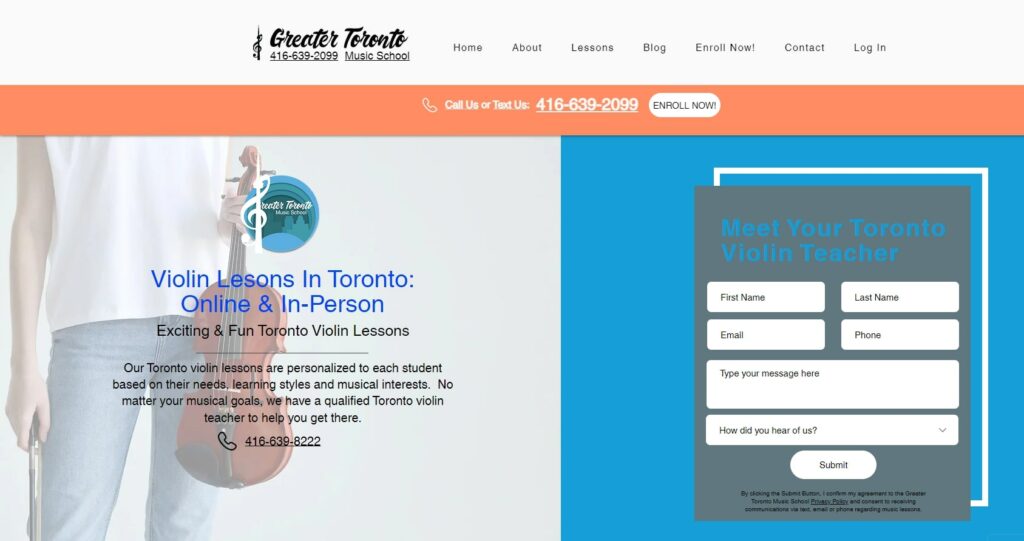 Greater Toronto Music School encompasses classical and contemporary music, as well as instruments from every major category. The school also offers lessons on songwriting, artist development, and the business side of the music industry.
This institution's violin lessons are tailor-fit for each pupil's learning style and level of competence. Instructors make sure to establish both a theoretical foundation and a firm grasp of technique, so that learners can have a well-rounded mastery of violin. Lessons, by the way, may be online or in-person.
Greater Toronto Music School has bagged a number of accolades for its quality music lessons. These accolades include Best Music School in GTA at the 2023 Top Choice Awards, as well as CommunityVotes Platinum Winner in 2022.
15 years of experience
Open all week long
Validated by industry awards
Shorter office hours on weekends
An amazing music school
We have been so happy with the quality of teaching our son has received with Greater Toronto Music School. It truly is an amazing music school. His teacher, Jaime, is patient, knowledgable, and encouraging! We love that they offer classes virtually and don't feel like we are lacking anything in his lessons. It's also so great that he has the ability to learn music theory and also play popular songs that would be of interest to him. We would definitely highly recommend Greater Toronto Music School!
Rachel Butkowsky, Google Reviews
Extremely professional and knowledgeable
I have been with the school for almost 2 months now. My instructor Madeline (I am learning guitar) is extremely professional and knowledgeable. She is also punctual and extremely helpful as I am a beginner. The portal used for communication is also great! Helps keep everything in one place.
Jaime is great at communicating as well. He is always sending reminders and checking up. The payment process is as smooth as it can be.
Overall, highly recommend Greater Toronto Music School.
Iqra Khan, Google Reviews