The 5 Best Crane Services in Toronto
Need help in moving your personal things or heavy materials for your business? You're on the right page then!
In this review, we curated a list of the best crane services in Toronto.

This will provide you with pertinent information on the services they offer and usual equipment used. We also made sure to assess how they can make each moving and lifting experience hassle-free.
The Best Crane Services in Toronto
To make your search and selection of a crane service in Toronto easier, we considered the following factors:
How much do crane services cost in Toronto?
The cost of crane services depends on the type you need. Keep in mind that various cranes are used for different objects. Prices are also proportional to urgency, duration of service, and special requests.
Please note that these are average prices. We recommend visiting each of the sites for better estimates and specific quotes.
Crane Size
Rent Type
Cost
Small/Mobile
Daily

Monthly

$200

$6,000 and up

Large/Tower
Daily

Monthly

$500-$1,000

$15,000 and up
1. JT Crane & Rigging Ltd.
| Test | Info |
| --- | --- |
| SERVICES | Mobile Crane Rental, Boom Truck & Trailer, Rigging & Machinery Moving, Permits & Engineering, Dismantle Demolition, Millwrighting Services, Hoisting |
| WEBSITE | https://jtcrane.ca/ |
| ADDRESS | Suite #306 - 4936 Yonge Street, Toronto, Ontario |
| CONTACT DETAILS | +1 647 454 6806 |
| BUSINESS HOURS | Monday to Friday, 6:00 AM-6:00 PM |
| CUSTOMER SERVICE AVAILABILITY | 24 hours |
| | |
| --- | --- |
| ACCESSIBILITY | ★★★★★ |
| SCOPE OF SERVICES | ★★★★★ |
| QUALITY OF WORK | ★★★★☆ |
JT Crane & Rigging Ltd. has been in the business since 2017 and in 2020, they ranked number 64 on the Startup List 2020 of Canada's top new growth companies. They are recognized to have fresh, innovative ideas, products, and services to the market.
Most of the essential information can be found on their website. You will find it easy to take a look at their portfolio as the site is very visual and easy to navigate.
What is most impressive about this company is their range of services, offering almost everything from mobile crane and boom truck rental to scrap and junk removal. They also offer a 24/7 service to accommodate last minute requests and emergency tasks.
The company also performs rigging & machinery moving, millwrighting services, and dismantle demolition. Their hosting services include, but are not limited to, HVACs, steel structures, sea can containers, and even tree removal.
Permits and Engineering are also included in their services, which is a major plus point. This saves the hassle of securing clearances and other documents needed to make the move.
Health and safety also seem to be a priority in this company. They claim to be concerned with their employees health as well, ensuring that they only report to work when completely able.
It is also commendable how they have created a Youtube channel where they post videos of their previous projects. This is reflective of their transparency and workmanship and can be a good way to essentially get a "preview" of their work.
Their record seems to be clean thus far, but there are definitely things they can still improve on. Given that they are relatively new, it wouldn't hurt if their shop and products list were updated.
Only one customer review can be found online as of the time of this writing, so JT Crane & Rigging Ltd. doesn't really get points on feedback.
However, they do give free consultations. Clients will just need to enter information about their project and send it via their website.
24/7 customer service
Great scope of services
Extensive portfolio
Fresh units
Limited customer reviews
Small social media presence
Product list not updated
Customer Reviews
"Always reliable. And affordable, stays till the job is done and helps where ever he can. Very professional. If your (you're) an arborist, they have lots of experience with tree work." — Jordan Byron, via Facebook
2. Elite Crane Rental
| Test | Info |
| --- | --- |
| SERVICES | Man Basket, 3D Lift Plans, Rigging/Machinery Moving, Transportation, Road Closures |
| WEBSITE | https://www.elitecranerental.com/ |
| ADDRESS | 600 Nebo Road, Hamilton, Ontario |
| CONTACT DETAILS | +1 844 742 2553 |
| CUSTOMER SERVICE AVAILABILITY | 24 hours |
| | |
| --- | --- |
| ACCESSIBILITY | ★★★★☆ |
| SCOPE OF SERVICES | ★★★★☆ |
| QUALITY OF WORK | ★★★★☆ |

While its main headquarters and mailing address are in Hamilton and Ancaster, Elite Crane Rental does have a satellite yard in Toronto.
The service was incorporated in 2015 and expanded as a multiple crane fleet in 2018. Their membership in several professional associations such as the International Union of Operating Engineers and Crane Rental Association of Ontario is probably a good indication of their service.
On top of that, every one of their operators hold a valid Red Seal endorsement – Hoisting Engineer (339A) and are active members of the Ontario College of Trades.
The company has a basic scope of services for heavy lifting and moving. They boast of their 3D Lift Plans as an initial step in their process and they also take pride in working with ​​multiple traffic management companies for essential road closures.

Customer service is also available 24/7 for those with emergency concerns and urgent projects.
Elite Crane Rentals primarily makes use of mobile cranes such as All Terrain Cranes, Truck Mounted Cranes, Rough Terrain Cranes, Crawler Cranes, and Carry Deck Cranes. They also operate boom truck trailers, which are considered as great equipment for construction work given their functionality.
Spyder Cranes are also utilized by the company, which are mini cranes that are specifically useful for spaces and places of low ceiling height or even remote areas. They are proven to be a good innovation for the industry as they are able to perform tasks that usual lifting equipment cannot due to their sizes.
In terms of reviews, the company has a total of 11 via Google and Facebook. These are quite few, but we do note that all of them are positive.
The company can also be found on usual social media pages, but they can do more on growing the number of their connections and followers.
Certified professional operators
3D Lift Plans
Free quotation through call
Not much additional services 
Small social media presence
Customer Reviews
"Always professional,on time and doing what it takes to get the job done!" — Eric Banfield, via Facebook
★★★★★
"I used Elite Crane this past weekend to lift a hot tub into my backyard. Dave was very accommodating right from the first time I called him. He arrived early, and was excellent to deal with. I would recommend his service to anyone needing a lift" — Trevor Graham, via Google
3. ROC Corp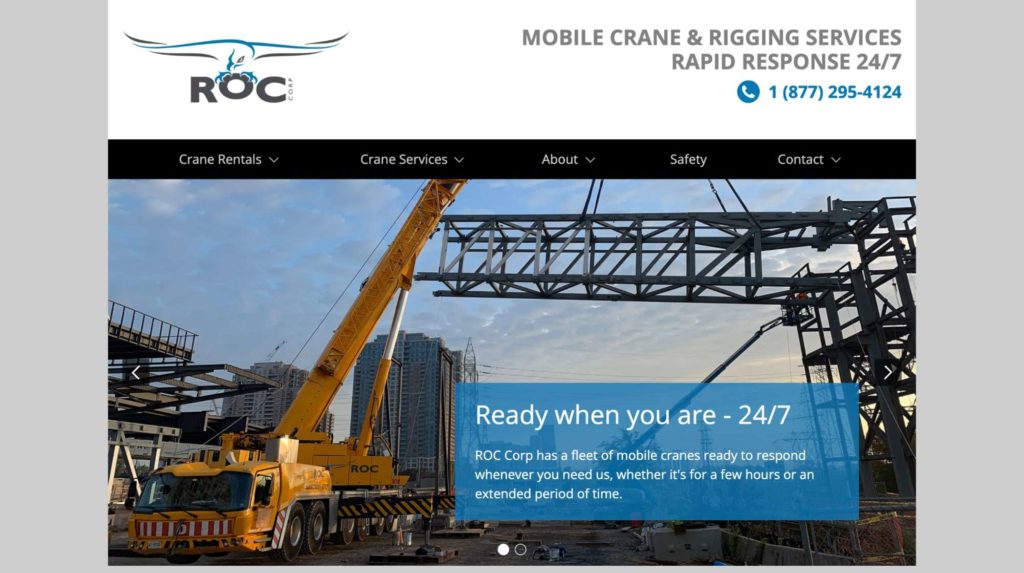 Test
Info
SERVICES
Mobile Crane Rental, Industrial and Commercial Crane Services, Residential Crane Services, Rigging Services
WEBSITE
https://www.roccorp.ca/
ADDRESS

80 Union St, Toronto, Ontario




Main Office:

250 Royal Oak Road, Cambridge, Ontario

CONTACT DETAILS
+1 877 295 4124
CUSTOMER SERVICE AVAILABILITY
24 hours
| | |
| --- | --- |
| ACCESSIBILITY | ★★★★★ |
| SCOPE OF SERVICES | ★★★★☆ |
| QUALITY OF WORK | ★★★★☆ |
Serving mostly industrial, commercial, and residential industries, ROC Corp sets itself as a mobile crane company. It is primarily based in Cambridge, Ontario, but has offices spread across Ontario.
Having multiple offices in Ontario is obviously this company's biggest strength. This makes them easily accessible to clients and allows them to serve multiple areas quickly and efficiently.

The website of the company introduces itself through its crane rental units and crane services. Each crane type has its own description, common uses, and list of models. A discerning client will benefit from this as they may select which would be most useful to them.
On top of that, the list of models also reflects how much equipment the company holds and how versatile they can be.
It is also important to emphasize that ROC is part of two crane rental associations in Ontario. This honestly gives a good impression to their credibility and professionalism.
A noticeable factor in ROC's website is how it usually caters to heavy lifts and huge projects. While they offer mobile crane services for residential requests, most of their services lean towards construction and engineering projects.

Maintenance of road bridges and lifting for massive and tall objects are also prevalent in their visuals.
They do mention that they accept small projects, but homeowners or those who might need movers for personal needs or small businesses may not find interest in them. This is a small factor but we have to admit that it can have a compound effect.
Has many offices in Ontario
Informative website
Offers on site evaluations
Usually caters to big projects
Has a 1 star rating from 1 person via Google
Customer Reviews
★★★★★
"Professional & efficient crane services!…. Great big shout out to Mr. Pat Ash, and Bonnie in the office for making things happen on the "same" day….in providing their crane services for us on such short notice…Truly appreciate their services along with their humble and polite crew that were on site for us! (Tunney & Chris)" — Scott Hurst, via Google
★★★★★
"All the Trades in one place for all your needs. Very professional in every way." — Uncle Paul, via Google
4. Braymore Crane Rental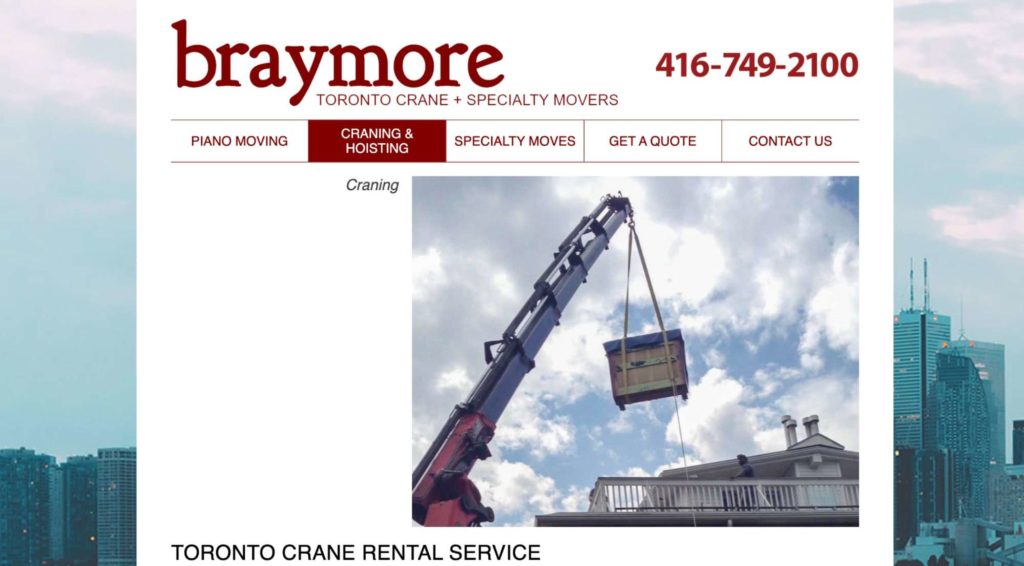 | Test | Info |
| --- | --- |
| SERVICES | Craning, Hoisting, Piano Moving, Specialty Moving |
| WEBSITE | https://www.braymore.ca/craning.html |
| ADDRESS | 320 Norfinch Drive, Toronto, Ontario |
| CONTACT DETAILS | +1 416 749 2100 |
| | |
| --- | --- |
| ACCESSIBILITY | ★★★★☆ |
| SCOPE OF SERVICES | ★★★★☆ |
| QUALITY OF WORK | ★★★★☆ |
Since 1998, Braymore has been recognized as a crane rental and specialty mover in Toronto. They are known for their skills in piano moving and hoisting services.
What sets this company apart is how it brands itself as a service for the people — for homeowners, small business owners, or any person on the move.
Most of the reviews that can be found online commend them for their professionalism in piano moving and the extra care they provide in assisting homeowners and movers.
While their identity embraces the concept of "your friendly-neighborhood" service provider, it can be a disadvantage to find and attract corporate clients.
The company gets to lift most of the basics but they don't directly cater to huge projects such as construction and engineering.
However, their specialty services and years of experience give them a plus point.
Braymore has two separate websites – one is almost entirely about specialty moving and the other is about craning technologies they utilize. This can be confusing for a few clients but it also increases chances of more visibility and growing an online presence.
All said, there isn't much to dislike about this crane service provider. It meets the standards and is literally a one-call away friend.
Extensive experience
Recognized speciality mover
Has a number of good online reviews
Two separate websites
Not much about construction and engineering projects
Customer Reviews
"These guys are the most professional movers in the GTA. I am a pianist by trade, and I've had my instruments moved many times. There isn't another company that is more careful, skilled and fair. Braymore craned in my piano to the second floor when the stairs were just too tight, and they gave me a very reasonable price." — Gregory of GTA, via Braymore website
★★★★★
"Let me share that Greg from Braymore Crane Service was on time, professional and friendly, but most importantly took his time to ensure that the swimspa he was setting up to crane over our home and into our backyard and onto our concrete pad, went perfectly! Which it did! It's quite something to watch, and a little nerve racking, but we were obviously in very good hands.
We purchased our swimspa through Bjorn from Backyard Retreat in Oakville, and Braymore Crane Service is the crane service they use. We were very happy with the entire process and service, and should we have a requirement for a crane again, we would not hesitate to utilize Braymore Crane Service.
Thanks Greg! The Metcalfes" — Susan Metcalfe, via Google
5. TONY & SONS CRANES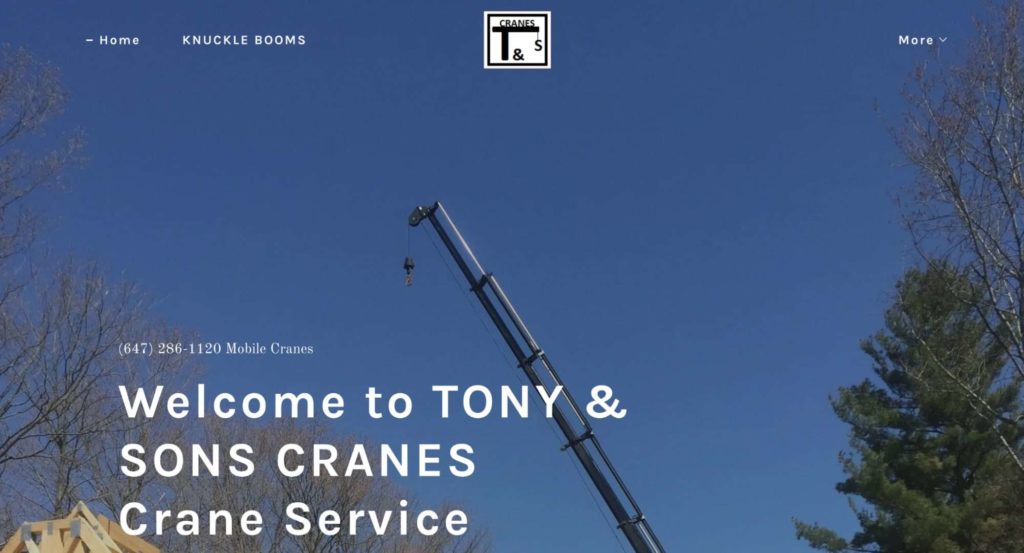 | Test | Info |
| --- | --- |
| SERVICES | Knuckle Boom Truck Services |
| WEBSITE | https://tonyandsonscranes.com/ |
| ADDRESS | 53 Comay Rd, North York, Ontario |
| CONTACT DETAILS | +1 647 286 1120 |
| BUSINESS HOURS | 7:00 AM-5:00 PM |
| CUSTOMER SERVICE AVAILABILITY | 24 hours |
| | |
| --- | --- |
| ACCESSIBILITY | ★★★★☆ |
| SCOPE OF SERVICES | ★★★☆☆ |
| QUALITY OF WORK | ★★★★☆ |
Established in 2018, Tony & Sons Cranes is a humble crane rental service in Toronto. Their website is a reflection of their simple and straightforward delivery.
Tony & Sons Cranes boasts of its affordable rates without sacrificing the quality of their service. This is most probably true given the number of positive feedback from their previous customers.
Among this list, Tony & Sons Cranes has the most number of reviews in Google. They have a perfect 5-star rating out of 29 reviews.
They also have one of the cheapest rates (arguably the cheapest) in all of Ontario. This is their best selling-point, and honestly, it makes total sense.
Crane services can seem intimidating and this company dismisses that. From their online booking down to their signature knuckle boom trucks, they ensure to provide that friendly, professional service.
The company explains that they use knuckle boom trucks as it "provides a compact size for storage and maneuvering" and "can be controlled in a variety of ways by an operator."
Of course, most strengths are double-edged swords. The small business captures only a chunk of the crane rental market given their particular equipment and neighborhood approach.
While knuckle boom trucks are considered the holy grail in construction given their versatility, there are certain projects that would still require other crane types such as tower cranes or telescopic cranes. Not all clients would need or want a knuckle boom truck, that's for sure.
Construction and engineering companies usually look for experience in handling big projects and Tony & Sons doesn't really offer much of that. They really focus on simple and compact projects that seek assistance on usual moving and lifting.
Overall, Tony & Sons is really that affordable crane rental service. It has moved and lifted home materials, HVACs, and even a hiab crane.
Affordable rates
Good online reviews
Bespoke service 
Not much experience in large projects
Limited equipment
Customer Reviews
★★★★★
"Great service and a really good price!! Tony lifted and transported my hiab crane carefully and delivered it to the yard without any problems. The crane and truck are in an excellent condition. I highly recommend Tony for any work that requires a crane. Keep up the good job Tony!" — Amos Chikwengo
★★★★★
"Tony provided great help for getting our huge units on the roof. The size of his truck may be deceiving, but we were able to get all our material lifted with no problems! Going to continue working with him" — Kyle Lucrida
FAQs about crane services in Toronto
---
If you're finally making that move or needing a lift, we hope this review helped you in finding the best crane rental service in Toronto. For those of you who have crane rental service recommendations in Toronto or nearby areas, feel free to share them with us!
Here is a guide to moving homes in Toronto, in case any of you might need it.