The 4 Best Wig Shops in Toronto
Medical hair loss, hairstyle upgrade, or special events? Whatever your purpose for a wig is, these top shops can help you!
This review sets the best wig shops in Toronto apart from the rest. Discover the ones that made the cut so you can make a wise style choice too.
Choosing the Top Wig Shops in Toronto
To select the best wig shops in the city, we looked for the following:

The Cost of Wigs in Toronto
There are a lot of things that go into the price of a wig. In general, it all boils down to the type of wig, construction, installation, plus other additional features.
You can see the table below to get a better idea of the costs of wigs:
Item
Estimated Cost
Human hair wig
$700 - $7,000
Synthetic hair wig

Starts at $80

$200 (with monofilament wig cap)

$300 (if hair bundles are tied to wig cap)

Natural constructions

(monofilament wig cap or lace front cap)

$200 - $400 (synthetic)

$400 - $3,000 (human hair)

Wig design and installation
$300 - $750

Additional features

(highlights, colors, styling, etc.)

$200
1. Continental Hair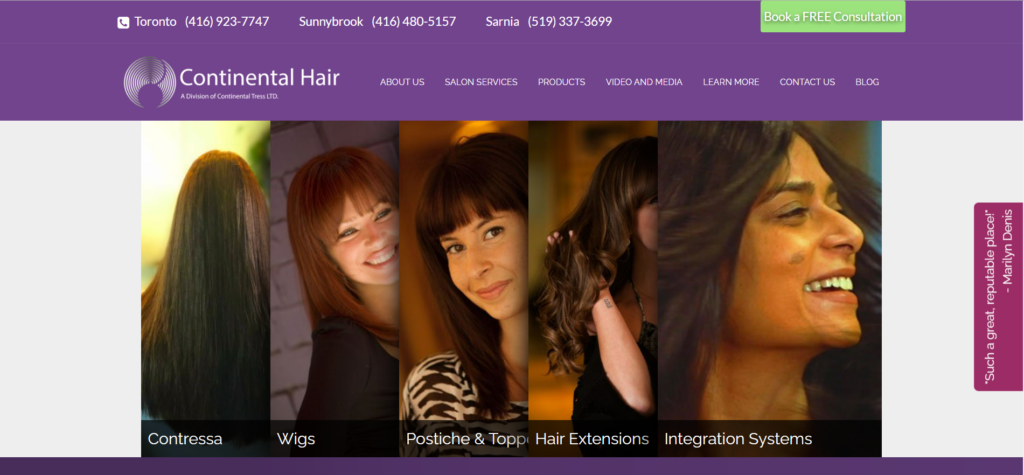 Test
Info
SERVICES
Contressa hair system, wigs, postiche/topper, hair extensions integration systems
WEBSITE
https://continentalhair.com/
ADDRESS
92½ Avenue Rd, Toronto, ON M5R 2H2
CONTACT DETAILS
Toronto: 416-923-7747

Sunnybrook Station: 416-480-5157

Sarnia: 519-337-3699

Email address: [email protected] | [email protected]

OPERATING HOURS
Tuesday - Friday: 10:00 AM - 5:00 PM

Saturday: 9:00 AM - 4:00 PM
| | |
| --- | --- |
| Variety of wig selections | ★★★★★ |
| Reasonable prices | ★★★★★ |
| Customer service | ★★★★★ |
| Customer satisfaction | ★★★★☆ |
Continental Hair is what you get if you combine all the positives you've read throughout this list. With over 50 years of experience, they're almost the perfect shop to get your perfect wig – almost.
Let's talk about their strong points first, starting with the range of selection. Seeing the wealth of styles they offer (both custom and ready-made) arranged based on certain price points, was a great point for us.
The overall buying experience is also fairly pleasing with only a couple of flaws here and there. Consultation is free and booking an appointment here was the easiest we've encountered.
Clients noted that they felt safe and loved the level of knowledge shared with them while browsing.
Our other favorite thing is the quality of the wig adjustments they do. They have a wonderful cocktail of salon services performed by their wonderful team of stylists and colorists.
And we said wigs are investments, right? Well here, they have a financing option through HealthSmart, which is a great plus for customers who want more expensive options but can't afford them.
50 years of experience
Worked with over 20,000 clients
Various locations in Toronto
Free consultation
Great team of stylists and colorists
Medical wigs available
Good range of salon services
Financing option available
Hard to make appointments (schedules fill up quickly)
Challenging to find parking
Doesn't work with hair bought from other stores or online
Customer Reviews
Satisfied customer for many years
I wanted to take a moment to express my gratitude to Michael and his wonderful team at Continental Hair. Michael made a very big impression on me when I was diagnosed with Alopecia, his compassion and his team gave me hope and I have been buying his wigs ever since. His Contressa wigs are the best I have ever used. I have been a very satisfied customer for 16ys! – Vanessa Burke
A wonderful experience
I had a wonderful experience here with Laila! She was wonderful so precessional and outgoing. She made my experience at this salon a very positive one; I would definitely recommend others here. Also, Michael Cuba was so welcoming and nice. Great atmosphere and professionalism. Thank you Laila – Madinna Yousofi
2. Paula's Wig Boutique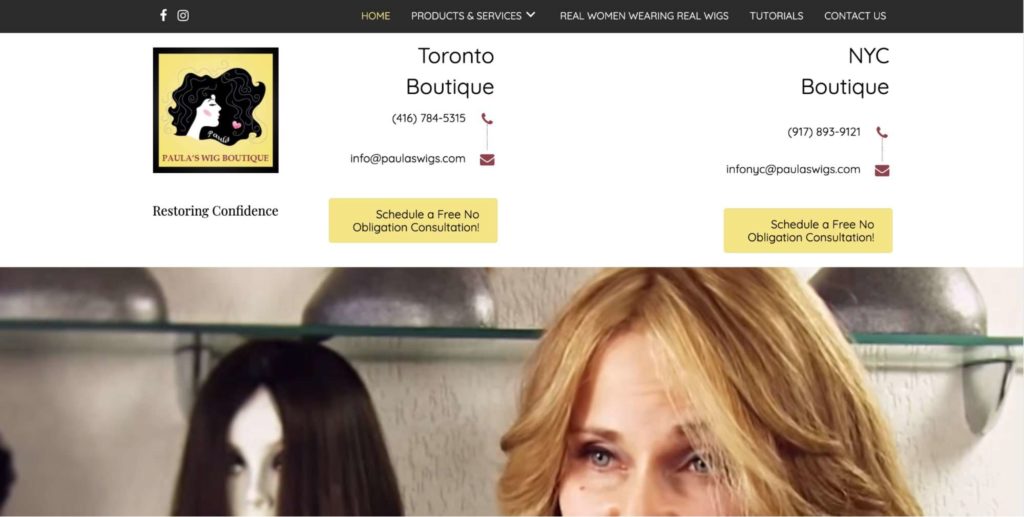 | Test | Info |
| --- | --- |
| SERVICES | Human hair wigs, toppers |
| WEBSITE | https://paulaswigs.com/ |
| ADDRESS | 3405 Bathurst St, North York, ON M6A 2C1 |
| CONTACT DETAILS | +1 416-784-5315 |
| OPERATING HOURS | Tuesday, Wednesday, Thursday & Sunday: 10:00 AM - 4:00 PM |
| | |
| --- | --- |
| Variety of wig selections | ★★★☆☆ |
| Prices | ★★★★☆ |
| Customer service | ★★★★★ |
| Customer satisfaction | ★★★★★ |
In our opinion, shopping for wigs isn't just retail therapy – it's an entire experience. And when it comes to that, no one plays it better than Paula's Wig Boutique.
The shop sells human hair wigs, so do expect to pay premium prices to enjoy the premium quality. But if we break down every single cent you're paying for, we can confidently say that you're getting a good deal.
For starters, prospective clients can book a free, private consultation to go through their needs and options. To give you peace of mind, the session is purely confidential, plus many clients shared that they felt comfortable and at ease with the shop's staff.
Second, apart from ready-made wigs, the boutique also creates custom wigs from scratch. Now, this is an option we definitely love for our meticulous friends with unique cases (like medical conditions).
Third, they have full wig salon services including repairs, which was an absolute delight for us! See, wigs are big investments, so knowing that clients can get back to them for maintenance is a plus for sustainability.
Finally, for clients who will soon experience medical hair loss, they can make wigs out of the client's own hair. According to other clients, the process is just as compassionate as one can imagine – often referring to the shop as a safe place for all customers.
Conversely, since they don't sell synthetic wigs, your options are fairly limited. Considering how limited human hair can be, you can't expect a colossal collection here.
But if you do decide to get a wig from them, you have the freedom for styling and coloring. It's basically giving you the wheel to take command of your own hair.
Free, private, no-obligation consultation
Ready-made or custom-made wigs available
Full wig salon services (styling, cutting, color, etc.)
Repairs wigs (bought from them)
Makes wigs prior to medical hair loss
Limited ready-made options
Limited availability
Customer Reviews
Finest quality of wigs
Paula's team is the absolute best. I've been going to paula for my custom wigs/falls for 20 years! The wigs are made from the finest hair and paula pays such attention to detail. Paula and her staff treat you like family and strive to make the experience of wig buying truly amazing. Paula stands behind her products and makes sure that you are fully satisfied with your purchase. Nothing compares to paula!! Paula's wig boutique is the best!! – Judy Neger
Incredible workmanship
I have been a client of Paula's for almost 20 years. Her wigs are incredible quality and if there is an issue they stand behind their products and work. I recently took a 6 year old wig in for a major colour change. It came out better than I had hoped and it's like a new wig. I highly recommend them. – Suzanne Rotter
3. Hair and Wigs Company Inc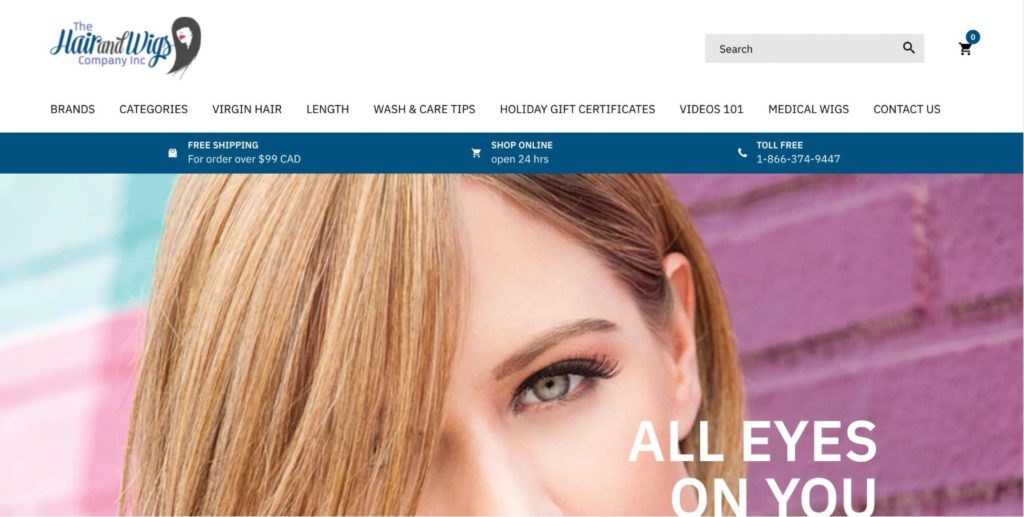 | Test | Info |
| --- | --- |
| SERVICES | Accessories, hair extensions, hair toppers, human hair toppers, human hair wigs, natural u-part wigs, synthetic heat friendly hair toppers, lace front wigs |
| WEBSITE | https://hairandwigs.com/ |
| ADDRESS | 719 Danforth Ave, Toronto, ON M4J 1L2 |
| CONTACT DETAILS | +1 416-694-5553 |
| OPERATING HOURS | Monday to Saturday: 10:00 AM - 6:00 PM |
| | |
| --- | --- |
| Variety of wig selections | ★★★★☆ |
| Prices | ★★★★☆ |
| Customer service | ★★★★★ |
| Customer satisfaction | ★★★★☆ |
Like most standard wig shops, Hair and Wigs Company offers both ready-made and custom-made wigs. On top of that, they also have notable customer service that sets them apart in the competition.
Speaking with their past clients, we've heard praises about the level of care at the shop. As a plus, a majority of their customers loved the wigs that were tailored fit to their tastes too.
Another thing that we liked is that you can book a consultation with an expert hair replacement consultant here. This session ensures that you get specialized recommendations for a wig you deserve.
On the rough end, it will cost you an extra $25. Though considering how much of an investment you're making, we didn't mind the addition as it also involved making accurate measurements.
For over 25 years, the shop has specialized in providing long-term hair solutions to a wide variety of clients. In particular, they're best known for natural virgin Indian human hair as well as synthetic hair wig options.
Above all else, ordering ready-made wigs is an absolute pleasure, at least in our experience. Both online shopping and in-store buying were fairly pleasant as they didn't give the feel of being pressured to buy anything.
Synthetic hair and human hair wigs available
Expert hair replacement consultants available
Convenient shopping experience online and on-site
Specializes in natural virgin Indian human hair 
Medical wigs available
Costs extra for consultation
Customer Reviews
Satisfactory results
Got a customized human hair wig. Dark grey. Couldn't be happier. Camille gave us a very realistic picture of what to expect as she talked us through various options. Very forthcoming and helpful. So happy with the final outcome. – Anup Vilkhu
Fantastic buying experience
Hi, is Lucy, I am going to this place, about a year ago, and since I found out about I can tell that the person who deals is a very polite, nice and very understanding and she gives her time and care about her clients a lot and that is why I can recommend anyone to see her because she will do anything to help, and personaly I am so happy that I met her and will continue to go there and never change her. thanks Camille for all the help and pacience, understanding and cooperation I will always be grateful. – Lucy A.
4. Hair A La Lode by Mazal Hair Stylist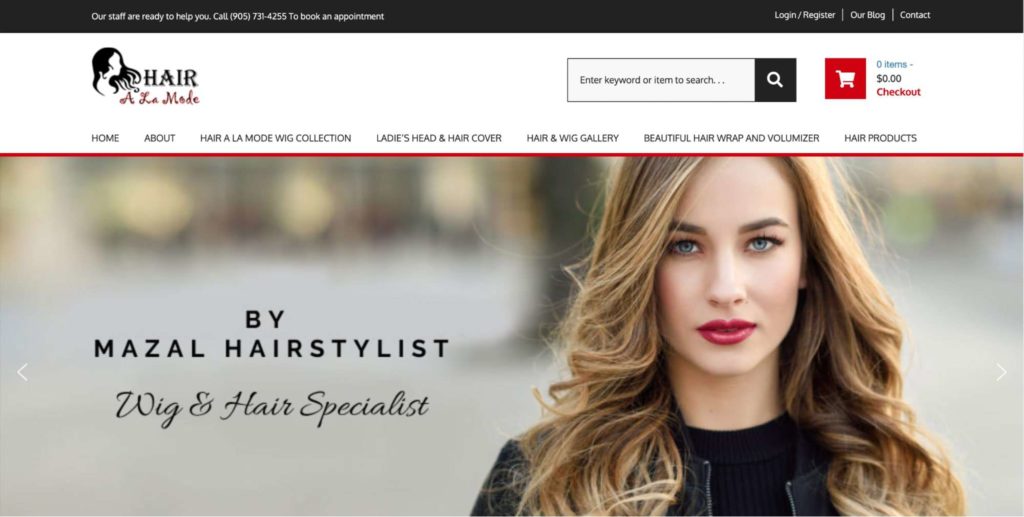 | Test | Info |
| --- | --- |
| SERVICES | Custom made hairpieces, hat fall wig, 100% human hair wig, consignment wigs 100% human hair long synthetic wig, medium length synthetic wig, short synthetic wig, ponytail, hair topper, hair scrunchies & hairpiece, 50% human hair 50% synthetic hair, wig accessories |
| WEBSITE | http://www.hairalamode.ca/ |
| ADDRESS | 7241 Bathurst St, Thornhill, ON L4J 3W1 |
| CONTACT DETAILS | +1 905-731-4255 |
| OPERATING HOURS | Monday - Friday: 9:00 AM - 5:00 PM |
| | |
| --- | --- |
| Variety of wig selections | ★★★★☆ |
| Prices | ★★★★★ |
| Customer service | ★★★★☆ |
| Customer satisfaction | ★★★★★ |
Hair A La Mode is like the city's treasure trove of all things hair. Aside from wigs, you can also find hair accessories and other related merchandise.
When it comes to variety of wig selections, you'll get a pretty decent set here. There are long, medium, and short hairstyles that come in various cuts and colors.
Like other stores on this list, one of their strongest suits is definitely their custom-made wigs. With a 4.9-star rating on Google Reviews, you have a sense that most clients are convinced of the quality of their workmanship.
To make things even better, consultation here is absolutely free. You can even set one up via phone or video call, depending on what works best for you.
We also like that they have a wide range of hair wig salon services. Although they're not the only store to offer this, they definitely have more offerings than most, such as steamed treatments, perms, and hair relaxers.
The best part about the overall experience is that they also repair wigs, which is always one of the best selling points for us. Plus, they can do this for both human hair and synthetic hair wigs, which earns them an extra point.
On the more negative side of things, we did find a few complaints about the quality of some of the wigs. While others pointed out that some of their items were overpriced.
On the bright side, most of the complaints were minor issues that didn't seem to arise in recent years (as far as our research showed). And to be fair, we really think that they have some of the most competitive prices in the market – all are within the city average.
35 years of experience
Free consultation online or in-person
Wide range of hair wig salon services
Performs repairs on wigs (synthetic hair and human hair)
Competitive prices
Positive shopping experience online and on-site
on wig quality
Some wigs are on the pricey side
Customer Reviews
Highly recommended
Amazing experience dealing with Mazal. She is excellent in customer service, totally focused on listening and providing the best. I would highly recommend her to anyone looking for the best product and even better service. – Rukhsana Hashmi
A positive experience
This was my first time going to Hair a la mode by Mazal and it was such a positive experience. The owner Mazal knew exactly what I needed and answered all questions I had. Mazal and her staff made me feel so comfortable with their friendly and professional manner. I walked out with the perfect wigs and a definite confidence boost. I would highly recommend Hair a la mode by Mazal for all your hair care needs. – Natalie Francis
FAQs About Wig Stores in Toronto
---
Whether it's a medical concern or one that's done for a confidence boost, treat yourself with nothing but the best service providers. Here are more options to consider for physical self-improvement: