Top 5 Civil Litigation Lawyers in Toronto
Issues with your neighbour, contractor, company, or tenant can lead to unresolved conflicts. These may involve personal injury, property damage, breach of contract, or non-payment of rent.
This is where a civil litigation lawyer can come in to mediate and help settle the dispute out of court as much as possible.
In this article, we have rounded up and reviewed the top civil litigation lawyers in Toronto.
The Best Civil Litigation Lawyers in Toronto
Our search for the best civil litigation lawyers was anchored on the following criteria:
How much is the fee of a civil litigation lawyer in Toronto?
Below are the average costs of hiring a civil litigation lawyer based on the work involved per case.
| Service | Range of Fee |
| --- | --- |
| Initiate action and delivery of Statement of Claim | CAD 1,500 - CAD 5,000 |
| Case examination | CAD 3,500 - CAD 5,000 |
| Trial preparation and preparation | CAD 5,000 - CAD 15,000 |
Civil litigation lawyers are remunerated according to the level of difficulty of the case and the amount of time needed to work on the case. The fee also changes depending on the expertise of the lawyer.
Lawyers may collect fees on an hourly basis. This fee is computed based on the number of hours the lawyers worked on the case plus court filing and other related costs.
A fixed fee is determined for cases that are simple and routine. Cases such as traffic ticket resolution or writing a will may be billed with a flat fee.
Other firms will collect on a contingent basis wherein the lawyer only gets paid if the client wins the case. The fee is based on a percentage of the claim received by the client.
1. Gary J. Wise – Wise Law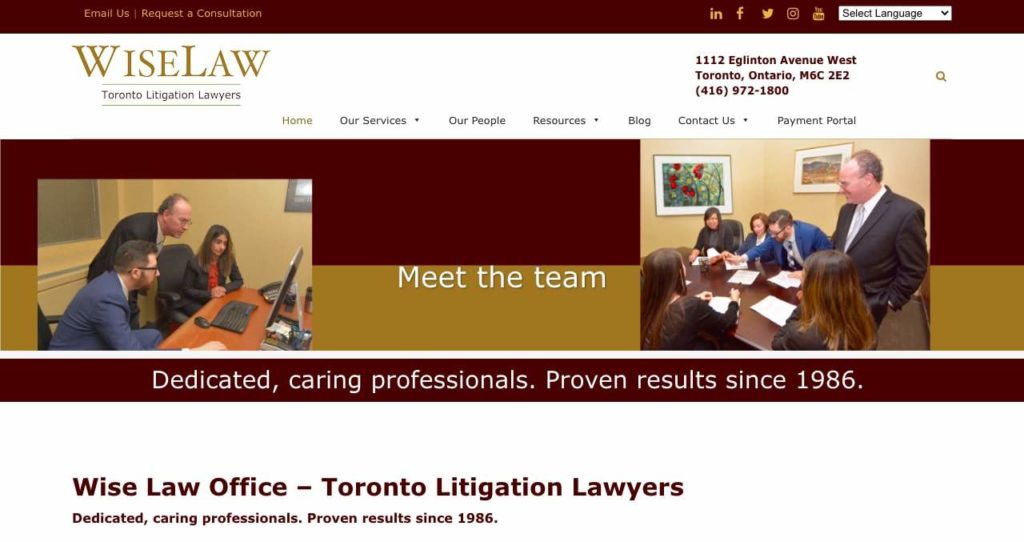 Test
Info
Services

Employment Law

Wills and Estates Law

Civil Litigation

Family Law

Personal Injury

Business Law

Real Estate Law

Website
https://www.wiselaw.net/
Address
1112 Eglinton Ave W, Toronto, ON M6C 2E2
Contact details
416-972-1800
Operating hours
Monday - Friday: 8:30 am - 6:30 pm

Saturday - Sunday: Closed
| | |
| --- | --- |
| Criteria | Rating |
| Efficiency | ★★★★★ (5/5) |
| Availability | ★★★★☆ (4/5) |
| Lawyer's Experience | ★★★★★ (5/5) |
| Client Servicing | ★★★★☆ (4/5) |
Gary J. Wise, the founder and senior lawyer of Wise Law, has been practising since 1986. Apart from civil law, he also takes on employment, family law, and business-related cases.
With his extensive experience, he was able to contribute his knowledge to the development of an iPhone application providing information on Canada's laws and regulations. He also is a contributor to various publications.
We like that he continues to share his insights on legal ethics and online security issues as Continuing Legal Education presenter.
He also spearheaded the Wise Law blog, which helps provide more information on legal issues and changes in Canadian laws and regulations.
They may be a team of 4 lawyers but this lean team can lend a more personalised service. A client involved in a work-related disability case mentioned that they were great listeners and truly cared for her by doing all they could to get a fair resolution.
Lawyers take time to thoroughly explain the cases so clients are guided through difficult legal situations. Their various court experiences have helped them obtain positive results at the quickest possible time.
We appreciate that they provide free initial consultations. It may be a short 15-minute meeting, but they still can give an initial assessment of the case and the solutions.
If you are looking for lawyers who can speak other foreign languages, this firm is for you. Aside from English, its lawyers can do consultations in Russian, Filipino, and Hindi.
Overall, this firm is recommended as it provides professional legal services with a personal touch.
Developed a free mobile application providing legal information 
Contributor in various publications
Continuing Legal Education presenter
Offers free consultation
Foreign speaking team of lawyers
Lean team with 4 lawyers handling varied cases
Only 15 minutes for initial consultation
Customer Reviews
Excellent lawyer
"Garry Wise is an outstanding family law attorney. He's very personable and focusses on the facts and not the emotions. His guidance and approach enabled me to deal with my situation and get on with life rather than quibbling about everything.
I've also dealt with Garry's law office for real-estate and employment issues, and again his services and guidance have been excellent." – Steve
Great Client Servicing
"This review is way overdue. Wiselaw and it's staff helped me tremendously. They were always professional, respectful, knowledgeable, responsible, empathetic and responded quickly to any inquiry.
I truly felt they cared about me and my situation and that they did all they could to help me. I am extremely grateful for their help with my work related disability situation.
I'd like to send out a special Thank you to all the people I dealt with: Garry Wise, Joy Yusi, Nina Karaeva, and an extra special thanks to Simran Bakshi.
I would and have highly recommended them!" – Lina
2. Howard C. Cohen – HC Cohen & Associates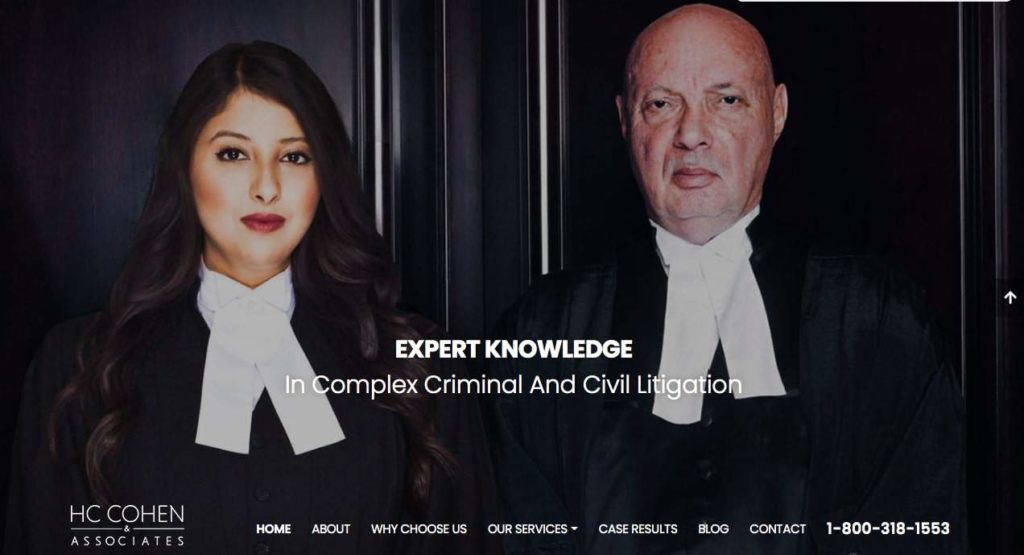 Test
Info
Services

Criminal Defence

Civil Litigation

Employment Disputes

Real Estate LAws and Injunctions

Appeals

Small Claims Matter

Website
https://hcohen.law/
Address
330 Bay St. Suite 500, Toronto, ON M5H 2S8
Contact details
416-364-7436
Operating hours

Monday - Friday: 9 am - 6 pm

Saturday: Closed

Sunday: 10 am - 5 pm
| | |
| --- | --- |
| Criteria | Rating |
| Efficiency | ★★★★★ (5/5) |
| Availability | ★★★★☆ (4/5) |
| Lawyer's Experience | ★★★★★ (5/5) |
| Client Servicing | ★★★★☆ (4/5) |
Harry Cohen has defended clients in a lot of complex civil cases. What we appreciate is his transparency in handling proceedings.
He also helps clients understand the complexities of a case and gives them honest expectations.
It is worth mentioning that his real-life experience of being a martial artist has helped him defend people involved in physical assault and self-defence.
If you are a police officer or security guard needing legal assistance, Harry is the best lawyer for you. As a licenced gun owner, he knows the intricacies of using a firearm and can leverage that to strengthen your case.
And for clients who have both civil and criminal cases, this firm is the one to turn to. Their knowledge in both fields enables them to come up with a comprehensive approach to defending clients.
They know that a civil case usually comes up after a criminal investigation or case. With their tactical skills in criminal litigation, they are able to defend clients by raising strong and well-analysed arguments that lead to the dismissal of charges or minimum penalties.
They also scour all possible sources of valid information through investigations of witnesses, examination of records, and looking at the small details to be able to come up with thorough case materials.
To make it easy for clients to communicate with the firm, clients can opt to call or send a message through the website form. Although, there is no option for a free consultation.
Overall, with their extensive knowledge and representations, this firm comes in highly recommended.
Certified specialist in criminal law
Knowledgeable in handling both criminal and civil cases
Martial artist experience helps in physical assault cases
Being a licenced gun owner aids in defending law enforcers
Limited manpower
No option for free consultation
Customer Reviews
Honest and trustworthy
"Mr.Cohen and his team are absolutely honest and trustworthy through and through ! at no point during my lengthy matter was there ever an intersection of second thought ! it was a refreshing experience to deal with a legal team that truly gave security an execution to a set plan !
great experience, extremely knowledgable , an absolute recomendation from me ! 10 stars !" – So
Straightforward approach
"We were lucky to have found Howard to represent us and Laura who was very responsive with any questions we had along the way. It was refreshing to meet Howard and see his straightforward genius approach to our case because he will not beat around the bush on any issue. His knowledge of the entire judicial process and talking us through what we can expect was what we were the most amazed by. You know that if he is representing you then you are in good hands. One could compare him to gladiator in his field. Thank you Howard and Laura for all your hard work on our behalf." – Milena
3. Pradeep Chand – Chand & Co.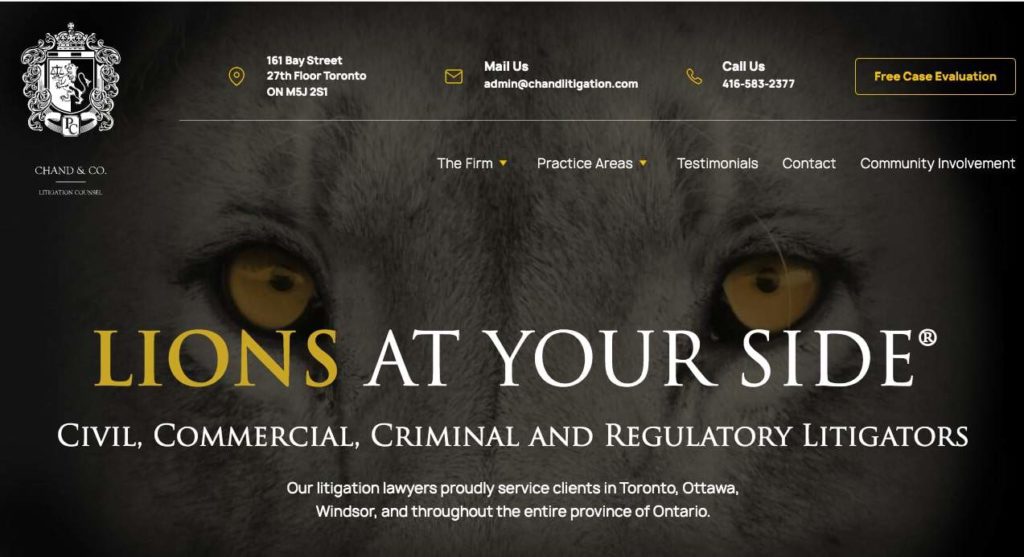 Test
Info
Services

Civil and Commercial Litigation Law

Regulatory Compliance and Defence

Professional Regulation and Discipline Law

Breach of Contract Lawyer

Public and Administrative Law

Commercial Lease Dispute Lawyer

Website
https://chandsnider.com/
Address
161 Bay St. 27th Floor, Toronto, ON M5J 2S1
Contact details
416-583-2377
Operating hours
Monday - Friday: 9 am - 8 pm

Saturday - Sunday: 9 am - 5 pm
| | |
| --- | --- |
| Criteria | Rating |
| Efficiency | ★★★★☆ (4/5) |
| Availability | ★★★★☆ (4/5) |
| Lawyer's Experience | ★★★★★ (5/5) |
| Client Servicing | ★★★★☆ (4/5) |
Pradeep Chad is the founding partner of Chand & Co. He brings with him over 20 years of experience in federal prosecution and civil litigation.
If you are looking for a firm with extensive experience in criminal and civil litigation, then we recommend you Pradeep and his team.
Pradeep's years of experience as a prosecutor helps map out the right course of action so cases are not escalated to court. But even if they do go on to trial, he is able to use his excellent cross-examination skills to defend his clients.
And because of this, he has had the privilege of handling a variety of complex and high-profile criminal cases.
Being a smaller firm has not stopped Pradeep and his team of lawyers to handle over 5,000 cases with over CAD 10 million worth of claims.
We found out though that they focus their skills and expertise to serve a select client base. There's nothing technically wrong with this, but it does mean that not all clients who seek out their expertise will be able to benefit from it.
On a brighter note, we like how the lawyers communicate well at any time of the day. One client has even said that the lawyers speak in a thoughtful and reassuring way despite handling multiple clients at a time, making him feel that he's in good hands.
Furthermore, they devote time to doing free legal work as a way to give back to the community. They also donate to academic scholarships and cancer aid.
All said, Chand & Co is on our list because of its professionalism and care not just for their client but the community as well.
Over 20 years of federal and civil law experience
Experienced in handling complex and high-profile criminal cases
Handles 5000 plus cases
Cad10 million worth of claims
Gives back time and money to the community
Small and relatively new law firm
Serve a select client base
Customer Reviews
Professional lawyer
"I worked with mr. Chand on resolving a shareholder dispute. I didn't want to take this fight to court and when I failed to reach an agreement with my partner yet again, I hired him to represent me. All I can say is that with a professional on your side it takes much less time and saves you the hassle." – Sherman
Excellent lawyer skills
"Pradeep kept us in the loop throughout the pre-trial process and was quite aggressive in the actual trial. That ensured us a just settlement in our boundary dispute. I wouldn't recommend any other commercial litigation lawyer, Pradeep is a sure winner!!!" – Bembry
4. Tanya Walker – Walker Law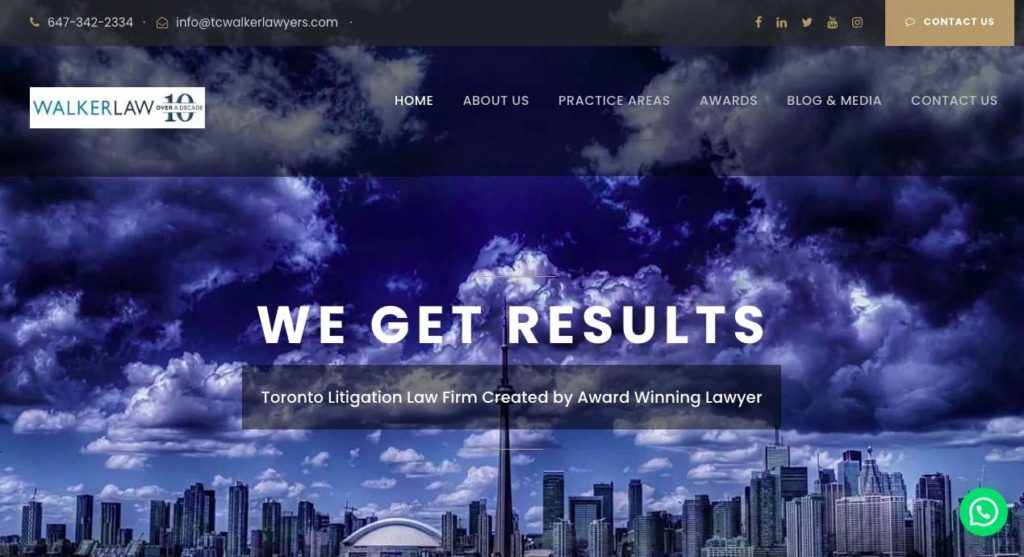 Test
Info
Services

Appeals

Civil Litigation Law

Commercial Litigation Law

Commerical Real Estate Disputes

Construction Disputes

Website
https://www.tcwalkerlawyers.com/
Address
1 Adelaide St E #2501, Toronto, ON M5C 2V9
Contact details
647-342-2334
Operating hours
Monday - Friday: 8 am - 6 pm

Saturday - Sunday: Closed
| | |
| --- | --- |
| Criteria | Rating |
| Efficiency | ★★★★☆ (4/5) |
| Availability | ★★★★☆ (4/5) |
| Lawyer's Experience | ★★★★☆ (4/5) |
| Client Servicing | ★★★★★ (5/5) |
Walker Law is headed by Tanya Walker who has been practising law for over 15 years. As its managing partner, she was awarded the 2018 Women's Business Enterprise of the Year.
We were impressed to know that she is the first black female and youngest Bencher of the Law Society of Ontario, which gives her an active role in ensuring that lawyers and paralegals meet the highest standards of capabilities and professionalism.
Furthermore, she has been recognised for 2 years by Lexpert Guides as one of the Leading Lawyers to Watch in Corporate/Commercial Litigation.
And if this is not enough evidence of being a brilliant lawyer, she is also certified as a specialist in Civil Litigation by the Law Society of Ontario.
These stellar credentials, coupled with her varied experience in court proceedings, have given her opportunities to be a legal analyst in various television shows.
We're glad to know that Tanya's already paying it forward by mentoring 3 younger lawyers who received their Juris Doctor only in the last 4 years. Even if these lawyers are still young, they have experience in civil and commercial litigations with some offering pro-bono work.
The support team may have limited experience in court proceedings but they work in tandem with Tanya. This ensures that they are guided in developing case plans and winning strategies.
At the same time, this assures clients that other members of the legal team are privy to her expertise and tremendous insight and can handle their cases well.
As a whole, having Tanya with a young team has not deterred clients get favourable case resolutions. We've included her in our list not just because of this, but because of her investment in the next generation of litigators.
Well-credentialed
Second term Bencher of the Law Society of Ontario
Certified Specialist in Civil Litigation 
Legal analyst in various television shows
Mentors new set of lawyers
Young set of lawyers
Limited experience in court proceedings
Customer Reviews
Best strategy for a positive resolution
"Working with Walker Law was an OUTSTANDING experience. Tanya Walker and Alana Spira left a truly lasting impression with their professionalism, dedication and skill. When my company and I faced a lengthy and unpleasant litigation, Tanya and Alana selected the best strategy to go forward and ensured a speedy and a very positive resolution to the case. If anything happens in the future, I would love to work with them again and cannot recommend them enough. Wow!" – Alexander
Brilliant and outstanding lawyer
"Walker Law is an excellent law firm that my husband and I would highly recommend to anyone looking for remarkable legal representation.
We truly appreciated having Tanya and Alana as powerful advocates on our case, as we navigated through a rather unpleasant legal situation.
Their legal expertise and dedication, gave us the encouragement we needed to stay focused and positive.
Tanya is a brilliant and outstanding lawyer that will not disappoint!!" – Diana
5. Daniel Freudman – Freudman Law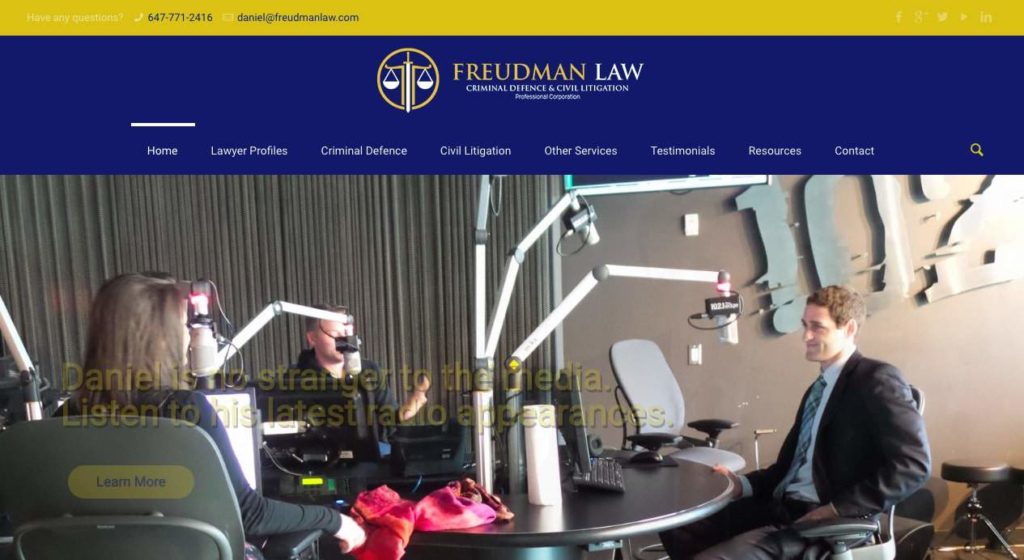 Test
Info
Services

Superior Court of Justice

Small claims Court

Motor Vehicle Accidents

Demand Letters

Personal Injury

Website
https://freudmanlaw.com/
Address
603 1/2 Parliament St, Toronto, ON M4X 1P9
Contact details
647-771-2416
Operating hours
Monday - Sunday: Open 24 hours
| | |
| --- | --- |
| Criteria | Rating |
| Efficiency | ★★★★☆ (4/5) |
| Availability | ★★★★★ (5/5) |
| Lawyer's Experience | ★★★★☆ (4/5) |
| Client Servicing | ★★★★★ (5/5) |
At the helm of Freudman Law is Daniel Freudman. He has been giving legal advice and defending individuals and businesses in court since starting his own law firm in 2012.
Even if the firm is relatively new, it has consistently been in the Top 3 of civil litigation lawyers in Toronto for the past 4 years. And as further proof of Daniel's exemplary knowledge, he has done radio appearances discussing current local legal issues.
What we like about Daniel is how he handles cases even with small amounts of claims. He also makes clients feel well-attended to by sharing his direct number so clients can easily reach him with their concerns.
In addition, he has extensive experience in criminal and civil litigations and appearing in higher and small courts all across Ontario.
Daniel is supported by 2 other lawyers and a legal associate who all have the knowledge and experience in handling difficult litigations and claims.
We appreciate that the team laymanises legal knowledge when providing counsel. This helps clients understand their situation easily and make them feel at ease during a very difficult time.
Furthermore, you get to have a free initial consultation with this firm. For those with no financial capacity for legal assistance, this firm has legal aid services.
We recommend Daniel for his and his team's impressive approach to making the law more accessible to clients.
4 years as one of the top 3 civil litigation lawyers in Toronto
Radio appearances discussing current local legal issues
Extensive experience in civil and criminal litigations
Appeared in higher and small courts in Ontario
Laymanises legal knowledge
Free initial consultation
Has legal aid services
Law firm still relatively young 
Lean team handing both criminal and civil cases
Customer Reviews
Professional team
"I found Daniel over a year and a half ago, from a Google search for 'best lawyers in Toronto.' There were a few other lawyers, but my instinct went with Daniel. One of the first things I noticed while speaking and working with Daniel was his integrity and his ability to translate law into common language. I also worked with his colleagues, Angela and Isaac. Both of them were like Daniel; pragmatic, impartial and empathetic. The high level of professionalism, humility, diligence and dedication goes without saying. This is one of the best law firms!" – Kapalakasha
Made process smooth
"I have nothing but positive things to say about Freudman Law. The whole legal system and process is so intimidating, however Mr. Freudman helped make the process be as smooth as possible. I felt like my case was being taken care of from the start and at all stages. Mr. Freudman was incredibly professional, responded quickly, knows his field, and set aside my worries and concerns by explaining any questions I had. I feel so fortunate to of had him as my lawyer. He knew exactly what to do at each point of my case and I was impressed with his approach at all turns. I would recommend him to anyone that needs a civil litigation lawyer!" – Robyn
FAQs on Civil Litigation
---
That's it for our review of the best civil litigation lawyers in Toronto. Hopefully, you've found a lawyer who can help you in your legal situation.
If you need help on other legal concerns, perhaps these other reviews can help: