The 5 Best Beauty Schools in Toronto
Many don't realize that beauty treatments are also technical processes that need a lot of understanding and expertise. This is where beauty schools come in to teach proper executions and techniques.
Here, we gathered a list of the best beauty schools in Toronto. We believe that these places will help inform you more about beauty schools and possibly find the best one for you.
How much does it cost to enroll in a beauty school in Toronto?
Before we show you our list, here is a breakdown of possible beauty school tuition fees in Toronto.
Please note that these are only estimates and are subject to change depending on the school, program, duration, and more.
| Program | Average Annual Tuition Cost |
| --- | --- |
| Professional Hairstyling | $15,000 |
| Make-up | $20,000 |
| Skin Care | $20,000 |
| Jaw surgery | $20,000 - $40,000 |
| Cosmetology (or a mixture of various programs) | $25,000 - $35,000 |
The Best Beauty Schools in Toronto
We used this criteria to choose and examine beauty schools in Toronto:
1. Canadian Beauty College
Test
Info
PROGRAMS
Hairstyling, Esthetics, Makeup, and Health Sciences
WEBSITE
ADDRESS

Vaughan Campus (Head Office)

2700 Steeles Ave West suite 201/205 Vaughan, Ontario




Ajax Campus

570 Westney Road S #25 Ajax, Ontario




Newmarket Campus

130 Davis Dr Suite # 209 Newmarket, Ontario




Toronto Campus

700 Lawrence Ave West Suite# 450 Toronto, Ontario

CONTACT INFORMATION

Vaughan Campus (Head Office)

(905) 760-0003




Ajax Campus

(905) 426-5550




Newmarket Campus

(905) 235-0828
| | |
| --- | --- |
| CLASSES | ★★★★★ |
| LEARNING FORMATS | ★★★★☆ |
| AFFORDABILITY | ★★★★☆ |
| REPUTATION | ★★★★☆ |
Canadian Beauty College has campuses spread across Ontario. It has been offering private career lessons since 2009 and is one of the most popular beauty schools in the area.
The four main programs of this college are hairstyling, esthetics, makeup, and health sciences. They offer small classes and one-on-one training, highly trained instructors, and even internship programs.
We like how all their programs have available diploma courses and certificate courses. In terms of hairstyling, the diploma course is perfect for students who wish to acquire in-depth training regarding hairstyling skills and techniques.
On the other hand, the certificate course allows one to have enough knowledge in creating hairstyles for special events such as weddings, parties, and bridal showers. This makes it a good option for those who are looking for urgent side hustles or even a career out of hairstyling.
Their esthetics program hosts classes for medical aesthetics, light therapy, and microdermabrasion and chemical peel treatments. For makeup, they have various classes where one can either receive a makeup artist diploma or take a certificate course on eyelash extensions and lash lift, microblading, airbrushing, and more.
Honestly, what makes this institution stand out is the number of all their classes and their available diploma and certificate courses. They really are able to capture most of the common programs for beauty schools.
The only negative thing we can say is that they don't offer online classes. This can be a bad thing as a portion of the market sometimes turns to virtual courses.
All said, there really is not much to dislike about Canadian Beauty College. They are a reputable institution and their presence all over Ontario makes them a convenient choice.
Has 4 campuses
More than 10 years experience
Option for diploma courses or certificate courses
Option for small group classes, one-on-one training, and internship
No online classes
Can be unresponsive (according to a review)
Customer Reviews
Taught me more than just makeup techniques and made class enjoyable
I completed my Makeup Artist Diploma here with Ninozka and Lash Extensions, Lash Lift and Tint and Hair Techniques with Jenny. They are some of the best instructors I've ever had! The entire school was very welcoming and always open to any questions I had. I'm looking forward to taking more courses with Ninozka in the future to add to my knowledge. She taught me more than just makeup techniques and made class enjoyable. It was actually fun to come to school! — Nadia Franchuk, via Google
Affordable but high quality services
A super friendly and supportive atmosphere. Victoria was meticulous and a natural at hair coloring – clearly Jennifer is a fantastic teacher! I have gotten so many compliments on my hair I lost count. Will definitely be coming back for the affordable but high quality services offered here. — Talia Rockman, via Google
2. The International Beauty Institute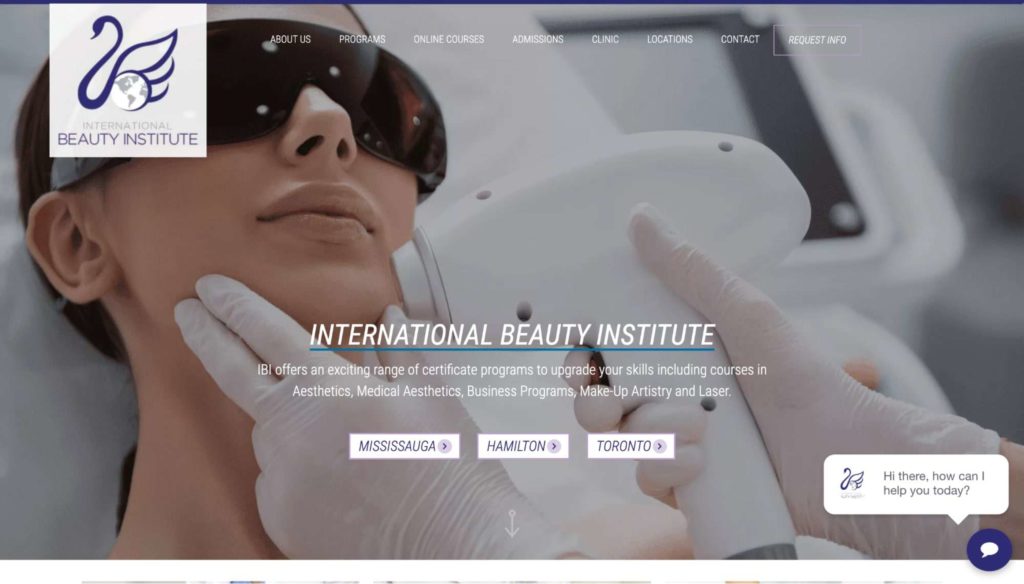 Test
Info
PROGRAMS
Medical Aesthetics, Makeup Artistry, Microblading, Laser Therapy, Botox and Dermal Fillers introduction, and more
WEBSITE
ADDRESS

Hamilton Campus

540 Upper James Street Hamilton, Ontario




Mississauga Campus

1945 Dundas St E #215 Mississauga, Ontario




Toronto Campus

15 Gervais Dr Suite 802 North York, Ontario

CONTACT INFORMATION

Hamilton Campus

(289) 674-0888




Mississauga Campus

(905) 624-2700




Toronto Campus

(416) 438-3863




Email address
| | |
| --- | --- |
| CLASSES | ★★★★☆ |
| LEARNING FORMATS | ★★★★★ |
| AFFORDABILITY | ★★★★☆ |
| REPUTATION | ★★★★☆ |
The International Beauty Institute offers a variety of programs, with diploma and certificate courses available either face-to-face or online. They have 3 campuses in Ontario, all following a modern international curriculum that keeps up with aesthetic standards worldwide.
Having online classes gives this institute an advantage as there are students out there who wish to learn about a specific skill or practice even just at home. We do note that their online programs are mostly dedicated to eyebrow and eyelash treatments and skincare.
In terms of physical classes, all of their campuses have an impressive number of lessons taught by actual medical aestheticians, laser technicians, and make-up artists. Having experts as instructors always goes a long way.
What we can see this school improving on is its enrollment and accommodation process. They tend to repeat lessons every time a new student comes in and that can get tiring and boring for students who had enrolled earlier.
They also have an influx of student enrollees, so they might as well address this and organize. Nevertheless, there isn't much negative to say about the International Beauty Institute.
The International Beauty Institute has a number of good reviews online and has maintained a good reputation thus far. We recommend this school especially for those who love learning about skincare and makeup.
Has 3 campuses in Ontario
Has online classes
Diverse range of lessons
Too many students
Repetitive lessons
Customer Reviews
Very friendly and welcoming
Everyone I have encountered at school is very friendly and welcoming, students and instructors. I made the right decision attending the Medical Aesthetics program here. I had the pleasure of completing my first module with Luciana. I went into this class not knowing very much about body treatments. I feel very confident now with my new understanding of the human body & massage therapy. Luciana was very positive and upbeat. She made it easy to learn. I hope to have Luciana in my future classes. — Shereen Blue, via Google
A great professional and comfortable atmosphere
International Beauty Institute is a first class educational center for Medical Aesthetics right now. I have completed a variety of programs and have had the best experience. The staff is absolutely amazing providing a great professional and comfortable atmosphere Stephanie, Cailin, And the Director Lydia are fantastic. Luciana, who is a teacher and educator surpasses any professional out there I'm sure. Her expertise in the industry and amazing aditude makes learning and this whole experience one of a kind. Her kindness and motivation to move all her students to a professional, positive, and accomplished direction is greatly appreciated by everyone. — Jamie Tzogas, via Google
3. Avola College of Hair and Esthetics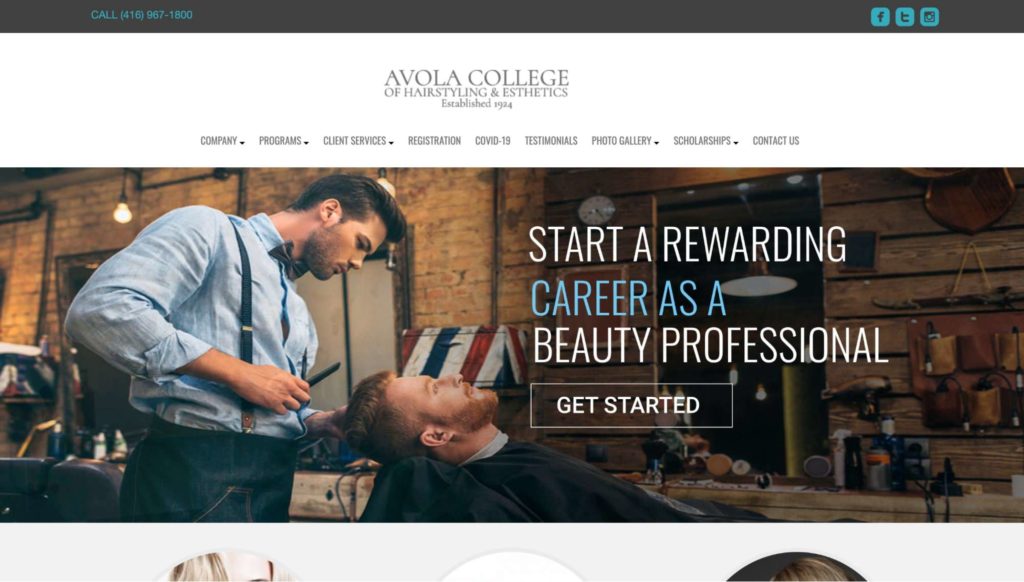 | Test | Info |
| --- | --- |
| PROGRAMS | Hairstyling, Esthetics, Barbering |
| WEBSITE | |
| ADDRESS | 282 Dundas St., East, Toronto, Ontario |
| CONTACT INFORMATION | (416) 967-1800 |
| | |
| --- | --- |
| CLASSES | ★★★★★ |
| LEARNING FORMATS | ★★★★☆ |
| AFFORDABILITY | ★★★★☆ |
| REPUTATION | ★★★★☆ |
Established in 1924, Avola College of Hairstyling and Esthetics is one of the oldest beauty schools in Toronto. They adjust their lessons and techniques with respect to the latest advances from New York, London, Paris and Rome.
Despite having only 3 main programs, the lessons of Avola College of Hairstyling and Esthetics are structured in such a way that students can acquire overall knowledge about a specific program.
For their hairstyling diploma course, they not only teach basic cutting, coloring, usage of blowdry and hair iron, but they also delve deep into hair treatments. We believe that it is a major plus point that they offer lessons on salon management and ownership for this course.
Their esthetics course pretty much covers everything. From makeup to laser treatments, to skincare and body treatments, down to nail and waxing services, their esthetics diploma course has it all.
On top of their very extensive program, we also like how they provide complete tools and textbooks for students upon enrollment. They even offer scholarships for deserving students.
It is also important to note that this school took into consideration those who wish to focus on barbering. They have an advanced barbering lesson for those who may be interested in hairstyling for men.
Overall, there isn't really anything bad to say about this school except for the fact that they do not offer online classes and are a little behind in terms of online presence.
Avola College of Hairstyling and Esthetics has been around for a while and that says much a lot about their experience and expertise. They also offer salon and spa services for customers.
More than 90 years experience
Diploma courses are very extensive
Offers scholarships
Salon and spa services available
No online classes
Has one rude instructor (according to a review)
Customer Reviews
Incredibly detail-oriented and skilled
Julie and Tauney are incredibly detail-oriented and skilled in their hair colouring and cutting, putting extra attention and care into the service. They performed a thorough consultation and ensured they understood what I wanted. I'm very happy with my hair colour and cut and will definitely return. — Vicki A. Lee, via Google
Much attention to detail
I was very impressed with the professionalism of the service. Samia gave me an excellent haircut, with much attention to detail. As her instructor, Fariba gave good guidance and then personally added the finishing touches to my hairdo. — Sheila Sylvester, via Google
4. GLOW College of Artistic Design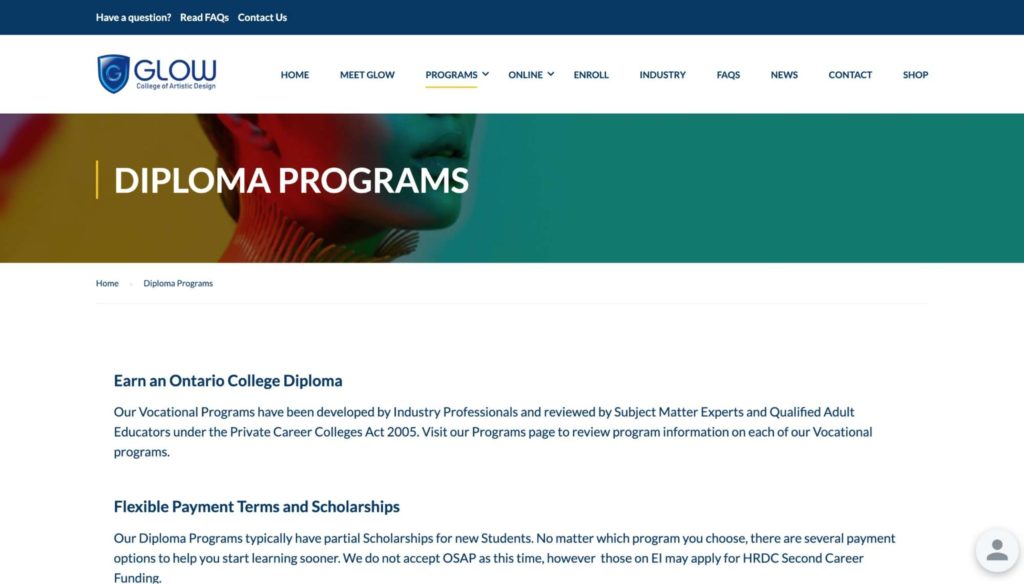 Test
Info
PROGRAMS
Advanced Esthetics, Advanced Makeup, Nail Technology, Hair Designs, Scalp Treatment, Microblading and Shading, Facials, and more
WEBSITE
ADDRESS

Yorkville Campus

202-89 Bloor Street West, Toronto, Ontario




Peel Campus

8-350 Rutherford Road South, Brampton, Ontario




TriCity Campus

106-900 Guelph Street, Kitchener, Ontario




Vanier Campus

89A Montreal Rd., Ottawa, Ontario

CONTACT INFORMATION
(905) 453-9456
| | |
| --- | --- |
| CLASSES | ★★★★★ |
| LEARNING FORMATS | ★★★★☆ |
| AFFORDABILITY | ★★★★☆ |
| REPUTATION | ★★★★☆ |
Formerly known as GLOW Academy, GLOW College of Artistic Design has been teaching and promoting beauty since 2008. They are recognized worldwide and currently have 4 branches in Ontario.
The college was announced as an Award Winning School by the Worldwide Oceanic Beauty Awards Association in 2019. They have a high graduate success rate and we especially like how they focus on building career paths for their students.
GLOW College of Artistic Design separates itself from other beauty schools out there by offering classes that may or may not be related to aesthetics. They provide online classes for social media marketing, content writing, and even public relations.
Beauty-wise, their diploma courses are mostly advanced and really teach the processes and technicalities of makeup, esthetics, and nail technology. Their certificate courses are skill-focused and their online beauty classes really pay attention to providing lessons that will help one master a certain art.
One thing we can say about this school is that they can be quite expensive. Compared to others, their prices are relatively high.
Nevertheless, their promise of meeting standards and talking with experts really ensures the quality of education one can get from this school. We also like how they are flexible enough to allow students to book their own classes.
GLOW College is one of the most innovative beauty schools out there and we recommend them for those who want updated techniques and knowledge in the world of beauty.
Has 4 campuses across Ontario
Award-winning beauty school
Option for online classes and blended learning
Extensive programs and lessons
Can be expensive compared to other schools
Diploma courses require prerequisites
Customer Reviews
Always striving for you to succeed in the career you want
I'm currently taking the Bridal makeup course for my makeup diploma at Glow College Toronto campus and my instructor Cristine is wonderful. She has so much knowledge and experience when it comes to products and the industry overall. She's not only taught me so much in regards to our course but she has also given me great advice on what to expect when working in the industry. The staff at Glow College are always striving for you to succeed in the career you want to have and are willing to help any way they can. Cristine, Carla and Candace have been my teachers so far and I've learnt so much from each of them. I would definitely recommend this College to anyone who wants to have a career in Makeup. — Michelle McArdle, via Google
A great experience
I took the manicure and pedicure course with Glow college at the Kitchener location. I had such a great experience. Kimberly was my teacher and she was incredible!! She was extremely thorough, friendly and professional. I left the course with so much knowledge and many tips and tricks. I can't wait to take more certificate courses with Glow college. I love the flexibility that Glow college offers when it comes to booking when your class times are! I will recommend glow to anyone I can!! Thanks again Kimberly! — Katelyn Chaisson, via Google
5. Fiorio Beauty Academy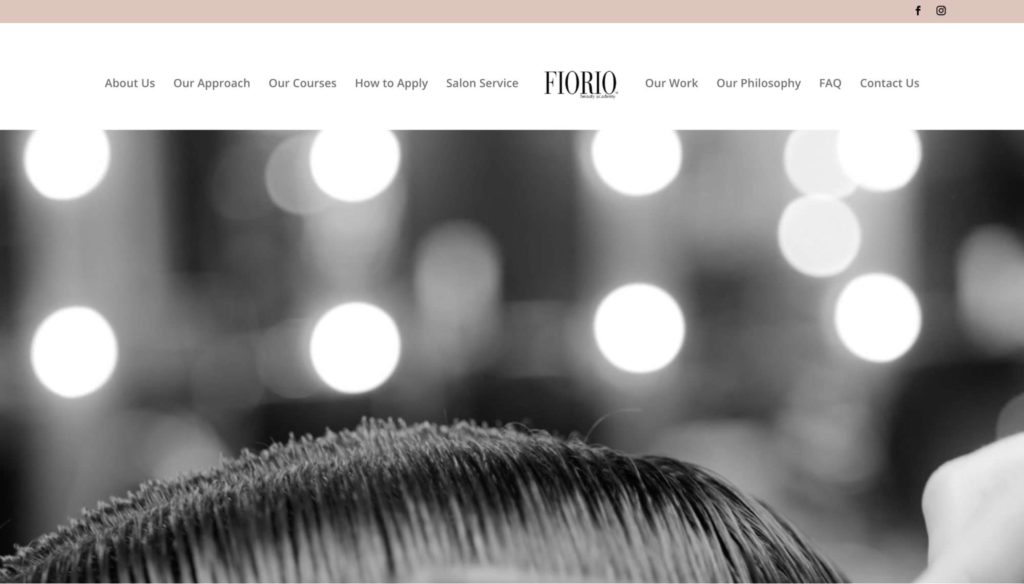 | Test | Info |
| --- | --- |
| PROGRAMS | Hair Cutting, Hair Styling, Hair Coloring, Advanced Hair Classes |
| WEBSITE | |
| ADDRESS | 1981 Queen St. E #1, Toronto, Ontario |
| CONTACT INFORMATION | (416) 968-9996 |
| | |
| --- | --- |
| CLASSES | ★★★★☆ |
| LEARNING FORMATS | ★★★★☆ |
| AFFORDABILITY | ★★★★☆ |
| REPUTATION | ★★★★☆ |
Fiorio Beauty Academy is solely dedicated to hair lessons. They even have salon services available in their headquarters.
The 12-month program of Fiorio is honestly impressive not just because of its duration, but because of its teaching methods. It allows students to learn about skills and techniques in cutting, styling, and coloring while giving them the option to adjust their class hours.
Another thing that we like about this school is that it classifies lessons into different levels. Students have the option to take beginner courses on hair styling, pre apprenticeship courses, and advanced lessons for hair cutting, styling, and coloring.
How lessons are structured and taught at this school enables them to establish good relationships with students and allows them to learn at their own pace and free them from pressure.
Of course, this beauty school isn't the place to go to for makeup or other services. While their hair expertise is great, we believe that there are other salons out there which offer makeup and nail services on top of hair services.
Overall, we would still recommend this school because of its focus and proven expertise in the world of hair. They are a certified beauty college and a working salon in one.
12-month lessons
Salon services available
Different levels of lessons
No makeup lessons and services
No nail lessons and services
Customer Reviews
The instructors seem very knowledgeable
I've been to Fiorio twice now and loved it both times. I love watching the students do their thing and also have learned quite a lot about hair myself. The instructors seem very knowledgeable and put the customers first. Although I haven't done anything drastically different with my hair, they take the consultation process seriously and have given me haircuts that fit with my lifestyle. Please note: since this is a school, be prepared for a longer than usual hair appointment. Mine has taken an average of 2 hours (wash, cut, style) as the students must consult with the instructors during each step of the process. — Sarah Aspinall, via Google
The price for a cut and full color can't get any better
At first I was skeptical because its students doing your hair but the instructors are awesome and guide their students very well. I get all my haircuts and colouring done here and have walked away a very happy customer every time. I have no complaints at all. And the price for a cut and full colour can't get any better. — Maggie Horst, via Google
FAQs about beauty schools in Toronto
---
We hope that this list was able to educate you more about what beauty schools do and where you can find the best of them in Toronto! Let us know in the comments if you have other beauty school recommendations.
If you or anyone you know is interested in acting or theater arts, you may want to read our review of the best acting schools in Toronto.