The 7 Best Real Estate Agents in Toronto
Do you want to sell a property or feel like it's finally time to get your own place? Don't let your hard-earned money go to waste: you should let the best real estate agents in Toronto find you the best deals on desirable properties.
We've already rounded up the top ones, actually. You can find out who they are below… though we'll talk about how much they cost first, as that's usually something people want to know.
How Much Does a Real Estate Agent Cost in Toronto?
The typical real estate commission in Toronto and other cities in Ontario is around 5%, which is usually shared evenly between the buyer's and seller's agents.
For example, if a $500,000 property is sold in Toronto, the total real estate commission paid would be $25,000—or $12,500 to each agent.
Sellers usually cover commissions for both agents. However, there are no regulations dictating how much of the sale should go to the buyer's agent.
As a buyer, this may imply that you aren't viewing all of the available properties that meet your requirements. To avoid this situation, it's a good idea to express your concerns to your real estate agent ahead of time.
You may be able to negotiate a cheaper rate with your agent if you're not keen on paying 5% in real estate commission fees. Keep in mind, however, that agents who have lower rates may not be able to provide more than the absolute minimum of services.
The Best Real Estate Agents in Toronto
Access to more listings and the added convenience of not having to deal with negotiations and contracts naturally comes at a price. If you accept this caveat, the following are the finest real estate agents around.
1. The BREL Team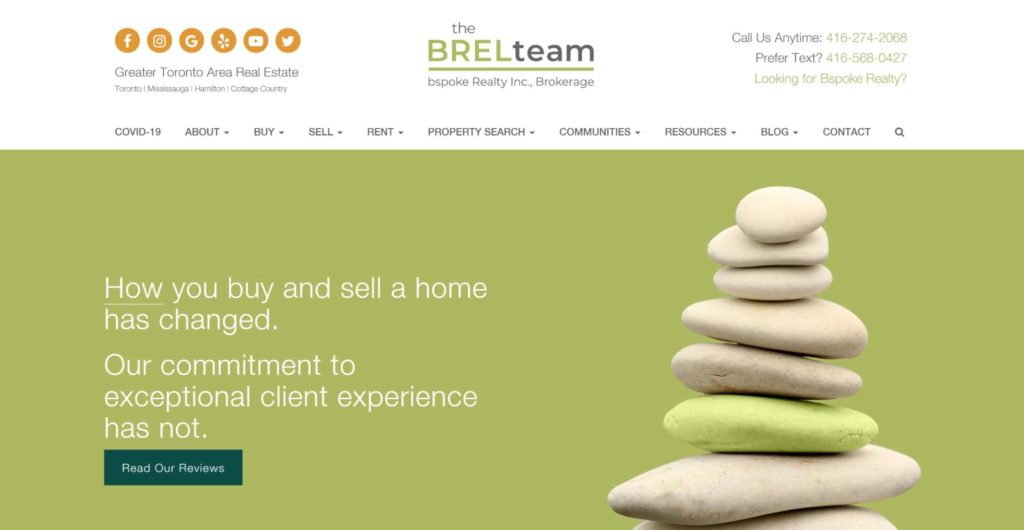 | | |
| --- | --- |
| SERVICES | Buy properties, sell properties, investment, downsizing & upsizing, staging, marketing, renting |
| WEBSITE | https://www.getwhatyouwant.ca/ |
| ADDRESS | 3091 Dundas West, Toronto ON M6P 1Z9 |
| CONTACT DETAILS | (416) 274-2068 |
| OPERATING HOURS | Monday to Sunday: 8:00am-11:00pm |
COVID-19 has definitely changed the real estate market, but the BREL team has updated their services to meet new clients' needs. These days, they prioritize virtual communication and have more inclusions when it comes to the scope of their offerings.
All their in-house staff members are focused on marketing and administration. This means that their agents are freed up to solely match sellers with buyers.
As a buyer, you can expect the team to handle advanced negotiations to get you the home that you want within your accepted price range. As a seller, you can be confident that you're letting go of your property at the highest possible price in the least amount of time on the market.
Led by Brendan Powell and Melanie Piche, the BREL Team of 22 qualified members has overseen a total of 1900+ transactions amounting to over $600 million. They've managed to do so because of their online slant, connecting buyers to sellers virtually.
It's also pretty easy to get hold of the BREL Team, with them not even having weekends off. If they don't respond to your message within 12 hours, they even donate $20 to your charity of choice!
Staging and marketing in-house experts
Large team
Online portal
Loaded with monetary guarantees
Commissions are steep with bespoke realty
Customer Reviews
Check out these two glowing reviews for the BREL Team:
"I had a good experience with BREL. I was short on time and new to Toronto but still wanted to find the best place for me and they helped me do that. Finding a place when you're new to the city and with no particular attachment here can be daunting but I ended up finding a great apartment with their help. Kevin, the agent who worked with me, was particularly helpful and understanding of my requirements and overall situation. I would definitely work with him and BREL again in the future."
– Mossia
"Kellye was so incredibly patient and kind while we navigated this current market. She explained each step, made sure all of our questions were answered promptly, and gave evidence-based advice. We purchased a wonderful home and are so thrilled with the service we were provided."
– Katie Bookman
2. Wins Lai – Toronto Real Estate Agent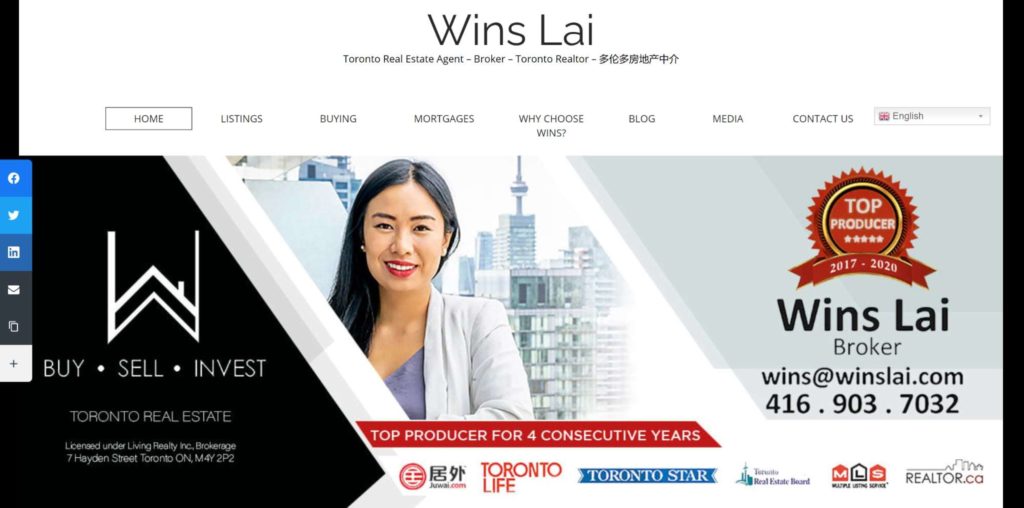 | | |
| --- | --- |
| SERVICES | Condo sales, house sales, pre-construction sales, MLS listings, renting, properties for first time home buyers, assignment sales for investors |
| WEBSITE | https://www.winslai.com/ |
| ADDRESS | 7 Hayden Street, Toronto ON M4Y 2P2 |
| CONTACT DETAILS | (416) 975-9889 |
| OPERATING HOURS | Monday to Sunday: 9:00am-9:00pm |
Wins Lai is the perfect real estate agent for you if you're more comfortable transacting in Cantonese and Mandarin. Of course, the majority of her clients are English speakers, but we appreciate the extra proficiency.
Born and raised in Markham, Lai attended the University of Toronto and became a condo owner at 19 and a homeowner at 21. We could say that that's a testament to her grasp of Toronto's real estate market even at an early age.
She garnered awards from 2014-2020, including the President's Award and the Rookie of the Year Award from the International Home Marketing Group. This is not at all surprising because of her expansive knowledge of the current market trends.
Recently, she sold a piece of property at University Ave. for $1,470,000! If you decide to go with Wins, you'll first be shown a list of other properties she has sold and purchased for other clients to gain your confidence.
The rest of her services are pretty extensive, especially for sellers. She can take care of the home evaluation, marketing, staging, showings, and updates.
If you think this is too much for one person, she's backed by over 500 agents in her brokerage. Overall, Wins Lai is a solid choice if you're looking to buy or sell property in the busiest areas of Toronto.
Real estate market whiz
Proficient in three languages
Consistent accolades
Part of a brokerage
Customer Reviews
Take a look at these reviews for Wins Lai's services:
"I had a wonderful experience with Wins Lai. When I wanted to sell my King West property in a hot market, I needed someone who knew the market landscape, was professional, and quick to respond. Wins was able to do all the small things, drum up interest, and finalize a seamless transaction for well over asking. Not only did the property have near triple digit showings, but it sold in record time and set history for the building in King West."
– T Kayilas
"I was a first time buyer in Toronto. Wins was absolutely great. If I could leave 6 stars, I would. She gave great advice on the properties I looked at, gave recommendations for more options, showed an intuitiveness about my interest, answered within an hour most of the time, even on weekends. She arranged viewings quickly and was always available. Our trust in her was well placed."
– Allen Smith
3. The Christine Cowern Real Estate Team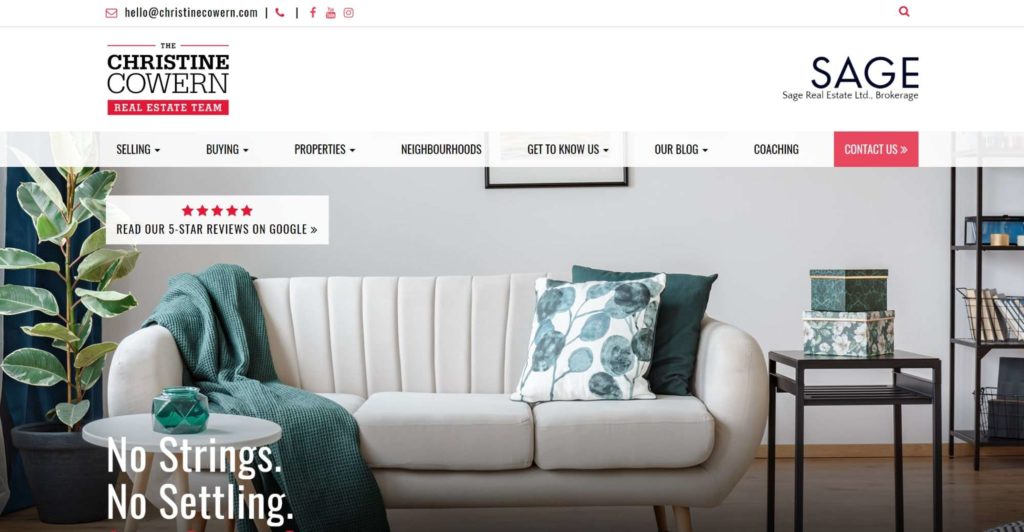 Christine Cowern's team has six members dedicated to helping clients navigate the Toronto real estate landscape. Buying and selling properties with this team occur in streamlined processes, which is helpful if you want an overview of what's to come.
To give you an idea, buying starts with financing (including mortgages), picking your agent, checking out properties, submitting offers, selecting a lawyer for the paperwork, then closing.
The marked difference with Christine and her team is their individualized approach to real estate. Of course, buying or selling property is an extremely personal experience because so much is at stake.
However, many real estate agents out there can be pretty antiseptic. They just want to take the commission and call it a day.
That's not the case with Team Cowern. They try to be candid with their clients, pointing out potential red flags with property sales and divulging which Toronto neighbourhoods to avoid.
Christine, the leader, did not always work in real estate. She used to be in public relations and advertising, which gives her the edge when it comes to negotiation and social skills.
The rest of the team are experts in sales, and they have one member dedicated to client care. Among all of them, there's nothing they haven't encountered in buying and selling real estate.
Streamlined process
Moves fast
Always works as a team
Supports causes
Coaches other agents
Not geared towards investors
Customer Reviews
Christine and her team has a 5-star rating on Google Reviews. Here are the most recent ones:
"I'm extremely happy to have worked with Ali and the Christine Cowern Team! They made everything so easy and simple. They were very thorough with the entire process of purchasing a home. Ali was so down to earth and easy to communicate with and was very responsive when needed. I would recommend this team to anyone who is looking to purchase a home! I can't thank them enough!"
– Janeen Baksh
"We recently sold a condo with Tara. While this can be a stressful process, primarily when you are residing out of the province, our experience was quite pleasurable. She was truthful, provided great feedback, helped explain all details clearly and managed the actual sale negotiation skilfully. In addition, we greatly appreciate the fact that she was highly responsive to every one of our questions, no matter how small those were. As we consider future opportunities to purchase or sell a piece of real estate in the Toronto GTA, we are decidedly confident Tara would be the right partner to help us navigate this new adventure!"
– Julien Dion
4. Alex Prasoulis – Toronto East Real Estate Broker
SERVICES
Sell properties, buy properties, home evaluation, market news, commercial services, mortgages
WEBSITE
https://ilisttorontohomes.com/
ADDRESS
895 Don Mills Road, Building 2, Suite 900, Toronto ON M3C 1W3
CONTACT DETAILS
(416) 901-8777


[email protected]

OPERATING HOURS
Monday to Sunday: 9:00am-9:00pm
Born and raised in Toronto, Alex Prasoulis is an award-winning real estate broker with a background in corporate software sales. He put his experience in the corporate world to good use, and that's what makes his brokerage high-volume and technology-driven.
In fact, Alex's team can take on so much that they're one of the only firms that specialize in commercial services. Commercial real estate is much more complex than the residential kind because the financing is much tougher.
If you're thinking about investing in, selling, or leasing commercial property, this is the team to get in touch with. They're qualified to handle the legal aspect of these transactions, even going as far as negotiating with banks.
We know that the team is always in the loop when it comes to Toronto's real estate market. They even have a monthly market report that everyone can subscribe to.
Alex is also known to usually get sellers higher rates than their original asking price. This is something that your regular run-of-the-mill agent can't do.
Expertise in commercial real estate
Online portal
Great resource for the RE market
Manages mortgages
Responds quickly
Website is text-heavy and not user-friendly
Customer Reviews
There are no negative reviews for Alex Prasoulis and his team. Here are two of the their most recent ones:
"Alex was a very attentive, hard working agent. He always had the best interests of my elderly father and was very considerate and professional in all our interactions. Thank you Alex for selling my father's house for well over the asking price and in only five days and for helping him to find a beautiful new condo to move into!"
– Luca Maniaci
"I found Mr. Alex Prasoulis to be very caring and understood what I was looking for in a house. I know you won't get everything you are hoping for, but Mr Prasoulis came very close. He sold my house in Scarborough and got me over $20,000. of the asking price. When you place a call with Mr. Prasoulis he returns your call within hours or less. I found his follow-up calls, asking me how everything was going after many months since I bought my new house, awesome.Thank you Alex Prasoulis for being totally amazing."
– Shelley Ward
5. The Julie Kinnear Team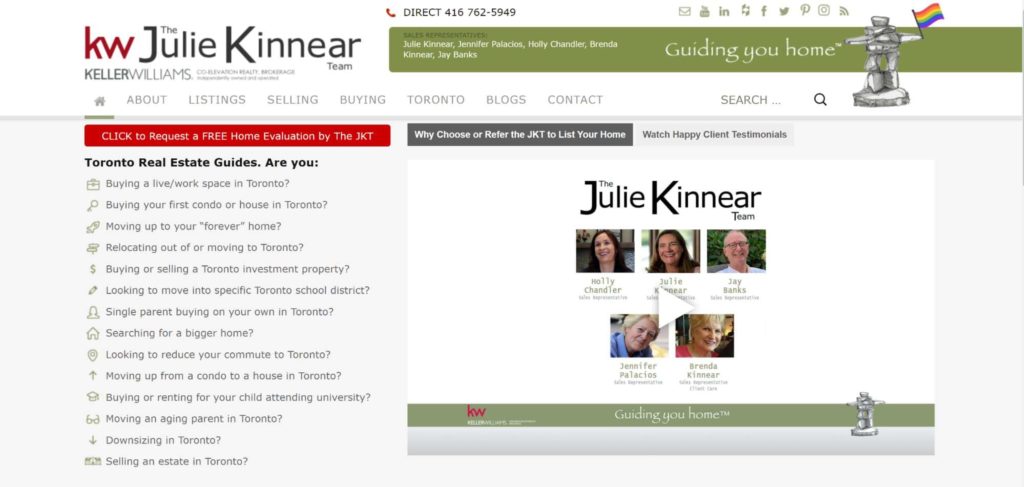 SERVICES
Sell properties, buy properties, mortgage solutions
WEBSITE
https://juliekinnear.com/
ADDRESS
2100 Bloor St W #7B, Toronto ON M6S 1M7
CONTACT DETAILS
(416) 762-5949


[email protected]

OPERATING HOURS
Monday to Saturday: 9:00am-7:00pm
Hours might differ on Canada Day
Julie Kinnear started her real estate consulting business back in 1993. Behind her are a team of four agents with a combined experience of 30 years and a bunch of other specialists in marketing, staging, home inspections, and webmasters.
Julie and her team's services are pretty standard, but that's probably why they've been in the business for so long. In most cases, we all simply need straightforward servicing, minus the bells and whistles.
However, this isn't to say that their operation is behind the times. Quite the contrary, Julie's team has many automatic systems in place, including a prospecting one that will sweep the entire MLS® for your needs.
You, as a buyer or seller, will have access to the same listings as your agent. That means absolutely no bamboozlement on both ends.
Julie and her team also serve as mortgage brokers, and they have much lower rates than traditional banks. For example, a bank's rate for one fixed year is 3.14%, while theirs is at 1.64%.
So even in your initial stages as a home buyer where you haven't even gotten pre-approved for a mortgage yet, Julie can help you out.
Reasonable rates
Mortgage solution
Free home evaluations
Pillar in the industry
Customer Review
Here are two glowing reviews from the Julie Kinnear Team:
"We worked with Holly for the sale of our property. She guides you through each step and makes the process smooth. The staging was perfect and we were listed for only a few days with excellent choices on offer night. Holly knows her business, gets done what needs to happen and is friendly and warm. She has a great team at Julie Kinnear. Would strongly recommend her. Thanks, Holly."
– Angela Bowers
"Highly recommended! Holly Chandler of the Julie Kinnear Team is an incredible real estate professional, with strong knowledge of the Toronto market and impressive communication and negotiation skills. She was 100% responsive, keeping us up to speed throughout the selling process and making things as easy and straightforward as possible for us. Her patient, calming presence was exactly what we needed. Holly sold our condo well over asking, and we could not have been happier with the experience! Thank you Holly, and the rest of the JKT!"
– Stefanie Buszynski
6. The WEIR Team Real Estate Brokerage, Inc.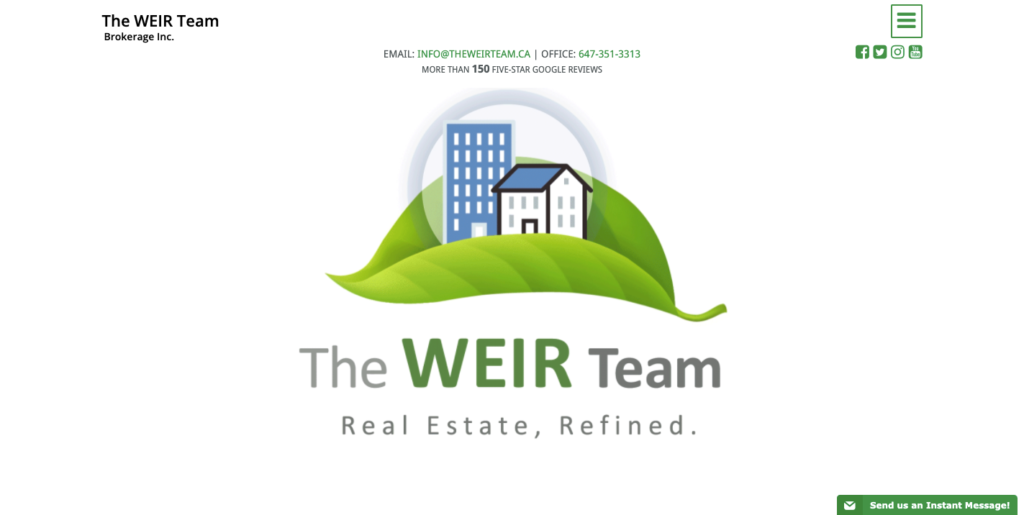 SERVICES
Buying a property
Selling a property
Brokerage
WEBSITE
https://www.theweirteam.ca/
ADDRESS
2040 Danforth Ave, Toronto, ON M4C 1J6, Canada
CONTACT DETAILS
647-351-3313


[email protected]

OPERATING HOURS
Monday to Friday: 10 AM – 3 PM
Saturday & Sunday: CLOSED
The WEIR Team Real Estate Brokerage, Inc. ensures that every worry and every single detail of purchasing and selling a house is handled with their utmost attention from the first meeting to moving day.
From selling single-family homes, condominiums, cooperatives, recreational, and commercial properties, they will be able to be of service to you.
Cameron Weir and Scott Hanton lead the WEIR Team, two devoted real estate professionals who believe that putting the client first is the key to success in this industry. Cameron and Scott are polar opposites by nature. But it turns out that's a crucial element of what makes The WEIR Team's winning formula so successful.
Their dedication to perfection has aided in the formation of a fantastic team. The WEIR Team has the experience and abilities to help you achieve your goals, whether you're looking to buy or sell in East York, Pickering, Leslieville, or a successful downtown apartment.
We are also impressed by the testimonials of their customers plus the local and national media outlet that routinely cover The WEIR Team's accomplishments.
Giving your all to do something never fails to produce a great outcome. Aside from that, people also notice when you perform a good job. When you're active and successful in a community, your name is frequently mentioned.
That is why you will be in safe hands having the WEIR Team when purchasing and selling a house.
Employees are certified professionals who knows the market and its nuances
Client-centered approach when dealing with their clients
Rates of their service cannot be seen online
Online appointment required
Onsite service not available
Customer Review
Here are reviews from the customers of The WEIR Team Real Estate Brokerage, Inc.:
"Chris at the WEIR Team was truly outstanding to work with. He was patient and kind. He took his time with me in each place we saw. He measured out rooms, and highlighted concerns or details I may have overlooked. On top of that he never once put any sort of pressure on during the process. The experience was like having a knowledgeable friend looking out for your best interests. Highly recommended for your real estate needs. Thanks Chris!" – Brent F.
"Deciding to work with Chris Neill and the Weir team to sell our home was the best decision we could have made. Not only was Chris knowledgeable about the market and our east-end Toronto area, he was super friendly, honest and approachable.
The Weir team offered so many services that could not be beat. Chris said they would be the project managers for selling our house and that was a huge relief for us. They hooked us up with an excellent contractor who we hired and paid to do some renovations on our home to get it to sell for the price we wanted and in the tight timeframe we agreed upon. The Weir team included in their commission the following services: an interior designer (who also gave input to the contractor about what changes to make), staging, moving and storage of some furniture and items we needed to clear out for the staging (this is a rare perk!), house cleaning, home inspection report of our home, and top-rate photos and video of our listing as well as other marketing initiatives. And these services were included in the commission we paid them which was a standard industry commission. It is rare to have all of these services included and not having to arrange for moving and storage for the staging process was one less thing for us to worry about at such a busy and stressful time!
Chris was also super helpful, from offering to pick up some construction materials for us (and following through!) to bringing us a few moving boxes to help us start packing for the staging process, to cleaning when we weren't 100% satisfied with the cleaner's work. And after all of that, he got us a ton of viewings and interest in our home and an offer in 1 day, for 24% over asking, at the exact price that we wanted! If you're thinking of selling your home, you won't regret hiring Chris Neill and the Weir team." – Vicky M.
7. RE/MAX Urban Toronto Team Realty Brokerage Inc.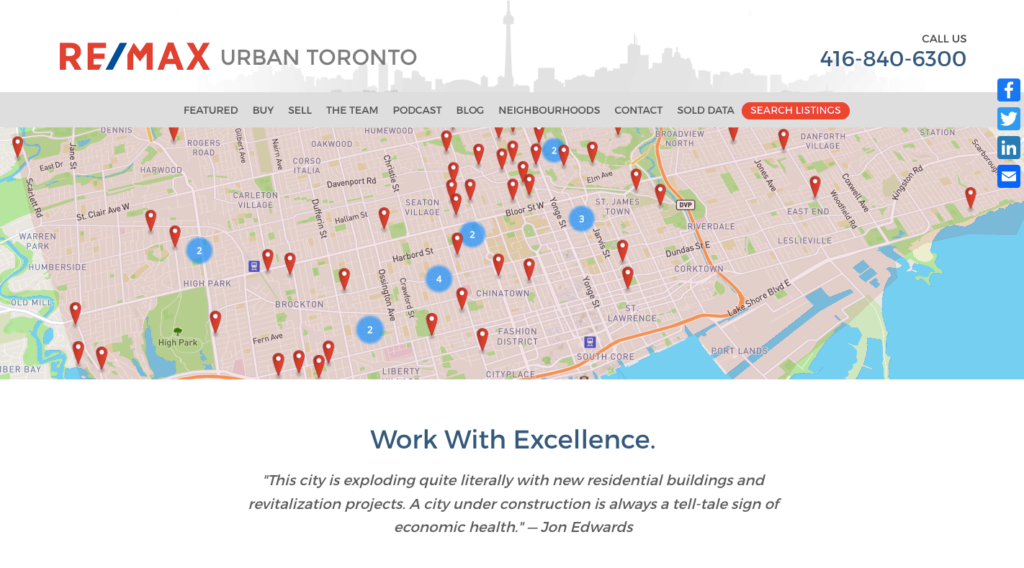 Choosing to have that go-to Realtor whom you trust their decisions when purchasing or selling a house, a condo or even a commercial property is very crucial. Good thing we were able to come across RE/MAX Urban Toronto Team Realty Brokerage Inc.
Compared to other real estate companies, RE/MAX Urban Toronto Team Realty Brokerage Inc. have been in the real estate industry helping individuals buy and sell their properties with employees that are in the industry for more than ten years.
This company knows the significance and rewarding decisions you make when purchasing a house, especially if this will be your home to start a new chapter of your life. They have licensed realtors to help you find properties that meet your criteria, as well as to guide you through the entire process, explain market trends, assist you with complicated paperwork, and provide you with important advise.
Of course when selling a property, they also want what's best for you. They are determined and won't quit until they achieve their goal. Wherein their goal is to help you sell your house for a higher price, in less time, and with less fuss. They are more than prepared to walk you through the process step by step so you achieve the results you want. They will see to it that your house will receive the attention it deserves, and their knowledge of the Toronto real estate market has given them insight into what will entice purchasers to buy your home.
With RE/MAX Urban Toronto Team Realty Brokerage Inc., your buying and selling of properties are in safe hands.
Free consultation on their website
Over 16 years of experience in Toronto
Remax Hall of Fame Inductee
Remax Titan's, Chairman, Platinum, Diamond Individual & Diamond Team award winner
Ranked top 1% in 2011-2021 by the Toronto Real Estate Board
Ranked top 3% in 2010 by the Toronto Real Estate Board
Run a BBB Accredited Business
Honest, reliable and hardworking with customer testimonials to back it up
Rates of their service cannot be seen online
Customer Reviews
Here are reviews from the customers of RE/MAX Urban Toronto Team Realty Brokerage Inc.:
"Kayla and Stacy were incredible. They helped us find my daughter her first apartment in Toronto. All virtually as we live in Calgary. I would highly recommend them." – Omar P.
"My spouse and I had the pleasure of working with Christine Pham while looking for our first home purchase. Christine was professional, reliable and diligent in keeping us updated throughout the buying process. We truly appreciated the outstanding service provided. If you are looking for a real estate agent, we highly recommend Christine Pham and her Remax Urban Toronto Team!" – Anna P.
The Benefits of Hiring the Right Real Estate Agent
Now that you can take your pick of the best real estate agents in the city, here are a couple of reasons that should solidify your choice.
Buying or selling property is no cakewalk, and the right real estate agent should make the process a lot less intimidating.
1. You get paid more if you're a seller.
Selling a piece of property on your own seems like the economical choice because you won't be paying commission, right? Wrong.
On average, FSBO (for sale by owner) properties fetch 30% less than properties listed through agencies. What you have to understand about commissions is that they're factored into deals.
So through an agent, you widen your scope for potential buyers who can exceed your initial asking price.
2. You don't have to worry about the fine print.
Buying and selling properties can be quite an ordeal, especially if you're not good with tons of documents. The right real estate agent can walk you through the process and fill you in on what you would ordinarily miss.
Of course, REAs are far more familiar with this kind of paperwork. Remember, missing a detail or two are costly mistakes.
3. They're bound by their fiduciary duties.
Real estate agents have qualifications that bind them to a fiduciary responsibility to their clients. This means that they're legally obligated to work in their clients' best interests.
As a buyer, seller, or investor, you naturally want your transactions to be managed by someone who has a legal obligation to keep your information confidential. Plus, you can take action and be protected by the law if a real estate agent wrongs you in any way.
4. They know where to look.
Looking for the perfect property can also be a long, arduous process. With the help of a real estate agent, you'd have access to listings that will match your needs.
A good REA will usually do the dirty work like checking for furnace issues, mold and insect infestations, roofing problems, and structural complications. If you plan on doing all this legwork on your own without the proper knowledge, it could take a long time to find the property that's worth investing in.
FAQs about Real Estate Agents
---
There you have it, the best real estate agents in Toronto. These guys can help you navigate the often crazy Toronto real estate market.
If you need someone to help your real estate agent with tricky financial transactions, obtaining titles, and scrutinizing purchase agreements, these are the best real estate lawyers in Toronto that we recommend.