Top 5 Companies for the Best Flooring in Toronto
A flooring solution can easily elevate the look of your home. But this upgrade can be insanely expensive, especially if done by inexperienced hands.
To help you minimize the risk of getting substandard work, we already picked the best flooring companies in Toronto. Start exploring the range of prices first so you can calculate home much you'll need for your property.
The Cost of Flooring in Toronto
Complete flooring services including products and installation can start for as low as $200. But for more intensive projects, the cost can go from $5,000 up to $50,000.
Overall, it mostly depends on your choice of flooring material plus the labor required to install those materials. Another factor considered is the skill-level of the installers and their flooring specialty.
See the table for the average costs of flooring services based on complete projects and estimates per square foot:
Type of Flooring
Average Cost
Wood Flooring
$8,391

($8 - $10 per square foot)

Vinyl Flooring
$2,407

($2.50 - $3 per square foot)

Laminate Flooring
$3,411

($5.50 per square foot)

Cork Flooring
$4,187

($5 - $14 per square foot)

Bamboo Flooring
$4,414

($7 - $8 per square foot)

Ceramic Tile Flooring
$9,342

($4.50 - $7.50 per square foot)

Marble Flooring
$1,250

($10 - $20 per square foot)
Top Flooring Companies in Toronto
The flooring companies we picked today both sell and install flooring products. Certain companies have their own flooring specialties, which we'll note in the reviews.
To narrow down or best list, we used the following metrics:
1. Toronto Flooring Solutions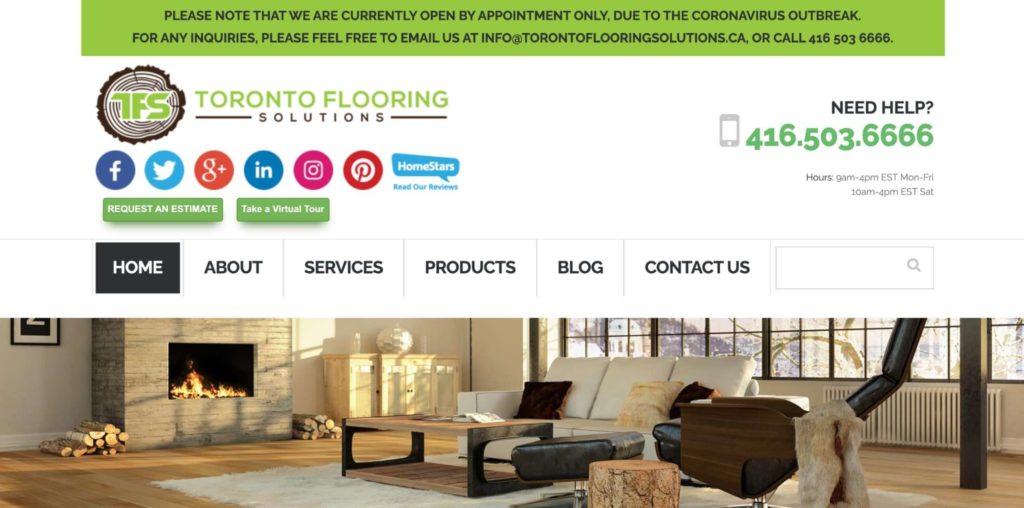 Test
Info
SERVICES
Flooring products and installation
WEBSITE
https://www.torontoflooringsolutions.ca/
ADDRESS
679 The Queensway, Etobicoke, ON M8Y 1K8
CONTACT DETAILS
+1 416-503-6666
OPERATING HOURS
Monday - Friday: 9:00 AM - 4:00 PM

Saturday: 10:00 AM - 4:00 PM
| | |
| --- | --- |
| Range of options | ★★★★☆ (4/5) |
| Installation services | ★★★★☆ (4/5) |
| Workmanship | ★★★★☆ (4/5) |
| Guarantees | ★★★★☆ (4/5) |
| Costs | ★★★★★ (5/5) |
| Reputation | ★★★★★ (5/5) |
| Customer reviews | ★★★★☆ (4/5) |
| Years of experience | ★★★★★ (5/5) |
| Flooring specialty | ★★★★☆ (4/5) |
Our favorite thing about Toronto Flooring Solutions is that they understand exactly what the client needs. And this is because they have a seamless project management process where the budget is highly considered.
The company works best when it comes to flooring services in condos and other residential areas. So far, all the customers that have worked with them have no complaints – we usually take this as a good sign of great service.
In line with this, we love how well-rounded their flooring consultants are and the fact that they've never missed a deadline. They work with interior designers and contractors to make sure that clients get the best results (and they always do, based on our survey).
If flooring brands are a concern for you, though, there aren't really many options here as of writing. However, they make up for it in matters of styling and design because they can pattern the floors in whichever way you like.
Overall, this is a one-stop-shop where you can purchase flooring materials and have them installed directly. The customer service isn't the best but the workmanship is definitely their strong point, so we still recommend them.
30 years of experience
Up to $2 million of liability insurance
Seamless project management process
Budget-oriented installation
Efficient flooring consultants
1-year labor warranty on installation services
Complimentary in-home flooring consultations
Issues with customer services
Little flooring brand options
Customer Reviews
Gets the job done quickly
I got new flooring installed in my condo by Toronto Flooring Solutions. Gurp and the team were very responsive and easy to communicate with. They got the job done very quickly with quality. I am very happy with my new flooring and I would definitely recommend using their service. Thank you Toronto Flooring Solutions! – Tim Hong
Professional, knowledgeable, and detail-oriented
It was a pleasure to deal with the team at Toronto Flooring Solutions for my home's flooring. They were professional, knowledgeable, detail oriented, and provided great customer service. The installers were pleasant, and did a perfect job. I'd recommend Toronto Flooring Solutions to all of my friends and family! – Anthony Iacino
2. Skyscapes Outdoor Flooring & Decor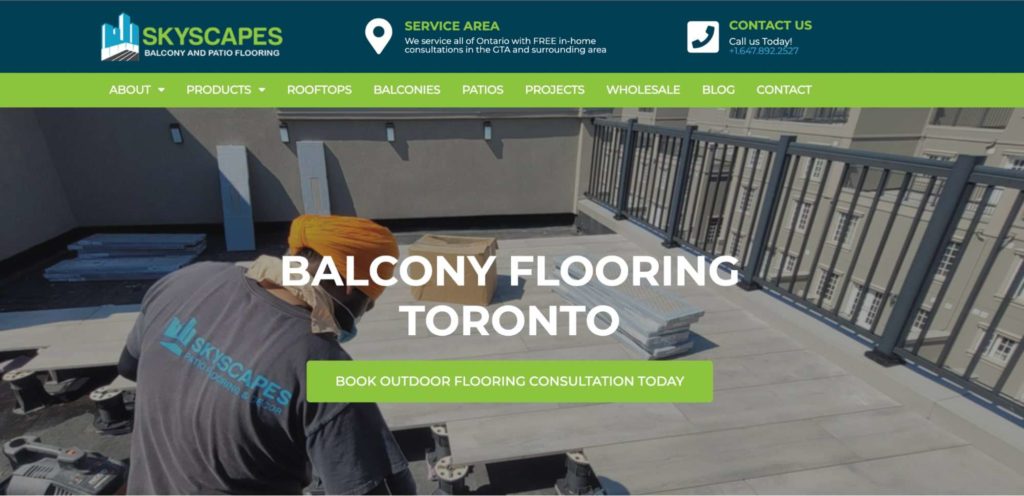 Test
Info
SERVICES
Outdoor flooring products and installations for rooftops, balconies, and patios
WEBSITE
https://urbanbalconyflooring.com/
ADDRESS
3 Navy Wharf Ct, Toronto, ON M5V 3V1
CONTACT DETAILS
+1 647-892-2527
OPERATING HOURS

Monday - Friday: 8:00 AM - 9:00 PM

Saturday: 9:00 AM - 6:00 PM

Sunday: 10: AM - 5:00 PM
| | |
| --- | --- |
| Range of options | ★★★★★ (5/5) |
| Installation services | ★★★★★ (5/5) |
| Workmanship | ★★★★★ (5/5) |
| Guarantees | ★★★★★ (5/5) |
| Costs | ★★★★★ (5/5) |
| Reputation | ★★★★☆ (4/5) |
| Customer reviews | ★★★★☆ (4/5) |
| Years of experience | ★★★★☆ (4/5) |
| Flooring specialty | ★★★★★ (5/5) |
As a full-service flooring company, Skyscapes Outdoor Flooring & Decor earned our favor for various reasons. We'll list them out for you so you can get a quick highlight of what to expect.
For starters, we love how stress-free installation projects are with them. Everything from selecting the right flooring material to the final clean-up is generally a wonderful experience.
Next, they have one of the best guarantees in terms of labor warranty. Theirs actually starts at a minimum of 10 years.
Certain outdoor flooring products even have a warranty of 20 years with them, which is great news for us.
Third, they specialize in outdoor flooring, so we reckon that they're a solid choice for balconies and patios. Now with that said, they're obviously not our top pick when it comes to indoor flooring work (there are other options on this list you can check out!).
Finally, their rates are reasonable – we can't say affordable – but the total cost pretty much captures the workmanship that was done. We just have a teeny-tiny issue when it comes to on-time completion but all-in-all, they ticked off all the boxes that we're looking for.
Condo-approved and wind-tested flooring products
Complimentary in-home consultation
Come with product samples before final installation
Free delivery for GTA customers
Install their own products
Minor issues on project delay
Customer Reviews
Goes above and beyond
Dave and Patrick did an amazing job and really went the distance to improve our outdoor space. Their condo approved balcony tiles really make the space feel like an extension of your home. What an amazing difference! They also went above and beyond to meet our concerns and ensure the job was completed to perfection. We have already started recommending their services and product to our entire condo through our community group! Thank you Skyskapes team! – Steven Clarke
Phenomenal installation
Had our rooftop terrace completely overhauled. We had typical membrane and crushed rock, and they turned it into a beautiful oasis. Multilevel tiles, artificial grass, track lighting – as well as complete removal of everything beforehand, running electrical and making all necessary adjustments. I believe the value and result is second to none and our installers were absolutely phenomenal. Can't recommend enough and we love our new outdoor space! – Adam Scherkus
3. Alliance Floor Source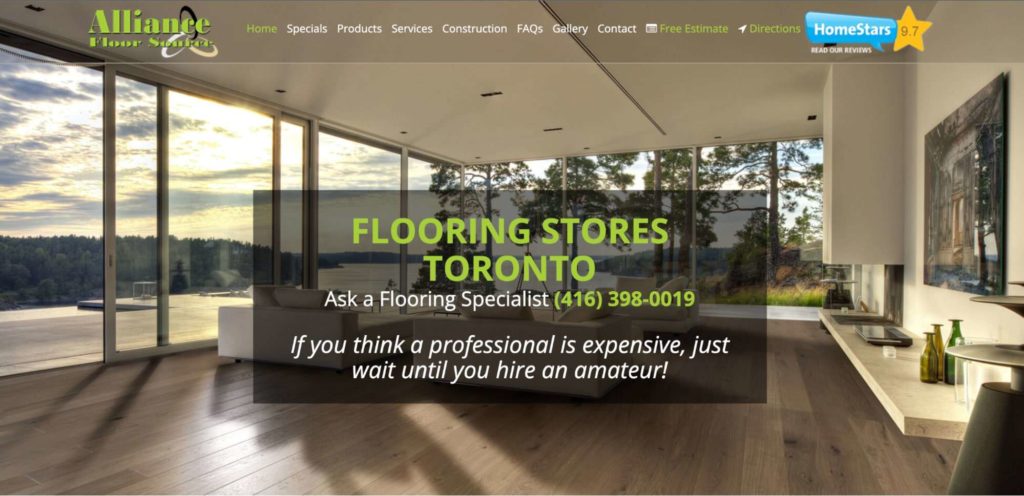 Test
Info
SERVICES
Flooring products and installation services
WEBSITE
https://alliancefloorsource.com/
ADDRESS
1006 Magnetic Dr, North York, ON M3J 2C4
CONTACT DETAILS
+1 416-398-0019
OPERATING HOURS

Monday - Friday: 9:00 AM - 5:00 PM

Saturday: 10:00 AM - 3:00 PM
| | |
| --- | --- |
| Range of options | ★★★★★ (5/5) |
| Installation services | ★★★★☆ (4/5) |
| Workmanship | ★★★★☆ (4/5) |
| Guarantees | ★★★★☆ (4/5) |
| Costs | ★★★★★ (5/5) |
| Reputation | ★★★★★ (5/5) |
| Customer reviews | ★★★★☆ (4/5) |
| Years of experience | ★★★★★ (5/5) |
| Flooring specialty | ★★★★☆ (4/5) |
In our opinion, Alliance Floor Source beats the competition when it comes to options, rates, and experience. Let's get into the top reasons why they made our "best list" for today.
One of their best selling points is the range of flooring products they offer. They have a huge selection of in-stock inventory, so if you've decided on a certain style, chances are good that they already have it in-store.
Another noteworthy thing is their experience, as they've been in the business for 35 years. Of course, they're not alone in this advantage, but it's a great tie-breaker in case you can't decide which company to choose.
Affordability is also one of their strongest offerings in terms of both products and services. Plus, they even offer special discounts on certain materials that chops off a small portion of the total cost.
Lastly, their workmanship is something we can commend for their great attention to detail. Our only concern is that their project management isn't the best, especially when a few things start to go south during the process.
We also wish that they'd have a much stronger team for customer service. Ålthough to be fair, the ones we've encountered were very helpful and responded promptly.
35 years in business
Great selection of in-stock inventory
Provides fully customized flooring projects
Occasional special discounts on products
Reasonable rates
Competitive rates on products and services
Free estimate
Small concerns on project management
Issues with customer service
Customer Reviews
Highly recommended
Our expectations were very high when we came to Alliance Floor Source. Before that we have been happy with services of another store for over 15 years. At Alliance Floor Source we received an amazing service, full attention to our needs and competitive prices. We have ordered Canadian wood that would take over 2 months to recieve and have always been kept up to date on the progress. Everything was delivered on time and quality was excellent. We are happy to become permanent customers of Alliance Floor Source and recommend it to our friends and family. Job well done! – Zeev Gl
Fast installation
I am so happy with my two bedroom vinyl flooring done this week. Joseph and Maciek finished the installation in 2 days. It looks so much better than what we originally had with the old carpet. Timea is so easy to communicate with to prepare for the project since we were eager to move into our new home. – Cathy Cheng
4. Zelta Floor & Design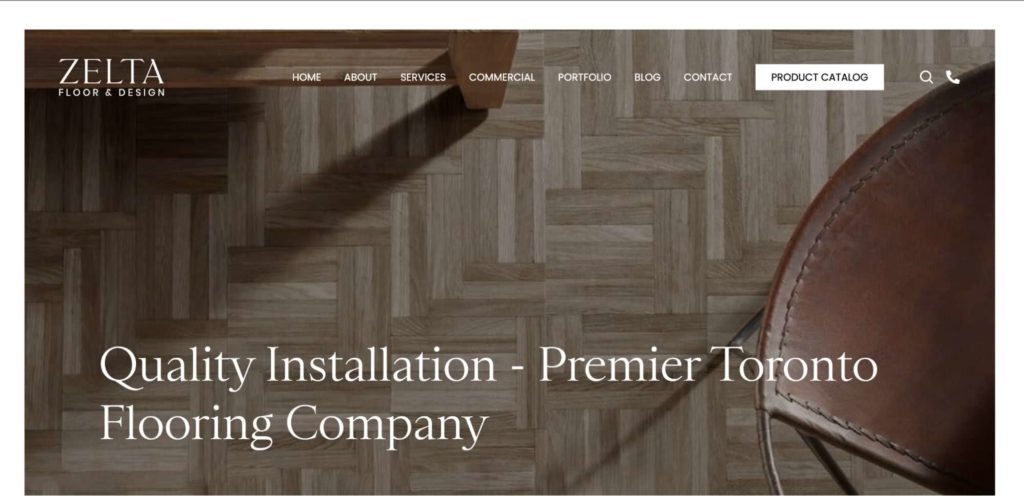 Test
Info
SERVICES
Flooring products and installation, flooring refinishing, staircase renovation, tile installation
WEBSITE
https://zelta.ca/
ADDRESS
1 Concorde Gate, Suite #702, Toronto, ON M3C 4G4

(mailing address)

CONTACT DETAILS
+1 647-330-3055
OPERATING HOURS
Monday - Saturday: 8:00 AM - 7:00 PM
| | |
| --- | --- |
| Range of options | ★★★★☆ (4/5) |
| Installation services | ★★★★★ (5/5) |
| Workmanship | ★★★★★ (5/5) |
| Guarantees | ★★★★☆ (4/5) |
| Costs | ★★★★★ (5/5) |
| Reputation | ★★★★★ (5/5) |
| Customer reviews | ★★★★★ (5/5) |
| Years of experience | ★★★★☆ (4/5) |
| Flooring specialty | ★★★★☆ (4/5) |
When it comes to the service experience, Zelta Floor & Design has our heart. In our opinion, they have one of the best project management which is a big factor in flooring installation.
To give you an idea, we appreciate how transparent their process is. Everything from the material consultation to the prices is broken down into well-detailed steps.
The best part about their installation services is that they've yet to miss a deadline. Thus far, all their clients have praised their fast turnaround time so all delivery dates are met satisfactorily.
Additionally, we appreciate that the level of care they offer doesn't conclude once the project is complete. In fact, they still do post-installation check-ups to ensure that the quality of the flooring is intact.
Plus, if you're a bit conscious of every cent you spend like us, transparent pricing is a real game-changer. We love that clients know where their hard-earned money is going which now gives the shop a spot in our book.
Touching on their workmanship, we're pretty pleased that they have great attention to detail. As an icing on the cake, we're also pretty sure that their perfect 5-star rating reflects that.
In terms of options, brands and styles are a bit limited for our taste but they do specialize in hardwood flooring. Most of their projects also revolve around staircases so they might interest you in case you have a similar project in mind.
Specializes in hardwood and staircase projects
Rigorous post-installation check up
Consistent on-time projects
Inclusive and transparent pricing structure
Regular quality monitoring during installation
Uses eco materials from Canada and Europe
Little range of experience
Relatively few flooring options
Customer Reviews
Organized from start to finish
We had recently renovated our staircase and it was completed by Zelta Floor & Design. From start to finish, they were knowledgeable, professional, organized and thorough. They do beautiful work and I am very pleased with the results. Thank you for Serge, Anastasia and the team! – Virginia Ramirez
Incredible attention to detail
Amazing team of experts, super fast and incredible attention to details. While other contractors quoted two weeks to finish our stairs project, Zelta team managed to finish everything within a week. Highly recommended as not only true professionals, but also great people. – Armen Matosyan
5. AA Floors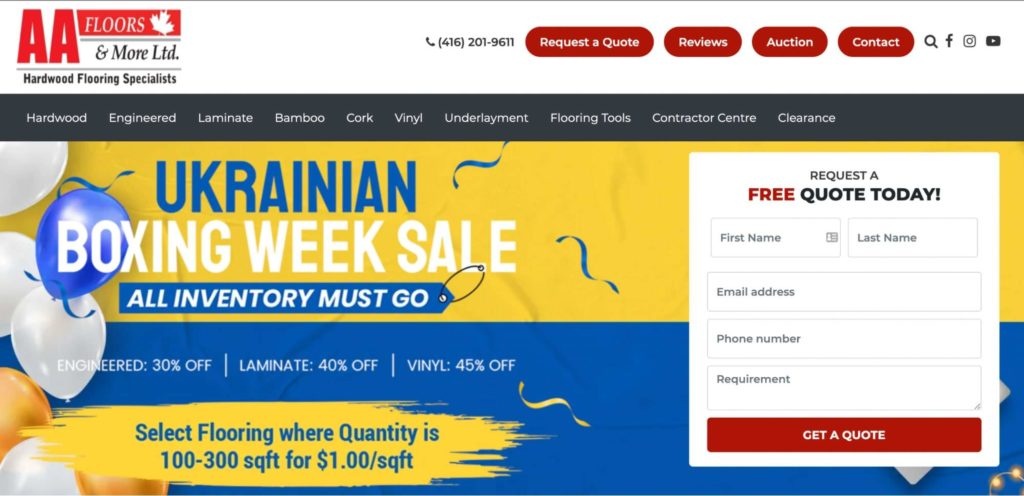 Test
Info
SERVICES
Flooring products and installation services
WEBSITE
https://www.aafloors.ca/
ADDRESS
524 Evans Ave., Etobicoke, ON M8W 2V4
CONTACT DETAILS
+1 416-201-9611
OPERATING HOURS
Monday - Friday: 8:00 AM - 6:00 PM

Saturday: 9:30 AM - 3:30 PM
| | |
| --- | --- |
| Range of options | ★★★★★ (5/5) |
| Installation services | ★★★★★ (5/5) |
| Workmanship | ★★★★☆ (4/5) |
| Guarantees | ★★★★★ (5/5) |
| Costs | ★★★★★ (5/5) |
| Reputation | ★★★★☆ (4/5) |
| Customer reviews | ★★★★☆ (4/5) |
| Years of experience | ★★★★☆ (4/5) |
| Flooring specialty | ★★★★★ (5/5) |
In matters of flooring options and prices, AA Floors is a pretty good option. With its 20,000 square feet showroom, clients essentially have limitless options when it comes to flooring materials.
On top of that, they have fully-insured installation services that often delight clients with favorable rates.
Unfortunately, they're not the best in terms of project management. Through our survey, we've determined that clients often complain of unprepared materials and installers that seem to be all over the place.
And even though we already expected issues of delay, we're surprised to note that they always deliver on time. We'll let it make up for that drawback for now.
As far as flooring is concerned, the company offers all kinds of flooring but specializes in hardwood and natural stone products. Additionally, they have extra services in store that we think are a great follow-up for maintenance.
For instance, they offer sanding, refinishing and staining as well as warranty repairs. It's quite standard but at least you don't have to seek other shops just to get the full experience.
Finally, we appreciate that they have emergency services where they can install within the day or the following day. This is a wonderful option for clients who suffered from water damage due to flood and are looking to replace flooring immediately.
Wide range of flooring solutions
Fully-insured installation services
Specializes in hardwood flooring
Offers other services for maintenance
Emergency services available
Minor issues on project management
Can be difficult to contact during peak hours (around 11:00 AM
Customer Reviews
Exceptional products and installation
What an exceptional product in the Hardwood as well as the installation…this was top notch from the beginning to the very finish of the floor being installed…this is the second time I've used AA Floors and would say I'm loyal happy customer! – Darren Samms
Knowledgeable, friendly, and patient
We are very happy with AA Floors. Peter in Sales is very knowledgable, friendly, and patient. He truly tried to understand our needs and recommended flooring products accordingly. Yuriy did a fantastic job installing the floors. His attention to detail put a smile on my face. After watching him work for a short time I was able to walk away knowing the job would be done right. We are thrilled with the final results, very thankful to AA floors and highly recommend them!!! – Rob Waymen
FAQs About Flooring in Toronto
---
Your choice of flooring can easily transform your home from the inside. For more home upgrade tips, see our recommended reviews below: