The 5 Best Travel Agencies in Toronto
Are you thinking of planning your must-needed vacation? But before you arrive at your destination, you have the difficult task of arranging your booking, travel requirements and accommodations.
Thankfully, the best travel agencies in Toronto are ready to help you secure the trip of your dreams!
If you're ready, read on for our review of the top agencies based on their experience and customer service.
How much do travel agencies charge in Toronto?
The first thing you should know is that not all travel agencies charge their clients for availing of their services. Most agencies earn through their partnerships with accommodations and even local tourism offices.
This means that it's not you who pays the agency directly. Instead, the agency gets a cut from what you pay for your trip.
While some agencies may charge an assistance fee, it all balances out when considering the low rates they get from hotels and airlines.
Other agencies also go beyond travel management. Some also give you the freedom to personalize your trip according to your budget and schedule.
Here is a table of travel agency services and their average prices in Toronto.
| Service | Cost |
| --- | --- |
| Consultation/research fee | $30 – $50 |
| Flight booking fee | $33 – $45 |
| Security deposit | $100 – $500 |
| Travel itinerary planning | $250 up |
The Best Travel Agencies in Toronto
Now that we've covered the fee range of travel agent services, let's now go to our list of the best travel agencies in Toronto.
We've assessed the companies according to the following criteria:
1. Sun-Ray Travel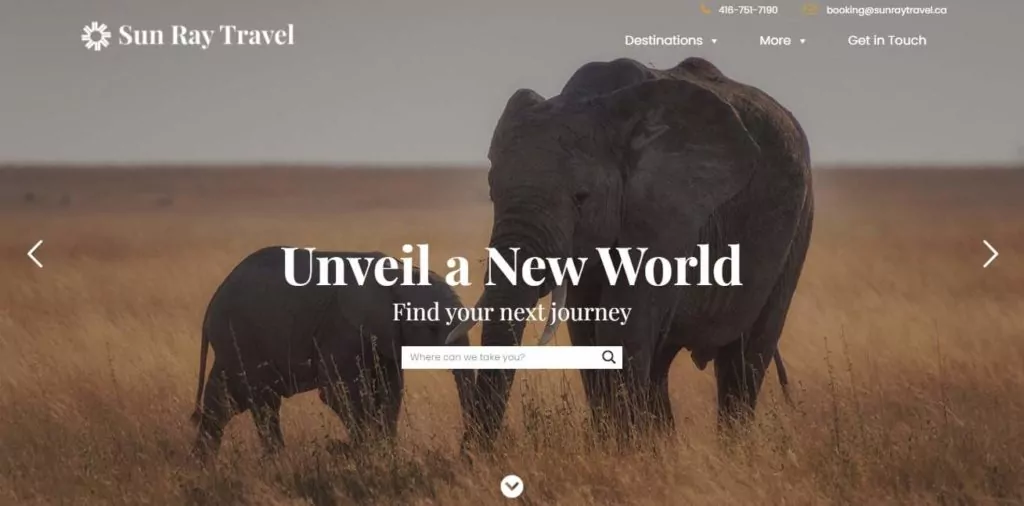 | Test | Info |
| --- | --- |
| SERVICES | Travel Packages, Travel Insurance, Honeymoon Planning |
| WEBSITE | https://www.sunraytravel.ca |
| ADDRESS | 2942 Finch Ave E Suite 118, Toronto, ON M1W 2T4, Canada |
| CONTACT DETAILS | +1 416-751-7190 |
| OPERATING HOURS | Monday - Friday 9:15 AM - 6:00 PM |
| | |
| --- | --- |
| Criteria | Rating |
| Destinations | ★★★★★ (5/5) |
| Experience | ★★★★★ (5/5) |
| Value for Money | ★★★★★ (5/5) |
| Customer Service | ★★★★☆ (4/5) |
As the only remaining ancient wonder of the world, there is truly nothing like the pyramids of Giza. No wonder thousands of tourists come to Egypt each year to see this outstanding sight.
We mention this because Sun Ray Travels is known for its excellent travel packages to Egypt. They offer the most inclusive tour package that features a Nile Cruise and even the accompaniment of a licensed tour guide.
Their most popular Egyptian package is a 12 days and 9 nights tour that covers all international airfares, domestic flights within Egypt, accommodations, and a 4-night Nile Cruise.
Some of the other destinations that the agency features include Israel, Indonesia, Cambodia, and Maldives.
The only significant exclusion to their main package is the travel insurance. However, Sun Ray Travels offer travel insurance on top of your tour package.
You also need to double-check inclusions in some travel plans, as some do not include visa fees and processing.
What we like most about booking a tour with Sun Ray is they give flexible options to their clients for personalization. They also offer multiple packages for a single destination, so you're sure to find one that fits your budget and schedule.
For honeymoon travelers, Sun Ray Travels also offers personalized trip arrangements for a truly romantic getaway!
Packages offer immersive experience of destinations
Multiple trip packages in each destination
Offers custom honeymoon trip plans
Informative website
Most of tour packages exclude visa fees
Not all packages include travel insurance
Their main office is currently closed
Customer Reviews
The best honeymoon
"Thank you for planning our perfectly executed honeymoon, we had the best time at our three destinations: Bali, Singapore and Maldives. Our flight, accommodations, food, touristic activities and transportation were well thought out and we didn't have to worry about anything. Sun Ray travel took good care of us and we trust them for future adventures!" – amy tawadrous
Patient and informative agents
Michelle at Sun Ray Travel was literally that – A ray of sunshine! Super professional, super sweet, and super knowledgeable ! She understood all of my picky travel wants/needs and was able factor in that I was travelling on a budget. I was nervous with booking, as I am travelling solo. I had a tonne of questions and concerns when it came to my arrangements, the country, fees, hotels, and safety ; Michelle was not only patient with me, but thorough with all of the information. I'm now a lot more confident going forward with my plans and even more enthused than anything. So glad I was referred to this agency and will definitely be using again! Thank you Sun Ray! Thank you Michelle – Teka White
2. St Clair Travel Agency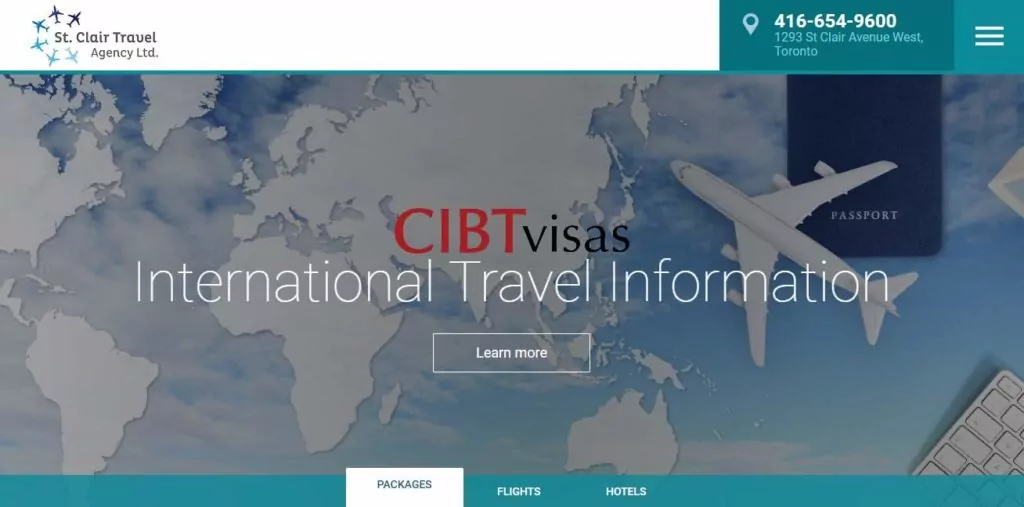 Test
Info
SERVICES
Travel Management, Cruise Packages, Solo Travel Packages, Travel Insurance, Low-Rate Flights
WEBSITE
https://stclairtravel.com
ADDRESS
1293 St Clair Ave W, Toronto, ON M6E 1B8, Canada
CONTACT DETAILS

+1 416-654-9600

1-877-887-8747

OPERATING HOURS
Monday - Friday 9 AM - 5 PM
| | |
| --- | --- |
| Criteria | Rating |
| Destinations | ★★★★☆(4/5) |
| Experience | ★★★★★ (5/5) |
| Value for Money | ★★★★★ (5/5) |
| Customer Service | ★★★★☆ (4/5) |
Traveling on your own is one of the most liberating experiences the world can offer. St. Clair Travels specializes in setting up the ideal tour packages for solo travelers.
With their Liberty Travel packages, St Clair Travels offer personalized travel plans for solo tourists who want unique individual activities, cruise accommodations, and more.
Their wide selection of destinations and travel activities is what we like best about St. Clair Travels. Beyond vacation packages, they also offer cruise vacations, group travel bundles, and even Disney dream vacations!
St Clair Travels offers their clients flexibility and personalization options for each destination. In each destination, you can indicate if you're looking for a beachfront stay, casino accommodation, and other specifications that can make your vacation a whole lot better.
Most of their flight deals come at affordable pricing. However, these packages are only available for a certain period and are not flexible in schedule.
If you're looking forward to a warm summer vacation by the sea, St Clair Travels has the best deals for Caribbean tours. Their summer destinations include Cuba, Dominican Republic, Panama, and Paraguay.
While their website indicates the full price, including taxes and other fees, they don't explain what they mean by an "all inclusive" package. If you're booking a trip with them, make sure to ask your agent what the package inclusions are.
For those planning to tie the knot, St Clair also arranges destination weddings at a competitive price. You can choose a cruise wedding, a beach ceremony, or book a local cathedral.
Affordable pricing
Offers flights at a lower price
Specializes in beach vacations
Website does not specify inclusions
Low price flights are only valid for a time period
Vacation packages are limited to the Caribbean and Americas
Customer Reviews
Professional and detail oriented
I booked a trip to the Azores through St. Clair travel. I dealt with Tania. She did such an amazing job and took care of every detail. Such a professional and always responded to any concerns immediately. I wouldnt go anywhere else. – Galen Street
Service as their number one priority
Called to Book a Flight for a Friend and the Staff is Extremely Helpful and Friendly Customer Service is Their number One priority. – Sara Ambrosi
3. World Ways Travel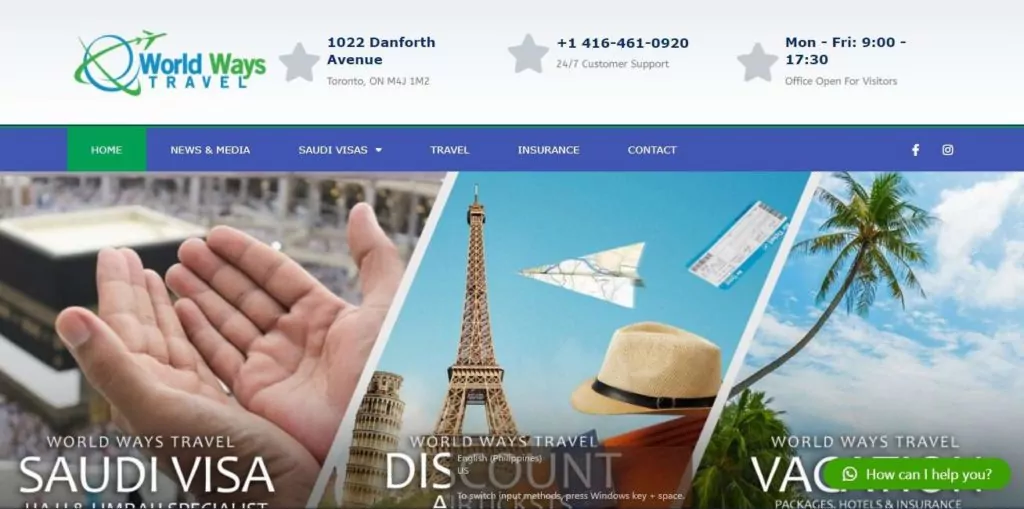 Test
Info
SERVICES
Travel Management, VISA Assistance, Travel Insurance, Umrah Packages, Low-Rate Flights
WEBSITE
http://www.worldwaystravel.ca
ADDRESS
WORLD WAYS TRAVEL, 1022 Danforth Ave, Toronto, ON M4J 1M2, Canada
CONTACT DETAILS
+1 416-461-0920
OPERATING HOURS
Monday 10 AM - 8 PM

Tuesday - Friday 10 AM - 8 PM
| | |
| --- | --- |
| Criteria | Rating |
| Destinations | ★★★★☆ (4/5) |
| Experience | ★★★★★ (5/5) |
| Value for Money | ★★★★★ (5/5) |
| Customer Service | ★★★★☆ (4/5) |
Processing visa requirements can be the most tedious task when preparing to travel. A Saudi Arabian VISA is notably among the hardest VISAs to acquire.
World Ways Agency is the largest VISA processor in Canada. They also offer their expertise as the largest provider of Saudi VISAS and airfares to the country.
Many past clients have commented on the reliability of World Ways agents in assuring that they will get their VISAs approved. Muslim travelers can also avail the best Umrah packages in the agency.
Their 20-night Umrah package starts at $4399 and comes with four nights in Makkah, 12 nights in Madina, and another four nights in Makkah after Ramadan. All of their Umrah packages include accommodation in quality hotels in the area.
They offer assistance in a variety of Saudi VISAs such as educational, commercial, work, and family VISAs.
However, their website doesn't offer much info on their other travel packages beyond Saudi Arabia. If you're looking to book a trip to other countries, it might be better to directly contact World Ways or check out other agencies.
The agency offers flights from several airlines at a great price. Their flight destinations include India, Pakistan, the Middle East, and the majority of Africa and Europe.
World Ways Agency is a member of the International Air Transport Association (IATA,) meaning that you only get flight tickets at the best rates and discounts.
Saudi Visa Assistance
Umrah Packages
IATA Accredited Member
Affordable airfare rates
Outdated website
Website focuses on Umrah packages
Customer Reviews
Superb service with clear communication
It was my first experience with a travel agency and it was outstanding. I processed my Saudi Visa and the service was superb. The communication was clear and the process was surprisingly fast and smooth. Even after I got my visa they gave details and direction on what I should do when I would want to travel. – بويسلم النهدي
Efficient and fast visa processing
Most knowledgeable and professional visa office. They kept answering all my concerns and questions along the process and were extremely patient. They were so efficient and fast that I was encouraged to make the travel arrangements through them and I wasn't wrong. -Ghaith Alkhatib
4. Battlefield Travel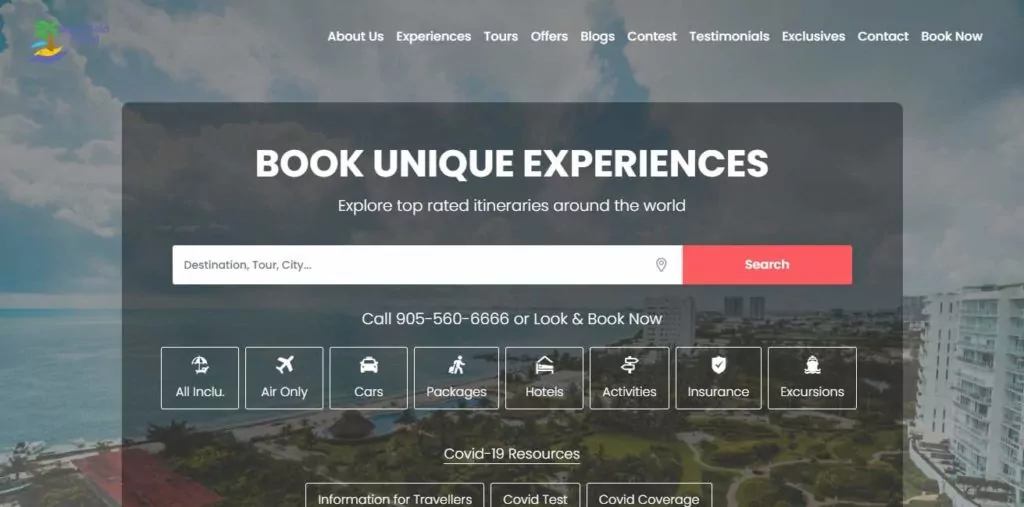 | Test | Info |
| --- | --- |
| SERVICES | Travel Management. Religious Tours, Solo Travel Packages, Escorted Tours, Travel Insurance |
| WEBSITE | https://www.battlefieldtravel.com |
| ADDRESS | 55 York St Suite 1003, Toronto, ON M5J 1R7, Canada |
| CONTACT DETAILS | +1 905-560-6666 |
| | |
| --- | --- |
| Criteria | Rating |
| Destinations | ★★★★★ (5/5) |
| Experience | ★★★★★ (5/5) |
| Value for Money | ★★★★☆ (4/5) |
| Customer Service | ★★★★☆ (4/5) |
Battlefield Travels has almost four decades of experience in travel management and tour planning. Christine Fazackerley started the agency in 1983 and has since then provided hundreds of clients with the vacation of their dreams.
The agency offers tour packages to several destinations. Whether you're looking for a beach trip in South America or a gastronomic escapade in South East Asia, Battlefield Travels has a package for you!
You also have the option to choose the focus and unique experience of your tour.
Their religious travel packages are perfect for tourists who look for a faith-based trip. Packages under religious travel include historical and holy sites and even options for pilgrimage.
Now, given the wide selection of packages and destinations, their website calls for a bit of patience to scan through. You need to scan over 300 pages of packages without the help of filtering options to find the right trip.
The best thing about Battlefield Travel is that they surely have a package for every destination that fits your budget and schedule.
Some short-trip packages include day trips to Canadian attractions or three-day visits to the USA.
Their three-day Classic Varadero mini-adventure is perfect for those who want to spend their long weekend by the beach.
Meanwhile, their longer trips feature travel plans as long as 25 days in Eastern Australia or a whole month in the Mediterranean.
To wrap it up, Battlefield Agencies give you several options and flexibility for your trip. Having options helps if you're still undecided about your destination, so your agent can recommend an ideal place for your desired experience.
Wide selection of destinations
Affordable packages
Offers short-trip plans
Hard to navigate website
Travel insurance excluded in most packages
Customer Reviews
An overall great experience
My husband and I recently booked an all-inclusive trip with Valerie from Battlefield Travel. She was extremely prompt with getting back to us and making sure we had all the information we needed to get us excited for our trip in 2018.
This time would count as our third time working with not only Battlefield Travel, but with Valerie, and each time has been absolutely flawless and organized. An overall great experience!
We were fortunate enough to book a destination wedding with Valerie in 2011, and then friends of ours used her as well to book their destination wedding in 2015. From the moment we left Toronto to arriving at the resort(s), not 1 complaint could be made. Everything was perfection.
It's a simple decision for us, we always book with Battlefield Travel! -Rachel Simons
Exceeded our expectations
Working with Valerie at Battlefield Travel is such a pleasure. She makes planning your vacation easy. Answering 100 questions and more, Valerie exceeded our expectations when helping us plan our dream Honeymoon and a Christmas vacation for our whole extended family this year. We love working with her and would very highly recommend her services. -Deandra Olivieri
5. Flight Center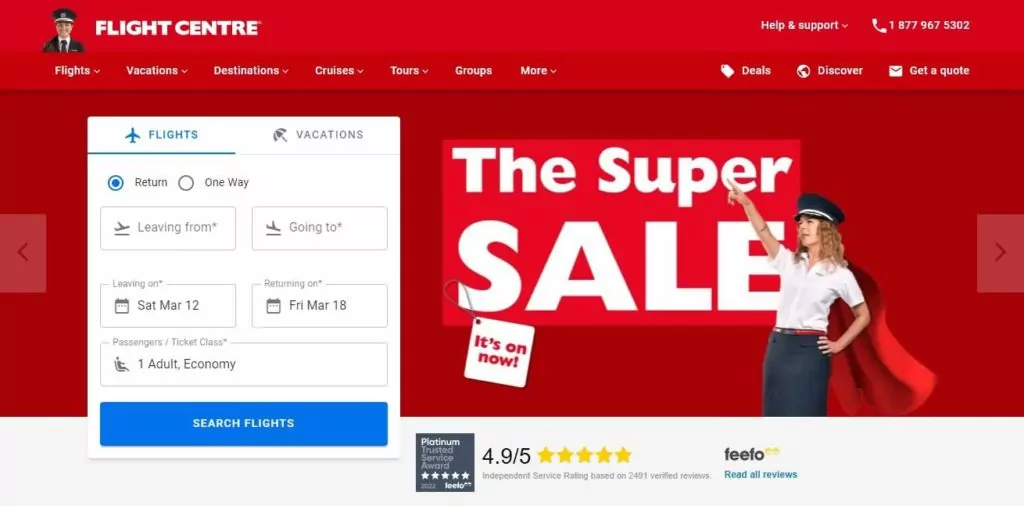 | | |
| --- | --- |
| SERVICES | Travel Management, Affordable Flights, Cruise Packages, Luxury Vacations, Last-Minute Vacations |
| WEBSITE | https://www.flightcentre.ca |
| ADDRESS | 50 Bloor St W C24, Toronto, ON M4W 3L8, Canada |
| CONTACT DETAILS | +1 866-662-6289 |
| SERVICE HOURS | Monday – Friday 11 AM – 8 PM |
| | |
| --- | --- |
| Criteria | Rating |
| Destinations | ★★★★★ (5/5) |
| Experience | ★★★★★ (5/5) |
| Value for Money | ★★★★★ (5/5) |
| Customer Service | ★★★★★ (5/5) |
Flight Center is the biggest retail travel agency in Canada, with 150 stores across Ontario, Alberta, British Columbia, and Manitoba. The agency offers the cheapest flights and the best travel discounts in the country.
What caught our eyes with Flight Center is the variety in their travel packages. Their tour plans range from luxury packages to the most affordable plans.
Cosmos Tour Packages guarantee an experience as luxurious as it sounds. All inclusions in Cosmos Packages are first-class coaches and luxury accommodations.
But worry not, as Flight Center also offers packages that won't hurt your bank. Costsaver tours offer travel plans to Europe, Asia, and South America at affordable prices with quality accommodations.
While you could easily book a flight on their website, contacting an agent through one of their stores is still highly preferred. Their website doesn't expound on trip inclusions and itinerary, consulting an agent will likely give you a clearer picture.
Another reason why Flight Center made it to our list is their "Fare of The Month" feature. These flights come at the best rates that you can only find at Flight Center.
Booking a spontaneous trip is also easier with Flight Center's Last Minute Vacations.
More often than now, a last-minute flight booking will come at a considerably higher price than a trip planned months ahead. But Flight Center offers last-minute plans that include air tickets and accommodation at a reasonable price.
Competitive Pricing
Multiple store locations
Wide selection of destinations
Website does not specify inclusions
In-person booking is still preferred
Customer Reviews
Keeps me updated
I was getting mixed and confusing messages for flights over Christmas holidays from all major airlines when I tried to book online so I ended up using "old fashioned" travel agent at Flight Centre and had the fortune of dealing with Jeff (Pequeneza) and I'm glad I did because during the duration of six weeks of my travel I was getting updates and immediate attention from him via e-mails. I can't recommend Jeff enough especially during the Pandemic. I will definitely be using Jeff again for my future travel plans. – Bashir Patel
A client for over a decade
Have been using Flight Centre for my corporate travel arrangements for over 10 years, and they have never let me down. They are prompt, professional and always there if issues come up on cancelled flights or time changes. Also gives me peace of mind with their emergency afterhours assistance -Paul Arato


Factors to consider when choosing a travel agency
You'd want nothing but the best travel agency to offer you a memorable vacation. Here are some things you need to consider when choosing a travel agency:
Package inclusions
One of the main reasons travelers choose to book with a travel agent is the packages that they offer. An excellent agency will make sure your trip has comfortable lodging, quality food, and the most convenient mode of travel.
A good measure of a travel agency's packages is if they ask to tailor your trip according to your needs, preferences, and budget. Each tourist has a unique reason and expectation in a place, and they should meet your standard.
Expertise in planning
Traveling can come with unexpected troubles and even detours. There can be a sudden flight delay and even cancellation, you can end up stranded without the right travel agency.
A travel agency with experience will always know what to do in challenging situations. When you're under the care of a good agency, comfort and safety will always be a call or a message away.
Another sign is if they show knowledge about the location. Travel agencies should suggest local spots, hidden gems, and other points of interest that will make your trip a better experience.
Customer service
The primary task of a travel agency is to guarantee you a restful vacation. And how they treat their clients can make or break the trip of your dreams.
Make sure to check reviews from their past clients for possible communication issues or booking problems.
Did they fulfill every itinerary or meal in the package? Do the rooms they provide look the same in real life?
An ideal travel agency also promptly responds to your questions and informs you of any changes or developments about your booking.
Cost
Another advantage of booking an agency for your trip is their connections with local lodging, restaurants, and transportation. Your travel agency could negotiate on your behalf to ensure the best deal possible.
Keep in mind that while a more affordable trip is always appreciated, it is not always ideal. An excellent agency will advise you where to splurge and where to spend wisely.
FAQs About Travel Agencies
---