The 7 Best Life Insurance Providers in Toronto
There is nothing like the comfort of knowing that your family is in safe hands. An insurance policy is among the ways your loved ones' could ensure financial security even in the event of sudden illness and death.
To help you find the best insurance that fits your budget and needs, we've curated a list of the best life insurance providers in Toronto according to rates, customer reviews, and other vital factors.
But before we get to our list, let's first discuss the price range of life insurance plans in Toronto.
The Best Insurance Providers in Toronto
Now that we've covered its cost and range, let's move on to the list of the best life insurance providers in Toronto.
We assessed the companies based on the following criteria:
How much does life insurance cost in Toronto?
Many factors come into play when we talk about the cost of life insurance plans. More often than not, insurance plans are cheaper if you're younger and living a healthy lifestyle.
Habits such as smoking and drinking, your gender, possible pre-existing conditions, and even your driving history can all affect the actual cost of an insurance plan.
Another factor is your desired coverage for the plan. Of course, the higher the coverage will cost much more than a plan with lower coverage. '
The average life insurance coverage per Canadian household is $442,000, as noted by the Canadian Life & Health Insurance Association.
Below is a table of average fees for 10-year term-life insurance plans, based on the insured's age at start of the plan, with $100,000 death benefits.
| AGE OF INSURED | PREMIUM RATE |
| --- | --- |
| 30 year old | $13 monthly ($148 a year) |
| 40 year old | $16 monthly ($183 a year) |
| 50 year old | $28 monthly ($329 a year) |
| 60 year old | $65 monthly ($771 a year) |
Note that these estimates are based on a male non-smoker living in Toronto. Rates are always subject to change based on gender, age, lifestyle habits, and health conditions.
1. Co-operators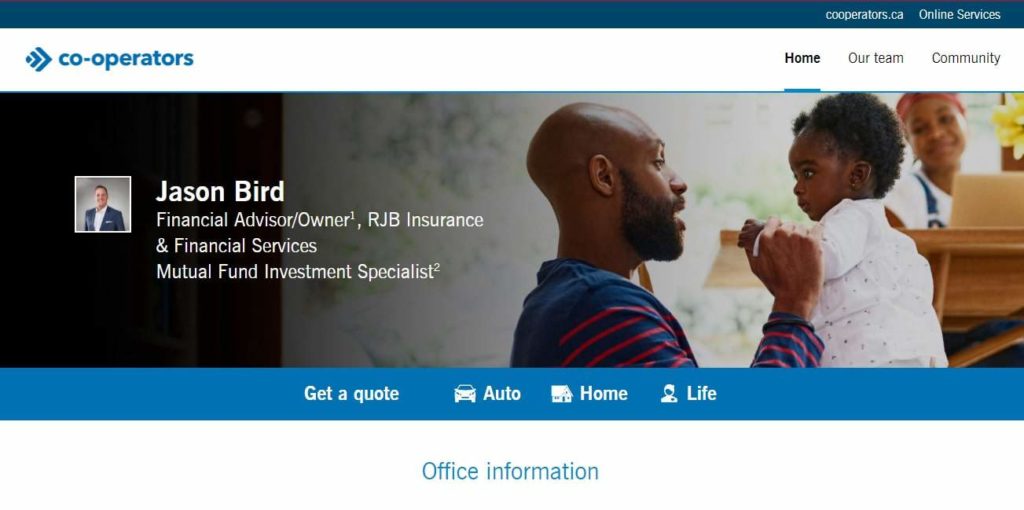 | Test | Info |
| --- | --- |
| SERVICES | Life Insurance, Auto and Motor Insurance, Property Insurance, Business Insurance, Farm Insurance |
| WEBSITE | https://www.cooperators.ca/local/rjb-insurance-group/ |
| CONTACT DETAILS | +1 416-264-2281 |
| ADDRESS | 1029 King St W Unit 30, Toronto, ON M6K 3M9, Canada |
| SERVICE HOURS | Monday - Friday 9AM - 5PM |
| | |
| --- | --- |
| Criteria | Rating |
| Customer service | ★★★★★ (5/5) |
| Financial Stability | ★★★★★ (5/5) |
| Cost | ★★★★★ (5/5) |
| Coverage Options | ★★★★☆ (4/5) |
RJB Insurance & Financial Services is an insurance provider and financial advisor under insurance cooperative, Co-operators Group Limited. The Co-operators is among the leading Canadian multi-line insurers.
One of the aspects we liked about RJB Insurance and Co-operators is that they offer insurance policies for your home, auto, business, and even farm insurance.
If you're looking for a short-term life policy, you can also purchase a 1-year term life insurance online. Term Life 1 is ideal for clients between 18 to 49 years old and who need coverage less than $475,000.
However, their term-life policy has a maximum length of 30 years. And it does not help that they do not explain their policies on their website in full detail.
We've also noticed that RJB Insurance has higher ratings in terms of customer service than the main Co-operators office in Toronto. So if you're looking for a seamless transaction, it may be better to consult with RJB.
Another great thing about Co-operators is their comprehensive critical illness insurance policies. This plan features premium payback at death and conversion privileges.
Co-operators also offers disability insurance that aims to protect those injured and have limited means of working.
You can also get a quotation at the Co-operators webpage. Even though this only serves as a rough estimate of possible rates, it helps that you already have an idea of the price even before contacting an agent.
Online quotation available for short-term policies
Comprehensive critical illness insurance
Excellent customer service
Offers a wide variety of policies
Maximum of 30 years for term-life insurance
Online quotation is unavailable for long-term policies
Website lacks information
CUSTOMER REVIEWS
Astounding customer service
For several years now I have had experience with RJB Insurance for my home, car and business coverage. They have been an example of exceptional customer service. They have responded to my needs quickly, professionally and with unusual courtesy. They have offered excellent advice and I feel confident and secure that part of my life is in good hands. I highly recommend them. – Cara Benjamin-Pace

Great coverage at low rates
Shopping for insurance coverage can be a very frustrating and disheartening experience and that is exactly what it was for me over the last several weeks. Sandy at RJB insurance was a breath of fresh air. She was patient and informative and delivered a solution in record time with transparency, honesty and with a friendly demeanor.
Bottom line,… I received great coverage at a great price. -George Ntentes
2. Desjardins Insurance (Agent)
| Test | Info |
| --- | --- |
| SERVICES | Life Insurance, Auto and Motorcycle Insurance, Property Insurance, Liability Insurance, Pet Insurance |
| WEBSITE | https://www.desjardinsagents.com/home |
| CONTACT DETAILS | +1 416-530-0300 |
| ADDRESS | 398 Bloor St W #200, Toronto, ON M5S 1X4, Canada |
| SERVICE HOURS | Monday - Friday 9 AM - 5 PM |
| | |
| --- | --- |
| Criteria | Rating |
| Customer service | ★★★★★ (5/5) |
| Financial Stability | ★★★★★ (5/5) |
| Cost | ★★★★☆ (4/5) |
| Coverage Options | ★★★★★ (5/5) |
Desjardins is one of the top financial institutions and insurers in Canada and is also frequently ranked among the world's 50 safest banks.
Desjardins historically started as a bank but now has 20 subsidiary companies that offer venture capital, brokerage, and life insurance.
The company offers life term insurance options to cover term life needs such as lifestyle protection, your children's education, and mortgage coverage. Meaning, they can personalize your policies according to your current coverage needs.
Desjardins Insurance offers 4 different term life insurance, ranging from 10-year terms to a term-to-age-65 policy. All these terms are convertible to permanent insurance up to a certain age.
They also offer several permanent life insurance policies for those looking for a long-term policy like participating life insurance or universal life policies.
Some of their permanent life policies provide lifelong coverage with a designated payment period, ideal for those who want permanent coverage but don't want to pay an annual premium their whole life.
We liked The Whole Life Guaranteed 10 Pay, a permanent life plan you can fully settle within a decade. Your coverage will last your entire life even after paying up your 10-year premium.
Clients can also choose to convert their term insurance into a joint last-to-die permanent life insurance by adding a new holder. Adding a new holder can transfer your insurance to a surviving partner or family member.
However, Desjardins may not be the right choice if you're on a tight budget and are looking for more flexibility on your insurance plan.
Beyond life insurance, Desjardins also offers insurance policies for your home, auto, pet, and travel insurance. Desjardins life insurance is ideal for those looking for policies that cover the whole family and permanent life plans without the permanent payment.
Flexible and personalized plans on top of basic life coverages. 
Offers huge discounts for clients who avail multiple policies. 
One policy can protect the needs of your whole family. 
Offers auto, home, life, health, and even pet insurance
Ability to turn shorter-term products to long-term products
Bilingual services
Easy access to their online platforms
Limited predetermined options
Straight term options are more expensive than competitors
Digital copies of policy are only available through an advisor
CUSTOMER REVIEWS
Quick and easy process
Sonia was very quick to respond and answered all my questions thoroughly. I was getting insured after some time out of the country and thus the application process was by no means standard. She was professional throughout and knew how to manage my situation. Excellent service – quick and efficient. I've not yet made a claim, but good to this point. Thank you! – Hugh C.
Best rate vs competition
I called almost 20 auto insurance agents and finally found Eric Quyen Diep and Sarina Jaswal. Sarina gave me the best rate and totally went above and beyond for me just to make sure I got everything right. She was straight to the point and professional. Moreover, Eric also reached out to me after just to make sure I was happy with the service. Honestly, Im so happy that I've found this team.- Kate M Ng
3. Sun Life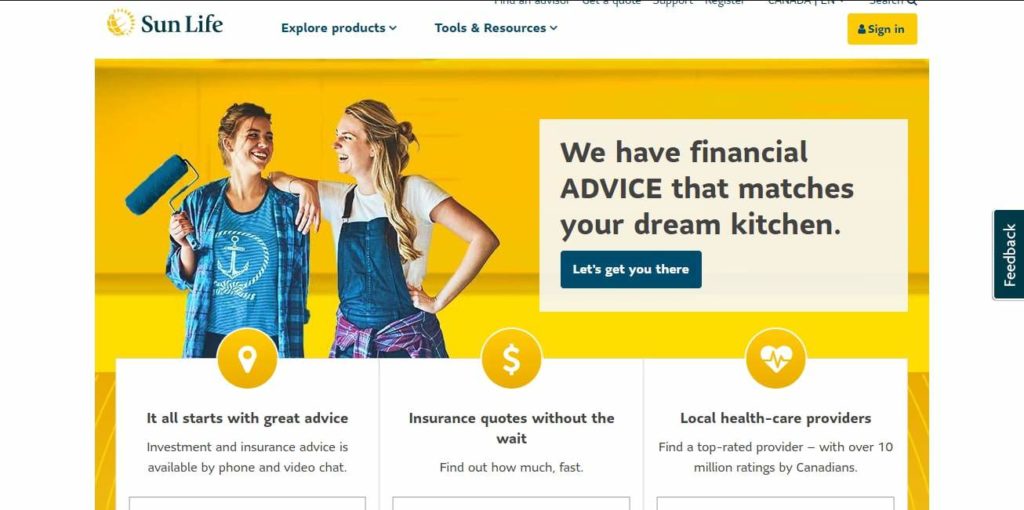 | Test | Info |
| --- | --- |
| SERVICES | Life Insurance, Health Insurance, Business protection insurance |
| WEBSITE | https://www.sunlife.ca/en/ |
| CONTACT DETAILS | +1 877-786-5433 |
| ADDRESS | 1 York St, Toronto, ON M5J 0B6, Canada |
| SERVICE HOURS | |
| | |
| --- | --- |
| Criteria | Rating |
| Customer service | ★★★★☆ (4/5) |
| Financial Stability | ★★★★★ (5/5) |
| Cost | ★★★★☆ (4/5) |
| Coverage Options | ★★★★☆ (4/5) |
Founded in 1865, Sun Life Financial Inc. has established its name as one of the largest life insurance companies worldwide. The company is also one of the leading financial organizations with markets in the US, UK, and Asia.
Most of their insurance products are offered online through their network of financial advisors and product distributors.
On the downside, Sun Life doesn't provide information on their products or price quotation tools online. You can only inquire or avail of their policies by contacting an agent or through a direct call or email.
Sun Life offers four different term life insurance products, varying from coverage and medical terms. They offer their standard term life plan, SunTerm, in several terms and benefits.
SunTerm comes in 10, 15, 20, and 30-year terms with standard level premiums. Some of the optional benefits include an accidental death benefit, waiver of premium on total disability, and children's insurance riders.
Sun Life is ideal for those looking for a company that offers life insurance without the need for medical tests or health questions.
What we love most about the company is its financial strength rating. Sun Life earned an A+ rating from AM best, indicating great financial strength.
Given its large network and reputation as one of the biggest insurance providers worldwide, you'll have no concerns whether or not they could cover your insurance after passing. One of their plans even offers up to $1 million coverage for all legal Canadian residents.
Both medical and non-medical life insurance policies are available
Customizable policies with multiple riders
Sun Life Go offers up to $1 Million CAD for legal residents of Canada
Minimal limited term options
Lacks flexibility in coverage terms
More expensive than other term life products
Absence of online quote tool
CUSTOMER REVIEWS
Hassle-free service
Had to call Sun Life to check if they would cover a claim. The first step I took was opening "my Sun Life" mobile app to locate the phone number to call. Two taps and one call tone later, I connected to a service rep, and she not only solved my problem, but gave further advice to ensure there would be no errors when submitting the claim. She then got me referred to a financial consultant to take care of another burning issue I was having. This is the best customer service I've ever had – friendly, efficient, and going above-and-beyond like it was any other day. Really proud to be working for this company. – Christine Lum
Well-informed staff
Was well informed, explained and suggested to me what I should do. Thanks for the efficient service. Thanks a million. -Christiana Alexander



4. Mitchell & Whale Insurance Brokers Ltd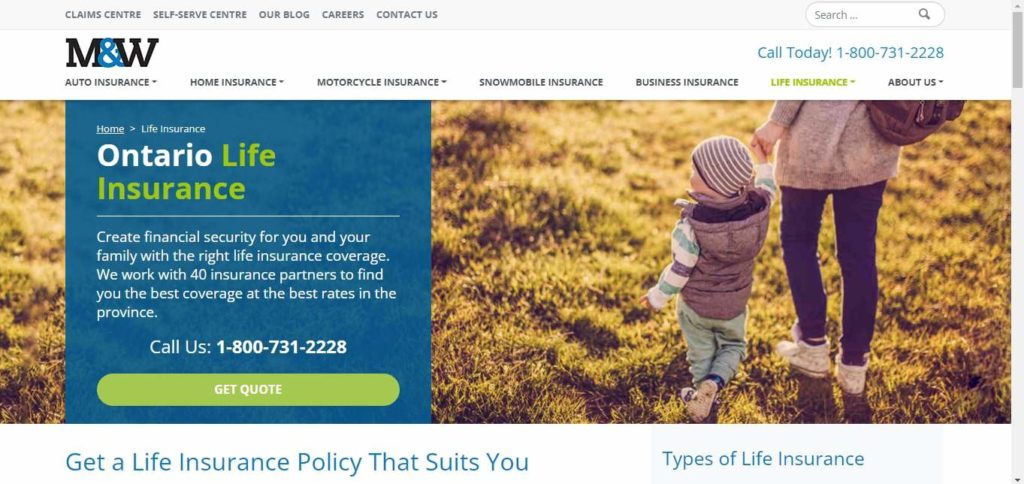 Test
Info
SERVICES
Life Insurance, Auto and Motorcycle Insurance, Home Insurance, Property Insurance, Commercial Insurance
WEBSITE
https://mitchellwhale.com/life-insurance/
CONTACT DETAILS
+1 289-593-0275
ADDRESS
110 Yonge St Suite 403, Toronto, ON M5C 1T4, Canada
SERVICE HOURS

Monday 8AM–6PM

Tuesday - Friday 8AM–8PM

Saturday 10AM–4PM

Sunday Closed
| | |
| --- | --- |
| Criteria | Rating |
| Customer service | ★★★★★ (5/5) |
| Financial Stability | ★★★★☆ (4/5) |
| Cost | ★★★★☆ (4/5) |
| Coverage Options | ★★★★★ (5/5) |
Mitchell & Whale Insurance Brokers Ltd. is an insurance brokerage firm based in Ontario that offers services for life, home, motorcycle, and business insurances in the Greater Toronto area.
The first thing that caught our eyes is the accessibility and ease of communication that Mitchell & Whale Insurance offers. Their past clients had nothing but good words for their agents.
Some past clients even shared that they chose insurance as quickly as 15 minutes through a phone call. Their agents can easily match your coverage needs and ideal rates with an insurance provider, lessening your burden of comparing plans.
What we like most about getting insurance through an agent is their wide network. Mitchell & Whale will evaluate your needs and capabilities, so they can shortlist the best-fitting policies from their network.
Mitchell & Whale brokers review your package annually, right on time when you need to renew your insurance policy. This is to ensure that you still get the best rates and coverage for your needs.
However, buying insurance through a broker also means you need to pay them compensation. So if you're working with a tight budget, it might be better to contact insurance providers directly.
If you're looking for a personalized insurance policy without the hassle of going through hundreds of company terms and payment structures, Mitchell & Whale will gladly do the work for you.
Freedom to choose among the lowest rates
Can shift to a different insurer for more affordable rates
Has a network of 40 insurance companies
Long office hours
Brokers ask for compensation on top of the premium
Can be difficult to contact at times
CUSTOMER REVIEWS
Professional service and understanding agents
I am 64 years old and have dealt with many sales people in many different businesses. When I called Mitchell and Whale for a quote I felt like I was speaking to an old friend. Katherine O'Gorman was so friendly and totally interested in helping me. Katherine understood my needs, helped me to make informed decisions and did not try to oversell. I know we all have unique situations but My insurance on my Harley-Davidson is 1 third of what the company I have been loyal to for 20 years wanted. And yes, same coverage. You have nothing to lose and it will probably be the most pleasant part of your day. – Rick Vaillancourt
A stress-free process
I switched from one of the bigger Insurance Brokers to Mitchell & Whale Insurance Brokers Ltd. in 2021. I wanted to see what they could do for me in covering my car, motorcycle and my condo. The Customer Service was outstanding by my broker, Mark Heinecke. He couldn't have been more patient or more informative and to top it off, he was a delight to work with. He made the entire process completely painless and went out of his way to give me the best scenarios to help me make the important decisions I needed to make in order to protect my personal assets. Mark treated me like a friend and someone he cared about and did not come across like a commission based robot. He gave me peace of mind and answered all of my insurance needs. I know I'm in good hands and I'm grateful that I found M&W. Thank you Mark. -D. Cooke
5. BMO Insurance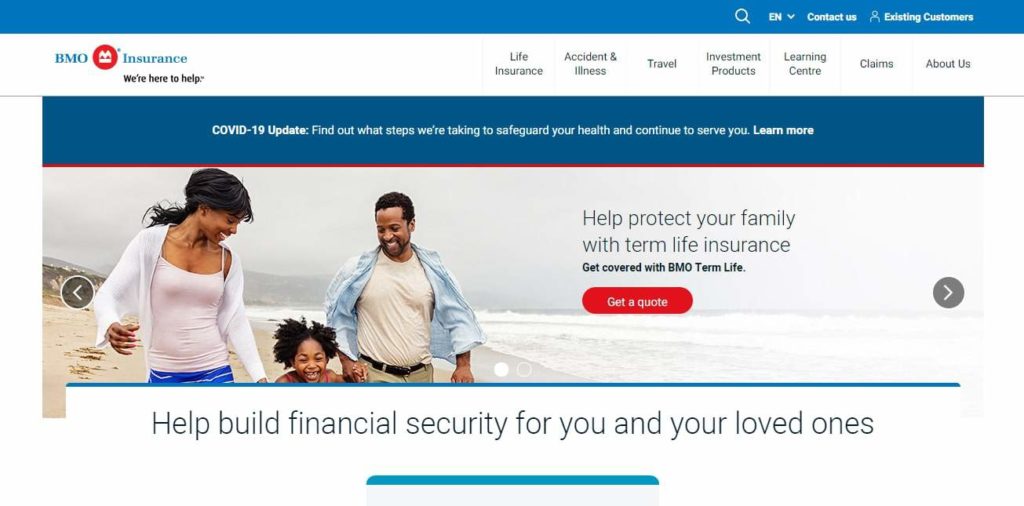 | Test | Info |
| --- | --- |
| SERVICES | Life Insurance, Critical Illness, Health Insurance, Travel Insurance |
| WEBSITE | https://www.policypeople.ca/ |
| CONTACT DETAILS | 1-844-421-1714 | [email protected] |
| ADDRESS | 105 McCaul st. #206 Toronto, Ontario M5T 2X4 |
| SERVICE HOURS | Contact for more information |
| | |
| --- | --- |
| Criteria | Rating |
| Customer service | ★★★★☆ (5/5) |
| Financial Stability | ★★★★★ (5/5) |
| Cost | ★★★★★ (4/5) |
| Coverage Options | ★★★★☆ (4/5) |


BMO Insurance dates back to 1817 and is part of Canada's oldest bank. Their solid history guarantees their financial stability and established BMO as Canada's second-largest bank-owned insurance provider.
They offer flexible term-life products with several options for personalization. With term lengths of 10, 15, 20, 25, 30, and term 100 permanent, BMO has one of the widest choices for term policies compared to other companies.
What we liked most about BMO was their unique Compassionate Benefit Program. This feature allows clients to apply for an advance of their policy's death benefit.
However, longer-term-life policies like Term 25 and Term 30 are not renewable. Past clients also suggested that they are more responsive if you reach out through their office than online.
Another reason why BMO Insurance made it to our list is they offer competitive prices at affordable rates. BMO insurance premium rates rank consistently among the lowest in Canada.
BMO Insurance is another company that offers online quotes. And while they don't offer online purchases of their policies, they deliver contracts electronically.
Another thing to like about BMO insurance is its financial stability. Being one of the biggest banks in Canada, they have an AM Best Rating of A (Excellent) and offer death benefits up to $10,000,000.
To wrap it up, BMO offers you great value for money and flexible coverage. Their online platform is also easy to navigate and contains comprehensive information about their policies and plans.
Best value for money
Flexible coverage options and multiple term-life insurance coverage 
Online quotes available
Comprehensive information on website
Superb financial stability
Paper heavy process
No online account
Long-term products are not renewable 
CUSTOMER REVIEWS
Cares about your needs
I just called in to discuss a change to my policy with a representative. My call was taken immediately and the man on the phone was extremely helpful. The whole process took only a few minutes and I got exactly what I needed. – Shev 1K
Best coverage for value
Me and my wife had our first child and we both got term insurance, I shopped around ahead of time but BMO by far had the best deal. Easy to deal with over the phone and so far we have no complaints. -Jinter Braski
6. Your Best Life Insurance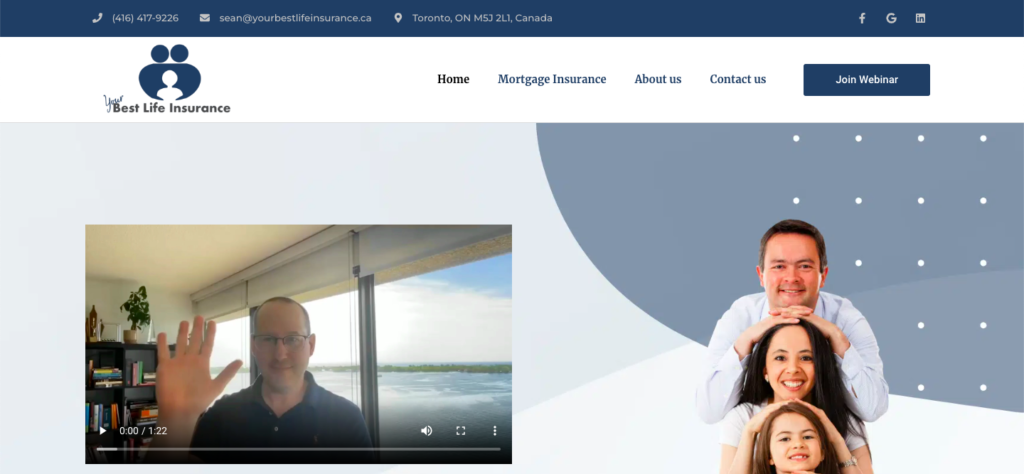 | Test | Info |
| --- | --- |
| SERVICES | Life Insurance, Critical Illness, Health Insurance, Travel Insurance |
| WEBSITE | https://www.policypeople.ca/ |
| CONTACT DETAILS | 1-844-421-1714 | [email protected] |
| ADDRESS | 105 McCaul st. #206 Toronto, Ontario M5T 2X4 |
| SERVICE HOURS | Contact for more information |
| | |
| --- | --- |
| Criteria | Rating |
| Customer service | ★★★★★ (5/5) |
| Financial Stability | ★★★★★ (5/5) |
| Cost | ★★★★☆ (4/5) |
| Coverage Options | ★★★★☆ (4/5) |


Your Best Life Insurance lives up to its name as one of your best options for life insurance.
This company aims to help their clients protect their families by insuring their lives.
The founder of this company understands the emotional toll, staggering costs, and the whole complicated process of funeral planning, and because of this, he build this company to spare other families of much stress and trouble.
What we like about them is how they'll allow their clients to continue to support their families in the event that they're gone. Moreover, they also offer a comprehensive funeral concierge package with no additional cost.
Their life insurance also replaces income so the bills and day to day needs of the families left behind will still be taken care of.
We also like how they offer 24/7 support so they're ready to answer and questions anytime.
There's also no need to worry because we find that the funeral directors they work with are highly qualified.
It's also easy to receive payments from them. Within 48 hours of death, the beneficiaries can receive a portion of the life insurance to pay for immediate expenses like the funeral.
We think it's great that they have a life insurance calculator on their website, so you can have an idea of how much insurance you'd need before you even contact them.
Offers a comprehensive funeral concierge package with no additional cost with the life insurance
Life insurance replaces income
24/7 support
Fast payments
Life insurance calculator available on website
Operating hours unavailable
7. Policy People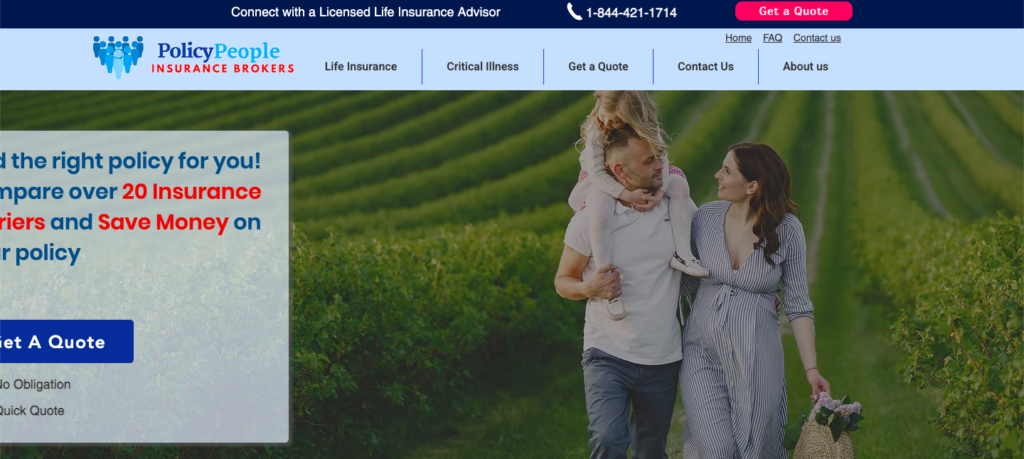 | Test | Info |
| --- | --- |
| SERVICES | Life Insurance, Critical Illness, Health Insurance, Travel Insurance |
| WEBSITE | https://www.policypeople.ca/ |
| CONTACT DETAILS | 1-844-421-1714 | [email protected] |
| ADDRESS | 105 McCaul st. #206 Toronto, Ontario M5T 2X4 |
| SERVICE HOURS | Contact for more information |
| | |
| --- | --- |
| Criteria | Rating |
| Customer service | ★★★★★ (5/5) |
| Financial Stability | ★★★★★ (5/5) |
| Cost | ★★★★☆ (4/5) |
| Coverage Options | ★★★★★ (5/5) |

Another insurance provider we have for you is Policy People.
This company is an insurance brokerage based in Toronto that has more than a decade of experience in the industry.
We think this is an excellent insurance provider that offers unparalleled advice and always puts their customers' interest above anything else.
We like them for their low rates and easy application process.
If you're wondering how easy it is to apply with them, we're here to let you know. You simply have to get a quote from them, receive the quote the advisors come up with, review the coverage then you can get your approval in just a couple of days!
What's great about requesting a quote from them is that you receive it quickly and it's no obligation.
We like that they cover our main insurance needs like life insurance, critical illness, health insurance, and travel insurance.
What we find sets them apart is that they don't have medical exams or tests and that everyone gets covered.
Given these, we highly recommend them to you!
Offers We like that they cover our main insurance needs like life insurance, critical illness, health insurance, and travel insurance
Quick, no-obligation quote
Low rates
Easy application process
No medical exams and tests
Operating hours unavailable
How Do I Choose The Best Life Insurance?
Availing life insurance is a huge financial decision, and it's only just to get your money's worth. Moreover, you want nothing but the best plan to secure your family even after passing.
If you're thinking of buying life insurance but still unsure what to look for, here are a few things to consider.
How much coverage do you need?
Do you need insurance only while you're paying off your mortgage, or do you want to be covered for life? Knowing the coverage period that you need insurance is key to deciding which type of insurance you need.
Life insurances can either last for a certain time frame or permanent (that is, until your death.) Knowing your desired coverage length will also determine how affordable or expensive your premiums will be.
Choose a policy that fits your budget
It helps to consider if the policy suits your budget after your usual expenses and necessities. If you have high insurance needs, the annual premium will also rate higher.
You could discuss your financial health with your insurance company or agent so they can tailor or recommend a policy that suits you.
Company Reputation
The best way to tell if you're eyeing the right insurance provider is through their reviews and past clients. A well-reviewed company will more likely provide you with excellent service, too.
Among the biggest concerns with life insurance companies is their process for claims. It is important to consider that your family wouldn't have a hard time making their claim.
Their financial standing is vital too, as this can determine how long it would take for them to release your claims.
FAQs About Life Insurance
---
If you have any questions or suggestions for the list, don't hesitate to let us know!
Looking for the best car insurance providers? Check out our list for the best car insurance providers for more insurance advice in Toronto!