The 5 Best 3D Printing Shops in Toronto
Spare parts, personalized items, or rapid prototyping? Whatever it is you need, 3D printing can make it come true!
In today's review, we chose the best 3D printing shops in Toronto to shorten your search for them. We already filtered through the vast options for you and checked out their strengths and weaknesses, as you'll see here.
The Cost of 3D Printing Services in Toronto
To give you a rough estimate, 3D printing can start for as low as $3 and can go up to $1,000 and more. It depends on the following factors:
3D model (volume and complexity)
Type of material
Post-processing (polishing and finishing)
Time it will take to print the object
Some shops charge per hour so they calculate the cost based on the time it will take to print.
For example, if they charge $1 per hour and it will take 15 hours to print your model, it will cost you $15. Still, the quote you may still increase depending on the factors we mentioned.
It's advisable to request a quote for your project first to get a more comprehensive estimate. Don't worry because most requests are free with no obligation so you can really compare the prices.
Top 3D Printing Shops in Toronto
Curious about our selection process? Here are factors we considered to find the best of the best:
1. 3DPhacktory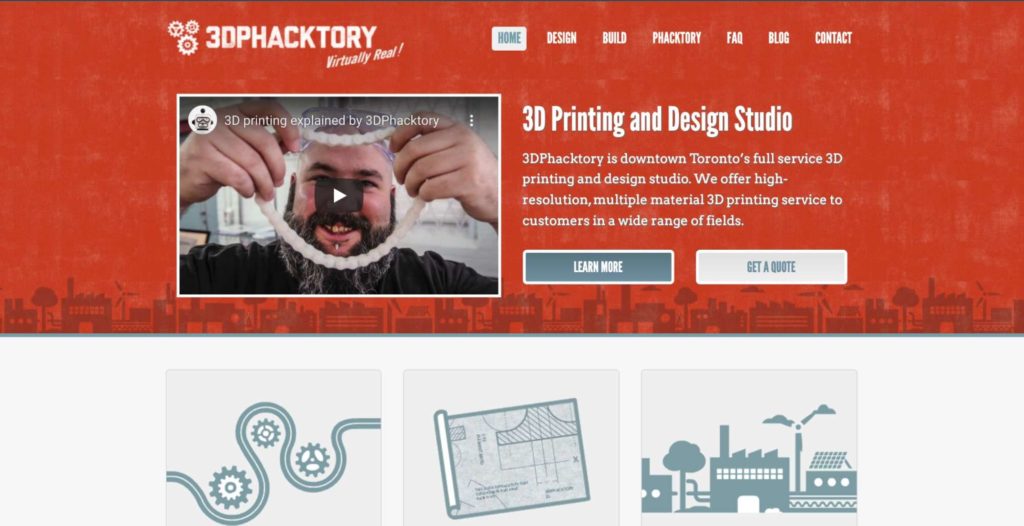 | Test | Info |
| --- | --- |
| SERVICES | 3D printing services including but not limited to packaging design and development, rapid prototyping, architectural models, 3D rendered art printing |
| WEBSITE | http://3dphacktory.com/ |
| ADDRESS | 100-2 Toronto Street, Suite#263, Toronto ON M5C 2B5 |
| CONTACT DETAILS | +1 416-462-0994 |
| OPERATING HOURS | Monday - Friday: 10:00 AM - 6:00 PM |
When we looked for a range of services including build and design, 3DPhacktory was among the ones that stood out to us. They can cater to your needs with or without a design ready, which is always a plus for us.
The first thing that we loved was their fast turnaround time. Normally, 3D printing services would promise you about three to five days, but they can do projects in as fast as 24 hours.
Of course, realistically speaking, bulk orders definitely won't fall within that timeline. But if you only have one model to print, then that promise is a sure guarantee.
Whether you already have a ready-to-print file or just an idea in mind, they can accommodate your needs. If you have a sketch, they have in-house designers to re-create a 3D model for you for $95 per hour.
If you already have a .STL file, you can simply upload it to their website for a quick estimate. It's a feature you can commonly expect these days so we weren't exactly blown away.
What we love too is that they can match your preferred price. They're actually the only shop on our list that allows you to choose from among low, medium, and high-quality prints to match your budget.
Another thing that impressed us about this shop is their ability to make quick changes as per customer request. Want to add that very minor yet significant detail to your model during the printing process? Sure, no problem!
Plus, we're just big fans of their tools and printers that can recreate even the most intricate designs at a fast rate. One client even had his favorite anime figurine recreated – needless to say, he was over the moon.
Overall, it's a great all-around 3D print shop for rapid prototyping, prop design, architectural models, and more. And, they've also worked with big names like Disney in the past, which says a lot to us about their experience.
24-hour turnaround time
In-house designers available
Ability to choose a quality based on budget
Strictly confidential designs
Can accommodate changes to an ongoing project
Instant volumetric pricing tool on website
Walk-in clients are entertained
Issues with customer communication
Customer Reviews
Exceptional service from start to finish
Worked with Andre and Art for my project. I wanted to put my address sign on the house using the Hobitton font from Lord of the Rings. I have a 0 in my house address so I thought it would be cool to use " the Ring of power" as the 0. Art worked me through out the process in terms of material and design, was very prompt and offered valuable insight especially in the finishing aspect. He even helped me with the cradle aspect of attaching it to the wall. End result was amazing. Highly recommend to use these folks.
Incredibly experienced professionals
This company provides exceptional 3D design service. I am impressed with their attention to detail, their willingness to accommodate changes to scope after a job has started and their quick turnaround time. They are familiar with process limitations translating 3D designs to physical parts using injection molding (uniform wall thickness, undercuts, etc.) and will suggest design changes accordingly. I highly recommend this company and will use them again.
2. Hot Pop Factory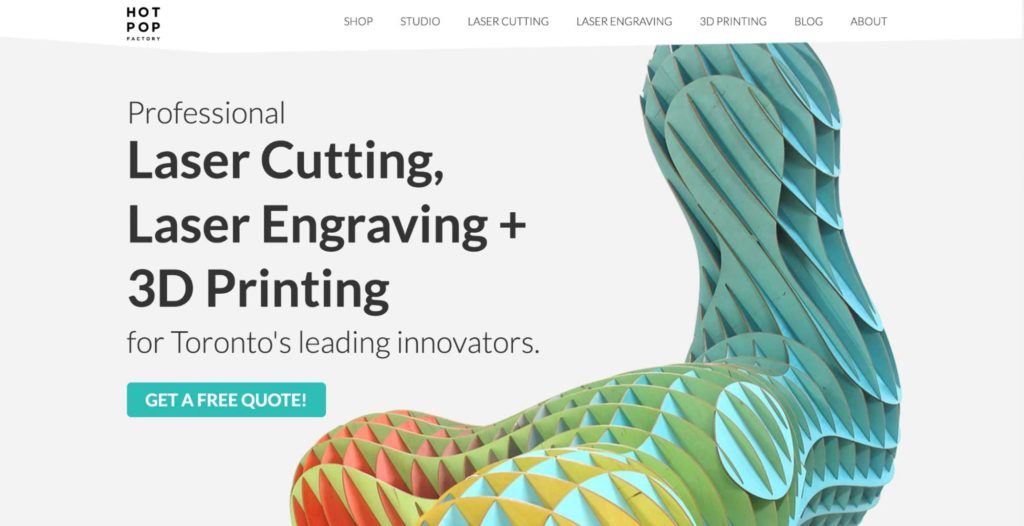 | Test | Info |
| --- | --- |
| SERVICES | 3D printing, laser cutting, laser engraving, |
| WEBSITE | https://www.hotpopfactory.com/ |
| ADDRESS | 215 Spadina Ave. B05, Toronto, ON M5T 2C7, |
| CONTACT DETAILS | +1 416-306-6468 |
| OPERATING HOURS | Monday - Friday: 10:00 AM - 6:00 PM |
3D printing isn't the only service this company offers, but they provide it like it's the highlight of their specialties. When we came across Hot Pop Factory, we found a lot of things that we know can truly help you out.
If you're into these big businesses, you may want to check this shop out. For instance, you may need them to print spare parts for cars if you're in the automotive industry.
Simply put, this shop is our best choice when it comes to printing for certain industries. We found that their experience is best suited for businesses in the tech, automotive, architecture, and consumer goods industry.
Of course, they can also accommodate unique individual and personal use needs. They can help you print arts and sculptures and even fashion accessories in case you're a small business.
Another thing that we appreciate about them is their set of design guides and support services. Not a lot of shops we encountered offer this so it's something that definitely got our attention.
For starters, they offer a free analysis of files that you send them before they get printed. That's not to say that other shops don't check your files before printing – we just like their process a bit more.
File analysis allows them to spot potential errors in your designs that you might have overlooked. For example, it enables them to see the dimensional accuracy of your model before it goes through preparation.
Necessary? Absolutely! What if you're printing run parts and components of a working product? If parts fail to fit, it can be costly for you.
In addition to this, we also love that they have an option for rush services (as long as the volume is possible). To save you even more time, you can also opt for their same-day delivery services within or outside of Toronto.
In-house designers available
Offers design guide and support services
24 hours or 48 hours rush service available
Free quote request available on website
Same-day or next-day delivery service available
Has experience working with global companies
Small orders may not be accommodated
Customer Reviews
Makes the impossible possible
We love working with Hot Pop! We've gone to them repeatedly for big and small 3d printing and laser cutting projects, always with great results. Not to mention our projects are rarely straight forward – usually the type of things that others say are impossible. But Matt, Biying and the gang consistently put in the extra effort and make them happen. Basically, they're much more than just a 'printing service' – we often involve them throughout the design process to help us tackle tough problems and come up with unconventional solutions. Definitely highly recommended! – Mark Simmons
Great quality at a wholesome price
I found an image online of some signage I wanted to create for a backdrop I was setting up for my son's 1st birthday. I don't know know anything about signs or 3d printing so I tried contacting a bunch of different types of businesses who might be able to recreate it. Some quotes I received were upwards of $800! When I called in, Alex made some great suggestions that I hadn't thought of and also on how I could save money by painting them myself. The final result was exactly as I had wished for. Very happy with how it all turned out! – Sara Kim
3. Custom Prototypes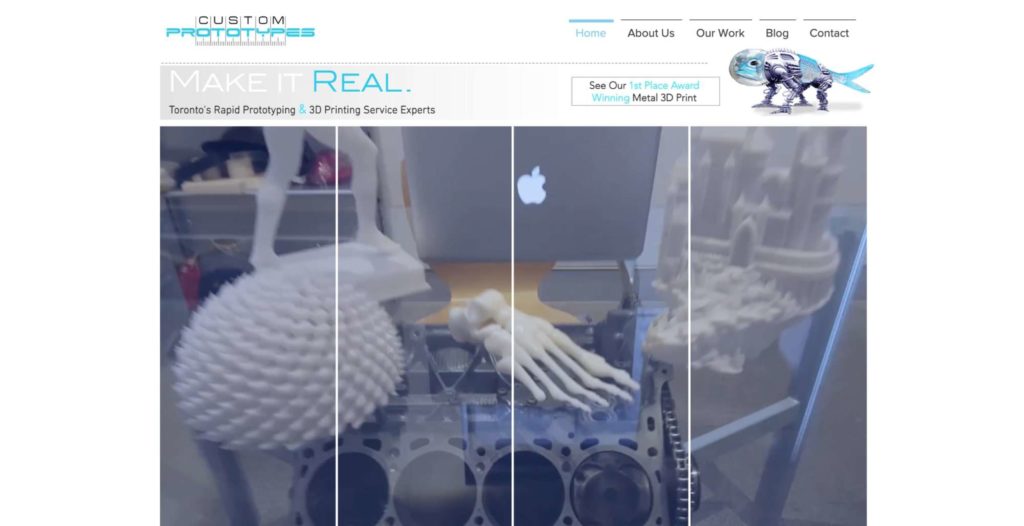 | Test | Info |
| --- | --- |
| SERVICES | 3D printing services |
| WEBSITE | https://www.customprototypes.ca/ |
| ADDRESS | 214 Evans Ave., Etobicoke, ON M8Z 1J8, |
| CONTACT DETAILS | +1 416-955-0857 |
| OPERATING HOURS | Monday - Friday: 9:00 AM - 5:00 PM |
Now, if you've invented your own design, this shop is our top pick for you. As their name suggests, Custom Prototype specializes in 3D printing prototypes to present to potential investors and customers (or just to yourself!).
What we liked about this shop is their stress-free process. If you're an aspiring inventor, you'll appreciate how easy it is to communicate your design to them.
The first contact usually gets entertained via email, and they'll guide you every step of the way from design, building, assembly, and finishing. According to many past clients, connecting with them was smooth from start to finish and we're taking their word for it.
Now, in our experience, we did find contact to be a breeze with them. We'd just love to see faster communication via phone call or video with them.
Another thing that we liked is that they have additional finishing services. They do priming and painting, sandblasting, and translucent drying.
Finishing is an important stage of 3D printing, not only for aesthetics but for function as well. And since they're more focused on prototypes, you'd naturally want your model to work, right?
On top of that, we believe that they can cater to a wide range of requests due to their tech and machines. In fact, they don't only 3D print using plastic materials, they also do metal 3D printing for more functional prototypes.
Their team of engineers and designers can also help you make your project come to life. And even if you need your 3D print the next day, then they can absolutely accommodate your request.
years in the industry
Works daily with proprietary products
Metal 3D printing available
Various options for finishing services
Next-day turnaround available
In-house engineers and designers
Total cost of service can be expensive
Customer Reviews
Quick turnaround time and remarkable finish
A standard part I needed seemed to be permanently out of stock, so I checked with Custom Prototypes to see if they could print one. I hadn't used or seen 3D metal printing before and wasn't sure what to expect. The turnaround was surprisingly quick and the tolerances and finish were remarkable. Machining a custom part like this would have been very difficult. Thank you Custom Prototypes! – Niall O'Driscoll
Well-detailed 3D printing service
Fantastic service! This was my first 3D design ever and after searching for days for a place to print it, I'm glad I found Custom Prototypes. The white resin they used is so fine that all my super tiny features came out. In hand, it feels like an injection-moulded part. I can't wait to print my next design – Constantin
4. MY3D Agency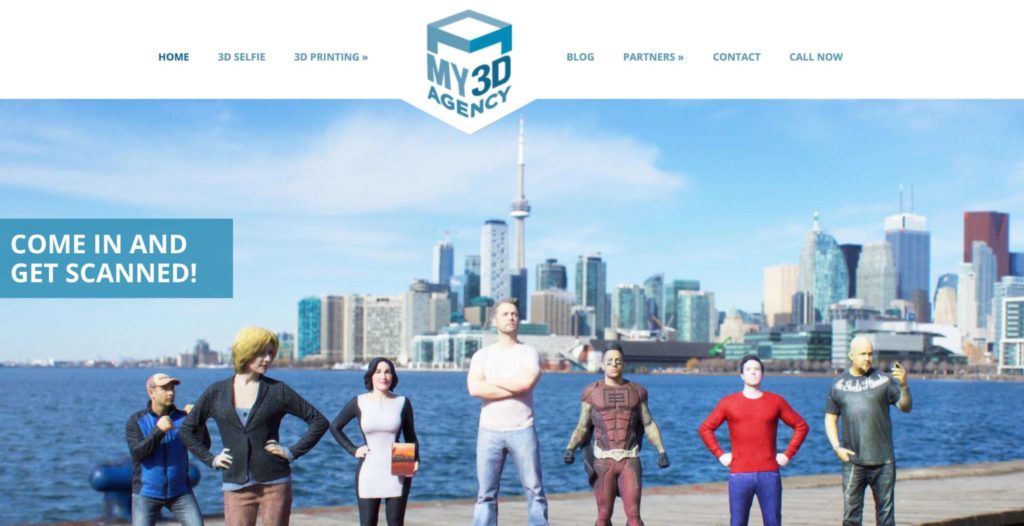 | Test | Info |
| --- | --- |
| SERVICES | 3D selfie, 3D printing services |
| WEBSITE | https://my3dagency.com/ |
| ADDRESS | 289 Bering Ave, Etobicoke, ON M8Z 3A5 |
| CONTACT DETAILS | +1 416-509-9030 |
| OPERATING HOURS | Monday - Friday: 9:00 AM - 6:00 PM |
Unlike other shops that we featured in this list, MY3D Agency is a bit more unique. Apart from prototypes and props, they're best known for producing 3D prints of people!
We'd put this exact service in the spotlight because it's what they're best known for. So, if you're interested in making figurines of yourself or loved ones, here's what you should know:
In our experience, we've dealt with various companies that immortalize memories like videographers. And this is the most fun and creative way we've encountered so far, especially with how realistic the models turn out.
These mini figurines are fantastic gifts to celebrate someone, particularly when they've reached a milestone in their life. Whether it's their birthday, graduation, or wedding, these 3D prints are perfect memory tokens.
What we liked best about their outcomes is that they're photorealistic at the best quality possible. In fact, many past clients praise the great level of attention they put into each project.
Taking a look at the figurines ourselves, we're quite impressed at how well the models turn out. There's a mole where a mole is supposed to be and the color perfectly captures the skin – even the reddening at the back of ears.
In case you're curious about this process, they'll first scan the full body of the subject. Then, it gets sent to a graphic designer to texturize and prepare the 3D model in full color – pretty cool, right?
Other than figurines of people, they can also help you make 3D models of your favorite place or sentimental items. Basically, they're an all-around 3D printing shop if you're up for something more fun and memorable.
Produces 3D figurines in various sizes
Photorealistic results
Caters to a wide range of 3D printing needs
Printers are able to produce 309,000 colors
Edits ensure well-detailed outcomes
Certain services can be expensive
Customer Reviews
Accurate and well-detailed prints
We had a first class experience with MY3D Agency! The figurine that they made for our daughter to celebrate her graduation from high school and to commemorate her time as a varsity dance team member captured every single detail in her uniform and in her signature pose. Thanks for the attention to detail and the timely delivery! – Tangia D.
Captures memories in a unique format
What an amazing experience! Michael at MY3D Agency enabled me to memorialize myself as a 3D selfie I could send to my kids. The whole process is a total blast and I recommend it for any occasion. I'd especially recommend going in while your kids are still small and capturing them in this unique and memorable format! – Alexandros K.
5. DigitMakers.ca – 3D Printers, 3D Scanners & 3D Filaments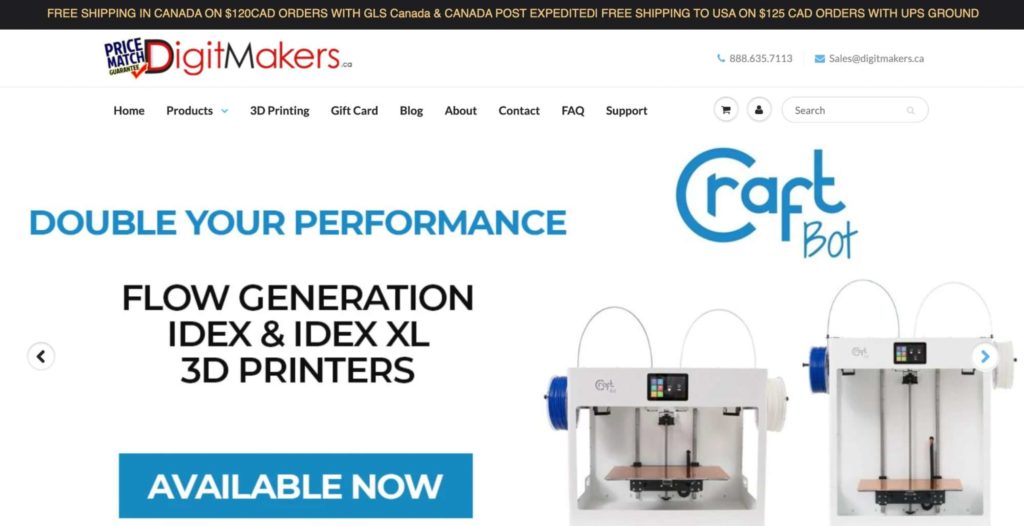 | Test | Info |
| --- | --- |
| SERVICES | 3D printing product and services |
| WEBSITE | https://www.digitmakers.ca/ |
| ADDRESS | 1111 Flint Rd Unit #12, North York, ON M3J 3C7 |
| CONTACT DETAILS | +1 888-635-7113 |
| OPERATING HOURS | Monday - Friday: 10:00 AM - 6:00 PM |
DigitMakers is a great destination for other 3D printing services or products. We see them fit for clients who want to 3D print models on their own, but their services are satisfactory too.
The shop sells 3D printers and other tools for those who want to get into 3D printing. So in case you want to try it out as a hobby, you can keep their number for future use.
The first thing we like to note is their delivery times. They complete your 3D prints in as fast as one to two business days which is slightly faster than standard delivery times.
Another highlight of their overall service is the ease and convenience of placing an order. They have the most streamlined 3D printing ordering system which puts uploading, payment, and delivery into a single process.
Trying it out for ourselves, we found the process smooth and stress-free which is a definite plus. We just hope that there's an alternate, quicker option to request a quote.
If you're a business owner, we think you'll appreciate their free consultations for 3D business solutions. And this isn't just a simple question-and-answer consultation, it's an in-depth one for serious investments.
Many past clients also noted the affordable rates that this shop offers. On top of that, they may even be willing to offer discounts for large volume orders.
Faster than standard delivery
Streamlined online ordering process
Free consultations for 3D business solutions
Competitive pricing
May be open to discounts for large orders
Sells 3D printing tools and equipment
Customer Reviews
Highly recommended
Ali is a very nice and professional person. I recently bought my first 3D printer from him, and could not be happier. This shop has become my exclusive go to place for anything 3D printing related. Highly recommended to anyone looking to get into the hobby, or seasoned vets who know the ins and outs of it. Either way you won't be disappointed. – A.I Ram
Amazing customer support
I first purchased the Acrylic 3D printer at this store and had an amazing support. I also have used their filaments since 2016 with amazing results and have gone through 100+ spools since then. Due to the great customer service I purchased a mid level printer in addition to the first one years after. They actually warrant their products. Just recently I purchased another printer from Ali – Ryan L.
FAQs About 3D Printing in Toronto
---
Send us your comments if you want us to add more shops to our list – we'd be happy to check them out!
In case you need more related services, check out some of our reviews: