Top 5 Oven Repair in Toronto
Is your oven not heating properly or emitting a foul smell? Worry no more as we have the answer to your oven problems.
We have done the research and found the best oven repair services in Toronto. Find out which companies made our list so you can have your oven in good working condition again.
How much does oven repair cost in Toronto?
Refer to the table below to see the estimated repair service fees:
| Service | Cost |
| --- | --- |
| Repair Service per hour | CAD 75 - CAD 100 |
| Succeeding Hours | CAD 75 |
| Consultation or Diagnosis | CAD 75 |
The amount one will pay for an over repair will depend on the extent of repair. Some may just need maintenance cleaning or parts need to be replaced.
The cost has two parts, the service fee plus any parts replacement. Repair companies will also charge for diagnosis.
The Best Oven Repair in Toronto
Our selection of the best oven repair services in Toronto was based on the following criteria:
1. Star Appliance Repair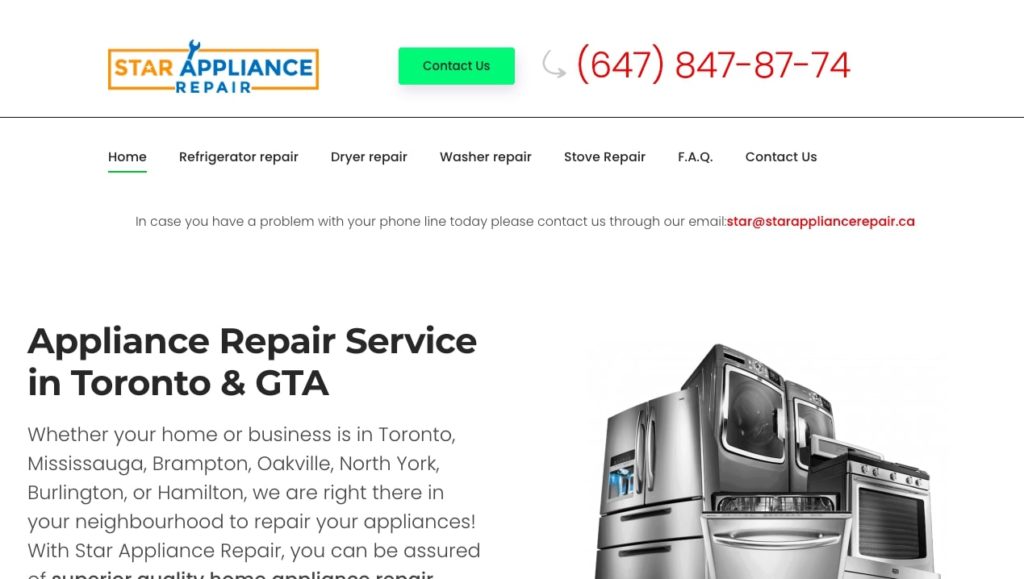 Test
Info
SERVICES
Refrigerator Repair

Dryer Repair

Washer Repair

Stove Repair

WEBSITE
https://starappliancerepair.ca/
ADDRESS
19 Bathurst St, Toronto, ON M5V 2P1
CONTACT DETAILS
647-847-8774
OPERATING HOURS
Monday - Saturday: 7 am - 9 pm

Sunday: 10 am - 5 pm
| | |
| --- | --- |
| Criteria | Rating |
| Special Discounts | ★★★★★ (5/5) |
| Technician´s Performance | ★★★★☆ (4/5) |
| Conduct | ★★★★☆ (4/5) |
| Training | ★★★★★ (5/5 |
| Guarantee | ★★★★★ (5/5) |
| Promptness | ★★★★☆ (4/5) |
| Availability of Parts | ★★★★☆ (4/5) |
For same-day appliance repair, Star Appliance is a firm to call on. With more than 10 years of experience in repairs, they can do the job, whether simple or complex.
What is good to know is their clients are mostly referrals by previous customers. This is proof that clients are satisfied with the quality of repair work.
All their technicians are factory-trained so they know the ins and out of oven repair.
However, there were instances when replacement of parts was recommended but they never came back to finish the work. A client even had to research and do the repair himself.
It is good to note though that for finished repair work, its warranty for parts and labour runs from 3-12 months depending on the scope of work.
For convenience, clients can call, email, or send online forms. Online requests usually get a response in less than 30 minutes.
The job is usually done on the same day, but there are delays in arrival sometimes by at least 30 minutes. They do send out text updates on the appointment, and we feel that waiting for 30 minutes is still reasonable.
We like that you can get great value from their repair service as coupons are available like a special discount of CAD 25 for first-time clients. They even offer the flexibility on the use of coupons for any of its repair work.
More than 10 years in the appliance repair services
Factory-trained technicians
3-12 months of warranty on parts and labour
Can be reached via various channels
Special discount coupons for first-time customers
Instances where technicians do not follow through with repair work
Delays in technician's arrival
Customer Reviews
Technicians are prompt, friendly and knowledgeable
"My cooktop was broken, so I requested a repair service with Star Appliance Repair. Vlad was our technician. He came on time, was very friendly and knowledgeable. The part that I ordered had a manufacturing defect, so Vlad took ownership of this repair and requested a new one on the same day. I felt as if he was repairing his own cooktop. He was very caring and quick on response. My cooktop is now fully functioning. I will definitely hire these guys again if something happens! Highly recommended!" – Anastasiia
Professional and easy to deal with
"I had an issue with my Oven and Vlad was helpful. It took a while for the part to come in ( but completely out of their control given supply issues post COVID). Everything worked out perfectly and they were professional and easy to deal with." – Tate
2. Appliance Experts Toronto
| | |
| --- | --- |
| Criteria | Rating |
| Special Discounts | ★★★★☆ (4/5) |
| Technician´s Performance | ★★★★★ (5/5) |
| Conduct | ★★★★★ (5/5) |
| Training | ★★★★★ (5/5) |
| Guarantee | ★★★★☆ (4/5) |
| Promptness | ★★★★☆ (4/5) |
| Availability of Parts | ★★★★★ (5/5) |
Appliance Repair Experts offer reliable repair services of any brand of oven. Having experienced technicians is surely a plus as they can anticipate the parts needed.
They bring with them the parts and equipment too to make them finish the repair work usually within an hour. Clients need not wait for another day for repair to finish.
In addition, this company knows that no amount of warranty can guarantee the oven will not break down. So instead of a warranty, they have a policy of not leaving until the problem is fixed – which is quite impressive.
Its insured and licenced technicians know also that ovens need to be tested twice to ensure they're in good running condition. A client had two repair services for different appliances and both have been running well after more than 2 years of repair.
If you are in urgent need of a repairman, this firm also delivers same-day repairs. It covers other areas other than Toronto though so, it's best to check as technicians may not always be able to serve same-day requests.
This firm accepts online booking or phone calls for service requests. What we like too is how its services are available 24/7 – always good to know in case of an emergency.
Although it does not offer discounts like its competitors, there are no hidden fees nor extra charges for weekend repairs. It offers flexibility too in its method of payment, which includes e-payments.
We recommend this service company because they put importance on client´s satisfaction more than earning a few bucks more.
Technicians anticipate parts needed and bring these on service day
Insured and licenced technicians
Policy of not leaving until the problem is fixed
Services available 24/7
No hidden costs
No extra weekend service cost
Flexibility in the method of payment
Covers areas outside Toronto – may not always be able to do same-day service
No discounts on service fees
Customer Reviews
Honest and reliable service
"I've used this company twice now. First time they repaired my dishwasher about 2/3 years ago. Has been working fine ever since. I used them again for an oven repair. That too was an easy, affordable fix. I just really appreciate that there are still companies out there that are honest, reliable and efficient." – Simon
Smooth and fast process
"My oven was acting up for some reason but called in and told them my problem and they came and fixed my oven now it works great! The whole process was smooth and fast." – Fiona
3. Maydone Appliance Repair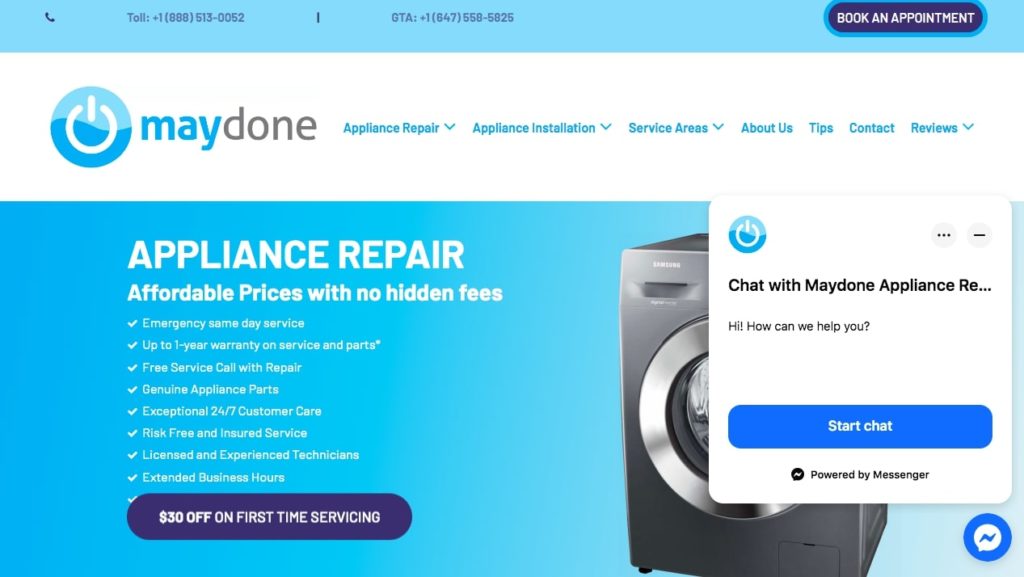 Test
Info
SERVICES
Washing Machine Repair

Dishwasher Repair

Fridge Repair

Dryer Repair

Oven Repair

Stove Repair

Microwave Repair

Range Hood Repair

WEBSITE
https://maydone.com/
ADDRESS
70 Angelina Ave, Woodbridge, ON, L4L 8N9
CONTACT DETAILS
647-558-5825

Toll: +1 (888) 513-0052

OPERATING HOURS
Monday - Sunday: 8 am - 10 pm
| | |
| --- | --- |
| Criteria | Rating |
| Special Discounts | ★★★★★ (5/5) |
| Technician´s Performance | ★★★★★ (5/5) |
| Conduct | ★★★★★ (5/5) |
| Training | ★★★★★ (5/5) |
| Guarantee | ★★★★★ (5/5) |
| Promptness | ★★★★☆ (4/5) |
| Availability of Parts | ★★★★☆ (4/5) |
For emergency repairs and late night repairs, Maydone Appliance Repair is the firm for you. With more than 20 years of experience, it ticks off all the conveniences of repairs.
The first thing that caught our eye is how it throws in its service call fee for free for finished repair work. CAD 30 discount is given too for first-time clients, which is a big plus.
It also offers same-day repairs done by technicians who are licenced and insured. However, clients have experienced delays in the arrival of technicians, some even waiting for 8 hours.
Clients encountered being told that no technicians are available on the same day as well. It may need to beef up on manpower during high demand for repair work.
This firm guarantees genuine replacement parts. A warranty for service and parts is given up to 1 year as well.
Although, clients sometimes have to wait 2 weeks for replacement parts as the company was having delivery problems. It's a good thing the appliance was in good running condition once the part was available.
On a brighter note, its customer service is available 24/7 with a toll-free number and chat box on its website. This is a convenience for clients looking for easy accessibility.
What we like about its technicians is they are honest and straightforward. In instances when they see the oven is beyond repair, they suggest right away to replace the unit.
What's great is they even assist in finding a replacement, removing the old oven, and installing the new oven.
This firm surely knows how to make clients feel taken care of. Also, its transparency with having no hidden costs is greatly appreciated.
20 years' experience in appliance repair
CAD 30 discount for first-time clients
Licenced and insured technicians
Genuine replacement parts
Up to 1-year warranty for service and parts
24/7 customer service
Assistance in oven removal and installation of new unit
No hidden costs
Instances of long waits for technician's´ arrival
High-demand days cannot accommodate same-day service requests
Delivery issues causing long wait for replacement parts
Customer Reviews
Professional services
"I recently had a kitchen renovation and got my new appliances. Without realizing, I 20 year sin appliance repair seriveused an abrassive chemical that ruined the coating of my cooktop stainless steel control panel. I was an eye some! Called Maydone and Max answered. He was very professional and asked me all sorts of questions to understand the situation. He quickly assessed the problem and provide me with a quote abd estimate of the part. Got my part much sooner than expected. An exact match to what I had. Thank you Max for your due dilegence and professionalism! I feel my kitchen has had a new renovation after I received the part. Kudos to you!" – Alina
Thorough diagnosis
"We've consistently had problems with a new range. The original company that was sent for the repairs only seemed to make temporary fixes. Worst of all the last repair appointment, the repairman said we needed a new part. He never ordered it and we never heard back.
After complaining to the manufacturer, they sent two repairmen from Maydone. They were extremely thorough to diagnose the problem, and returned in a timely fashion to compete the repair with a new part. They very very careful with the appliance and the house. Thank you!" – Liz
4. Octopus Royal Home Appliance Repair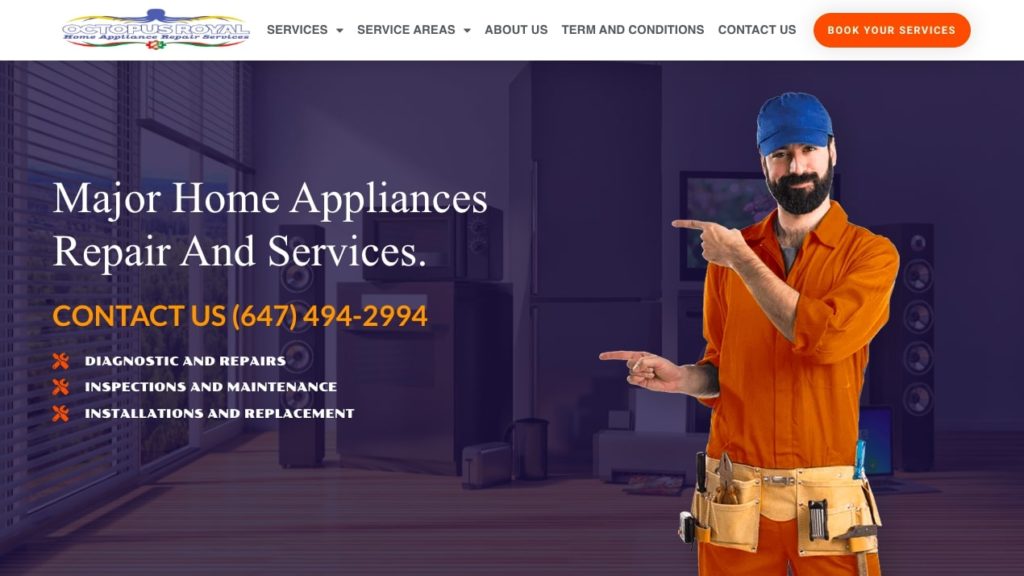 Test
Info
SERVICES
Washing Machine Repair

Dryer Repair

Dishwasher Repair

Fridge Repair Service

Oven & Stove Repair

Range Hood Repair

WEBSITE
https://octopusroyal.com/
ADDRESS
50 Alness St, North York, ON M3J 2G9
CONTACT DETAILS
647- 286-1327
OPERATING HOURS
Monday - Saturday: 7:30 am - 7:30 pm

Sunday: Closed
| | |
| --- | --- |
| Criteria | Rating |
| Special Discounts | ★★★★★ (5/5) |
| Technician´s Performance | ★★★★★ (5/5) |
| Conduct | ★★★★★ (5/5) |
| Training | ★★★★★ (5/5) |
| Guarantee | ★★★★☆ (4/5) |
| Promptness | ★★★★☆ (4/5) |
| Availability of Parts | ★★★★☆ (4/5) |
Octopus Royal Home Appliance Repair services has been recognised for its excellent service by different service review groups in Toronto and GTA. It offers well-rounded services covering maintenance, installation, and repair work.
What stood out is its CAD 25 lifetime discount for its services. This is the only firm we found that offers this as well as a free online quotation.
Its technicians are all factory-trained so they have experience in repairing various brands of ovens. They stay updated as well on the latest appliance models.
Just like other firms on this list, Octopus Royal also offers same-day repair or at least a response within 24 hours.
Its method is to first send a technician to the area for diagnosis. This helps them get a better idea of the scope of work and give a more accurate fee quotation.
However, for replacement parts, clients have to wait for a couple of hours or days for the technician to get the parts and finish the job. This can sometimes be shortened if the parts become available.
A client who was told that the parts will arrive in 2-3 days was grateful that only after a day of waiting, the parts arrived.
In terms of fees, this firm charges a service call fee per item of repair work done and not per visit, unlike other firms. And for emergency service requests, there will be a rate differential.
As a whole, we like how this company's focus is on providing professional service with friendly and knowledgeable technicians. It even offers customers a 1-year warranty on the work done.
Excellent service recognised by service review groups
CAD 25 lifetime discount for its services
Factory-trained technicians
Updated on latest appliance models
1 year warranty
Replacement parts not readily available
Service call fee per item of repair
Rate differential for emergency service
Customer Reviews
Prompt and fast service
"This was my first time dealing with them – my washer broke .They sent a tech out to diagnose the issue and booked the repair right away. They arrived on time, got the job done quickly, and were very knowledgeable and provided very useful information. Payment was easy and they sent a copy of the invoice to my e-mail and provided a paper copy.
I have saved their number and I know who I'll be calling next time an appliance breaks. I would definitely recommend them!" – Shimon
Pleasant and professional technician
"My oven stopped heating and I called Octopus on a Wednesday morning. The technician arrived at my house less than 3 hours later. He was plesant and professional. Ot took him less than 30 minutes to check my stove and remove some parts to see what was wrong and give me a quote. He had to order a part, which he said would take 2-3 days. The next day I got a call saying he had picked up the part early and asked if he could stop by to install it. By thursday afternoon, my oven was working again. I was very happy with the service!" – Lisa
5. Canada Appliance Repair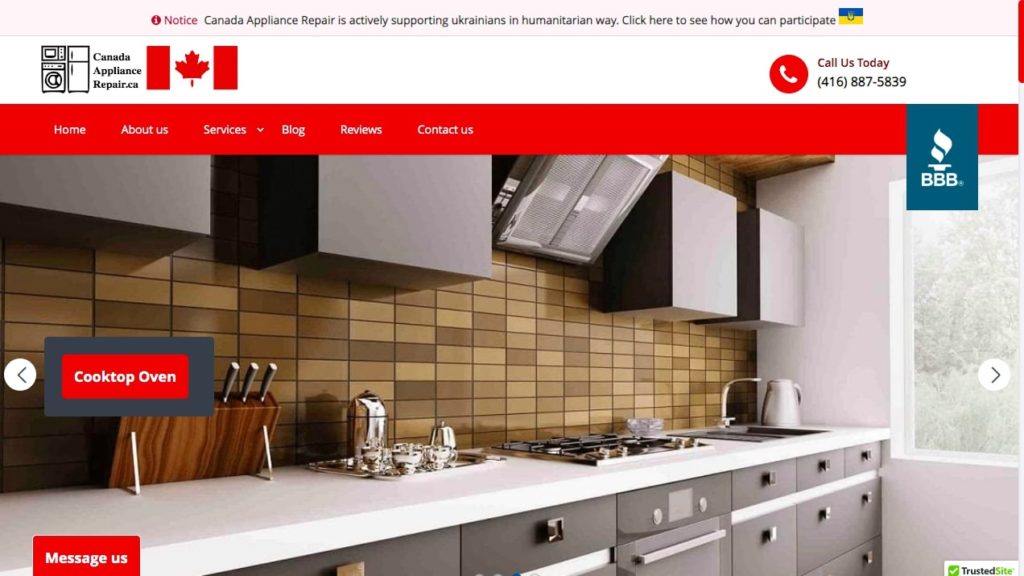 Test
Info
SERVICES
Washer & Dryer Repair

Dishwasher Repair

Refrigerator Repair

Oven/Stove/Range Repair

Cooktop Repair

Freezer Repair

Gas Appliance Repair

WEBSITE
https://canadaappliancerepair.ca/
ADDRESS
325 Bogert Ave Unit L2, North York, ON M2N 1L8
CONTACT DETAILS
416-887-5839
OPERATING HOURS
Monday - Sunday: 9 am - 11 pm
| | |
| --- | --- |
| Criteria | Rating |
| Special Discounts | ★★★★☆ (4/5) |
| Clients Recommendation | ★★★★★ (5/5) |
| Conduct | ★★★★★ (5/5) |
| Training | ★★★★★ (5/5) |
| Guarantee | ★★★★★ (5/5) |
| Promptness | ★★★★☆ (4/5) |
| Availability of Parts | ★★★★★ (5/5) |
The team of Appliance Experts Toronto is trained to repair any brand of appliance. What is unique is the use of mobile equipment for diagnosis.
Its technicians use the latest equipment which allows seeing small details that can affect the ovens' function. They get to give a more accurate quotation of fees and scope of work.

They apparently do not start on the repair work if the client does not agree with their quotation. This is great for full disclosure so clients can't complain that their fees are expensive.
The diagnostic fee is CAD 80, comparatively reasonable given the range of service fees of other companies.
However, for each additional work needed to be done on the same unit or same day, the firm charges CAD 69.
To ensure 100% client satisfaction, oven repairs are thoroughly checked before service and parts warranty is given.
They also answer urgent repair requests. And for regular appointments, they can do same-day repair or schedule at the convenience of clients.
However, they only give a range of times for their arrival, which clients have complained about. That said, they were told that the range given is to give them leeway to arrive anytime within the time frame – which we feel is reasonable.
It has a large inventory of branded replacement parts so repairs are done quickly. This minimises wait time for clients as it is extremely rare that the parts needed are not on hand.
This firm is recommended for its focus on quality repair service. It is also worth mentioning that their technicians are also polite and easy to talk with.
Mobile equipment for diagnosis
Competitive diagnostic fee
Service and parts warranty
Responds to urgent repair requests
Flexible to meet clients' availability
Diagnostic fee for each service done on the same day or unit
No specific time of arrival
Instances of late evening arrivals
Customer Reviews
Professional and informative technician
"Saw the 5 star testimonies and had to give them a shot when my gas range went out. They weren't wrong. Very nice guy, very professional, and very informative. Will give you a good estimate and fair price!" – Aaron
No extra charges ofr weekends and late night repairs
"They don't charge extra for weekends holidays or late night visits. They have technicians that work after 5 p.m. so you don't have to take a day off and lose a day's pay to give them money which is great. Canada Appliance Repair try to do the same day service and repair. Technician is so friendly and works on all appliances." – Sushi Rice
FAQs on Oven Repair
---
That's it for our round-up of the best oven repair services in Toronto. We hope you will call on them to get your oven up and running again.
For other repair services, we also have done reviews on the following: