Top 6 Event Planners in Toronto
Hosting a successful event without the support of an experienced event planner can be quite an excruciating experience. An event planner is an indispensable asset that puts together everything before, during, and after your multi-day conference, holiday party, or networking event.
In this article, we'll share the top five event planners of Toronto. If you want to host an out-of-this-world event, be sure to prioritize the planners on this list.
The top event planners of Toronto
Now that you have an idea on the costs of event planners in Toronto, let's move on to your best event planners in the city.
We assessed these artists based on the following criteria:
How much do event planners cost?
So how much will it cost to hire an event planner?
Well, it'll cost you anywhere from $800 to $1,800. For bigger and grander events, some may start from $4,000.
Here's a guide to the average event planning costs in Toronto:
| Event | Price |
| --- | --- |
| Wedding Planner | $150 - $200 per hour |
| Party Planner | $50 - $150 per hour |
| Corporate Event Planners | $250 - $500 per hour |
1. Raven Luxury Events (RLE)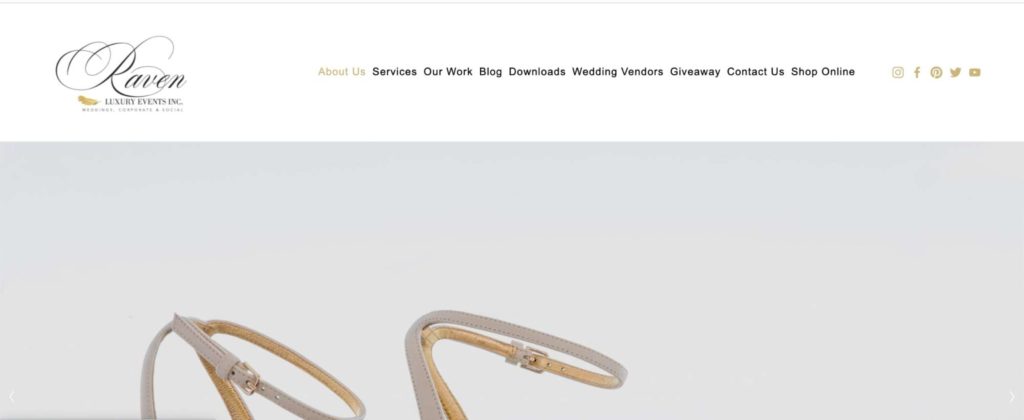 | Test | Info |
| --- | --- |
| SERVICES | Full Wedding Planning And Day Of Coordination, Partial Wedding Planning And Day Of Coordination, Day/Month-Of Coordination, Micro Weddings & Minimony, Engagement Parties & Popup Proposals, Wedding Proposals, Bridal Showers, Parties And Social Celebrations, Stationery Design, Corporate Events Planning |
| WEBSITE | https://www.ravenluxuryevents.com/ |
| ADDRESS | 2230 Lake Shore Blvd W, Etobicoke, ON M8V 0B2, Canada |
| CONTACT DETAILS | +1 647-271-8400 +1 647-271-8400 |
| OPERATING HOURS | Monday to Sunday : 10:00 a.m. - 10:00 p.m. |
| | |
| --- | --- |
| Criteria | Ratings |
| Scope of service | ★★★★★ (5/5) |
| Extra Service | ★★★★☆ (4/5) |
| Punctuality | ★★★★☆ (4/5) |
| Testimonials | ★★★★★ (5/5) |
Raven Luxury Events has over 10 years of experience working with different clients in the corporate and social event industry. As the name says, the company specializes in luxury events.
If you're looking for glamour, attention to detail, and an exorbitant experience for your guests, Raven Luxury Events should be your choice of planner.
Another good thing about working with Raven Luxury Events is that you can get as involved as you want. If you want to go through every detail with her or if you want to just tell her what you want and leave it to her to execute, she will get it done.
With a decade of experience in the industry, Raven Luxury Events has built strong relations with various vendors. She has a list of preferred vendors to make planning much easier for you as the host.
If florals are your things, then you'd be glad to know that the founder of Raven Luxury Events, Raven, specializes in floral arrangements. She runs her own floral shop alongside an event planning company.
You can order flowers for special occasions, floral subscriptions, or even look for return gifts and corporate giveaways in her online shop. If you want a touch of Raven Luxury Events during your events but don't want to avail of her planning services, you can opt for decor services and event rentals for smaller gatherings.
The rates for her event planning services are not readily available online. You have to book a 15-minute consultation with her to get a rough idea of her rates.
Specializes in luxury events
Has a list of preferred vendors 
Specialized in floral arrangements 
Does event rentals 
Prices not readily available 
Small team of planners 
Customer Reviews
Raven exceeded our expectations
"I had the pleasure of working with Raven for the first time at the Launch of the Canadian Black Chamber of Commerce on April 25, 2019. Although, our launch budget was tight which made it super challenging for Raven to execute her original vision. Raven exceeded our expectations by pulling off and transforming the venue with all her ideas and executed a fantastic vision that exceeded our expectations. Raven was always very professional and always available to handle any questions and concerns before and during the launch. I would recommend Raven Luxury Events for any Business or Corporate Event or special event planning, the Canadian Black Chamber of Commerce has appointed Raven as our Chamber Event Planner & Creative Director for all our future events." – Pamela Gordon
It was basically effortless for us
"Raven worked hard to help plan our wedding when we really had no idea what to do! She connected us with all the right people in order for us to have beautiful flowers, table decorations, invitations, and more. She met with us at the rehearsals to make sure we all knew our roles. She coordinated with the venue so that it was basically effortless for us and we were put at ease. Thank you, Raven, for helping to make our wedding day a beautiful occasion for everyone to remember and cherish. Love, Terri and Charles :)" – Terri Bartkiw
2. Art of Celebrations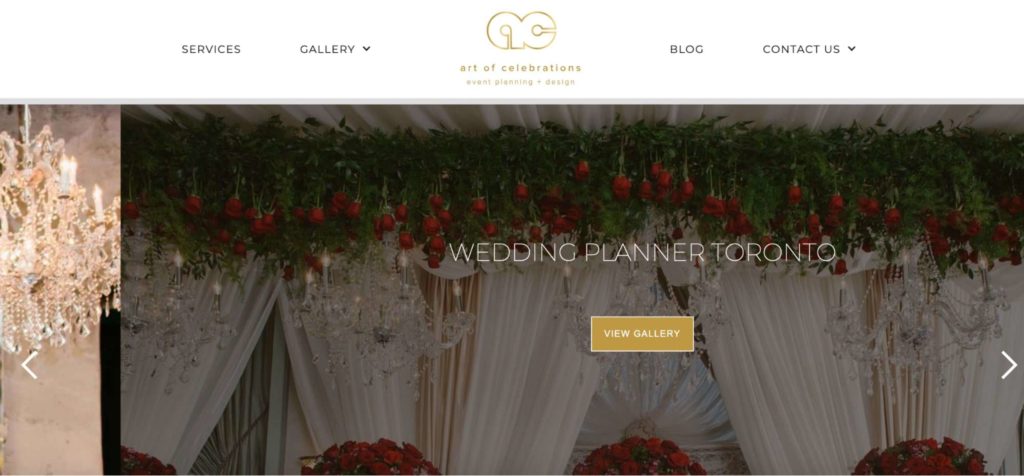 Test
Info
SERVICES
Full Wedding Planning And Day Of Coordination, Destination Wedding Planning, Engagement Parties, Bridal Showers, Parties And Social Celebrations, Baptisms And Religious Festivals, Corporate Events, and Trade Shows.
WEBSITE
https://www.artofcelebrations.com/
ADDRESS
228 Queens Quay W Suite 2701, Toronto, ON M5J 1A1, Canada
CONTACT DETAILS
+1 416-843-6367
OPERATING HOURS
Monday to Friday: 11:00 a.m. - 7: 00 p.m.

Saturday and Sunday: closed
| | |
| --- | --- |
| Criteria | Ratings |
| Scope of service | ★★★★★ (5/5) |
| Extra Service | ★★★★★ (5/5) |
| Punctuality | ★★★★☆ (4/5) |
| Testimonials | ★★★★★ (5/5) |
Art of Celebrations is your go-to for all things events and planning. They do everything from weddings, to social events and even corporate events.
They are one of the few companies around Toronto that include honeymoon planning in their list of services. For couples that are overwhelmed with wedding planning, this is a bonus they'll love!
While they are based in Toronto, their team of destination wedding planners and designers work all throughout Canada, the USA, and the world. This is an advantage for those planning destination weddings and events.
With over two decades in the business, they have experience working with people across different cultures as well. We like how flexible they are when it comes to catering to the needs of different clients.
Another thing that sets them apart from other planners is their use of advanced 3D rendering technology. This allows hosts to experience and visualize their event even before it takes place.

For small social events, their services start at $2500. For bigger events with more add-ons, this price naturally goes up.
While this may be slightly higher than the industry standards, their experience and attention to detail make up for it.
Does destination weddings and corporate events
Experience with different cultural weddings
Honeymoon planning included
3D rendering 
Higher than industry standards pricing 
Does not have services for corporate planning 
Customer Reviews
She gets to know your vision and executes everything
"Roxy and her team are amazing! Roxy has planned several events in our family such as baptisms, communions and confirmations! She gets to know your vision and executes everything in a professional manner! I also use Roxy for flowers and decor! i love how i can get everything in one place! Its like a one stop shop! Thank you Roxy and team for everything you do and i will always recommend you and your company in a heart beat!" – Helena Silva
Always within budget!
"Art of Celebrations is a dream come true. Roxy ROCKS, and she has a team of professionals that are the "dream team" . I have personally worked with Roxy on two family weddings and on both occasions things were done with the utmost professionalism, creativity , and enthusiasm. Roxy and her team make you feel like your wedding is the only one that matters to them and nothing is too much to ask. The results were above and beyond our expectations over and above our vision and always within budget! You will not be disappointed with any aspect of the planning or implementation. You will be very lucky if you have the opportunity to work with Roxy and her team." – Nancy Noble
3. Pop Events
Test
Info
SERVICES
Corporate Events And Trade Shows, Virtual Events, Holiday Parties, Brand Activations, Gifting Concierge, Children's Events
WEBSITE
https://popevents.ca/
ADDRESS
146 St Regis Crescent S, Toronto, ON M3J 1Y8, Canada
CONTACT DETAILS
+1 416-665-3594
OPERATING HOURS
Monday to Friday: 9:00 a.m. - 5:00 p.m.

Saturday and Sunday: closed
| | |
| --- | --- |
| Criteria | Ratings |
| Scope of service | ★★★★☆ (4/5) |
| Extra Service | ★★★★☆ (4/5) |
| Punctuality | ★★★★☆ (4/5) |
| Testimonials | ★★★★★ (5/5) |
For corporate events, Pop Events is our choice of event planner in Toronto. Although they also offer services for social events like holiday parties and children's parties – their corporate package stands out for us.
From team-building events to company barbecues and meeting management – they cater to all kinds of corporate clients. They've even worked with several PR agencies for brand activation events.
During the peak of the pandemic, they were one of the few companies in Toronto that adapted and started planning virtual and social distancing events. These were no ordinary virtual events – they had rigorous themes like a casino night, a virtual dance party, and even games nights which included family feud and more.
No corporate event happens without the usual corporate gifting, and finding the right vendors for this is usually a troublesome process. What we appreciate about Pop Events is that they have their own in-house gifting concierge.
Even if you're not availing of their event planning services, you can order any of their specially curated gift boxes for your corporate gifting needs. Orders have to be placed with 3-week minimum notice and a minimum quantity of 24 boxes.
If you choose to engage Pop Events, event rentals, vendor bookings, and event planning are all included in their scope of service. It is not possible to engage them for on-the-day coordination or event management only though.
Specializes in corporate events 
Does virtual events
Has in-house gifting concierge 
Offers management services
Does not offer wedding planning services
Customer Reviews
The transactions are seamless
"Every year we hold at least one event for our 1500 employees and their children and Pop! has been nothing short of amazing to deal with! From organizing entertainment to selecting gifts, the transactions are seamless!" – April C
I'd highly recommend them for your next company event
"​​Our teams at Venterra Realty had a great time playing trivia. We had just under 60 staff join for trivia in one big Zoom meeting and it still felt very inclusive. Everyone had an equal opportunity to participate with the buzzer platform and I thought it was well managed. The Pop Events team was very responsive and patiently answered/guided me through all my pre/post-event questions and requirements (accommodating with my budget and helped people through clear instructions on how to play). I'd highly recommend them for your next company event!" – Helen Martinez
4. The Concierge Club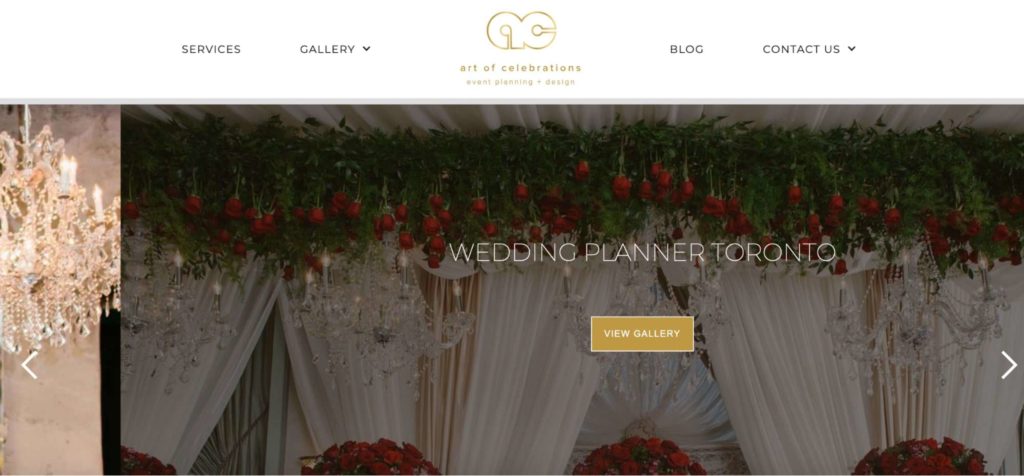 | Test | Info |
| --- | --- |
| PRODUCTS | Experiential Marketing, Corporate Events, PR Events, Private Events, Wedding Planning, Family Reunions, Staffing Services |
| WEBSITE | https://www.theconciergeclub.ca/ |
| ADDRESS | Toronto Carpet Factory, 67 Mowat Ave #441 Toronto, ON M6K 3E3 |
| CONTACT DETAILS | +1 647 360 8222 |
| | |
| --- | --- |
| Criteria | Ratings |
| Scope of service | ★★★★★ (5/5) |
| Extra Service | ★★★★★ (5/5) |
| Punctuality | ★★★★☆ (4/5) |
| Testimonials | ★★★☆☆ (3/5) |
If you're looking to host a larger-than-life event, The Concierge Club is probably who you should reach out to. They specialize in events and experiential marketing.
The Concierge club already has a roster of impressive clients in their portfolio. Some of the brands that they've worked with include Sephora, Fairview, Hyundai, and more.
For those planning marketing initiatives that are targeted towards all of Canada, The Concierge Club will make it happen. Their services are not limited to Toronto only though – their service spans across major cities in Canada as well.
For non-corporate clients, they do private events too. They have a white-glove approach to private events to make your party feel exclusive.
We particularly like that this 100% women and minority-owned company is not afraid of giving other event planners in Toronto a run for their money. From birthday bashes to charity galas and private auctions, The Concierge Club has worked with some of the top "who's-who" of Toronto.
Their social media coverage is a highlight in their list of services. You no longer have to worry about social media strategies and ads as The Concierge Club can add in this service
to your package.
Women-owned
Specialize in experiential marketing
Social Media Coverage
Request necessary to determine costs
Has a small portfolio of personal events 
Customer Reviews
The attention to detail is unmatched
"The best event company in Toronto! Would highly recommend booking them for your corporate or private event. The attention to detail with everything they do is unmatched." Darcy Price
The team is fantastic!
"The best event company in Toronto!! I have been delighted and pleased to work for The Concierge Club for almost two years. The team is fantastic! The office works behind the scenes, preparing all the details as carefully as possible. Also, all the staff working on the day of the event, with the assembly and execution of the activation. I recommend 100% the company services, for sure you will be satisfied." – Lucas Garcia
5. Kauna Events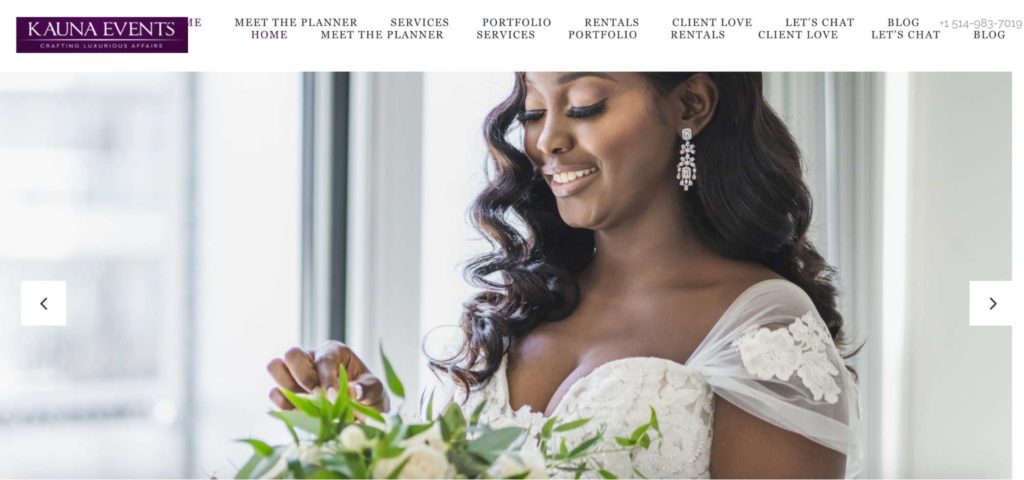 Test
Info
PRODUCTS
Full Wedding Planning And Day Of Coordination, Bridal Showers, Parties And Social Celebrations, Photoshoot Styling
WEBSITE
https://www.kaunaevents.com/
ADDRESS
45 Carlton St #1510, Toronto, ON M5B 2H9, Canada
CONTACT DETAILS
+1 514-983-7019
OPERATING HOURS

Monday to Thursday: 11:00 am - 7:00 pm

Friday: 12:30 pm - 8:00 pm

Saturday: 12:00 pm - 5:00 pm

Sunday: closed
| | |
| --- | --- |
| Criteria | Ratings |
| Scope of service | ★★★☆☆ (3/5) |
| Extra Service | ★★★★★ (5/5) |
| Punctuality | ★★★★☆ (4/5) |
| Testimonials | ★★★★★ (5/5) |
The founder of Kauna Events, Uneku, is a certified wedding planner with the Wedding Planners Institute of Canada (WPIC). Although she specializes in weddings, she also offers other services like bridal showers, private parties and even photoshoot styling.

They have three types of services that can fit their clients needs. The first package which is the The Day-Of Wedding Coordination, has the company involved a month before your special day.
This service helps clients who have already booked vendors and are only looking for someone to make sure that everything happens smoothly and well coordinated. All of the planning will be placed in their hands and their clients just have to enjoy the wedding.
The Full Planning Option, on the other hand, allows their clients not to worry about anything. From vendors to the venue, they will provide it all, along with the timetable development and maintenance.
Like other wedding planners, they also offer destination weddings. They have a list of international vendors at hand which makes it much easier.
The photoshoot styling is something that really stood out for us. We love that we don't need to get a third-party stylist for those glamorous prenuptial photoshoots.
Full and partial planning available
Photoshoot styling available 
Destination wedding services available
Does not have options for corporate parties
Prices not readily available
Customer Reviews
Did a great job
"Did a great job of setting up our living room for a 50th bday party. Very helpful, paid attention to details and did it all in record time. And even took care of removing everything in a clean and quick manner the next day." – Brad Kumar
One of the best decisions that we made
"We wanted a planner who would really listen to our ideas for our big day and help us bring them to life. Kauna Events did an amazing job, even with some serious curveballs thrown at us during the planning and on the day of the wedding. Working with Kauna Events remains one of the best decisions that we made during the entire wedding planning period. Uneku was very professional, listened attentively to what we wanted, did her very best to carry out our wishes to the letter, worked very well with all our vendors – while planning an overseas wedding. Uneku was very patient with all the changes we had to make – date, venue, vendor changes – she took it all in her strides and gave us her very best. Her on-the-day coordination was executed beautifully, we didn't have to sweat the big or little stuffs. Uneku and her team handled all the details excellently. Thank you for being a part of our journey, and we look forward to planning more events together!!" – Tomilola Adebiyi
6. 818 Events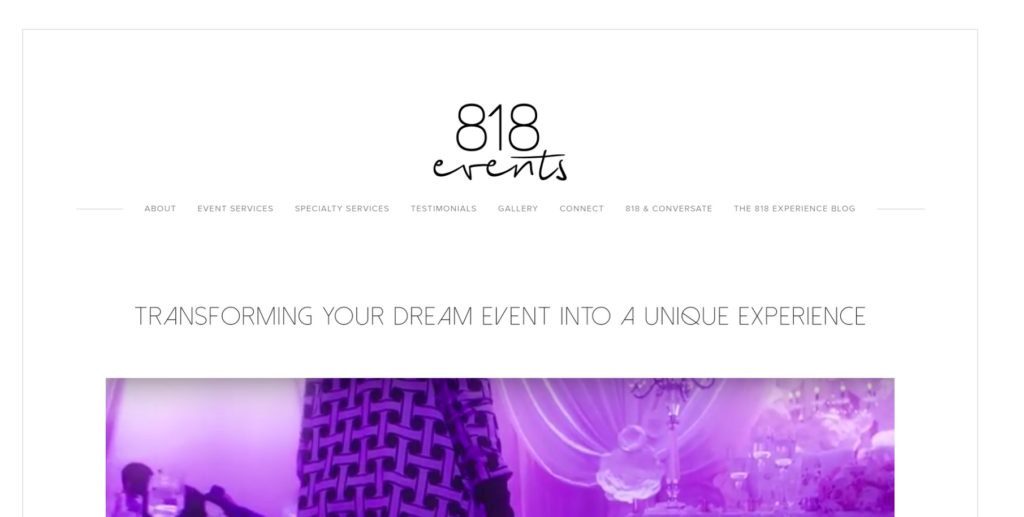 | | |
| --- | --- |
| Criteria | Ratings |
| Scope of service | ★★★★★ (5/5) |
| Extra Service | ★★★★★ (5/5) |
| Punctuality | ★★★★☆ (4/5) |
| Testimonials | ★★★★★ (5/5) |
818 Events is a company that provides its clients with a wide range of event planning services and helps clients transform their envisioned opportunities into concrete realities that feature unique and engaging experiences.
From wedding planning to corporate event management, this is all headed by Nadine Lamanna whose rich and extensive experience in handling all sorts of events along with specialized training makes each event go about smoothly and handled in a professional manner all the way.
Past clients have commended them for their efficient and exceptionally communicative approach when it comes to updating and coming about every stage of the planning process to better ensure that the whole event will go about smoothly on all stages.
Note though that while they readily have packages readily available on their website, these aren't flat prices but estimates only given the inclusions of each one.
Overall, with their expert team of professionals in the field, inclusive and comprehensive event packages, and exemplary communication skills, we highly recommend that interested clients check them out.
Comprehensive and inclusive packages
Offers various additional services
Experienced personnel handling each job
Additional charges may incur
Customer Reviews
Here are some reviews from their clients:
"Nadine and her team just finished helping us plan and celebrate my wife's 40th birthday. Her team was awesome, no detail left behind and the night was flawless. I would highly recommend Nadine's team to anyone that is looking for an event planner that is on it from day one. We will definitively be using 818 Events for many years to come!!"
"Nadine became an essential part of our destination wedding planning. She made our vision come true. She is a true master of her craft. She knew when to hold our hand and when let our decision making flourishe. We didn't just have one day to focus on, we had a week of events that Nadine made sure went flawless. Our big day was stress free due to her organization and hard work behind the scenes. Nadine exceeded our expectations so much that we recommended her to our closest friends.Thank you Nadine for helping to make our day truly special and beautiful. Cindy and Logan"
FAQs About Event Planners in Toronto
---
Now that we got your event planners sorted, why don't you check our list of the best photographers in Toronto to capture your precious moments?