A Guide to the Best Swim Lessons in Toronto
On the search for the best swim lessons? No need to drown in hundreds of websites when you can easily find the answers here!
Whether you want to learn for yourself or have your kid (or a cousin maybe) get started early, we have the best options for you. Take a look at our list of the best swim lessons in Toronto so you can finally go with water and not against it.
Top Swim Lessons in Toronto
The best swim schools in Toronto made our list afters satisfactorily meeting the criteria we've set below:
The Cost of Swim Lessons in Toronto
There are swim schools that offer one-time hour lessons which start at $50 and go up to $80 per hour.
There are also swim schools that offer structured programs, usually composed of weekly lessons to be taken in one to three months.
Beyond this, another factor that determines the cost is whether you sign up for private lessons or group lessons.
The best estimate we can give you is based on hourly rates. Take a look at the table below to get an idea:
Age
Costs
Parent and Tot (3 - 4 months)
Starts at $15 (30 minutes)
Kids and Teens (24 months and up)
$30 - $50 (30 minutes)

$70 - $100 (60 minutes)

Adults
Starts at $35 (30 minutes)

Starts at $80 (60 minutes)
1. Propel
| Test | Info |
| --- | --- |
| SERVICES | Private swimming lessons for toddlers (2 years and up), kids, teens, and adults; adapted aquatics; sports and specialty |
| WEBSITE | https://www.propelhq.com/ |
| ADDRESS | DoubleTree by Hilton, 108 Chestnut St, Toronto, ON M5G 1R3 |
| OPERATING HOURS | Open 24 hours |
| | |
| --- | --- |
| Training program | ★★★★☆ (4/5) |
| Student-teacher ratio | ★★★★★ (5/5) |
| Curriculum | ★★★☆☆ (3/5) |
| Swim level progress | ★★★★★ (5/5) |
| Costs | ★★★★★ (5/5) |
| Instructors | ★★★★★ (5/5) |
| Location | ★★★★★ (5/5) |
| Safety measures and equipment | ★★★★☆ (4/5) |
| Age-appropriate atmosphere | ★★★★☆ (4/5) |
| Experience and reputation | ★★★★☆ (4/5) |
For interested swimmers, a school's availability is often a barrier to consistent learning. Due to growing class sizes, it's usually difficult for them to find a program that fits their schedule.
When we learned about Propel, we were ecstatic to see how they overcame this major concern. Established in 2015, it didn't rely on single facilities only – instead, it built a network of underutilized pools in the city to accommodate all learners.
How does this work? Well, it's fairly easy. Newcomers can simply sign up on their website, browse through thousands of instructors, and book them based on their schedule and availability.
In this kind of setup, there are a couple of things we like and didn't like.
To start off, we like how clients get full command of their choices. They can learn at their own pace, choose their own schedule and location, and pick an instructor they're most comfortable with.
The downside, in our opinion, is that it kind of loses a learning structure. Plus, we can't really get into the inner workings of the swim school to see how they rank their instructors in terms of skills and qualifications.
Additionally, since they connect with multiple pools in the city, there really is no uniform way to evaluate facilities and maintenance. To make up for this though, all their locations have WiFi and towel service and are generally safe for private lessons.
The best gauge we can get of instructors' abilities is customer satisfaction. Here, we value the way instructors treat and encourage their students more than the rigid training itself.
After we saw their open and supportive approach, this school won our favor in that department. As the icing on the cake, you don't have to crush your precious piggy bank as lessons start only at $55 here.
To conclude, Propel is an exciting choice for toddlers to adults who don't want to be on any waitlist. It lacks in terms of a uniform structure but wins in matters of flexibility, fair pricing, convenience, and freedom of choice.
Wide network of pools across the city
Flexible booking options eliminating waitlists
Ability to learn at your own pace and schedule
Chance to earn report cards (same with local community centers)
No registration days – reschedule or cancel for full credit
Locations guaranteed to have WiFi and towel services
Official training partner of the Canadian Red Cross 
Reasonable, starting prices for lessons
No available lessons for babies
Prices vary based on instructor and location
Multiple locations raise concerns on overall safety and maintenance
No rigid learning curriculum
Customer Reviews
Helps students progress
Our swimming instructor was excellent. My son made more progress in one lesson than he has in multiple group lessons. He used to be so hesitant about the water but by the end of his lesson with Propel he was asking how soon he could come back. The facilities are very clean comfortable and convenient and Janelle had many great tricks to keep my son engaged and confident. – Ina Bartlett
See tremendous growth in skills
Propel swimming classes are amazing. I have taken private swimming lessons with two instructors till date and both the instructors have been very understanding, patient and super helpful. I have seen tremendous growth in me within two classes and will definitely continue the lessons. Would recommend Propel to anyone, young or old, either trying to learn swimming or perfect their technique. – Annapurna Gadagin
2. Aqua-Tots Swim Schools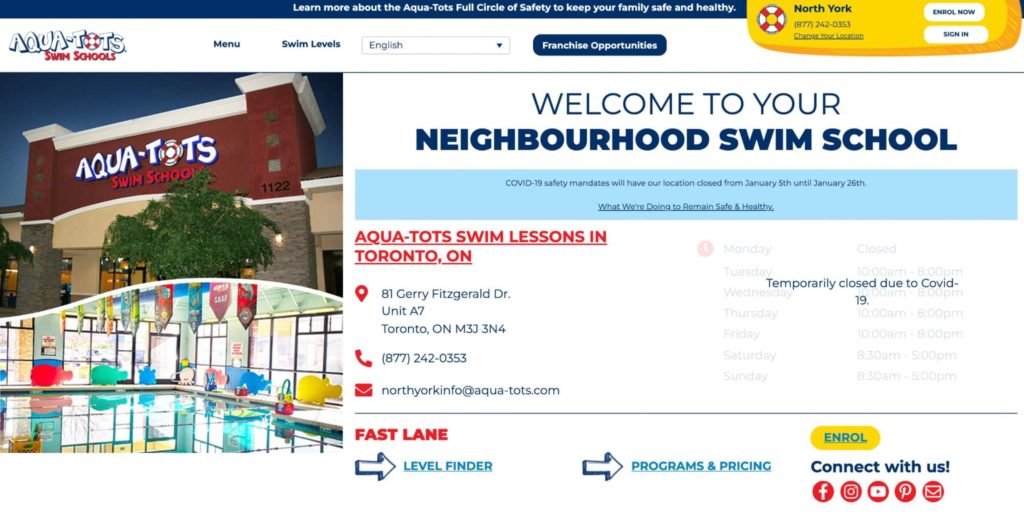 Test
Info
SERVICES
Group lessons for kids age 4 months to 12 years old
WEBSITE
https://www.aqua-tots.com/north-york/
ADDRESS
81 Gerry Fitzgerald Dr. Unit A7, North York, ON M3J 3N4
CONTACT DETAILS
+1 416-849-4636

(877) 242-0353

OPERATING HOURS
Tuesday - Friday: 10:00 AM - 8:00 PM

Saturday - Sunday: 8:30 AM - 5:00 PM
| | |
| --- | --- |
| Training program | ★★★★★ (5/5) |
| Student-teacher ratio | ★★★★★ (5/5) |
| Curriculum | ★★★★★ (5/5) |
| Swim level progress | ★★★★★ (5/5) |
| Costs | ★★★★★ (5/5) |
| Instructors | ★★★★★ (5/5) |
| Location | ★★★★☆ (4/5) |
| Safety measures and equipment | ★★★★★ (5/5) |
| Age-appropriate atmosphere | ★★★★★ (5/5) |
| Experience and reputation | ★★★★☆ (4/5) |
Whether you're a parent or not, we all know that kids love an environment specifically designed for them. Of course, there should be elements of fun, encouragement, and most importantly – utmost safety.
Aqua-Tots managed to tick off all these factors during our research. It's definitely a school molded for the needs of children aged 4 months to 12 years old – plus the space is very parent-friendly too.
But let's talk about what kids can enjoy in the place first. In recent months, there have been new installations to protect kids from COVID-19 while keeping hints on fun through character cutouts and colorful flags.
The instructors are also fantastic with children. They're kind, friendly, and even-tempered without losing any authority when it comes to the lessons.
Speaking of lessons, there aren't private lessons here but the group lessons are fairly small too so we won't be too nitpicky. Students can take 1 to 3 lessons per week, each lesson lasting for 30 minutes (the perfect time for kids), with a class size of 4 students.
We always love more rigid learning structures, particularly for kids since they tend to lose focus easily. It does eliminate the chance for flexibility which can be an issue for parents who have busy schedules.
But if they do score that chance to see their kids in action, they can watch in the viewing area (with a glass wall for protection. There, they can observe their kid's progress without necessarily interrupting or distracting them.
The prices are also up to par with our taste considering that these are not private lessons. At a minimum of $119 per month, your kid can start with one lesson every week in a supportive learning environment.
In summary, it's obviously not the top choice for you if you're looking for lessons for yourself. If you have a kid though, then it's a school worth checking out for their great offerings.
Specializes in swim lessons for kids
Protective measures installed for children against COVID-19
Safe indoor 90-degree pool designed for group classes
Small class size
Various learning programs to choose from
Affordable starting rates for group classes
Distraction-free viewing area for parents
Rigid curriculum and learning progress 
Offers comprehensive swim programs plus make-up lessons
Highly trained instructors
Offers siblings discount
Offers a special needs aquatic program
Program structure takes away flexibility for parents
Varying opening hours per location due to pandemic
Certain locations are closed temporarily 
Customer Reviews
Attentive and professional instructors
Super clean and well maintained facility, attentive and helpful staff, professional instructors. My both girls really enjoy their swimming lessons. I highly recommend Aqua-Tots North York. – Negin Yahyaei
Impressive services
Took my little cousins here for the first time a couple of days ago. Was immediately impressed with the friendliness and service of the staff. The pool is very well maintained and clean. Will definitely be coming back and highly recommend! – Amir Parsa Yazdi
3. Felix's Swim School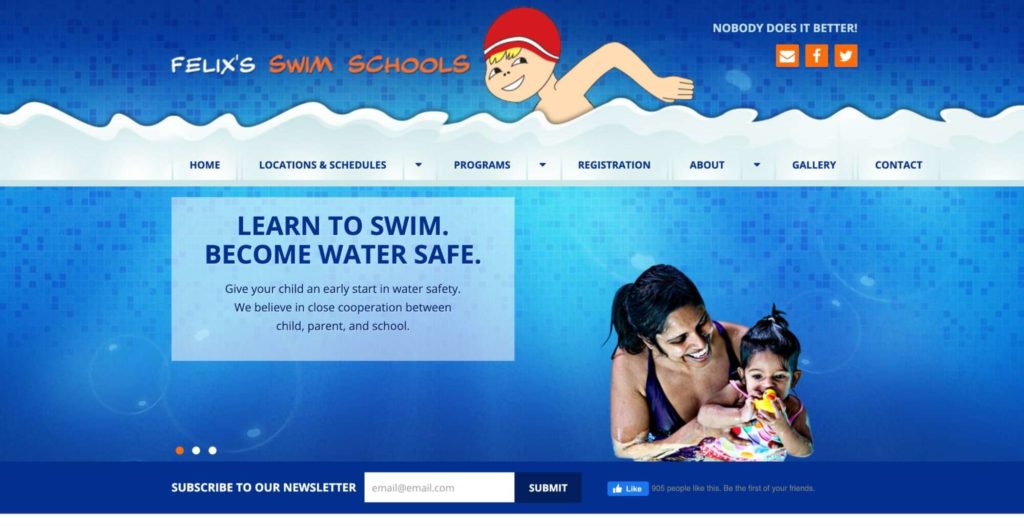 Test
Info
SERVICES
Private and group lessons for students of all ages, Red Cross programs
WEBSITE
https://www.felixswimschools.com/
ADDRESS
181 Broadview Ave, Toronto, ON M4M 2G7
CONTACT DETAILS
+1 647-529-2999
OPERATING HOURS
Tuesday and Thursday: 5:00 PM - 9:00 PM

Wednesday: 5:30 PM - 8:30 PM

Saturday and Sunday: 9:30 AM - 2:30 PM
| | |
| --- | --- |
| Training program | ★★★★★ (5/5) |
| Student-teacher ratio | ★★★★★ (5/5) |
| Curriculum | ★★★★★ (5/5) |
| Swim level progress | ★★★★★ (5/5) |
| Costs | ★★★★★ (5/5) |
| Instructors | ★★★★☆ (4/5) |
| Location | ★★★★☆ (4/5) |
| Safety measures and equipment | ★★★★☆ (4/5) |
| Age-appropriate atmosphere | ★★★★★ (5/5) |
| Experience and reputation | ★★★★★ (5/5) |
Felix's Swim School is one of the schools that comes to most Torontonians' minds when talking about swim lessons. They managed to meet all the standards that we set during our review period with only minor concerns in terms of facilities.
It's basically a school for all ages where lessons are aligned with a concept of competition. For us, it's an effective way to challenge what students have learned so far, pushing them to strive for more.
But just because there's a competitive atmosphere, it doesn't make the school any less fun. According to the clients we've surveyed, they had a great time with the instructors who make the lessons enjoyable for all.
In matters of class size, we really have no complaints since programs can have 3 or 4 students per instructor. On top of that, the lessons are also individualized for each student without clashing with other students' needs in the same class.
Apart from these group lessons, we also appreciate that students can sign up for private ones. It's really the range of choices that we like.
Looking into its other locations, they impressed us by using saltwater pool chemistry. This essentially means that the water in the pools is gentler on the body and clothes and eliminates the harsh smell of chlorine after each lesson.
The only issue is that Downtown locations aren't equipped with this innovation. It's downright disappointing for clients closer to that area, but it doesn't have a direct effect on lesson quality so we can forgive it.
All in all, it's a solid swim school for those who want a more streamlined approach to swimming. It's just not a super versatile choice but it's okay for what it is.
30 years of experience
Small class sizes (3:1 and 4:1 student-teacher ratio)
Swim programs available for all ages
Offers Red Cross programs of various levels
Individualized instruction even in group settings
Group lessons and private lessons available
Uses saltwater pool chemistry on certain locations
Strict safety policies, particularly against COVID-19
Introduces competition for advanced students
Registration-based, therefore lacking flexibility
Varying operating hours across its locations
Certain locations don't enjoy saltwater chemistry
Customer Reviews
Best adult swim classes
They have the best adult swim classes that I've tried in the city. The instructors push you to try new things but also ask you for your comfort level so that you're psychologically ready (if you have any fear of water). I've learnt more in these classes than I've learnt anywhere else. The low student to teacher ratio helps with making progress. The saltwater pool instead of chlorine is such a bonus. – Asna S.
Passionate and professional instructors
My daughter attended Felix's and loved every class! The instructors were passionate, very professional, and nice. I'm happy that the classes weren't crowded and my daughter was given equal attention. I was extremely happy with the progress she made in the session! I will definitely keep bringing her back, as well as enroll my youngest – Nick Mallari
4. Shendy's Swim School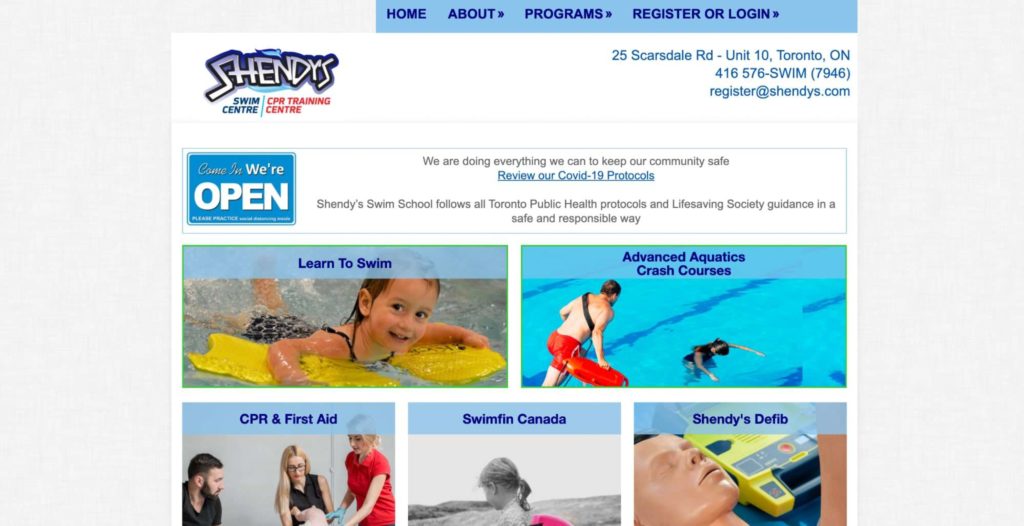 | Test | Info |
| --- | --- |
| SERVICES | Swim lessons for students 6 months and up, CPR and first aid courses, advance aquatic crash courses, school programs, at-home programs, safety management services, aquafit |
| WEBSITE | https://www.shendys.com/ |
| ADDRESS | 25 Scarsdale Rd Unit 10, North York, ON M3B 2R2 |
| CONTACT DETAILS | +1 416-576-7946 |
| | |
| --- | --- |
| Training program | ★★★★☆ (4/5) |
| Student-teacher ratio | ★★★★☆ (4/5) |
| Curriculum | ★★★★★ (5/5) |
| Swim level progress | ★★★★★ (5/5) |
| Costs | ★★★★☆ (4/5) |
| Instructors | ★★★★☆ (4/5) |
| Location | ★★★★★ (5/5) |
| Safety measures and equipment | ★★★★★ (5/5) |
| Age-appropriate atmosphere | ★★★★★ (5/5) |
| Experience and reputation | ★★★★★ (5/5) |
For swim lessons, we always like it when schools give a wide range of options to prospective students. More importantly, we like it even better when we know that the facilities and instruction are top-notch.
These things are exactly what Shendy's Swim School gave us and what you might want to consider. They have all classes for six months old and up, as well as advanced courses in CPR and programs for future mini lifeguards.
At this point, we're sure you already know that we love a more structured approach to learning. This school offers exactly that although we're a bit underwhelmed in terms of availability.
The classes are based on registrations per certain seasons so there's really little room as per flexibility. Plus, there are instances where students have to settle on the waitlist for lessons where there is high demand.
Despite this drawback though, we think that they have the most robust and well-outlined curriculum. Students (and their parents) already know what to expect so we guess it won't be much of a stress for busy bees.
Another noteworthy part about this school is its team of instructors. They're fabulous to work with and they're always all smiles during lessons without losing focus on student progress.
Going back to its programs, it's one of the few swim schools in Toronto that offers at-home lessons. In our opinion, it's a wonderful option for those who prefer to learn in an environment they can control (with a little extra cash to burn too).
To wrap it up, Shendy's is worth checking out if you want structured lessons and programs to earn swim certifications. If you love a wide range of options like us, you can explore them to see if something floats your boat.
Swim lessons for 6 months and up
Offers private lessons, group lessons, at-home lessons, and lessons for business
Camp programs available for students
CPR and first aid courses available for individuals, groups, and businesses
Well-detailed curriculum for every type of lesson
Offers safety management services
Fun and safe location great for kids and seniors alike
Chance to be mini lifeguards through the Red Cross program
High demand leading to limited availability
Lacks flexibility in terms of learning schedules and modes
Unclear instructions for pool management
Customer Reviews
Extremely helpful instructors
Love Shendys! Always passed by it in my walks to Bond Park and out of all the swimming classes for babies I am glad I came here! Rob is a very patient instructor and my 9 month old has thrived! This is a very clean place and instructors are always so smiley and helpful. – Charlotte Wong
Offers the best instruction
My Son is 10 months old and thinks Shendy's Swim Centre is amazing. It is his first swimming experience and Eric provides one on one time a monks the group lessons. It was important to us that he has the best instruction, encouraging further lessons. Eric is the God Father in everything swim. Thank you Shendy's, see you next session!! – Jason Kaufman
5. Davina's Swim House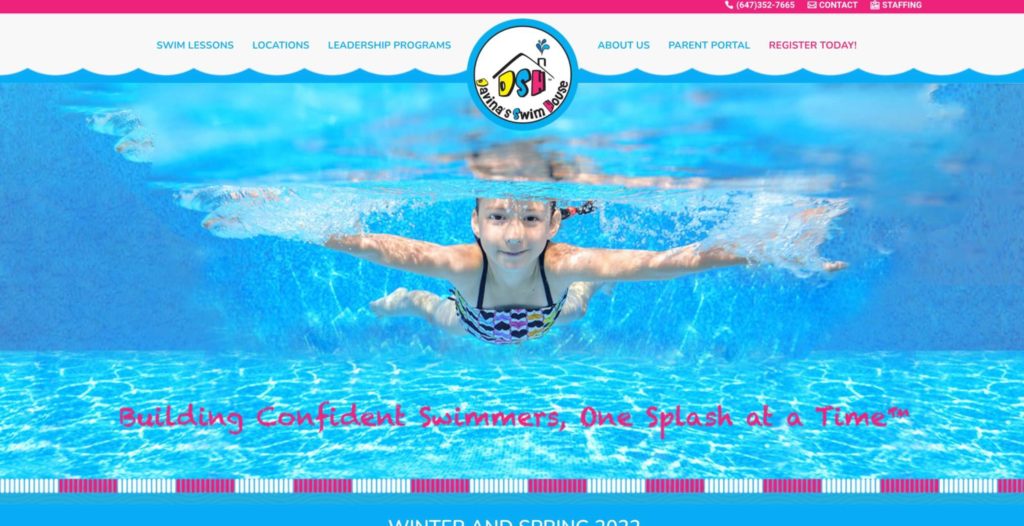 Test
Info
SERVICES
Swim lessons for students aged 5 months and above, leadership programs, advanced certifications
WEBSITE
https://davinasswimhouse.com/
ADDRESS
145 Marlee Ave, York, ON M6B 3H3
CONTACT DETAILS
+1 647-352-7665
OPERATING HOURS
Monday - Thursday: 9:30 AM - 8:00 PM

Saturday and Sunday - 9:00 AM - 5:30 PM
| | |
| --- | --- |
| Training program | ★★★★★ (5/5) |
| Student-teacher ratio | ★★★★★ (5/5) |
| Curriculum | ★★★★★ (5/5) |
| Swim level progress | ★★★★★ (5/5) |
| Costs | ★★★★☆ (4/5) |
| Instructors | ★★★★★ (5/5) |
| Location | ★★★★☆ (4/5) |
| Safety measures and equipment | ★★★★☆ (4/5) |
| Age-appropriate atmosphere | ★★★★★ (5/5) |
| Experience and reputation | ★★★★☆ (4/5) |
In our opinion, what sets Davina's Swim House apart is their method of instruction and programs. Yes, each lesson is set on a registration basis, but it's a lot more flexible compared to the other offerings in other schools.
Let's get into the other major reasons why this swim school is a wonderful choice.
First, any one of any age and any skill level can enroll here. Facilities are designed to match both kid and adult learners of ages 5 months and up.
Second, lessons are broken down into three specific levels based on the current skills of the student. We think it's an efficient way to introduce more advanced techniques to learners without losing their programs.
Third, their instructors underwent hands-on training by the founder herself, passing on the learnings to individual students. Plus, as our survey revealed, every instructor is extremely helpful and promotes a culture of growth.
Finally, we love options so we like that you can sign up for group lessons or one-on-one sessions. The most you can expect in a class is 4 students per instructor which is the standard class size we're looking for.
The only thing missing in the picture is the ability to have make-up lessons in case a student skips. The classes here are structured so missing a class definitely hampers the learning progress and the lack of make-up lessons further impacts that.
In conclusion, Davina's is a marvelous choice if you want structure but with a bit of room for flexibility too. And they have advanced certifications too so you can really step your skills up with them.
Structured lessons but more flexible in terms of schedule
Lessons for students age 5 months and up of any skill
Facilities tailored to both child and adult learners
Programs are broken down into skill level categories
Highly-trained instructors
Group lessons and private lessons available
No room for make-up lessons
Slightly pricey
Customer Reviews
Outshines the competition
The staff at Davinas have always been incredibly responsive and helpful, from registration to the classes. I have tried other swim classes for my toddler (aged 3) and Davinas has outshone them all. Highly recommended! – Colleen Gernon
Highly recommended
Our second session with Davina's and we can't say enough about their instructors. Our kids went from hysterics when getting their hair washed to being comfortable on their back in the water within a few classes. Highly recommend Davina's! – Ana Ledo
FAQs About Swim Lessons in Toronto
---
Swimming isn't the only skill you (or your kid) can gain through rigorous training. Sign up for more lessons to expand your skillset starting with the following: