Top 5 Business Schools to Pursue an MBA in Toronto
Want to take that great big leap in your business education by getting an MBA? Perhaps we can help.
In this review, we chose the best business schools in Toronto to pursue an MBA. Explore your MBA options and see what each institution has to offer for MBA aspirants with our insights.
Top MBA Business Schools in Toronto
To find the best MBA programs from the top business schools in Toronto, we used the following metrics:
The Cost of Taking an MBA in Toronto
Like most study programs, there are many factors that go into the total cost of your education. This includes your main tuition, miscellaneous, and related living expenses.
The table below shows a sample of how much you might end up investing for an MBA. Take note that the figures shown below are based on the average in the city among private business schools:
Items
Average Annual Fees
Annual Tuition (Full-time MBA)
$48,270 (citizens and permanent residents in Canada)

$64,910 (international students on a study permit)

Textbooks
$2,000
Student Accommodation
$8,000 – $14,000
Health Insurance (For international students)
$756
Food
$4,000 – $5,500
Public Transportation Expenses (Excluding any student discounts)
$1,300
Other personal expenses
$2,000
1. Schulich School of Business – York University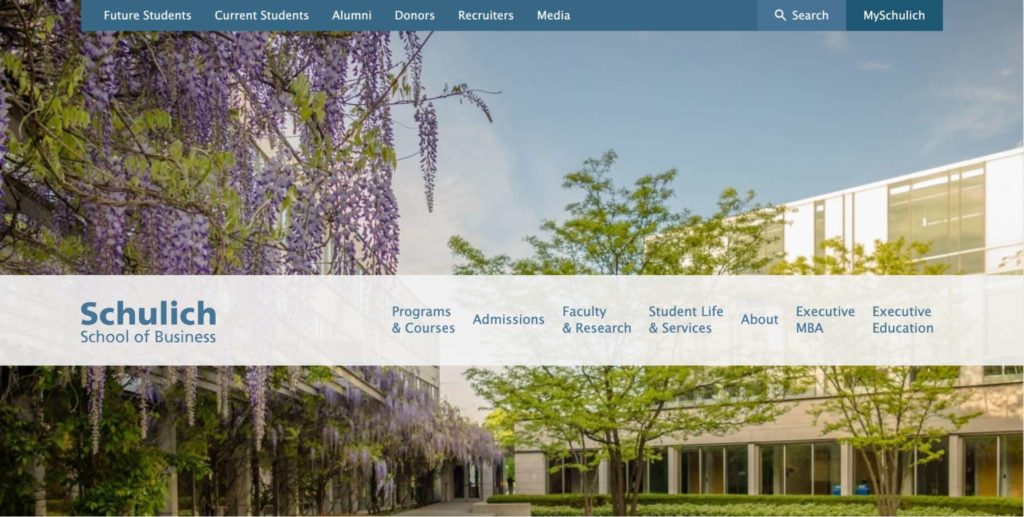 | Test | Info |
| --- | --- |
| PROGRAMS | Undergraduate business programs, specialized masters programs, MBA, exchange programs, graduate diplomas doctor of philosophy |
| WEBSITE | https://schulich.yorku.ca/ |
| ADDRESS | 111 Ian MacDonald Blvd, North York, ON M3J 1P3 |
| CONTACT DETAILS | +1 416-736-2100 |
| OPERATING HOURS | Monday - Sunday: 7:00 AM - 12:00 AM |
Total Scores
| | |
| --- | --- |
| Total cost of attendance | ★★★☆☆ |
| Types of classes | ★★★★★ |
| Concentrations available | ★★★★★ |
| Student life and services | ★★★★★ |
| Future employment opportunities | ★★★★☆ |
Arguably the best business school in Canada, Schulich School of Business offers a wealth of opportunities. Coupled with top-of-the-line learning facilities, we found that the MBA experience here is worth every penny.
The MBA in this business school has 17 different areas of specialization. All these specialties tap into areas of management and business so we're pretty pleased with that.
In addition to this, we think you'll be excited to learn how easy it is to customize your MBA program here. You can accelerate your MBA to complete it in only two years or take it on a part-time basis if you're already working.
Now, this isn't a unique feature among MBA programs but does give you a bigger sense of freedom. Plus, with many programs to supplement your learning, we think you'll have a great time here.
One of the things that set them apart is their Career Development Centre (CDC). This team of industry advisers and career coaches has helped about 88% of graduates get careers within 3 months.
And if you want to explore your interests outside of your program, you have over 250 student programs to choose from. Additionally, they have Graduate Business Council (GBC) Events that aim to showcase a wide variety of events from sports to partying.
Domestic students pay around $17,973 per term, while international students pay $26,722. On average, a full-time MBA has 10 terms while an accelerated one has 5 terms.
Top 1 business school in Canada (Forbes. The Economist, CNN Expansion)
17 areas of specialization offered
Customizable MBA program
Access to a Career Development Centre (CDC)
250 student organizations
Employment in 88% of the graduates within 3 months
170 companies hire graduates of this school
Expensive tuition fees for both domestic and foreign students
Customer Reviews
Modern campus and great facilities
Did both my degrees here. Very nice facilities, very modern. The quality of the MBAs has gone down over the years, but the undergrads are still motivated and hungry. I return there frequently to represent the company I work for at job fairs. – Audrey Petes
Remarkable campus life
Visited Schulich School of Business with a Schulich Alumni sometime back. Loved the campus, facilities, busy crowd, cafeterias and the overall ambiance. – Mahbub Baset
2. Rotman School of Management – University of Toronto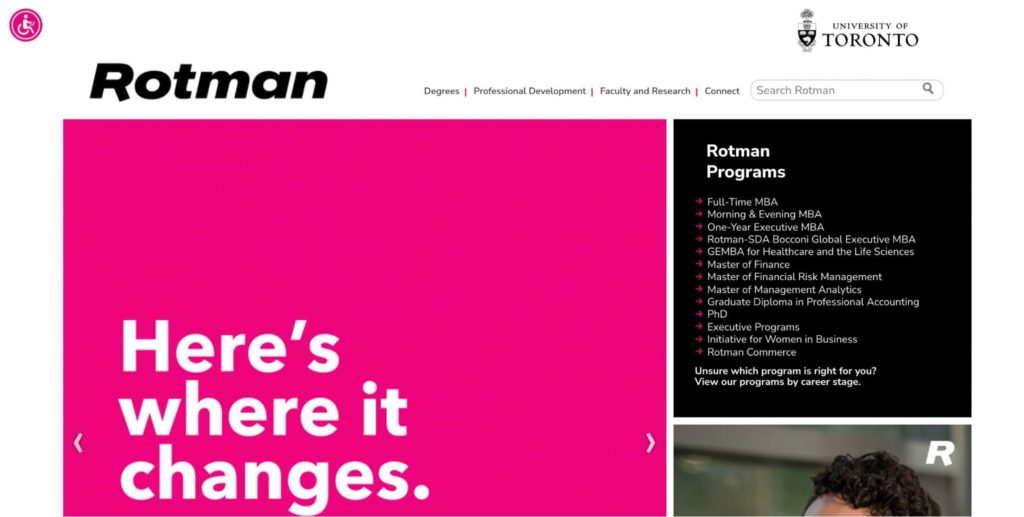 Test
Info
PROGRAMS
Full-Time MBA

Morning & Evening MBA

One-Year Executive MBA

Rotman-SDA Bocconi Global Executive MBA

GEMBA for Healthcare and the Life Sciences

Master of Finance

Master of Financial Risk Management

Master of Management Analytics

Graduate Diploma in Professional Accounting

PhD

Executive Programs

Initiative for Women in Business

Rotman Commerce

WEBSITE
https://www.rotman.utoronto.ca/
ADDRESS
105 St George St, Toronto, ON M5S 3E6
CONTACT DETAILS
+1 416-978-5703
OPERATING HOURS
Monday - Friday: 9:00 AM - 9:00 PM
Total Scores
| | |
| --- | --- |
| Total cost of attendance | ★★★☆☆ |
| Types of classes | ★★★★★ |
| Concentrations available | ★★★★☆ |
| Student life and services | ★★★★★ |
| Future employment opportunities | ★★★★☆ |
Rotman School of Management is a globally-recognized business school for employer reputation. And in our opinion, it's one of the best business schools in Toronto for a lot of compelling reasons.
First, its MBA programs provide great flexibility for a diverse range of students. Apart from a typical full-time setup, there are also morning and evening schedules with amazing student services.
Second, the way classes work here is up to par with the standards we've set. The curriculum is comprehensively matched with online resources such as recorded video lessons, interactive learning platforms, and live webinars.
Third and our favorite is the range of opportunities offered to both domestic and international students. They offer over $4 million worth of student assistance in the forms of scholarships, fellowships, and more.
Additionally, they offer internships and employment opportunities to students that enable them to earn $5,000 per month. Student clubs here also have a diverse range of industry clubs, social clubs, and cultural clubs.
In our opinion, student support is outstanding, with many ways to engage in-person and online. The school has 24/7 online resources, one-on-one coaching, and exclusive MBA networking events.
With such a well-rounded student experience, we reckon it's a great choice for those looking into more practical careers. Plus, there are services such as the Self-Development Lab and Leadership Development Lab that dive into matters beyond MBA.
Calculating all these amazing offerings into one package, it's not hard to see why tuition is pretty high here. Fortunately, it's still within the city's average, although we honestly think it can be pretty tough for international students.
On the bright side, they're also connected with international student loan lenders, fellowships, and scholarships. You have to apply early, though, because they have a limited space of around 350 slots for MBA students.
Full-time MBA program takes 2 years to complete
Relatively easy and flexible requirements and application
Wide range of financial options for domestic and foreign students
Flexible MBA schedules
90 elective courses to customize program
Awards a 3-year Canadian work permit to all graduates
Accessible and reliable student support services
High COA without financial support
Limited seats available 
Customer Reviews
One of the finest business schools in Canada
I wasn't exactly looking for a college rather for the program that suited my preference and all the education counselors I went to, mentioned that Rotman School of Management is the best institute for the master's program as they focus on transforming the future generation leaders to change-makers and adding value to the business and is one of the finest business schools in Canada – Pundarik Swetha
School with a multicultural approach
I heard a lot about this college from my teachers from my professors in bachelor's college and they praised it so much and said such good thing about the community of the college. So, I also did research about it and it's multicultural approach impressed me so much that, I prayed to get accepted in this college. – Priyabrata Sughavanam
3. Ted Rogers School of Management – Ryerson University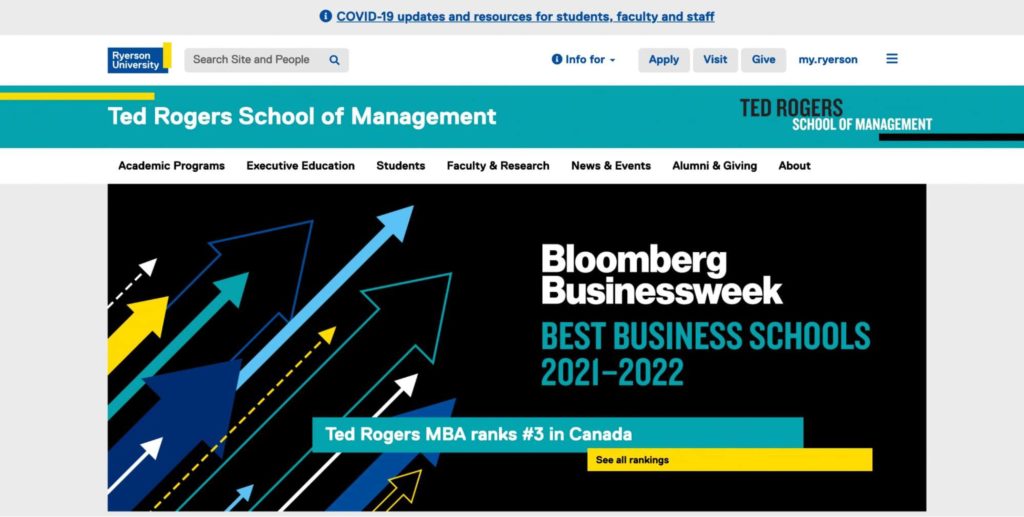 Test
Info
PROGRAMS
MBA

Professional Master's Diploma in Accounting

PhD in Management

Master of Science in Management

Master of Health Administration (Community Care)

WEBSITE
https://www.ryerson.ca/tedrogersschool/
ADDRESS
55 Dundas St W, Toronto, ON M5G 2C3
CONTACT DETAILS
+1 416-979-5000
OPERATING HOURS
Monday - Friday: 7:00 AM - 10:00 PM

Saturday: 7:00 AM - 8:00 PM

Sunday: 10:00 AM - 8:00 PM
Total Scores
| | |
| --- | --- |
| Total cost of attendance | ★★★★★ |
| Types of classes | ★★★☆☆ |
| Concentrations available | ★★★★☆ |
| Student life and services | ★★★★★ |
| Future employment opportunities | ★★★★☆ |
While being less popular than the other business schools on our list, Ted Rogers School of Management (TRSM) has a lot of things to offer. Based on what we found so far, we think it can even rival other global business schools in the world.
Here's why we think you'll love it here: for starters, the COA here is perhaps the most affordable on our list.
A full-time program costs about $21,137.35 for domestic students, which is half the amount of the city's average. The same goes for international students, who have to pay $47,391.66 for 12 credits.
While the tuition is significantly lower, do note that the electives here can be quite expensive. Each course starts at ​​$1,826.88 for domestic students and goes up to $4,213.63 for foreign learners.
One of the biggest strengths of the MBA they offer is that you can essentially complete it in just 12 months. It naturally takes twice as long for a part-time setup, which is usually the standard duration in most full-time MBAs.
Like in most schools, we approve of the student support services they offer which even includes a great COVID-19 plan. Not only do they have fantastic resources, but they also have alternative online platforms to assist students in isolation.
In terms of other student services, there's a lot we can cover but we'll highlight a couple of our favorites. They have a Student Wellbeing division that covers mental health support and student counseling.
They also offer co-op where experiential learning is emphasized. This is one of the first few things that we loved because it sets students out to handle real responsibilities in an actual workplace.
Finally, they have a great selection of well-rounded programs from the Fit for a Business transition program to the MBA careers team. Their spaces are also PWD-friendly as we found that they comply with the Accessibility for Ontarians with Disabilities Act (AODA).
Top 3 MBA in Canada by Bloomberg Businessweek (2021-2022)
Accelerated full-time program can be completed in 12 months
Offers $514,200 each year in awards and scholarships
MBA program at competitive costs
Comprehensive COVID plans for students in home isolation
Diverse range of student help and resources
PWD- friendly spaces
Elective courses can be expensive
Customer Reviews
A leader in research and innovation
I did a lot of research, after securing a GPA of around 7. I had applied to this university as it has always been rooted in innovative, career-driven education with the goal of addressing contemporary societal needs. Ryerson University is currently recognized as a leading institution for research and innovation, being ranked as the top institution. – Radheshyam Sharma
Outstanding campus facilities
Great facility (clean, modern and organized), good classrooms. The programs arent all great but there is a clear and substantial focus on teaching innovation and staying relevant, in comparison to for ex the engineering faculty that is more old school traditional. – Ariel G.
4. Lazaridis School of Business and Economics – Wilfrid Laurier University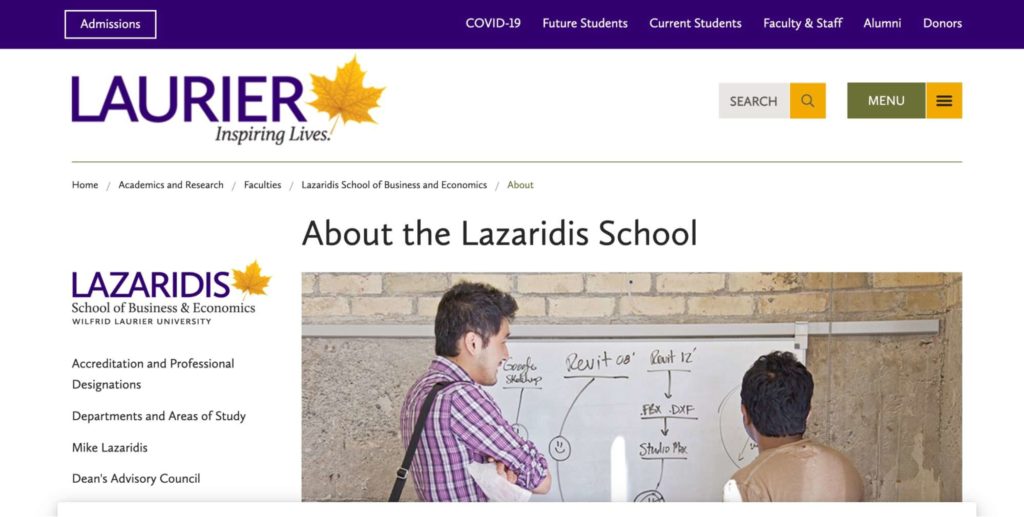 Total Scores
| | |
| --- | --- |
| Total cost of attendance | ★★★★☆ |
| Types of classes | ★★★★☆ |
| Student life and services | ★★★★☆ |
| General campus safety | ★★★★★ |
| Future employment opportunities | ★★★★★ |
Lazaridis School of Business and Economics is one of the top recommendations if you want to take your MBA in various formats. Let's break down the rest of the reasons why it's among the best business schools in Canada.
For starters, the school is recognized by Association to Advance Collegiate Schools of Business (AACSB). Only 5% of the world's business schools are accredited with this recognition so it's a tremendous achievement.
Next, it has an incredible employment rate of 98% among its graduates of business administration and economics. For over 100 years, the school has already produced thousands of graduates now in high-paying job roles.
In the Toronto campus, students can take Part-Time Alternate Weekends MBA, which is ideal for working individuals. There's also an accelerated option of the same format if you want to complete it faster.
Our favorite among the programs offered is the MBA + MFin. This allows you to earn a double degree upon graduation, enabling you to take finance-related jobs.
In terms of student support and service, we find the school to be a bit lacking compared to other schools. But we have to give them the crown because they have a controlled campus environment, ensuring utmost safety among students.
The costs of tuition are also pretty strong at $29,807 for domestic students and up to $49,738. By the way, if you're interested in that double degree, prepare about $74,400 to complete your studies.
AACSB-accredited business school
98% job placement rate
Controlled campus environment for students
22 business-oriented clubs and organizations
Competitive tuition fees 
Double degree option available
Virtual visits open to aspiring students
Offers program-specific scholarships and international student loans
Comparatively limited student services and resources
Certain program formats aren't available in other locations
Customer Reviews
World-class student facilities
This building (also called Laz Hall) is one of the best buildings in the city of Waterloo – and this is coming from a University of Waterloo student (it's a Wilfrid Laurier University building). The lecture hall is state-of-the-art and the building features great facilities. There's indoor plants and the whole feel is nothing short of a world class airport with modern and hi-tech facilities. Great to study, chill, or attend lectures – Amyn Charania Aung
Great option for all students
After completing my B.tech from engineering college, I was looking for some foreign colleges for my masters. I was not interested in giving the GATE exam and also I was not interested in pursuing a research field so I chose to go for an MBA. Moreover, I chose Canada specifically because I have my relatives there. While going through the list of the colleges this was the only college that matched my preferences and even my bachelor's marks were good enough for it. – Karim Som
5. John Molson School of Business – Concordia University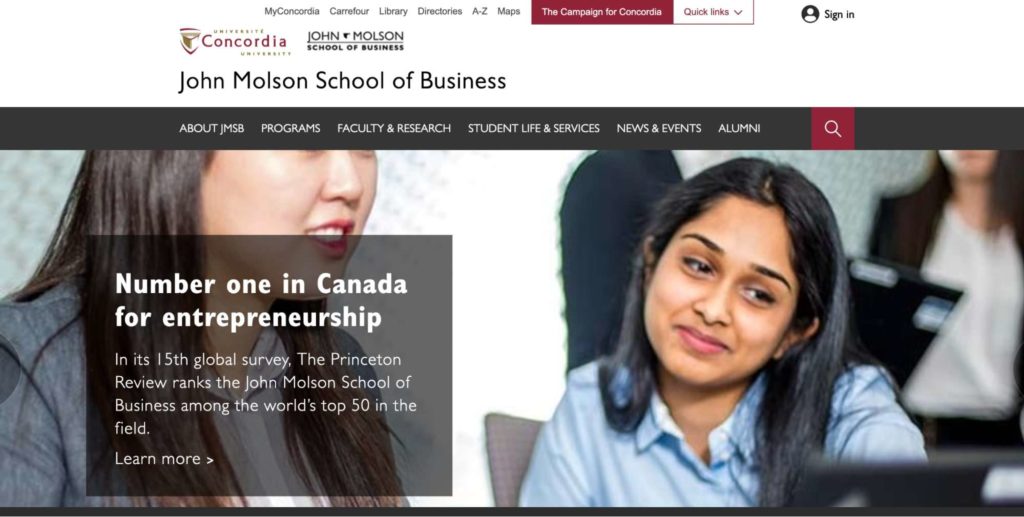 Test
Info
PROGRAMS
Full-time MBA

Part-Time MBA

Executive MBA

MBA in Management

WEBSITE
https://www.concordia.ca/jmsb.html
ADDRESS
1450 Guy St, Montreal, Quebec H3H 0A1
CONTACT DETAILS
+1 514-848-2424
Total Scores
| | |
| --- | --- |
| Total cost of attendance | ★★★★☆ |
| Types of classes | ★★★☆☆ |
| Concentrations available | ★★★★☆ |
| Student life and services | ★★★★★ |
| Future employment opportunities | ★★★★☆ |
John Molson School of Business has always been a prominent name among business schools in Canada. This AACSB institution has a lot of offerings that we think you'll appreciate as an MBA student.
Running through the numbers, the business school managed to secure the 3rd spot in the 2021 QS Global MBA & Business Masters Rankings. Bloomberg also named its MBA program as the fourth in Canada, which is a tremendous achievement.
The school offers full-time and part-time MBA programs as well as an Executive MBA and an MBA in Management. Unfortunately, we found the class formats variations to be quite a few so that's a slight drawback for us.
Making up for this is the small size that we truly liked for more immersed learning. The student-to-professor ratio is an impressive 30:1, making it one of the best class sizes on our list.
Based on what we've researched so far, the school also has incredible student services. They have Career Management Services (CMS), case competitions, and student associations and committees.
Another thing worth noting is that tuition is relatively more affordable tuition. Fees start at $20,570 going up to 41,300 for foreign students.
MBA graduates of this business school record an impressive 87% job placement rate. What's even more impressive is their ROI recognized by various institutions including QS Top Universities in their 2021 rankings.
30:1 student to professor ratio
Best ROI according to QS Top Universities report of 20221
4th best MBA program in Canada according to Bloomberg
Great range of student services
Competitive tuition for MGA students
Limited class format options
Customer Reviews
Offer great networking opportunities
What can I say – I thoroughly enjoyed my time here as a student and continue to enjoy giving back by contributing as an alum. I was able to learn a substantial amount about the basics of marketing, which has helped me throughout my young career thus far. Additionally, they have a crazy amount of resources available for students looking to network and build up their presence locally. Excellent business school. – Jonathan Berthold
Modern and top-class facilities
I am a student from Concordia. I used to go to library for studying. But one I found there are places in JMSB that you can study. with the view of Downtown. I really enjoy the articheture and the way they built JMSB. Modern with fascinating materials. – Amir Sadeqi
FAQs About MBA in Toronto
---
Pursuing an MBA in Toronto catapults you into better, bigger opportunities for professional and personal development. For more education-oriented reviews, check the following articles: