The Bridle Path's Rich (Literally!) History and Residents
The Bridle Path is known as one of Canada's most affluent and lavish neighbourhoods. It's a real estate dream, and many lawyers and agents consider owning a property here as a solid investment.
Where is the Bridle Path neighbourhood in Toronto?
The Bridle Path is a residential neighbourhood located in the North York region of Toronto, Canada. It's characterised by massive multi-million dollar mansions, exclusive clubs, and famous residents.
The neighbourhood has 3 main streets – High Point Road, Park Lane Circle, and The Bridle Path. It's a mere 30-minute drive away from downtown Toronto.
It's also part of the Bridle Path–Sunnybrook–York Mills area and is often called Millionaire's Row for the luxurious properties standing on it. It's quite a secluded neighbourhood with lush greenery that's surrounded by the Don River Valley.
Contrary to popular belief, the term "Bridle Path" is actually the name of a specific road in the area. However, it's widely-used and generally acceptable to refer to the entirety of the neighbourhood.
The area is bounded by the The Bridle Path on the north and the Sunnybrook Health Sciences Center on the south. East, it's bounded by Wilket Creek and Bayview Avenue on the west.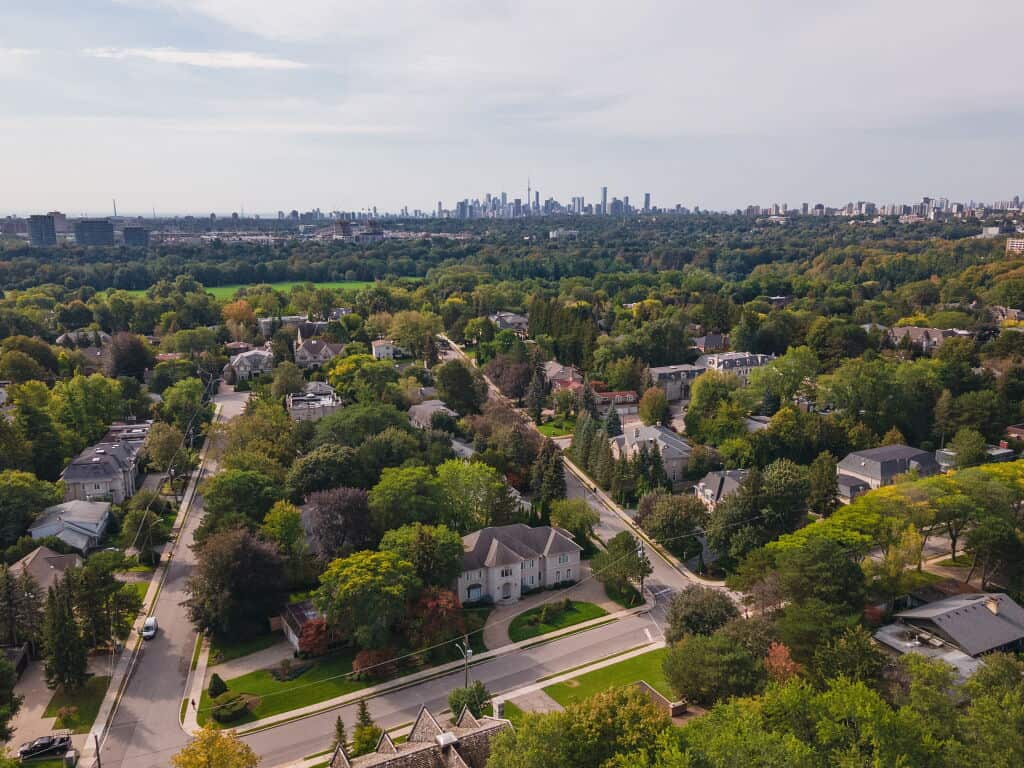 Is Bridle Path Toronto a gated community?
Bridle Path isn't necessarily a gated community. However, many (if not all) of its estates are gated and walled. This is to provide more privacy for its residents.
What type of people live on Bridle Path?
Bridle Path is home to the rich and famous. Houses in this neighbourhood are easily in excess of millions of dollars.
According to Areavibes.com, the cost of living on The Bridle Path is 84% higher than Ontario and 105% more expensive than the Canadian average.
Moreover, the household income in this neighbourhood is 198% higher than Ontario. This shows a $260,149 median income, which is 216% higher than the Canadian average.
These whopping statistics don't end there.
According to the same article, the median home value here is $2,653,085 – or 300% higher than the Canadian average! Just imagine how high the property taxes would be.
Suffice it to say, the people residing here have some very, very deep pockets. Most of them are A-list celebrities, business owners, and those who come from generational wealth.
Who lives on the Bridle Path in Toronto?
We're not normally in the habit of finding out where people live, but we know you're just as curious as we are. Besides, some of these people don't exactly keep their Bridle Path homes a secret from the public eye.
Read on to get to know the famous people that live (and lived) on The Bridle Path.
1. Drake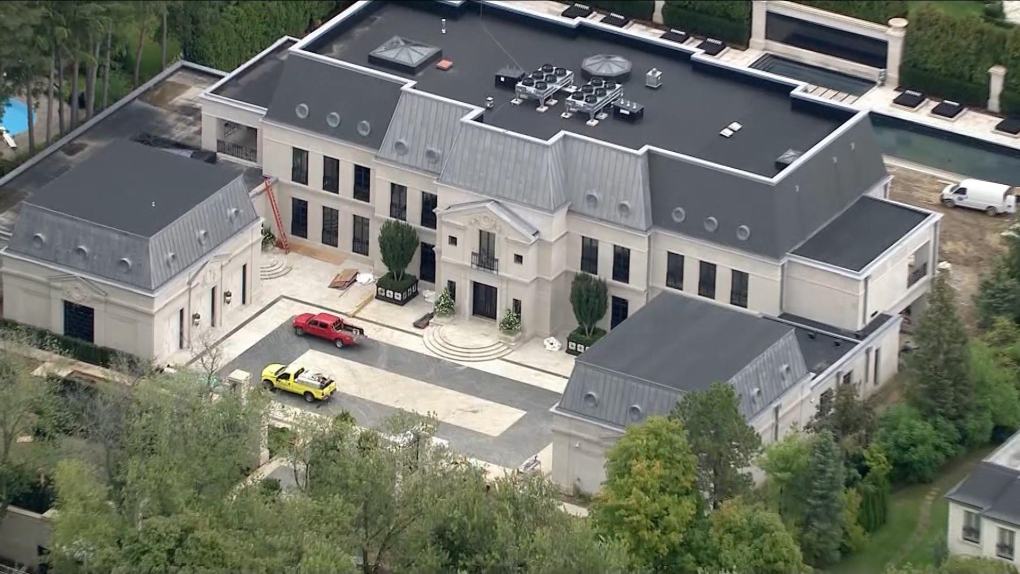 Image Source: CTV News
Probably one of the most popular residents of Bridle Path is Canadian rapper, Drake. Located at 21 Park Lane Circle, his property spans over 35,000 square feet and is often called "The Embassy".
He even has a song entitled "7am On Bridle Path" as an ode to his beloved new home.
According to GQ, Drake spent $6.7 million USD on the luxury mansion back in 2018. It features a 10-car garage, 4 guest bedrooms, an awards room, a piano room, a theater, a gym, and an indoor NBA regulation-size court.
He also sought the help of luxury interior contractor and designer Ferris Rafauli to renovate the house. The fences are also 4.4-meters higher than what's allowed by city bylaws, but he was able to acquire a special permit for the extra privacy.
Drake regularly shares photos of the inside of his home on his Instagram stories. We were able to spot marble details throughout the kitchen and the living room amidst sleek black and white interiors.
2. Gordon Lightfoot
Drake's neighbour and fellow musician, Gordon Lightfoot, lives right down the road at 16 Park Lane Circle. The folk icon bought the property for $3.8 million in 1999.
The house reportedly features 5 bedrooms and 5 full bathrooms. It's also been said that he writes most of his songs in a mahogany-walled room that overlooks the front lawn.
3. Robert Herjavec
Image Source: Better Dwelling
ABC's Shark and owner of global cybersecurity firm, Herjavec Group, Robert Herjavec sold his Bridle Path property in 2020 for a whopping $19,380,000.
The house, located at 16 High Point Road is a 33,650 square foot property. It featured 10 bedrooms, 13 bathrooms, a home theater, a 10-car garage, an indoor pool, and more.
Apparently, Rolling Stones frontman, Mick Jagger, also rented the house during his Canadian tour. Michael Bublé also did a concert in the house at one Herjavec family fundraiser gala.
4. Prince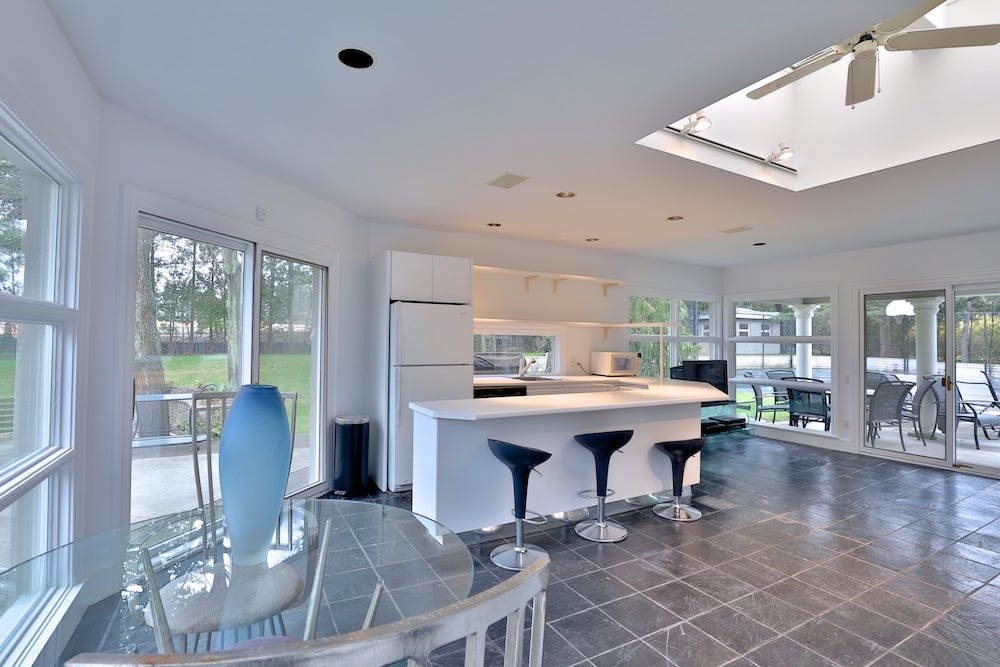 Image Source: Pricey Pads
The late Grammy award-winner, Prince, lived at 61 The Bridle Path from 2001 to 2006. In 2019, the house was listed on the market for $16,910,000.
The property is described to be a sprawling bungalow with "a dramatic flow and a majestic ambiance for entertaining on a global level". It sits on 2 acres of land and 14,280 square feet of living space.
The mansion also features 6 bedrooms, 10 bathrooms, floor-to-ceiling windows, a ballroom, a spa, a gym, and even a salon. There's also a large tennis court, a massive pool, and a heated cabana with a kitchen.
5. Elton John, Richard Nixon, and Margaret Thatcher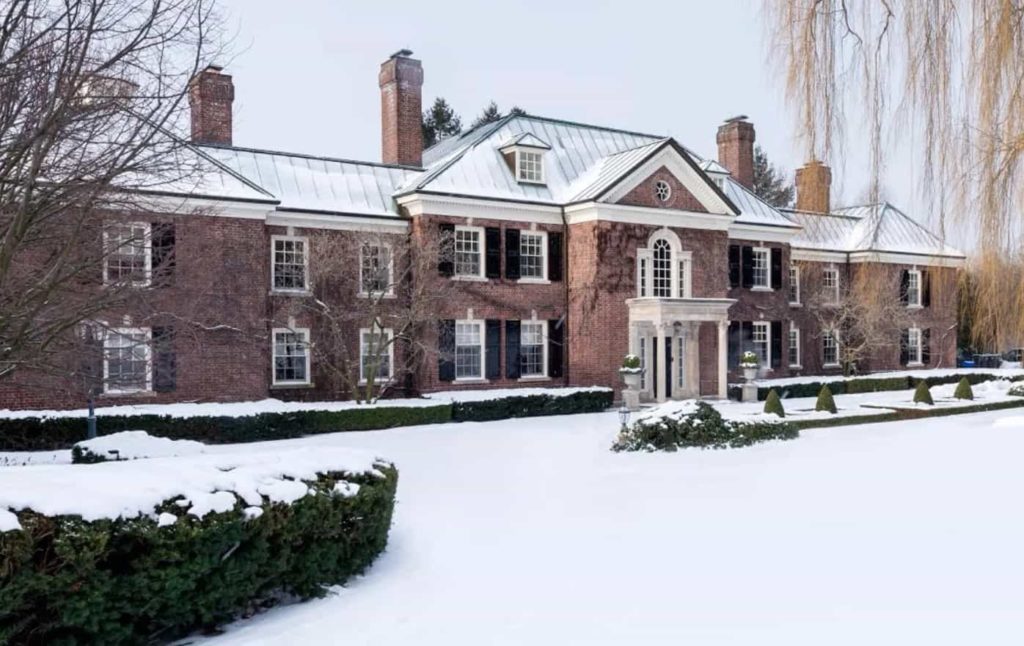 Image Source: Barry Cohen Homes
Alright, they didn't exactly live here, but Elton John, Richard Nixon, and Margaret Thatcher all spent a great deal of time at 26 Park Lane Circle.
According to the National Post, the house has seen many celebrity guests which included Elton John. Former US President Richard Nixon also made at least 5 presidential visits to the city and occupied one of the 8 rooms in the house.
The late British Prime Minister, Margaret Thatcher, reportedly also spent a lot of time in the estate during her visits to the city.
The mansion spans 23,000 square feet and was valued at $21.8 million in 2016. It features 9 bedrooms, 15 bathrooms, and copper roofs.
It also has a long and winding driveway that keeps the house hidden from the road. It's known to be a countryside retreat home for many of its guests.
Why is it called The Bridle Path?
The name "Bridle Path", coined by developer Hubert Daniel Bull Page, refers to his vision of a complex network of elaborate bridle paths for horses to pass through.
Here's a little history lesson on how the neighbourhood came to be.
In the early 1800s, Swedish miller Alexander Milne built his home and business on what is now known as Edward Gardens. He expanded to operating several woolen and saw mills along Wilket Creek.
During this time, the area was largely farmland. It wasn't until the early 1900s when the neighbourhood would see further development.
In 1929, the Bayview Bridge was constructed over the Don River Valley. It was considered as the first step towards residential development.
Most people back then rode horses, hence the need for a proper path. If you pass by today's The Bridle Path, it still pays homage to the wide streets that it originally was.
Those bridle paths have long been turned into paved streets, but both the name and its legacy stuck.
During his time, Page also dreamed of turning the area into an exclusive enclave of estate homes, which led to his first successful build – 2 The Bridle Path.
2 The Bridle Path was a Cape Cod-inspired colonial house designed by Page's brother, Forsey Page. To this day, it's still referred to locally as the Hubert Page House.
The house drummed up much interest in the neighbourhood. It was since considered the catalyst for further development in the area.
A quick timeline of the Bridle Path's development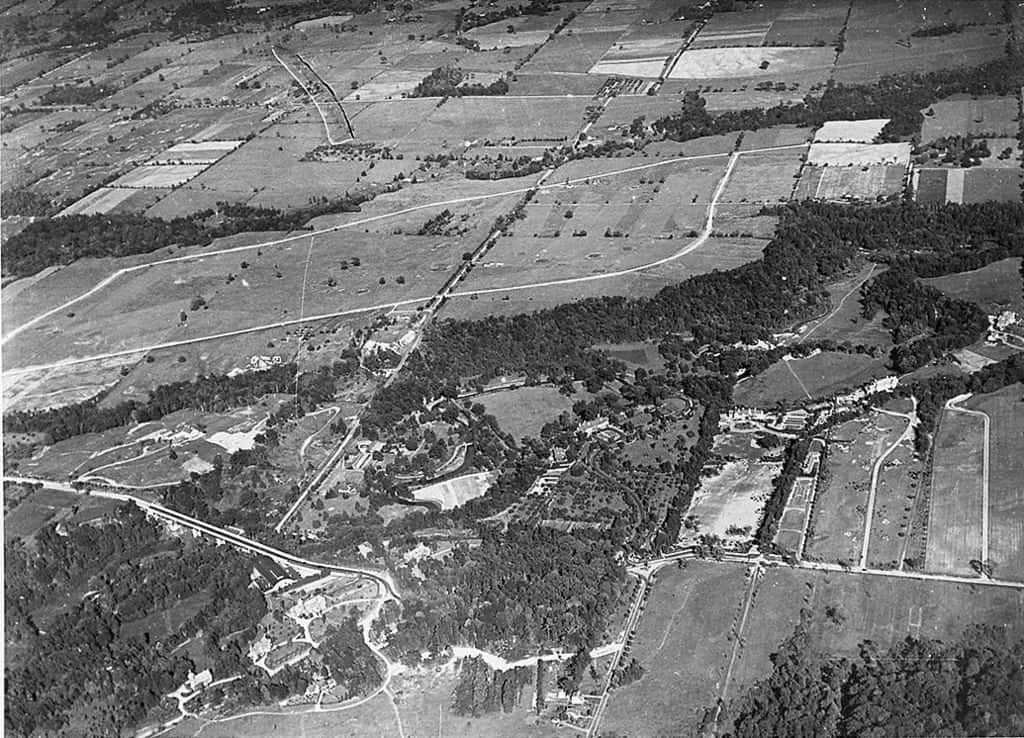 The Bridle Path in 1930
Image Source: City of Toronto Archives via Wikipedia
In 1937, E.P. Taylor bought a large plot of land on the north side of The Bridle Path. His wife named the estate "Windfields" and is now where the Canadian Film Centre stands.
In the late 1940s, George Montegu Black, Jr. (Conrad Black's father) built a large mansion on Park Lane Circle. Because he wanted to have a say in who his neighbours would be, he took over the company that owned Bridle Path.
He then set restrictions in place via the North York zoning by-law – that only single-family dwellings should be built on a minimum of 2 acre lot sizes. He divided the area into 50 lots and sold each for $25,000 at that time.
By July 1948, the Sunnybrook Military Hospital was fully-operational on the south side of the village. It's now known as the Sunnybrook Health Sciences Centre and is considered to be the southern boundary of the area.
The 1950s and 1960s saw the most development of The Bridle Path. Architects such as James A. Murray, Brook and Banz, and Seligman & Dick constructed several modern houses within the area.
Since then, many celebrities and rich people have taken a special interest in the neighborhood.
Developments and construction continued to this day, and many houses were renovated to fit modern real estate standards.
Bridle Path Toronto: An eclectic mix of architectural styles
The biggest mansions in the neighbourhood can be found between Post Road and Park Lane Circle. These luxury homes sit on 2 to 6-acre lots and visibly feature cast iron gates, winding driveways, and state-of-the-art security systems.
While most homes now are built with more than one-story floors, there are still sprawling bungalows that sit within the area. These are considered to be more mid-century designs that kept the original structure of the home.
Because the neighbourhood was developed throughout decades, you'll notice a variety of architectural designs. These include Georgian, Greek and Tudor Revival, Neo Gothic, Colonial, Californian bungalow, and contemporary, futuristic styles.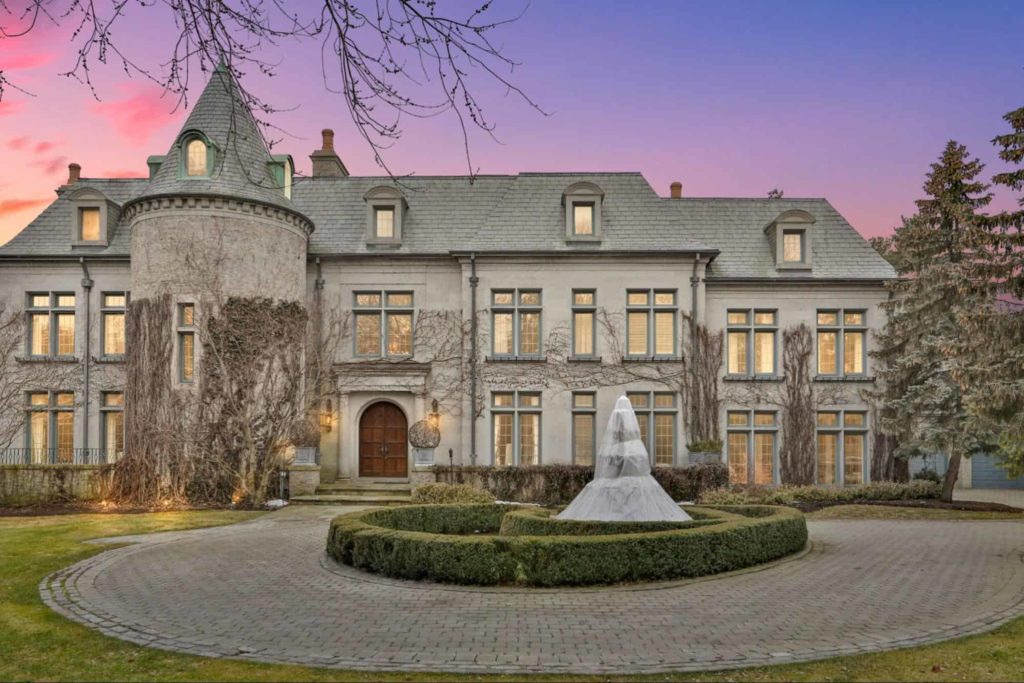 Image Source: Toronto Life
One iconic Bridle Path structure is One Post Road, a low-rise condominium boasting 42 upscale units and the most lavish amenities, one of which is private elevator access.
Many estates on The Bridle Path also have their own luxurious features. Massive pools, tennis courts, greenhouses, water features, and gazebos are a common sight within the neighbourhood.
Surrounding areas of the Bridle Path
Fortunately, modern developments did not sacrifice the serenity and beauty of The Bridle Path's greenery. A quick drive through the area blesses one with views of many trees, foliage, and nature at its best.
Edwards Garden, a botanical garden can be found on the east part of the neighborhood. Sunnybrook Park and Windfields Park also provide a natural respite.
These municipal parks are managed by the Toronto Parks, Forestry and Recreation Division.