The 5 Best Gym Memberships in Toronto
We have the best gym memberships in Toronto to help get you healthy and fit!
Whether you're looking for a comprehensive workout facility or a more relaxed environment, we can help you find the right gym to fit your lifestyle.
Top Gym Memberships in Toronto
What criteria did we consider while selecting and evaluating the top gym memberships in Toronto?
How much do gym memberships in Toronto cost?
In the table below, you can view the various membership options, their durations, and estimated costs for each age group based on the official information from the City of Toronto.
| Membership Type | 1 Year | 6 Months | 3 Months | 1 Month | 1 Day Pass |
| --- | --- | --- | --- | --- | --- |
| Adult (19 to 59 years) | $275.50 to $727.50 | $146.50 to $388.00 | $82.50 to $213.50 | $48.50 to $127.50 | $13.50 to $16.50 |
| Youth (16 to 18 years) | $197.00 to 452.00 | $105.00 to $244.00 | $59.50 to $132.00 | $33.00 to $56.50 | $9.00 to $13.50 |
| Older Adult (60+ years) | $137.75 to $363.75 | $73.25 to $194.00 | $41.25 to $106.75 | $24.25 to $63.75 | $6.75 to $8.25 |
Gym memberships in Toronto have varying costs, and each gym usually has their own pricing plans based on the type of training, equipment and facilities involved, duration, frequency, and age cohort.
1. Shape Fitness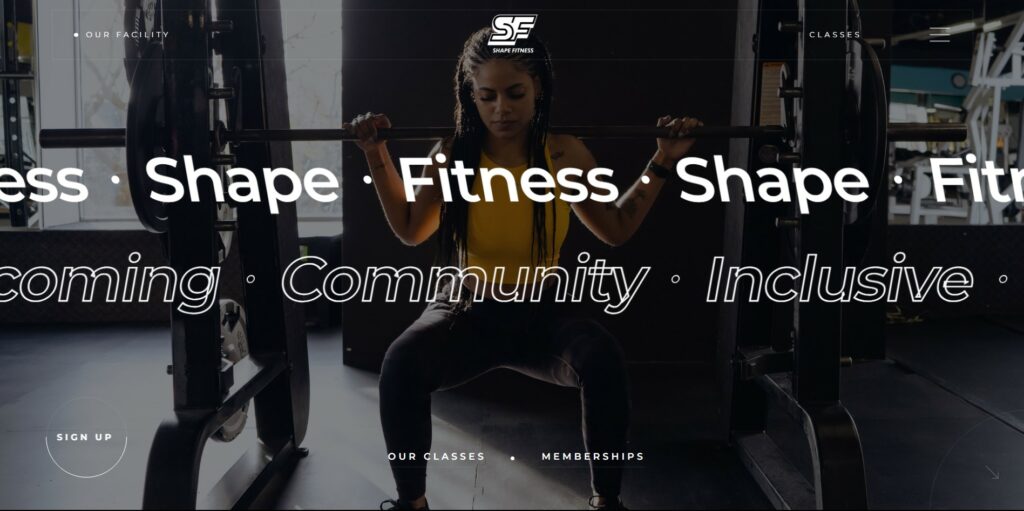 Test
Info
SERVICES

Spinning

Kickboxing

Yoga

Zumba

WEBSITE
https://www.shapefitness.ca/
ADDRESS
1156 ST. CLAIR AVE W, TORONTO, ON, M6E 1B3
CONTACT INFORMATION

EMAIL: [email protected]

PHONE: 416-651-0123

OPERATING HOURS

MONDAY-FRIDAY 6:00AM - 10:00PM

SATURDAY-SUNDAY 10:00AM-6:00PM

HOLIDAYS 10:00AM - 6:00PM
| | |
| --- | --- |
| TRAINING | ★★★★☆ (4/5) |
| > Options | ★★★★☆ (4/5) |
| > Instructors | ★★★★☆ (4/5) |
| EQUIPMENT AND AMENITIES | ★★★★☆ (4.5/5) |
| > Quality | ★★★★★ (5/5) |
| > Variety | ★★★★☆ (4/5) |
| FEES AND PERKS | ★★★★★ (5/5) |
| CLEANLINESS | ★★★★★ (5/5) |
| COMMUNITY | ★★★★★ (5/5) |
Shape Fitness is a fitness community located in the heart of Little Italy, offering a range of fitness classes.
What made us put them at number one is the fact that they promote inclusivity, welcoming individuals from all backgrounds and fitness levels. Regardless of who you are or where you come from, you can feel comfortable and accepted within the gym community.
Aside from this, we also like that they continuously improve their services and offer a variety of equipment to cater to different fitness preferences and goals. No matter what your goal is, we believe that you can achieve it with them!
Unlike other gyms, believe us when we tell you that they provide an accessible facility and services to all of their members.
With affordable prices, Shape Fitness promotes healthy living choices within the local community, making fitness accessible to a wider range of individuals. Their membership fee starts from only $16.00, how great is that?
Sadly, do take note that during the weekends, they have shorter operating hours so make sure to go before it closes at 6:00 PM.
Welcomes every individual with no judgement
Continuous improvement
Competitive pricing
Limited operating hours during weekends
Customer Reviews
Here are some reviews about them:
"Hands down, best choice I've made training at Shape Fitness. I love that the place is huge and has plenty of machines so I can work out without making lines or waiting for others, specially because I have only 45 minutes to complete my training and go to work. The machines are in excellent condition, and they also have Zumba, Yoga, Spinning, and other classes included in the monthly payment. It's totally worth the price. I look forward to walking through the doors and always feel amazing when I leave. VERY friendly team and community that makes me want to train. The overall vibe is great, and I have had nothing but good experiences. I've been going for a little bit and am already seeing a big change in my energy levels and body. It's great! I feel 10 years younger! I definitely recommend them to my friends and family."
"It's an amazing environment, huge place, and I love the dance class with Wallace Nattan, every Mondays and Thursdays from 8-9pm. Perfect!!!"
2. Fit Factory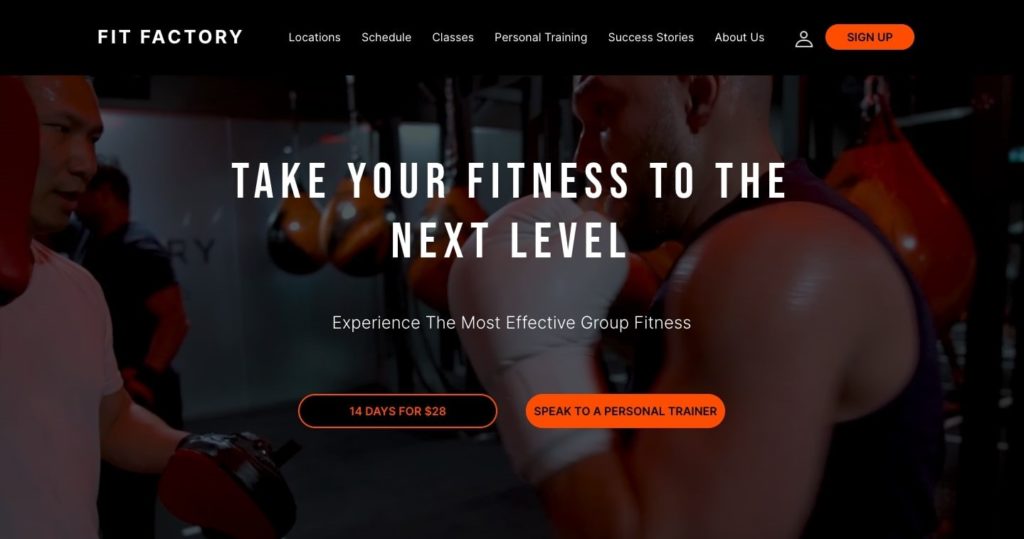 Test
Info
SERVICES

Endurance Training

Strength Training

Athletic Conditioning

HIIT

Personal Training

Group Training

Private Classes

Virtual Classes

WEBSITE
https://fitfactoryfitness.com/
ADDRESS

DOWNTOWN

373 King Street West, Toronto, ON

--------------------------------------

MIDTOWN

161 Eglinton Avenue East, Toronto, ON

CONTACT INFORMATION

DOWNTOWN

Phone: 416-900-0362

EMAIL: [email protected]

--------------------------------------

MIDTOWN

Phone: 437-266-9662

EMAIL: [email protected]

OPERATING HOURS

DOWNTOWN

Mon–Fri: 6:00 AM–9:00 PM

Sat: 8:30 AM–2:00 PM

Sun: 9:30 AM–3:00 PM

--------------------------------------

MIDTOWN

Mon–Fri: 6:00 AM–9:00 PM

Sat–Sun: 9:00 AM–1:00 PM
| | |
| --- | --- |
| TRAINING | ★★★★★ (5/5) |
| > Options | ★★★★★ (5/5) |
| > Instructors | ★★★★★ (5/5) |
| EQUIPMENT AND AMENITIES | ★★★★★ (5/5) |
| > Quality | ★★★★★ (5/5) |
| > Variety | ★★★★★ (5/5) |
| FEES AND PERKS | ★★★★☆ (4/5) |
| CLEANLINESS | ★★★★★ (5/5) |
| COMMUNITY | ★★★☆☆ (3/5) |
Fit Factory is the first high-end group fitness studio in Toronto. They offer programmes for group fitness and private training, and classes for burning and building.
You can expect a wide variety of training options in this gym, ranging from HIIT, strength, boxing, athletic conditioning, and many more.
Just like their training options, they have different types of equipment and facilities available. Members have expressed how top-notch and well-kept they are, which makes Fit Factory their go-to gym.
The problem, however, is the quantity which may not be enough for everyone, especially during the gym's peak hours.
The rates for their services are pricey, too. Single classes cost $35.00 on average, and monthly memberships are priced at nearly $300.00.
The exercises are hard and will surely challenge you. Their trainers are known to use the tough love approach, especially during HITT sessions.
They push you to your limits and hold you accountable to reach your goals, but they will be there to track your progress and motivate you.
Some customers have found their ways to be a little harsh, but if you are motivated by tough love, this place is just right for you.
Since the place is intense when it comes to working out, a few members told us it was a little difficult to mingle casually in the gym, including instructors and other members.
All in all, Fit Factory is serious about their mission to help members get into their best shape.
Wide variety of training options
Different types of equipment
Top-notch machinery
Clean and organised space
Result-oriented trainers
Instructors' training approach may not appeal to everyone
Limited number of equipment
A bit difficult to mingle with other members
Pricey
Customer Reviews
Trainers care about your progress
"Excellent and challenging classes! The trainers really care about your progress and help push you to the next level." —Britgitte Bacon, Google Reviews
Best experience I had in a gym
"Going to gym was always an overwhelming experience for me. However, the group trainings in Fit factory encourages me to revisit and exercise. The trainers are pros who have helped and guided me in my own pace. Overall, it is still the best experience I had in a gym." —Prachee Khuje, Google Reviews
3. Hone Fitness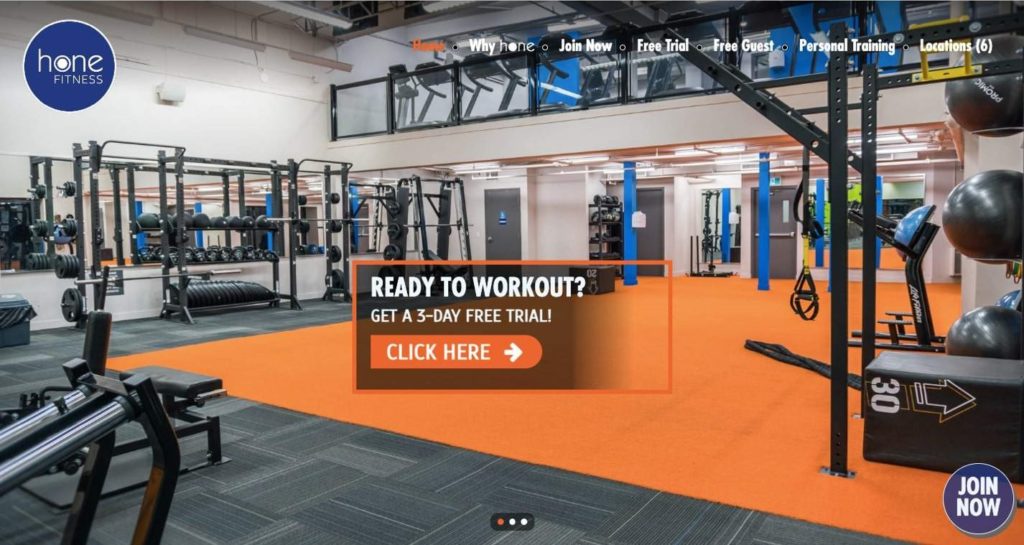 Test
Info
SERVICES

Cardio Training

Strength Training

Personal Training

WEBSITE
https://www.honefitness.com/
ADDRESS

7 Isabella Street, Toronto, ON

View all locations and details Here

CONTACT INFORMATION

EMAIL: [email protected]

OPERATING HOURS

Mon–Fri: 6:00 AM–9:00 PM
| | |
| --- | --- |
| TRAINING | ★★★★☆ (4.5/5) |
| > Options | ★★★★☆ (4/5) |
| > Instructors | ★★★★★ (5/5) |
| EQUIPMENT AND AMENITIES | ★★★★☆ (4/5) |
| > Quality | ★★★☆☆ (3/5) |
| > Variety | ★★★★★ (5/5) |
| FEES AND PERKS | ★★★★★ (5/5) |
| CLEANLINESS | ★★★☆☆ (3/5) |
| COMMUNITY | ★★★★★ (5/5) |
Hone Fitness is also a gym you can check out in Toronto, especially if you are on a tight budget.
Aside from access to their fully equipped cardio and strength machinery, their affordable membership includes a free assessment and training session as well.
Their 12-month membership costs around $400.00, and you'd pay $16.95 bi-weekly. They have no-commitment packages that range from $14.95 to $19.95, which are also paid every two weeks.
Showers and lockers are provided, too. They have even placed a juice bar made to rehydrate you as soon as you finish an intense workout, which we think is thoughtful.
If you are interested in more than just their basic package, you can go a little higher to gain access to the Functional Training Room, which has hanging ropes, dumbbells, massage chairs, and more.
Of course, availing of membership for a cheaper price does come with drawbacks.
Negative remarks on cleanliness have also been observed, specifically on their dirty mats. Moreover, there are only a few classes available.
Sometimes, it can also get crowded, and the number of equipment is not enough to accommodate everyone at the same time.
What you can expect from this gym is a great community with knowledgeable trainers and respectful members that creates a non-intimidating environment.
Hone Fitness has six locations in the city. Overall, improvements could still be made, but then again, you do get a lot already for a small price.
Good selection of cardio and strength training and equipment
Experienced instructors
Free assessment
Positive atmosphere
Affordable
Multiple locations in Toronto
Limited quantity of equipment
Shortcomings on cleanliness and maintenance
Customer Reviews
Membership and training fees are very affordable
"Hone Danforth is the best gym! Super friendly staff, CLEAN facility, and great atmosphere created by all the natural light that pours in through tall windows – so upbeat! Members are of ALL ages and walks of life. I work with an AMAZING personal trainer, Annia, who has a background in PT. I am a woman in my fifties who has struggled with knee and back pain for the last few years. Annia focuses on strengthening my back and leg muscles during our training sessions, and my injuries are about 95 percent improved. I expect to reach a full recovery in the next weeks. Annia has succeeded where years of visits to the physical therapists office could not. Oh, and the membership fees and training fees are very affordable—highly recommend! A++++" —Sonja Hood, Google Reviews
Very kind staff and clean place
"Love the vibe in this gym. The staff are very kind and keep the place clean. The other members are very encouraging and you can feel the positive energy!" —Melanie D., Google Reviews
4. One Academy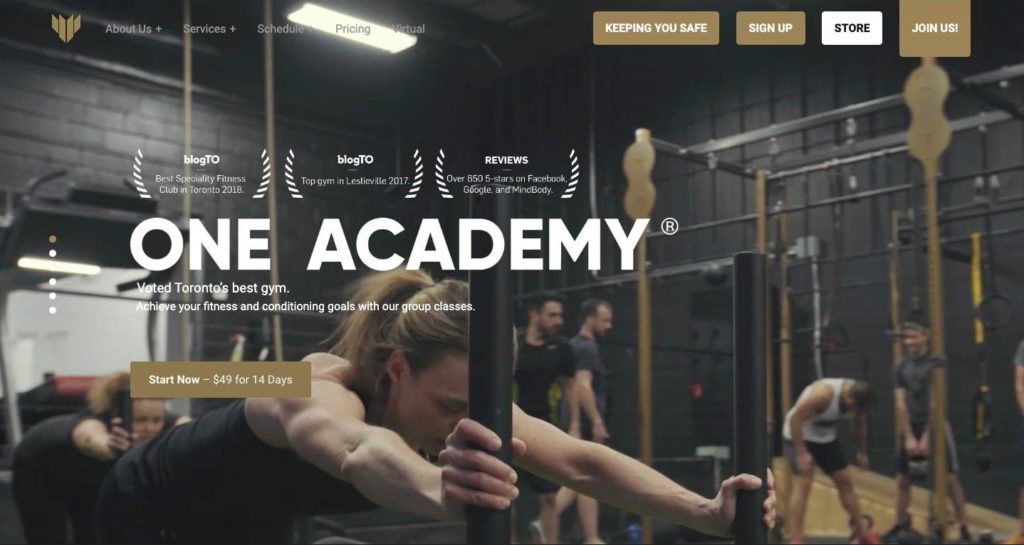 Test
Info
SERVICES

Conditioning

Strength Training

Personal Training

Group Training

Spartan Training

Private Classes

Virtual Classes

Wellness and Treatment Programmes

WEBSITE
https://oneacademylife.com/
ADDRESS
858 Eastern Avenue, Toronto, ON
CONTACT INFORMATION
Phone: 647-245-8544

EMAIL: [email protected]

OPERATING HOURS

Mon–Thu: 5:00 AM–8:30 PM

Fri: 5:00 AM–7:15 PM

Sat: 8:00 AM–1:30 PM

Sun: 8:00 AM–1:00 PM
| | |
| --- | --- |
| TRAINING | ★★★★★ (5/5) |
| > Options | ★★★★★ (5/5) |
| > Instructors | ★★★★★ (5/5) |
| EQUIPMENT AND AMENITIES | ★★★★★ (5/5) |
| > Quality | ★★★★★ (5/5) |
| > Variety | ★★★★★ (5/5) |
| FEES AND PERKS | ★★★★☆ (4/5) |
| CLEANLINESS | ★★★★★ (5/5) |
| COMMUNITY | ★★★★☆ (4/5) |
Another gym you can try is One Academy, a destination for group training, personal training, and wellness services.
They are proud of their distinct four-week training programme where workouts progress each week to keep you challenged every step of your journey.
Conditioning, strength, virtual, and signature are classes available at this place. There are multiple choices available within those categories.
For us, this is a check mark for inclusivity! They make sure that they can cater to the different preferences and needs of their clients.
One Academy has cardio and strength training equipment. Not only that, but they also have change rooms, towel service, and even a café to help you energise before or relax after a workout.
The community is said to be wonderful. We reached out to first-time goers, and they said trainers uplift every person and members are kind to one another, too.
However, some customers reported there were times when trainers went through the membership details a little too fast. Thus if you are a gym newbie, don't be shy to ask for an overview of the whole training plan.
We commend their efforts in maintaining cleanliness as they thoroughly disinfect all of their equipment and high-touch surfaces. Members are even given supplies to use in wiping areas they've used and are about to use.
One thing about One Academy is their dedication to discipline in producing results. With this, statements have been made about their strictness in punctuality for classes.
So, if you do decide to become a member, remember to arrive at classes on time. The programmes, equipment, and facilities you get will make the membership fee worth it.
Wide range of training variety
Wide variety of equipment
Great community
Cleanliness and sanitation measures
Strictness in punctuality
Lack of overview on the training plan for newcomers
Customer Reviews
Friendly staff and experienced trainers
"Best strength and conditioning fitness classes in Toronto. From their friendly staff, experienced trainers to epic playlist—OA training is one that gets you stronger." —Amanda Huiward, Google Reviews
Classes are challenging but super fun
"I'm doing the trial at One Academy and it has been an incredible experience. The classes are challenging but super fun and their trainers bring out the best in you. They offer a lot of circuit and strength training classes that incorporate full body movements. OA also has weekend classes that target the upper and lower body. What I appreciate the most is they don't make you use cardio equipment for half the workout like some of the chain gyms do. You will use the rower and treadmills sometimes but it is mostly dumbbells, kettlebells, pull-up bars and barbells. The classes are switched up every 4 weeks. This is perfect because it gives time for progressive overload and avoids plateau by creating new exercises. Props to Jesse for designing a warrior style gym and Leo and Michael for being outstanding motivators!" —Elyas B., Google Reviews
6. Totum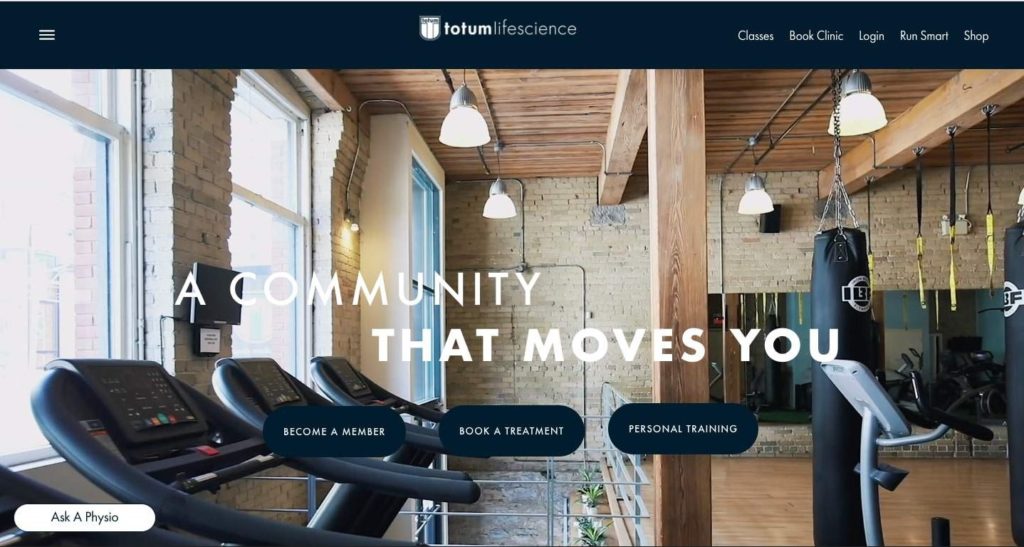 Test
Info
SERVICES

General Fitness/Fat Loss Training

Sport-Specific Training

Post-Injury Training

HIIT

Pilates

Youth Performance Training

Virtual Classes

Wellness and Treatment Programmes

WEBSITE
https://www.totum.ca/
ADDRESS
445 King Street West, Suite 101, Toronto, ON

View all locations and details Here

CONTACT INFORMATION
Phone: 416-979-2449

EMAIL: [email protected]

OPERATING HOURS

Mon–Fri 6:00 AM–10:00 PM

Sat: 8:00 AM–6:00 PM

Sun: 9:00 AM–6:00 PM
| | |
| --- | --- |
| TRAINING | ★★★★★ (5/5) |
| > Options | ★★★★★ (5/5) |
| > Instructors | ★★★★★ (5/5) |
| EQUIPMENT AND AMENITIES | ★★★★☆ (4.5/5) |
| > Quality | ★★★★☆ (4/5) |
| > Variety | ★★★★★ (5/5) |
| FEES AND PERKS | ★★★★☆ (4/5) |
| CLEANLINESS | ★★★★★ (5/5) |
| COMMUNITY | ★★★★★ (5/5) |
If you are in search of a gym with more than just a fitness center, Totum is for you.
Totum overlaps fitness and rehabilitation with the goal of improving the overall wellness of their clients. They are focused on team-oriented approaches and committed to the value of inclusivity.
The services they offer go beyond the general fitness programmes by including sport-specific training, training after injury, strength health, mobility health, and so on.
A lot of classes are also available, including circuit training, Pilates, and Muay Thai to name a few. Shower, lockers, and towel services are other inclusions as well.
With all of the available training, classes, and amenities, unfortunately, Totum has only a small space. Nevertheless, this small venue is well-maintained.
Helpful instructors are factors that make the gym's community a great place to feel comfortable when working out.
Many of the members we surveyed appreciate that the trainers frequently go beyond the confines of the gym, offering home activities and other fitness advice. This demonstrates the trainers' dedication to helping their clients reach their fitness goals.
Of course, receiving all of these entails that you have to ready your pockets. Totum can be expensive, but if you really plan to make the most out of all their services, you will get the value that you pay for.
Has a health centre
Wide variety of training and equipment
Respectful community
Motivating instructors
Clean and well-maintained
Customer Reviews
Clean facilities and great staff
"Just moved to Toronto and signed to Totum. I love it. Clean facilities and great staff. [There's] Always space and equipment available for workouts. [There's] Everything you need in the bathrooms." Marina M., Google Reviews
Excellent facilities, great change-rooms and a super accessible location
"Over the years, I have enjoyed Totum King for personal workouts, classes, and most recently for physio and massage. As a gym, Totum provides excellent facilities, great change-rooms and a super accessible location. The classes are also always excellent! I greatly enjoyed my massages with Sophie recently, she has an excellent table-side manner, is a great conversationalist and a very effective masseuse. I am also very pleased with my experience with Victoria doing physio. We have developed great routines together for me to do at home and I have had great success treating my issues with dry-needling with her. Overall I would strongly recommend Totum to anyone looking for any of the above services!" —Quinn Hartwig, Google Reviews
FAQs About Gym Memberships
---
What are you waiting for? Come check out the best gym memberships in the city and get started on your fitness journey today!
Besides exercising regularly, there are other ways to stay fit, specifically having a healthy diet. Read our review of the top health food stores in Toronto for more information on nutritious food options!