The Ultimate Guide to Toronto Zoo
The Toronto Zoo is home to the largest population of giant pandas outside of China, including three giant pandas named Da Mao, Er Shun, and Jia Yuan.
It's the third-largest zoo in the world, open 365 days a year, and visited by over 2 million people every year. The zoo shows its commitment to the conservation of endangered species through various programs that enrich their lives.
The Ultimate Guide to Toronto Zoo
Time Zone
Eastern Daylight Time (GMT-4)
Best Time to Go
It's best to go during the spring or fall, it gets too hot in the summer and too cold in the winter. Going on a weekday means less crowd and make sure you arrive early in the morning when most animals are active.
Going during the off-season, from November to March, also helps in avoiding crowds. You can always book your tickets in advance through their online service.
Things to Know
Currency: Canadian Dollar
(Check the current exchange rate)
Languages: English
Phone: +1 416-392-5900
Operating Hours: 9:30 a.m. – 7:00 p.m. daily
Ticket Prices
The ticket prices for the Toronto Zoo vary depending on the date of your visit.
Adult (ages 13-64):

Peak season (May 6 to September 4): $29
Non-peak season (September 5 to April 30): $23

Senior (ages 65+):

Peak season: $24
Non-peak season: $18

Child (ages 3-12):

Peak season: $19
Non-peak season: $14

Child (ages 2 and under): Free
You can also purchase a family ticket, which covers two adults and two children. The price of a family ticket is:
Peak season: $81
Non-peak season: $66
Things to Bring
Food and water
Sunscreen
Stroller or wagon (if you're bringing children)
First-aid kit
Comfortable shoes
Cash
Where is Toronto Zoo?
About 20 kilometres from the city centre, the Toronto Zoo is situated in the Rouge Valley, in the city of Scarborough, Ontario, Canada. It covers 287 hectares and is the largest zoo in the entire country.
Here's a map of the zoo and its surrounding area: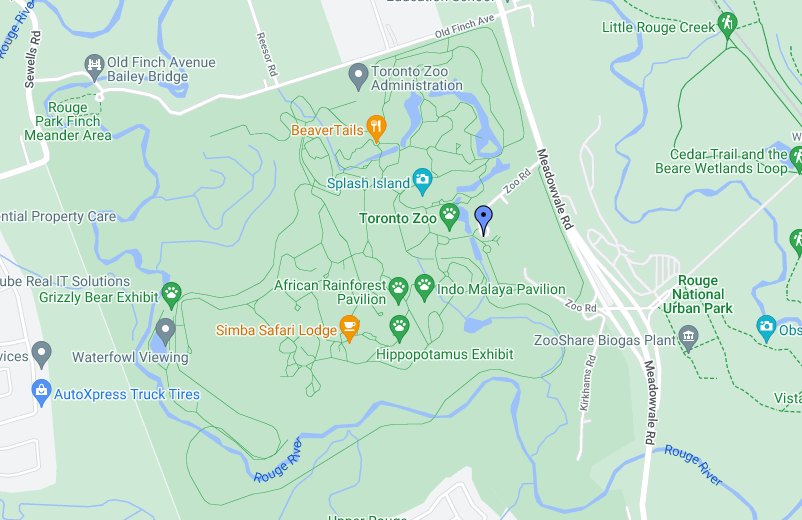 How To Get There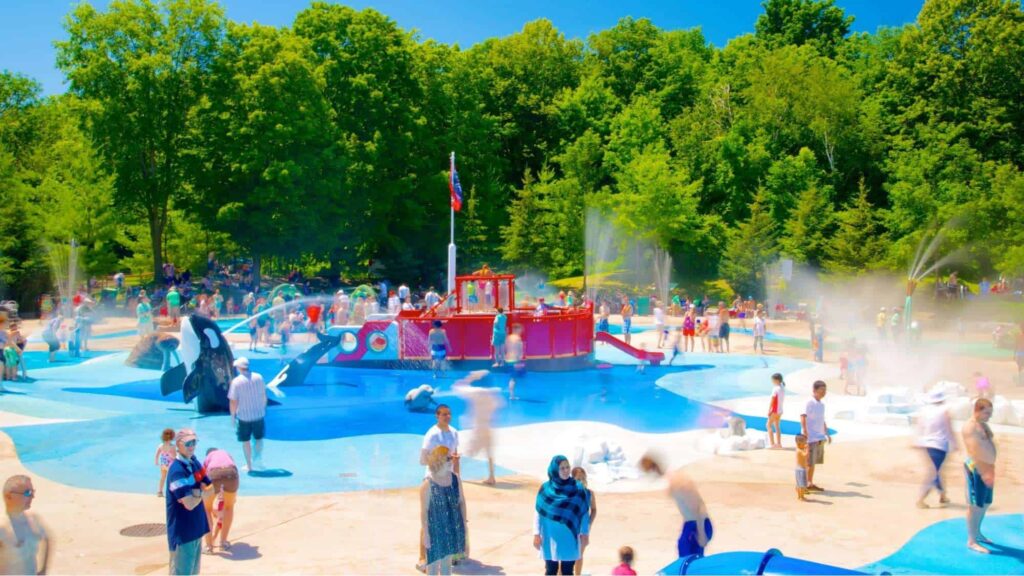 You can take the TTC 85 Sheppard East bus to the zoo right at the station. GO Bus Route 96Z also provides service directly to the zoo every weekend.
If you're going by car, you can take Highway 401 East or West to Meadowvale Road (Exit 389). Go North on Meadowvale Road and follow signs to the zoo's entrance.
If you want to bike, you can take the Martin Goodman Trail to the zoo. The trail's a 55-kilometre paved path that runs along Lake Ontario.
Best Exhibits and Programs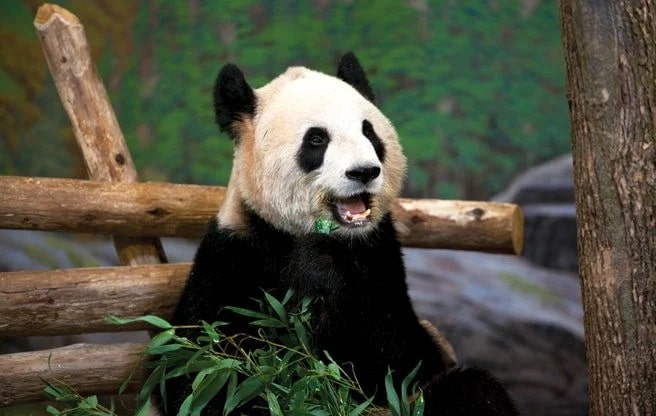 The Toronto Zoo has over 10,000 animals with over 500 different species. They're divided into zoogeographic regions built to keep them safe and comfortable at all times.
The zoo also offers programs to help guests learn more about animals and understand their behaviour. Here are some of the best areas and programs in Toronto Zoo:
Tundra Trek
A 10-acre exhibit designed to mimic the harsh conditions of the Arctic tundra, Tundra Trek showcases animals like polar bears, arctic wolves, snowy owls, and reindeers. The exhibit educates visitors about these animals' struggles due to climate change.
It opened in 2009 and is home to over 50 animals that typically come from ecosystems in the northern regions of the world. It's one of the most popular major themed areas in Toronto Zoo.
Africa Savannah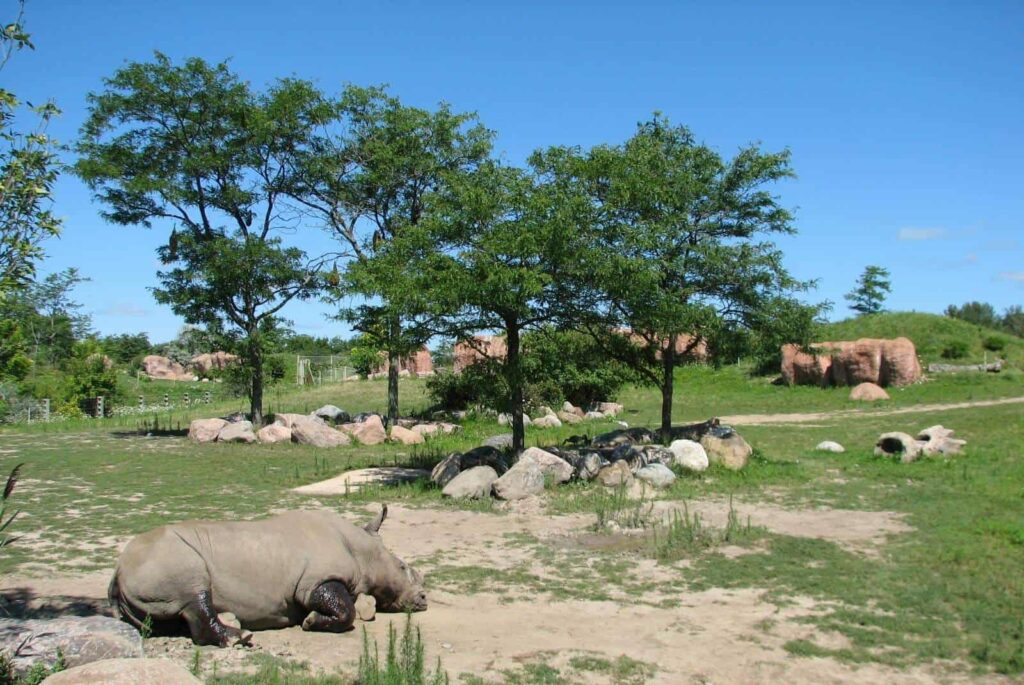 A large open exhibit designed to replicate the natural habitat of African grasslands, the African Savannah features animals from the African continent like lions, elephants, giraffes, and zebras.
The enclosure was opened in 1974 and is home to over 1,000 animals. It's designed to encourage the animals to display their natural behaviours and improve their overall well-being.
Eurasia Wilds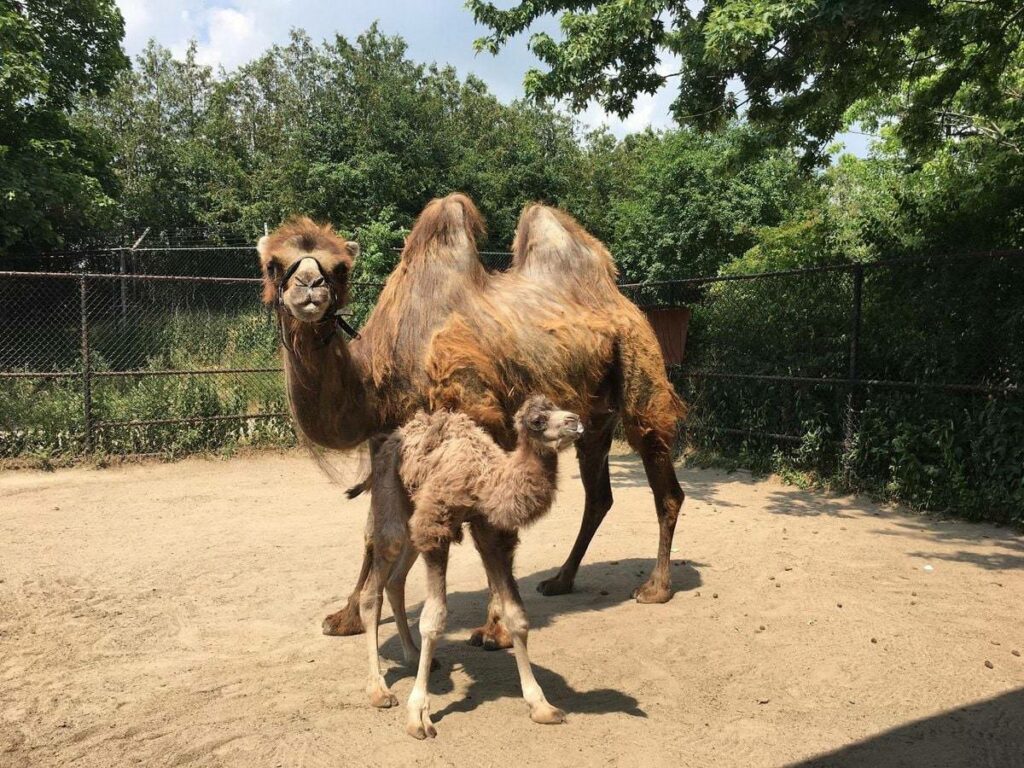 One of the zoo's newest exhibits, the Eurasia Wilds, is filled with a diverse range of animals from Europe, Asia, and the Middle East. Some of its most popular animals include snow leopards, red pandas, Japanese macaques, and Mongolian wild horses.
The exhibit was opened in 2015 and is home to over 100 animals. It has a walking trail that allows guests to see the animals up close and observe how they interact with their habitat.
Indo-Malaya Pavilion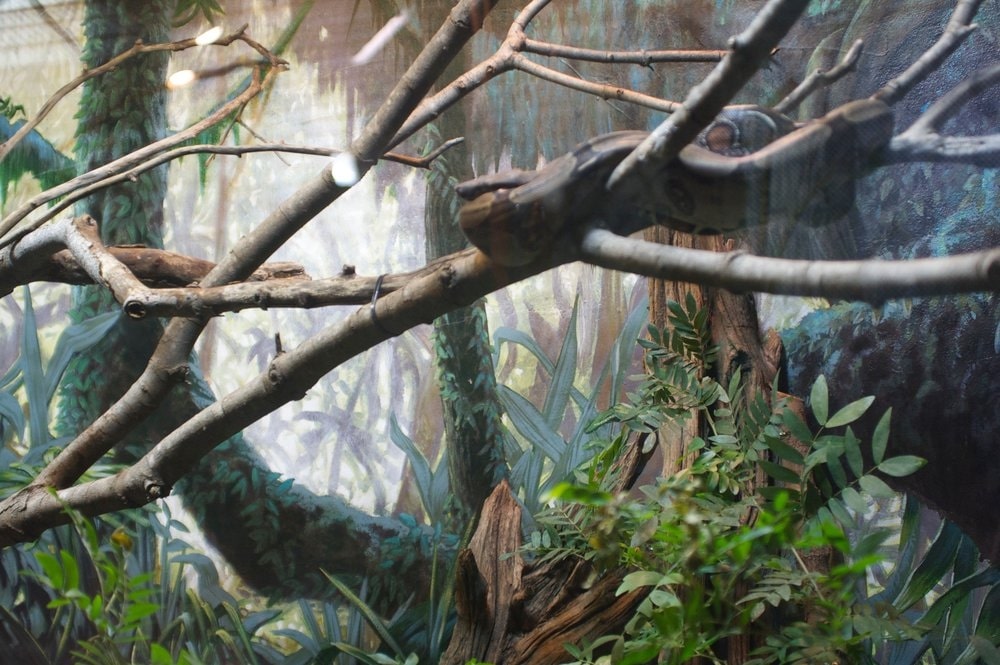 The Indo-Malaya Pavilion boasts the diverse wildlife of the Indo-Malayan region, including Southeast Asia and the Indian subcontinent. It features interesting animals like Komodo dragons, clouded leopards, Sumatran orangutans, and Malayan tapirs.
One of the oldest exhibits at the zoo, it was opened in 1974 and features over 100 animals. The landscape's diversity matches its animals, with a beautiful river flowing through the enclosure.
Canadian Domain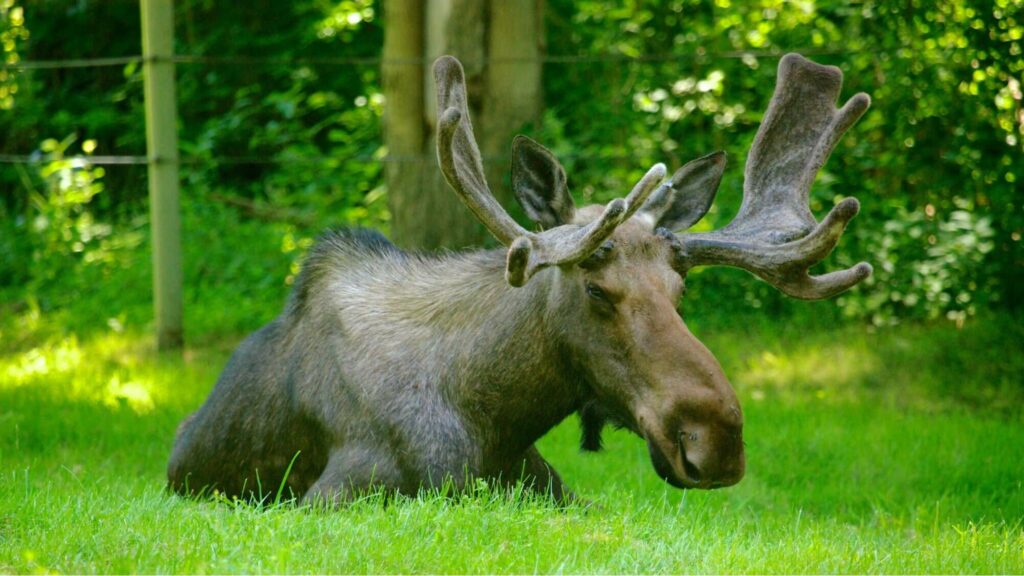 Toronto Zoo's Canadian Domain takes pride in Canada's diverse wildlife, featuring some of the country's iconic large animals like grizzly bears, moose, and wood bison. It has over 50 animals and is over 10 acres big.
The domain opened in 2017, and it also offers programs that help visitors understand our responsibility to protect the animals and make sure they thrive.
Discovery Zone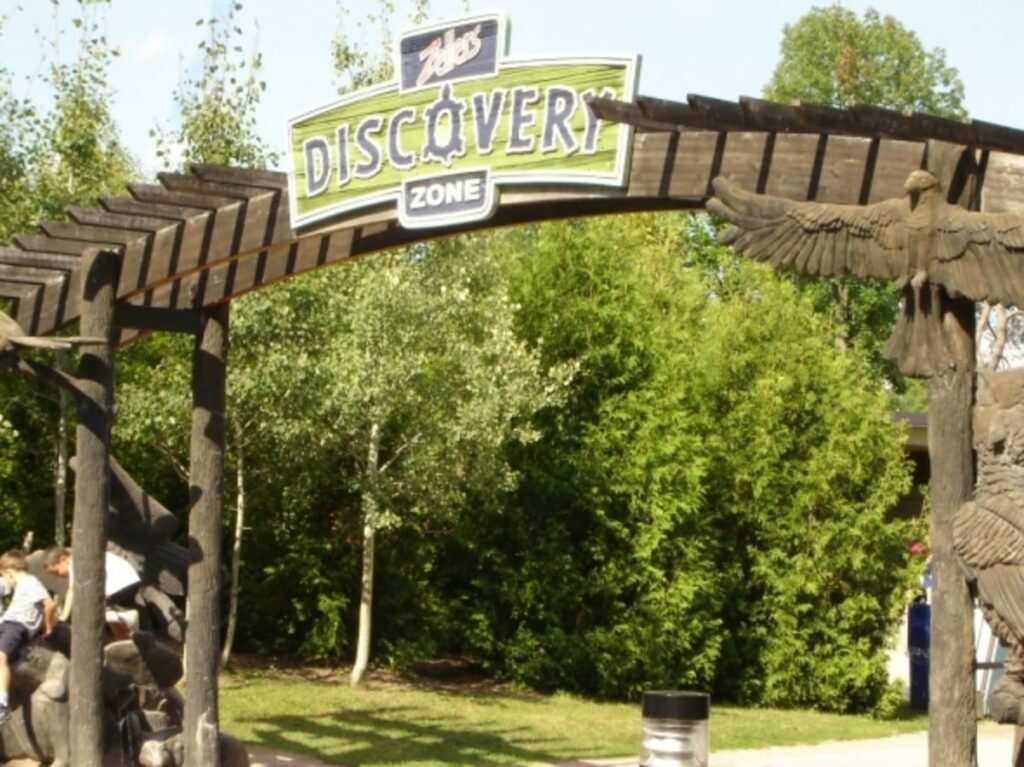 The Discovery Zone is an area dedicated to providing interactive experiences for visitors. These programs are educational and ideal for families and children looking to learn more about wildlife.
It's open to all ages but is designed particularly for children ages 2-12. You'll find interesting spots in the area like the splash island, the kids' zoo, and other exhibits that offer educational programs.
Wild Encounters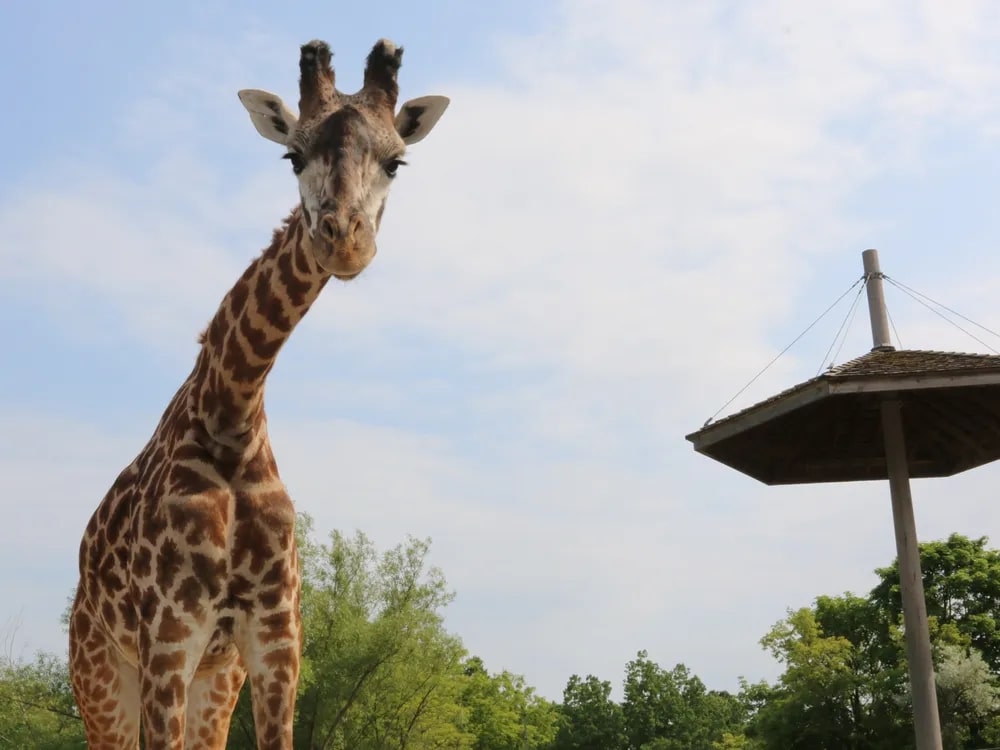 Wild Encounters are a series of programs offered by the zoo that give guests opportunities to interact with the animals more closely. It's a great way for children to know how to safely approach and handle various animals.
Some of the most popular programs include giraffe feeding, penguin encounter, sloth encounter, and snow leopard encounter. It's recommended to book in advance since these programs typically sell out quickly.
Keeper Talks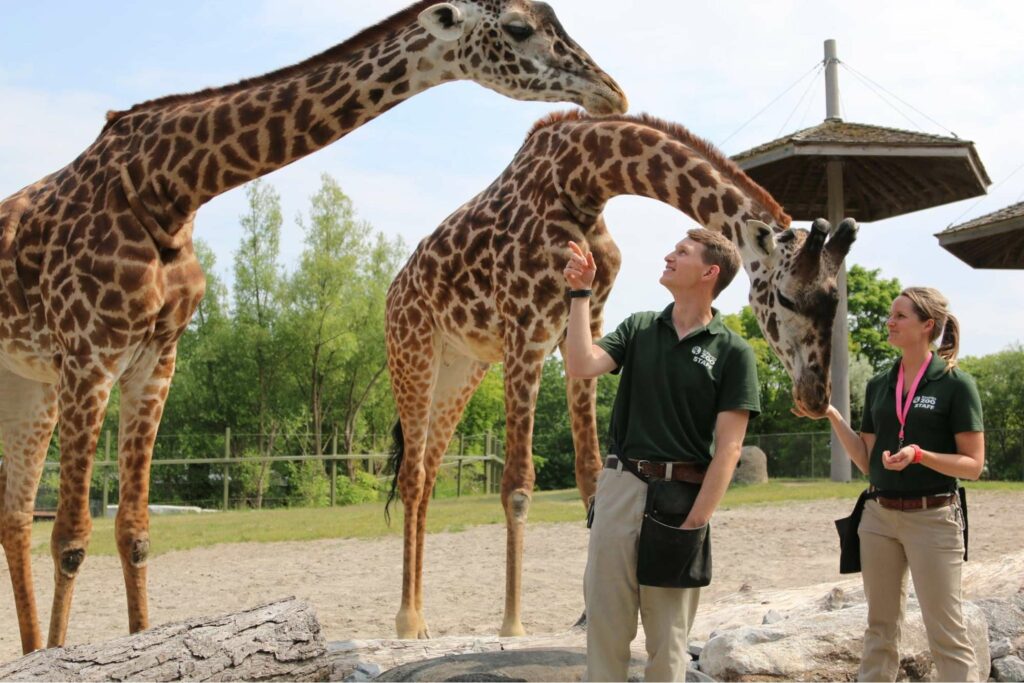 Keeper Talks are scheduled presentations where zookeepers educate and engage visitors about different topics concerning wildlife. This includes topics like history, habitats, behaviours, and conservation efforts.
These presentations are informative and often interactive. They're offered regularly and require no additional payment, but some might require a minimum age to attend.
Animal Shows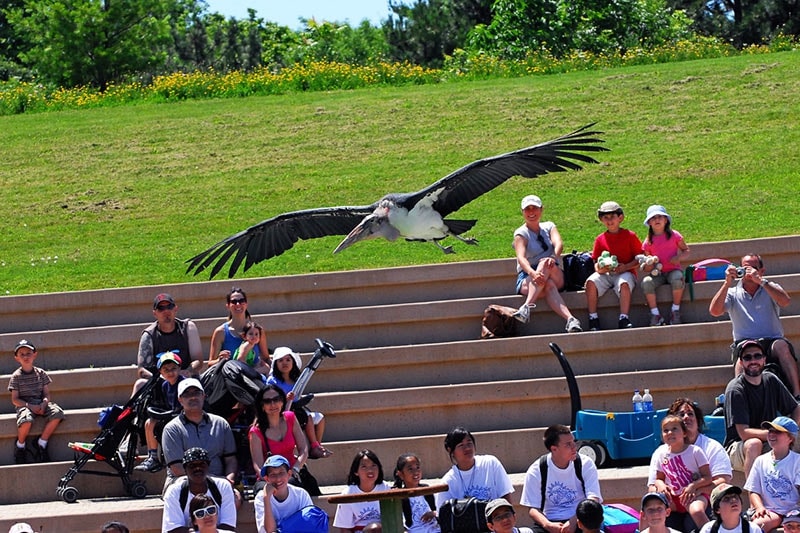 Toronto Zoo often holds animal shows to display the animals' amazing skills and unique traits. It's a great way for families and children to learn about wildlife and be amazed by its endless mysteries.
Some of the most popular shows include the Birds of Prey Show, the Penguin Plunge, and the Wildlife Theatre. They're free of charge but availability might fluctuate due to weather conditions.
FAQs on Toronto Zoo