4 Best Factory Outlets in Toronto
Do you know what's better than shopping? Discounted shopping!
Thankfully, Toronto is home to some of the best outlet malls in Canada. In this article, we're doing a roundup of the best factory outlets in Toronto
Best Factory Outlets in Toronto
What makes a factory outlet the "best"? We've broken down our criteria in 4 different aspects.
1. Toronto Premium Outlets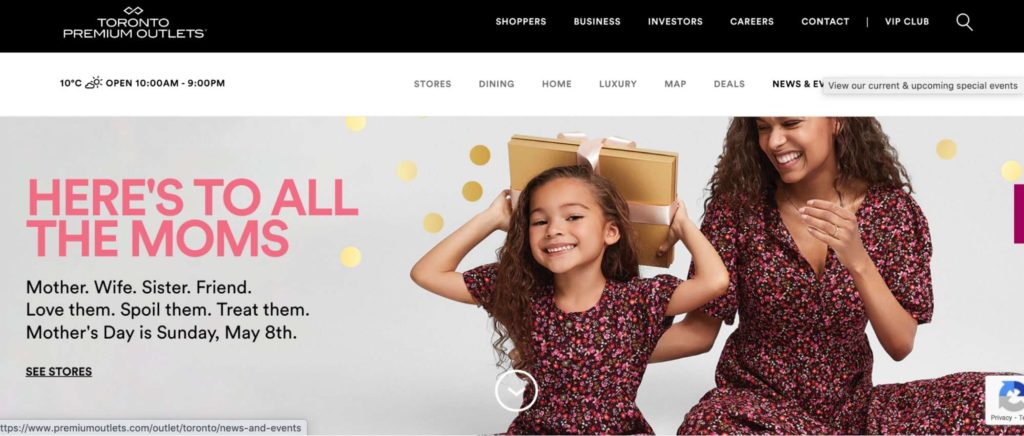 Test
Info
WEBSITE
ADDRESS
13850 Steeles Ave W, Halton Hills, ON L7G 0J1, Canada
CONTACT DETAILS
+1 647-497-8270
OPERATING HOURS

Monday to Thursday: 11:00 a.m. - 8:00 p.m.

Friday and Saturday: 10:00 a.m. - 9:00 p.m.

Sundays: 11:00 a.m. - 7:00 p.m.
| | |
| --- | --- |
| Criteria | Ratings |
| Number of stores | ★★★★★ (5/5) |
| Price | ★★★★☆ (4/5) |
| Space | ★★★★★ (5/5) |
| Customer Service | ★★★★★ (5/5) |
If you search "factory outlets in Toronto" on Google, Toronto Premium Outlets will be one of the first ones to appear. It is, after all Canada's first premium outlet centre.
The outlet mall has over 80 different shops. Here you'll find anything from Adidas to Balenciaga.
The mall isn't only home to some of the premium brands though–it also offers customers a premium experience. We love the VIP Shopper Club membership they offer regular customers which gives them access to exclusive offers.
It has clean bathrooms, free wifi and free public parking. It even has enough seating areas to rest when you're tired from all that walking.
Being an outdoor mall, it is a scenic place to go to during the summer and spring season. This, however, back fires during the winter when it gets really cold outside.
It is also very easy to get disoriented in this shopping paradise. Despite visiting regularly, we still found ourselves getting lost due to its confusing layout.
Now, if you're looking for a quick bite, there is a food court within the premises to satisfy all your cravings. From a quick Starbucks, to grab and go Subway or Chinese food – they have it all.
Be warned though, that the options in the food court are quite limited compared to those in regular malls.
Free WiFi
Free Public Parking
Outdoor Mall
Membership for regular customers available
Limited food options
Outdoor mall not feasible during winters 
Difficult to get around due to confusing layout
Customer Reviews
Very big shopping outlet mall
"Very big shopping outlet mall I visited so far in Ontario and Toronto area. Most of the brands in Canada have their shops opened a store here. A food mall is enclosed and moving street food stall also available here. Kids can enjoy in the play areas built in each junctions. Map boards are informative" – Partibhan Sammykutty
One of my favourite shopping centres in the GTA
"Definitely one of my favourite shopping centres in the GTA. It's near my house and I go here about once a month, the stores have amazing deals and there's many shops depending on what you want to buy which I love! I've seen a lot of people complaining about the parking space, but I usually go on weekdays and its not crowded at all. I recommend going on a Monday or Wednesday, because its usually not that busy on those days. Also, its really pretty at night, (especially in the snow), I recommend going there for nice deals and all!!" – Huri
2. Vaughan Mills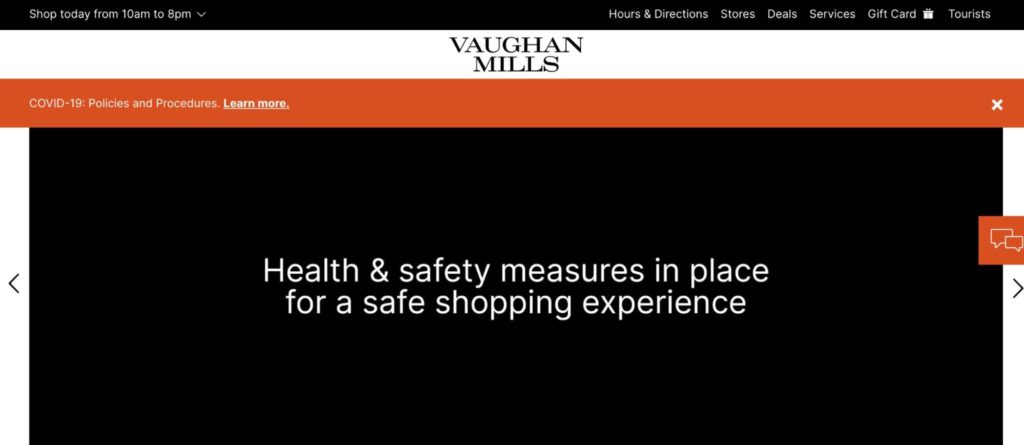 Test
Info
WEBSITE
ADDRESS
1 Bass Pro Mills Dr, Vaughan, ON L4K 5W4, Canada
CONTACT DETAILS
+1 905-879-2110
OPERATING HOURS
Monday to Saturday: 10:00 a.m. - 8:00 p.m.

Sundays: 11:00 a.m. - 7:00 p.m.
| | |
| --- | --- |
| Criteria | Ratings |
| Number of stores | ★★★★★ (5/5) |
| Price | ★★★★☆ (4/5) |
| Space | ★★★★★ (5/5) |
| Customer Service | ★★★★★ (5/5) |
If you have kids and want to go on a shopping spree, Vaughan Mills is probably the mall of your choice. It is the largest outlet mall in Canada and is super child friendly.
We like it here because you can rent a stroller for your child for only $8. This makes shopping so much easier when you have kids who get tired easily and can't walk the whole stretch.
The Legoland Discovery Centre, which is an indoor playground, also keeps the children entertained every single time. We've come across parents who come to Vaughan Mills just for this.
The mall also features a fish aquarium which keeps the little ones mesmerized. Another feature we like is that they also have a locker facility available at a nominal fee so you can store some of your bags while you shop for more.
Make sure you stock up on energy when you decide to shop as there are very limited seating areas around the mall. To add to that, it is also usually crowded so it may not be for those looking for a quiet shopping experience.
The food court has great options too for when you need to replenish your energy after all that walking. They offer everything from fast food to healthy food – they even have vegetarian options!
Largest outlet mall in Canada
Lots of activities for kids
Child Stroller for rent $8
Not enough chairs/sitting area around the mall
Crowded on most days
Customer Reviews
Great for shopping, eating and to bring kids
"One of the best shopping malls. Always have great deals. The mall carries almost all major brands. There is a locker facility also. For cake lovers, there is a nice cake atm…haven't seen yet in any other malls. The mall is all on ground floor, its huge though. Great for shopping, eating, and to bring kids (Legoland for kids). Must visit for great deals on Kate Spade, Coach, Nike, and many other brands. DSW is huge with so manu brands of shoes. One wouldn't be disappointed at all if shopping for clothes, shoes, bags, accessories and much more." – Shilpa
Great variety of stores
"Great variety of stores from essentials to luxury and everything in between. Bring your best walking shoes because one lap around the mall is almost 2km!! Food court is pretty good with general food court foods as well as healthy and vegetarian options." – Holly McMullen
BONUS: Dixie Outlet Mall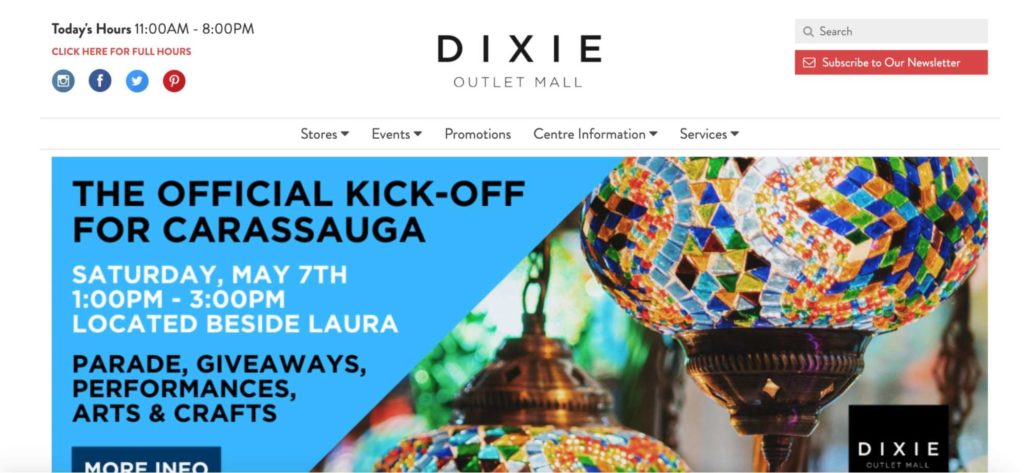 Test
Info
WEBSITE
ADDRESS
1250 S Service Rd, Mississauga, ON L5E 1V4, Canada
CONTACT DETAILS
+1 905-278-3494
OPERATING HOURS

Monday to Friday: 11:00 a.m. - 8:00 p.m.

Saturdays: 10:00 a.m. - 7:00 p.m.

Sundays: 11:00 a.m. - 6:00 p.m.
| | |
| --- | --- |
| Criteria | Ratings |
| Number of stores | ★★★★☆ (4/5) |
| Price | ★★★★★ (5/5) |
| Space | ★★★☆☆ (3/5) |
| Customer Service | ★★★☆☆ (3/5) |
Located just 20 minutes away from downtown Toronto, you'll find Mississauga's outlet mall. Dixie Outlet Mall is a no-frills straight up outlet mall.
While the building might look a little rundown, the variety of stores here won't disappoint. You won't find your high-end shops, but you'll score great deals in the likes of Calvin Klein, Nike and Home Essentials.
While it's small it still has over 120 different brands. They usually feature as much as 70% off on merchandise.
Another thing we really like is that the mall isn't too crowded. This allows us to browse through things and shop in ease.
They also have a flea market every weekend which is huge. It has some interesting stuff at great deals (even better than the outlet prices).
For those with kids, you know that it's difficult to keep the kids entertained while you shop away. Dixie Outlet Mall has an automated riding animal ride which is quite popular amongst the young ones visiting.
With lots of parking and many different entrances, the mall is also very easily accessible. It may not be the biggest or the busiest mall in GTA, but the convenience and deals while shopping here beats the rest.
Has a flea market on weekends 
Not too crowded
Mall looks rundown
Small mall compared to the rest in Toronto
Customer Reviews
The mall is kept clean
"Dixie Outlet Mall has been around for many years. One of the many things I like about it is the underground flea market on the weekends which is absolutely huge and I've purchased from over the years. I like that there is actually outlet stores for like singular Brands such as Tommy Hilfiger or Nike xcetera. The Mall is kept clean and are definitely following covid guidelines. They have automated riding animals for the kids which is an attraction for the Mall." – Minhoo Lee
So many great stores
"So many great stores! The food court has many options but pricing can be high. Winners is often busy; there is a Dollarama downstairs, a lot of clothing stores, and a Nike outlet store. There is also a Laura's outlet store which carries amazing women's clothing at a good price and many shoes and bag stores. There is something or someplace to find at this mall." – Merva Hutchinson
BONUS: Orfus Road Outlets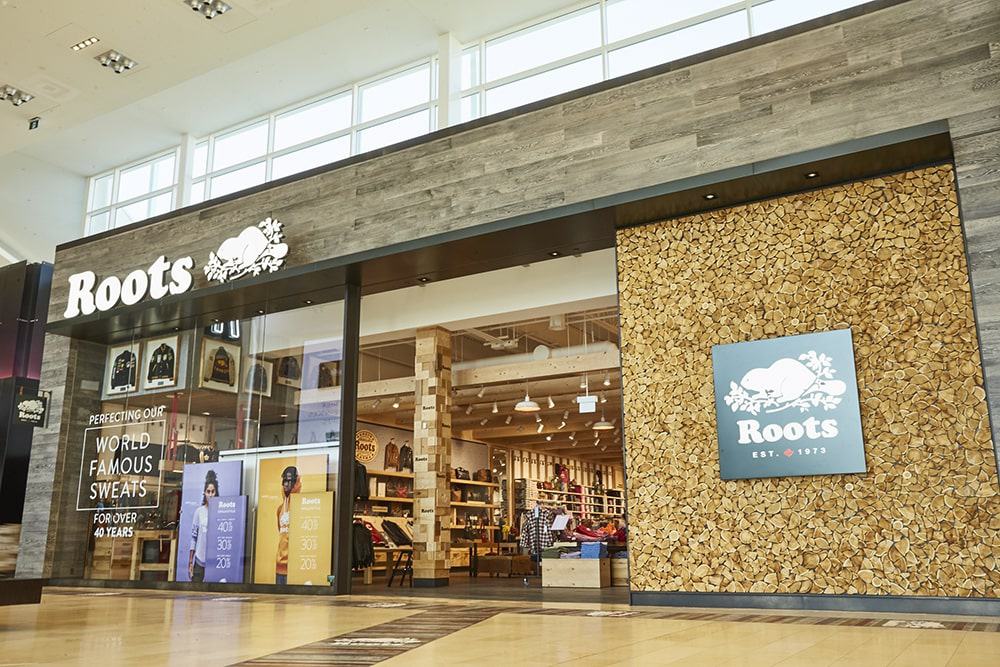 | Test | Info |
| --- | --- |
| ADDRESS | Orfus Road, Toronto, ON, Canada |
| | |
| --- | --- |
| Criteria | Ratings |
| Number of stores | ★★★★☆ (4/5) |
| Price | ★★★★★ (5/5) |
| Space | ★★★★☆ (4/5) |
| Customer Service | ★★★★☆ (4/5) |
Just a few minutes away from the famous Yorkdale Shopping centre, is a strip of outlet stores and liquidation centres. Here you'll be able to bag some of the best bargains around Toronto.
If you're looking for high-end international shops, you probably will not find that in Orfus road. What you will find instead is lots of local brands like Roots, Suzy Sheir, and Bikini Bay.
Fashion is not all this beautiful strip has to offer. You'll also find the Grand Cheese Factory Outlet, Beddington's Bed & Bath, and Barnes and Castle outlets here.
Most Torontonians brag about getting some of the best deals around town here. So if you're looking to shop, we'd recommend going in the morning or early afternoon as the rush starts around 4 p.m.
Need to fuel up after all that shopping? There are lots of options in the area.
From the famous Uncle Tetsu's to Burger Priest, they are all located in the vicinity. What you won't find though, is a washroom.
If you really need to use the loo, we'd recommend going to one of the bigger shops like Party City or walking back to Yorkdale Shopping Centre.
Another thing to keep in mind is to make sure you're wearing your most comfortable pair of shoes as your feet is guaranteed to wear out while walking along this long strip of shops.
Throw away prices and great deals 
Lots of food options around the area
No bathrooms around the area
No parking
Different store hours for each store 
Can get really crowded during evenings 
Customer Reviews
Great deals
"Great deals! I got a jacket, pair of boots and tons more for less than $100!" – Meg
One of the good outlet stores
"This is one of the good outlet stores in town .. You're actually able to find real deals here … Unlike other so-called outlets …" – Michael S.
FAQs About Factory Outlets in Toronto
---
Toronto has some of the best shopping experiences in Canada. Why not visit St Lawrence market for your next shopping spree.