THE 5 BEST INSULATION SERVICES IN TORONTO
With Toronto's harsh, freezing winters, staying warm is crucial for both homes and businesses. Proper insulation plays a vital role in lowering energy costs by maintaining a comfortable indoor temperature.
A good insulation provider can help reduce noise, improve indoor air quality, and prevent drafts, air leaks, moisture buildup, and mold growth, which can cause health problems. . These companies offer a range of services, including spray foam insulation, blown-in insulation, attic insulation, and more.
How We Chose the Best Insulation Services in Toronto
How Much Do Insulation Services Cost in Toronto?
In Toronto, insulation services typically cost between $1.50 and $3.50 per square foot, depending on the insulation type and size of the property.
1. Everest Insulation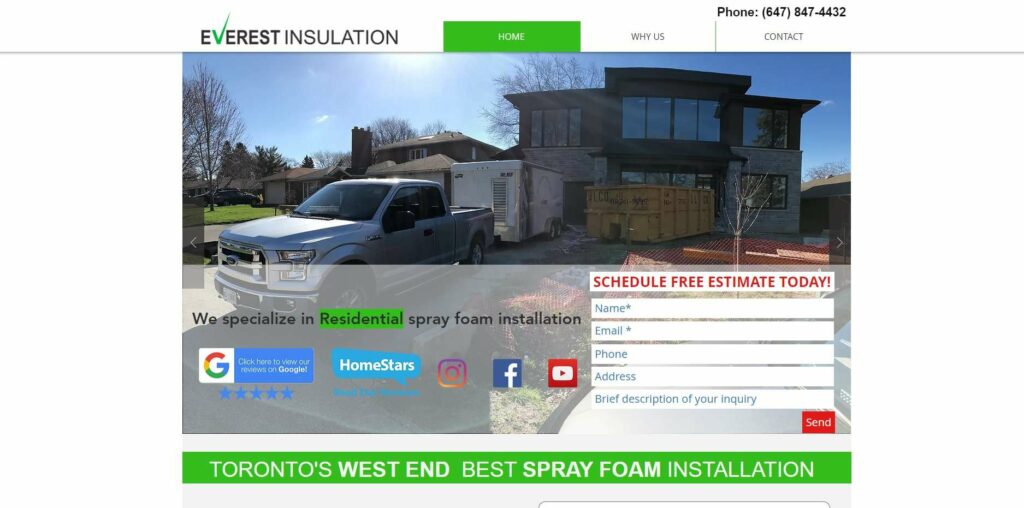 Test
Info
WEBSITE
https://www.everestinsulation.ca/
ADDRESS
450 Walmer Rd Suite 1511, Toronto, ON M5P 2X8
SOCIAL MEDIA
FACEBOOK
CONTACT INFORMATION
Phone: (647) 847-4432
OPERATING HOURS
Monday - Saturday: 7:00 am - 6:00 pm

Closed on Sundays
Everest, established in 2013, is a reputable insulation provider in Toronto. They serve both residential and commercial clients, earning a solid reputation in the industry.
With CCMC and CUFCA certifications, Everest's team of skilled installers possess expertise in building science and construction. They can determine the most effective methods and materials for insulation projects.
Everest specialises in residential spray foam installation, which seals cracks and crevices, blocking pollen and allergens, while preventing air penetration. It also remains effective even when exposed to water from bursts or floods.
Everest Insulation is partnered with builders, general contractors, HVAC companies, and engineering firms.
Prior to starting any project, Everest takes thorough precautions to ensure the cleanliness and safety of the home. This includes covering floors and walls in the work areas to prevent damage.
Throughout the insulation process, Everest maintains clear communication with customers, from the initial explanations to the post-installation follow-up. Even in challenging situations involving pre-existing issues like wet insulation or leaks, customers appreciate Everest's transparency and guidance.
CCMC and CUFCA-certified
Specialises in residential spray foam insulation
Partnered with construction companies
Closed on Sundays
Higher prices than competitors
Courteous and professional
"I used Everest to install blown fiberglass insulation at my house. Quoting was quick and easy. When they arrived, they were courteous and professional. They did the job quickly and did an excellent job cleaning up afterward. I would highly recommend them."
Tomek Bartczak, Google Review
Courteous, punctual, and easy to deal with
"Overall great experience. George was courteous, punctual, and easy to deal with. The crew was efficient and left no mess. They taped up a leaking bathroom vent in the Attic. The Attic Insulation from beginning to end was done within two hours. Reasonable pricing. Highly recommend Everest Insulation for your next project."
Tony & Leona Araujo, Google Review
2. Spray Foam Kings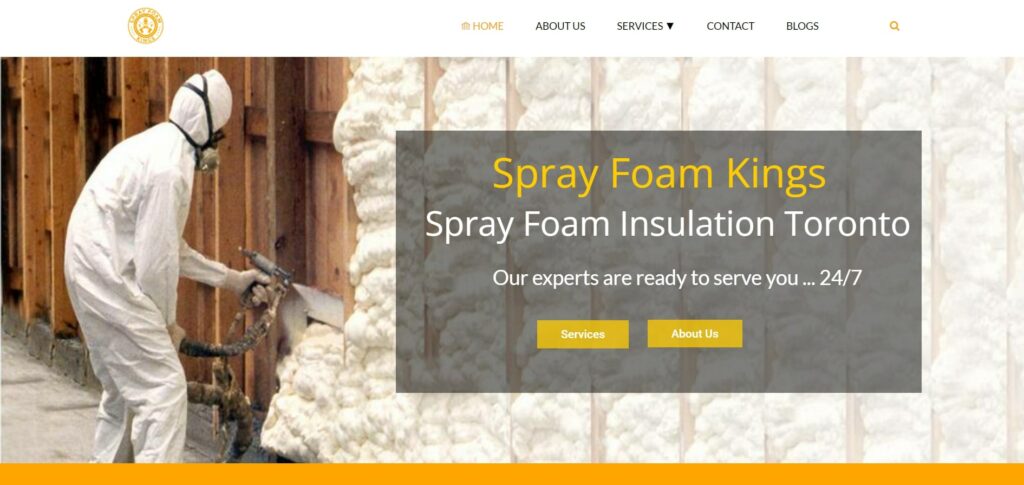 | Test | Info |
| --- | --- |
| WEBSITE | https://sprayfoamkings.ca/ |
| ADDRESS | 19 Hawkins Dr, Toronto, ON M6M 2W5 |
| SOCIAL MEDIA | FACEBOOK |
| CONTACT INFORMATION | Phone: (647) 641-6881 |
| OPERATING HOURS | Monday - Sunday: Open 24/7 |
Established in 2019, Spray Foam King specialises in commercial and residential insulation. They offer a range of solutions, including fireproofing spray, basement insulation, garage insulation, attic insulation, and crawl space insulation.
They use eco-friendly and durable insulation materials to provide long-lasting and energy-efficient solutions for clients' homes.
Spray Foam King stands out with their 24/7 availability and free over-the-phone estimates.
They utilise a 2LB closed-cell spray foam, which offers numerous benefits like noise reduction, prevention of air and moisture intrusion, and improved indoor air quality. This product also comes with a lifetime limited warranty for any factory-related issues.
However, it's essential to note that the warranty does not cover damages resulting from improper installation, accidental damage, or wear and tear.
Spray Foam King's notable clients include the NBA Head Office, Pearson International Airport Terminals 1 and 3, Billy Bishop Airport, Union Station, Sunny Brooke Hospital, and Scotiabank Tower.
Operates 24/7
Expertise in handling large-scale and high-profile projects
2LB closed-cell spray foam comes with a warranty
Competitive pricing
Reports of delay in appointments
Longer response time to email inquiries
Efficient and on budget
"Friendly, Efficient, and on budget. Called the company for an estimate, and they came quickly and managed to get my property done ahead of schedule. Will definitely be calling them when I get the office done."
Jonathan Chan, Google Review
Definitely lived up to my standards
"Spray foam kings Toronto is one of the best spray foam companies I have ever used from their customer service to their staff on-site, professional polite on time, and very courteous. I would consider using these guys again and again for all my Spray Foam and INSULATION Projects Spray foam kings definitely lived up to my standards, and that's why I'm writing this review. If you're looking for a Spray Foam company in Toronto, I highly recommend Spray foam kings they seem to service almost everywhere in Toronto."
Larry Marston, Google Review
3. Foam Comfort Inc.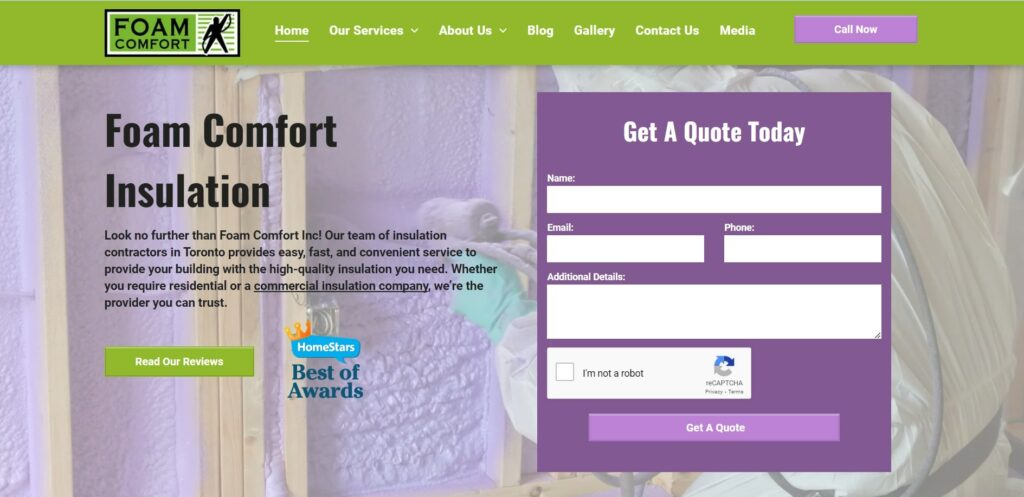 Test
Info
WEBSITE
https://www.foamcomfort.ca/
ADDRESS
56 McGee St, Toronto, ON M4M 2K9
SOCIAL MEDIA
INSTAGRAM
CONTACT INFORMATION
Phone: (416) 410-0961
OPERATING HOURS
Monday - Friday: 7:30 am - 8:00 pm

Saturday - Sunday: Closed
Since its establishment in 2006, Foam Comfort Inc. has earned a reputation as one of the best providers of insulation services in Toronto.
Specializing in 2lb closed cell foam insulation, 1/2 lb open cell insulation, thermal barriers, and fire coatings, Foam Comfort works with residential and commercial properties, providing insulation for exterior walls, rooflines, crawlspaces, basements, warehouses, and high-rise towers.
Foam Comfort uses environment-friendly foam, which improves energy efficiency and reduces energy costs.
All of Foam Comfort's spray polyurethane products have undergone evaluation and certification by the Canadian Construction Materials Centre (CCMC) and Caliber QAP. Their insulation products have a low Global Warming Potential (GWP), ensuring minimal environmental impact and reductions in energy bills.
Foam Comfort's certified installers work efficiently, accommodate schedules, provide warranties, and leave premises spotless, as confirmed by satisfied clients.
Eco-friendly practices and products
Insulation products have low Global Warming Potential 
Warranty on insulation services
Closed on weekends
Reports of rescheduled appointments
Reasonable price and an excellent job
"Spray foam insulation – Job was done well. A very good team of workers. Ariel the friendly supervising technician, Diane the office secretary, and Warren & Chris the insulators all a great team. Reasonable price and an excellent job."
Russell Siddiki, Google Review
Quality of work was excellent
"I used Foam Comfort Inc. to insulate my newly built garage. The price was fair and the quality of the work was excellent. This was not an easy job and another company had walked away without honouring our contract. Foam Comfort Inc. came in and pushed the job forward. I would highly recommend the team at Foam Comfort Inc."
Emmanuel Kikiantonis, Google Review
4. EcoStar Insulation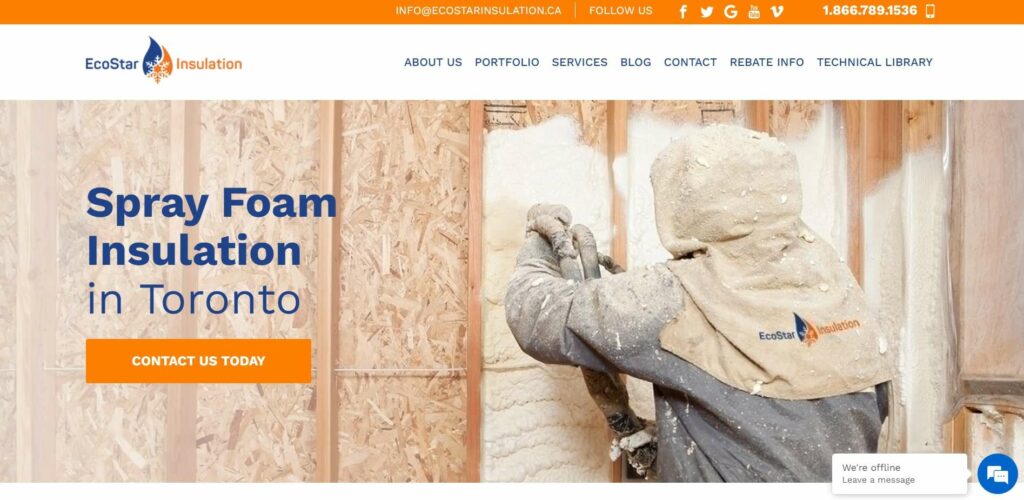 Test
Info
WEBSITE
https://www.ecostarinsulation.ca/
ADDRESS
25 Hollinger Rd #2, East York, ON M4B 3N4
SOCIAL MEDIA
FACEBOOK
CONTACT INFORMATION
Phone: +1 866-789-1536
OPERATING HOURS
Monday - Saturday: 8:00 am - 7:00 pm

Closed on Sundays
EcoStar Insulation has been one of the top insulation service providers in Toronto since its founding in 2008. They specialise in residential, commercial, cottage country, agricultural, and fireproofing projects, offering a wide range of insulation services such as spray foam, attic insulation, removal, and basement insulation.
EcoStar provides a 5-year workmanship warranty and a 10-year warranty specifically on spray foam insulation.
EcoStarconsistently completes projects within the agreed-upon timeframe and makes every effort to meet customer requirements within 30 days.
In addition to their money-back guarantee, EcoStar Insulation boasts competitive prices and gives free, no-obligation quotes.
EcoStar also helps their clients with energy loan assistance through the Home Energy Loan Program (HELP), which is a City of Toronto initiative designed to help homeowners finance energy-efficient upgrades. This allows customers to make environmentally-friendly improvements while managing their budget effectively.
5-year workmanship warranty 
10-year warranty for spray foam insulation
Responds to inquiries within 30 days
Helps with client's energy loan assistance
Communication was clear and prompt
"Excellent results on the spray foam insulation on the first floor of our home! Nearly no over-fills and any were cut off flush to the studs. All areas were filled; no missed cavities. The plywood floor was left clean; everything was left as they found it. Service was completed fairly fast, in just a few hours. Communication was clear and prompt via email and texts. We'll definitely work with Ecostar for the next phase of our reno. Their price was reasonable, and the top-notch service was greatly appreciated. If you're thinking about spray foam insulation, definitely hire Ecostar!"
Lorry Alberta, Google Review
You can't beat the price
They did amazing work. Cleaned up after themselves and you can't beat the price. I absolutely recommend them."
Mehdi Aslani, Google Review
5. Solidcare Home Improvements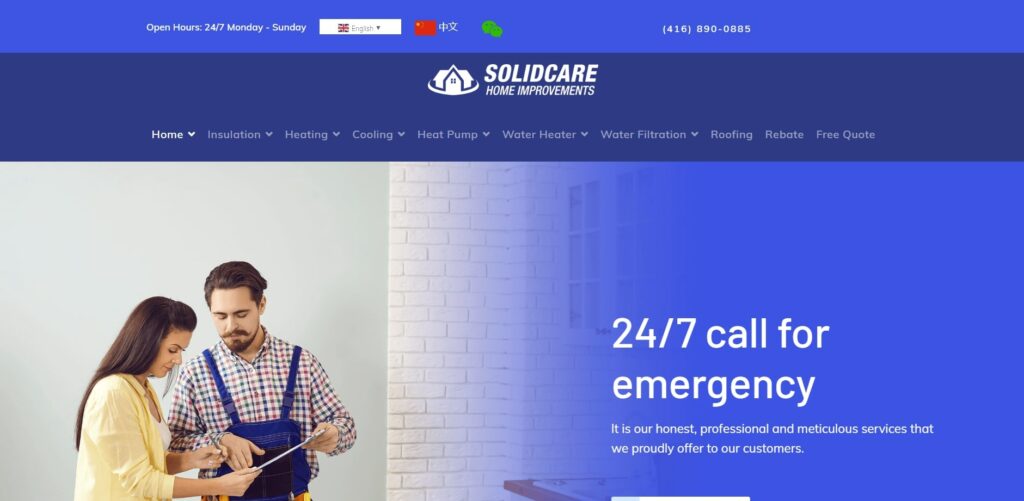 Solidcare Home Improvements is a fully-licensed contracting company in Toronto, operating in the field of residential HVAC, attic, basement, and garage insulation, as well as insulation removal.
According to their website, 72% of their clients come through word-of-mouth referrals. They pride themselves on maintaining transparent pricing with no hidden costs or last-minute add-ons, as well as offering obligation-free consultations.
Solidcare boasts 24/7 installation services carried out by TSSA-licensed technicians. Additionally, they conduct extra HVAC system check-ups to ensure optimal performance and provide job-site cleaning afterward, leaving the premises in excellent condition.
Solidcare assists customers in the application process for government rebate programs, ensuring they get the maximum benefit. If a customer doesn't qualify for a rebate, Solidcare will pay them the rebate amount.
No hidden costs or last-minute add-ons
 24/7 installation services 
TSSA-licensed technicians
Assists with government rebate programs
Closed on weekends
No digital options to book an appointment
Their workmanship was outstanding
"I couldn't be happier with the service provided by Solidcare Home Improvements. They were responsive, efficient, and the quality of their workmanship was outstanding. I highly recommend their services."
Huan Lei, Google Review
Honest and straightforward
"I'm delighted I went with Solidcare Home Improvement to install attic insulation and a water softener. Terry is an honest and straightforward person to work with. The installation crew is also fantastic. I will definitely return for future home renovation needs!!!"
K C Wong, Google Review
---