Top 5 Tax Return Services in Toronto
According to the Canada Revenue Agency (CRA), 59% who filed taxes this year coursed it through authorised service providers and discounters. The rest opted to file taxes on their own directly to the CRA.
Hiring an expert in tax returns will give you peace of mind, knowing there won't be any mistakes in your tax filing. It will also save you a lot of headache and stress on the day of filing.
Just for you, we've rounded up and rated the top tax return services in Toronto in this article.
How we selected the top tax return services in Toronto
Here are the criteria that we used to find the best tax return services in Toronto:
How much does tax return service cost in Toronto?
The tax return service fee is based on the complexity of your taxes and the expertise of your provider. In Canada, you can expect to pay anywhere from $50 to $300 for a tax return.
To give you a more concrete idea of how much you'll need to set aside for this service, below are the average fees for each type of tax return:
| Service | Fee |
| --- | --- |
| Tax Return (single) | $85 |
| Tax Return (couple) | $145 |
| Self-Employed Return | $155 |
| Rental Income Return | $155 |
| T2 Corporate Return | $450 |
| GST Return | $105 |
| Prior-year tax return adjustment or correcting additional tax slips | $45 |
1. Softron Tax – Yonge & Adelaide location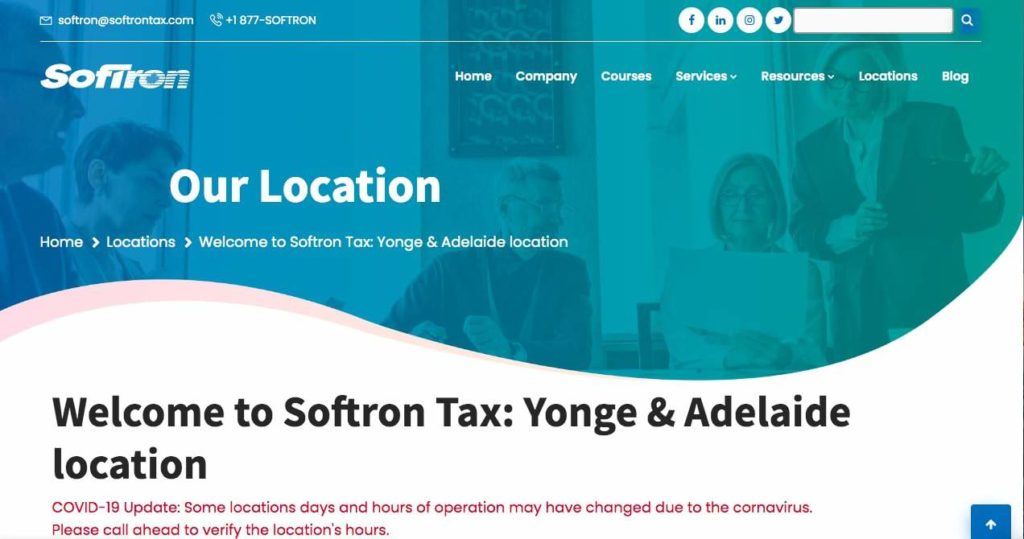 Test
Info
Services

Personal Tax Services

Corporate Tax Services

Estate Planning and Death Taxes

US and Overseas Taxes

Taxes on Sale of Property

Website
https://www.softrontax.com/
Address
127 Yonge St Unit 201, Toronto, ON M5C 1W4, Canada
Contact details
416-943-9333
Operating hours

Monday: Closed

Tuesday: 10 am - 6 pm

Wednesday: Closed

Thursday: 10 am- 6 pm

Friday- Sunday: Closed
| | |
| --- | --- |
| Criteria | Rating |
| Use of Software | ★★★★★ (5/5) |
| Range of Services | ★★★★★ (5/5) |
| Service Fees | ★★★★☆ (4/5) |
| Client Servicing | ★★★★★ (5/5) |
For the past 40 years, Softron Tax has been helping Canadians with their personal, corporate and Trust Tax Returns. Its team of tax experts is quick and accurate, which clients appreciate as working on their tax return will not take too much of their time.
What is worth mentioning is the online convenience in filing taxes when clients download the Softron application. This allows clients to upload their documents and it will be analysed to find tax deductions and credits and Softron will file your tax return.
Added to this, clients can also the TaxTron, a personal tax program that is easy to use with a video guide. You can use this software to fill up tax forms and file them on your own in just 10 minutes.
If you are in a hurry, do note that Softron has 7 offices around Toronto manned by friendly staff who can do fast and efficient tax service.
What is commendable also is the company's commitment to providing accurate tax filing through its safe system with double-checking errors in tax returns. It's also good to know that they will reimburse clients for any charges incurred due to their own errors.
We also like its Fast Cash Refund calculator on the website, which calculates the instant refund on tax returns that clients can already use instead of waiting for a refund from the government.
It also runs a blog that provides updates on changes in tax rules, processes, and other tax-related issues. Tax courses are also offered to further help clients understand tax filing.
While some find them pricier than other providers, clients still appreciate the staff's excellent service as they bear most of the hard work for the customer.
40 years of tax-related experience
Different tax filing options
Uses tax software to file personal tax
Blog providing tax news and updates 
Offers tax courses
Quick and accurate tax experts
Refunds clients for errors the firm makes in tax filing
Offers instant cash refunds on tax returns
Difficult to schedule an appointment during busy tax season
Fee is pricier than other filing agents
Customer Reviews
Helpful with clients not familiar with filing taxes
"This was my first time filing my taxes with the company, Sumy Lima made the whole process smooth. She is very polite, professional, and knowledgeable in what she does. I will definitely recommend softron tax to anyone looking for assistance in filing their taxes." – Francisco
Smooth tax filing process
"Sumy Lima is an excellent professional. This was my first time filing my taxes and I think it was really stressful for me because I did not have any experience with this process. However, Sumy made the whole process smooth. She is very friendly and well knowledgeable in what she does. I am strongly recommend Softron tax to anyone looking for assistance in filling their taxes and especially that ask for Sumy Lima tax services." – Maria
2. Harbourfront Tax & Bookkeeping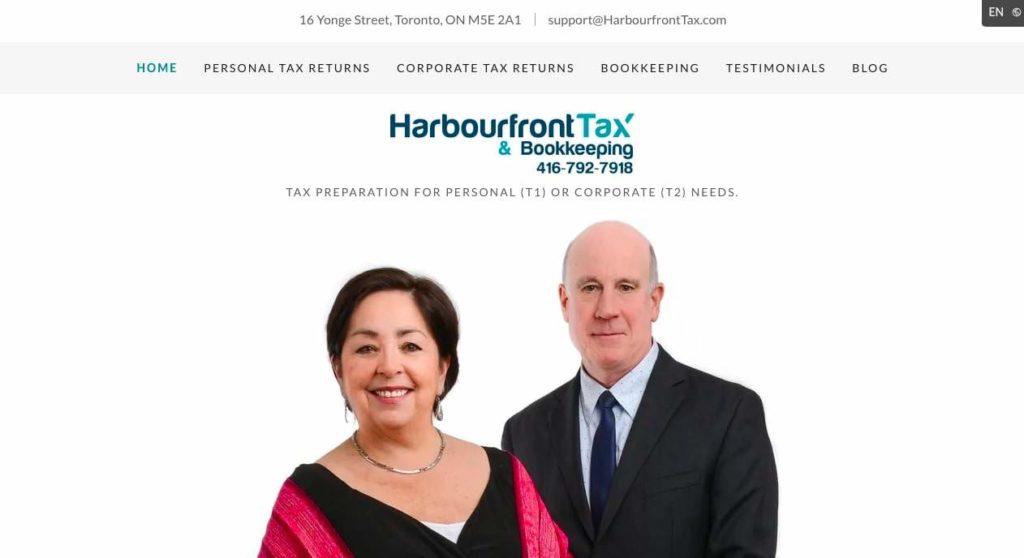 Test
Info
Services

Personal Tax Returns

Corporate Tax Returns

Bookkeeping

Website
https://harbourfronttax.com/
Address
16 Yonge Street, Toronto, ON M5E 2A1
Contact details
416-792-7918
Operating hours
Monday - Friday: 9 am - 5 pm

Saturday - Sunday: Closed
| | |
| --- | --- |
| Criteria | Rating |
| Use of Software | ★★★★☆ (4/5) |
| Range of Services | ★★★★★ (5/5) |
| Service Fees | ★★★★★ (5/5) |
| Client Servicing | ★★★★☆ (4/5) |
Harbourfront Tax & Bookkeeping is run by a pair of experts in personal tax preparations and bookkeeping needs. Their knowledge and experiences in the tax process are much appreciated by clients because they are thorough and make the process easy.
What we appreciate also is the way the clients feel confident they are getting the support needed. Not only are they prompt in their responses but they also explain concepts in an easy-to-understand manner.
We hear that they also make tax filing for clients less stressful as they put all the supporting documents in order earlier than the deadline.
Its fixed pricing model also is a welcome help for clients as they are not charged based on the number of slips submitted or by the number of hours of service rendered.
With the use of Intuit Quickbooks, the accountants help clients set up their accounting and bookkeeping needs and do monthly tax work for them. Small business owners have appreciated this as it allows them to just concentrate on their day-to-day operations.
They may not have added services like a blog, but clients still found the staff helpful in ensuring there are no delays in tax filing. In addition, clients have gained a greater understanding of the tax documentation because of the calm and reassuring way they discuss the details.
We hear though that sometimes the team can be unprofessional with their response to clients. But, overall, clients have said it was a pleasure to work with Harbourfront as they do an amazing job in handling tax concerns of corporate and personal clients.
Fixed price model 
Transparency in service fees
Tax returns are filed accurately for erratic income streams
Quick response to queries
Assist in setting up bookkeeping software service 
Small team
Some concerns on unprofessionalism
Customer Reviews
Responsive and thorough service
"My wife and I were blown away by the service that Mariette provided for our tax filing. She was responsive, thorough and made our life easy! Highly recommend to friends, family and clients.
Thank you Mariette and Michael for all that you do!!" – Nick
Exception experience
"Mariette and Michael have been handling my taxes for three years, and every time the experience is exceptional. They are friendly, attentive and very knowledgable. As an actor, my tax process differs year to year, and it involves aspects that aren't common – Mariette always knows exactly what to do. I highly recommend Harbourfront Tax & Bookkeeping." – Bec
3. St. Lawrence Tax & Accounting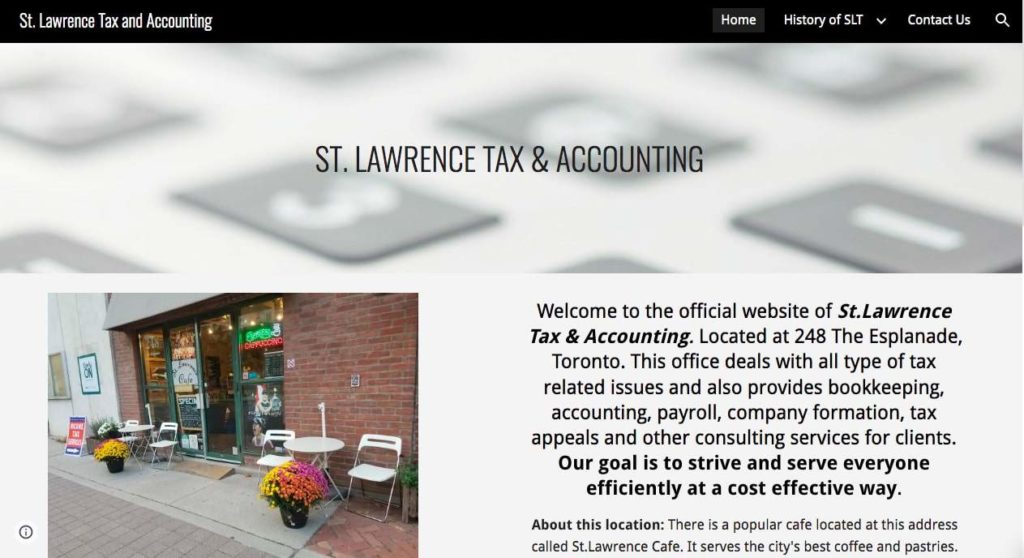 Test
Info
Services

Tax Related Issues

Bookkeeping

Accounting

Payroll

Company Formation

Tax Appeals

Website
https://sites.google.com/view/stlawrencetaxtoronto/home
Address
248 The Esplanade, Toronto, ON M5A 4J6
Contact details
647-393-3535
Operating hours
Monday - Sunday: 10 am - 6 pm
| | |
| --- | --- |
| Criteria | Rating |
| Use of Software | ★★★★☆ (4/5) |
| Range of Services | ★★★★★ (5/5) |
| Service Fees | ★★★★★ (5/5) |
| Client Servicing | ★★★★★ (5/5) |
St. Lawrence Tax & Accounting was recognised in 2021 as one of the most popular accounting and tax services in Toronto.
Through its 15 years of experience, St. Lawrence clients continue to have their filing of tax returns done with this firm because of its attention to detail and affordable service. Clients' loyalty is also proof of the trustworthiness and professionalism of the owner, Masudur Laksar.

Clients who have found this firm in discussion groups online are thankful they contracted the service of Masudur. He has done a great job in resolving complicated tax issues with his knowledge and expertise.
We have learned also that dealing with Masudur, clients feel confident and comfortable as he is easy to reach and gives good advice.
Furthermore, Masudur provides the skills and reliability in delivering services compared to big tax return companies. A client's lackluster experience with a previous accountant was redeemed by Masadur´s being able to resolve the issues efficiently.
Clients have been relieved that Masadur is prompt in answering the client's concerns. His accommodation of last-minute clients is noteworthy as he was able to clearly explain assessments and paid the necessary tax on time.
As the years go by, his service has not deteriorated. He continues to provide explanations every step of the way and makes it easy for clients to do their tax returns filing.
15 years of work experience
Affordable fees
Trustworthy and professional owner
Owner is easy to reach and gives good advice
Familiarity with complex tax issues
Reliable in delivering services vs. big tax return companies
Private practice –  may be able to take on limited clients only
Customer Reviews
Professional and knowledgeable
"Great service. I had fell behind quite a bit on my taxes and was worried that I would owe a significant amount. They made me feel at ease and I ended up with a refund rather than owing. Was very pleased with the professionalism and knowledge I received. Will definately use their services again." – Jamie
Worth every penny
"Masudur is your man. He really knows what he's doing. I did my corporate taxes with him this year. Super humble, considerate, and takes his time to understand the ins and outs of your gross income, transactions, expenses etc.. For someone as oblivious as I am about corporate taxes (or any form of tax for that matter…), he guided me through it, worth every penny really. I'll be doing my personal and corporate taxes with him moving forward." – Amin
4. GRAM Tax & Accounting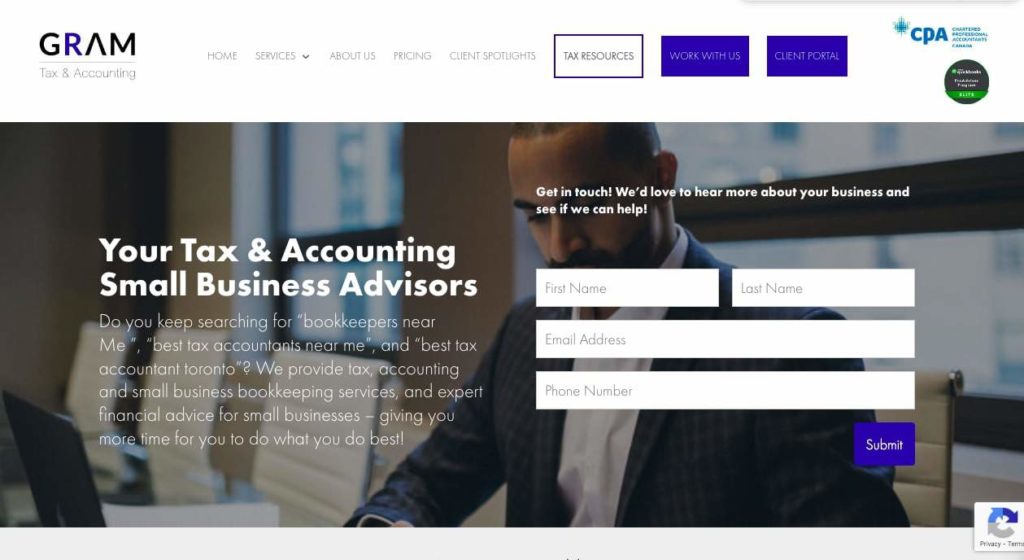 Test
Info
Services

Bookkeeping

Corporate Accounting and Tax Returns

Accounting Systems Setup

Payroll Setup and Support

Website
https://gramtaxaccounting.com/
Address
330 Bay St. Suite 1400, Toronto, ON M5H 2S8
Contact details
416-786-6500
Operating hours

Monday - Friday: 9 am - 7 pm

Saturday: 11 am - 4 pm

Sunday: Closed
| | |
| --- | --- |
| Criteria | Rating |
| Use of Software | ★★★★★ (5/5) |
| Range of Services | ★★★★★ (5/5) |
| Service Fees | ★★★★★ (5/5) |
| Client Servicing | ★★★★☆ (4/5) |
GRAM Tax & Accounting focuses on helping small business owners with their accounting and bookkeeping needs. Its Cloud-based bookkeeping service has especially made it convenient for clients to do this on their own and anywhere they are.
Clients who have contacted the services of GRAM have witnessed the dedication of its team. They are always ready to answer clients' questions and the support given is year-round.
Coupled with this, its level of expertise makes them stand out among the small firms. They give sound advice on tax as well as financial planning which are helpful especially to entrepreneurs who are not familiar with this side of running a business.
To take off the worry from clients on the cost of Grams, services, it offers fixed pricing.
Clients who find the tax process challenging will appreciate that the staff takes their time in breaking down and explaining the ins and outs of taxation. The team seems to always figure out even the last-minute details.
Furthermore, we are glad that the team goes out of their way to help new entrepreneurs in the growing pains of setting up their businesses.
Gram´s team is available to give support to any stage of your business. They offer business consultations and train clients on how to use its accounting and bookkeeping system.
In addition, clients get customized reports about their businesses. We appreciate this as it has helped clients to make effective business decisions because their books are in order and they are on top of their finances.
It also offers cloud bookkeeping services to clients who want to be hands-on. Gram provides the training and supports these clients need and they will still file tax returns.
Caters to small businesses
Initial meeting can be booked on the website
Blog on tax-related information
Offers cloud bookkeeping service
Fixed service fees
Customised services 
Customer Reviews
Reliable and responsive CPA
"I've been working with Rukie and Gram LLP for almost 2 years now and I have nothing but good things to say about my experience. I've had a few different accountants in the past, and I was always very frustrated by their lack of responsiveness and communication. I always felt I had to chase my past accountants down to find out what's going on with my taxes. Working with Rukie has been an absolute pleasure. He has always been very professional, responsive, and reliable. As a small business owner I have enough on my plate, so it's important for me to have a reliable and responsive CPA." – Kash
Efficient in getting tax refunds
"Gram Tax & Accounting were efficient, personable and asked all the right questions about my personal situation to maximize my tax refund. I moved during the tax year and had no idea that my expenses were deductible – they got me a much bigger return than I expected. I highly recommend them!!" – Frances
5. Ontario Tax Services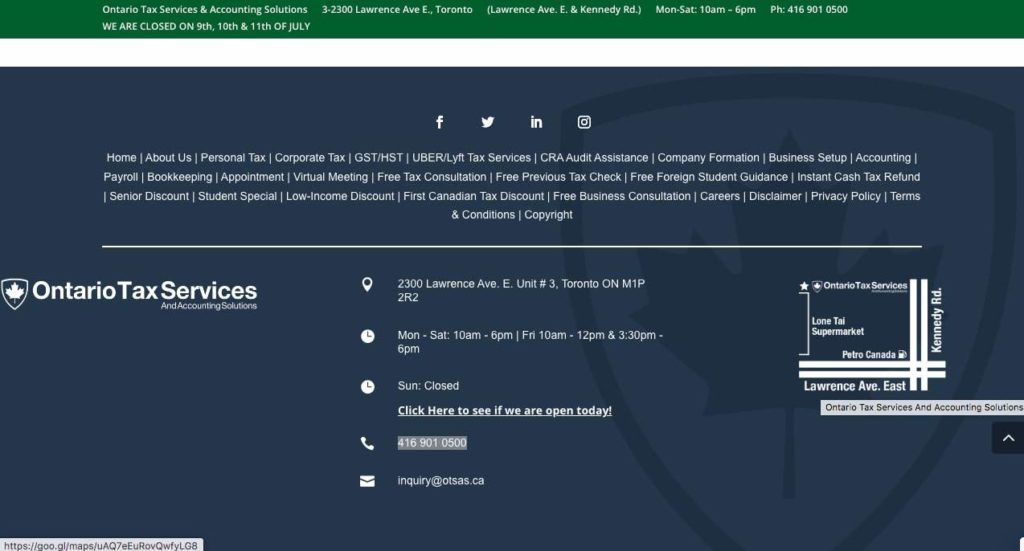 Test
Info
Services

Personal Tax

Corporate Tax

UBER-Lyft Tax

GST-HST

CRA Audit Assistance

Accounting

Bookkeeping

Payroll

Company Formation

Business Setup

Website
https://ontariotaxaccounting.ca/
Address
2300 Lawrence Ave E #3, Toronto, ON M1P 2R
Contact details
416-901-0500
Operating hours

Monday - Thursday: 10 am - 6 pm

Friday: 10 am - 12:00 pm / 3:30 pm - 6 pm

Saturday: 10 am - 6 pm

Sunday: Closed
| | |
| --- | --- |
| Criteria | Rating |
| Use of Software | ★★★★☆ (4/5) |
| Range of Services | ★★★★★ (5/5) |
| Service Fees | ★★★★☆ (4/5) |
| Client Servicing | ★★★★★ (5/5) |
Ontario Tax Services caters to individuals' and businesses' accounting and tax filing requirements. From simple to complex tax issues, this firm can handle them in an efficient and professional manner.
Amazing customer service is what has made clients continue taking its service for years. For one, clients were surprised to find the staff was very efficient and quick as it took less than an hour to file for a handful of people.
For individuals having questions about taxation, they may avail themselves of the 15-minute free tax consultation.
While for businesses, it offers a free consultation for 30 minutes. And for small businesses, they will be your guide as they can do one-on-one coaching on running your day-to-day operations.
There were instances where clients are entitled to a cash refund but cannot wait for when the government to give it. If you file your taxes through this firm, it can help you get an instant cash refund.
Furthermore, we also found out that senior citizens and full-time students can avail of discounts on basic tax preparations and filing.
The staff also are very helpful with clients' concerns on tax filing. Clients are thankful for they are generous in giving advice and making them feel at ease when tax preparations become stressful.
Clients appreciate also how Ontario´s price on simple tax preparation and filing services is $49 for one slip and charges $5 for each additional slip. This is reasonable compared to other firms where clients had to pay 10 times for the same service.
Also, the company provides online meetings via ZOOM for filing tax returns within the comfort of your home. This is a welcome convenience and proof of how they think of ways to give more personalised service.
Can handle different levels of accounting and tax complexities
Zoom-ready for remote filing of taxes
Reasonable pricing 
Free consultations
Limited amount of time for free consultations
Charges additional $5 for each tax slip added to filing
Customer Reviews
Excellent customer service
"I highly recommended anybody looking to do their taxes to give this place a call. Extremely polite and professional and they make you feel at ease with what can be a very stressfully process. This is the only place I will do my taxes from now on and YOU should too!! Thanks guys!!" – Rodrigue
Expert and professional
"Excellent expert relating to all taxes services in Canada under 1 roof with highly qualified IT professionals. I really thank you and appreciate Mr. Asim for helping me ups and downs of my Canadian taxes submission in this pandemic. I must recommend to all of my colleagues for appreciating your consultancy. Regards. Dr. Muhammad" – PakCan
FAQs on Tax Return
---
That wraps it up for our review of the best tax return services in Toronto! Hopefully, you've found a provider to try for your next tax return.
If you're interested in our takes on other legal services, check out our reviews on the best notary public in Toronto and the top corporate lawyers in Toronto.