Afraid of coming to Downtown Toronto? You Shouldn't be and here are the reasons why!
Whenever or wherever we travel, safety is always our number one priority. Toronto is generally regarded as a safe city but some people think that areas downtown are dangerous.
For those of us who were born and bred here, this belief is simply not true, and to prove it we've curated a list of reasons on why downtown Toronto is safe. So make sure to read on to cast away all those doubts!
Is Downtown Toronto safe at night?
In general, downtown is safer than most first class districts around the world, with Toronto ranking 2nd safest city in the world back in 2021.
At night downtown is generally a safe place, in fact many of the safest neighborhoods can be found here! The city has a low crime severity (56.7%) but even with that, there are very few sketchy places downtown to avoid like Dundas Streets.
With Toronto's low crime rate the city is considered one of the safest cities in the world, with pickpocketing and scams as the most common crimes. Regardless, strong police presence, regular patrols, and brightly lit streets ensure downtown is safe even at night.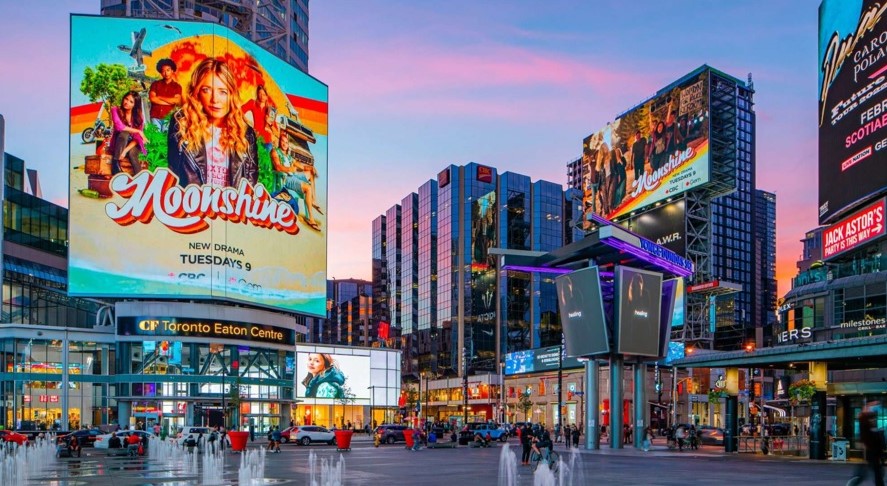 Safest Places in Downtown Toronto
| City | Crime Severity Index | Population |
| --- | --- | --- |
| Québec City | 48.6 | 733,156 |
| Ottawa | 50.2 | 1,017,449 |
| Trois-Rivières | 52.3 | 128,057 |
| Toronto | 56.7 | 2,794,396 |
| Montréal | 72 | 1,762,949 |
| Abbotsford | 72.6 | 132,300 |
| Calgary | 74.4 | 1,305,550 |
Toronto sits in the middle of the safest cities in the country with a crime severity of 56.7%. That says a lot with Canada's reputation as one of the safest countries around the world!
In comparison to Ottawa and Québec City, Toronto's crime rate is much higher but is also home to a denser population. Likewise, despite it being the densest city, the crime severity is still much lower than less populated cities like Abbotsford and Montréal.
If you want to explore downtown, the safest neighborhoods are Yorkville, The Annex, Rosedale, West Queen West, Chinatown, and the Harbourfront are your best bet.
Yorkville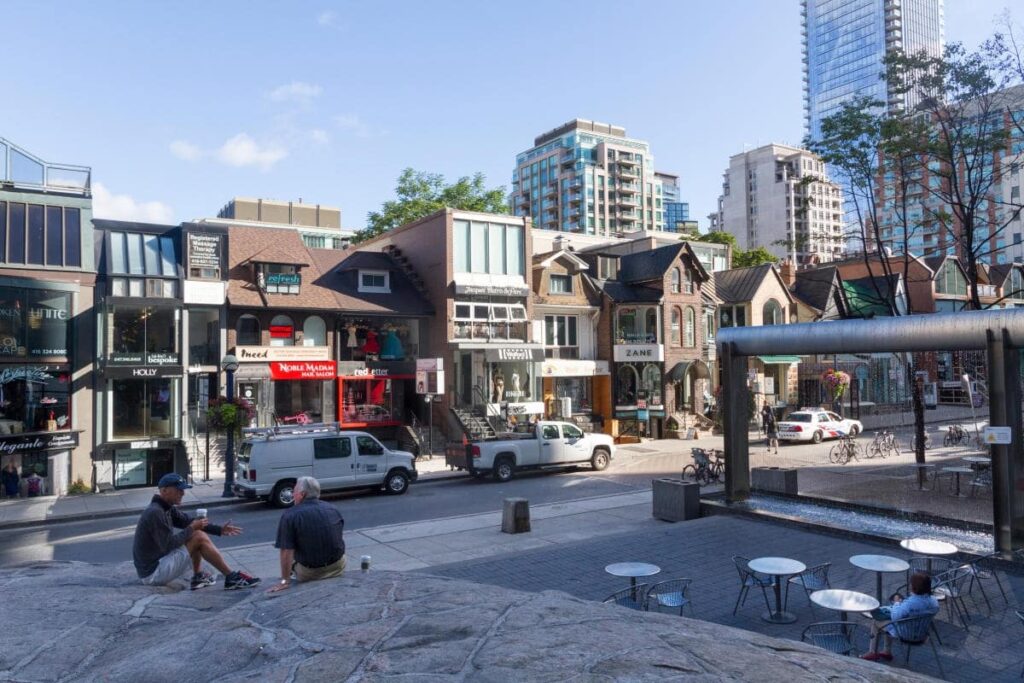 Postal code: M5R 3L2
One of the best places for strolling, Yorkville is a high-end district filled with malls, restaurants, and cultural attractions like Gardiner Museum! It's a popular spot downtown – and how can't it be with the Victorian architecture sprawled in the district!
Considering the upscale reputation of Yorkville, you can expect to see really strict security measures and officers on patrol throughout the day. With all the security around it's a great way to ensure your newly bought gucci bag doesn't get stolen.
The Annex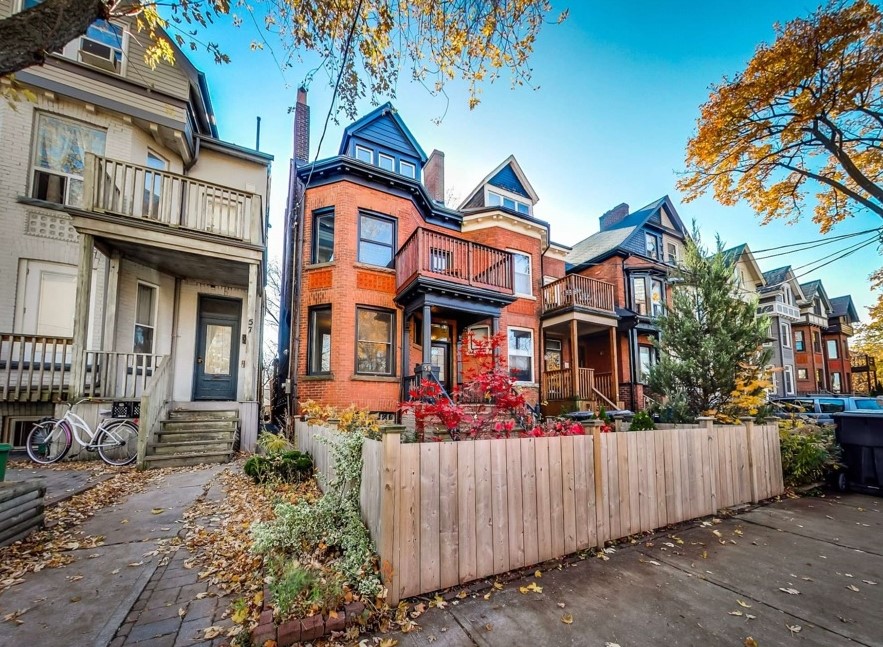 Postal code: M5S 2M7
If you're a young adult looking for a safe place for some cheap eats with your pals, then the annex might be up your alley. Located near the University of Toronto – an architectural marvel – the Annex is a neighborhood filled with students and hip shops!
With emphasis on having a strong sense of community, the annex and its surrounding areas are low crime rate areas. The annex also benefits from its close proximity to the University of Toronto, with the university's security and local police on patrol 24/7.
Rosedale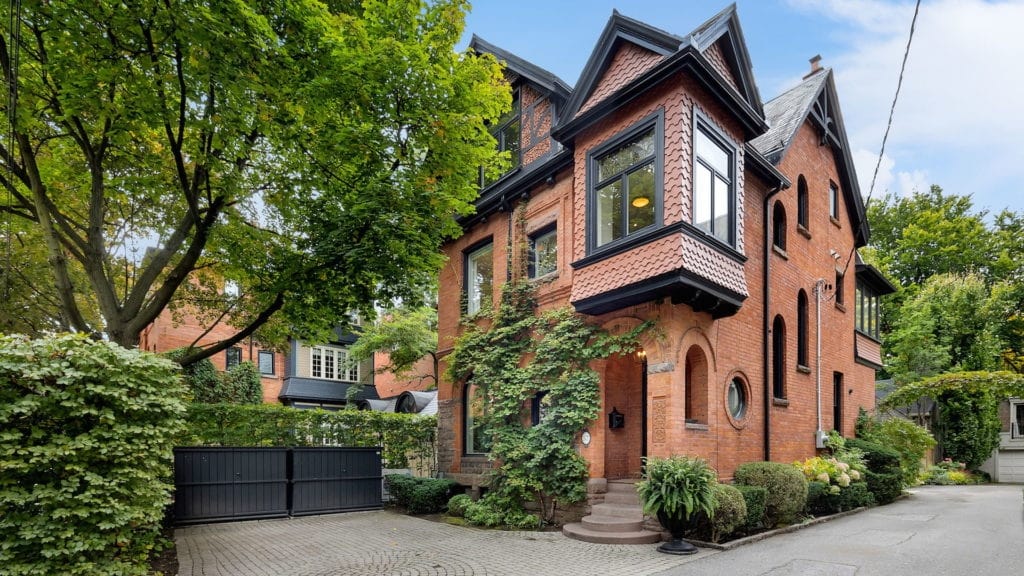 Postal code: M4W 0A2
Rosedale is perhaps one of the most upscale and vibrant neighborhoods downtown. The place is well known for its tree lined streets which make the place aesthetic – great for some scenic photos – and its overall reputation as a safe place.
The Rosedale-Moore Park Association is a community that works to ensure that the safety measures of the neighborhood are all up to par. Moreover, the place benefits from amenities like better security systems due to the upscale status of the area!
West Queen West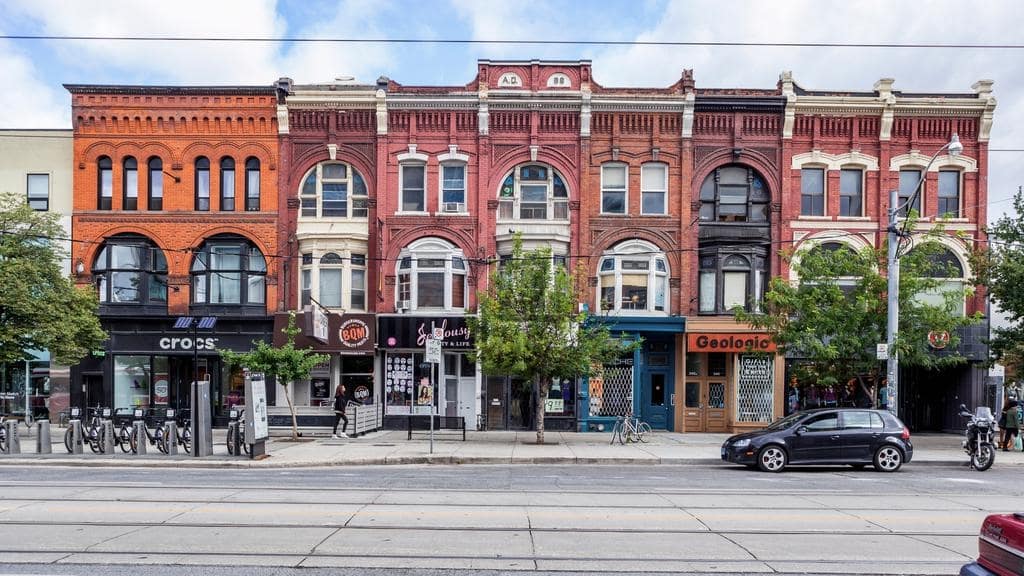 Postal code: M5V 1Z4
One of the coolest neighborhoods in the city according to locals and tourists alike. West Queen West is a vibrant neighborhood filled with trendy eats, boutiques, and art spaces – best of all it's regarded as one of the safest places downtown!
As one of the most inviting neighborhoods downtown, the place benefits from high volumes of tourists on a daily basis, which deters lots of crimes. And like most places in Toronto, this bustling neighborhood is well monitored to ensure safety at all times.
Chinatown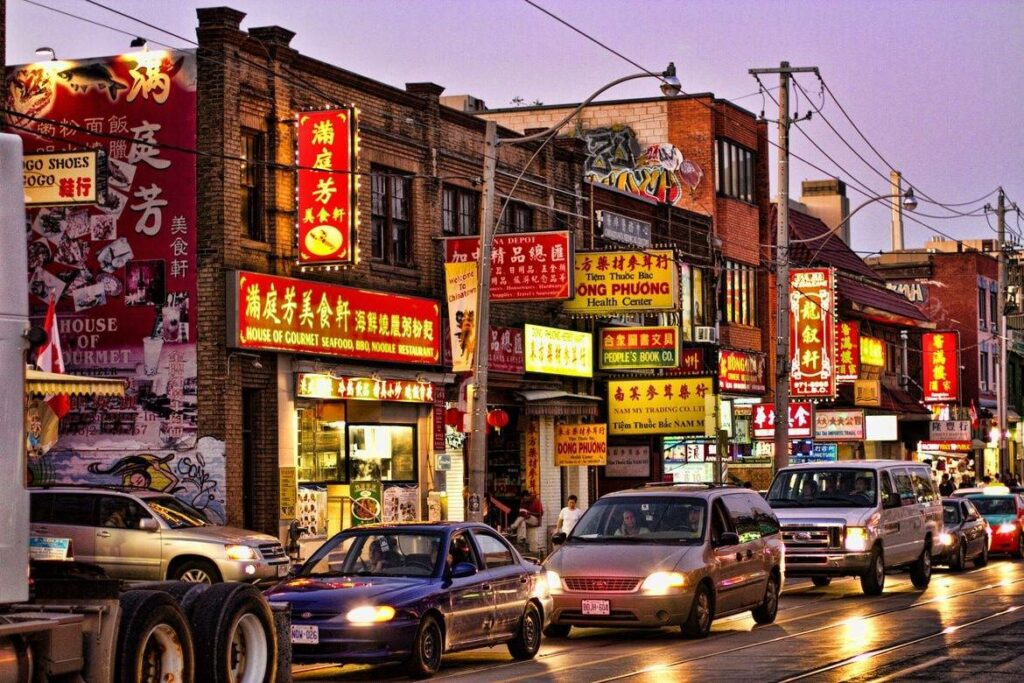 Postal code: M5T 0A8
Chinatown in Toronto is one of the largest in North America, as a hotspot for tourists, expect a bunch of patrols in the area*. There are occasional monk scammers to be aware of, but these guys are rare since security usually deals with them quickly.
Chinatown is a heaven for any food lover and art enthusiast. It's an incredibly busy area filled with stalls that serve all types of Asian Cuisine and is one of the safest places for tourists and locals alike.
Harbourfront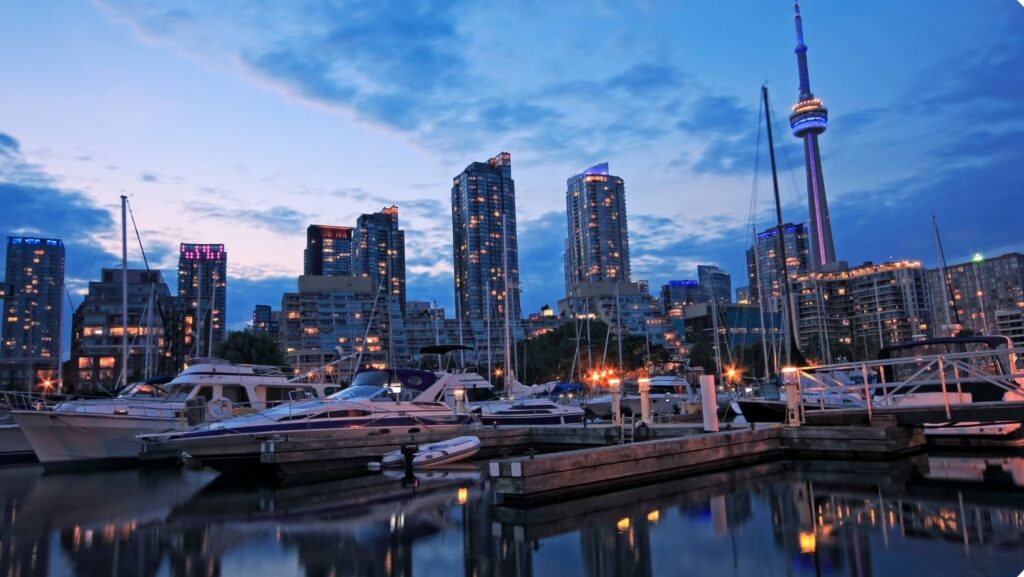 Postal code: M5J 0A3
If you want to get a feel for what Toronto is all about, we highly recommend visiting the Harbourfront.It's regarded by many locals and tourists as the best place to relax and walk while enjoying the scenic views of both lake Ontario and the skyline.
As one of the most densely packed places in the city, you can expect lots of police officers patrolling and helping lost tourists find their way. The Harbourfront is also a place where you can find state of the art surveillance equipment and lighting!
Places to Avoid in Toronto
Toronto is a place of all types of people and characters, you never know just who you might bump into or which side of town you might end up in.
Although the city is safe, you may want to steer clear of sketchy areas like: Regent Park, Bay Street Corridor, and Moss Park.
Regent Park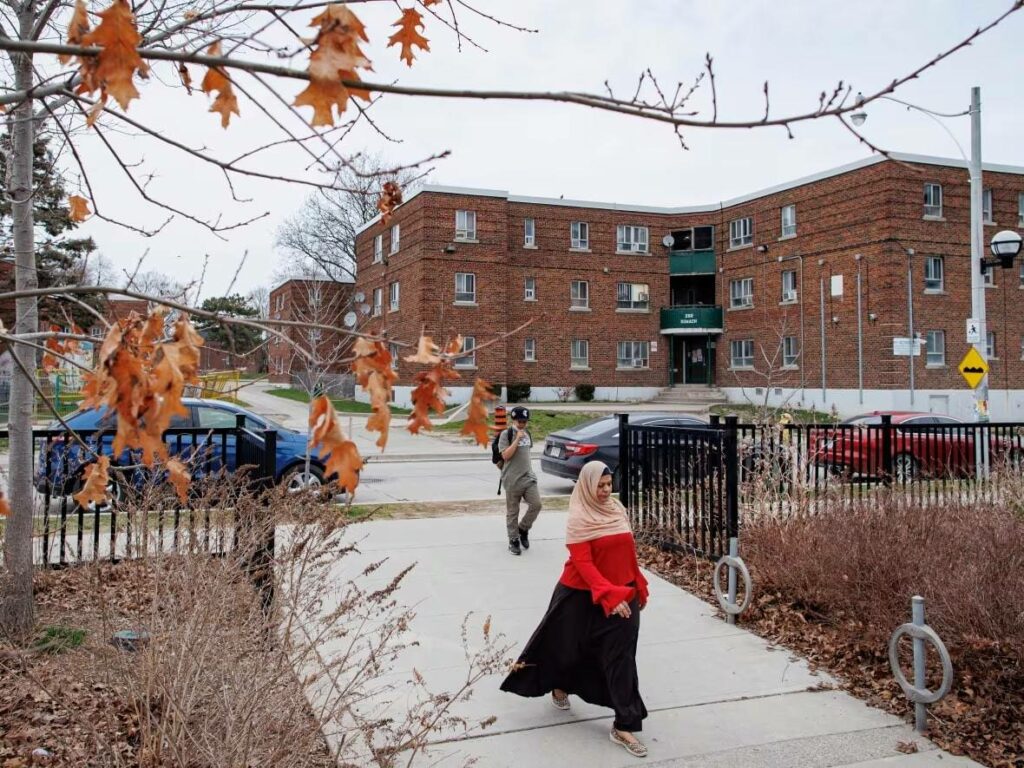 Postal code: M5A 0A1
Regent Park is regarded as one of the most dangerous areas downtown. The area is known for its poor housing facilities and rampant gang violence that happens on a daily basis.
As one of the city's most dangerous areas, crimes like burglary, drug use, sexual assault, and violence are particularly common in this area. So try to avoid this place if you can.
Bay Street Corridor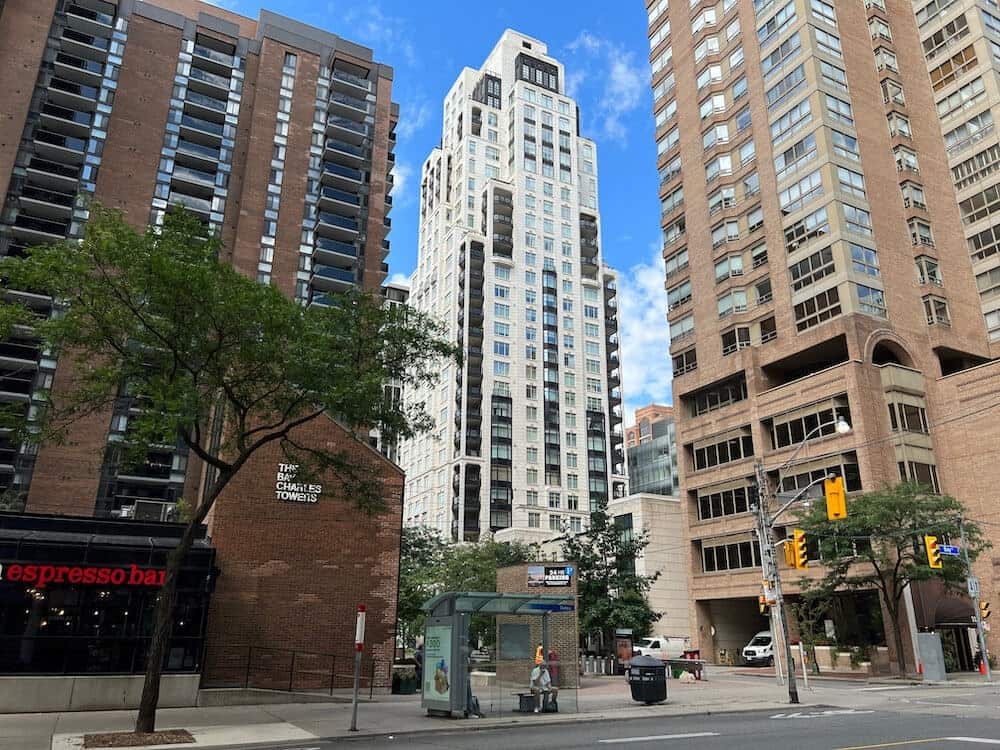 Postal code: M5L 1E9
Although Bay Street is surrounded by high-rise buildings and restaurants, the neighbourhood known as Bay Street Corridor is infamous for having high rates of burglary and petty crimes.
Moreover, Bay Street Corridor is quite a large neighbourhood with lots of different sections where the crime rate varies depending on the area. That being said, it's best to steer clear of this area if you can.
Moss Park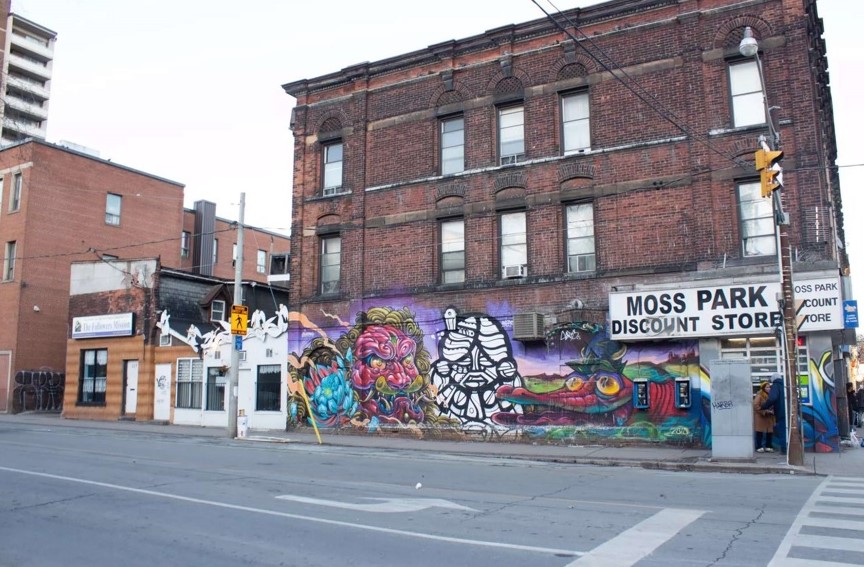 Postal code: M5A 2R6
Located south of Dundas street, Moss Park has gained a reputation as a place riddled with crime and violence. Moss Park is a low-income area downtown where you can find lots of homeless people and gangs hanging around committing crimes regularly.
Tips for staying safe in Toronto
Although downtown is generally safe, it never hurts to be extra cautious when exploring the bustling streets of Queen City. With that in mind, here are a couple tips to remember when exploring downtown:
Avoid Sketchy Areas
Be Wary and Alert of Your Surroundings
Keep Your Belongings Close
Avoid Dark and Secluded Alleys
The areas where crime usually happens are low-income areas which are usually under-developed and sketchy so make sure to be vigilant if you come around these places.