The 5 Best Amusement Parks in Toronto
Kids love to have fun. They take pleasure in outdoor activities and leisure play. If you're eyeing to take fun to a whole new level, one of the best options is to visit an amusement park.
Here is a list of the best amusement parks you can find in Toronto. These spots all have attractions, rides, and activities that kids and young at hearts will surely enjoy. Have fun!
The best amusement parks in Toronto
The following factors were used to examine each of the amusement parks in this list:
How much do amusement park admissions cost in Toronto?
Before we reveal the top amusement parks on our list, we want to provide you with a quick breakdown of how much amusement park admissions cost in Toronto.
Please note that these rates are average prices and are subject to change depending on the places you wish to visit. We recommend that you contact the parks for specific prices and available discounts.
| Package Type | Cost |
| --- | --- |
| All-day pass | $25 - $50 |
| Season pass | $70 - $85 |
| Family pass | $100 and up |
| Membership  | $25 - $40 per month |
1. Centreville Amusement Park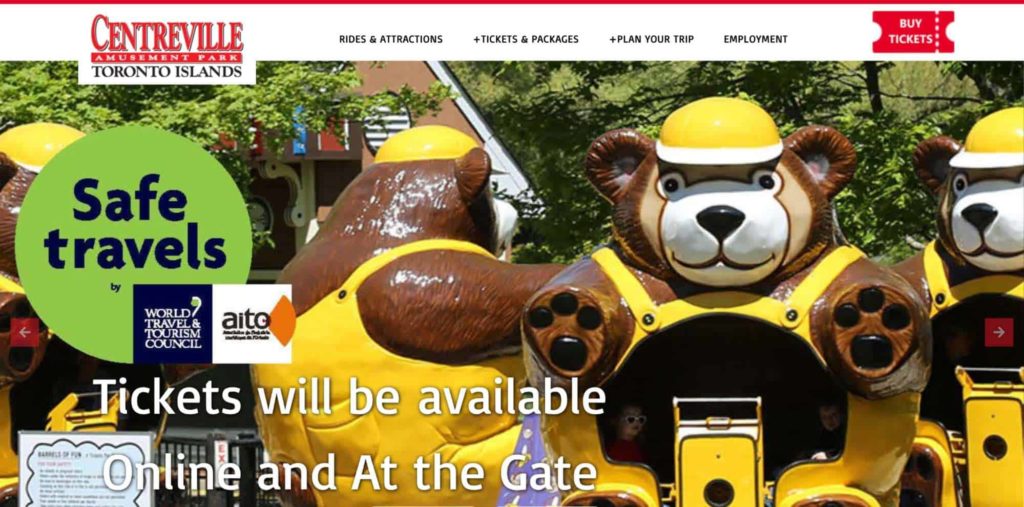 Test
Info
RIDES AND ATTRACTIONS
Bumble Bees, Beasley Bear Ride, Rockin' Ferry, Scrambler, Bumper Cars, Toronto Island Mine Coaster, Log Flume Ride, Bumper Boats, Antique Cars, Leapin Lily Pad, Ferris Wheel, Pony Express, Haunted Barrel Works, Twirling Teacups, Antique Carousel, Swan Ride, Fire Engines, Touring Cars, Kiddie Boat, Sky Ride
WEBSITE
https://www.centreisland.ca/centreville-amusement-park
ADDRESS
9 Queens Quay W, Toronto, Ontario M5J 2H3
OFFICE ADDRESS
84 Advance Road Toronto, Ontario M8Z 2T7
CONTACT DETAILS
(416) 203 0405 (Centreville inquiries)

(416) 234 2345 (office number)

OPERATING HOURS
Monday to Friday 10:00 AM to 5:00 PM

Saturday to Sunday 10:00 AM to 8:00 PM
| | |
| --- | --- |
| ATTRACTIONS | ★★★★★ |
| ADMISSION | ★★★★☆ |
| CONVENIENCE | ★★★★☆ |
| SAFETY AND CLEANLINESS | ★★★★★ |
Probably the most prominent amusement park in Toronto is the Centreville Amusement Park, which has been around since 1967. The park now holds a total of 30 rides and attractions and boasts of 14 quality food stalls.
What makes this park trustworthy is how its rides are safe and made for kids ages 3 and up. Guidelines are also stated per ride such as age limit, whether or not a companion is required, if the ride is safe for pregnant women, and more.
Some of the best rides in Centreville are the bumper boats, antique carousel, and twirling tea cups. These 3 come with all-day pass tickets, while some rides cost around 5 tickets each.
We do recommend that you visit this place early as a few people say that you may not be able to enjoy the full experience during late afternoons. Some complain that rides are no longer available as early as 6:00 PM even if Centreville's closing time is 7:00 PM.
Note that it can be crowded as well, so it would be better to plan your day ahead.
Given that most rides are kid-friendly, Centreville is not necessarily a recommendable place for teens and adults. This amusement park does not have those challenging rides or attractions for groups of friends who are looking for a thrill or excitement.
However, the park has various seats scattered around its 600 acres of land so adults can simply enjoy the view. Far Enough Farm is also nearby, where 40 species of animals are housed and where admission is free.
There is also a quick ferry ride going to the park that has views of the famous Toronto skyline.
Another thing that makes the park more appealing are the 14 themed food stalls which follow the shapes, designs, and/or color palettes of their products. Having these food stalls gives Centreville plus points in terms of convenience as riding can get tiring and food and beverages definitely come in handy.
Centreville Park has been around for decades and is arguably the number one place for kids in Toronto. It isn't a perfect place but it is definitely one of the places to be if you're looking for fun.
Has been around for more than 50 years 
30 rides and attractions to choose from
Has a ferry ride with views of the Toronto skyline
With a nearby farm that offers free admission
Some rides are closed at least an hour before end of the day
Some staff and crew are rude (according to some reviews)
Rides and food can be expensive (according to a few reviews)
Customer Reviews
I cannot wait to go back and explore more of the island
What a great little trip! The rides are perfect for children ages 3 to 12. We caught the first ferry and made it in time for the opening of the amusement park. There were little to no lines. As the day goes on, and more people arrive on the island the lines become quite long. Go early!! We were there 6 hours and the kids could have stayed longer. Way more laid back atmosphere than Canada's Wonderland and lots of seating areas.
Beautiful area. I cannot wait to go back and explore more of the island. — Lola B, via Google
Great place for the entire family
If you wanna be a child again for a day check out Centerville, great place for the entire family, with plenty of things to do such as rides, farm, splash pad, and the best part is you have to take a ferry to get there, Fun Fun Fun in the sun! 😎☀️ — Rachael, via Google
2. Fantasy Fair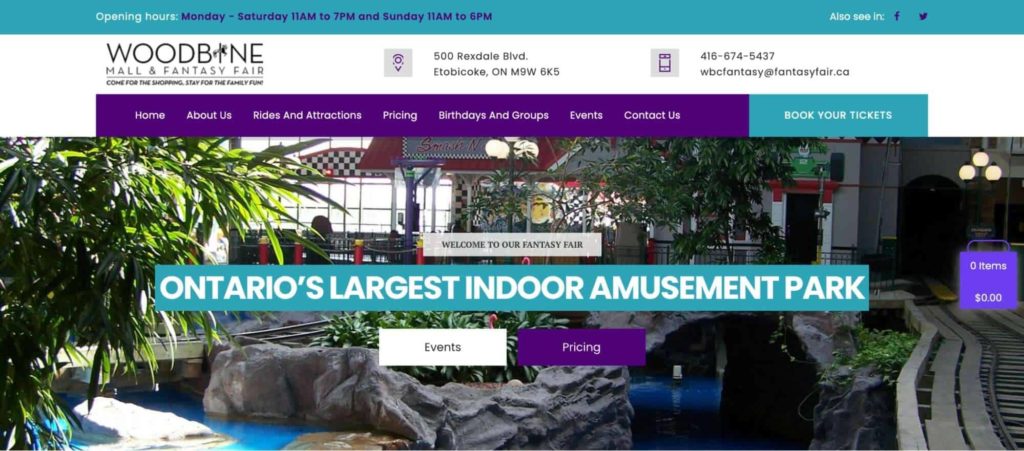 Test
Info
RIDES AND ATTRACTIONS
Fantasy Fair Express, Antique Carousel, Dreamer's Play Village (Soft Play Area), Crystal Kaleidoscope Ferris Wheel, Ships Ahoy (Spinning Cups), Fantasy Flight (Balloon Ride), Airforce, Rock n' Climb (Climbing Wall), Drop & Hop, XD Simulator, Smash & Dash (Bumper Cars), Spinners, Midway Games
WEBSITE
https://fantasyfair.ca/
ADDRESS
500 Rexdale Blvd. Etobicoke, Ontario M9W 6K5
CONTACT DETAILS
(416) 674 KIDS (5437)

(416) 674 8684

OPERATING HOURS
Monday - Saturday 11:00 AM to 7:00 PM

Sunday 11:00 AM to 6:00 PM
| | |
| --- | --- |
| ATTRACTIONS | ★★★★☆ |
| ADMISSION | ★★★★☆ |
| CONVENIENCE | ★★★★☆ |
| SAFETY AND CLEANLINESS | ★★★★★ |
Fantasy Fair takes pride in being Ontario's largest indoor park. It is located inside Woodbine Shopping Centre and was established in 1985.
An XD simulator, soft play area, and climbing wall makes this indoor park interesting for most. Along with these are 9 more full-sized rides and attractions that are open to kids and adults alike.
Of course, a big advantage of this park is that it can accommodate customers even during rainy days. It also becomes a great choice for families who wish to enjoy rides and games without worrying about outdoor heat.
Another advantage is that it has become a recommended space for birthday parties, educational events, and other group activities. Their party packages automatically come with complimentary riding tickets, invitations, unlimited ride passes, and a party room with tables, a microwave, and small fridge.

We like how their party package also offers the option for a birthday coordinator and how they have 5 party rooms to simultaneously host gatherings. However, food and utensils are not included as part of the package, so guests would have to bring their own.
It is also important to note that this place is still different from outdoor parks, so its size and number of rides can still be a disadvantage. Many kids and parents may opt for the large amusement parks with plenty of rides most of the time.
The place is open daily for inquiries, bookings, and customer service. Tickets can also be booked through their website, with both regular rates and discounted rates available as of writing.
While the place has its own set of flaws, it is one established place to enjoy. Fantasy Fair's data says that they have served around 8 million guests since their opening and that actually seems easy to believe.
Full sized rides and attractions for kids and adults 
Can be visited even during rainy days  
Has 5 party rooms 
More than 30 years experience 
Only 12 rides and attractions
Can be a little tight when crowded 
Bring your own food and utensils during parties
Customer Reviews
Great way to spend an afternoon with the kids indoor
So much to see .. A great way to spend an afternoon with the kids indoor .. Rides galore .. Animated life sized dinosaurs and animals (monkeys, bear, tiger, pandas and more) .. Loved it 😁 — Colette Vallieres, via Google
Rides were nice
Loved it. We all had fun. Theater was awesome. Rides were nice. Overall good place to take kids and go with family… — Sadaf Hina, via Google
3. Sky Zone Trampoline Park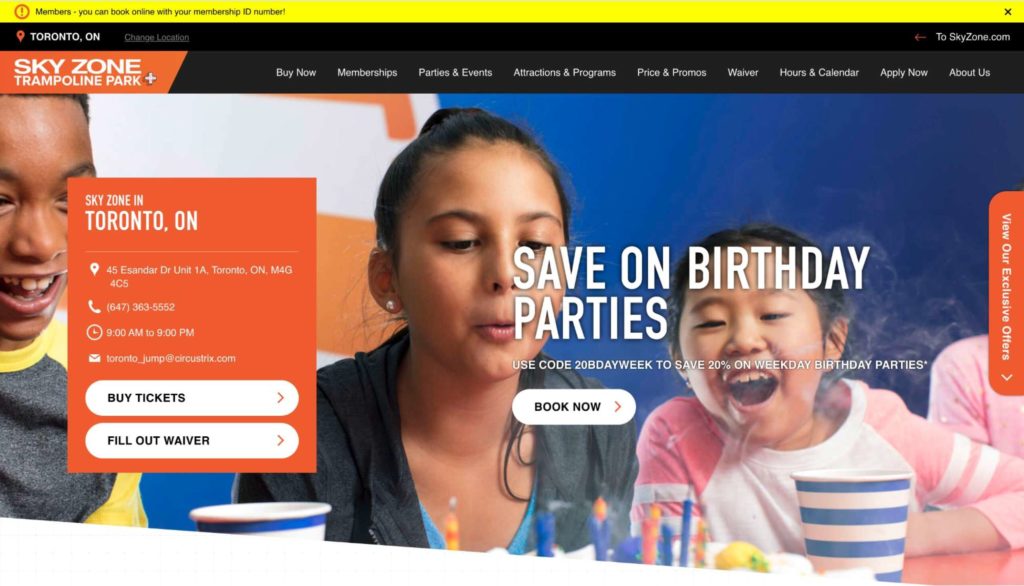 | Test | Info |
| --- | --- |
| ATTRACTIONS | Battle Beam, Freestyle Jump, SkySlam, Foam Zone, SkyLadder, Ultimate Dodgeball |
| WEBSITE | https://www.skyzone.com/ca-toronto |
| ADDRESS | 45 Esandar Dr Unit 1AToronto, Ontario |
| CONTACT DETAILS | (647) 363 5552 |
| OPERATING HOURS | 9:00 AM to 9:00 PM |
| | |
| --- | --- |
| ATTRACTIONS | ★★★★☆ |
| ADMISSION | ★★★★☆ |
| CONVENIENCE | ★★★★☆ |
| SAFETY AND CLEANLINESS | ★★★★☆ |
For fitness enthusiasts and those who enjoy jumping activities, Sky Zone Trampoline Park is the place to be. The company started in 2013 and claims to be the first and largest indoor trampoline park in the world.
Sky Zone was awarded as the Top Family Entertainment Centre at the 2018 Ontario's Choice Awards. They offer a space with at least a thousand foam cubes for a safe workout that can also be a means of play and fun.
What we like most about this place is how it encourages people to stay fit without the pressures of doing a rigorous workout. It suggests a more enjoyable alternative for exercise and health watch.
It offers a total of 6 jumping attractions that kids and adults can enjoy. We do note that not all 6 attractions are available every time, so you might want to watch out for that.
Apart from their healthy and fun approach, we also like how the place also hosts birthday parties, group events, facility rentals, and even fundraising events. They can have the entire place closed for exclusive events and can also set a specific space or room for small gatherings.
The trampoline park also offers programs such as glow and membership night. Glow is an event where lasers and blacklight are used to light up the place with neon colors.
Membership night gives members access to the place even after operating hours on selected Sundays.
Kids under the age of 12 will not be supervised by Sky Zone crew and are required to have at least 1 companion. While this is a good safety measure, we believe that the park's management should still allot staff members who will monitor kids and adults per area for emergency cases.
Certain online reviews also claim that the time limit for packages can sometimes be too short, especially for energetic kids. It would be good for the park to offer longer hours or an all-day pass promo every once in a while.
All said, Sky Zone is really the first place to go to for those who enjoy trampoline and jumping activities. Families and friends will surely spend quality time here.
Largest trampoline park in the world
Awarded by the 2018 Ontario's Choice Awards as Top Family Entertainment Centre 
Safe and large space with foam cubes 
Perfect for people who want a healthy and fun workout
Only 6 attractions
Packages come with time limits 
Lacks security and staff aren't that accommodating (according to a few reviews)
Customer Reviews
Took my son for his 4th birthday and had a great experience
Took my son for his 4th birthday and had a great experience. The woman at the front desk made him feel so special and even gave him some birthday treats for his special day. We both had a great time! — Dan Lorimer, via Google
Awesome place for kids and adults as well
Awesome place for kids and adults as well. I recommend getting the monthly or quarterly membership. They have the trampoline section, ladder and cubes, and the dodge ball tournaments that they hold every half an hour or so. They also hold a glow in the dark event every Friday, were they turn off the lights and give you a fluorescent compatible t-shirt that literally glows in the dark. I recommend this place for everyone — Saji Khalaf, via Google
4. Kidstown Water Park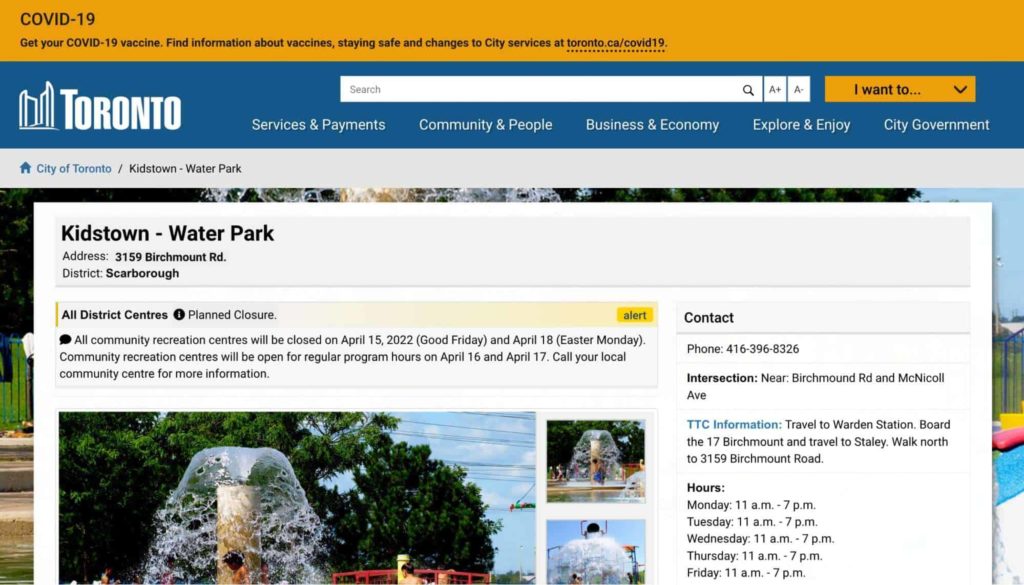 | | |
| --- | --- |
| ATTRACTIONS | ★★★☆☆ |
| ADMISSION | ★★★★☆ |
| CONVENIENCE | ★★★★☆ |
| SAFETY AND CLEANLINESS | ★★★☆☆ |
Kidstown Water Park is known to be the only water park that is operated and monitored by the city of Toronto.
The aquatic facility is one of the most popular places to go in Scarborough and offers an outdoor pool and waterpark made for preschool and grade school children.
Honestly, the best part about this place is that it's free. Interested visitors would simply need to call to make reservations to enjoy the park.
Spaces within the picnic grounds can also be booked for birthday parties and other celebrations.
Kidstown Water Park is usually open from mid-June until labor day weekend or around the first week of September. This set-up is practical but can be disappointing for those who wish to enjoy the waterpark all year round.
While this park is definitely enjoyable, water attractions are not that large and plenty. Given its free admission, the water areas can get crowded for kids.
A few online reviews also state that the cleanliness of the area is not well-maintained. A place for kids should always be clean, especially water spaces that can get contaminated.
On the bright side, the city of Toronto recently decided to renovate the waterpark. Updates and redesigning will include a replacement of the water park/splash pad, allotting more spaces for parking, improving of comfort rooms, enhanced spaces for permit use, and additional shade structure(s).
Kidstown may be needing a lot of improvement but it serves its purpose. It is literally a place for amusement that is made for the people.
Free admission
Various water attractions and activities
Picnic grounds
Area is sometimes dirty
Currently under renovation
Customer Reviews
A FREE Waterpark for the kids
Coming from NYC this is amazing. A FREE Waterpark for the kids. Similar water tower and water slide you would see at Sesame Place or Great Wolf. Of course it's not 100% equivalent in maintenance or size but its FREE here! You get to the gate and the nice Employees/Life Gaurds give the kids a wrist band to identify age. There's clean washrooms for changing. I saw lockers too if you bring your own lock. There is one main slide and the water tower. A small wading pool for little ones. Water gun bikes (one was broken). There is also a person selling snacks there. Best of all free parking. I saw some birthday parties being held there. And the surrounding park for other activities. — Mark Leong, via Google
A very nice water park with few splash work
It's a very nice water park with few splash work. Free parking and admission. They have on site lifeguards. Overall it's great. — So Phie, via Google
5. Wet n' Wild Toronto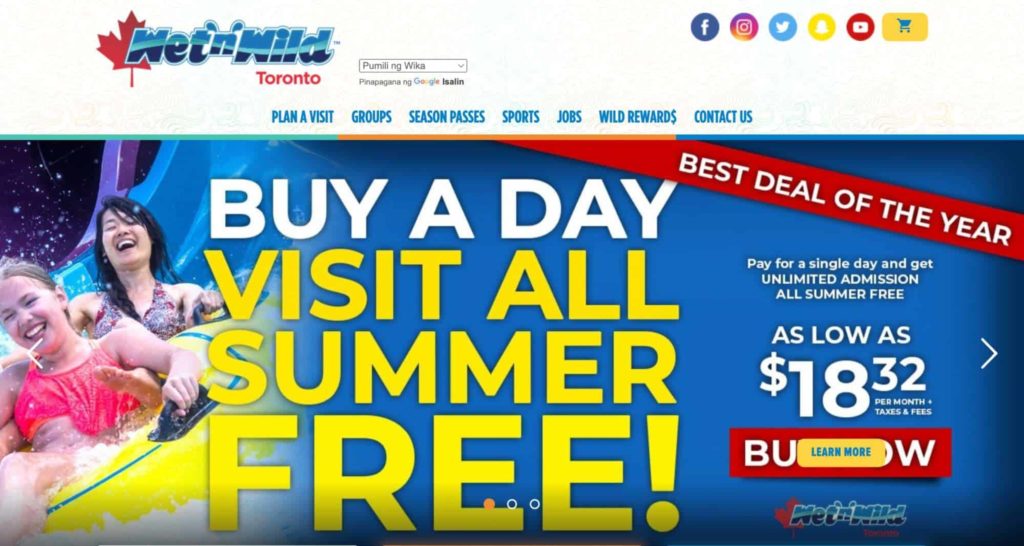 | Test | Info |
| --- | --- |
| ATTRACTIONS | Wet'n'Wild Jr., Oh Canada!, Jet Stream Zip Line, Krazy Kanuck, Klondike Express, Typhoon, Hurricane, Bear Footin Bay, Bermuda Triangle, Big Surf, Cannonball Falls, Caribbean Chaos, Coconut Cove, Muskoka Soakah, Polar Pipeline & Tropical Twister |
| WEBSITE | https://www.wetnwildtoronto.com/ |
| ADDRESS | 7855 Finch Ave W Brampton, Ontario |
| CONTACT DETAILS | (416) 369 0123 |
| OPERATING HOURS | 11:00 AM to 6:00 PM |
| | |
| --- | --- |
| ATTRACTIONS | ★★★☆☆ |
| ADMISSION | ★★★☆☆ |
| CONVENIENCE | ★★★★☆ |
| SAFETY AND CLEANLINESS | ★★★★☆ |
Wet 'n' Wild Toronto is a privately-owned water park in Ontario. The place was opened in 1986 and has maintained a fair reputation since.
Some of the attractions in this aquatic park have become their signature rides that have led them to gather more guests. This includes the Oh Canada!, Bermuda Triangle, and their signature Wet 'n' Wild Jr.
There are a good amount of rides and attractions that kids and adults may choose from. What we appreciate most is how the park indicates specific height requirements per ride for extra safety.
Like most amusement parks, Wet 'n' Wild also offers packages for group parties and even corporate outings. Their packages are perfect for all groups as they cater to 15-50 people.
They also offer season passes, a rewards program, and a sports complex that can play host to various games and events. Season pass holders also get free admission to their selected sister parks.
Wet 'n' Wild Toronto's sister parks include, but are not limited to, Hawaiian Falls, Wild Waves, Nashville Shores, and Rapids. Having these gives them a plus point as this means their management is really experienced in amusement parks and leisure areas.

A downside of this water park is that it can be quite expensive. Previous visitors left comments about their prices being at par with big amusement parks and how some of the food and beverages sold inside their premises are overpriced.
Moreover, there are also a few complaints about some rides getting stuck and not being cleaned regularly. Wet 'n' Wild definitely has to do some improving on those factors.
Overall, there isn't much to dislike about this aquatic facility. It promises and has given good experience for kids and adults who aim to beat the heat.
More than 30 years experience
More than 10 rides and attractions
Has a sports dome available for games and events
Season pass is valid even for sister parks 
Admission is quite expensive
Food and beverages are overpriced (according to a few reviews) 
Customer Reviews
One of the best I've been to in terms of variety and rides
This water park is one of the best I've been to in terms of variety and rides. The lazy river isn't the best, there are way much better ones up there. The slides are mostly great and not that scary for kids. The waves pool isn't bad and is fun. Overall a nice place to be with lots of rides to experience, definitely worth every dollar spent, especially if you have kids. If you plan going more than once, consider getting the season pass. — Kal Sukkar, via Google
Refreshing to go to on a very hot day
Great waterpark. Refreshing to go to on a very hot day. There were many slides, wave pool, lazy river, kids area, etc. There's a gift shop in case you forgot your bathing suit or anything else. Many paid lockers to lock up your stuff. Also lots of food and drink stalls at the waterpark. — Sinoun Pil, via Google
FAQs about amusement parks in Toronto
---
Did you enjoy reading through our review of the best amusement parks in Toronto? Let us know if there's a place that should have been on this list!
In case you're planning to visit Centreville soon, here is a list of things to do at Centreville Park.