Top 7 Best iPhone Screen Repair Shops in Toronto
We all know that feeling – we can even imagine the way you looked when you saw the cobwebs of cracks on your iPhone. So before you flush hundreds of dollars on the drain, let's help you out first.
Compiled in this list are the best iPhone screen repair shops in Toronto. We checked them out to see which ones just might be able to bring your phone back to life!
The Cost of an iPhone Screen Repair in Toronto
Well, first, repairing an iPhone screen can be costly unless you have an AppleCare+ plan. You can use this to cover the screen repairs cost of your phone.
Simply make an appointment at an Apple Store or an Apple Authorized Service Provider. Remember. an incident of accidental damage will cost you another $39 for the service fee.
If you don't have this plan, then you must pay the out-of-warranty costs. See the table below to find the estimated cost of repairing a screen based on your iPhone model:
Model
Estimated Screen Repair Cost
iPhone 13 Pro Max

iPhone 12 Pro Max

iPhone 11 Pro Max

iPhone XS Max

$429
iPhone 13 Pro

iPhone 12 Pro

iPhone 11 Pro

iPhone XS

$365
iPhone 13

iPhone 12

iPhone X

$365
iPhone 13 mini

iPhone 12 mini

$309
iPhone 11

iPhone XR

$259
iPhone 8 Plus

iPhone 7 Plus

iPhone 6s Plus

$219
iPhone 7

iPhone 6s

iPhone 6 Plus

$195
iPhone 6

iPhone SE (2nd generation)

iPhone SE

iPhone 5s

$179
The Best iPhone Screen Repair Services in Toronto
To find the best services providers in the city, we used the following factors:
1. The Repair Store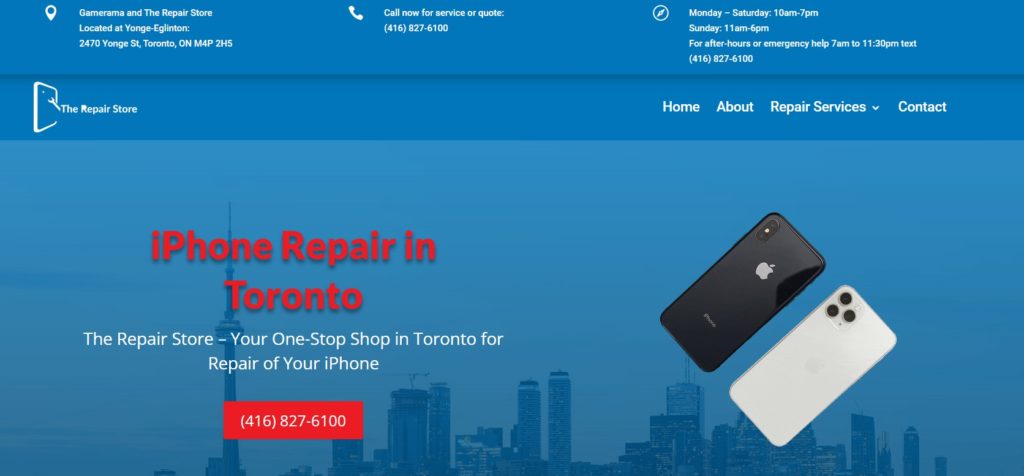 Test
Info
SERVICES
iPhone Repair

Blackberry Repair

Samsung Repair

Microsoft Surface Repair

Tablet Repair

PlayStation Repair

Xbox Repair

Nintendo Repair

Nintendo Switch Repair

Nintendo Light Repair

WEBSITE
https://therepairstore.ca/iphone-repair/
ADDRESS
2470 Yonge St. Toronto, ON M4P 2H5, Canada
CONTACT DETAILS
(416) 827-6100
OPERATING HOURS
Monday – Saturday: 10:00 AM - 7:00 PM

Sunday: 11:00 AM - 6:00 PM

For after-hours or emergency help: 7:00 AM to 11:30 PM or text (416) 827-6100
The first on our list is The Repair Store.
Who won't feel devastated if your iPad Screen, iPod, or iPhone suddenly gets damaged, right?
Good thing we were able to come across the Repair Store located at one of the city's busiest intersections, Yonge and Eglinton Ave. who have been providing its services since 1994.
We are impressed with their services as they provide multiple options for you to have your devices fixed – may it be curbside, carry-in, home service, or mail-in repair services, they are able to do it with high-quality service. They are transparent if your devices are worth the repair or not.
It is also amazing that not only do they repair the latest 13th gen, but they also can repair up to iPhone 5 while providing a free diagnosis.
Replacement glass, unlocking, phone not working, all components and subcomponents – they'll be able to figure it out for they have employed experienced technicians.
This top-of-the-line service that they have can be backed up by the award that they have won from Canadian Business Awards for the best phone repair shop in Toronto and the CBRB Best Businesses Award.
The other devices they can repair are iPads, Samsung and Blackberry phones, and all video game consoles (PS4, PS5, Nintendo Switch, Xbox, and more).
Affordable repair service
Has after-hours and emergency help services
Provides Curbside, Carry-In, Home Service, and Mail-In Repair Services
Free device diagnosis
120-day limited warranty on-screen replacement
Can change most iPhone screens in 15 to 30 minutes
If they can't repair your phone, you won't have to pay!
Customer service lacks communication once a device is done being repaired
Customer Reviews
"Broke my iPhone 8 home button and brought it in to Alex for repairs. He let me know the Touch ID function would be lost and he fixed it same day at a very reasonable price. Fast forward a few days later and I drop my phone and crack the touchscreen. Mind you, this is on a Friday afternoon. Alex again fixed it same day, very reasonably priced, and made sure I was good to go for the weekend! Reading most of the other positive reviews I could tell my experience was not the exception. Highly recommend Gamerama and The Repair Store for all your cellphone/laptop/gaming console repairs as well as new/used video games and video game consoles!" – Feng Chang
"Great customer service and they do a good job. Repaired my friend's Iphone XR and it is now perfect. I recommend this place." – Ozioma Okocha
"I had a broken iPad screen and a broken iPhone screen both items were repaired in less than an hour , I was very impressed. Best repair store in Toronto." – Joe Dougan
2. The Tec Fixer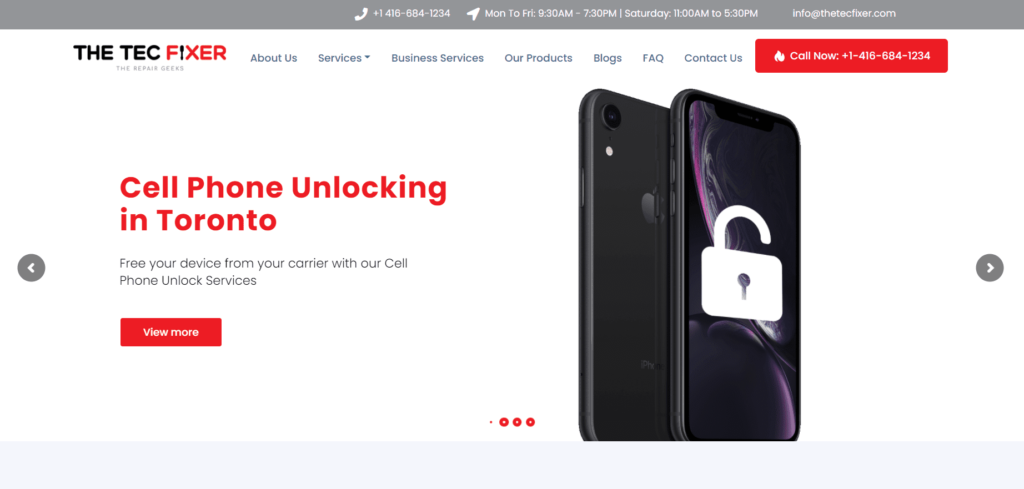 SERVICES
Smartphone Repair, Computer Repair, Laptop Repair, MacBook Repair, IPad Repair, MacBook Logic Board Repair, Phone Unlocking
WEBSITE
https://www.thetecfixer.com/
ADDRESS
THE VILLAGE BY THE GRANGE, 275 Dundas St W STORE NO.5, Toronto, ON M5T 3K1, Canada
CONTACT DETAILS
Phone: +1 416-684-1234
OPERATING HOURS
Monday to Friday: 9:30 AM – 7:30PM
Saturday: 11:00 AM – 5:30 PM
If you're looking for affordable yet competitive tech services in Toronto, then The Tec Shop might be one of the best go-to servicing presently.
Located in the heart of Downtown Toronto, The Tec Fixer is a one-stop-shop in repairing and upgrading your gadgets. Impressive services that provide multiple options for you to have your devices fixed, The Tec Fixer can deliver high-quality services for your gadget upgrades and fixing needs. From Android phones to iPhones, or laptops which include Windows and Macbooks, this is your best choice that provides top-of-the-line service.
Their quality services include smartphone and laptop repair, data recovery, battery, and LCD replacements, and many more! In such a scenario where you think that you will need professional hands to fix or upgrade your gadget, The Tec Fixer is the best for you!
Ensuring a fast service time, quality service, and parts, they also provide deals on refurbished gadgets like MacBooks, Windows laptops, iPhones, and many more. All these gadgets are tested to ensure functionality and come with a warranty to back you up!
What sets them back from others is their limited office hours on the weekends. Longer operation hours on Saturdays and being open on Sundays would allow other customers to avail of their services.
Next time, if you are looking for a shop specializing in gadget repair and upgrading services, The Tec Shop should be your top choice!
Fast service
Quality parts and services
Provision of warranty
Shortened service time on Saturdays
Closed on Sundays
Customer Reviews
100% honest services
This is hands down the best place to get your tech fixed. Brought my iPhone in, and was given a loaner phone so I could keep working remotely. That alone is worth 5 stars! Two of the replacement chips were corrupted (not Tec Fixers fault) and he wouldn't give me back my phone until he was sure it was 100%. I really appreciated the honest service – and best of all? You can't beat the prices. Hussein really cares and I will only be going to his shop from now on. You won't be sorry. Great prices on accessories too. Thank you, Tec Fixer! – Meghan Hoople
Super trustworthy
I've used this place twice to get my phone screen fixed and a friend used it once to get his phone fixed. Super fast, affordable and responsive. For iPhone screen fixes, they can fix it in half an hour and for OnePlus phones, they had to order the screen in – still we were able to get the phone by the next day, early afternoon. They also don't ask you to pay until AFTER the phones are fixed so you get a chance to check them out and make sure they're workable before you pay up. Super honest and trustworthy.
Would recommend! – Devika Desai
3. Mobile Klinik Professional Smartphone Repair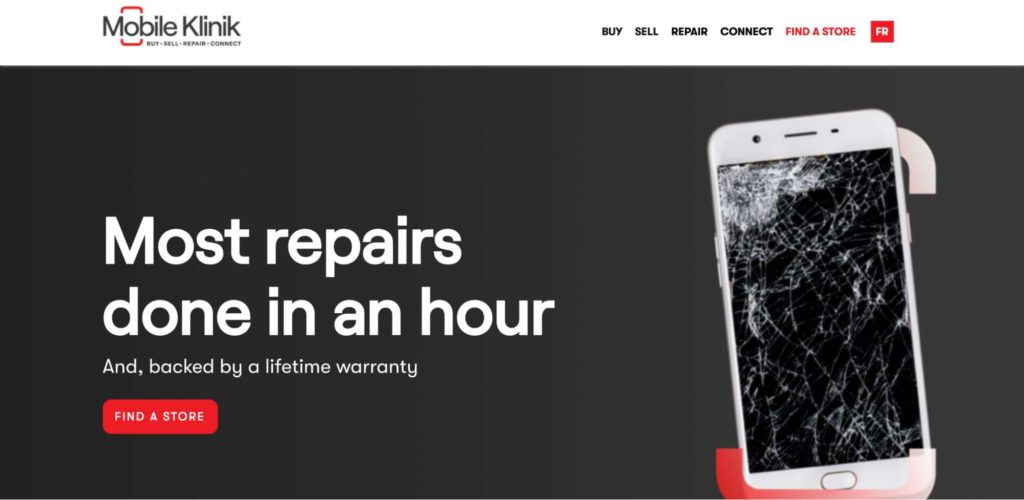 Test
Info
SERVICES
Buys, sells, and repairs phones
WEBSITE
https://mobileklinik.ca/smartphone-tablet-repairs/
ADDRESS
10 Dundas St E Level Basement-1, Toronto, ON M5B 2G9
CONTACT DETAILS
+1 416-260-0888
OPERATING HOURS
Monday - Friday: 11:00 AM - 6:00 PM

Saturday: 12:00 PM - 6:00 PM
When it comes to the overall experience, we have to give the crown to Mobile Klinik. In our opinion, they're a great benchmark when it comes to fast services and a range of solutions.
Let's talk about speed first. Approximately, it will take about 15 to 30 minutes to repair your iPhone screen. But that's not taking into account the actual wait times within a repair shop yet.
As the shop promises, they can repair all phone problems in as fast as an hour. While we did find a few discrepancies here and there, it's only a couple of minutes so we weren't too bothered by it.
Next, there are three different ways you can access their repair services: walk-in, mall-in, and on-site repair. You don't need to book an appointment for a walk-in, which is a great plus for those struggling with their schedule.
Out of these three methods, on-site repairs are our favorite because they'll come to you instead. Availability can be an issue sometimes so it isn't exactly a service readily available at all times, however.
As per parts and warranty, the shop offers a lifetime warranty on parts and labor on some repairs. However, they don't have an in-warranty repair for Apple which we'd love to see in the future.
Finally, requesting a quote for common damages like a cracked screen is free. On the flip side, the actual cost of the quote may actually change depending on which shop you go to.
The shop listed in this review is only one of the many other locations you can find in Toronto, by the way. They also have a branch in Yonge Eglinton Center, Dufferin Mall, and CF Eaton Center.
Can fix phones in one hour
Lifetime warranty on parts and labor
No appointments necessary
Walk-in, mail-in, and on-site options
Multiple locations in Toronto
Certified genuine parts
No in-warranty for Apple
Quote can be different from the actual cost of repair
Customer Reviews
Highly recommended
I went there to fix my iPhone screen and not only they did a fantastic job, they did it in time and they were very friendly. I am very happy with the service and I would recommend the place anytime! – Aleksandra Panić
Fair pricing and friendly service
So happy with the service I received here and end result. The battery of my phone was completely fried and needed to be replaced. The device handover was very easy and drop-in style / first come first serve. The rep was able to fix my phone within 1-1.5 hours and everything is now working perfectly again. Very fair pricing, friendly customer service and quick turn around / resolution time. I will totally use their service again in the future and highly recommend them to everyone out there! – Mitchell L
4. ASK Computers & Cellphone Repair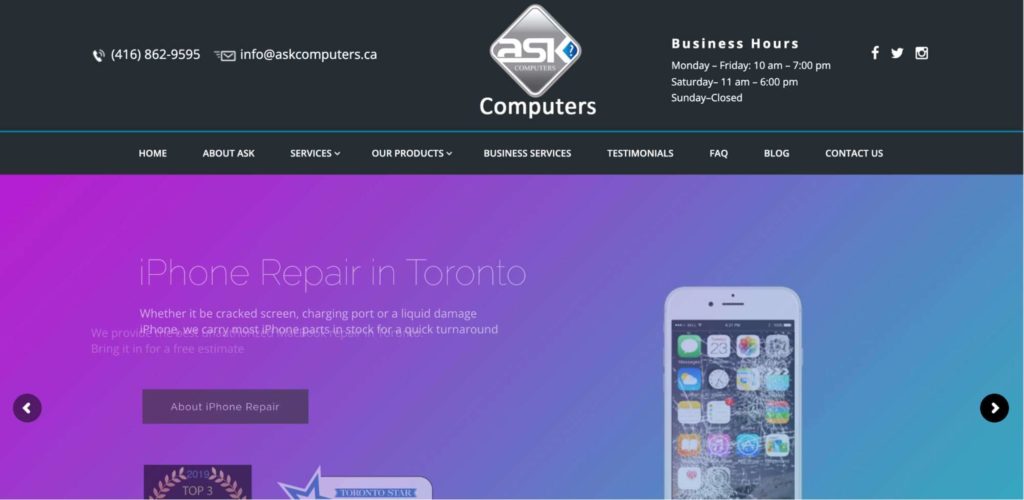 Test
Info
SERVICES
Repairs phones, laptops, desktops, iPads, and logic boards
WEBSITE
https://www.askcomputers.ca/
ADDRESS
111 Front St E, Toronto, ON M5A 4S5
CONTACT DETAILS
+1 416-862-9595
OPERATING HOURS
Monday - Friday: 10:00 AM - 7:00 PM

Saturday: 11:00 AM - 6:00 PM
We believe that high-quality service comes with experience so we know that this shop is the real deal. ASK Computers & Cellphone Repair has actually been in the business for 15 years repairing phones, tablets, laptops, desktops, and tablets.
But there's more than just experience with this shop – we love their expertise too. The thing is, they specialize in repairing Apple products, so we know that iPhone screen repairs are just simple tasks for them.
In fact, they carry quality parts in-store so they can change anything within the day. Actually, throughout our research, we found that they can replace an iPhone screen in as little as five minutes.
But, no matter how impressive these turnaround times are, they do tend to be a little inconsistent. Bottomline is, you won't really know how long you'll have to wait in their shop to get your phone back.
They have a live chat feature on their site that you can use to ask for updates. Unfortunately, we tested it for ourselves and we didn't get a reply in the first ten minutes – that's not great if you're impatient (we are!).
The shop offers a 60-day warranty that covers manufacturing defects, though. It does pale in comparison to other shops but it's really a common timeframe for warranties so it isn't an issue.
Plus, as we've surveyed from their past customers, most of them had no further issues after the repair. And in case they can't fix your device, (which is quite unlikely, to be honest), then you don't have to pay – simple!
15 years of experience
Specializes in repairing Apple products
No appointment necessary
Many available parts on-hand
Possible to fix screens in under 30 minutes
Issues with using the live chat for updates
Complaints of pricey services
Customer Reviews
Quick turnaround time
Solid staff and very quick turn around for an iPhone screen repair. They were pleasant and professional. A little pricey but I would definitely recommend them. – Julian Gray
Satisfactory results
I have sent other people here to repair their computers or cellphones, and everyone has been happy. I have had 2 repairs done on my iphone 7plus and I am very happy with the work they did. I will send more people here if they tell me they need a computer or phone fixed. – Adele Desloges
5. uBreakiFix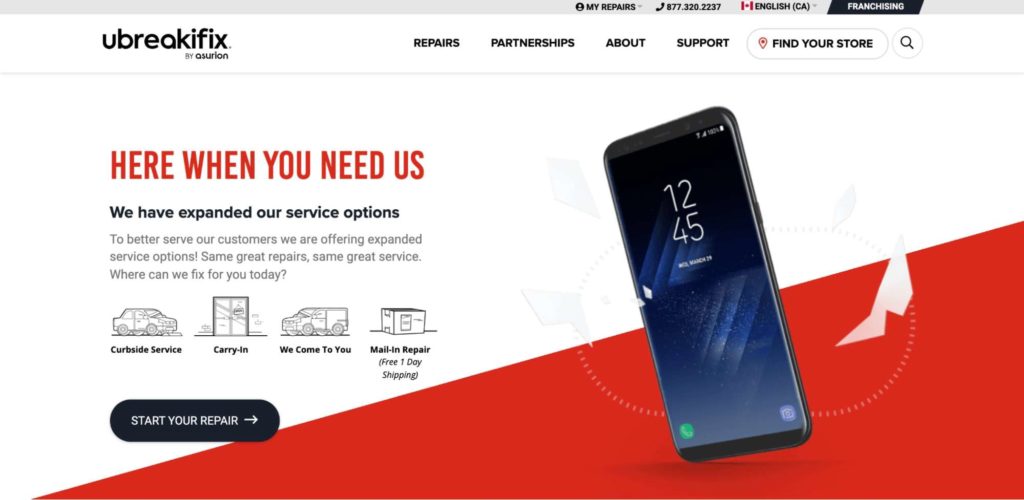 Test
Info
SERVICES
Repairs phone, tablets, desktops, game consoles
WEBSITE
https://www.ubreakifix.com/ca
ADDRESS
;1957 Avenue Rd, Toronto, ON M5M 4A1
CONTACT DETAILS
+1 416-483-3773
OPERATING HOURS
Monday - Saturday: 10:00 AM - 7:00 PM

Sunday: 12:00 PM - 5:00 PM
When it comes to availability, uBreakiFix is among our top choices. They also won our hearts in terms of repair options that clients can choose from.
Let's dive into the quality of their repairs first which is the highlight of their services.
For iPhone screen replacement, the turnaround time can be as fast as 45 minutes. But in certain cases, it can take up to the next day to get it done.
Now, that seems like a lot of time but take note that it also depends on the model of your iPhone. The newer your model is, the faster they can get it done, because the parts are readily available.
Speaking of parts, the shop does carry genuine Apple parts so you won't have to worry about bootleg components. Plus, all their repairs come with a 90-day warranty, which we're okay with.
Another thing that we liked about this shop is that they have three major service options. You can do carry-in or curbside repair, mail-in, and home services.
But note that if you want them to come to you for repairs, you have to be patient. It takes about four hours before a technician can entertain your request for home services.
On the bright side, the shop has other locations in Toronto you can go to. You do have to set an appointment, however, so make sure your and their schedules are cleared in advance if you're going to one of their shops .
Can replace iPhone screens in 45 minutes
Carries genuine Apple parts
Three major service options
Multiple locations in Toronto
Online booking and location finder on site
Technicians have a combined experience fixing over 10,000 phones
Open daily
Appointments required
Pricey services
Customer Reviews
Amazing work on repairs
I was helped by Eli to fix my iPhone screen and it was an amazing job. They are super polite and very clearly know what they are doing. Definitely would go back (god forbid) I break my phone again. – Dylan Webb
Informative and honest
Absolutely great service. honest and friendly. My iPhone 6s screen wasn't coming on. Ricardo kindly did a diagnostic. and replaced with a new screen. Very informative letting me know which screen to go with. Did not try to sell me something I did not need. You will not be disappointed. I will definitely come back to his store. – Peter Bonnici
6. Can Fix It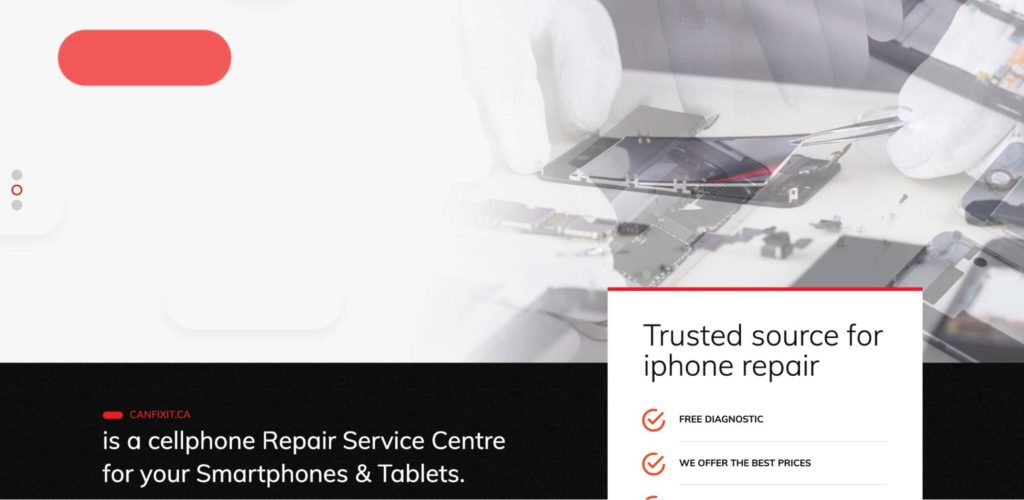 | Test | Info |
| --- | --- |
| SERVICES | Repairs phones and tablets |
| WEBSITE | https://canfixit.ca/toronto/ |
| ADDRESS | 98 Lower Ossington Ave, Toronto, ON M6J 2Y7 |
| CONTACT DETAILS | +1 647-978-2271 |
| OPERATING HOURS | Monday- Friday: 10:00 AM - 6:00 PM |
In the long list of repair shops we've visited, Can Fix It was the only that had a perfect 5-star rating on Google Reviews. And yes, we found a lot of things that explain these ratings – with a few small quibbles of course.
For starters, quality services and parts were the main things that got our attention. With over 10 years of experience, the shop has mastered repairs specifically for phones.
In fact, cracked screens are actually their specialty and they've worked with both the latest and older iPhone models. We've yet to hear any experience with working with the iPhone 13 line but that didn't really turn us off.
One of the things we really appreciated is their large inventory of top-quality iPhone parts. Having a large inventory ensures that you can get faster repairs at a much cheaper rate.
Speaking of rates, we found that they charge a lot less than what Apple estimates you to spend. And when we surveyed their past customers, a couple of them emphasized the more competitive rates – sometimes $100 cheaper than others.
Backing these repairs is a 6-month warranty, which is one of the longest warranties offered on this list. Plus, we also like that you can ask for an estimate over the phone since it's just much more convenient for us than typical request forms.
Our main complaint is really that they're not open on weekends. That's a bit odd for shops of this type, but it's ultimately a small issue.
Large in-house inventory of phone parts
Experienced in fixing all sorts of iPhone models
More affordable rates
Can request estimates over the phone
No appointments required
Customer Reviews
Fast and accommodating
Highly recommend this place! I took my broken iPhone screen in an hour and a half before closing and they were so kind and accommodating and were able to fix it the same day. Pricing and quality is great! – Naomi Leanage
Goes above and beyond
I can't recommend this place enough. I had such a great experience with Jon- he was so caring and truly went above and beyond to help me. It is clear that he cares about his customers. If you need any tech assistance please give your business to CANFIXIT. Thanks for your help!! – Rihanna Griffith
7. iFix Mobile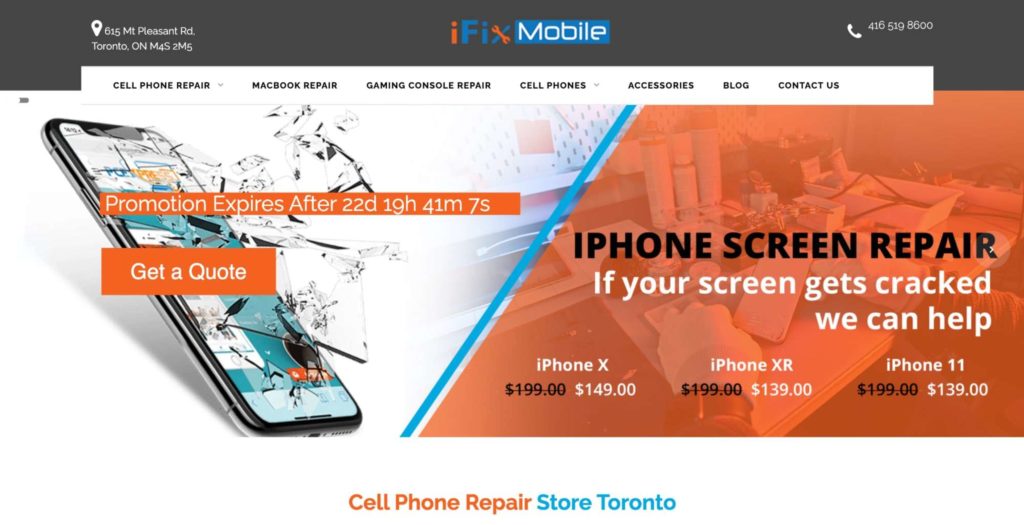 Test
Info
SERVICES
Repairs phones, macbooks, and gaming consoles
WEBSITE
https://ifixmobiletoronto.ca/
ADDRESS
615 Mt Pleasant Rd, Toronto, ON M4S 2M5
CONTACT DETAILS
+1 416-519-8600
OPERATING HOURS
Monday - Thursday: 11:00 AM - 7:00 PM

Friday: 11:00 AM - 6:00 PM

Saturday: 12:00 PM - 5:00 PM
iFix Mobile likes to keep things simple, and that's one of the things we like about it. On top of that, they provide services at a cost much lower than other shops.
The shop promises to fix phones as fast a day, but as we found, we think they're just trying to be humble. During our survey, we saw that they can fix phones in as fast as 20 minutes, which obviously thrilled us in the best way.
On top of that, they also carry genuine parts for Apple devices but at almost half the cost.
For example, the screen replacement for an iPhone 11 Pro Max can easily start at $400. With them, it will only cost you $289 – that's about 28% cheaper than average pricing.
However, if you have the iPhone 12 and 13 models, they may not be able to accommodate you yet. On the other hand, we do love that they can still repair super-old models like the iPhone 4.
Warranty is also their strongest strength as the coverage lasts for a lifetime. All the parts they use in repairs are covered so a client can sleep with peace of mind.
They don't have a mail-in option but we think you'll enjoy dropping your device in-person here. Everyone's kind – in our opinion, at least – and diagnoses issues fast at no charge.
Lifetime warranty on all parts
Carries genuine Apple parts
Affordable pricing
No appointments required
Not enough experience with iPhone 12 and 13 lines yet
Customer Reviews
Excellent services at reasonable prices
This place is phenomenal. Excellent customer service, reasonable prices, very quick to respond and diagnose the issues I had, and then gave me very helpful advice on what my options were. I would highly recommend this place and I will be going back again in the future. – Spencer Vibert
Brings phones back to life
My iPhone 10XR was literally run over by a car — the screen was completely damaged and so was completely unusable. This place was able to replace the screen/front camera and fix whatever else was damaged – ultimately bringing my phone back to life – all for a very reasonable price. The only thing that couldn't be saved was FaceID and the vibration/haptic feedback, both of which I can live without. Thank you! – Lisa Wong
8. Carbon Computing

Test
Info
SERVICES
Same-Day iPhone Service, Used Apple Products, Apple Authorized Mac Service, Premium Apple Service Support
WEBSITE
https://carbonation.com/
ADDRESS
1052 Queen St WToronto, ON M6J 1H7, Canada
CONTACT DETAILS
+1 416-535-1999
OPERATING HOURS
Monday to Saturday: 10:15 AM - 6:00 PM

Sunday: CLOSED
Carbon Computing is your Apple Premium Service Provider in Toronto's West Queen West neighborhood.
To give you a glimpse on how they do their work, on every repair, they see to it that they are transparent with their customers – where the customers know what to expect by providing accurate diagnosis as they value their time and ensures that all repair transactions are done in a timely, personalized and efficient manner.
Once their Apple-trained technicians have diagnosed the problem, they use Apple-approved diagnostics and tools where they only use genuine Apple parts. This means that all of their repairs are Apple-certified and covered by the Apple warranty.
That is why after you have receive the product after being repaired, you have 14 days after the purchase date with an original receipt to have an exchange or refund qualified items purchased. Items must be in their original state: with original packaging, unaltered and must have all tickets attached.
We also want to point out that Carbon Computing has its complete price range found on their website.
Same-Day iPhone Service
Apple Premium Service Provider
Apple Authorized Mac Service
Free shipping on Local Orders over $100
1-year extended warranty
Pricing consistent with Apple retail Stores
Doesn't answer phone calls
$99.00 flat-rate labour rate for all non-warranty service
Customer Reviews
"Had a lovely experience getting my left AirPod Pro repaired. They were very helpful, and gave me an approximate time estimate. When I phoned in a few days later to check the status, they were happy to look into the repair status for me, without making me feel uncomfortable. It turns out, they tested both the left and right AirPod, and the right one was also in poor shape and was to be delivered. Thank you so much! As another reviewer said, it is definitely much more peaceful than the chaos of a trip to the Apple Store itself, and personally I can say, more convenient than having to coordinate a mailed repair with Apple." – Mackenzie Colman
"I am very pleased with my dealings with Carbon Computing. I don't live in Toronto, but I feel I've had direct and personal service throughout. Highest praise for the team!" – L. A. Pai Gallery
"This is a business that operates on good principles. A couple of years ago I went in with a very old MacBook, and rather then sell me a new one they replaced some parts for very little money and I regained the use of that one. This week I purchased a near new laptop from them – I damaged it within 24 hours – and within half an hour of reporting the issue they had a brand new one in my hands at a very fair cost. All issues sorted with professionalism and respect – I heartily endorse Carbon Computing." – Joshua Hendin
FAQs About iPhone Screen Repair in Toronto
---
Did this article help you get your iPhone back in tip-top shape? Share your thoughts with us so we can expand our list for more shops in the future!
In case you need anything else up and running again, you can look through our other reviews for reference: