The 6 Best Venues for Corporate Events in Toronto
Choosing the right venue for your corporate event is essential to its success. There are a few things you should keep in mind when selecting a venue, such as the size of the event, the type of event, and the budget.
Our review has got you covered – from boardroom to ballroom, from workshop events to trade shows.
Get your corporate event planning off to a great start with our take on the best venues in Toronto!
Top Venues for Corporate Events in Toronto
How did we decide which venues in Toronto were the best for corporate events, and how did we evaluate them?
How much do corporate event venues in Toronto cost?
The corporate event venues included in our review have rental fees ranging from $4,000 to $25,000 on average, with a capacity of 300 to 750 people.
That said, there are a number of factors that affect the cost of renting a corporate event venue in Toronto.
The size and location of the venue, the type of event being held, and the time of year are all important considerations. Additionally, many venues charge different rates for weekdays and weekends, and some may offer discounts for booking early.
One of the most important factors affecting the cost of renting a corporate event venue is the size of the space.
Larger venues will typically be more expensive than smaller ones, and the price may also increase if the venue is located in a central or high-traffic area.
The type of event being held will also affect the cost, as venues may charge more for formal gatherings than for more casual events.
The time of year can also impact venue rental prices, as rates will often be higher during the peak summer months than during the winter.
Another important consideration is whether the event is being held on a weekday or weekend. Many venues charge different rates for these days, with weekends typically being more expensive.
Some venues may also offer discounts for booking early, so it is important to inquire about this when making rental arrangements.
1. Casa Loma
Test
Info
SERVICES

On-site special event coordinator services

Corporate event packages

Executive chef customized menus

Bar packages, exclusive preferred vendors list

Smart serve certified fully uniformed staff

Audio/visual production

Customized lighting packages

Ample paid parking and valet parking available

Event host

ISDN lines available for video and audio teleconferencing

WEBSITE
https://casaloma.ca/
ADDRESS
1 Austin Terrace, Toronto, ON
CONTACT INFORMATION
Phone: 416-923-1171

EMAIL: [email protected]

OPERATING HOURS

Mon–Sun: 9:30 AM–5:00 PM
| | |
| --- | --- |
| LOCATION | ★★★★★ (5/5) |
| > Accessibility | ★★★★★ (5/5) |
| > Parking and transportation | ★★★★★ (5/5) |
| AMENITIES AND EQUIPMENT | ★★★★★ (5/5) |
| > Quality | ★★★★★ (5/5) |
| > Variety | ★★★★★ (5/5) |
| VALUE | ★★★☆☆ (3/5) |
| CLIENT SERVICING | ★★★☆☆ (3/5) |
The Casa Loma is a revered historical site that hosts both public events and business gatherings. Sir Henry Pellatt constructed it in 1914, and the city owns it now.
Indoor and outdoor large-scale events, including conferences, weddings, seminars, photo and film shoots, and other social gatherings, are ideal at Casa Loma. They also have their own catering team.
They feature spaces that are best for business gatherings. Additionally, they have a glass pavilion, a large terrace for families to sit on, and a library where you may also eat.
For its visitors, Casa Loma offers all required accessibilities. The building's main entrance is wheelchair accessible, an elevator serves the basement, second, and third floors, dogs are permitted inside, and the east parking lot is open for drop-offs.
Guests we've talked to highlighted Casa Loma's amazing ambience due to its elegance and rich history.
While others were not so thrilled about the customer service at the venue. Some guests commented there was a lack of communication and observed how staff would get disorganised sometimes during events.
For an event of 400 to 500 people, it costs around $50 to $120 per head of plated service. Rental costs can reach $25,000 at the busiest times of the year, and the less busy times are still expensive at $20,000 each.
Casa Loma has dedicated parking spaces, but they are also pricey.
The venue is located at One Austin Terrace in Toronto, Canada, not far from the intersection of Davenport Road and Spadina Avenue. You can travel by public transportation.
Convenient location
Has parking spaces
Garden area
Offers their own catering services
Indoor and outdoor facilities
Pleasing views
Can hold large-scale events
Excellent ambience
Expensive rental fees
Remarks on poor customer service
Customer Reviews
There was a spectacular event
"This place is doing everything it can to stay relevant while keeping true to the beauty that is the castle. Being tucked away in the middle of a big city like that is pretty impressive and not only is the museum of what is the castle well-kept, but there are a bunch of secret passages that will take you to different exhibitions that they have… We came kind of late in the day so I didn't get to see everything and they shut down the garden early because of an event that was going on, which looks spectacular. All of this was accessible for the price of one admission, and there is even an escape room/tour that I saw some folks on…" —Steven Gonzalez, Google Reviews
Wonderful Symphony event
"Attended the Symphony in the Garden's event, and it was wonderful. Tickets included access inside Casa Loma. Make sure you get there early, so you can be seated in a good spot. It was raining during out night but inside a greenhouse setting, we stayed dry." —Priscilla Mak, Google Reviews
2. Delta Hotels by Marriott Toronto – Simcoe
| | |
| --- | --- |
| LOCATION | ★★★★☆ (4.5/5) |
| > Accessibility | ★★★★☆ (5/5) |
| > Parking and transportation | ★★★★★ (5/5) |
| AMENITIES AND EQUIPMENT | ★★★★☆ (3.5/5) |
| > Quality | ★★★☆☆ (3/5) |
| > Variety | ★★★★☆ (4/5) |
| VALUE | ★★★☆☆ (3/5) |
| CLIENT SERVICING | ★★★★★ (5/5) |
Delta Hotels by Marriott Toronto offers pet-friendly accommodations and picturesque views of the city's cityscape and waterfront. From this hotel, you can visit one of Canada's most exciting cities.
The venue is ideal for large audiences, whether indoors or outdoors. With more than 22,000 square feet, they can host your gatherings both intimate and huge, and make every gathering exceptional with their modern venue space.
They have 13 event rooms and they have a very modern and updated boardroom for you to conduct meetings.
However, some guests shared with us that the conference room and the hall were too cold, citing their discomfort because of the poor heater quality.
It's upsetting that not all event facilities are equal in terms of the quality of the equipment.
Nonetheless, we've also talked to guests who were impressed because of the friendly staff, good customer service, and simple yet delicious menus. They also have their own in-house catering services.
The entrances at Delta Hotels by Marriott Toronto are wheelchair accessible. However, a client complained that because the doors opened from the outside, it was somewhat difficult to enter.
For an event with 500 to 750 people, plated service per head is approximately $145.
The hotel has allotted parking spaces. You can travel there hassle-free by bus, subway, or train with their location at 75 Lower Simcoe Street.
Accessible by public transport
Has their own allotted parking spaces
Has many amenities included
In-house catering services
Delicious menu items
Friendly staff
Pet-friendly
Picturesque views
Indoor and outdoor events
Costly fees
Inconsistent quality of facilities
Customer Reviews
Food cooked by the hotel was delicious
"Amazing room (514)! [There are] Views of the CN Tower from the soaking tub. [I] Absolutely could not have asked for a better room. I attended this hotel for a 3-day conference. Andrew (the concierge) was able to answer all my questions about the room. All the food for the conference cooked by the hotel was delicious. Highly recommend!" —Susan Hollander, Google Reviews
Very good conference facilities and knowledgeable AV staff
"A fairly new hotel and well-appointed and positioned. The conference facilities are very good and the AV staff very knowledgeable and helpful." Rob Hull, Google Reviews
3. The Eglinton Grand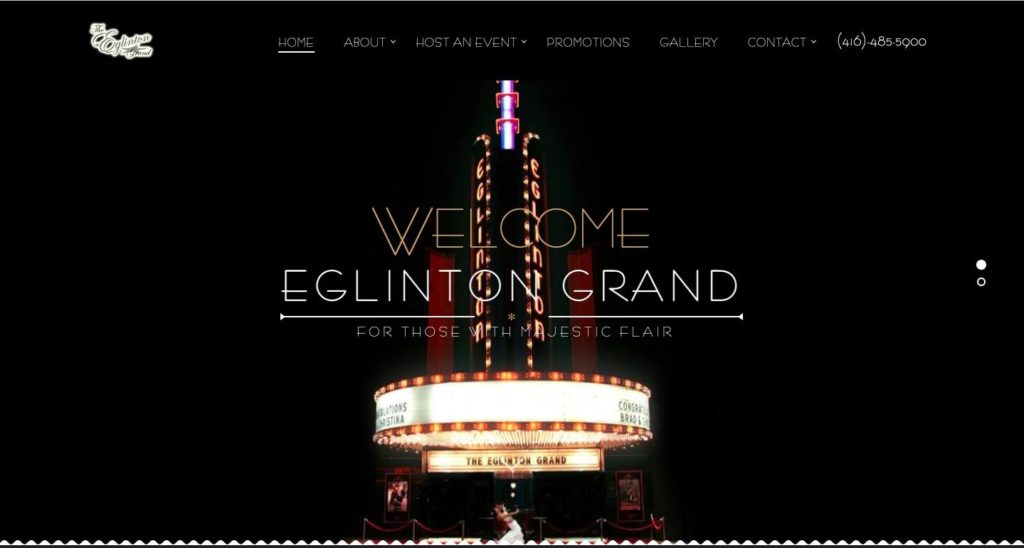 Test
Info
SERVICES

Event planning specialists

Custom event packages

In-house catering

Hospitality group

WEBSITE
https://eglintongrand.com/
ADDRESS
400 Eglinton Avenue, Toronto, ON
CONTACT INFORMATION
Phone: 416-485-5900

EMAIL: [email protected]

OPERATING HOURS

Mon–Fri: 9:30 AM–5:30 PM
| | |
| --- | --- |
| LOCATION | ★★★★★ (5/5) |
| > Accessibility | ★★★★★ (5/5) |
| > Parking and transportation | ★★★★★ (5/5) |
| AMENITIES AND EQUIPMENT | ★★★★★ (5/5) |
| > Quality | ★★★★★ (5/5) |
| > Variety | ★★★★★ (5/5) |
| VALUE | ★★★★★ (5/5) |
| CLIENT SERVICING | ★★★☆☆ (3/5) |
In 1936, the Eglinton Grand was a grand theatre; today, it is a space that can host indoor gatherings of all sizes. It is ideal for weddings, social gatherings, and business occasions.
The Eglinton Grand combines grace, dignity, and luxury, making it an ideal setting for all kinds of events, such as corporate or formal events.
A ceremonial room on-site, exclusive ballrooms, and a mezzanine area distinct from the ballroom are all features of its historical position.
Additionally, they offer all of their in-house furnishings for free for your event. This contains Royal Doulton china, silverware glasses, floor-length white tablecloths and white napkins, round guest tables, black grace chairs, and other furnishings.
Moreover, the venue rent includes their own personnel and catering services.
The Eglinton Grand is committed to offering the finest service to all customers, including those with disabilities. Support persons and service animals will also be accommodated.
The venue is only available for one event per day, giving you the entire evening to enjoy!
Some of the guest's reviews recommended the venue due to its very unique setting, accommodating and helpful staff, and delectable menu items.
Sadly, some guests were disappointed because of the poor bar service.
Their rent fee is $4000, and can accommodate up to 500 guests. It is an exclusive venue with no landmark fee but a limited time of events, only 7 hours of event time.
It is conveniently located in downtown Toronto, which is easily accessible by public transit. There is also a nearby parking lot.
Hassle-free location
Public transport accessible
Has a nearby parking lot
Has many facilities
In-house furnishings
Has their own catering services
Delectable menu items
Rental fee is reasonable
Unique venue
Limited time for events
Poor customer service
Customer Reviews
Absolutely delightful staff and great food
"I was here for a conference and the food was catered by the venue. Their staff was absolutely delightful and the food was great. The main hall is large and the balcony is just as spacious. For an all-day event, they did a great job at keeping the washrooms clean. The signage could be a bit clearer, or I could pay closer attention but either way, it's lovely. And yes, there is coat check! [I] Would recommend for a formal event of any sort." —Chinweike Orji, Google Reviews
Beautiful and large venue
"Beautiful venue for any event! [There was a] Large hall, which was able to seat quite the number of people." —Isaiah G., Google Reviews
4. The Globe and Mail Centre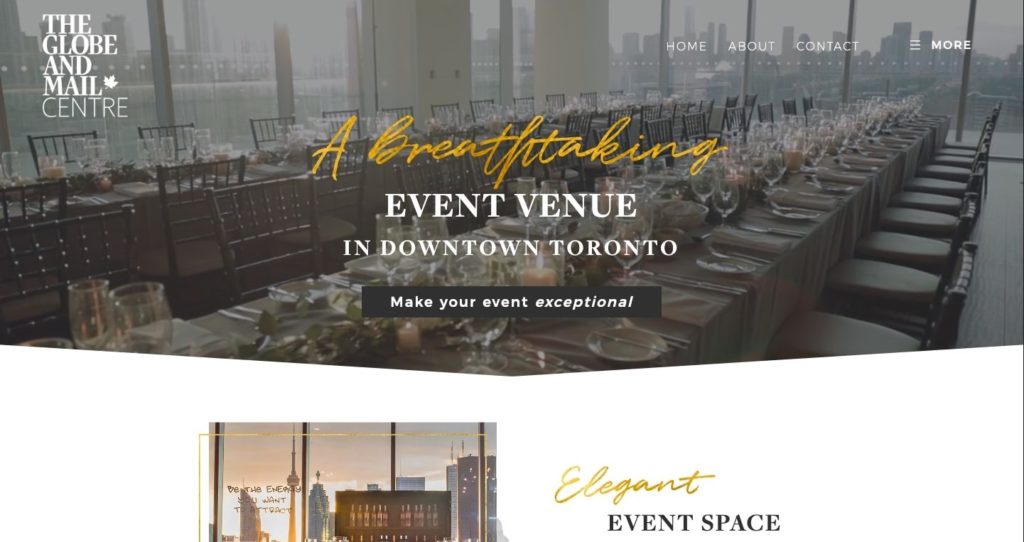 Test
Info
SERVICES

Custom event packages

Custom beverage offerings

Catering recommendations

Audio-visual services

Recording facilities for virtual events

Hospitality group

WEBSITE
https://www.globeandmailcentre.com/
ADDRESS
351 King Street East, Suite 1600, Toronto, ON
CONTACT INFORMATION
Phone: 416-585-5000
OPERATING HOURS

Mon–Fri: 9:00 AM–5:00 PM
| | |
| --- | --- |
| LOCATION | ★★★★★ (5/5) |
| > Accessibility | ★★★★★ (5/5) |
| > Parking and transportation | ★★★★★ (5/5) |
| AMENITIES AND EQUIPMENT | ★★★☆☆ (3.5/5) |
| > Quality | ★★★☆☆ (3/5) |
| > Variety | ★★★★☆ (4/5) |
| VALUE | ★★★☆☆ (3/5) |
| CLIENT SERVICING | ★★★★★ (5/5) |
The Globe and Mail Centre is home to Canada's largest journalistic company, and its top floors include exquisite areas with expansive city and lake views. Both indoor and outdoor events of various sizes can be accommodated.
They have the space to welcome at least 300 guests. They have state-of-the-art equipment packages for virtual and corporate events, including cameras, lighting, audio, and presentation services with expert technical operation.
The Globe and Mail Centre is notably accessible for those with disabilities. It is guaranteed that they will both be accommodated if this person is traveling with a support person.
In addition, they offer audio-visual services, catering, beverages, and event services.
The Globe and Mail Centre has stunning rooftop views.
We chatted with some guests who enjoyed the classy vibe of the venue and its exceptional staff.
Unfortunately, there were also some guests who said even though it has great views, the building was showing its age, the same case with some of their equipment.
Their rent value ranges from $9,500 to $12,000, with a minimum of $100-$120 per person. The maximum guest capacity is roughly 250 to 300 people.
Their location is at 351 King Street East and is accessible by public transport. The Globe and Mail Centre is close to a number of paid car parks, in addition to some limited street parking.
Hassle-free location
Accessible by public transit
Has nearby paid car parks
Good service
Exceptional staff
Indoor and outdoor events
Great view
Elegant venue
Some equipment are old
Lack of building maintenance
No catering
Customer Reviews
Lots of natural light and great views
"Great space for hosting. Lots of natural light and huge patio with a great view of the waterfront and cityscape." —Lemons & Ants, Google Reviews
Amazing and helpful people to work with
"We used the GAMC for our annual Peruvian Cocktail as part of the PDAC Mining Event. What sets this venue apart beside the beautiful views of the city is the team behind it. Great people to work with, amazing communication, helpful every step of the way. We will likely re-book for next year and sincerely recommend the Operations Team as great partners to collaborate with on your events. Julia Baguisa was our sales manager—she was incredible to work with!" —Guillermo Russo, Google Reviews
5. The Great Hall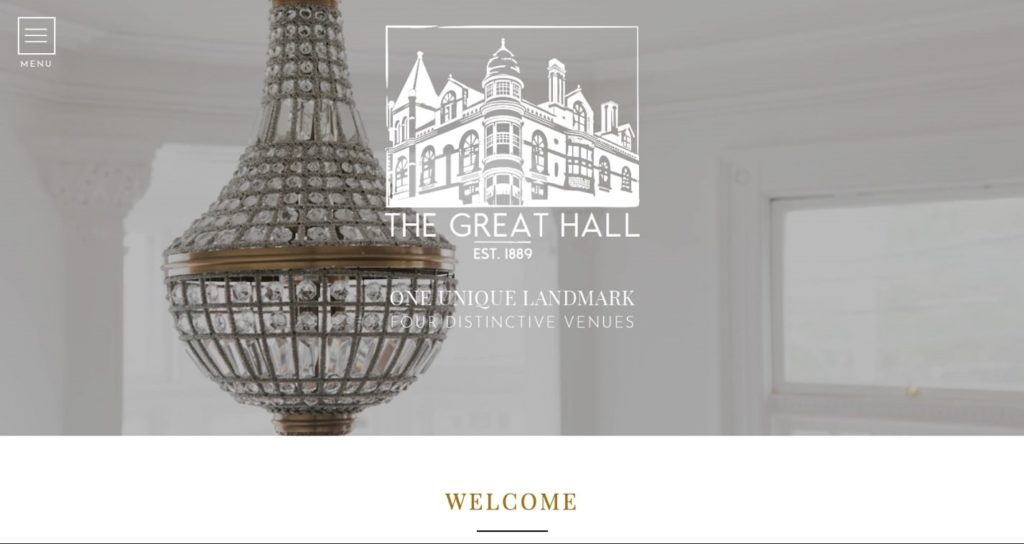 Test
Info
SERVICES
Corporate

Wedding

Social

Production

WEBSITE
https://www.thegreathall.ca/
ADDRESS
1087 Queen St W, Toronto, ON M6J 1H3, Canad
CONTACT INFORMATION
+1 416-792-1268
OPERATING HOURS
Monday to Friday: 10:00 - 18:00
| | |
| --- | --- |
| LOCATION | ★★★★★ (5/5) |
| > Accessibility | ★★★★★ (5/5) |
| > Parking and transportation | ★★★★★ (5/5) |
| AMENITIES AND EQUIPMENT | ★★★★☆ (4.5/5) |
| > Quality | ★★★★★ (5/5) |
| > Variety | ★★★★☆ (4/5) |
| VALUE | ★★★★★ (5/5) |
| CLIENT SERVICING | ★★★★★ (5/5) |
The Great Hall of Toronto is a historic landmark in the city's west Queen West neighbourhood that offers class and convenience in a prime location. The place itself can accommodate large and small events indoors.
They host events such as corporate events, weddings, social events, and production events. They can accommodate groups from two to 1200, providing a perfect setting for your next event.
It has 20,000 square feet of space, an adaptable event space with modern features like a state-of-the-art HVAC system, dedicated high-speed Internet, and concert-quality sound and lighting.
The Great Hall is fully accessible. There is an elevator that connects the lower floor to the second story of the building, and both levels have restrooms;
Additionally, a person with a disability may need to be accompanied by a support person when on the grounds of the Great Hall.
Their four venues are the main hall, conversation room, longboat hall, and drawing room.
Guests we've spoken to claimed it was a gorgeous venue with kind and accommodating staff, an amazing sound system, and flexible spaces for different events.
In addition, some guests commented that it was a great venue for socialising and arts.
They also have an alcohol policy, stating that there should be no alcohol served when the clock strikes 2:00 AM. You may ask the staff for assistance if you'll be going home.
The cost of an event is determined by the location, date, time, and needs. Their reception location price starts at $3,850 at the height of the season.
The Great Hall is situated at 1087 Queen Street West, near the intersection with Dovercourt Road, in the western part of downtown Toronto. Right outside their doors is a TTC streetcar stop, and close by are four Green-P public parking facilities.
Public transit accessible
Location is close to public parking spaces
Concert-quality audio and lighting equipment
Four event spaces
Kind and accommodating staff
Reasonable rental fees
Limited alcohol serving time
No catering
Customer Reviews
Super friendly staff
"Great venue! Super friendly staff! Great acoustics for any concert or musical performance, great space for weddings, TIFF events, and so on!" —Arturo Gonzalez, Google Reviews
Cozy and warm atmosphere
"The Great Hall hosted the Art Battle event, which I attended. This old, beautiful building creates cozy and warm atmosphere, making any event unique." —Tetyana Nechyporenko, Google Reviews
6. Lodge On Queen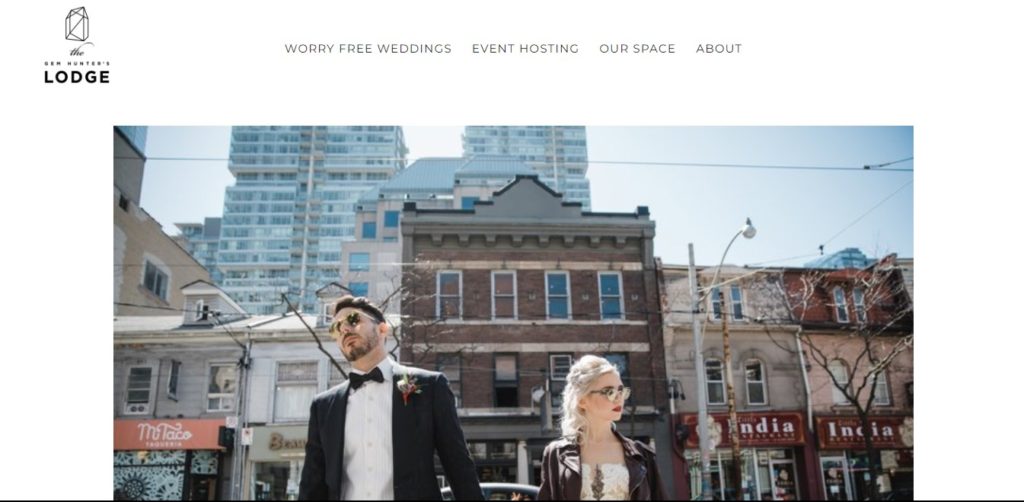 Test
Info
SERVICES
Worry Free Wedding Packages

Parties and Celebrations

Corporate Events & Meetings

Production Rentals Food and Vendors

WEBSITE
https://www.lodgeonqueen.club/
ADDRESS
251 QUEEN STREET WEST TORONTO, ON

2ND AND 3RD FLOORS

CONTACT INFORMATION
+1 (416) 731-1812

[email protected]

OPERATING HOURS
Everyday: 9:00 - 14:00
| | |
| --- | --- |
| LOCATION | ★★★★☆ (4.5/5) |
| > Accessibility | ★★★★★ (5/5) |
| > Parking and transportation | ★★★★★ (4/5) |
| AMENITIES AND EQUIPMENT | ★★★★☆ (4.5/5) |
| > Quality | ★★★★★ (5/5) |
| > Variety | ★★★★☆ (4/5) |
| VALUE | ★★★★★ (5/5) |
| CLIENT SERVICING | ★★★★☆ (4.5/5) |
Lodge on Queen is a venue located in the heart of downtown Toronto, offering a spacious and well-equipped space suitable for professional events and meetings.
In comparing them to others, their venue is equipped with tables, chairs, projector, flatscreen TV, sound system, and WiFi, an ideal spot for hosting corporate events, such as business meetings, seminars, or training sessions.
What we like about them is that they are located in the heart of downtown Toronto, making it easily accessible for attendees from different parts of the city. The location is also surrounded by many amenities, including restaurants, cafes, and shops, providing a convenient and enjoyable experience for guests!
Another factor why we prefer the over other spaces is that The Lodge on Queen can accommodate up to 120 people for strolling cocktail-style events and up to 80 people for smaller events on the top floor.
Additionally, the space is well-lit, spacious, and designed with professional events in mind, offering a comfortable and productive atmosphere for attendees.
The location of Lodge on Queen in a busy area of downtown Toronto may also lead to higher noise levels during the event, which could potentially disrupt the event and make it difficult for attendees to focus.
Catering and bar services can be arranged on request
Venue is equipped with essential amenities
Spacious Venue
May get noisy since its location is in a busy area
Customer Reviews
"This private members club is discretely tucked above a retail store off of Queen West. The ambiance is always warm and inviting. They space is very versatile, from the cozy sitting areas, to the bar, to the pool table – it is just right for creating a dynamic vibe for events."
"Great location. The space was excellent for a gathering of professionals in the mood to support a friend and celebrate. A selection of high quality cheese, salami and prosciutto made me happy to be alive!"
FAQs about corporate events
---
We hope our review was able to help you find the best spot to host your next corporate event!
If you want something smaller and less formal than an all-out corporate event, you can start by hosting a corporate dinner! Try out these best buffet places in Toronto.