The 5 Best Business Directories in Toronto
Whether it's for personal reasons or business plans, finding something online can get tricky without knowing where to look.
In this review, we list down the best business directories to help you locate any shop or service in Toronto. This list can also be helpful to those who are eyeing to develop or improve their local Toronto business.
The best business directories in Toronto
Business directories should be able to give consumers an easy and purposeful searching experience. For this to happen, their websites should meet certain requirements. We selected the business directories in this list according to the following:
How much do business directory packages cost in Toronto?
Before we show you our business directory selection, we would like to introduce you to the prices of directory subscriptions.
Note that there are free sites out there so you can always maximize them. However, if you need advanced features and are willing to pay, these are the possible rates each website may charge you.
| Package Type | Price |
| --- | --- |
| Per month | $10 - $300 |
| Per year | $700 - $4,000 |
1. Google My Business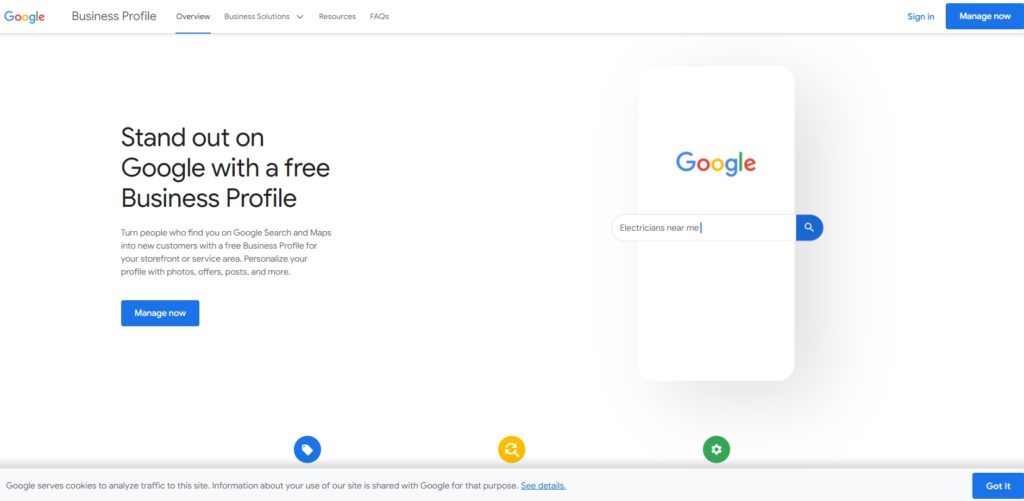 | | |
| --- | --- |
| NAVIGATION | ★★★★★ |
| FEATURES | ★★★★☆ |
| VERSATILITY | ★★★★★ |
| CREDIBILITY | ★★★★☆ |
Google remains as one of the leading software online. In the efforts of catering to everyone, the software company launched Google My Business in 2014.
Google My Business allows business owners to put up their business through the platform. This will enhance their online visibility and make it easier for them to locate potential partners and competitors in their industry.
The good thing about Google My Business is that it captures a wide reach of audience. Once a business owner sets up a profile, their business can appear in related Google searches.
Another advantage of Google My Business is that its layout and navigation is already familiar with a majority of virtual users as it is derived from Google. It can be said that many people usually stick to what they are already familiar with, especially online.
Setting up a profile on this platform is easy and free. However, one may actually need to purchase monthly subscriptions to the platform to fully enjoy and maximize its features.
The subscriptions cost around $12 to $18, which isn't bad if you really plan to boost your business virtually. The only negative thing we see about this is that there are entirely free business directories out there, so some consumers may prefer to utilize those.
We would also like to emphasize that one would really need to set up a profile before getting to explore the website. While this is understandable given the platform's nature, those who would just like to search through it and not actually list a business might transfer someplace else.
Google My Business is arguably the most trusted business directory online. Everything and everyone can be within reach through it.
Made by Google
Covers various business categories
Setting up a profile is free
Asks for an actual business profile before taking you to the platform
With fees to maximize features and reap benefits
2. FS Local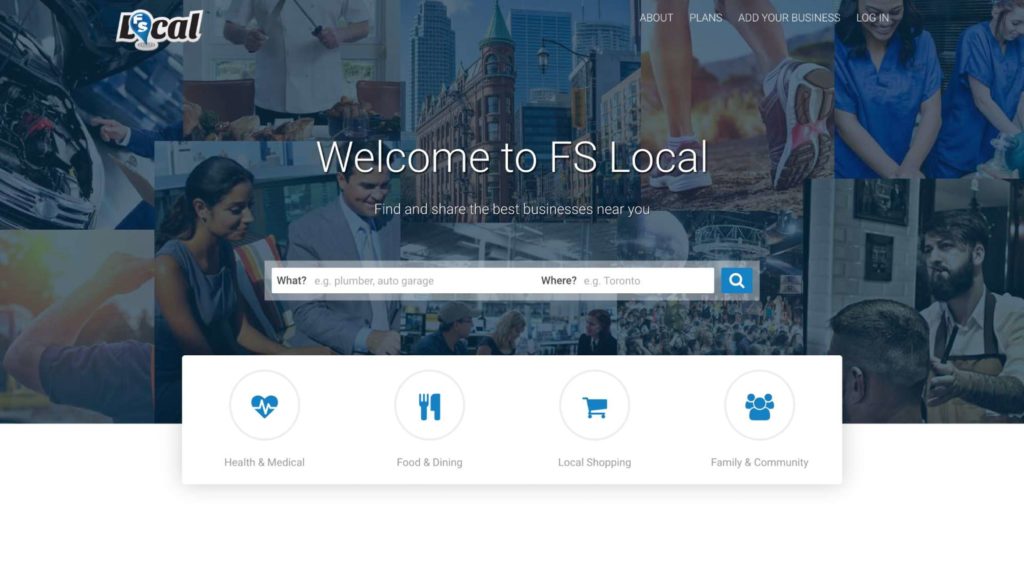 | | |
| --- | --- |
| NAVIGATION | ★★★★☆ |
| FEATURES | ★★★★☆ |
| VERSATILITY | ★★★★★ |
| CREDIBILITY | ★★★★★ |
FS Local is an innovative business directory that caters to the United States and Canada. It was established in 2004 and is still pursuing its goal of improving the online presence of small businesses.
The entire concept of FS Local is to introduce business owners to a virtual neighborhood where they can exchange ideas, keep competitors close, and find the best partners and collaborators.
They take pride in showcasing the best small businesses across Canada, especially in the following regions: Toronto, Ottawa, Vancouver, and Montreal.

What we appreciate most about this service is that it discloses a list of its accredited partners and local experts. This helps in maintaining its credibility and can even encourage more consumers to utilize the platform.
FS Local is open to all and allows users to initially sign up for free. You can also simply browse by region or by category to check out nearby and related businesses.
We do note that sometimes, some of the buttons on their website lead to error pages. This puts them a little behind in terms of navigation.
The website also offers a standard $9-worth monthly package that includes various features, category placements, and bonus benefits. While signing up is free, this aspect can drive away consumers who do not wish to spend any amount for a business directory.
Overall, FS Local makes a good Toronto small business directory. This is supported by all the positive Google reviews it has, which are testimonies of how it has helped small businesses in its service areas.
Less than 20 years in the business 
Browse by region or by category
With a list of accredited partners and local experts 
Faulty website buttons
With a $9 fee for full benefits 
Customer Reviews
Innovative and friendly
FS Local is single handedly changing the face about how communities should look to supporting their businesses. They are innovative and friendly and constantly on the search for how to improve the experiences of the businesses they work with. Rather than following the crowd of every other marketing firm, they are challenging the status quo and raising the bar for their competitors to strive to keep up. — Kevin T Cahill, via Google
Great internet marketing resource
A great internet marketing resource to business owners across the greater Toronto area – I highly recommend their services! — Alex Stojkovic, via Google
3. Scott's Directories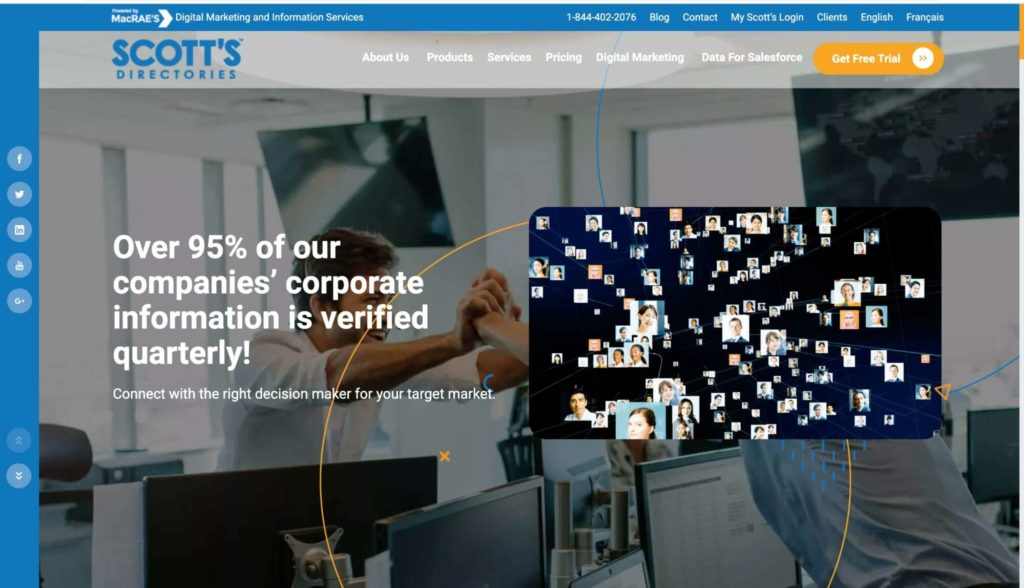 | | |
| --- | --- |
| NAVIGATION | ★★★★☆ |
| FEATURES | ★★★★☆ |
| VERSATILITY | ★★★★☆ |
| CREDIBILITY | ★★★★☆ |
For over 60 years, Scott's Directories has been a respected business information database in Canada. Their lists are primarily divided into two categories, Corporate and Medical.
The company has also recently been included as a part of MacRAE, which is known as one of the most trusted B2B digital marketing service providers in North America.
Given its two primary categories, Scott's Directories takes pride in the following lists: corporate, industrial, school, corporate, medical, pharmacy, dental, and healthcare.
For all the said categories, Scott's holds a minimum list of at least 10,000 companies. This is quite impressive given that some directories can only list down hundreds.
On top of that, they also prove to be a reliable business directory given the fact that they have 600,000 companies and 1.2 million contacts under their corporate list.
Various subscriptions that are purchasable through their website are needed to avail their full services. This is one downside as they may be a good source but many users might not want to avail subscriptions just to check out company lists.
We also note that their available subscriptions are annual and expensive. Others out there may ask for fees but do not price as much as this company does.
All said, we would still recommend Scott's Directories given its good reputation and extensive list. They can assist you in your business given the right price and usage.
More than 60 years experience
Recently included in MacRAE
Has over 10,000 companies per category list
With 600,000 companies and 1.2 million contacts for the corporate industry
Full services can be availed through subscriptions
Expensive subscription packages 
Customer Reviews
The features of the online database allow for very direct search criteria and provide detailed results.
Scott's Directory has been a great partner in assisting our national charity BullyingCanada in accessing up to date and accurate information about businesses and organizations across Canada, allowing us to form partnerships and lasting relationships to further our work.
We have used a number of the products available, and I can say with confidence that all of the Scott's Directory line of products will meet the needs of businesses and organizations that are looking for accurate information related to corporate data.
The features of the online database allow for very direct search criteria and provide detailed results.
We will continue to use their services for years to come! — Rob Benn-Frenette, via Google
It has made our outreach process much faster and simpler
Scott's Directory has been instrumental in helping us at Habitat for Humanity (Miss-Halt-Duff) connect with local businesses for partnerships. The search function allows us to narrow our search to very specific criteria to give us precise results while also providing us with key information on the business. It has made our outreach process much faster and simpler with easy ways to download and save our search results, and we look forward to continuing their services in future searches. — Habitat for Humanity Procurement Assistant, via Google
4. Zipleaf Canada
| | |
| --- | --- |
| NAVIGATION | ★★★★☆ |
| FEATURES | ★★★★☆ |
| VERSATILITY | ★★★★☆ |
| CREDIBILITY | ★★★★☆ |
Zipleaf is a relatively new website that provides country-specific lists of businesses. It has been operating for 5 years now and is slowly becoming one of Canada's most prominent business directories.
What we like most about Zipleaf is how it offers up to date search engine scans that enable users to enter keywords and find their desired results. This system is a good upgrade from the usual search bar found in most websites.
This business directory also presents a list of businesses that are for sale, for those who are interested.
Listing and promoting a business profile is completely free. This is the directory's biggest advantage, as it persuades business owners to login in exchange for 100% costless advertising.
The only negative thing we can point out about Zipleaf is that it still isn't as large as most online directories out there. Most of its results range from a hundred to a thousand companies only, far from the 10,000 minimum count per category by others.
Another point to note is that Zipleaf does not have a physical office, so everything goes through online. This can be a disadvantage as consumers who may want to call or talk to an actual representative may feel hassled.
Overall, Zipleaf is still a good option for those who are looking to promote their business online and for those who want to find the best suitable Toronto local business for their needs.
Completely free
Advanced search engines
Has a list of businesses for sale per country
Results are usually a hundred to a thousand only 
No physical office 
5. N49 Directory Network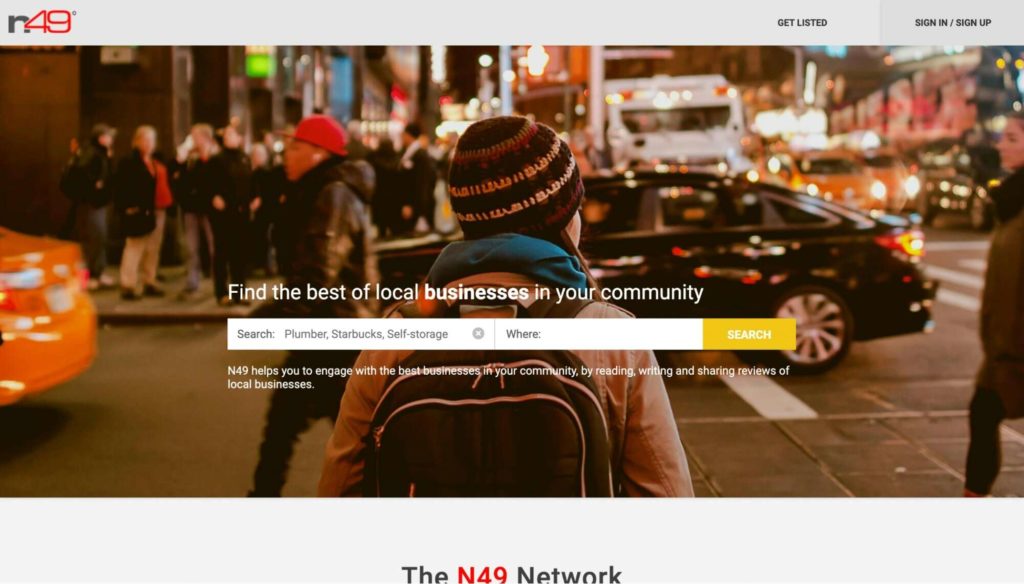 | Test | Info |
| --- | --- |
| WEBSITE | https://www.n49.com/ |
| CONTACT INFO | 1-866-467-7622 |
| ADDRESS | 505 Eglinton Ave W, Suite 400, Toronto, Ontario |
| | |
| --- | --- |
| NAVIGATION | ★★★★☆ |
| FEATURES | ★★★★☆ |
| VERSATILITY | ★★★★☆ |
| CREDIBILITY | ★★★★☆ |
Since its foundation in 2000, N49 has been exerting efforts to become an interactive platform for business owners in Canada and the United States. Their flagship services include connecting businesses with customers through websites, search engine optimization, and online reviews.
The directory network is supported by various market websites, including those in Canada. This is how they are able to provide a diverse list of companies and businesses.
Searching is pretty much the same here as it is in other business directories out there. A search bar is available for those who are looking for something specific and lists are categorized for those who just want to scroll through.
Around 300,000 Toronto businesses are listed on their website as of writing, but we do hope there can be more. It is vital for a directory to list down as many businesses as possible.
Listing your business through N49 can either be free and basic or paid and advanced. Their paid packages are either $10 or $100 monthly, which we think are reasonable enough for the promises they come with.
The $10 package covers verified business listing, website link, OPIO review system, self serve listing, and email support. The $100 package comes with more, including, but not limited to, featured listing placement, featured portal listing, full serve listing, and phone & email support.
Navigation-wise, we do note that some of their buttons automatically open new tabs. This can honestly be a good thing or a bad thing, depending on the preference of a user.
In conclusion, N49 is pretty good. They attend to the need of locating and/or growing a business and even have an impressive portfolio of websites that they have developed.
More than 20 years experience
Supported by market websites
Organized portfolio of previous work 
Have fewer businesses listed compared to other websites 
Paid advanced listing packages 
Customer Reviews
The experience has been great
We've worked for a few years now with N49. The experience has been great. Our rep Jennifer has always been super helpful in any situation. Would highly recommend! Thanks 🙂 — Kershan Bulsara, via Google
Folks at N49 are friendly, knowledgeable and on time
\We are working with N49 for over 3 Years. Folks at N49 are friendly, knowledgeable and on time. They built our website from scratch and it was a big success for us. Thanks Rushid, Tuyen and Rick for the hard work. — Ron Keramati, via Google
FAQs about business directories in Toronto
---
Online results of businesses can get overwhelming. We hope that this list was able to help you find a business/service that you need.
If you're a business owner or you're planning to start a business soon, check out this 2022 guide for business owners in Toronto.