The 6 Best Fertility Clinics in Toronto
Struggling to take that leap into parenthood? Let's help you take things one step at a time with today's review.
Featuring the best fertility clinics in Toronto, this article aims to help you conceive the bundle of joy you've been waiting for. Take a look at the clinics that made our list so you can make the best decision.
The Cost of Visiting Fertility Clinics in Toronto
Certain fertility treatments are expensive but funding is possible through the Ontario Ministry of Health.
Refer to the table below to see the list of OHIP-funded fertility treatments:
Treatment
Limits
In-vitro fertilization (IVF)
One IVF cycle per patient per lifetime

One additional cycle if acting as surrogate

Artificial insemination (AI)
No limit on cycle treatments
Intra-uterine insemination (IUI)
No limit on cycle treatments
Fertility preservation
One treatment cycle per patient
Fertility drugs, genetic testing, and storing sperm, eggs and/or embryos are not OHIP-covered. So, you'll have to use private health plans to cover the following:
IVF fertility drugs – About $5,000 per cycle
AI or IUI fertility drugs – About $1,000 per cycle
Depending on the fee structure of a clinic, your OHIP may cover other services. For instance, it may cover the initial consultation, blood tests, and ultrasound.
Now, there are a lot more fertility treatments and tests that OHIP doesn't cover. See the table below for some of the most common services you may encounter during your treatment:
Model
Estimated Screen Repair Cost
Rate
Non-Funded IVF Cycles
Fresh IVF Cycle
$11,500
Freeze All Cycle
$13,475
Egg Freezing Cycle
$8,600
Frozen ET Cycle
$2,300
Funded IVF Cycles

(cost of certain services, if ordered)

Embryoscope™
$1,000
Spindleview
$650
Matris
$400
PGT Biopsy
$2,500
Diagnostic Testing
Anti Mullerian Hormone (AMH) test
$108
DNA Fragmentation
$250
Sperm Chromatin Assay
$225
Cycle Monitoring/IUI
Sperm Wash
$800
Medication
$300 - $2,000+
Block Fee
$250
Important things to remember:
Most private health plans cover medical procedures involved in fertility treatments. Review your plan first and find out if it covers fertility procedures.
As for medication, every person is different; therefore, the amount of medication required varies. Depending on your health plan, you may have full, partial, or no coverage for medication.
If you have limits on coverage, you can pay out-of-pocket for less expensive stages.
Top Fertility Clinics in Toronto
To find the best fertility clinics in the city, we looked into the following factors:
What about success rates in pregnancies? See, fertility treatments are unique to every individual and even the most advanced tech in the world can't guarantee a pregnancy.
Plus, the treatment you'll get will really vary depending on factors unique to you, your health, and your fertility history. But, we highlighted some success rates if we find it to be a great benchmark to make a decision.
1. Anova Fertility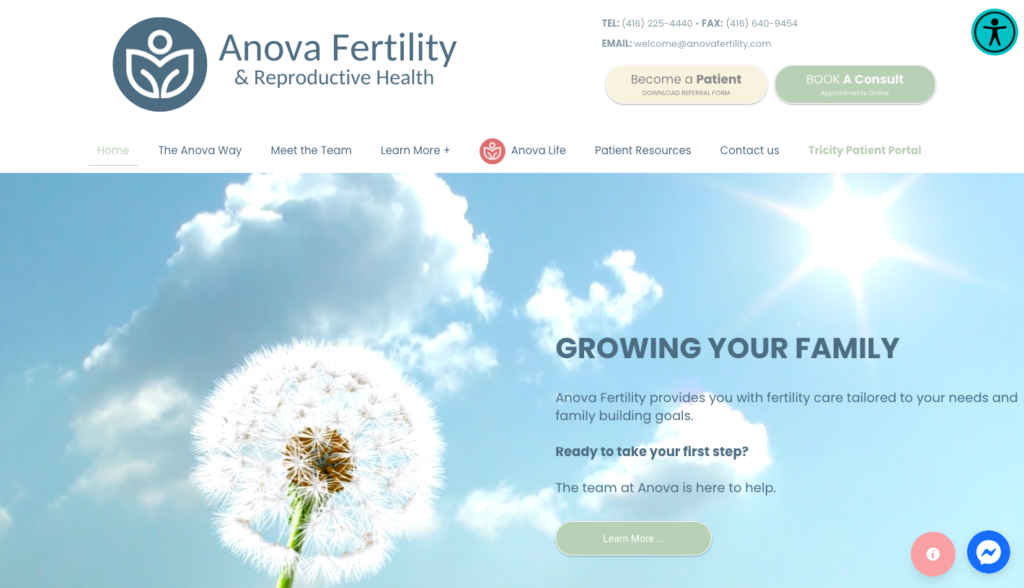 Test
Info
SERVICES
Fertility Assessment, IUI, IVF, LGBTQI+, Egg Freezing
WEBSITE
https://anovafertility.com/
ADDRESS
25 Sheppard Ave. W. unit 650 Toronto ON M2N 6S6
CONTACT DETAILS

Phone: (416) 225-4440

Fax: (416) 640-9454

Email: [email protected]

OPERATING HOURS
Monday to Friday 7:00 am - 3:00 pm (EST)
Anova Fertility & Reproductive Health was founded in 2016 by Dr. Marjorie Dixon, who serves as its CEO and Medical Director. She is a graduate of McGill University's School of Medicine and received postgraduate training at University of Toronto in Obstetrics and Gynecology.
Dr. Dixon then took her specialty with The American Board of Obstetrics and Gynecology at the University of Vermont. This allowed her to obtain an Accredited Fellowship in Reproductive Endocrinology and Infertility.
Anova Fertility is a full-service fertility and IVF center that houses the first next-generation embryology laboratory in the country. What sets them apart is that their treatment focuses on a holistic, humanized approach to fertility and reproductive care.
Dr. Dixon and her team of expert doctors, nurses and health care providers offer a nurturing environment for those seeking help to start their own family. The center's goal is simple – to provide a facility with advanced technology and comforting care at the same time.
Before visiting Anova Fertility & Reproductive Health, you'll need a referral from your current physician or Ob/Gyn. If you don't have one yet, you can easily get a referral online through one of the center's affiliated online partners.
Whether you're trying to conceive or are looking into a surrogate program for your family, Anova Fertility is one of our top picks for fertility clinics in Toronto. They have an experienced team of doctors and have advanced technology at their disposal, which makes them one of our top options worth considering.
Experienced team of doctors and health professionals
Has the first next generation laboratory in Canada
Multiple locations in the GTA
Provides various learning resources for patients
LGBTQ2I+ ally
Need referral to be a new patient
Customer Reviews
Amazing team

"The team at Anova are an absolute delight! Ran into a few hiccups on my egg retrieval day and the team were amazing at assisting my husband and I with problem solving! Dr. Gilman and the nurses were amazingly supportive throughout my egg retrieval procedure as well! I look forward to working with this amazing team as we continue our journey" – Tasha Maria Cloutier

I truly recommend Anova

"Anova is one of a kind. All the staff are very friendly. Dr Mehta is great . Dr. Dixon is really mega. This two Doctors are exceptional. I can't find a word to exactly describe them but yes I truly recommend Anova. Even there staff in the blood work section , like Marisol and her co workers, they are great as well." – Mergere Nilo
2. Hannam Fertility Centre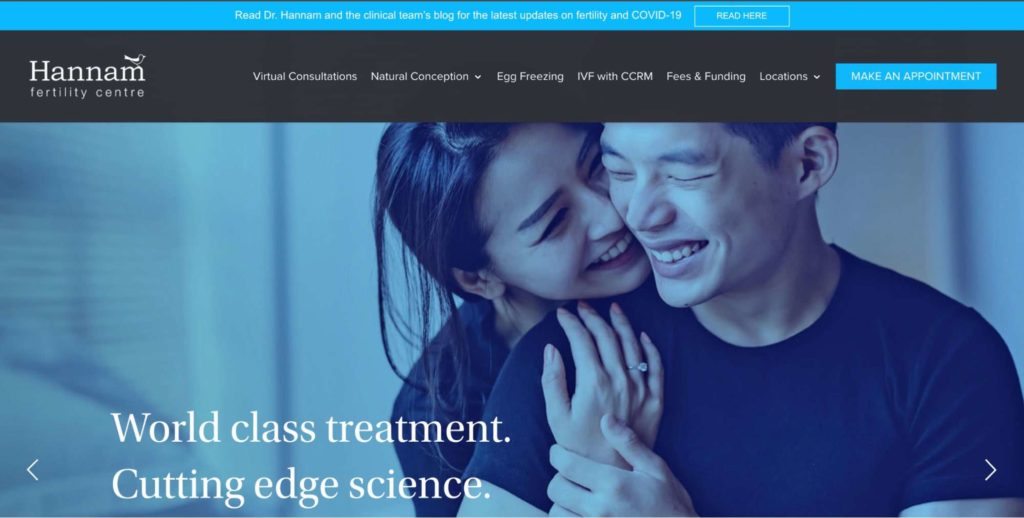 | Test | Info |
| --- | --- |
| SERVICES | Natural contraception program, IVF, egg freezing |
| WEBSITE | https://hannamfertility.com/ |
| ADDRESS | 160 Bloor St E #15, Toronto, ON M4W 3R2 |
| CONTACT DETAILS | +1 416-595-1521 |
| OPERATING HOURS | Monday - Saturday: 7:00 AM - 3:00 PM |
Hannam Fertility Centre (HFC) offers IVF with CCRM, egg freezing, and a natural contraception program.
Every session starts with a virtual consultation via online video or phone. This consultation is designed to understand your fertility history and your goals.
Following this consultation is a One-Day Work Up.
A standard fertility investigation would have taken weeks in other clinics. With HFC, these standard protocols are reduced to only one-day, lessening on-site visits.
One of the highlights of their services is IVF by CCRM.
To give you a bit of background, CCRM is an international leader in IVF treatments. In fact, their success rates are among the highest in North America.
Another notable service is their natural contraception program. This option is best for individuals who want to conceive with minimal intervention.
What makes this program noteworthy is its at-home monitoring and treatment. For instance, IUI (part of their program) can be done at home, minimizing clinic visits.
Most of the tests involved can also be done at home. In comparison, other fertility treatments will require you to make multiple clinic visits for various tests.
Finally, they also offer egg freezing techniques to women who want to become their own donors. To know how many eggs you can freeze, you can take an AMH test onsite or at home.
LBGTQ-friendly
Virtual consultation available
OHIP-covered consultation, blood test, and ultrasound
Fertility investigation only takes one day
Higher success rates through IVF by CCRM
At-home monitoring and treatment for the natural contraception program
AMH tests for egg freezing can be done at home
Spacious facilities
Constant communication can be a struggle
Issues with varying success rates
Customer Reviews
Extremely helpful and empathetic
Extremely grateful and thankful for all the support, help and guidance the whole Dr Robb team has provided. Since my first appointment the team has been responsive, empathetic, and extremely helpful. The nurses are all angels!! Dr Robb is clearly very knowledgeable and knows what he's doing, it's a nerve wracking process but he takes the time to check in and make sure you're comfortable each step of the way!!! Would highly recommend this clinic! – Nadia Zed
Wonderful experience from welcoming staff
Dr Robb and his team have been so nice and allowed my husband and I to have a wonderful baby. The entire team is caring and welcoming. From the receptionist, to the nurses, ultrasound technicians, embryologists, and admin, everyone is hard working and dedicated to the patient. – Karen Handschuh
3. TRIO Fertility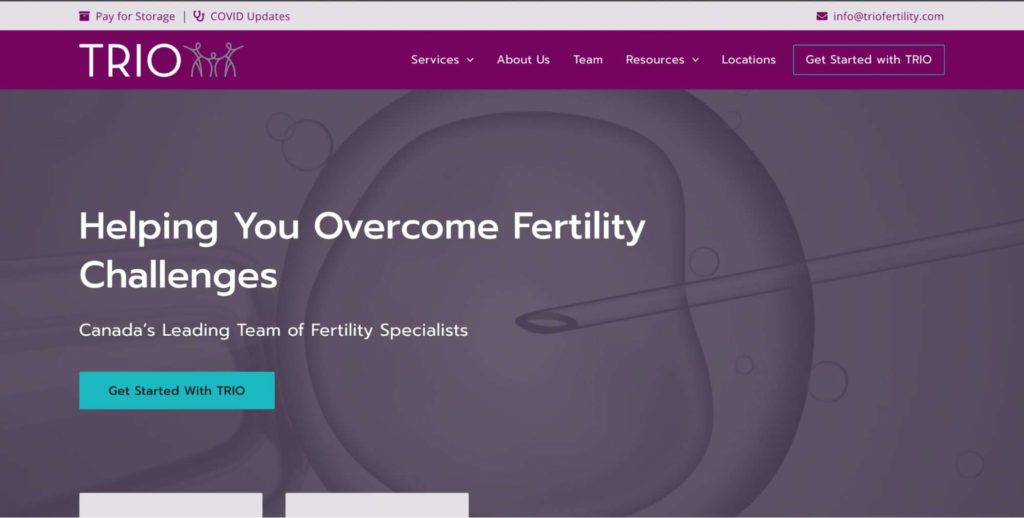 Test
Info
SERVICES
Cycle monitoring, IUI, IVF, recurrent pregnancy loss program, third-party reproduction, preconception care, fertility counseling
WEBSITE
https://triofertility.com/
ADDRESS
655 Bay St., Toronto, ON M5G 2K4
CONTACT DETAILS
+1 416-506-0804
OPERATING HOURS
Monday - Friday: 7:00 AM - 4:00 PM

Saturday - Sunday: 7:00 AM - 1:00 PM
TRIO Fertility offers various services including cycle monitoring, IVF, and fertility counseling. They also have a recurrent early pregnancy loss (RPL) program and preconception care.
One of the clinic's strongest suits is its experience of over 40 years in the field. Throughout these years, they've handled more than 100,000 patient cases with high success rates.
On top of that, the clinic also has the biggest in-house fertility team in Canada. Plus, they have online support groups handled by their fertility counselors.
One of the clinic's stand-out services is its RPL program for those with recurrent early miscarriages.
The program involves testing, monitoring, and creating a treatment to maximize the chances of pregnancy. Not all clinics offer an RPL program, making it one-of-a-kind across Canada.
LGBTQ clients are welcome to build their families in this clinic too. They have access to various fertility services including IUI, IVF, and reciprocal IVF.
By the way, reciprocal IVF is a good option if you and your partner both want to contribute to the pregnancy. If you're both women, one can provide the egg while the other carries the pregnancy.
Lastly, the clinic has a team of clinical psychologists, psychotherapists, and social workers for fertility counseling. This service can help you prepare yourself before undergoing treatment.
40 years in the industry
Experience with over 100,000 patient cases
Largest in-house fertility team in Canada
One-of-a-kind RPL program
Great option for LGBTQ couples
Patients can choose their own doctor
Virtual consultations available
Open daily
Booking an appointment can take a long time
Issues with communication such as follow-ups
Customer Reviews
Makes clients feel at ease
Had my egg retrieval with Dr. Abrol, I was so incredibly nervous because she is not my doctor, and I was terrified of the pain and procedure. Dr. Abrol was so sweet and kind, looked me directly in my eyes and told me everything she was doing. She really calmed me down. The process was much better because of her. Thank you so much! – Sarah Nantais
Goes above and beyond with service​​s
Absolutely love Trio! The staff here are amazing! We worked with Dr Cadesky. He was straight forward with us, honest, and talked us through every process. The staff go above and beyond for each patient. This clinic helped us to find our son and we will be returning to them to hopefully expand our family. I highly recommend this clinic. – Sam McLellan
4. Tripod Fertility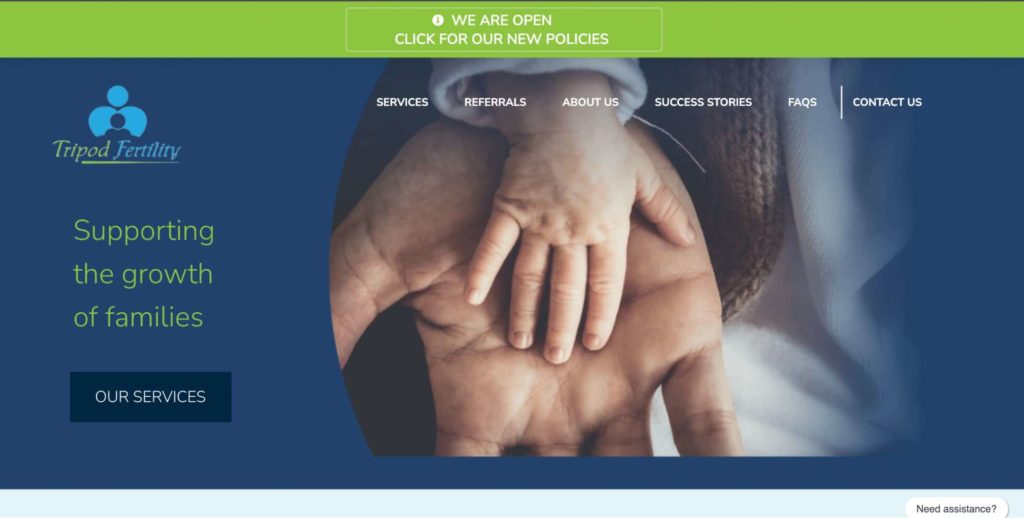 | Test | Info |
| --- | --- |
| SERVICES | Fertility assessment, ultrasound, cycle monitoring, IUI, IVF, hormonal blood work, semen analysis, immune testing & treatment, fertility preservation, family planning, gynecology consultation and care, prenatal care |
| WEBSITE | https://www.tripodfertility.com/ |
| ADDRESS | Atria III, 2225 Sheppard Ave E Suite 901, Toronto, ON M2J 5C2 |
| CONTACT DETAILS | +1 905-201-3420 |
| OPERATING HOURS | Monday - Friday: 7:00 AM - 3:00 PM |
Tripod Fertility is fairly new in the business compared to other clinics. In fact, they've only been operating since 2015, with a new clinic in Toronto established in 2020.
While this may seem disadvantageous, this can also serve as a plus for new clients. No need to wrestle with limited appointments as they can easily accommodate newcomers.
The clinic offers services ranging from fertility treatments to gynecology and prenatal care. They also provide programs that other clinics don't offer at the moment.
These include ovulation induction and controlled ovarian hyperstimulation (COH). This process is designed for female patients with irregular or absent menstrual cycles.
There's also semen analysis available for male patients to assess male infertility. Other noteworthy programs are their gynecology consultation and care for complete female care.
Family planning services are also available here. Through this, the clinic can simplify the processes for requirements for egg/sperm donation and surrogacy.
The clinic's facility is packed with everything you need on-site. They have blood labs and an ultrasound department for complete treatment processes.
With a perfect 5-star rating on Google Reviews, we can say that its past clients are truly satisfied. It's just its relative newness to the scene that may cause some to think twice.
LGBTQ-friendly
Offers programs and services that other clinics don't
Specific services made for both men and women
Family planning services that simplify the process for couples
Labs are accessible on-site
Virtual consultations available
Fairly new clinic
Closed on weekends
Customer Reviews
Respectful and helpful
Such an amazing place and team. Before several months my husband found this clinic online and we made a self referal. I am really grateful we did. Dr. Dzineku and Dr. Roumain are very proffesional, smart and supportive. The nurses are very responsive. The recieptionist is really respectful and helpful. Highly recommended – Fairoz Ameen
Excellent, supportive, and well-informed
Best OBs ever. Helped my husband and i achieve our miracle baby. Excellent bedside manners, supportive, responsive, well informed and they are careful not to take chances – we had very little embryos. Most importantly they take the time to explain every concern and listen. I trust every decision and direction from Dr Dzineku and Dr Roumain. Great support staff and nurses as well that make you feel at home and just as important as family. – Michelle Chang
5. CReATe Fertility Centre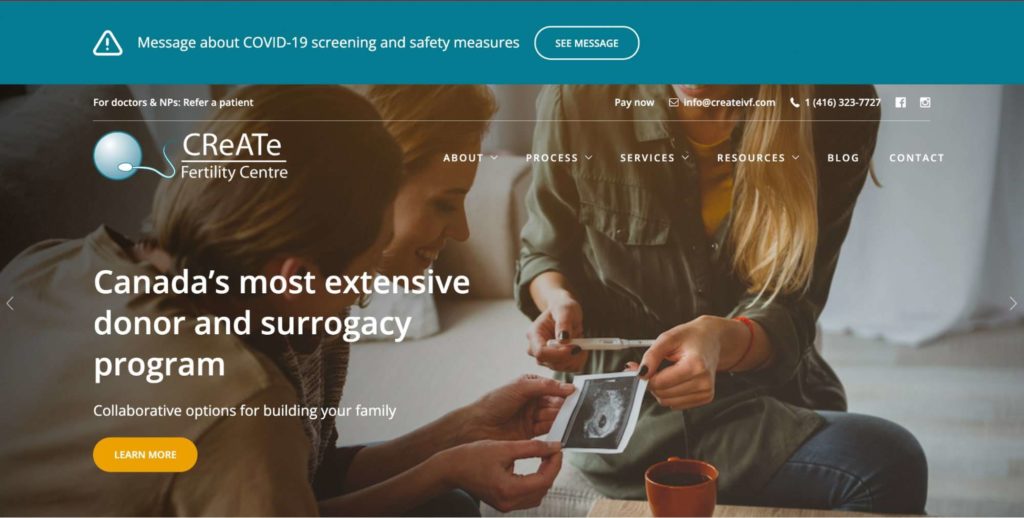 Test
Info
SERVICES
IVF, IUI, cycle monitoring, egg, sperm, and embryo donation, oncofertility, elective egg freezing, counseling and wellness, genetic screening services
WEBSITE
https://www.createivf.com/
ADDRESS
790 Bay St. #1100, Toronto, ON M5G 1N8
CONTACT DETAILS
+1 416-323-7727
OPERATING HOURS
Monday - Friday: 7:00 AM - 6:00 PM

Saturday - Sunday: 8:00 AM - 2:00 PM
Canadian Reproductive Assisted Technology or CReATe is one of the leading fertility clinics in Canada. They offer a wide range of fertility services made for every individual.
The clinic can cater to a diverse clientele including heterosexual and same-sex couples as well as single men and women. They're also currently working on services for trans people, which is something worth noting.
What makes the clinic stand out are its state-of-the-art technologies and experience.
For starters, they have the EmbryoScope ® time-lapse system. This is an incubator that allows embryologists to assess how fast or slow embryos are growing.
In addition, they also have in-house genetic screening with advanced genetic platforms.
This includes Preimplantation Genetic Testing for Aneuploidy (PGT-A or PGS). This test can be performed on embryos and can increase pregnancy rates to 80%.
Another thing that sets this clinic apart is that they can accommodate religious practices in their procedures. For example, they offer orthodox Judaism IVF supervision.
Services tailored to all types of individuals
Offers fertility preservation options for patients undergoing cancer treatment
State-of-the-art technologies that improve procedures
Has in-house genetic screening services
Can accommodate religious practices with their services
Has the largest surrogacy and egg donor program in Canada
Shared risk guarantee for surrogacy and egg donation
Convenient access to care with satellite clinics
Difficult to book
Communication and follow-ups aren't great
Customer Reviews
Extraordinary care all throughout
As a stage 4 cancer patient, I have been told words like "impossible" in regards to becoming a mom. Since becoming a patient of Dr.Glass's, she has gifted me hope and optimism all while being extremely professional and factual. I am so thankful to her and the CReATe team for all of their help and care thus far, I can't wait to see what the future brings! – Alana Donovan
Great service every step of the way
Just finished my last egg donation! I've worked with 3 other clinics Over the last few years and Create has by far had the best communication and the most organized screening process. The nurses here I worked with at made it clear as to what I needed to do making the process that much smoother. Dr.librach was able to provide the best medication protocol leaving me not feeling sick but ensured I had the best results. This has also been the only clinic to have me come in following my retrieval for a quick check up/ultrasound adding all the reassurance to fly home safely. 10/10 donor experience. – Christina Picard
6. IVF CANADA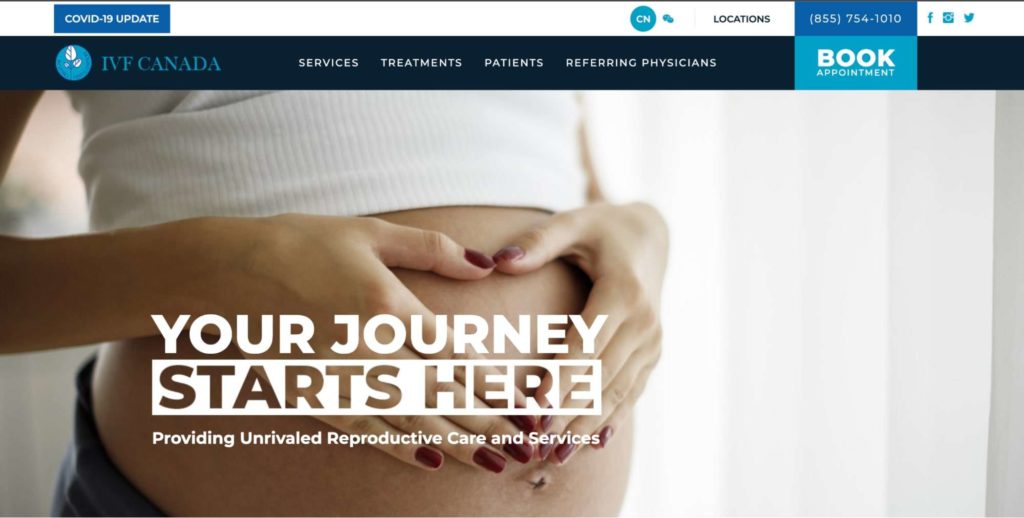 Test
Info
SERVICES
Fertility Assessment, IUI, IVF, LGBTQI+, Egg Freezing
WEBSITE
https://anovafertility.com/
ADDRESS
25 Sheppard Ave. W. unit 650 Toronto ON M2N 6S6
CONTACT DETAILS

Phone: (416) 225-4440

Fax: (416) 640-9454

Email: [email protected]

OPERATING HOURS
Monday to Friday 7:00 am - 3:00 pm (EST)
IVF Canada has been in business since 1983, having almost 40 years of experience as a fertility clinic. They are considered to be one of the leading fertility clinics with a state-of-the-art lab.
They are an accredited member of The Health Council of Canada, showing that whatever fertility problems you have, their treatment would be reliable. In addition to this, they have a patient-focus approach.
They have services such as cryopreservation, fertility preservation, and treatments for many problems regarding pregnancy. Granted, most services they have can already be found in other fertility clinics, but this doesn't diminish their expertise in the field.
IVF Canada's services may not stand out against the previous clinics, but the quality of their work is something to be sought after. A lot of their patients can testify to their quality and how good the employees of the clinic are when interacting with them.
Many of their patients are satisfied with the treatments they are getting, especially for IVF. In addition, they provide services for family planning for the mother regarding what might happen after pregnancy.
38 years of experience
Accredited member of The Health Council of Canada
State-of-the-art lab
Issues with professionalism
Inconsistent pricing on certain services
Customer Reviews
Good experience and great results
Good experience. Doctors, nurses and front desk are very nice. With their help we succeeded in doing ivf for the first time here. I'm currently 5 months pregnant and everything goes normal. Looking forward to my baby's birth!- Ellen F
Efficient doctors and friendly staff
Highly recommended. Dr Leung is the most efficient professional doctor and the staffs are so friendly and patient. After countless treatments elsewhere, I have finally chosen IVF Canada, and having my second baby right now. Really appreciate for it!- Min Luo
FAQs About Fertility Clinics in Toronto
---
Liked this article? Share your thoughts with us so we can deliver better reviews in the future!
Speaking of reviews, here are some recommendations to get started on a journey to a much healthier you: