The Top 5 Medical Centres in Toronto
In Toronto, patients needing urgent care that are non-critical opt to go to medical centres. These are usually walk-in clinics with doctors of various specialisations, medical laboratories, and physical rehabilitation services.
The top medical centres in Toronto offer the convenience of shorter wait times, comprehensive services, and even virtual consultations with physicians.
In this article, we've rounded up and reviewed the best medical centres in Toronto for you.
The Best Medical Centres in Toronto
Here are the criteria we used to choose the best medical centres in Toronto:
How much does it cost to get checked at a medical centre in Toronto?
For Toronto residents most health services are free. As long as you have been a resident for 3 months, you can get free access to doctor consultations and medical treatments.
Most of the medical services offered by medical centres are paid for by Ontario's Health Insurance Plan (OHIP). Medical doctors bill the province of Ontario for their services rendered.
99% of Doctors in Ontario collect payment on a Fee for Service (FFS) basis. Here are the indicative prices for doctors' fees.
| Kind of Billing | Fee per patient |
| --- | --- |
| Average bill for family physicians with OHIP | $77 |
| Canadian residents without valid health card | $160 |
| Non-residents and travel visitors | $160 |
| TB Test | $120 (per step) |
| Missed appointments | $20 |
| Doctor note | $40 |
1. Evercare Medical Centre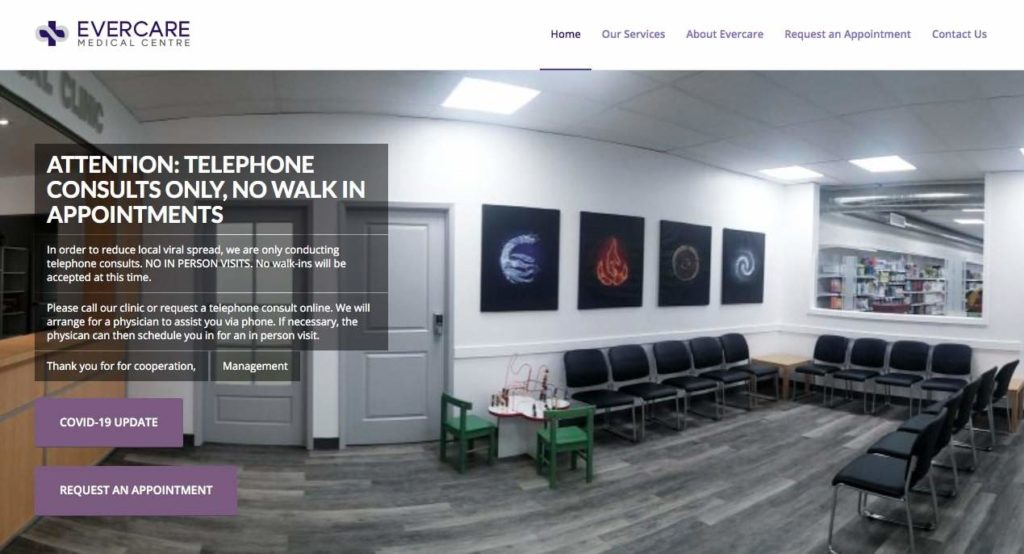 Test
Info
Services

Family Physician

Walk-In Services

Pediatric Care

Employee and Insurance Medicals

Minor Procedures

Travel Advice

Referrals

WSIB Evaluation

Website
http://evercaremedical.ca/
Address
137 Roncesvalles Ave, Toronto, ON M6R 2L2
Contact Details
416-901-0717
Operating Hours
Monday - Friday: 10 am - 7 pm

Saturday - Sunday: 10 am - 4 pm
| | |
| --- | --- |
| Criteria | Rating |
| Clinic Facilities | ★★★★★ (5/5) |
| Consultation Schedule | ★★★★☆ (4/5) |
| Medical Team | ★★★★★ (5/5) |
| Clinic Services | ★★★★★ (5/5) |
Evercare Medical Centre is a one-stop walk-in clinic that provides access to excellent health care and medical advice to patients of all ages.
The clinic has onsite family doctors to attend to patients' urgent but non-critical concerns. If patients need to see a specialist, they are given a referral. However, we've heard some concerns that not all specialists are able to circle back to the patient.
You'll be glad to know that you can complete some of your travel requirements here, as they administer vaccinations. Patients appreciate that the clinic staff are responsive and helpful in arranging other travel documentations needed.
You'll be glad to know that they honor Workplace Safety and Insurance Board (WSIB) insurance. In fact, we hear that injured workers are quickly attended to so they can undergo rehabilitation and return to work right away.
Patients appreciate how easy it is to book an phone consultations and appointments. However, we've heard of instances when patients had to wait for over 3 hours to get a confirmation of their appointment schedule.
That being said, patients love the doctors here. Even during phone consultations, they are described as thorough and caring, as well as attentive to the needs and concerns of the patient.
We also loved hearing about how helpful the clinic receptionists are. Apparently, they go the extra mile in ensuring that every patient has been seen by the appropriate doctor and are excellent in following up patients after a consultation.
For added convenience, the walk-in clinic is easily accessible from the street level of Roncesvalles Ave.
Attends to noncritical and minor injuries
Provides travel required vaccinations and documentation
Accepts patients with WSIB insurance
Easy booking process for phone consultations
Doctors are thorough in phone consultations
Helpful support staff
Accessible location
Clean and comfortable facilities
Temporarily focused on phone consultations
Instances of long waiting time for appointment confirmation
Customer Reviews
No wait time
"Excellent customer service at this clinic from the admin staff, receptionists and doctors! I have never felt this welcomed at a medical clinic – I came here to have all my mandatory work tests done (TB skin tests and flu shot) and they took very good care of me! Easy to book, reliable, friendly and best of all absolutely no wait time – thank you so much! This will be my go-to medical clinic for all my needs. :)" – Sunny
Efficient staff
"Dr Patel was thorough, descriptive, and knowledgeable over the phone. Receptionist Margret was quick, detailed, and friendly. I was able to get in for a same day appointment and get an XRay requisition quickly. Definitely recommend." – Nicole
2. Integra Health Centre – Exchange Tower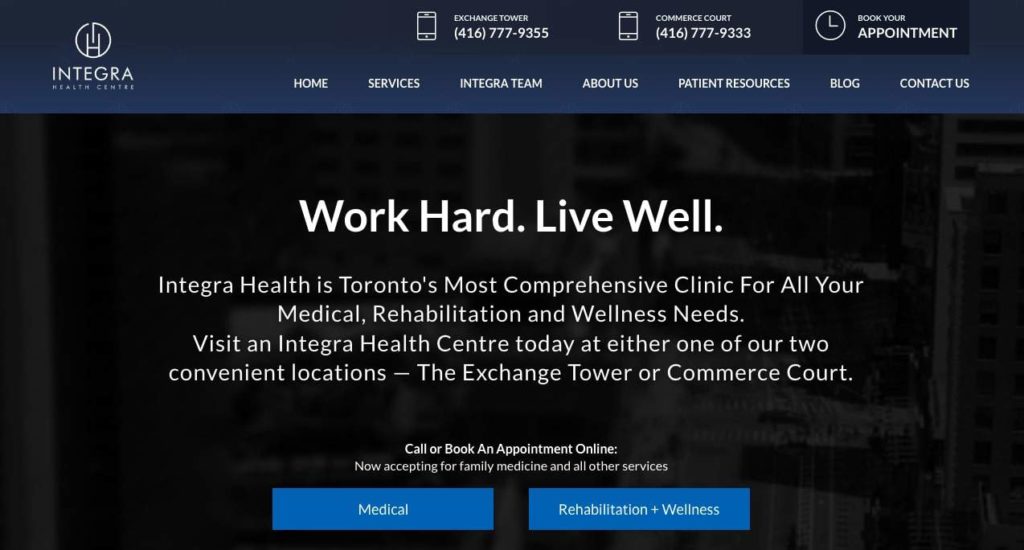 Test
Info
Services

Family Medicine

Walk-In and Same-Day Medical Care

Allergy and Immunology

Lab Services

Rheumatology

Integra Skinlab

Website
https://www.integrahealthcentre.com/
Address
130 King Street West 13th Floor Suite#1320, Toronto, ON M5X 1C8
Contact Details
416-777-9355
Operating Hours

Monday - Thursday: 7 am - 8 pm

Friday: 7 am - 7 pm

Saturday: 10 am - 4 pm

Sunday: Closed
| | |
| --- | --- |
| Criteria | Rating |
| Clinic Facilities | ★★★★★ (5/5) |
| Consultation Schedule | ★★★★☆ (4/5) |
| Medical Team | ★★★★☆ (4/5) |
| Clinic Services | ★★★★★ (5/5) |
Integra Health Centre (Exchange Tower Branch) is a clinic for patients who are looking for a good range of comprehensive services. This branch is located at the heart of Toronto's financial district and boasts state-of-the-art facilities, which their patients quite enjoy.
Its services include primary care for routine checkups, rehabilitation, and wellness services. We're impressed with this lineup, which was made possible by the centre's multidisciplinary team of specialists.
Setting an appointment is simple and easy, and can be done via the clinic's website or by email. We're happy that they can accommodate same-day appointments, and that there is minimal wait time to be seen by a doctor even then.
The clinic also usually provides appointment confirmations within 24 hours. However, there are still a handful of patients who were disappointed because they apparently didn't receive a response or found it difficult to get in touch via phone.
We hear that doctors show genuine care about the well-being of patients, and that services are performed with great care and attention. More importantly, patients are happy with the results of their treatments – which is the truest indicator of the centre's success.
We just wish that support staff would improve their efficiency by lessening the time it takes to release test results. We've heard stories of clients having to wait two months to get their results back, which might mean a potentially urgent diagnosis could be left unattended.
Lately, they've also been getting criticisms from patients who now have to wait more than a day to get a prescription renewal. We're hoping management is able to address these complaints, as the centre is known to be a great destination for routine medical needs.
Despite these, the centre continues to enjoy the patronage of many satisfied patients – which has us convinced that they still deserve to be on this list.
One-stop place for all your medical and wellness needs
State-of-the-art facilities
Collaborates with expert medical practitioners
Easy booking process
Minimal wait time
Warm and inviting space
Located at the center of the financial district
Some criticisms on delayed communication
Long lead time for test results
Slow turnaround for prescription renewal
Customer Reviews
Thorough service and treatments
"I came in to see Dr. Kristy for a low back/hip complaint. She is very kind and took the time to really listen to me. This was one of the most thorough chiro intakes and treatments I've had. I recommend her for anyone looking for a chiropractor in the downtown core! Also it was very easy to book in using their online system." – Brynne
Service with a personal touch
"I have had wonderful sessions with both Dr Kristy Blair and Dre Govender. They have both given me a great personal touch, from wonderful conversation, to undeniable empathy. I have recommended Integra Health Center to my family and Friends." – Christopher
3. HealthOne Medical and Wellness Centre (Toronto Branch)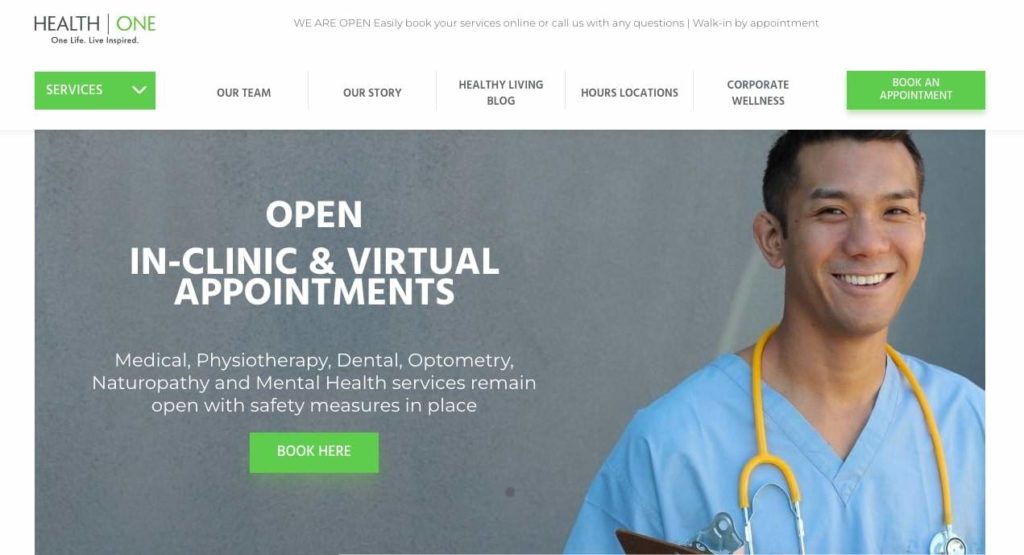 Test
Info
Services

Medical

Dental

Rehab

Orthotics

Wellness

Mental Health

Optometry

Medispa and Skin Clinic

Pharmacy

Website
https://healthone.ca/
Address
110 Harbour St, Toronto, ON M5J 0B7
Contact Details
416-663-5433
Operating Hours

Monday - Friday: 9 am - 6 pm

Saturday: 10 am - 3 pm

Sunday: Closed
| | |
| --- | --- |
| Criteria | Rating |
| Clinic Facilities | ★★★★★ (5/5) |
| Consultation Schedule | ★★★★☆ (4/5) |
| Medical Team | ★★★★☆ (4/5) |
| Clinic Services | ★★★★★ (5/5) |
HealthOne Medical and Wellness Centre is conveniently located in the South Core district. It boasts of healthcare professionals with different specialisations under one roof to better address the various medical concerns of clients.
We are happy to know that the clinic does not just offer family medicine and rehabilitation services. One can also avail of dentistry, orthodontics, and even optometry services, which makes it a convenient destination for clients who need multiple medical services.
With shorter wait times and highly trained staff, HealthOne is also an ideal place for patients needing urgent but non-life-threatening care.
The clinic's health advocates facilitate online appointments where schedules are promptly assigned and confirmed. We like that they remind patients of their appointment schedules and are knowledgeable and courteous in providing information about the clinic's various services.
However, we were a bit disappointed to hear that there can be a significant wait time to see your doctor on the day. We also hear that there have been reports of appointment cancellations without any prior advice from the clinic.
We also wish that the doctors would be more thorough in their consultations. Some patients were put off by the physicians who attended to them, as they seemed to be in a rush.
That said, we appreciate that the clinic provides an avenue for patients to provide honest feedback. Patients can email the clinic with a review of their client experience and are encouraged to make suggestions that could improve the clinic's services.
Convenient location
Comprehensive healthcare services under one roof
Easy appointment-setting system
Encourages clients to provide feedback
Some reports of appointment cancellations with no prior notice
Some reports of long waiting time
A few concerns on the quality of consultations
Customer Reviews
Staff extra helpful
"I can't stress this enough, what a great place to be. Indeed I would highly recommend for those who looking for well skilled and experienced Optometry Team. Besides, Receptionist also super friendly and cooperative. Thank you to All team but to be specific, Philmona was extra helpful through helping me to get the prescribed glasses. Keep Up the Great work Guys! Thank you so much. I'm looking forward for second visit." – Zinabu
Warm and considerate doctors and nurses
"Honestly, one of the best and most clean clinics I've been. Very hip with multi other functions. The receptionist/nurses are very busy, but trust me, you will be attended and the Dr's are very warm and considerate. I will be returning for future ailments." – Alexandra
4. SanoMed Medical Clinic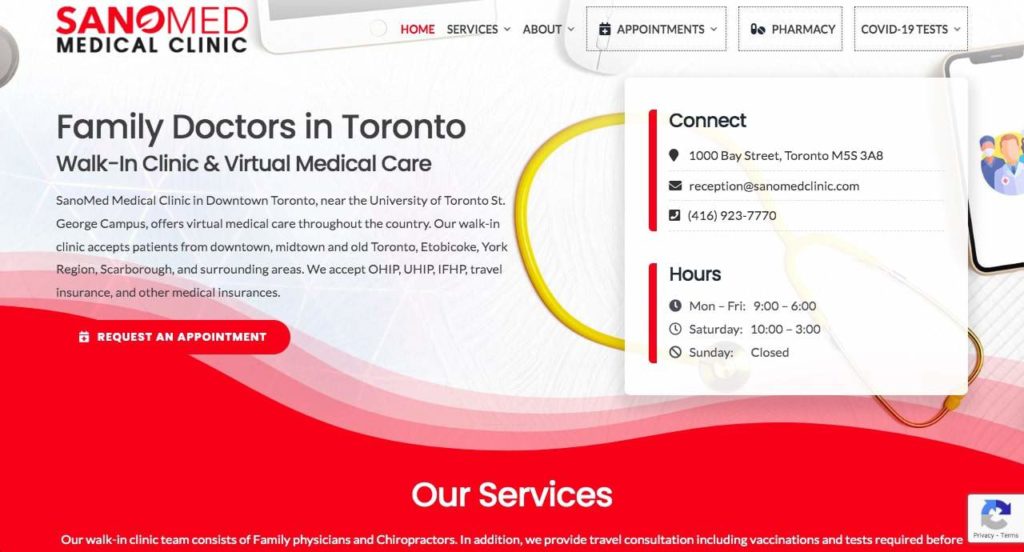 Test
Info
Services

Walk-In Clinic

Family Doctors

Virtual Medical Care

PrEP

TB Test

Travel Consultation

Chiropractic

Orthotics

On-Site Lab

Website
https://sanomedclinic.ca/
Address
1000 Bay St. Unit 2, Toronto, ON M5S 3A8
Contact Details
416-923-7770
Operating Hours

Monday - Friday: 9 am - 6 pm

Saturday: 10 am - 3 pm

Sunday: Closed
| | |
| --- | --- |
| Criteria | Rating |
| Clinic Facilities | ★★★★★ (5/5) |
| Consultation Schedule | ★★★★☆ (4/5) |
| Medical Team | ★★★★☆ (4/5) |
| Clinic Services | ★★★★★ (5/5) |
SanoMed Medical Clinic is a healthcare provider located in Downtown Toronto and near the University of Toronto's St. George Campus, making its walk-in services easily accessible to professionals and students.
We like the fact that the clinic's physicians are available for phone or video consultations. This is a convenient option for those who prefer speaking with a doctor from the safety of home and don't require a physical workup.
We're happy to share that virtual consultations can be covered fully or partially by different insurances such as OHIP, UHIP, IFHP, and even certain travel insurance plans.
Patients can fill out an online appointment form on their website and wait for confirmation. Be warned, however, that there can sometimes be a delay in appointment confirmations — so if you require immediate medical attention, head to another medical centre instead.
We also appreciate the clinic's thoughtfulness towards walk-in clients who can no longer be accommodated for the day. They instead offer them a scheduled appointment for another day.
Doctors are described as patient and thorough, while the clinic staff are reportedly wonderful to deal with as they go out of their way to help. However, we hear that the clinic is understaffed so it can sometimes take a while to get the appropriate documentation pertaining to your case.
Lastly, we like that it also has an on-site medical laboratory so clients need not leave the clinic to have tests done. We just wish that they would deliver test results quicker for the patients' peace of mind.
Offers comprehensive medical services
Approachable and knowledgeable team of doctors
Location is easily accessible to professionals and students
On-site medical laboratory
Virtual consultations with doctors
Accepts different insurances, including travel insurance
Waitlist for family doctor registration
Understaffed 
Longer lead time in delivery of test results
Customer Reviews
Efficient and helpful
"Amazing Staff with professional care to patients. Shout out to Michelle and Doctor Luf (Llewellyn Surajballi) and Pharmacists Pooya they are very efficient and helpful. Michelle makes everything easy and convenient for me to check in, doctor luf examine throughly for me and he is very caring, gave many great advice regards to my health issue. And the pooya helped me to find the perfect medication on the counter. You guys are the heroes who keep our community safe. THANK YOU!!
Definitely come back and recommend all international student/workers to visit this clinic (although sometimes they do get very busy, be understanding;)" – Luna
Clinic handles everything
"This is a great clinic which handles everything and everyone from A-Z. I really was impressed with the staff. I want to give a shout out to a gentleman who introduced me to the clinic, I forgot his name but he is the staff member of the year!" – Marty
5. Infinity Health Centre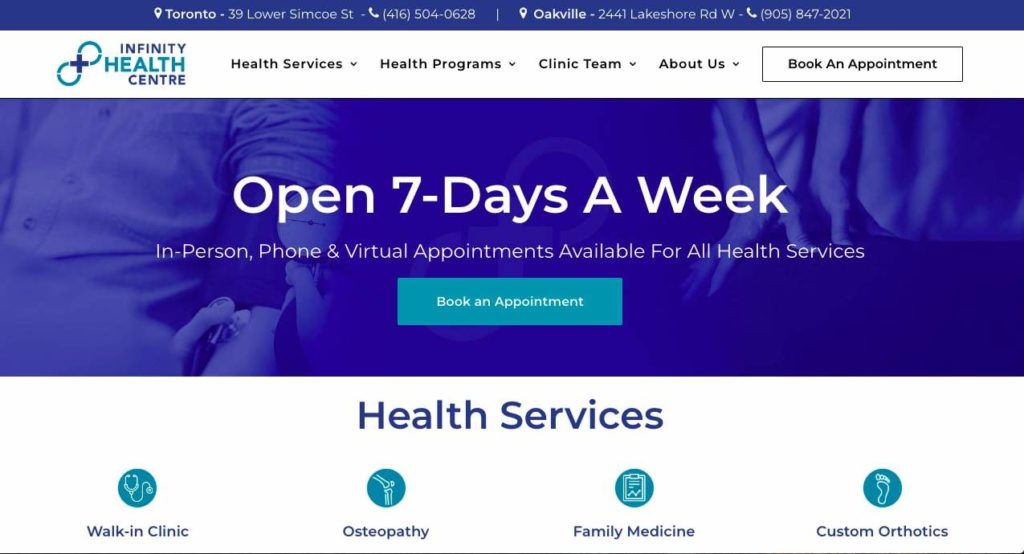 Test
Info
Services

Walk-In Clinic

Osteopathy

Family Medicine

Custom Orthotics

Physiotherapy

Chiropractic

Massage Therapy

Naturopathic Medicine

Acupuncture

Psychotherapy

Virtual Medicine

Sports Medicine

Website
https://infinityhealthcentre.com/
Address
39 Lower Simcoe St, Toronto, ON M5J 3A6
Contact Details
416-504-0628
Operating Hours
Monday - Friday: 8 am - 8 pm

Saturday - Sunday: 10 am - 3 pm
| | |
| --- | --- |
| Criteria | Rating |
| Clinic Facilities | ★★★★★ (5/5) |
| Consultation Schedule | ★★★★★ (5/5) |
| Medical Team | ★★★★★ (5/5) |
| Clinic Services | ★★★★☆ (4/5) |
Infinity Health Centre offers a wide array of healthcare services in Toronto. They offer the convenience of having multidisciplinary practitioners so that various medical needs can be addressed in one clinic.
As a walk-in clinic, clients can easily consult with family doctors, chiropractors, physiotherapists, and other rehabilitation services. What is notable is that they have a naturopathic medicine service, which is quite rare for a medical centre.
Commendable also is its collaborative approach to giving the best care to patients. The clinic´s team of practitioners with different specialisations work together so patients receive thorough medical treatment.
Consultations can also be conducted via phone and video calls, with bookings done via the website. Not only is this a safe and convenient option, but it also saves clients money as parking in the area is expensive.
The clinic also prides itself as environmentally-friendly as they use the latest paperless technology to send prescriptions directly to the pharmacy. Diagnosis is also sent to clients via email.
We hear, though, that sometimes appointments get delayed on the day, which means longer waiting times for patients who arrive on the dot.
There are also some inconveniences associated with insurance-covered appointments, as physicians only cover one medical issue per client appointment. If a patient has multiple medical concerns, he or she will be asked to book a separate appointment for each one.
That being said, patients still commend the doctors for their thorough assessments and accurate diagnoses. They also go to great lengths to explain treatment plans, which puts patients at ease.
Wide array of healthcare services
Multidisciplinary practitioners
Offers naturopathic medicine services
Collaborative approach to patient care
Virtual consultations available
Expensive parking in the area
Some concerns on delays in appointments
Limited to one medical issue per consultation if covered by insurance
Customer Reviews
Service is high recommended
"I was referred to Tim Lin for physiotherapy to treat my BPPV. Mr. Lin was very professional, thorough, knowledgeable and friendly. Within one visit my symptoms were resolved, and we did a follow-up visit just to ensure everything was okay. Overall I was highly satisfied with the service I received here and highly recommend this clinic and Mr. Lin for any physio needs!" – Damien
Physiotherapy service is a game changer
"Based on favourable recommendations, I have chosen to see Dr. Simo as my physiotherapist. He is a game changer – I have injured my upper back from sleeping on an elevated pillow and I was worried this would cause long term damage.
Fast forward to three sessions of experiencing Dr. Simo's dry needling techniques and doing some at-home stretches, I no longer experience back aches, have resumed exercise, and am on a quick road to recovery. Highly recommend for all physiotherapy needs – he's one of the best." – Semhar
FAQs on Medical Centres
---
And here you have it: our review of the best medical centres in Toronto! We hope that we've given you some great options to consider for your next consultation.
We've also done reviews of the best blood test in Toronto and the best optometrists in Toronto. Feel free to check these out for related medical concerns.