4 Reasons Why Toronto is a Gay Friendly City
Cities all over the world are encouraged to be safe, inclusive, and friendly for and to members of the entire queer community. Being one of the most prominent cities all over the world given its fair share of activities, Toronto is expected to carry this characteristic.
Is Toronto a gay friendly city?
Toronto is arguably one of the most gay friendly cities in the entire world. It located in one of the most progressive countries and prides itself of having its own gay village.
The entire city has an average queer population of 350,000. Pride festivals are held annually inside Toronto, with events ranging from Pride March, an LGBTQIA+ Film Festival, and more.
Canada is home to at least 1 million LGBTQIA+ members, which means that the city of Toronto holds around 35% of the entire Canadian queer population.
Surrounding cities and even nearby and farther areas of Toronto also hold queer celebrations of their own, so even the vicinity of the city can be deemed LGBTQIA+ safe.
Featured image source: Toni Reed via Unsplash
Here are some fast facts that show that Toronto is a gay friendly city.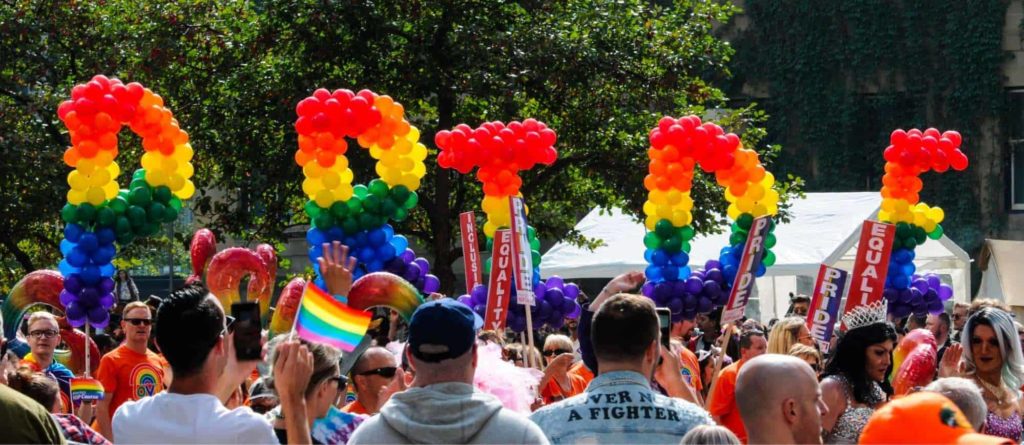 1. Toronto is located in one of the most progressive countries in the world.
Canada is regarded as one of the most gay friendly countries around the world given its legal recognition of LGBTQIA+ rights.
The country recognised same-sex marriage in the year 2005 and brought gender identity and gender expression under the Canadian Human Rights Act in 2017.
A number of media outlets in Canada are dedicated to queer visibility and conducted surveys that display a general tolerance of the LGBTQIA+ community.
Of course, the goal is to develop a culture of acceptance, so major cities of the country conduct regular pride celebrations.
With Toronto subjected to Canada's laws and regulations, it can be said that the city is legally safe for queer men and women. The city also protects the employment rights of gay men and women in the workplace.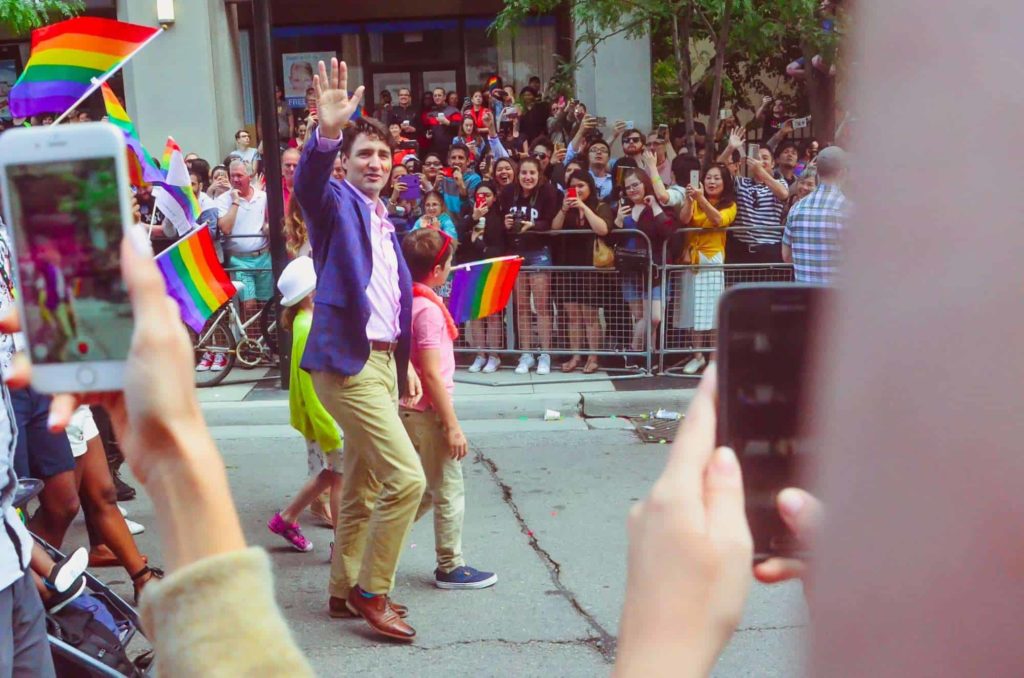 Featured image source: Joy Real via Unsplash
2. Toronto has an average queer population of 350,000.
An estimate of 1 million members of the queer community can be found in Canada. Roughly 350,000 of them reside in Toronto.
If taken into the context of the city's total population which is around 3 million, 350,000 can be deemed small. However, considering the total queer population in the country, Toronto is definitely a great queer place.
Some of the residents even decorate their exterior doors and houses to proclaim that they are one with the community. You can also find pride flags and other rainbow-themed decorations in apartment buildings and condominiums.
If you're proudly queer and worried that you might not find any friends in Toronto to hang out with or get to know, we can say that you have at least 350,000 people to choose from. That's not a bad number at all!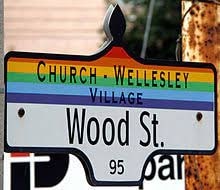 Featured image source: Wikipedia
3.Toronto has its own gay village.
Another thing that makes Toronto certified gay friendly is the fact that it has its own gay village. The Gay Village can be found in Church and Wellesley, a neighbourhood that is surrounded by bars, clubs, cafes, eateries and businesses owned by queer people.
We do note that most of the restaurants and businesses in the entire city are gay friendly and anti-discriminatory.
Church and Wellesley stands out as its street signs are painted with rainbow colours, marking the entire area as a safe neighborhood. The place also has rainbow-painted pedestrian lanes and various rainbow-coloured decorations around.
Some of the popular places in Church and Wellesley are the famous Woody's bar and the well-loved drag-hosting venue named Crews & Tango.
There are two other up-and-coming gay neighbourhoods in Toronto. One is "Queer West," which has gay-friendly restaurants and hipster bars located along Queen West, and the other is a new one that is slowly coming together in Old Cabbagetown.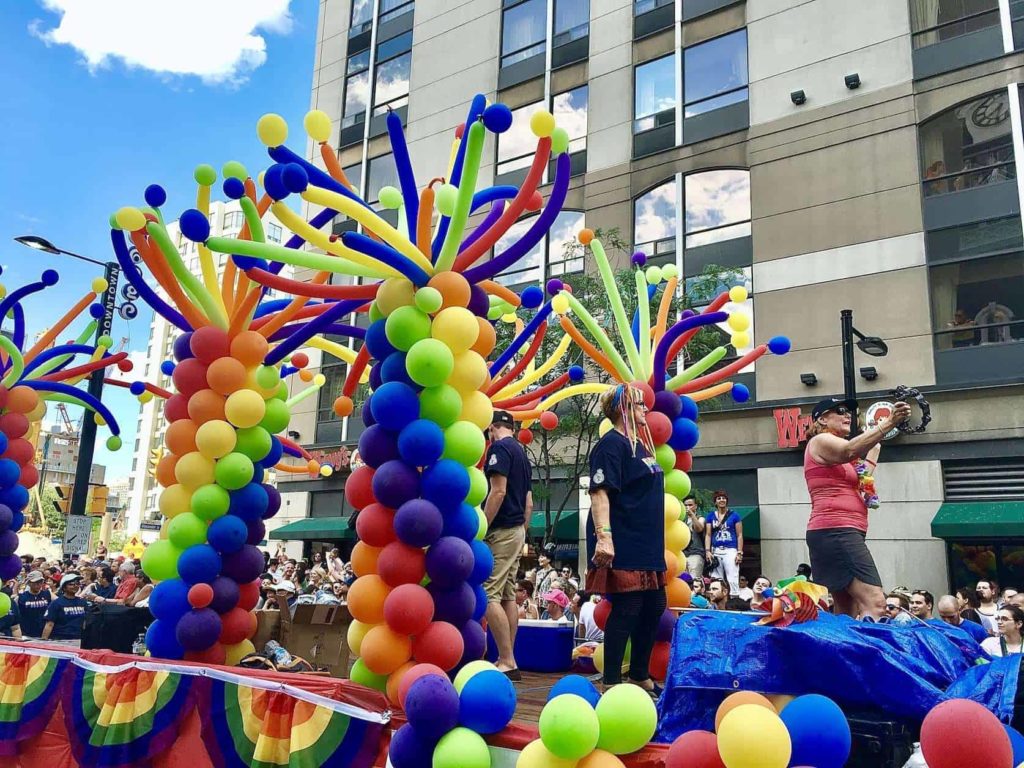 Featured mage source: Ian Kirkland via Unsplash
4. The city of Toronto hosts queer celebrations every year
You've probably heard of Pride March, one of the biggest queer celebrations during the month of pride, June. Various marches happen all over the world, with gay men and women coming together to proclaim their right to freely express and love.
One of the biggest pride marches is the Toronto Pride March. Queer people from the city and all over the world visit the city and rally for LGBTQIA+ recognition.
Apart from June, they also celebrate queer creativity by hosting a two-week LGBTQIA+ film festival during May. Almost 200 queer-themed films are showcased during this time, which are accompanied with artist talks and industry panel discussions.
In addition, the Writers' Trust of Canada presents the annual Dayne Ogilvie Prize during Pride Month. This is Canada's only established literary award for LGBT writers.
Toronto Pride Month was originally launched as a weeklong celebration but was later extended to an entire month festival in 2016. The Pride Parade culminates the month-long celebration and live performances and other events all happen within June.
Take note that during this time, 22 city blocks are closed to avoid traffic and hundreds of thousands of spectators visit the city. Make sure to rent a room right before your stay or plan your June trip carefully to avoid the hassle!