The 5 Best Maid Agency Services in Toronto
Life's too short to be stuck scrubbing floors and dusting shelves. That's where Toronto's top maid agency services step in to save the day!
These agencies don't just provide typical cleaning services; they excel in domestic tasks such as cooking, grocery shopping, and laundry services with precision and attention to detail that turns chaotic spaces into serene havens. This comprehensive approach can transform messy spaces into tidy and cozy havens.
Whether you're a busy professional, a multitasking parent, or simply someone who values your time, these exceptional maid agencies free you from the drudgery of house chores!
The Best Maid Agency Services in Toronto
How much does a maid agency service cost in Toronto?
In Toronto, hiring a maid usually costs between $25 and $30 per hour. Maid agencies generally apply a one-time placement fee and ongoing salary charges, often on an hourly or weekly basis. This rate is influenced by property size, task complexity, and additional requests like deep cleaning or pressure washing.
How We Chose the Best Maid Agency Services in Toronto
1. Maid in T.O.
| Test | Info |
| --- | --- |
| WEBSITE | https://maidinto.ca/ |
| ADDRESS | Toronto, Ontario |
| SOCIAL MEDIA | INSTAGRAM |
| CONTACT DETAILS | (647) 557-9777 |
| OPERATING HOURS | Monday - Saturday: 8:30 am - 5:00 pm |
Founded in 2015 by Adam and Sidrah, two parents who understand the struggle of finding reliable cleaning services, Maid in T.O. was born out of the need for a local platform that offers vetted and experienced professionals.
Tired of going through multiple cleaners themselves, Adam and Sidrah envisioned a service that provides quality cleaning and exceptional customer service through an easy-to-use booking engine. And that's exactly what they created.
Maid in T.O. has since completed over 13,000 projects across Toronto, offering an extensive range of services suitable for both homes and businesses.
These include standard cleaning, deep cleaning (including interior windows, cabinets, and cupboards), and post-renovation and post-construction cleaning.
Aside from flat-rate fees on specific services and packages, they offer a guarantee of free re-cleaning if the initial service falls short of expectations, no questions asked.
Flat-rate packages
Free re-cleaning satisfaction guarantee
Specialises in deep cleaning and move-in/out cleaning
Requires credit card information to book
Credit card payments only 
Fantastic attention to detail
"Elena was absolutely amazing. I am so happy with the services. She has fantastic attention to detail and I am so grateful! I felt like I came home to hotel serviced apartment. Leo's customer service is also great – so kind and quick to answer all my questions. I will be setting up recurring cleans for sure. Thank you so much"
Amisha Patel, Google Review
Incredibly thorough
"Our house has never looked better! Diane was absolutely lovely, and as nice to chat with as she was professional. Her cleaning job was incredibly thorough, and my wife and I have enjoyed simply walking around our space and marvelling at the sparkle. I simply can't recommend this service highly enough!"
Cam Smonk, Google Review
2. Diamond Personnel
| Test | Info |
| --- | --- |
| WEBSITE | http://diamondpersonnel.com/ |
| ADDRESS | 1000 Sheppard Ave W, North York, ON M3H 2T6 |
| SOCIAL MEDIA | INSTAGRAM |
| CONTACT DETAILS | (416) 730-8866 |
| OPERATING HOURS | Monday - Friday: 9:00 am - 5:00 pm |
Founded in 1988 by Audrey Guth, a working mother in search of the right support for her family, Diamond Personnel has remained dedicated to providing superior support to families in need.
The company is now owned by Audrey's daughter, Shauna Guth, who, with the support of an amazing Diamond nanny, has grown the company to new heights.
Diamond Personnel makes sure caregivers and nannies are top-notch by doing thorough background checks and looking into the criminal history of applicants.
They also need to have worked for at least a year, know first aid and CPR, and showcase their patience, problem-solving skills, and positive attitude. If needed, they also need to prove they can speak English well.
Their team members take on various responsibilities, including caring for children, maintaining the cleanliness and organization of the house, planning and preparing meals, managing household inventory, grocery shopping, running errands, and more.
Thorough background checks on staff
First aid and CPR-certified maids
Family-owned business
Pricey consultation fee for clients 
Friendly, trustworthy, efficient
"It was our first time hiring a nanny and we are forever grateful for working with Diamond Personnel. Shauna Guth guided us throughout the process and ultimately found us an amazing nanny/housekeeper within our timeline, wants and needs. She helped make the process smooth and effortless and was always happy to answer any questions we had. To have this kind of support was paramount to us. The nanny she placed us with is friendly, trustworthy, efficient and most importantly, amazing with our child. Everyone's home situation is unique and in our case we are expecting a baby soon. We brought our nanny on a month early so we could get to know each other and get some things in place before baby arrives. We're really looking forward to the extra help once that bigger transition happens. So far we are really enjoying the help of our nanny. She has been an amazing addition to our growing family! We highly recommend Diamond Personnel if you're looking to hire a caregiver/house manager. They are truly good at what they do and know how to place you with the right person to fit your family's needs."
Jazmine, Google Review
They really understand how to support families
"Working with Shauna was a dream. Not only was she able to find us a fantastic nanny for our little girl but she did so quickly and taking into consideration all of our needs. This company is professional and they really understand how to support families and nannies. Thank you Diamond for an incredible experience!"
Riya Ganguly, Google Review
3. AspenClean
| Test | Info |
| --- | --- |
| WEBSITE | https://aspenclean.com/ |
| ADDRESS | 801 York Mills Rd #216a, North York, ON M3B 1X7 |
| SOCIAL MEDIA | INSTAGRAM |
| CONTACT DETAILS | (416) 546-4593 |
| OPERATING HOURS | Monday - Saturday: 9:00 am - 8:00 pm |
Dissatisfied with the chemical-filled house cleaning products available in the market, husband and wife duo Alicia Sokolowski and Chris Solodko decided to create their own line of natural cleaning solutions, which led to the birth of AspenClean.
Operating across Vancouver, Toronto, and Calgary, AspenClean specializes in the use of vegan, cruelty-free, and environmentally friendly cleaning products that are Ecocert®-certified and rated A by the Environmental Working Group (EWG).
Each professional cleaner undergoes thorough training and is bonded and insured. Their services offer flexibility in scheduling, and they provide all the necessary cleaning products and equipment, including HEPA vacuums, which filter micro-sized particles like dust mites, pollen, mold spores, and even certain bacteria and viruses.
In addition to their expertise in house cleaning, office cleaning, and carpet cleaning, they also have specialty offerings such as rental cleaning services and post-construction cleaning.
Non-toxic cleaning products
Specialises in vacation rental and post-construction cleaning
Free re-cleaning satisfaction guarantee
Prompt, pleasant, and did an excellent job
"We've hired AspenClean to clean our apartment twice a year, for three or four years now, and have always been happy with their work. This time was no exception. Team #3: Stefany, Jenny, & Y… (sorry, can't quite make out your name) were prompt, pleasant, and did an excellent job. My mirrors have never been so shiny. It took longer than the estimate, but that wasn't a surprise – we have a lot of stuff crammed into a small space. We will definitely be using Aspen again."
Dee Grossman, Google Review
Super thorough and professional
"We had our house cleaned with Aspen 3.5 weeks ago, so happy with the service of Team 1- Michelle and Cinthia! Definitely recommend for a deep clean of the house with the reassurance that the cleaners are super thorough and professional. Its a bonus that the products they use are high quality. Will for sure be using their services again in the future."
Jenny Khu, Google Review
4. Home Services Toronto
Founded in 2002, Home Services Toronto has been assisting clients in finding suitable maids and scheduling cleaning services for almost two decades, from North York to downtown Toronto.
The agency conducts thorough background checks on its staff to ensure safety and security. Clients can also choose from payment options, including prepaid or paid after-service. They stand by their claim of no hidden fees, just transparent and affordable rates.
If you're pressed for time, they also have a same-day house cleaning service to get your home in tip-top shape in no time. They also offer flexible appointment scheduling, servicing clients after business hours until 10 p.m. to accommodate busy schedules.
Aside from basic house cleaning, they have additional services such as cleaning the interior and outdoor areas of your home, organizing events, preparing and serving meals, grocery shopping, and other chores to keep your household running smoothly.
Same-day cleaning service
Competitive rates
First aid and CPR-certified maids
After-office hours appointments until 10 p.m. 
Slots are easily filled during spring/peak season 
Professional, and paid attention to every detail
"I recently hired Home Services Toronto for housekeeping and I couldn't be happier with the results. The housekeeper was thorough, and professional, and paid attention to every detail. My house has never looked so clean and organized. I highly recommend their housekeeping services to anyone looking for reliable and efficient help around the house."
Avery L., Website Review
Offering cleaning services for seniors
"If you want to take care of the cleaning of your home, you must order it from them! They are awesome and do a great job. I am so thankful to them for enabling me to take care of my housework with ease. Thank you Home Services Toronto offering cleaning services for seniors to helping me out."
Hana T, Website Review
5. Master Maid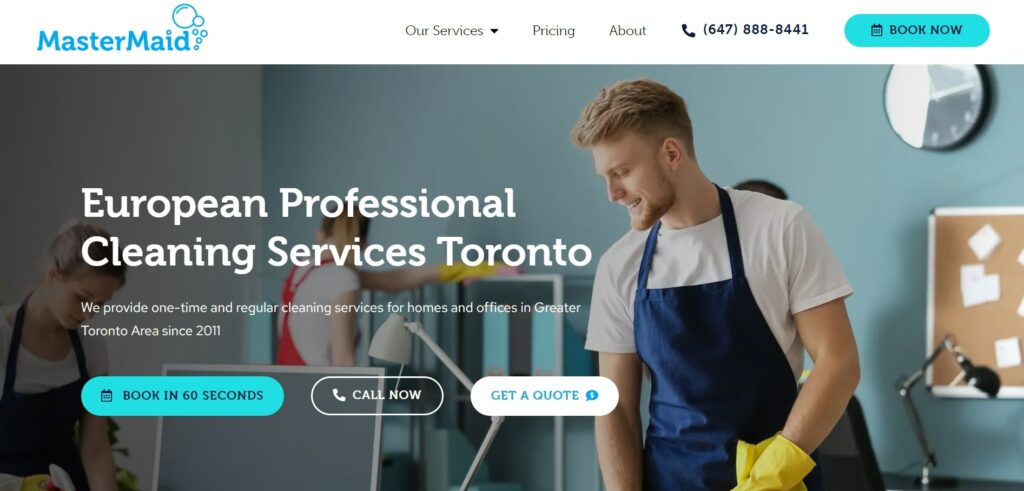 Test
Info
WEBSITE
https://mastermaid.ca/
ADDRESS
275 Shuter St. Unit 707, Toronto, ON M5A 1W4
SOCIAL MEDIA
FACEBOOK
CONTACT DETAILS
(647) 888-8441
OPERATING HOURS
Monday - Friday: 8:30 am - 6:00 pm

Saturday - Sunday: 9:00 am - 5:00 pm
Maria Ivanova has spent 15 years cleaning businesses after immigrating from her home country, Ukraine. Her dedication eventually led to establishing Master Maid in 2011, providing maid services like one-time and regular cleaning across the GTA.
They're committed to using eco-friendly and green cleaning products, safeguarding the health of clients and the environment alike. Coupled with a quick, 60-second booking process and competitive pricing, their expertise has earned them a loyal client base and six Consumer Choice Awards to boot.
Master Maid offers regular, deep, move-in/out, and post-construction/renovation cleaning options for residential and commercial properties as well. Beyond that, they do laundry, pet hair removal, and equipment sanitizing.
While their minimum service requirement stands at 3 hours, they provide flat-rate packages and extend discounts of up to 15% to regular customers.
15% discount to regular customers
Eco-friendly cleaning products 
Quick booking process
Minimum of 3 hours per service
Amazing job
"I booked standard cleaning for my 2 bedroom condo apartment from Master Maid. Tina did an amazing job and went above and beyond in her efforts to clean my apartment. I am very pleased with the service and will definitely book with them again. Thanks a lot, Tina for your great service today!!"
Pavneet Sachdeva, Google Review
Very pleased with the service
"I am very pleased with the service and attention to detail provided by this company. Communication between myself and the cleaners is very important to me and I have always been updated of any issues or concerns that may arise with my property. I use Master Maid for Airbnb turnovers and I highly recommend this company."
Irina Popescu, Google Review
---