THE 5 BEST SOUNDPROOFING SERVICES IN TORONTO
Toronto is a vibrant and captivating city, but let's be honest: it can also be quite loud. Do you know that in 2022, it received close to 10,000 complaints from residents who were bothered by noise caused by bars, restaurants, and entertainment venues?
If you're one of these concerned citizens you may want to consider soundproofing your space, whether it's your home or business property. It reduces noise by blocking sound waves from penetrating through walls, floors, windows, and doors.
Explore these top soundproofing services in Toronto!
How We Chose the Best Soundproofing Services in Toronto
How Much Do Soundproofing Services Cost in Toronto?
For basic soundproofing of a bedroom or home office in Toronto, expect to pay between $1000 and $3000. However, prices can vary based on factors including room size, soundproofing material choice, and installation difficulty.
1. JAD Soundproofing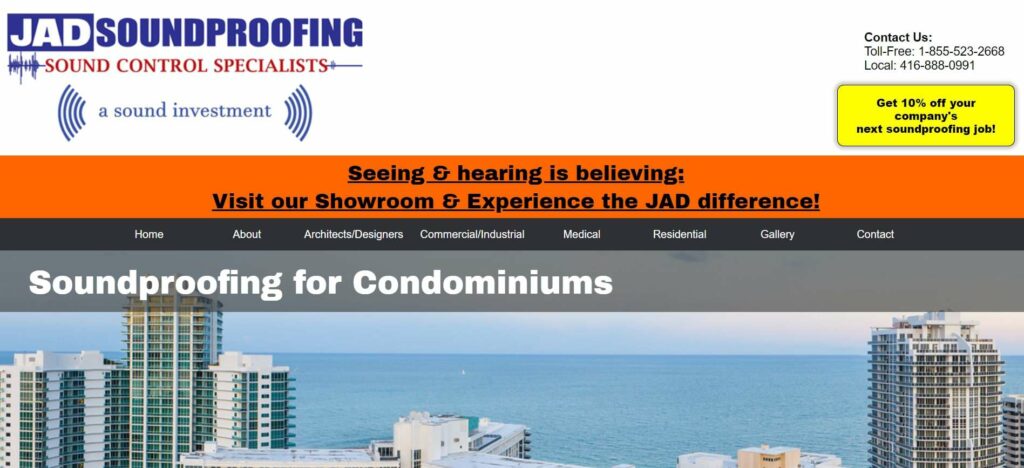 | Test | Info |
| --- | --- |
| WEBSITE | https://www.jadsoundproofing.com/ |
| ADDRESS | 1110 Finch Ave W #30, Toronto, ON M3J 2T2 |
| SOCIAL MEDIA | INSTAGRAM |
| CONTACT INFORMATION | Phone: (416) 888-0991 |
| OPERATING HOURS | Monday - Sunday: 8:00 am - 10:00 pm |
JAD Soundproofing is a locally owned and operated business that has been providing soundproofing services in Toronto and the GTA for over 20 years. They are an approved contractor for AcousticGuard-Wilrep Ltd., a distributor of top-rated sound and vibration control products.
JAD Soundproofing offers residential, commercial, and industrial soundproofing using non-invasive solutions that can be done without opening walls or doing messy demolition.
The company is committed to using cost-effective solutions and sustainable materials whenever possible. They also offer discounts to seniors, military, veterans, and first responders.
Site inspections are charged for, but full credit will be refunded upon signed authorisation of the proposal. JAD Soundproofing also offers free virtual soundproofing inspections to assess your noise problems without physically visiting your location.
Uses sustainable materials
Options for virtual inspections
Discounts for specific groups available
Worked out a plan affordable for us
"Jake from JAD Soundproofing took much care to listen to our needs. Being a counselling centre confidentiality is of high importance. He worked with us to accommodate our charity needs and worked out a plan affordable for us. The installed panels not only did what we needed but were also aesthetically pleasing. Thank you JAD Sound Proofing."
Rita Makubuya, Google Review
Clear and frequent communication
"Jake and his team completed soundproofing of a shared wall between my husband's home office and our baby's room. Jake was very professional, with clear and frequent communication on timing. His team were polite. We are happy with how well the final product works and looks and would not hesitate to use JAD soundproofing again in the future."
Amy Kirkham, Google Review
2. City Soundproofing Toronto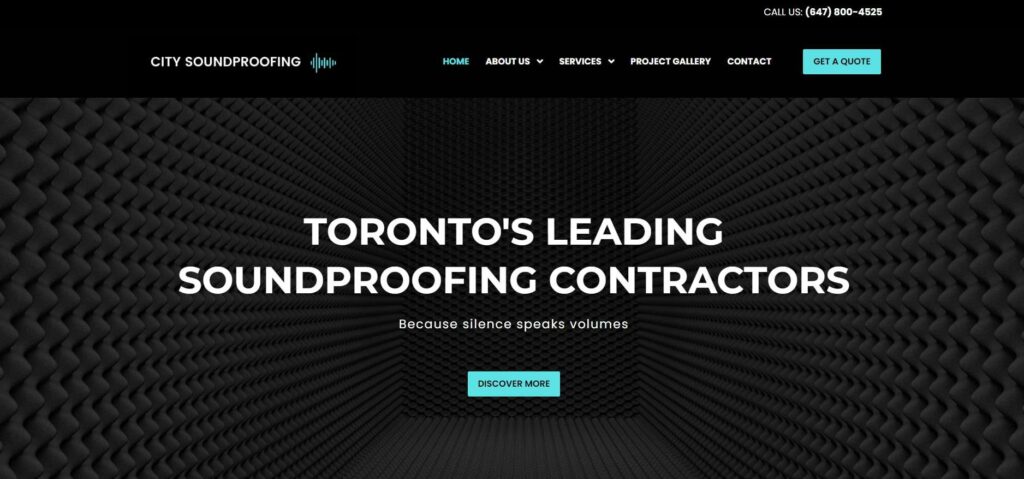 | Test | Info |
| --- | --- |
| WEBSITE | https://citysoundproofing.ca/ |
| ADDRESS | Atreeva Drive, Toronto, ON M3H 4T5 |
| CONTACT INFORMATION | Phone: (647) 800-4525 |
| OPERATING HOURS | Monday - Sunday: 9:00 am - 8:00 pm |
City Soundproofing Toronto has been in business since 2007. They boast a team of experienced soundproofing experts who can help you reduce noise in your home or business.
Their extensive knowledge of both residential and commercial spaces allows them to offer a complete suite of acoustic solutions, from consultation and engineering to design and execution.
City Soundproofing Toronto provides a wide range of soundproofing options, including wall, floor, and ceiling soundproofing, acoustic panels, pipe wrapping, and privacy boards.
They also offer a best-price guarantee: if a client presents a lower-priced quote for the same job specifications, City Soundproofing Toronto will beat it. And if a client has a change of heart, they offer a full refund up to 24 hours prior to commencing the job, no questions asked.
Best-price guarantee 
Full refund up to 24 hours before the job 
Wide range of soundproofing options
Reports of slow response times to inquiries
Quick turnaround time
"I highly recommend City Soundproofing! They did an excellent job soundproofing a wall in my condo and no longer hear my neighbours. Asaf and Gil came to see the job required promptly and delivered a quote the same day. They are professional, communicative, and personable, and there is a quick turnaround time. The drywall finishing job is also impeccable."
Monica Hypher, Google Review
Professional and meticulous in their work
"Would highly recommend City Soundproofing. Gil and Asaf came out to see the space and were able to put a quote together that same evening. Gil and his son did great work soundproofing 2 shared walls. They were professional and meticulous in their work. Would recommend them to anyone looking to make the soundproofing investment."
Chris Mudie, Google Review
3. bQuiet Soundproof Windows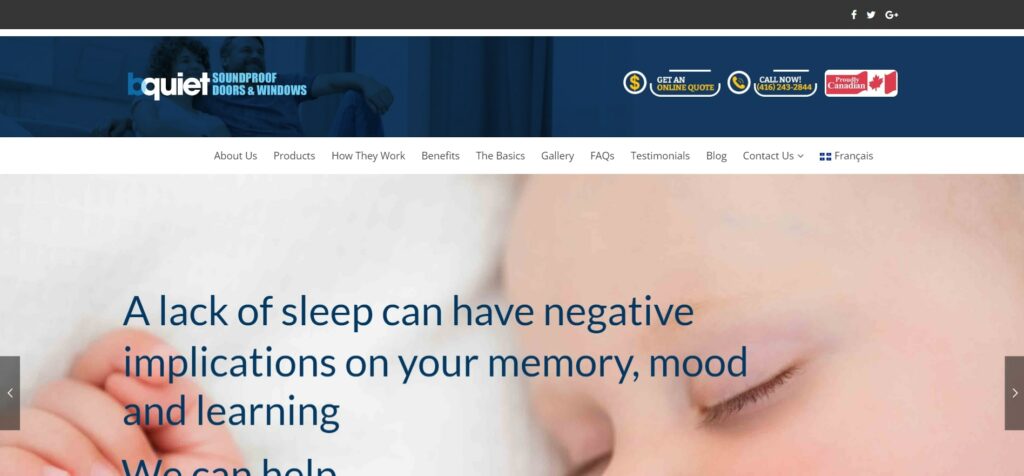 Test
Info
WEBSITE
https://bquiet.ca/
ADDRESS
57 Shaft Rd, Toronto, ON M9W 4M3
SOCIAL MEDIA
FACEBOOK
CONTACT INFORMATION
Phone: (905) 475-9111
OPERATING HOURS
Monday - Friday: 9:00 am - 5:00 pm

Saturday - Sunday: Closed
bQuiet is a local soundproofing company in Toronto that specialises in retrofitting residential and commercial spaces with soundproof windows and sliding doors. With a focus on maximising density and space, their soundproofing system can achieve a 65% to 95% noise reduction level.
Their products are fully operational and removable, allowing existing windows to stay untouched throughout the installation process, preserving the architectural integrity of the space. And, a bonus: this addition can potentially raise the value of their client's property.
Their product offers 99% protection against damaging ultraviolet (UV) rays, lowering the need for heating and cooling systems. This can lead to lower energy consumption and maintenance, contributing to long-term cost savings.
65-95% noise reduction
99% protection against UV rays 
Extremely professional
"Wonderful experience with this company. Everyone is extremely professional, and both the service and the product are top-notch! Owners and installers are all great. Our windows look incredible, really transformed our house. We are thrilled!"
Kelly R., Google Review
Fantastic installation experience
"If want to create a calm and restful home consider these noise cancelling windows that are installed inside your current windows. Fantastic installation experience."
Susan Elsley, Google Review
4. TheQuietRoom.ca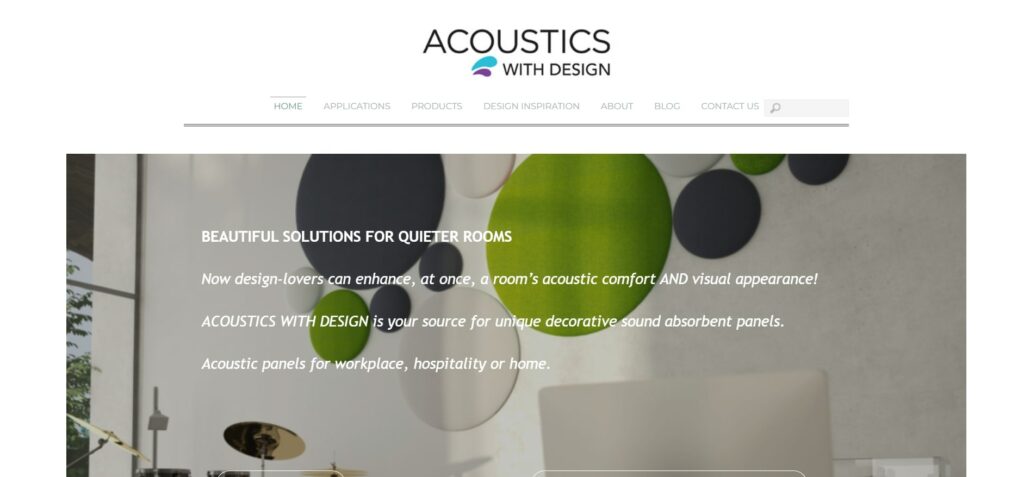 Test
Info
WEBSITE
http://acousticswithdesign.com/
ADDRESS
2416 Wyecroft Rd #9, Oakville, ON L6L 6M6
SOCIAL MEDIA
INSTAGRAM
CONTACT INFORMATION
Phone: (416) 818-6569
OPERATING HOURS
Monday - Friday: 9:00 am - 5:00 pm

Saturday - Sunday: Closed
DIYers, this company is a great option for you. The Quiet Room specialises in the design, manufacturing, and customization of acoustic panels for residential and commercial clients.
They offer a wide range of products to suit a variety of needs, including ceiling clouds and baffles, 3D wall panels, wall tiles, wall panels, space dividers, floor partitions, and desk dividers. While they currently do not offer installation services, full installation instructions are provided for each of their products.
The Quiet Room's acoustic panels are made from high-quality, recycled felt that is both lightweight and easy to install. The panels are also Class A fire-rated, making them a safe and secure option for soundproofing any space.
Their acoustic panels are competitively priced, and they offer free shipping on all orders within Canada. They offer a free acoustic calculator that can help you determine the amount of soundproofing you need for your space.
Class A fire-rated products
Products made from recycled materials
Free shipping within Canada
Excellent quality
"Service, quality and support local!!! Called Sara and from the initial phone call I was pleased. Throughout the entire process, product knowledge, correspondence, placing the order and picking up my order was smooth. My acoustic hexagon tiles look fantastic and makes a huge difference. I was thrilled to find this product that's made locally and available in a several colours, so close to home and excellent quality. Very easy to install and does not smell, safe to use. Highly recommend!"
Marina L, Google Review
The installation was fantastic
"We've now used The Quiet Room for two different installations in our Oakville offices (Rock Star Real Estate Inc.) and each time Josh and the entire team have been great. They've come up with solutions that we didn't think possible, the installation was fantastic and the idea they had to put a print over some acoustical material and hang it as art in one of our offices turned out amazing. Thanks for the help!! I have a feeling we'll be back for more!!"
Tom Karadza, Google Review
5. Warm Cozy Cozy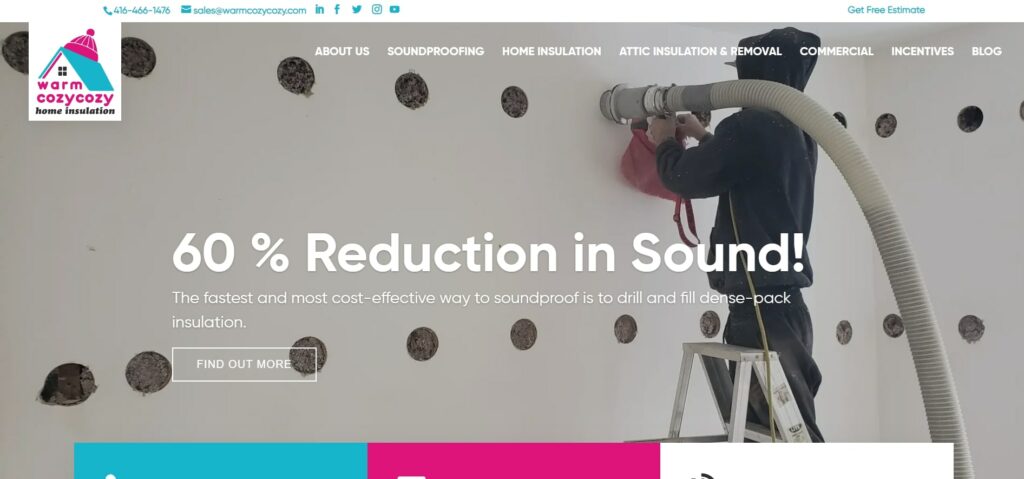 Test
Info
WEBSITE
https://warmcozycozy.com/
ADDRESS
26 Trinnell Blvd, Toronto, ON M1L 1S5
SOCIAL MEDIA
INSTAGRAM
CONTACT INFORMATION
Phone: (416) 466-1476
OPERATING HOURS
Monday - Saturday: 8:00 am - 7:00 pm

Sunday: Closed
Warm Cozy Cozy has over 15 years of experience in the soundproofing industry. They specialise in cellulose insulation, mineral wool insulation, and the least invasive dense-pack insulation service, which does not require removing drywall.
They utilise soundproofing panels such as SONOpan, which is made in Canada using 100% recycled wood fibre and dyed green using natural colouring.
Warm Cozy Cozy boasts a team of trained professionals who are Trufill-cavity fill certified, WSIB Ontario insured, bonded, and licensed, and cellulose-certified. The company also received the HomeStars Best of Award in 2022 and 2023.
Warm Cozy Cozy operates with a transparent business policy, promising no hidden fees and a clear understanding of the services a client is to receive. They also offer free phone consultations and estimates.
Eco-friendly soundproofing panels
Free phone consultations and estimates
Reports of rescheduled appointments
Explained each step of the process
"We hired Warm Cozy Cozy to handle the insulation of both our attic and walls. Pascal and his team were amazing. They explained each step of the process, they were very professional and ensured the our home was cleaned fully before leaving each evening.
I highly recommend them if you require any work completed. It was a pleasure working with the team."
Linda Kerr, Google Review
Very professional people and reasonable price
"Had some issues with the initial cellulose soundproofing in the ceiling. Ended up upgrading my soundproofing with the company. Getting rid of my popcorn ceiling was a bonus. Pascal came to my house personally to resolve my issues. He said 'Our goal is to make you happy with the results.' Felt like his team went above and beyond to resolve it. Very professional people and reasonable price. Highly recommend using Warm Cozy Cozy."
Sam Lee, Google Review
---