THE 5 BEST PRESSURE WASHER SERVICES IN TORONTO
Pressure washing services can be a game-changer for maintaining your residential or commercial property. They utilize high-pressure streams of water to tackle stubborn dirt, grime, mold, and even paint from various surfaces.
If you're a homeowner seeking to revitalize your driveways, patios, or siding, or a business owner in need of commercial property maintenance, a good pressure washing service can help improve your property's appeal, thereby increasing its value.
Say goodbye to dull and dirty surfaces because, with the help of the best pressure washing services in the city, dirt and grime don't stand a chance!
How We Chose the Best Pressure Washer Services in Toronto
How Much Do Pressure Washer Services Cost in Toronto?
Pressure washer services in Toronto typically cost $0.08 to $0.35 per square foot. This means that for a regular 2,000-square-foot house, prices can range between $160 and $700.
1. Shine – Window and Eaves Cleaning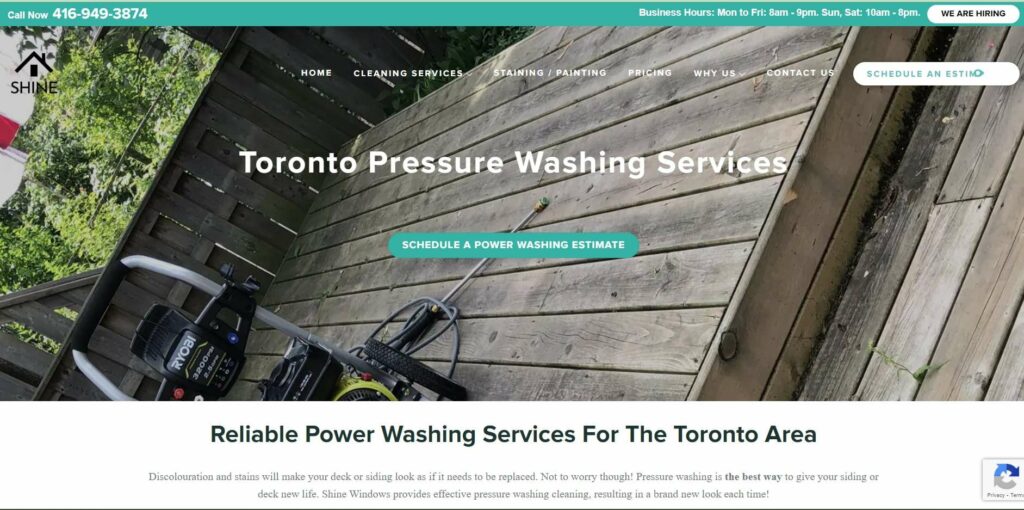 Shine is a fully WSIB-insured company focused on three main areas: windows, gutters, and decks. They provide full interior track cleaning service, which is not commonly offered by other companies in Toronto.
The company specializes in pressure washing, stone cleaning, high-end deck preparation, and staining; as well as seasonal window cleaning to maintain the freshness and appearance of your home throughout the year.
Shine documents and facilitates everything digitally, from processing payments, scheduling, and feedback, even signing contracts. After your initial service, they simplify the rebooking process by having the option to schedule in advance. With just a click of a button, you can set up a yearly or bi-yearly service, eliminating the need for constant communication.
Shine's team is comprised of professionals who are trained in ladder and harness usage, enabling them to tackle tough cleaning jobs in challenging locations.
Fully WSIB-insured company
Harness and ladder-trained team
Advanced booking for recurring services
Digital documentation, from contracts to payments 
Free no-obligation quote
Reports of slow response rate to inquiries
Attentive to our requests
"The crew from Shine – Larry, Josh, and Jason – was on time, very detailed, and attentive to our requests. They were moving fast, but where needed took time to remove stains and dirt on the windows, frames, and mesh. We are very happy with their work!"
Julija Noskova, Google Review
Very thorough
"Larry and Jacob were very thorough and completed the work in a timely and professional manner. Thank you."
Nives Osmokrovic, Google Review
2. Diamond Property Wash Inc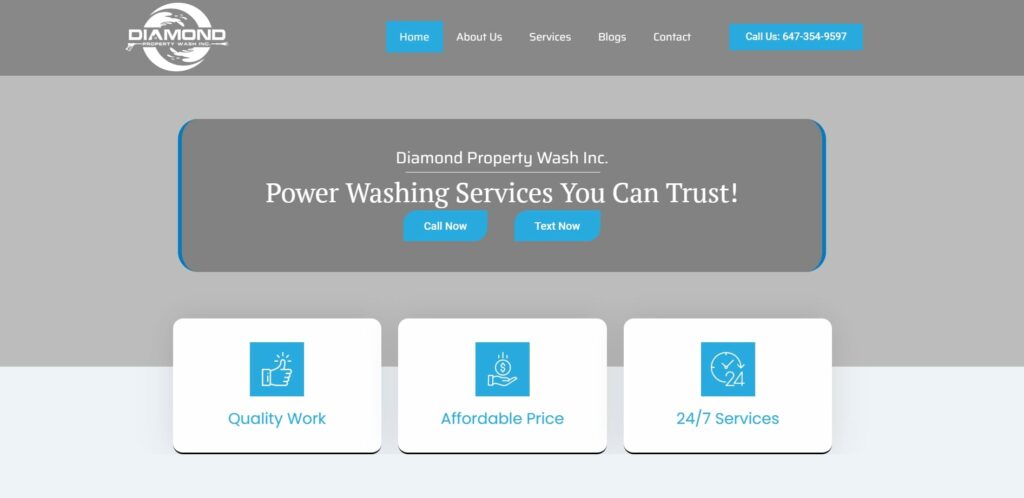 Backed by 10 years of experience, Diamond is proud of their commitment to environmentally friendly practices, using fully biodegradable products.
Their expertise extends to mobile pressure washing for both residential and commercial properties, making them a go-to choice for fleet washes and exterior building washes.
Diamond Property Wash Inc.'s pressure washing services include mold and algae removal, heavy equipment cleaning, oil and grease removal, roof cleaning, patio and window cleaning, and more.
Additionally, they offer specialized cleaning solutions such as warehouse washouts. This includes floor power scrubbing, dusting, and ceiling cleaning, removing oil from the floor, and degreasing packaging and processing equipment.
Diamond Property Wash Inc operates year-round, providing its services even during overnight hours, weekends, and holidays.
Operates 24/7, including overnight, weekends, and holidays
Uses fully biodegradable products
Relatively pricier residential rates
Super professional
"This company is super professional. They knew the difference between pressure washing, softwashing, power washing and how to clean each surface with the right pressure and detergents. They educated me on what not to do and I loved seeing all their contractor grade equipment being put to work. This company has an amazing and dedicated owner who cares about his clients and the quality of work getting done. Highly recommend."
AR Property Services, Google Review
Professional and knowledgeable
"Great company to do business with. From first phone call to completed job, they were very kind, professional, considerate and explained everything in detail that was going to be done to the house. I was very satisfied with their work. Highly recommend Diamond for your pressure washing needs."
Susan Habibi, Google Review
3. Splash Window Cleaning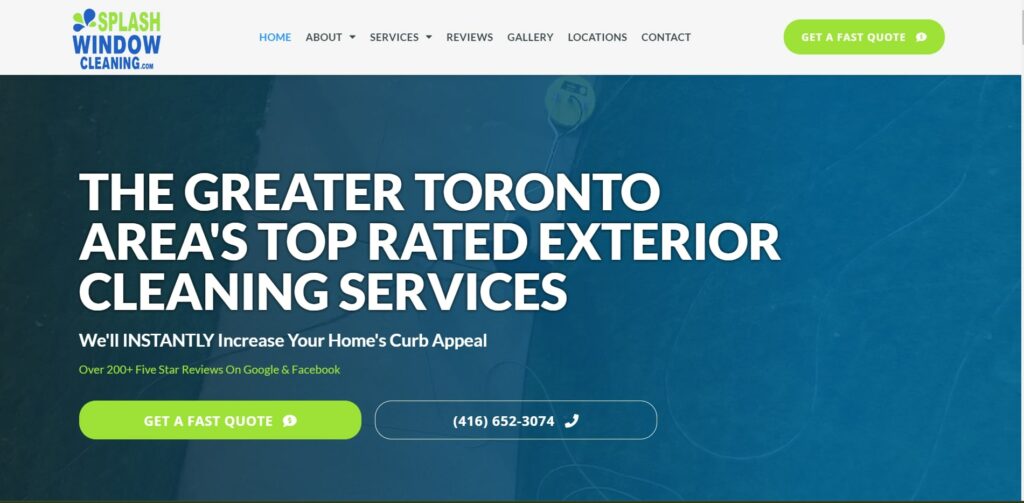 Test
Info
WEBSITE
https://splashwindowcleaning.com/
ADDRESS
3111 Dufferin St Suite 205, Toronto, ON M6A 2S7
SOCIAL MEDIA
INSTAGRAM
CONTACT INFORMATION
Phone: (416) 652-3074
OPERATING HOURS
Monday - Friday: 9:00 am - 5:00 pm

Saturday - Sunday: 9:00 am - 4:00 pm
Since its establishment in 1999, Splash Window Cleaning has built an impressive client base that has grown from 150 to over 10,000 customers. The company attributes this success to competitive pricing, a commitment to excellent quality, dependability, and friendly service.
Splash provides interior and exterior cleaning solutions for windows, screens, tracks, and frames. Their certified and trained technicians also handle custom jobs involving solar panels, skylights, solariums, hard-to-reach windows, oversize mirrors, and more.
Their team of professionals utilizes cutting-edge water purification equipment and carbon fiber poles to achieve streak-free and spot-free surfaces, even for the highest windows.
Aside from free on-site consultations, Splash offers warranties for paver sealing and house washing. Plus, they have a 100% Satisfaction Splash Clean Guarantee, promising to redo any unsatisfactory window clean within 48 hours, free of charge.
Free on-site consultations
Certified and insured specialists
Splash Clean guarantee within 48 hours
Rescheduled appointments due to high demand
Convenient service
"Very friendly and convenient service. All done over the phone, including scheduling and processing payment so I was free to go to work. Repair was made at leaky joint in eaves trough and there are no longer any leaks! Thanks again!"
NRX Landscaping Inc, Google Review
Deliver on their promise
"We have used Splash for years. Terrific professional folks who do a great job. They are easy to work with and deliver on their promise. Every single employee either my wife or I have come into contact with has been just lovely. We could not recommend them higher."
C John Rosati, Google Review
4. H2GO Mobile Wash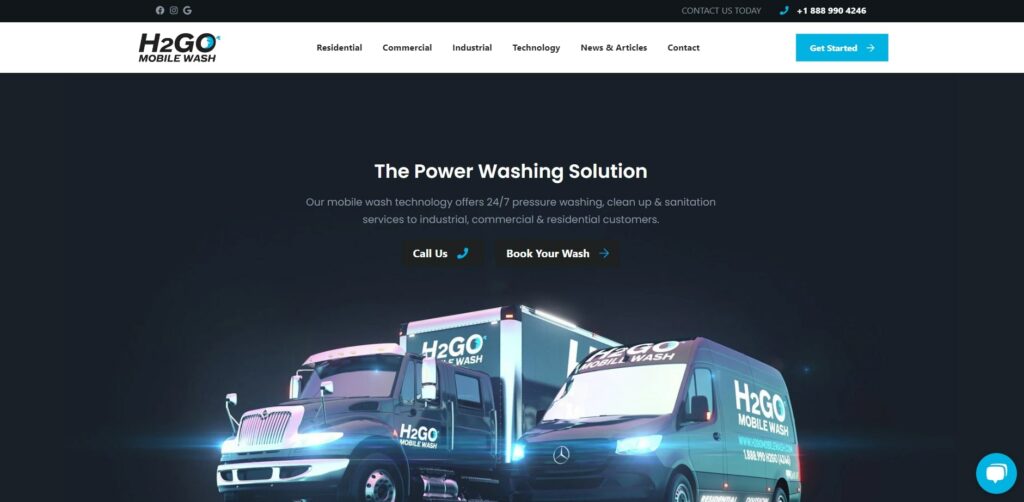 | Test | Info |
| --- | --- |
| WEBSITE | https://h2gomobilewash.com/ |
| ADDRESS | 33 Main St W, Grimsby, ON L3M 1R3 |
| SOCIAL MEDIA | INSTAGRAM |
| CONTACT INFORMATION | Phone: +1 888-990-4246 |
| OPERATING HOURS | Monday - Sunday: Open 24 hours |
The dedicated fleet of H2GO Mobile Wash vehicles caters to industrial, commercial, and residential clients, whether it's cleaning and sanitizing manufacturing facilities, high-rise buildings, fleets of vehicles, or residential properties.
Their pressure and power washing services extend to specialized businesses like wineries, providing thorough cleaning and sanitization of farming and brewing equipment, wine barrels, and outdoor spaces.
H2GO Mobile Wash also offers agricultural power washing services, tackling heavy agricultural equipment, barns, stables, cattle pens, and even greenhouses. With up to 12 hours of potable water onboard, they can service large-scale projects.
Because the company operates 24/7/365, clients can schedule appointments in advance, set up recurring services, or request emergency cleanups.
Aside from using eco-friendly products, H2GO Mobile Wash has designed a proprietary wash system with high-pressure, high-flow capabilities, including hot water and steam blasting, enabling them to provide sanitization and restoration services across various industries.
24/7/365 operations
Eco-friendly products
Proprietary wash system
Overall rates pricier than competitors 
Absolute professionalism
"Amazing service by H2GO mobile. We booked 8 homes to be cleaned post construction and the service was excellent! They came on the scheduled time and took the time with each home cleaning the entire house. Our windows were sparkling by the time they were done. Each homeowner was able to ask the to go over some concerns and they did it without hesitation and absolute professionalism. Thank you so much for organizing such a great project for our street!"
Sal A., Google Review
Great customer service
"Zach was very responsive, easy to talk to and had great customer service! The guys came by and made my house look great! They were actually 45 min early for the appointment, very impressive, will use again!"
Casey Tennant, Google Review
5. WENSO – Window Cleaning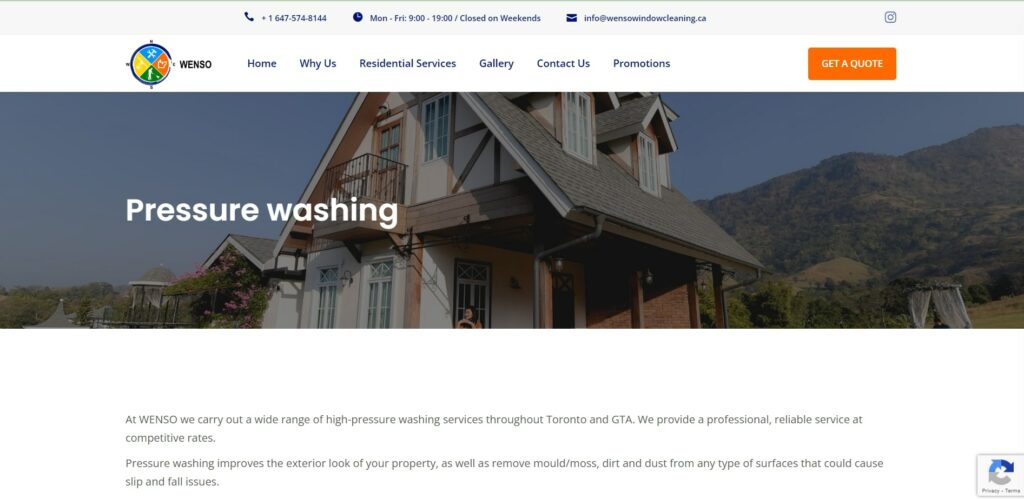 Don't be fooled by the company name – aside from window cleaning, WENSO specializes in pressure washing services, covering residential and commercial properties. They provide patio cleaning, hard water stain removal, post-construction cleaning, solar panel cleaning, copper gutter repair, paint removal, skylight cleaning, and more.
WENSO uses non-toxic cleaning products to remove dirt and grime without harming family members, pets, gardens, or the ecosystem.
For exterior window cleaning, they employ de-ionized water in their Reach and Wash Eco-System, which effectively cleans windows, frames, and signs without harmful detergents. This results in cleaner windows that stay clean longer, cost savings, and a cleaner environment.
For interior window cleaning, WENSO uses pH-neutral glass and window cleaning products that are free from harsh chemicals, promoting a healthier indoor environment for their clients.
WENSO offers enticing promotions such as group discounts for multiple houses in the same area and free roof inspection during gutter cleaning.
Extensive range of services
Utilizes non-toxic cleaning products
Excellent service and very professional
"Hired Wenso for window cleaning and power washing. Excellent service and very professional. Our composite deck looks brand new. I will definitely be using Wenso's services again.
Update: I used Wenso's services again but this time to power wash the concrete pool deck as well as window cleaning. Roman did an amazing job even going out of the way to power wash our outdoor dining table and removing a broken window canopy. I highly recommend his services."
Kwon, Google Review
His techniques are very easy to follow
"What a FANTASTIC experience! Roman had my windows washed inside and out, including tracks, frames and screens. Everything is spotless! Highly recommend!"
Rimma Dotsenko, Google Review
---