WHERE TO FIND THE BEST MECHANICAL ENGINEERS IN TORONTO
Anywhere you are in the world, you can see the great work done by mechanical engineers. From the pipes that convey your water to the air-conditioning that keeps you sane, that's their ingenuity on full blast.
Got an assignment or two for a mechanical engineer? No worries—they're just a call away from lending their expertise. Here are five engineering firms that will get you moving in the right direction.
How We Chose the Best Mechanical Engineers in Toronto
How Much Do the Services of Mechanical Engineers Cost in Toronto?
While prices vary depending on the type of equipment to be serviced, expect to pay no less than $1,500 for installations and repairs.
1. MEECO Technologies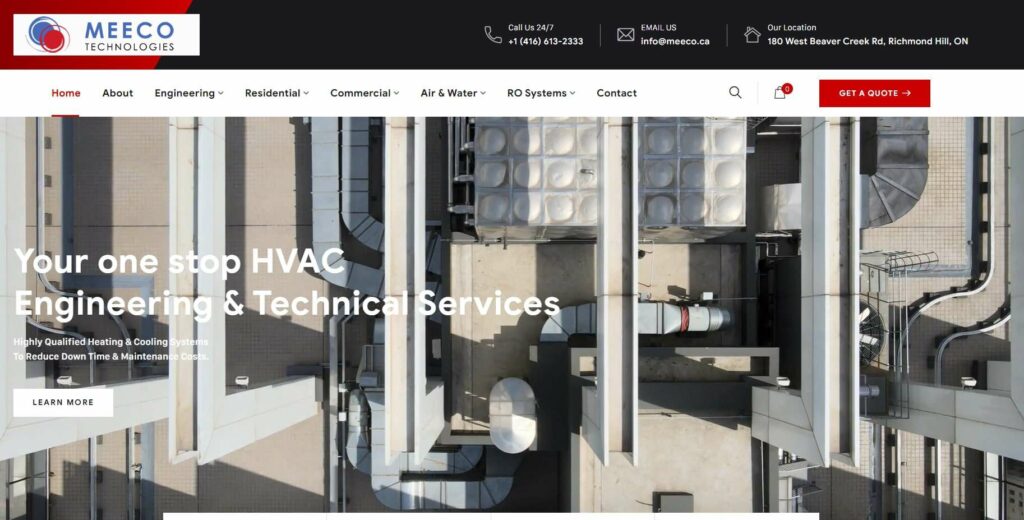 | Test | Info |
| --- | --- |
| WEBSITE | https://www.meeco.ca/ |
| ADDRESS | 180 West Beaver Creek Rd., Richmond Hill |
| SOCIAL MEDIA | INSTAGRAM |
| CONTACT INFORMATION | Phone: (416) 613-2333 |
| OPERATING HOURS | Mon-Fri: 9:00am – 7:00pm |
For over 25 years, MEECO Technologies has been a leading figure in HVAC engineering. To be more specific, it addresses issues related to boilers, burners, air conditioners, cooling towers, and other similar equipment.
Sustainability is a strong point of emphasis for these folks on Richmond Hill. Understanding that home comfort doesn't have to come at the expense of the environment, MEECO takes concrete steps to reduce emissions and generate clean energy. These include thorough research, extensive testing of machinery, and doing away with methods that entail excessive energy consumption.
Thus far, MEECO's engineers have completed over 250 projects, including installation of commercial air-conditioning units and high-rise boilers. Aside from HVAC tasks, they have also worked on water treatment, plumbing and drainage, and fire protection.
HVAC specialization
Validated by accreditations and professional affiliations
Emphasis on sustainability
Limited in other aspects like automotives and robotics
Extremely skillful
Amazing technician, excellent service, and very prompt. We wanted to replace our hot water tank and boiler, we called meeco and got a same day visit immediately. The technician was extremely skilful. He installed the new boiler and hot water tankless quickly and cleaned well after himself. We definitely recommend them. Thank you, Meeco!
Private user, HomeStars review
On time, fast and efficient
Meeco's Team was on time, fast and efficient. They did a great job and took the time to review the work they did. I have had excellent service with Meeco and their reps are a testament to the quality company it is. Thanks for doing a great job Babak.
Tannaz Sartipi, Google Reviews
2. Thermond Engineering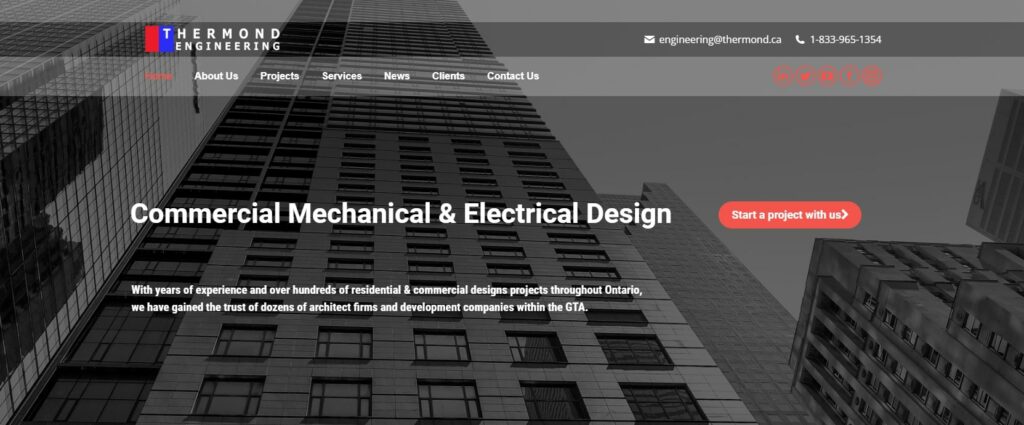 | Test | Info |
| --- | --- |
| WEBSITE | https://thermond.ca/ |
| ADDRESS | Unit 301-3317, Yonge Street |
| SOCIAL MEDIA | FACEBOOK |
| CONTACT INFORMATION | Phone: 1-833-965-1354 |
| OPERATING HOURS | Mon-Fri: 9:00am – 6:00pm |
Since 2015, Thermond Engineering has delivered mechanical and electrical design services with a strong edge in project management. With so many moving parts across several assignments, Thermond Engineering maintains efficiency by meticulously mapping out project schedules, resources, costs, and risks.
Thermond Engineering optimizes results in areas of specialization like plumbing, building management, code compliance, and radiant heating. For more than two decades in the industry, the Thermond team has delivered satisfactory outcomes to residential, commercial, and industrial clients alike.
Their bold promise? Engineering designs are completed in no more than a couple of business days. (And they've delivered…on multiple occasions!)
Proficient in both mechanical and electrical design
Services different types of clients
Well-organized and prompt
Over two decades of experience
Reports of conflicts with clients
Pleasure to work with
I hired Thermond Engineering to create mechanical drawings for a condo project. They were a pleasure to work with. Great communication, asked questions about the project, and completed the drawings quickly.
I will definitely use them for future projects.
Stephen Antoniadis, Google Reviews
Going above standard
I had recently reached out to Thermond Engineering for their expertise on a mechanical design summary I needed for an upcoming project I have. They were professional, responsive, great work ethics, knowledgeable of the permit prerequisites for new build construction and provided to me exceptional work! I truly appreciate your support and thank you for going above and beyond by not only delivering quality work but by going above standard and delivering to me cutting edge 3D designs!
Thank you!! I will definitely go back to Thermond Engineering for any future projects.
Satya Danir, Google Reviews
3. MAKO Design + Invent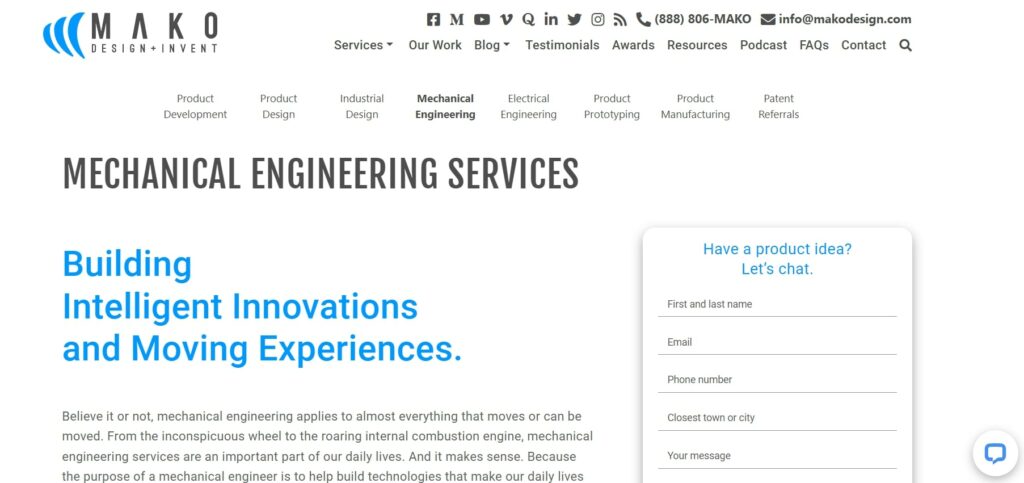 | Test | Info |
| --- | --- |
| WEBSITE | https://www.makodesign.com/ |
| ADDRESS | East Tower, 130 Queens Quay East |
| SOCIAL MEDIA | INSTAGRAM |
| CONTACT INFORMATION | Phone: (416) 855-1137 |
| OPERATING HOURS | Mon-Fri: 9:00am – 5:00pm |
From cutting-edge product development to patent referrals, MAKO Design + Invent covers plenty of ground. Not to worry, though: when it comes to mechanical engineering, MAKO has a clear-cut process to satisfy clients.
After undergoing a conceptualization and consolidation phase, MAKO's team refines its mechanical designs through advanced 3D CAD software, simulation analysis, and prototyping. Throughout this production pipeline, MAKO engineers constantly communicate with the client to ensure that they understand the intricacies of each component.
It is precisely this detailed approach that has bagged MAKO a number of industry awards, including the DNA Paris Award for Cutting Edge Invention Design. By all indications, MAKO's meticulous methods will m,erit more accolades in the near future.
Highly systematic in project production
Validated by industry awards
Emphasis on communication and collaboration
More inclined towards startups than big businesses
Helping people achieve their visions
Kevin Mako and the Mako design team do a tremendous job of helping people achieve their visions. Kevin is a brilliant individual who has been working in this field longer than anyone out there. Only the best workers are hired there. If you want to see your dream come a reality in the hardware product production field, MAKO Design is the way to go.
Matt Kolonia, Facebook Reviews
They are there for me
Not only did the Mako team help me bring my idea to fruition, they are continuously there to support me through my journey as a new business owner – whether answering questions, giving advice, helping with processes, posting about my product on social media, or writing a blog about my product or business, Mako has always made me feel like they are there for me. They took an idea that I had visualized in my head and helped me produce a product that was exactly like I dreamed!
Dawn Ronfeld, Google Reviews
4. Acetake Group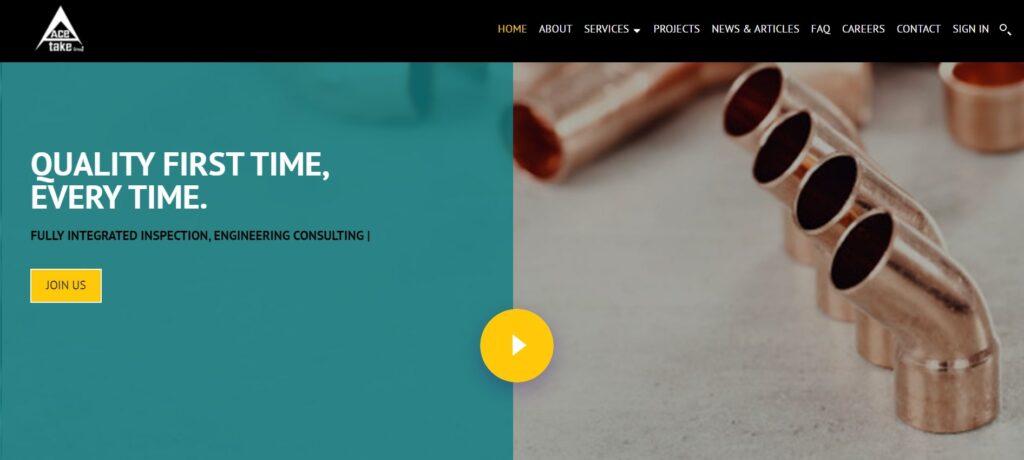 | Test | Info |
| --- | --- |
| WEBSITE | https://www.acetakegroup.com/ |
| ADDRESS | 6D - 7398 Yonge Street, Suite #388 |
| SOCIAL MEDIA | INSTAGRAM |
| CONTACT INFORMATION | Phone: 1-800-388-7569 |
| OPERATING HOURS | Mon-Fri: 8:30am – 5:30pm |
Founded in 2016, Acetake Group is a trusted brand for many types of establishments, such as offices, medical facilities, restaurants, and warehouses. Through their expertise in HVAC, plumbing, piping, computation fluid dynamics, and heat transfer analysis, the Acetake team has allowed many businesses to optimize their utilities expenses.
Acetake also offers welding and brazing, materials testing, and NDE/NDT inspection. Bottomline: If you own a business establishment in Toronto, you'll find that several of your mechanical engineering challenges will be aced by Acetake.
They also help you keep in step with the Technical Standards and Safety Authority (TSSA), as well as Transport Canada. Got boilers and pressure equipment that you have to register? Acetake will take care of that.
Extremely helpful with government regulations
Reliable in terms of engineering assessment
Composed of engineers with different specializations
More inclined towards establishments than residential clients
Clearly understood my testing needs
Very professional knowledgeable and skillful staff. They clearly understood my testing needs and recommended additional but neccessary measures to implement. Implementation was ideally succesful and I was very satisfied.
tirdad niknejad, Google Reviews
Exceed expectations on services
Acetake is the go-to engineering service for our construction and development firm.
The people at Acetake always over-deliver and exceed expectations on services.
I highly recommend Acetake to any organizations or individuals in need of engineering and related services.
Hamraz Toor, Google Reviews
5. Hawk Home Services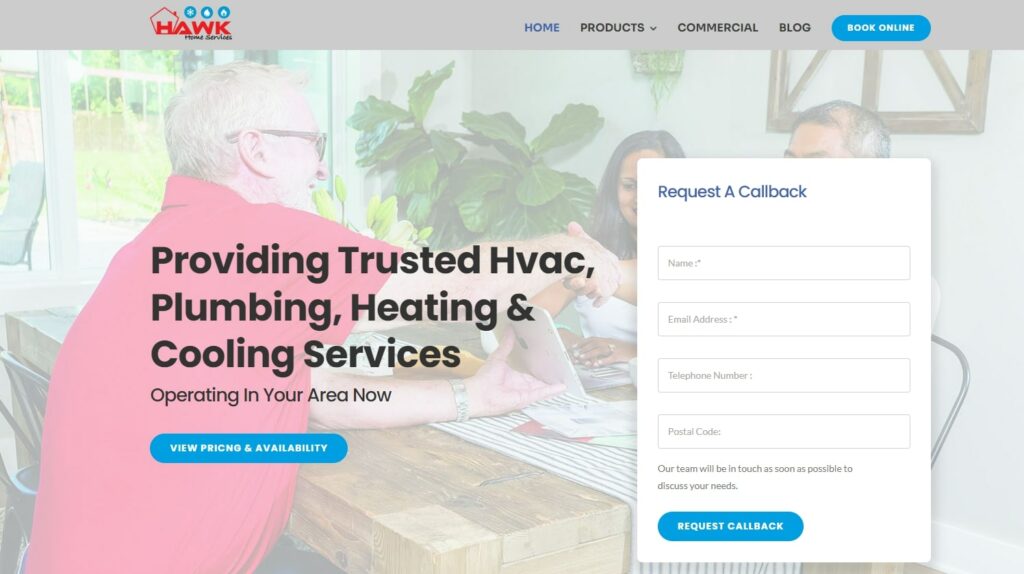 | Test | Info |
| --- | --- |
| WEBSITE | https://hawkhomeservices.ca/ |
| ADDRESS | 90 Ironside Crescent Unit 6, Scarborough |
| SOCIAL MEDIA | INSTAGRAM |
| CONTACT INFORMATION | Phone: (416) 289-6600 |
| OPERATING HOURS | Provides 24/7 assistance |
Like their namesake creatures, Hawk Home Services will swoop down on your HVAC and plumbing problems. Your furnace, AC unit, boiler, and pipes are in good hands, as the Hawk Home Services team is licensed by Professional Engineers Ontario. On top of that they have a thumbs up from TSSA as well. (Oh, and did we mention that they render their services on a 24/7 basis?)
As an added convenience, Hawk Home Services offers different payment options. Whether you want to settle upfront or spread out your payments over a number of months, Hawk Home Services provides a range of options for clients.
HVAC and plumbing specialization
24/7 service
Multiple payment options
Reports of ineffective repairs
Got the job done in a timely manner
Talha and his staff were super to work with. Very responsive, got us booked in quickly and got the job done in a timely manner. The gentleman, Rob, who came to replace the humidifier was friendly and honest. When he ran into an issue rather than patching together a solution, he spent the extra time needed to ensure it was done right. Even coming back the next day.
I compared to a couple of other places and the price was very reasonable too. Would highly recommend using Hawk.
Private user, HomeStars review
Great service at a very reasonable price
They came in right away the same day when I was having an emergency with my water heater. Talha was a great guy. He did a thorough job and replaced my tankless water heater the very next day. Very nice and great service at a very reasonable price. 10/10 recommend.
Henna Butt, Google Reviews