The 5 Best Services for Termite Control in Toronto
Termites feed on wood – be it your home furniture, flooring, walls, or other house necessities. They sometimes eat and scatter dead plant matter, so having them in your space is an absolute hassle.
If you're worried about them, then this review is for you. This will give you pertinent information on usual methods and their corresponding prices, along with each of the services' pros and cons.
The Best Services for Termite Control in Toronto
We used the following factors as criteria for each of the termite control services:
How much does a termite control service cost in Toronto?
Pest controls differ in price depending on the gravity of the situation and other requests.
This price table shows the average price of pest and/or termite control in Canada.
| Menu | Price |
| --- | --- |
| Standard pest control | CAD 335 to CAD 400 |
| In-depth treatment | CAD 670 to CAD 1,000 |
Take note that these amounts are subject to change. Some services also have their own set price ranges.
1. Pesticon Pest Control Toronto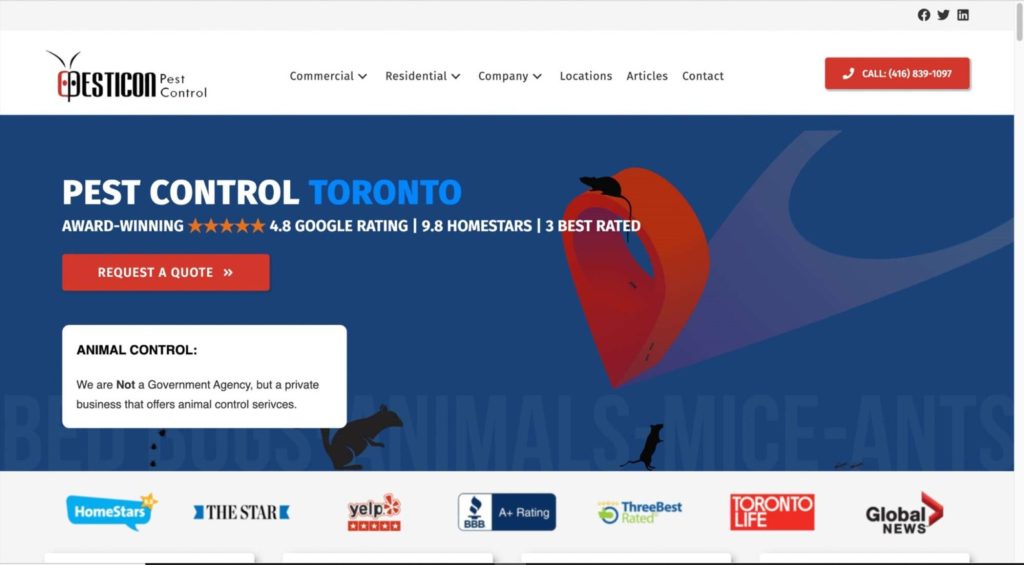 Test
Info
WEBSITE
https://www.pesticon.com/
ADDRESS
100 Rexdale Blvd Suite 301 G, Toronto, Ontario
CONTACT INFORMATION
Phone: +1 416-839-1097
OPERATING HOURS

Sunday to Saturday

8:00 AM to 10:00 PM
| | |
| --- | --- |
| TECHNICIANS | ★★★★★ |
| QUALITY OF SERVICE | ★★★★★ |
| > Regard for safety | ★★★★★ |
| > Care for the environment | ★★★★★ |
| > Overall experience | ★★★★★ |
| TOOLS AND PRODUCTS USED | ★★★★★ |
| RESULTS | ★★★★☆ |
With over 20 years' experience in pest control in Toronto, Pesticon Pest Control Toronto is absolutely one of the best places to go to for termite control or extermination.
Their technicians are well-experienced and professionally trained in the matter and they are very well-equipped to perform the job. Their process is also very thorough and we like how transparent they are to their customers.
Specialised sprays and powders are what they use to eliminate termites in a space. We especially commend how their pest removal strategy focuses on having a minimal impact on the environment.
They even perform a habitat modification to stop termites from coming in. We find this method of theirs very efficient and helpful, as they even seal up entrances to prevent the same pest problems from reoccurring.
Both residential and commercial spaces are served by this company. We do note that termite control for homes seems to be more of their specialty, but they are very flexible and can do an overall pest control service for a space.
Honestly, there isn't anything much to dislike about Pesticon. We do note that they aren't perfect, as they can sometimes respond late to calls or messages.
We also warn that they can be quite fully booked. Their termite controls and inspections are available from May to November and they are highly in-demand once they start accepting appointments.
Overall, we recommend Pesticon Pest Control Services for termite detection and treatment. They will even follow-up with you days to weeks after they have done their job.
More than 20 years' experience
Serves both residential and commercial space owners
Uses specialised sprays and powders
Modifies spaces to prevent termites from reappearing
Cares for the environment
Can sometimes respond late 
Usually fully booked or highly demanded
Customer Reviews
Thorough, polite and very professional
"Andre was thorough, polite and very professional. He took the time to explain everything he was doing, and was very efficient. A+ service!" — Cindy G, via Google
2. Aetna Pest Control Limited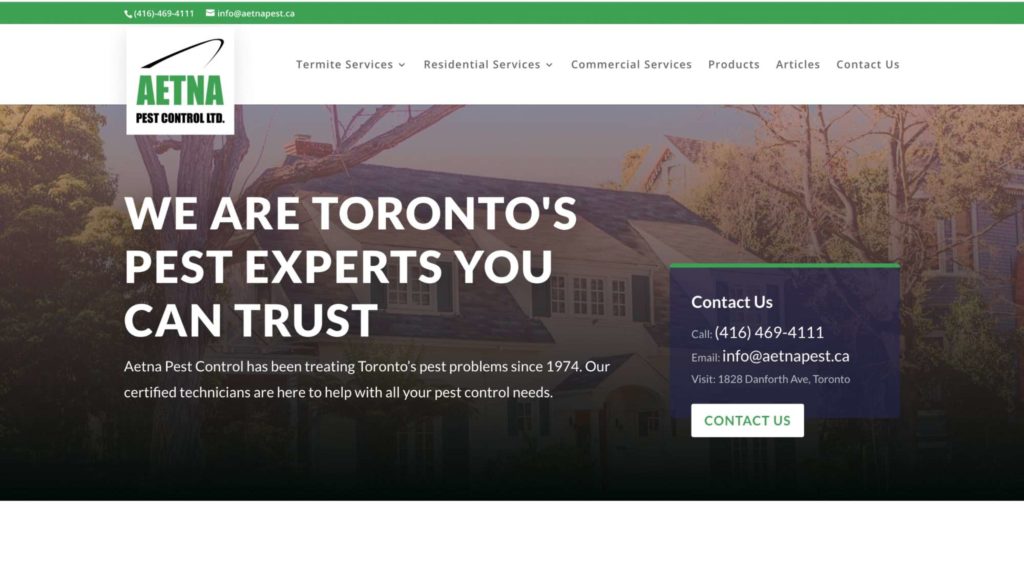 Test
Info
WEBSITE
http://www.aetnapest.com/
ADDRESS
11828 Danforth, Toronto, Ontario
CONTACT INFORMATION
Phone: +1 416-469-4111

EMAIL: [email protected]

OPERATING HOURS

Monday to Friday

9:00 AM to 5:00 PM

--------------------------------------

Saturday

10:00 AM to 2:00 PM

--------------------------------------

Sunday

Closed
| | |
| --- | --- |
| TECHNICIANS | ★★★★★ |
| SERVICE QUALITY | ★★★★★ |
| > Regard for safety | ★★★★★ |
| > Care for the environment | ★★★★★ |
| > Overall experience | ★★★★★ |
| TOOLS AND PRODUCTS USED | ★★★★★ |
| RESULTS | ★★★★☆ |
Termite services are at the forefront of Aetna Pest Control offerings. They are experts in the proper and safe methods of termite control, pre-construction treatments, and inspections.
Aetna Pest Control is a family-owned and -operated business that has been performing pest control services for over 40 years now. This makes them an optimal choice in terms of experience, alongside their expertise in termite control and treatment.
Their treatment method for termites is a conventional process called Altriset Termiticide Treatment. This involves the application of Altriset termiticide as a liquid barrier around the foundation of a home or commercial structure.
We find that Altriset Termiticide Treatment can only be done properly by professional technicians. This in itself reflects how efficient and knowledgeable the technicians in Aetna Pest Control are.
Pre-construction termite treatment application is also one of their flagship services. We especially find this very strategic of them, as this is a good way to showcase their skills while also speaking to a specific market.
We do warn that some of their fees can be quite expensive. Some customers also complain that they feel like they paid too much for a quick inspection, but we note that the good comments outweigh the bad ones.
This service is also closed on Sundays. We find it important to mention this as most pest control services are open daily and some are even available 24 hours, so this kind of puts them behind in terms of schedule.
Aetna Pest Control Limited is undoubtedly a great place for termite control and treatment. They have more than enough knowledge and skills to send your worries away.
Over 40 years' experience
Knowledgeable in pre-construction termite treatment 
Uses Altriset Termiticide Treatment 
Some quotes can be too expensive
Closed on Sundays
Customer Reviews
Extremely knowledgeable about termites
"I had Aetna come out and do a termite inspection on my house and I cannot say enough good things about them. Richard was extremely knowledgeable about termites and what treatments were available.
I really appreciated how thorough he was, he answered all my questions and made me feel much better about my situation. I called the office when I had a few more questions and Liz was able to help as well.
I am very impressed at their knowledge and professionalism! It's been great working with Richard and his team." — Jillian Ball, via Google
3. Advantage Pest Control Toronto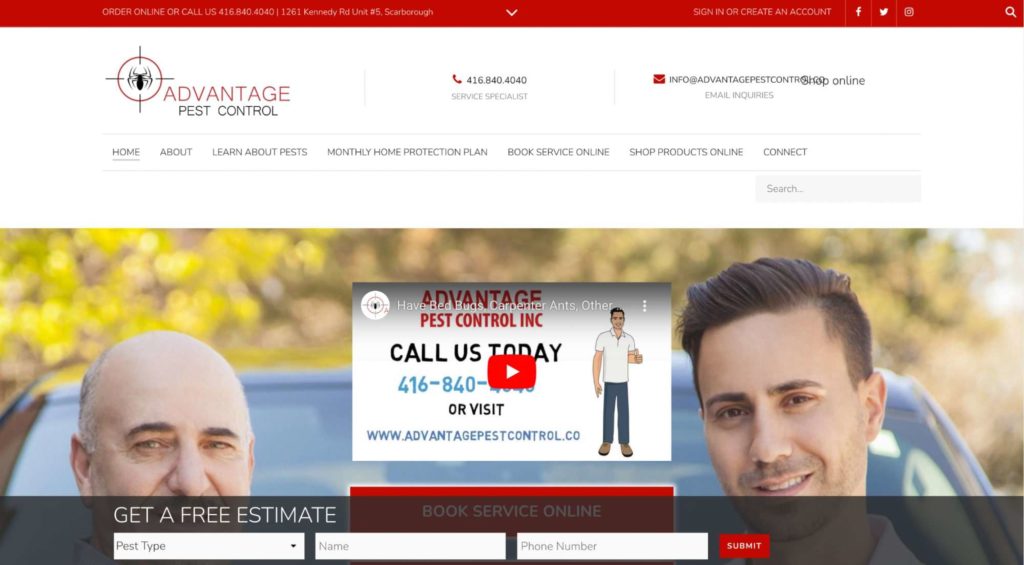 | | |
| --- | --- |
| TECHNICIANS | ★★★★★ |
| SERVICE QUALITY | ★★★★★ |
| > Regard for safety | ★★★★★ |
| > Care for the environment | ★★★★★ |
| > Overall experience | ★★★★★ |
| TOOLS AND PRODUCTS USED | ★★★★☆ |
| RESULTS | ★★★★☆ |
Advantage Pest Control Inc. is a private business that primarily serves Toronto and the Greater Toronto Area. They are one of Ontario's leading termite-control companies, established as a business since 2000.
This service is also a leader in the development of fast, effective, and environmentally responsible pest control products and application techniques. They have their own product shop, which is open 6 days a week.
On the other hand, their pest control services are usually available 24 hours a day. For all services, they usually provide a free and initial consultation to assess the situation, which is great as it saves both time and money for a customer.
We like the fact that even if they have a consultation step, they still carefully examine the space during termite inspection. They also treat not only the termite spot, they also treat surrounding areas and other spaces where termites could appear.
Another great thing about this service is that they offer monthly home protection plans. This is honestly admirable because pest control is something that many homeowners worry about, so a consistent check and service from a trusted place would help a lot.
We do note that some of their pest control products still need a little bit of work. Customers say that some sprays and other chemicals are not yet strong enough.
We also find that they have issues with follow-up treatments. A few reports say that they never arrived for the follow-up or that they had to call multiple times to remind, which is something they should address.
All said, we recommend Advantage Pest Control Inc. for their tenure. They may have shortcomings but their experience is one that shows in their work.
More than 20 years in the business
Has their own pest control product shop
Also treats surrounding areas of a termite spot
Free initial consultation
Some products are not strong enough
Reportedly late or absent to some follow-up treatments
Customer Reviews
The service was excellent
"I am very happy with Paul (Pest Control Technician), he did pest control at my house. There were two treatments and the service was excellent. Moreover, he is very friendly, well mannered and sincere! I will refer him to any one who needs pest control."
— Khalid Hasan, via Google
4. Quality Affordable Pest Control Toronto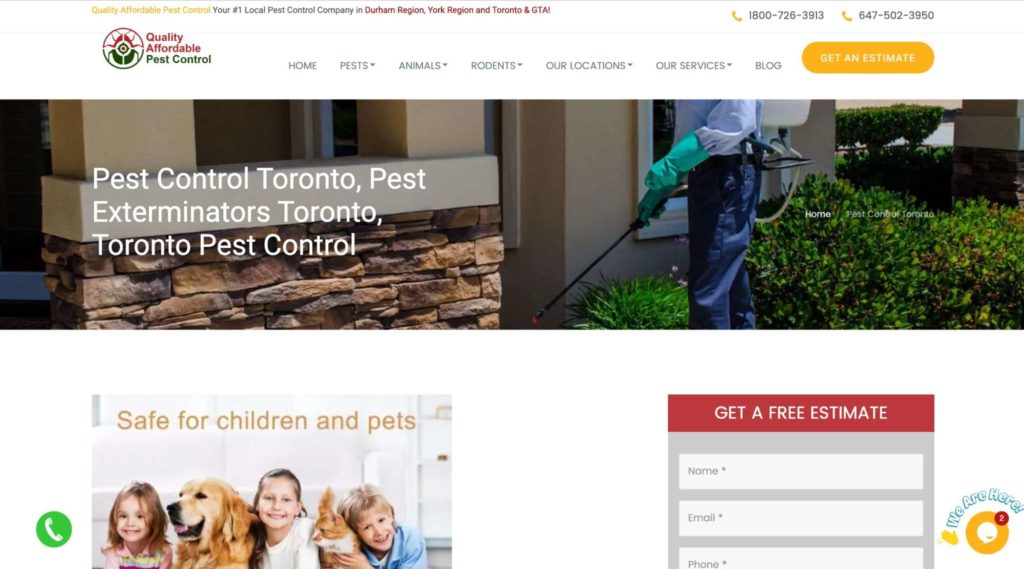 | | |
| --- | --- |
| TECHNICIANS | ★★★★★ |
| SERVICE QUALITY | ★★★★★ |
| > Regard for safety | ★★★★★ |
| > Care for the environment | ★★★★★ |
| > Overall experience | ★★★★★ |
| TOOLS AND PRODUCTS USED | ★★★★☆ |
| RESULTS | ★★★★☆ |
Quality Affordable Pest Control Toronto services Toronto, Durham, and the York Region. They also have a collective experience of over 20 years in pest control and removal.
What we like most about this service is their commitment to their humane practices. They try their best not to harm the animals while maintaining the safety of the people in the home or office.
Their mite control services are pretty direct as well. Take note that this is only an additional service from them, but the results are at par with the best in the city.
They perform termite inspection and will then recommend which method will be helpful given the condition. We find their process to be very user-centric, which is one of their selling points.
They are also experienced in clover mite control and removal. We find this great because they are able to address issues that clover mites bring such as damaged beddings, clothing, and wallpaper due to stains.
It is important to take note that this company is available for a call anytime of the day. However, they aren't always that swift and there are chances that you will be promised an appointment a bit later than expected.
Still, we recommend Quality Affordable Pest Control Toronto. They won't break the bank and can handle most of your pest problems, whether at home or your office.
Over 20 years' collective experience
Committed to humane practices
Performs meticulous inspection
Also experienced in clover mite control
Termite control and inspection is only an additional service 
Are not always swift and may arrive later than expected
Customer Reviews
Explained the situation thoroughly
"Great professional service. Easy to set up appointments via phone.
Technician, Yonesh, came out the next day and was on time. Explained the situation thoroughly, and was able to answer all questions.
Service is guaranteed. Rocco is very professional and knowledgeable.
Highly recommend." — Anthony Mazzitelli, via Google
5. Acme Pest Solutions Toronto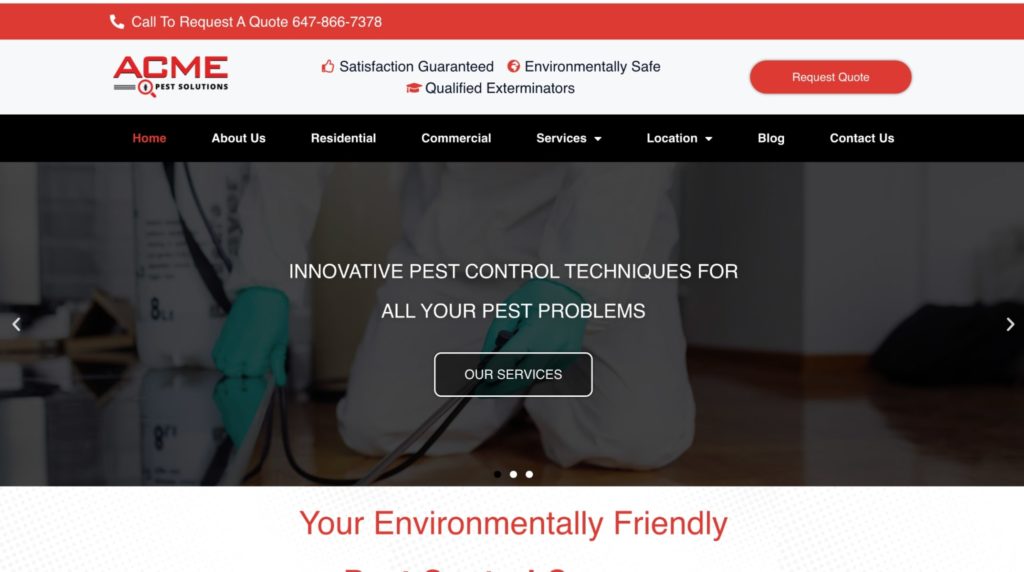 | | |
| --- | --- |
| TECHNICIANS | ★★★★☆ |
| SERVICE QUALITY | ★★★★★ |
| > Regard for safety | ★★★★★ |
| > Care for the environment | ★★★★★ |
| > Overall experience | ★★★★★ |
| TOOLS AND PRODUCTS USED | ★★★★★ |
| RESULTS | ★★★★☆ |
Fully licenced by the Ontario Ministry of the Environment, Acme Pest Solutions Toronto is an environmentally-friendly, Canadian-owned and -operated pest control business. They are popular within the Greater Toronto Area and Toronto itself.
Acme Pest Solutions has over 15 years' experience. It has less experience than its competitors but it has been proving itself thus far given its almost perfect track record.
One of the good things about hiring this business is their great concern for the environment. They only use eco-friendly products and methods for all pest control and removal processes.
We like how their technicians carefully remove all the termites and how they stick to their schedule. This is great because they focus on removing the termites before they can bring further damage.
Of course, this service still has a lot to work on. We find that they still need to add more technicians as they seem to have only a few with enough expertise.
We also feel like they can still work on their emergency services, as they are not always prompt and delays can be deal breakers for customers.
The treatment you'll get from Acme Pest Solutions is comparable to those by more experienced companies, but you get a good price for it. This is why Acme Pest Solutions made the cut, they offer almost the same quality for a more affordable price.
15 years' experience
Only uses eco-friendly products and methods
Fully licenced service
Affordable prices
Emergency services are sometimes delayed
Needs to add more technicians to their team
Customer Reviews
Always professional and courteous
"Abid has always been quick to respond to the issues I call him about for the properties we take care of. He is always professional and courteous. I will continue to use and refer Acme Pest Solutions to help guide me and deal with unwanted pests."
— Lisa Shirriff, via Google
FAQs about termite control in Toronto
---
We hope that this article educated you further about termite inspection, prevention, and elimination. Comment your go-to for termite control in Toronto should it not have been featured on this list!
Our other household reviews are as follows: