The 10 Best Shopping Districts Toronto
Toronto isn't just famous for its diversity; it's also known for its endless shopping options and districts where you can find just about anything you can think of!
There are lots of places to shop in the city, but several districts dominate the city's shopping scene. Make sure to read this list for our favourite picks.
The 10 Best Shopping Districts Toronto
1. Kensington Market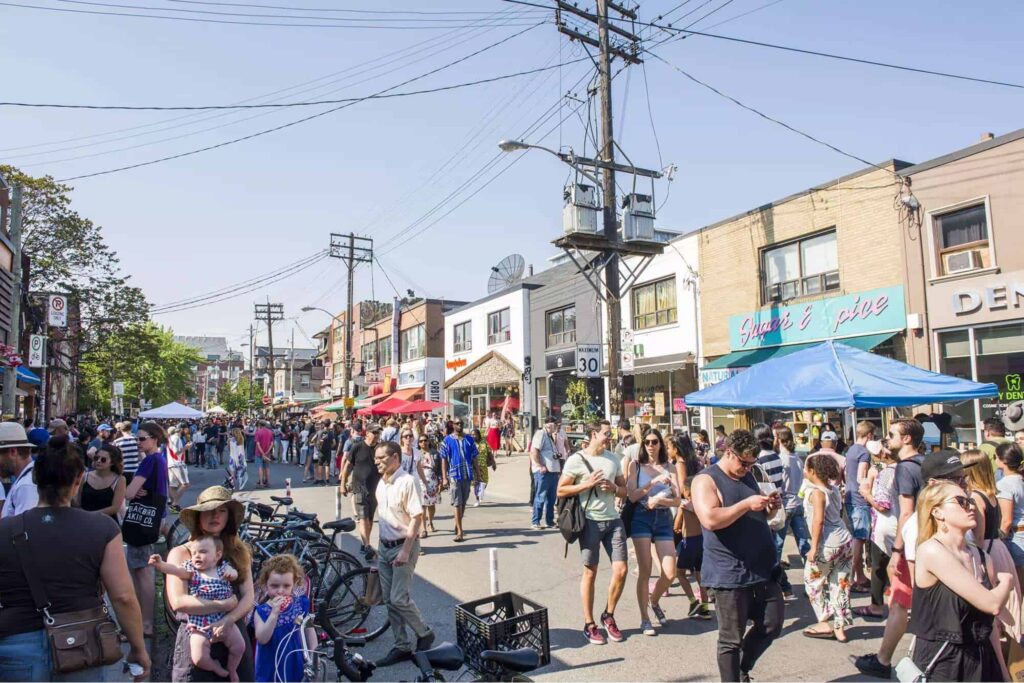 Address: Kensington Market, Toronto, ON M5T, Canada
Best For: Vintage clothes, vintage art pieces, vintage records, and thrift stores
Kensington Market is one of the city's liveliest and most diverse shopping districts. Over the years, tourists and locals have been frequenting the market for its extensive dining options and interesting stores.
The market is one of the best places to find fashionable clothes and unique pieces that will have you up to trend. Shopaholics will enjoy browsing streets lined with shops selling vintage records, art pieces, and niche items at reasonable prices.
Pro tip:
Grab a bite at Golden Patty! This iconic bakery serves jamaican patties lathered in coleslaw and mayonnaise sandwiched between toast – it's something you can't miss.
2. Queen Street West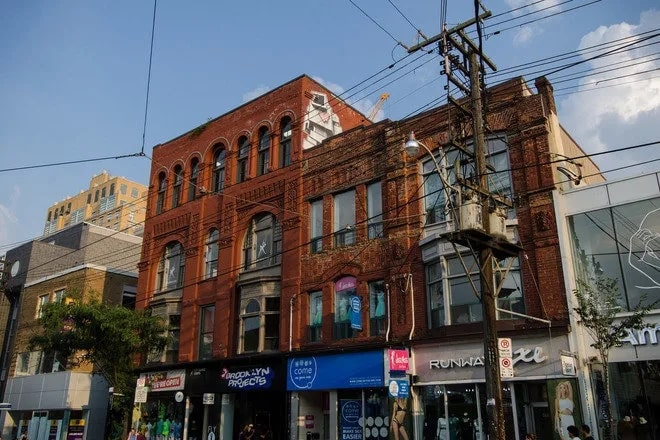 Address: Queen St W, Toronto, ON, Canada
Best For: Vintage clothes, affordable decor, and cafes
One of the most popular places to shop in Toronto is Queen Street West. This long road cuts through downtown Toronto with hip boutiques, trendy shops, and thrift stores lining every street and corner!
The place is popular among the youth for its vibrant atmosphere, cheap shopping options, and cafes. We recommend a drink at I DEAL COFFEE & WINE which has coffee, beer, and wine on tap – their earthy dark organic coffee blend is a must try!
Pro tip:
After a tiring day of cafe hopping and vintage shopping, we recommend relaxing at Trinity Bellwoods Park. The park has a relaxing atmosphere and a scenic view of both nature and the CN Tower.
3. Yorkville

Address: 1200 Bay St. #310, Toronto, ON M5R 2A5, Canada
Best For: Designer bags and luxury clothing
If you love high fashion and have the funds to splurge, then you're gonna love shopping at Yorkville! As one of the most high-end shopping districts in Canada, expect dozens of luxury retailers like Gucci, Chanel, Prada, and Louis Vuitton.
For those on a budget, there are also discount stores that sell high-end items at affordable prices. We suggest visiting Winners – they usually have designer bags and clothes at half the price of retail!
Pro tip:
Make sure to visit Holt Renfrew and Harry Rosen. They're the best places to snag the latest and top of the line Brunello Cucinelli suits, Prada bags, and Burberry coats.
4. King Street East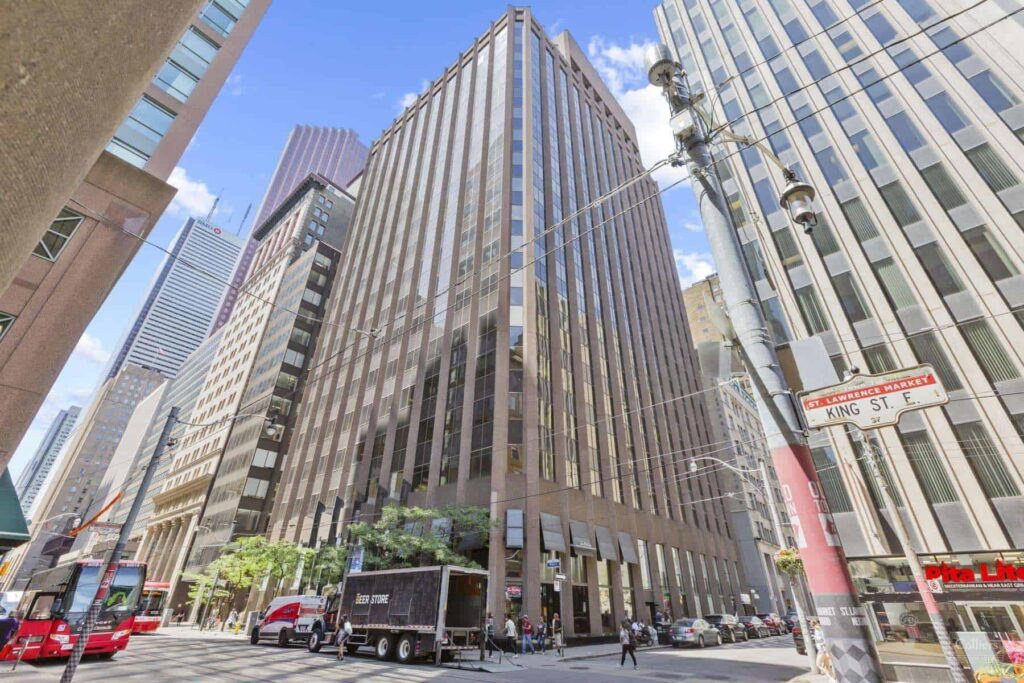 Address: King Street East, Toronto, ON, Canada
Best For: High-end furniture, high-end decor, artwork
King Street East is one of Toronto's historic commercial districts that is home to some of the city's most diverse shops. There's also cool galleries like Galerie Beauchamp that sell city-theme prints and artistic ware.
Unlike most shopping districts, King Street East is known for their diverse high-end furniture and design stores. Shops like Kiosk and EQ3 are popular retailers that provide sleek and modern furniture, while places like Mã Zone provide zany appliances.
Pro tip:
If you're looking for a place to have lunch, we recommend Beerbistro's delicious burgers and fries with their craft beers. Make sure to order the bistro burger – its juicy angus patty topped with garlic aioli is a total flavour bomb!
5. Distillery District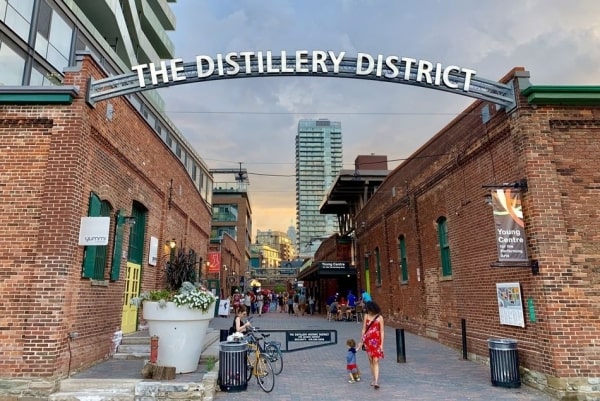 Address: Distillery District, Old Toronto, Toronto, ON, Canada
Best For: Vintage clothes, jewellery, art supplies, and home decor
The Distillery District used to be the largest distillery in the world, but today it's become a cultural hub and shopper's paradise! The district is often crowded with people looking for diverse dining options and unique stores.
With over 70 designer boutiques, artisan shops, and restaurants, it can be hard to visit all of them in a day. That said, keep an eye out for Bergo Designs interesting home decor and Corktown Designs for some fancy custom jewellery.
Pro tip:
A day of shopping in the Distillery District isn't complete without stopping by Cacao 70 for their creamy 53.8 Belgian dark chocolate drink. Also make sure to try their savoury spinach and egg crepe.
6. Dundas Street West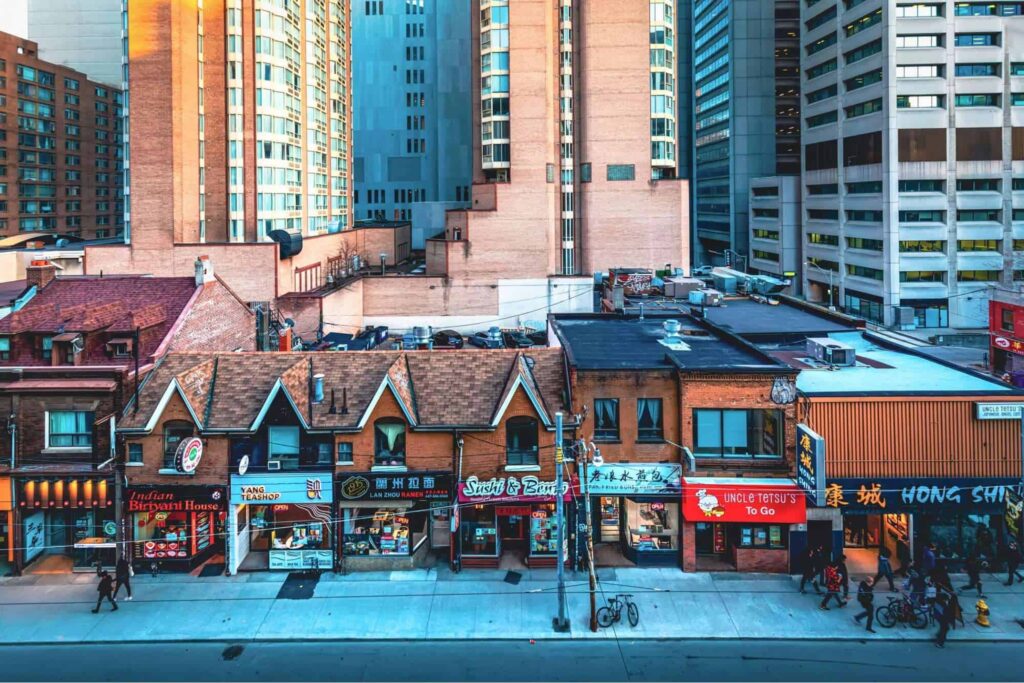 Address: Dundas Street West, Toronto, ON, Canada
Best For: Books, vintage records, vintage clothes
With a plethora of clothing stores, book stores, and some of the best vintage shops in Toronto, Dundas Street West has grown to be one of the most popular shopping areas in the city.
The street is home to the Junction, one of the most stylish neighbourhoods in the city known for its fashion-forward boutiques. We recommend dropping by Expo Vintage for all your vintage needs and Shopcat for curated pieces from the 90s.
Pro tip:
Don't leave this place without eating at Woofdawg. This cool hotdog spot has creative dishes like the spicy crank'd up corn dog and the loaded woofdawg that is teeming with jalapenos, fried garlic, and mayo.
7. Orfus Road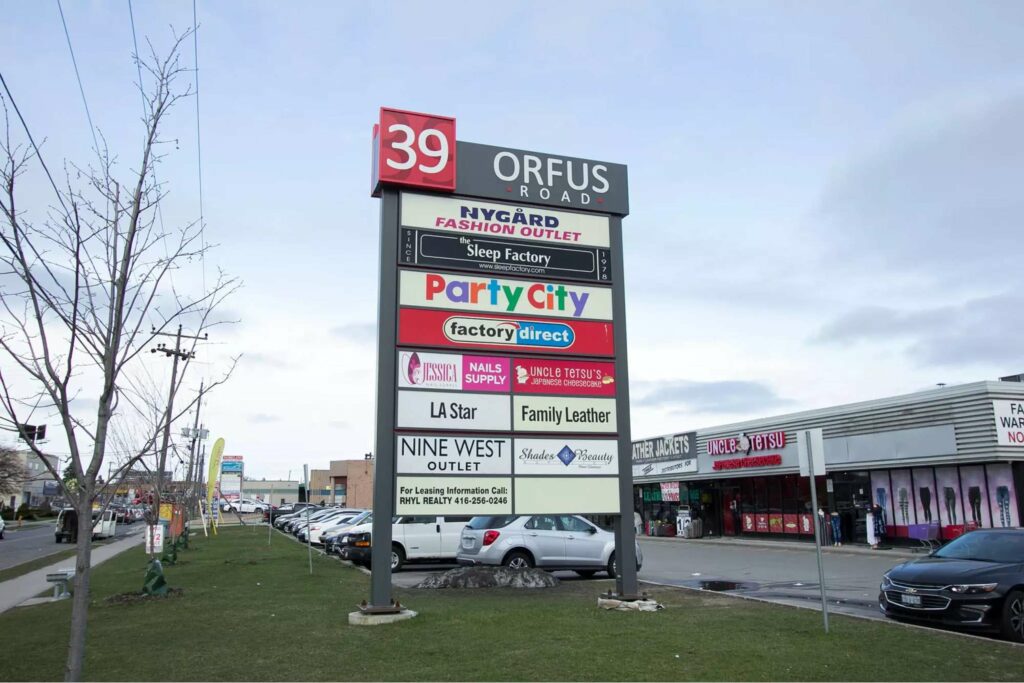 Address: Orfus Road, North York, ON, Canada
Best For: Sports clothing and sports equipment
Although Orfus Road isn't located downtown, it's one of the best outlets to snag some items at ridiculously cheap prices.
The outlet is the perfect spot to get all your clothing essentials at a really cheap price – think Patagonia down jackets and Adidas track pants. You can also find stores like Nine West, Nygard, and Le Chateau that offer great deals.
Pro tip:
After you hit up the outlets, make sure to stop by Uncle Tetsu's. They have amazingly fluffy Japanese cheesecakes and their delicious savoury cheese tarts.
8. King Street West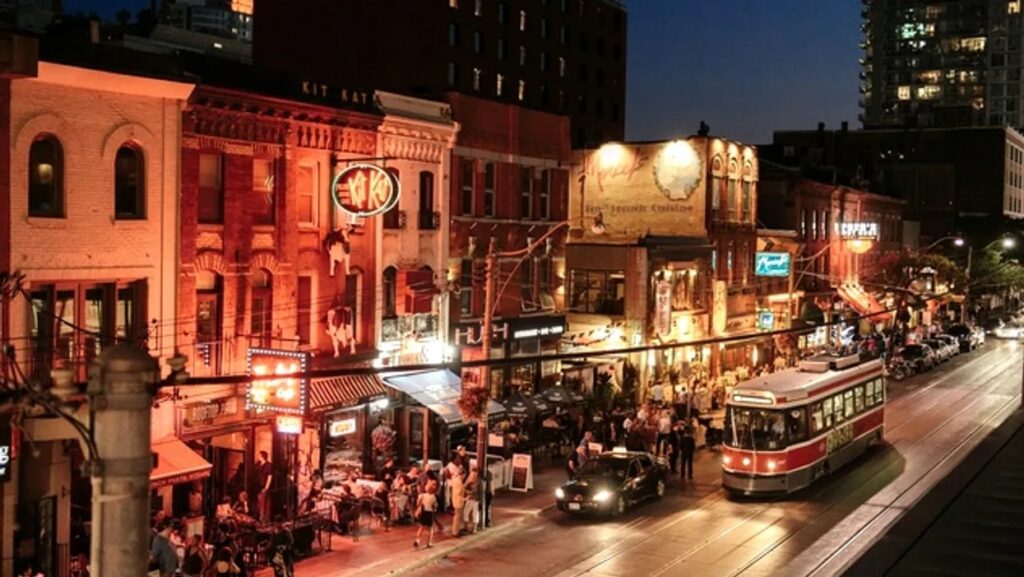 Address: King Street West, Toronto, ON, Canada
Best For: Designer clothes, artisan furniture, and international food
Located in the heart of the financial district, King Street West is known for its entertainment and nightlife. More importantly, it's home to numerous fashion boutiques, decor stores, and restaurants that make it one of the best shopping districts today!
King West is the perfect destination for shoppers interested in high-fashion and great food. It's the perfect place to dine and shop, with options like Wilbur Mexicana's modern take on Mexican dishes and Livestock's inventory of the latest streetwear trends.
Pro tip:
Before you leave, drop by Laine & Lola PONPON for their delicious butter cookies. This Filipino shop sells sweet and savoury butter cookies that melt in your mouth called PonPon, they also have Filipino snacks like polvoron!
9. Toronto Eaton Centre
Address: 220 Yonge St, Toronto, ON M5B 2H1, Canada
Best For: Affordable fashion, books, music, technology, and designer brands
When it comes to shopping, nothing compares to the legendary Eaton Centre. Spanning nearly 2 blocks, it's one of the country's largest malls with over 230 retailers and stores packed with the latest products!
The mall has diverse shopping options, with retailers that accommodate shoppers on a budget and big spenders. There's lots of notable shops here like Indigo Books, a prolific book and record store, and OVO, a clothing line by local rapper Drake!
Pro tip:
If you still have some shopping spirit in you after visiting Eaton Centre, check out Toronto Path. It's an underground walkway connected to the mall where you can see numerous stores and even an underground shopping mall.
10. St. Lawrence Market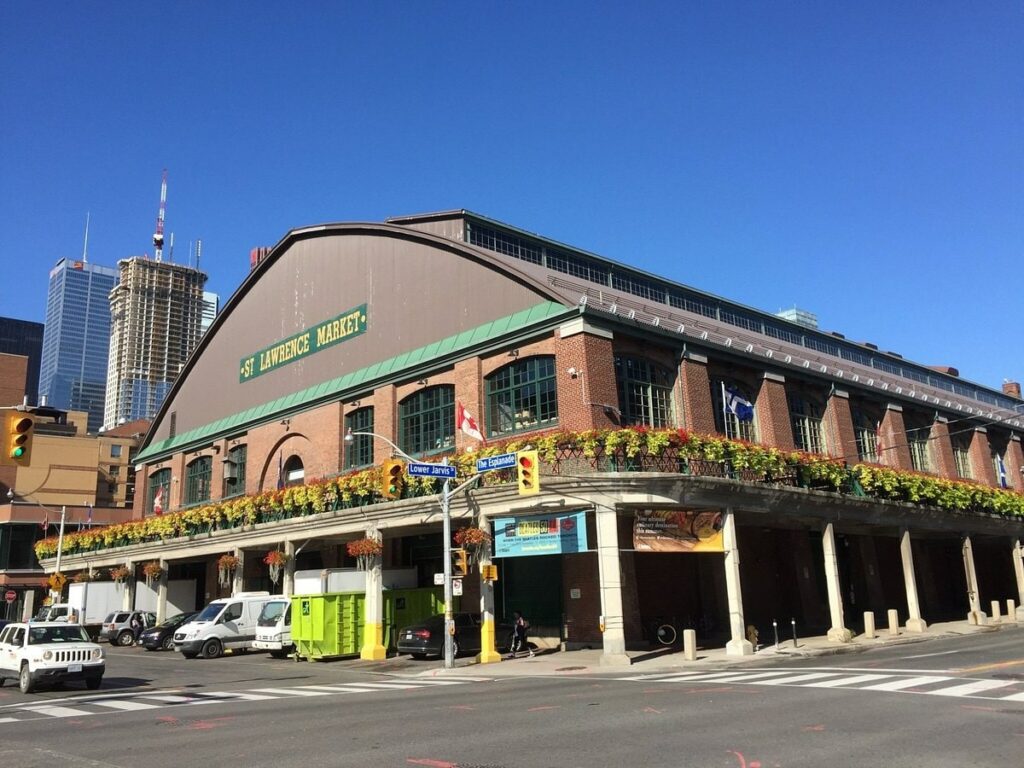 Address: Toronto, ON M5E 1C3, Canada
Best For: International food and cooking ingredients
St. Lawrence Market is a must visit for any foodie looking for delicious food and cooking ingredients. Once considered the world's best food market, you can expect to find tons of restaurants, street food vendors, and booths selling food-related products.
There's several markets in St. Lawrence, including the South Market where vendors serve delicious food like eggplant parmigiana and pierogies! You should also visit the farmers market for the freshest and most premium ingredients at the North Market.
Pro tip:
Head to the Market Gallery on the 2nd floor of the South Market to see some interesting public art. The Market Gallery exhibits various paintings and sculptures made by local artists which change often!