Where to Get Eyelash Extensions in Toronto
There are so many beauty treatments nowadays. People can literally do various procedures to highlight and improve their body, skin, and even facial features.
One of the most prominent and fastest among these is getting eyelash extensions. This helps a lot of people highlight their beautiful eyes and work on their overall look.
Here is a list of places where you can get eyelash extensions in Toronto. We covered the basics such as their methods, usual prices, other services, and more.
Where to Get Eyelash Extensions in Toronto
The following criteria were used to find good places for eyelash extensions in Toronto:
How much do eyelash extensions cost in Toronto?
Various salons and beauty clinics offer different sets of eyelash extensions. Here is a sample price table to help you navigate through the costs.
| Eyelash Extensions | Average Cost |
| --- | --- |
| Full procedure | CAD 90 to CAD 300 |
| Retouch or refill | CAD 80 to CAD 120 |
We do note that these are only average prices and that costs will vary per procedure and clinic.
1. iBeauty Code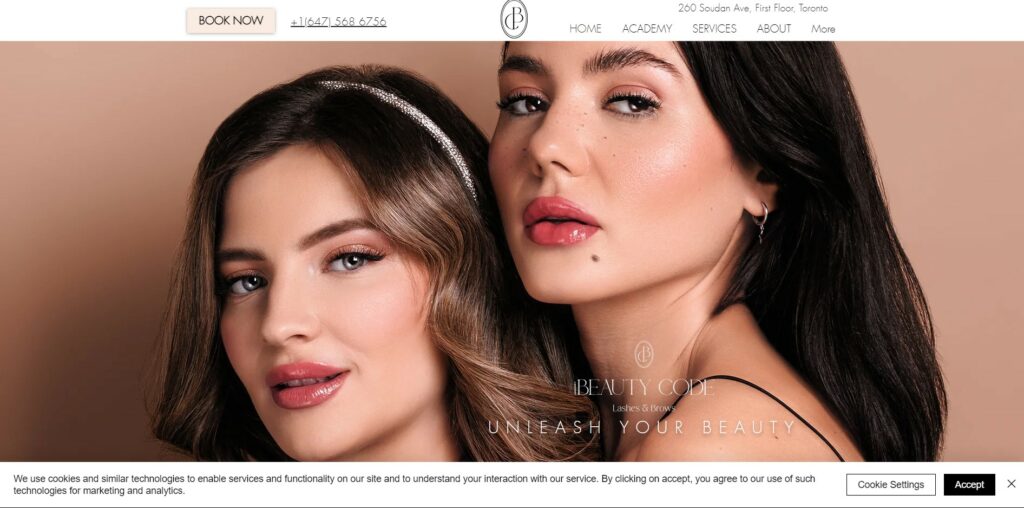 Test
Info
WEBSITE
https://www.ibeautycode.ca/
ADDRESS
260 Soudan Ave, First Floor, Toronto
CONTACT INFORMATION
+1(647) 568 6756
OPERATING HOURS
Monday: 9AM-7PM
Tuesday: 10AM-9PM
Wednesday: 10AM-9PM
Thursday: 9AM-9PM
Friday: 9AM-9PM
Saturday: 9AM-7PM
Sunday: 10AM-7PM
| | |
| --- | --- |
| EXPERIENCE | ★★★★☆ |
| PROCESS | ★★★★★ |
| EQUIPMENT | ★★★★★ |
| CUSTOMER SATISFACTION | ★★★★★ |
iBeauty Code is a popular beauty studio in Toronto, founded by Nadia Iopel in 2016, offering various beauty services, including eyelash extensions and lash & brow lamination.
With them, you will get to choose the look that best suits your preferences and desired eye appearance thanks to their wide variety of eyelash extension styles, including Classic, Volume, Hybrid (Light Volume), MegaBoom, and even Bottom Lashes.
Aside from this, they also have the capability to customize lash sets based on your eye shape, natural lash qualities, and personal preferences. With this attention to details you will experience a more tailored and flattering eyelash extensions application.
What makes them stand out from competitors is their refill policy for their clients, with three different types of refills for each service ranging from 2 to 4 weeks. This will provide you flexibility and the opportunity to maintain your lash extensions' fullness.
While they tend to have flexible availability throughout the week, securing an evening appointment slot can be challenging due to its popularity. Available spots after 5 PM are often fully booked several weeks in advance. Therefore, clients are advised to make reservations for these sought-after time slots approximately 4-5 weeks ahead to ensure availability.
Extensive Eyelash Extensions Options
Customized Sets
Flexible Refill Policy
Hard to book an evening spot for the same week.
Customer Reviews
"I did my lash extensions here and I was absolutely happy with my girls work and the result. Nadia was so friendly and Victoria did my lashes professionally. This salon designed really cute and you will get bottle of water and candy."
"This place is awesome! Victoria knows exactly what to do with my lashes every time. She is punctual and more importantly she only takes an hour to give me a refill. I do not have the time or patience to do 2-3 hour refills. The hygiene standards for both the clinic and the technicians are incredibly high. Decor is very cute and I am happy to go there. I would not go anywhere else. I highly recommend all the Technicians and services there but Victoria definitely knows what I want and has it down to a fine art!!"
2. The Lash Collective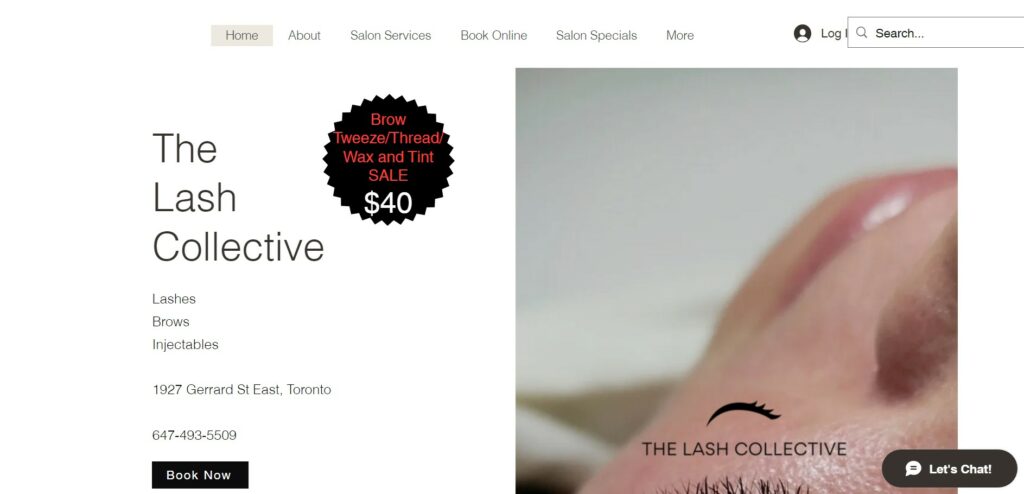 | | |
| --- | --- |
| EXPERIENCE | ★★★★☆ |
| PROCESS | ★★★★★ |
| EQUIPMENT | ★★★★★ |
| CUSTOMER SATISFACTION | ★★★★☆ |
The Lash Collective is a reputable lash salon and brow bar located in the Upper Beaches in the East end of Toronto.
We prefer them over others because they exclusively offer vegan lashes, appealing to clients with ethical and environmental concerns, ensuring that the lash extensions are cruelty-free.
Aside from this, we like how they let you choose a look that best suits you thanks to their wide range of lash styles, including classic, hybrid, volume, and YY 2D sets.
Do take note that the salon operates strictly by appointment only, which may limit flexibility for clients who prefer walk-in services or have last-minute schedule changes.
However, last minute appointments can be accepted on the day of if there is space available, inquiries can be made by phone, text or email
Vegan lashes
Variety of lashes
Professional grade products
Botox and Filler services are also available
Customer Reviews
"Naomi was wonderful! She did a beautiful job on my lashes and we had a great conversation during the process. I highly recommend checking out her spot! I was comfortable during the whole process, provided with a great chair and cozy blanket! Definitely recommend!"
"My first time at The Lash Collective, very relaxing, clean and modern studio. The lash/brow services I received were exceptional! Nurse Jen is a very honest person, she tells the truth and doesn't push her services. +She is very professional, experienced and knowledgeable, looking forward to my next treatment!"
3. Beyond Beauty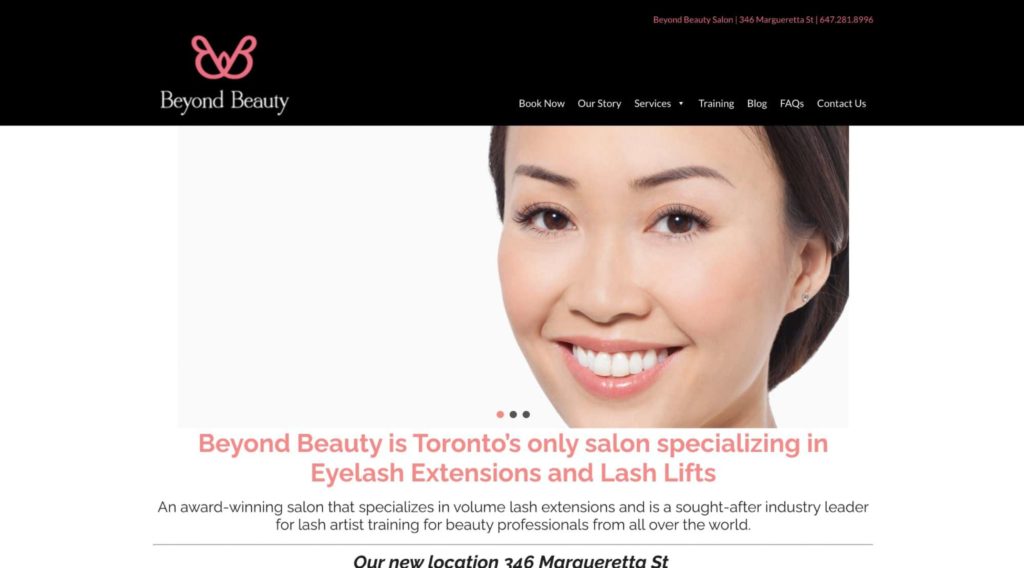 Test
Info
WEBSITE
https://www.beyondbeautysalon.ca/
ADDRESS
346 Margueretta St, Toronto, Ontario
CONTACT INFORMATION
+1 647-281-8996
OPERATING HOURS

Tuesday to Saturday

9:00 AM to 5:00 PM




Sunday and Monday

Closed
| | |
| --- | --- |
| EXPERIENCE | ★★★★★ |
| PROCESS | ★★★★★ |
| EQUIPMENT | ★★★★★ |
| CUSTOMER SATISFACTION | ★★★★☆ |
Launched by an internationally acclaimed esthetician in 2009, Beyond Beauty is famous for specialising in eyelash extensions and lash lifts. It is also an award-winning salon that offers lash artist training for beauty professionals from all over the world.
They offer 3 types of sets for eyelash extensions. These are soft, natural, and full volume sets, which resemble 1 to 2, 2 to 3, and 3 to 4 layers of mascara respectively.
The best thing about setting an appointment in this clinic is that you can have your lashes personally done by Linh Nguyen, their owner and founder. We do note that this is equivalent to far more expensive rates than their usual services.
Also, availing of their usual services means that you get great quality extensions as well, since their senior stylists are trained and certified by Linh Nguyen at Beyond Volume Lash Academy with more than 5 years of experience as a lash stylist.
Their regular services are priced within the usual range and usually last for 90 to 180 minutes. A new set is often given after 5 weeks from the date of application.
They also have touch-ups for existing clients, which can be performed by their senior stylists or Linh Nguyen herself as well. They have high-end equipment and quality supplemental lashes.
We do warn that since this place has high demand, bookings can take time. Sometimes, especially for first-timers, they even recommend booking at least 6 to 8 weeks prior.
Overall, we recommend Beyond Beauty because of the expertise that it holds. Their knowledge and skills are hard to find in this industry.
Award-winning salon
Procedure can be done by internationally acclaimed esthetician Linh Nguyen
Has been in the business since 2009
Procedures by Linh Nguyen have very expensive rates
Bookings need to be placed weeks in advance especially for first-timers 
Customer Reviews
The only place I trust to get my eyelashes done
"This is the only place I trust to get my eyelashes done. They are so knowledgeable about what looks good, the lashes are great quality and the service is unmatched!" — Tiffany DaSilva, via Google
My lashes are very natural looking
"I can not say enough great things about Beyond Beauty. My lashes are very natural looking. Even though I moved across the city, I will make the trip to this salon. Thank you so much. You guys are amazing." — Anita Hesch, via Google
4. Flirty Flutters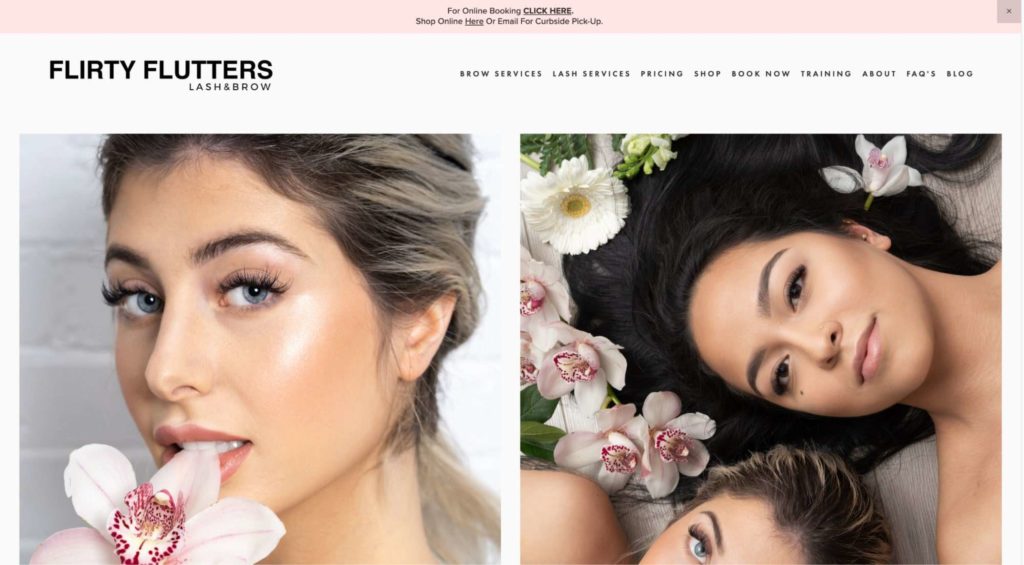 Test
Info
WEBSITE
https://www.flirtyflutters.com/
ADDRESS
691 Mt Pleasant Rd, Toronto, Ontario
CONTACT INFORMATION
+1 416-486-0808
OPERATING HOURS
Monday to Saturday

10:00 AM to 6:00 PM
| | |
| --- | --- |
| EXPERIENCE | ★★★★★ |
| PROCESS | ★★★★★ |
| EQUIPMENT | ★★★★☆ |
| CUSTOMER SATISFACTION | ★★★★☆ |
With lash and brow maintenance at the forefront of their commitments, Flirty Flutters is Toronto's very first premier luxury lash boutique, opening in 2017. Their team has a collective experience of over 10 years in the beauty industry.
This place is known for their lasting eyelash extensions, with most clients only needing a touch-up after an average of 4 weeks. They have good equipment and a great stock of lash extensions.
Four different sets are offered by Flirty Flutters. The classic set is the most common of all these, with a maximum of 130 lashes that can be applied per eye.
They also have the volume full set, which is more versatile and customisable. We find that this is perfect for those who want lashes that are fit to the look that they want to achieve, be it natural, fluffy, or dense.
For those who want light but full and long lashes, we recommend that you get the mega volume set. This makes use of fine and ultra-soft extensions and is best for those who already have weak or brittle natural lashes, since they are not that difficult to remove.
The last but definitely not the least effective set is the hybrid set, which is a mixture of the classic and volume set. These are not dense at all but are still fluffy and long.
All sets usually take a minimum of over an hour, depending on the client's eye shape, state of their natural lashes, and more.
We do note that all services are required to be reserved for a minimum of 48 hours from the target date of application. They also require credit cards for reservations, which can be a dealbreaker for many.
In case of allergies or any mishaps, they will provide a complimentary correcting service or a full removal, but no refunds will be issued. We find that they are pretty strict with their policies, so we advise that you read all of those first prior to booking.
Flirty Flutters has prices that are quite higher than most, but most of their clients attest that they are worth it. We recommend that you pay them a visit for long-lasting, safe, and beautiful eyelash extensions.
Offers four different sets of eyelash extensions
Extensions usually last for more a month 
Beauty team has more than 10 years of experience
Requires credit cards for reservations
Prices are quite higher than most 
Customer Reviews
The lashes themselves were amazing
"I had a classic set done by Emily and she was absolutely amazing. It's my first time getting them done and she was very gentle. I fell asleep for most of it. She had blankets and everything for me. The lashes themselves were amazing.
I couldn't believe it the moment she handed me the mirror. I'm excited to flaunt these for the next few weeks!" — Kristy Yee, via Google
This is my first time doing eyelash extensions and it went so well
"Emily did an amazing job!!! This is my first time doing eyelash extensions and it went so well ♥️♥️♥️ I feel like I closed my eyes and when I opened them, I had perfect new eyelashes!
I love love love love it and can't wait to go back for more ❤️❤️❤️ highly recommend Emily 😌👌🏽👌🏽👌🏽" — hien Nguyen, via Google
5. Sislash & Brow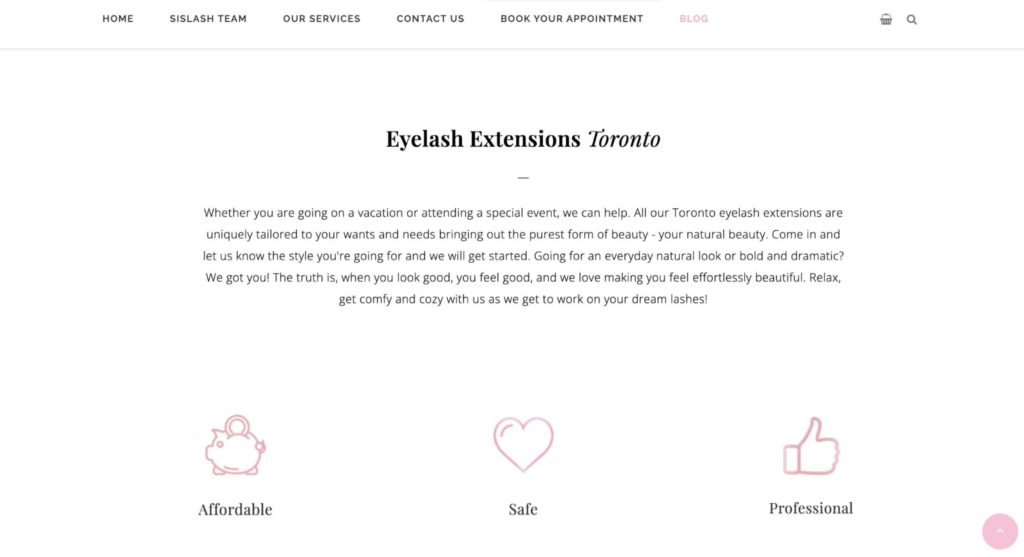 Test
Info
WEBSITE
https://sislash.com/
ADDRESS  
384 Yonge St Unit 27,28, Toronto, Ontario
CONTACT INFORMATION
+1 647-619-2580
OPERATING HOURS

Monday to Friday

10:00 AM to 9:00 PM




Saturday and Sunday

12:00 PM to 7:00 PM
| | |
| --- | --- |
| EXPERIENCE | ★★★★☆ |
| PROCESS | ★★★★★ |
| EQUIPMENT | ★★★★☆ |
| CUSTOMER SATISFACTION | ★★★★☆ |
Since 2019, Sislash & Brow has been helping the beautiful community of Toronto achieve their lash and brow goals. They are among the most affordable services in the area, making them a popular choice.
What we like most about their eyelash extensions is how natural most of them look. This makes them a perfect place for those who just want a simple yet elevated look.
Of course, they have options for those who want a full look. Their sets range from classic, volume, and hybrid.
All procedures usually take 90 to 140 minutes, depending on the eyelash situation. The classic set usually covers at least 90% of the client's natural lashes, while the volume set adds at least 3 to 5 supplemental lashes to each natural lash for a fuller look.
Their hybrid set is a combination of their classic and volume set, usually 50% of each. However, clients can request for a special customisation should they wish.
We honestly don't find anything alarming about Sislash, but we acknowledge that they are still behind in terms of experience. They've been in the business for less than 3 years, so some potential clients can find them too young.
We also note a previous client reported to have severe reaction to their lash treatment and that they have not addressed it yet. While this is only one report, this is very concerning and can be a ground to examine their professionalism.
Still, we find that Sislash is a good place to get eyelash extensions given its affordability and track record thus far.
Affordable eyelash extension services
Has very natural looking extensions
Transparent and detailed in terms of each set process 
Less than 3 years experience, younger than competitors
A report of severe reaction to lash treatment
Customer Reviews
Accommodating and listened to what I want
"Hanh did my lashes so beautifully! she was also super nice and accommodating and listened to what i want :)) i love my lashes!! the place was clean and very professional." — Roanna de Guzman, via Google
The extensions lasts for a while and there is no damage to your own lashes
"I got my lashes done at this place and just loved it! The extensions lasts for a while and there is no damage to your own lashes. Best service, friendly staffs, clean environment! Highly recommended!" — Maria Begunov, via Google
6. Lust for Lashes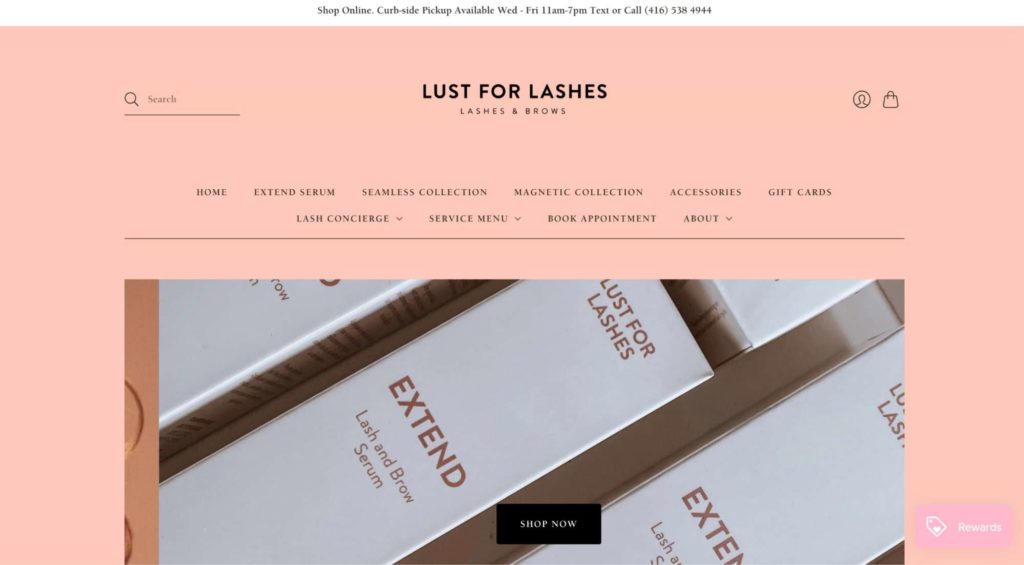 Test
Info
WEBSITE
https://lustforlashes.com/
ADDRESS
1241 Dundas St W, Toronto, Ontario
CONTACT INFORMATION
+1 416-538-4944
OPERATING HOURS

Tuesday to Friday

10:00 AM to 7:00 PM




Saturday

10:00 AM to 6:00 PM




Sunday and Monday

Closed
| | |
| --- | --- |
| EXPERIENCE | ★★★★★ |
| PROCESS | ★★★★☆ |
| EQUIPMENT | ★★★★☆ |
| CUSTOMER SATISFACTION | ★★★★☆ |
Offering affordable yet quality eyelash extensions is Lust for Lashes, a lounge that specialises in semi permanent extensions since 2011.
Aside from their customer-friendly prices, one of the reasons why many people love this place is the fact that they sell lash care products. They even have actual false eyelashes for sale, along with kits that allow you to personalise each piece.
You can find very helpful information on their website on how you can use their products. They also have some data on eye shapes and their respective recommended lash styles.
In terms of process, Lust for Lashes applies each extension to the client's natural lashes so as to not risk harming the skin. This is good because it reflects their genuine concern for their clients' safety.
However, their method takes a lot of skill and focus, which we can argue that they still lack. A few customers complained about their extensions falling off after a few weeks or days, with some even just hours after.
We also find that their customer service can make a lot of improvements, as some bookings do take time. Even their loyal customers experience booking for more or less than a month, which is a real hassle.
On the bright side, we note that these mishaps are not prevalent. There are way more people who trust this business over those who do not.
Lust for Lashes is a great place to check out for lash extensions. Their tenure and affordability sets you off for a good start.
More than 10 years' experience
Very affordable rates
Takes care of clients' skin
Sells lash care products and false eyelashes
Some customers experiencing extensions falling off within days or hours 
Bookings sometimes take too long 
Customer Reviews
Professional and really understands your eye shape
"I am so happy I found this place and I'm really looking forward to returning! Angela is an amazing lash artist and an even better person! She is so professional and really understands your eye shape and what will look best on you.
Very personable and welcoming." — Amy Newton, via Google
I always come out so pleased with my lashes
"Such great service. Lisa and Jasmine are phenomenal and have been helpful when I've been indecisive about what I wanted. I always come out so pleased with my lashes and have never lost any of my natural lashes with their extensions.
I would never go anywhere else!" — Marina Faheim, via Google
7. Winks Eyelash Boutique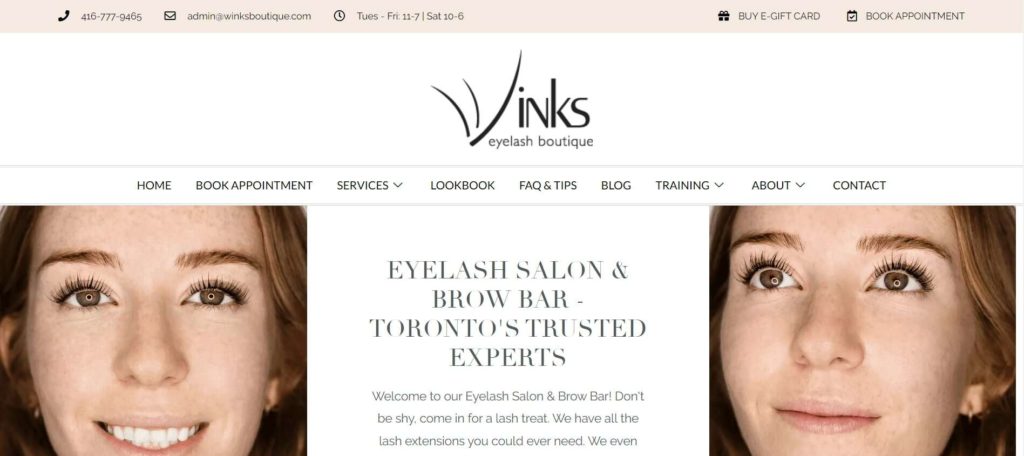 Test
Info
WEBSITE
https://winksboutique.com/
ADDRESS
89 Bloor St W #200, Toronto, Ontario
CONTACT INFORMATION
+1 416-777-9465
OPERATING HOURS

Tuesday to Friday

11:00 AM to 7:00 PM




Saturday

10:00 AM to 6:00 PM




Sunday and Monday

Closed
| | |
| --- | --- |
| EXPERIENCE | ★★★★★ |
| PROCESS | ★★★★☆ |
| EQUIPMENT | ★★★★☆ |
| CUSTOMER SATISFACTION | ★★★★☆ |
Winks Eyelash Boutique opened their doors to the Toronto beauty community in 2008. This place offers services for eyelashes, brows, and even face.
The thing that makes this service stand out is the variety of lash extension sets they have. For each set, they usually specify how many false eyelashes will be used.
Across their 3 famous sets which are natural, fabulous, and glamorous, you can choose if you want classic, volume, or hybrid eyelashes. They will also recommend something for you depending on your eye shape and lash condition.
One of their best services is the lash & dash, a quick, 20-minute application of strip lashes that are made from 100% remy hair. This is perfect for a special occasion as it is comfortable, lasting for hours, and quite cheap.
They also have touch-ups and removals. Touch-ups are performed for both existing and first-time customers, but lashes done elsewhere can be recommended to undergo correctional work.
Of course, this place isn't perfect. They still have issues of lashes that come off even after days or just hours, which can be concerning given their tenure.
A few customers have also experienced rude or unprofessional service from some of their staff. We are hoping they address this issue immediately.
Despite the inconveniences, Winks Eyelash Boutique made the cut because of their good qualities such as their experience, range of selection, and value for money.
Has been in the business since 2008
Variety of extension sets and types
Has a particular procedure that uses lash extensions from human hair
Some issues of lashes that come off after days or just hours
Some staff being reportedly rude
Customer Reviews
By far the best lash tech I have ever been to
"I've been getting my lashes done by Azi for 2 years now in Yorkville. She is by far the best lash tech I have ever been to, and I've been to a lot. I always leave very happy and she is the sweetest person ever to top it off.
I highly recommend seeing Azi if you're looking to get your lashes done!" — Darla Thomas, via Google
My lashes always turn out so perfect
"this is my FAVOURITE lash place ever. Iram is soooo lovely and kind and i always look forward to our biweekly chats about life! my lashes always turn out so perfect and clean and they last so long. best lashes in the city ❤️❤️" — Olivia Trivett, via Google
8. Be You By T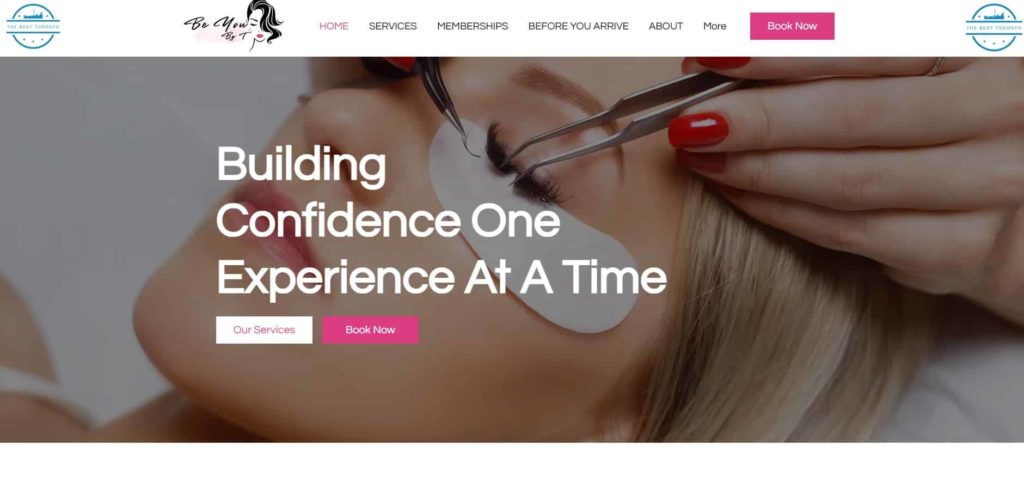 Test
Info
WEBSITE
https://www.beyoubyt.com/
ADDRESS
31 Aitken place, Toronto, ON, Canada, Ontario
CONTACT INFORMATION
+1 647-528-6468
OPERATING HOURS
Mon-Thurs: 8:00am-8:00pm

Friday: 9:00am-7:00pm

Saturday: 10am-7pm

Sunday - 10:00am-6:00pm
| | |
| --- | --- |
| EXPERIENCE | ★★★★★ |
| PROCESS | ★★★★★ |
| EQUIPMENT | ★★★★★ |
| CUSTOMER SATISFACTION | ★★★★★ |
Be You By T is center that provides women with lash extension and personal coaching services to help worm become more empowered and confident with their natural beauty inside and out.
We like that their lash extension packages are inclusive to clients can easily book and choose from their packages readily on their website in a convenient and hassle-free manner.
Furthermore, their team is also experienced and well-trianed in the services that they offer to which clients who have worked with them in the past commenced the for their excellent rapport and outstanding results afterward.
Though note that they have slightly limited selections when it comes to the services from which clients can choose, they can feel free to inquire for a more personalized take on these with them.
Nonetheless, with their accommodating and steadfast customer service, easy-to-navigate website, and comprehensive membership packages, we highly recommend them to clients in the area looking for such services.
Adequately trained staff
Quality products used
Memberships are in place
Slightly limited service packages
Customer Reviews
Here are some reviews from their clients:
"Got a full set of lashes done and I love them! Tam was so thorough and accommodating. Before I even arrived at the appointment she did a mini consult, asking what type of lashes I'm interested in and if I had any pictures/examples of the result I'm looking for. She also assessed my eye shape before starting, offered her professional opinion on what would look best on me and made sure she understood the look I wanted. She also asked if I had a preference of music before starting and offered me a pillow and a blanket to ensure I was comfortable. The environment was clean and relaxing. She is very precise and her perfectionism shows! She took her time and didn't cut any corners. My lashes turned out great and exactly as I wanted! She is very personable and professional and you can tell she is an expert at what she does. Would definitely recommend her services for lash extensions!"
"I've gone to Tamara whenever I've had a wedding to attend. She did a great job on my lashes every time, and I've gotten many compliments on them. She's very clean and professional.
At first, I was really nervous to get lash extensions, but she put me at ease and made me feel comfortable. She'll also travel to you, if you think you'd be more comfortable at home."
FAQs on eyelash extensions in Toronto
---
We hope that this article helped you learn more about eyelash extensions and where you can get them in Toronto.
For more beauty treatments, you may want to check out our review of the top cosmetic procedures to boost your self confidence.