Etobicoke: A Guide to Toronto's Diverse and Vibrant West End
Etobicoke was once a central hub of Toronto's manufacturing industry. However, the area has undergone a major transformation in recent years, with many old factories being converted into residential and commercial spaces.
If you're curious about Etobicoke's transformation—now with a diverse culinary scene and iconic landmarks—we've got you covered. Find everything you need to know for a unique and memorable trip to the district here.
Etobicoke: A Guide to Toronto's Diverse and Vibrant West End
Time Zone
Eastern Daylight Time (GMT-4)
Best Time to Go
You can visit Etobicoke from late June to early September; the warm weather is perfect for outdoor activities. It's the busiest time of the year for tourism, so expect more crowds and higher prices for hotels and flights.
If you're planning to attend local festivals, the Toronto Caribbean Carnival takes place in July, and the Toronto International Film Festival takes place in September.
Things to Know
Currency: Canadian Dollar
(Check the current exchange rate)
Languages: English
Calling Code: +1
Where is Etobicoke in Toronto?
Located in the west end of Toronto, Etobicoke is bordered by Lake Ontario to the south, the Humber River to the east, the city of Mississauga to the west, and the city of Vaughan to the north.
Here's a map of Etobicoke and its surrounding area: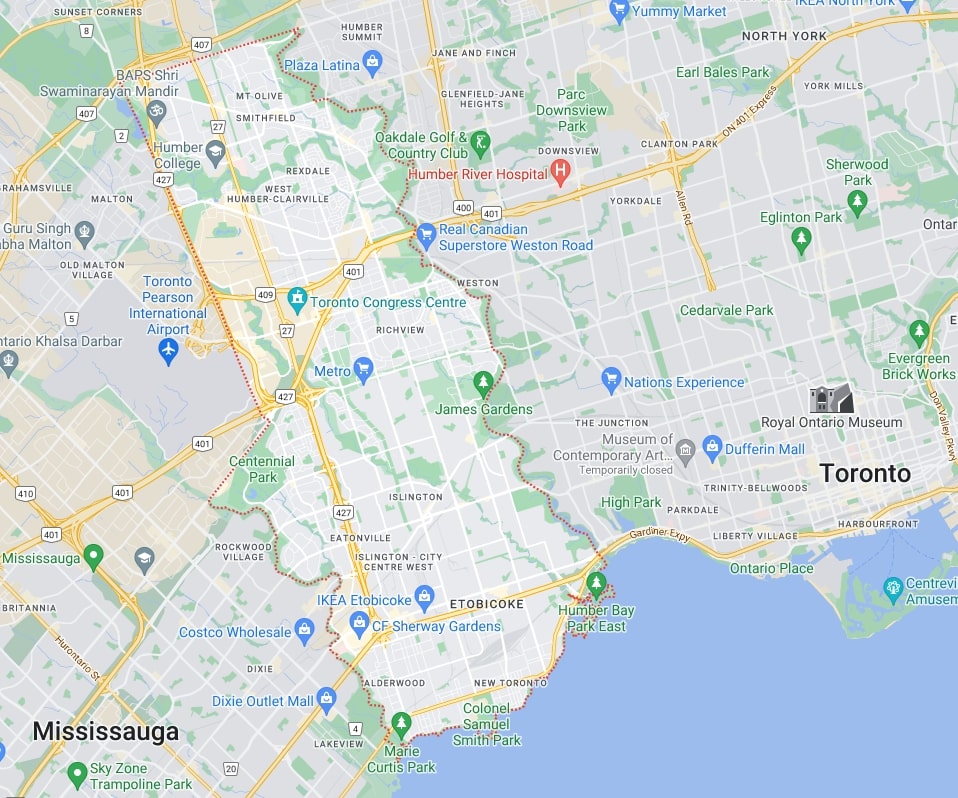 How to Get There
— From: @caroetjb_aroundtheworld
Train: To get to Etobicoke by train, you can take the TTC's Line 2 Bloor-Danforth and embark at Kipling Station. It takes about 20 minutes if you're coming from downtown Toronto.
Car: The Gardiner Expressway and the Queen Elizabeth Way (QEW) both pass through Etobicoke. There are also major roads that connect Etobicoke to other parts of the city, such as Bloor Street West, Lakeshore Boulevard West, and the 401.
What to Do in Etobicoke
Enjoy the beach at Humber Bay Park
— From: @rorro.rdz
Address: 100 Humber Bay Park Road East, Toronto, ON M8V 3X7
Phone: 416-392-2489
Costing around $6.5 million, Humber Bay Park was developed by the Metropolitan Toronto and Region Conservation Authority in the 1970s. The waterfront park consists of two landspits situated at the mouth of Mimico Creek.
It's a popular spot for various outdoor activities, including hiking, biking, bird watching, picnicking, swimming, and boating.
Take a walk at Colonel Samuel Smith Park
— From: @atanunath
Address: 3145 Lake Shore Blvd W, Etobicoke, ON M8V 4B6
Phone: 416-392-2489
Named after a famous British Army officer who was granted 3,000 acres of land in Etobicoke for his military service, Colonel Samuel Smith Park is an urban park that opened in 1996.
The park offers a stunning view of the city, with the famous CN Tower visible from afar, as well as prime fishing spots and other outdoor activities. It's also a popular spot for special events, such as the annual Colonel Samuel Smith Park Music Festival.
Admire the architecture of BAPS Shri Swaminarayan Mandir
— From: @nicte_hcr
Address: 61 Claireville Dr, Etobicoke, ON M9W 5Z7
Phone: 416-798-2277
BAPS Shri Swaminarayan Mandir is a traditional Hindu place of worship built by a global spiritual organization within the Swaminarayan branch of Hinduism.
It was built in 18 months and consists of 24,000 pieces of hand-carved Italian Carrara marble, Turkish limestone, and Indian pink stone. It's open daily to visitors and worshippers.
Watch horse racing at Woodbine Racetrack
Address: 555 Rexdale Blvd, Etobicoke, ON M9W 5L2
Phone: 416-675-7223
Owned by Woodbine Entertainment Group, Woodbine Racetrack is known for hosting Canada's most popular race, the King's Plate. It was opened in 1956 and has been extensively renovated since 1993.
Woodbine Racetrack's public racing events usually run from April to November. There are a variety of ticket options available, including general admission, reserved seating, and dining packages.
Learn about greenhouses at Centennial Park Conservatory
— From: @natural_artwork_studio
Address: 151 Elmcrest Rd, Etobicoke, ON M9C 3S2
Phone: 416-394-8543
The Centennial Park Conservatory was opened in 1970 to celebrate Canada's 100th birthday. Run by the city, it's open to the public daily and offers a variety of educational programs, including school tours and workshops.
It's comprised of three greenhouses and 12,000 square feet of plants including a cactus house, a tropical house, and a show house that features seasonal displays.
Where to Eat in Etobicoke
Galata Cafe
Address: 5122 Dundas St W, Etobicoke, ON M9A 1C2
Phone: 647-351-4888
Pricing: $$
Galata Cafe is a Turkish restaurant known for its traditional Turkish breakfast and wide selection of Turkish coffee, pastries, and desserts. Some of their signature dishes include menemen and kunefe.
Menemen is a classic Turkish breakfast made with eggs, tomatoes, peppers, and spices. It's often served with bread but can also be served with yoghurt or cheese.
Kunefe is a popular Middle Eastern dessert made with shredded wheat pastry, sweet cheese, nuts, and syrup. It's typically garnished with pistachios or other nuts.
Revolver Pizza Co.
Address: 388 Royal York Rd, Etobicoke, ON M8Y 2R3
Phone: 416-252-2323
Pricing: $$
Opened in 2019 by chef Grant van Gameren, Revolver Pizza Co. is known for its Neapolitan-style pizzas made with fresh, high-quality ingredients. They also make tasty salads, pasta, and seafood.
The restaurant also has a bar that offers a variety of beers, wines, and cocktails. Some of their popular dishes include the Margherita, the Diavola, the White, and the Veg Out.
Sushi Kaji
Address: 860 The Queensway, Etobicoke, ON M8Z 1N7
Phone: 416-252-2166
Pricing: $$$$
Sushi Kaji is a high-end restaurant known for its omakase, a chef's tasting menu featuring cuts made from the freshest and finest ingredients. It's owned by chef Mitsuhiro Kaji, who has over 30 years of experience in Japanese cuisine.
It's a small and intimate restaurant with only 20 seats. The omakase covers 12 courses and includes a variety of sushi, sashimi, and other Japanese delicacies.
The Empanada Company
— From: @diaryofatrendaholic
Address: 122 Fortieth St, Etobicoke, ON M8W 3N3
Phone: 647-435-5003
Pricing: $
Founded in 2005 by a Chilean family, the Empanada Company is a take-out restaurant and wholesaler known for its traditional and contemporary empanadas. Using a classic Chilean recipe, their empanadas are filled with savoury and sweet ingredients.
They offer a variety of empanadas, including beef, chicken, pork, chorizo, veggie, and sweet fillings. They also sell tamales, churros, and other Latin American appetizers.
Tom's Dairy Freeze
Address: 630 The Queensway, Etobicoke, ON M8Y 1K5
Phone: 416-259-1846
Pricing: $
Tom's Dairy Freeze is a classic ice cream parlour that opened in 1969. They offer a variety of soft-serve ice cream, frozen yoghurt, sundaes, milkshakes, and banana splits made with fresh milk and cream.
Their sundaes are piled high with toppings and sauces. It's a great place to go for a sweet treat on a hot day.
Where to Shop in Etobicoke
Sandown Market
— From: @tokucanadabai
Address: 826 Brown's Line, Etobicoke, ON M8W 3W2
Phone: 416-259-8260
Sandown Market is a Japanese grocery store that sells fresh produce, meats, seafood, noodles, sauces, and snacks. It opened in 1975 and is popular with Japanese food lovers.
The staff is knowledgeable about Japanese food and is ready to help you find the best ingredients for your needs. They also sell Japanese kitchenware and home goods.
Great Lakes Brewery
Address: 30 Queen Elizabeth Blvd, Etobicoke, ON M8Z 1L8
Phone: 416-255-4510
Founded in 1987 by John Allen and Peter Goddard, Great Lakes Brewery is one of the largest and most respected breweries in Canada. They have won numerous awards for their beers, including the World Beer Cup and the Canadian Brewing Awards.
They make a variety of beers, including ales, lagers, and IPAs. Some of their signature brews include the Honey Brown Lager, Born to be Wild IPA, Espresso Stout, and Winter Ale.
Mrakovic Deli
Address: 44 Wellesworth Dr, Etobicoke, ON M9C 4R1
Phone: 416-695-7396
Mrakovic Deli's butcher shop and grocery store sell fresh meat, produce, and other Balkan and European goods. The Mrakovic family, who are originally from the Balkans, opened the deli in 2003.
They're also known for serving Balkan and European food, such as pljeskavica and burek.
Pljeskavica is a Serbian national dish made with a spiced meat patty mixture of pork, beef and lamb. Burek is a savoury pastry made of flaky dough and various fillings, such as meat, cheese, spinach, or potatoes.
FAQs on Etobicoke, Toronto