Where to Find the Best Website Builders in Toronto
Are you in need of someone to create or design a website for you? You're on the right page then!
Here is a list of where you can find the best website builders in Toronto. We reviewed the basics such as their expertise, skills, and usual rates.
How much does a website builder cost in Toronto?
Creating a website requires knowledge and skills. With this, you have to pay for the website builder's services.
Here are some of the costs you may encounter. Please note that they are only samples and are subject to change.
| Website Services | Average Price |
| --- | --- |
| Design | 300 CAD to 1,000 CAD |
| Additional features | 150 CAD to 1,500 CAD |
The Best Website Builders in Toronto
We examined each of the services in this list according to the following:
1. Simplistics Web Design Inc.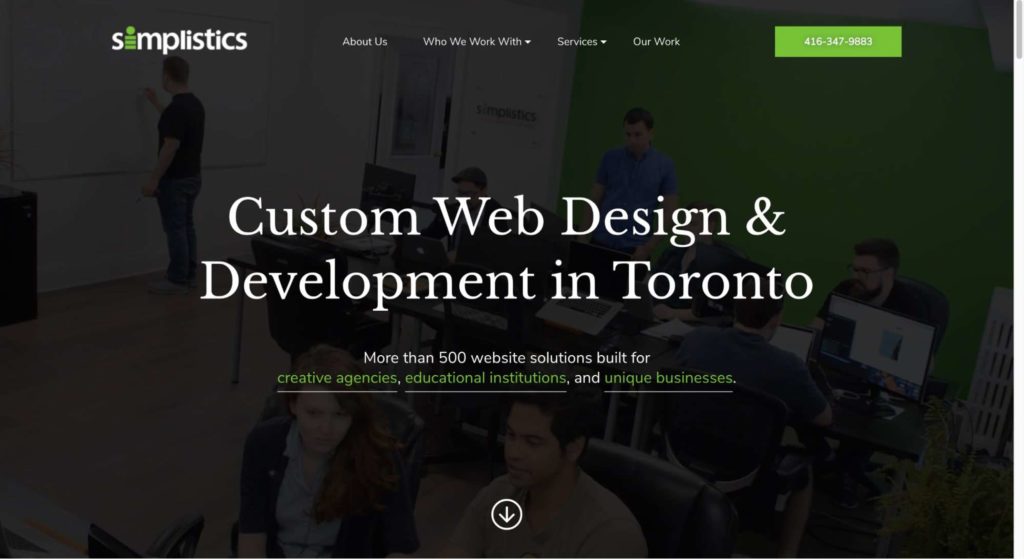 Test
Info
WEBSITE
https://simplistics.ca/
ADDRESS
124-55 St Clair Ave W Suite 124, Toronto, Ontario
CONTACT INFORMATION
+1 416-347-9883
OPERATING HOURS

Monday to Friday

9:00 AM to 5:00 PM




Saturday and Sunday

Closed
| | |
| --- | --- |
| EXPERTISE | ★★★★★ |
| SKILLS | ★★★★★ |
| VERSATILITY | ★★★★★ |
| CUSTOMER SATISFACTION | ★★★★☆ |
Since their foundation in 2011, Simplistics Web Design has served more than 500 clients and have provided different website solutions for each of them.
Their range is pretty good, working with marketing and creative agencies, educational institutions, and other unique small to large businesses.
They provide custom tailored web design according to the client's brand and assist them in highlighting their content and achieving their objective.
Process is very important for them, which we like. They consult with clients in terms of selecting colours, fonts, shapes, and other elements of the website to be built.
They also offer clients to develop mobile applications on top of their own website. They are able to copy and reflect a website's interface so that it matches the brand's website design.
Web development and optimisation are also available to keep track of a website's performance. They do this for both new and old clients who wish to improve and/or maintain their digital footprint.
Honestly, there isn't much to dislike about this service. We do warn that they are closed during weekends.
Overall, we recommend Simplistics Web Design for their experience. They have served hundreds of clients and were able to perform very well for most of those thus far.
More than a decade in the business
Served more than 500 clients so far
Consults with clients step-by-step
Works with creative, educational, and business industrie
Closed during weekends
Customer service is reportedly hard to deal with
Customer Reviews
Quick and very detailed with their communication
"Spencer and the staff at Simplistics are top notch! I was fortunate enough to work with Simplistics' team on various website projects for SureShot Solutions. They are quick and very detailed with their communication. Projects were always completed on-time and exactly how we expected it to be." — Erin Roberts, via Google
Have done a wonderful job helping our company and team grow
"We were extremely particular about our website team. After meeting with numerous companies we opted to move forward with Simplistics. Spencer (client manager) and his team have done a wonderful job helping our company and team grow. Their assistance has allowed us to communicate a difficult message to Canadians across the country. Our team is incredibly thankful for the work Simplistics has done and we look forward to our continued relationship with them." — Fy Virani, via Google
2. Globalgraphics Web Design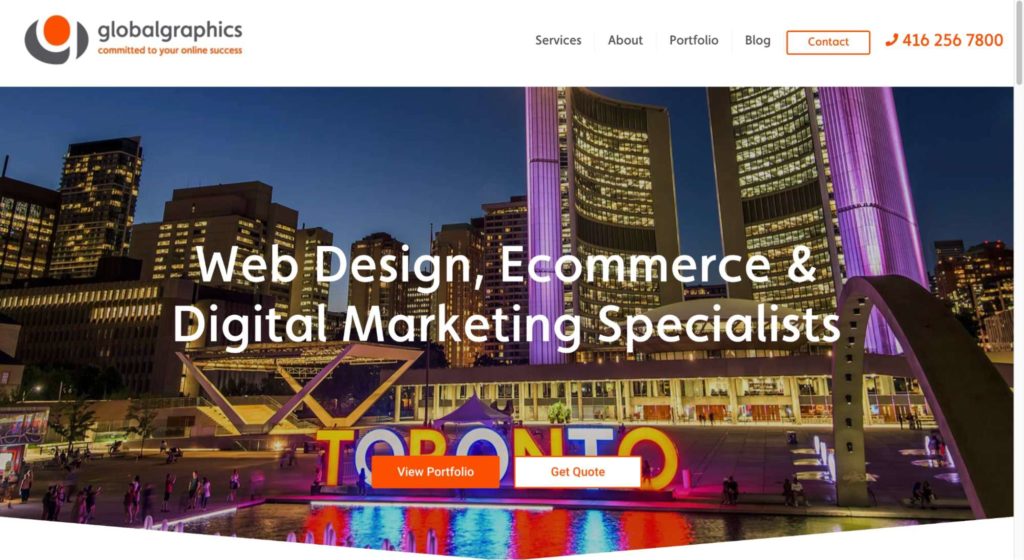 Test
Info
WEBSITE
https://www.globalgraphicswebdesign.com/
ADDRESS
2 Bloor St E #3500, Toronto, Ontario
CONTACT INFORMATION
+1 416-347-9883 +1 416-256-7800
OPERATING HOURS

Monday to Friday

9:00 AM to 5:00 PM




Saturday and Sunday

Closed
| | |
| --- | --- |
| EXPERTISE | ★★★★★ |
| SKILLS | ★★★★★ |
| VERSATILITY | ★★★★★ |
| CUSTOMER SATISFACTION | ★★★★☆ |
Made up of web designers with over 24 years' experience in the industry, Globalgraphics Web Design is one of the leading web design companies in Toronto. They service and are known in the entirety of Canada as well.
Clients of this service come from various industries. These include, but are not limited to, education, medicine, immigration, and more.
What makes them impressive is their portfolio. This perfectly displays their range not only in terms of catering to different industries, but also with regards to their designs, patterns, options for website flow, colours, elements, themes, and more.
They usually send quote documents during the first stage, but they do their best to involve clients in the process. They narrow down the specific requests and inform clients whether or not something is doable or recommended.
We like how they also offer logo and graphic design. This makes them a perfect choice for businesses that are just starting or preparing to launch.
Given these, we do warn that their starting rates are higher than most. We also find that they can take a while sometimes because of the number of their clients.
Nonetheless, we recommend Globalgraphics because of their commitment to website building. They do their best to meet expectations and have probably worked on something similar to what you require.
Over 24 years' experience
Impressive range
Offers logo and graphic design services on top of web design
Initial rates can be quite costly
Process is sometimes lengthy
Customer Reviews
All elements of the projects are handled really well
"The knowledge, customer service and creativity at GlobalGraphics is excellent. Everyone I worked with there was professional, responsive and a real expert in their field. They designed and built my website, created my logo and are now handling all the updates and maintenance of my site. All elements of the projects are handled really well, including the project management, design and back-end development. The whole team there is a pleasure to work with." — Lili Shalev-Shawn, via Google
Our website looks great
"We had the pleasure of working with Global Graphics and found their service, professionalism and response time to be very well received. Our website looks great. We also liked the fact that we received training (and videos to refer back to later) to help us navigate the interface so we can make small additions to our website in the future. A big thank you to the Global Graphics Team on a great experience and a wonderful end product!" — Daniel Murphy, via Google
3. A Nerd's World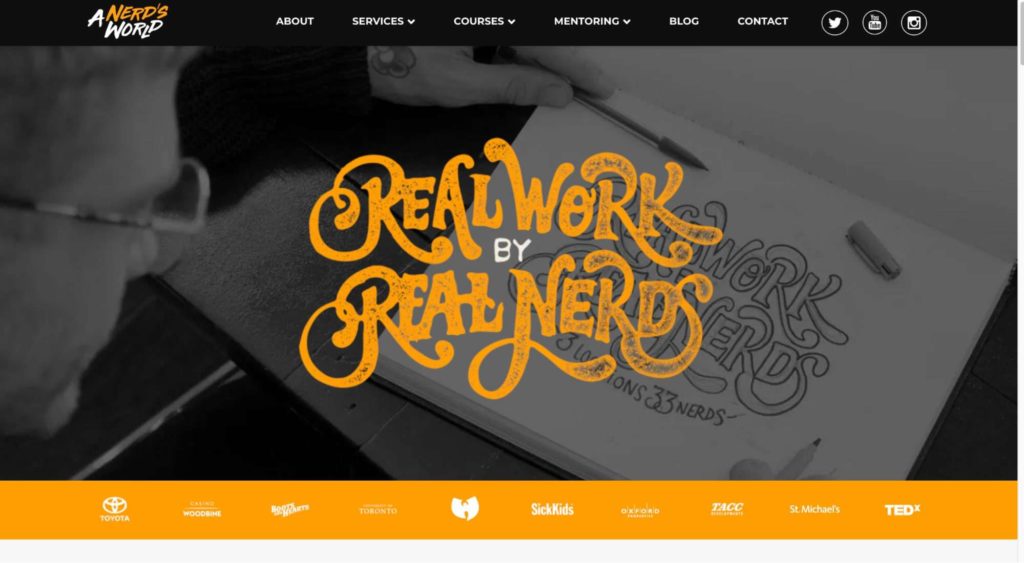 | | |
| --- | --- |
| EXPERTISE | ★★★★★ |
| SKILLS | ★★★★★ |
| VERSATILITY | ★★★★★ |
| CUSTOMER SATISFACTION | ★★★★☆ |
Performing real work by real nerds, A Nerd's World is a 16 year-old business that specialises in website building and search engine optimisation (SEO).
Their portfolio is a literal scream of their versatility, with them having worked with industries ranging from educational to corporate, automotive to real estate, and travel to entertainment.
They have worked with startups, small businesses, and large-scale companies globally. We like how most of their website designs are very distinct and how they do not force their own style into any of their client's websites.
Probably the main reason why you should choose this service is because of their knowledge in SEO. This means that they would know how to help you in terms of monitoring and improving your website's traffic and performance.
They can give you details on how you can make your presence more recognised in the digital scene. This is also proof of how much they value their relationship with their clients because they strive to assist across all aspects.
What we find inconvenient about them is that they have very high prices. However, they do deliver in terms of quality.
A Nerd's World is perfect for you if you're willing to spend a lot for your website. This family-owned business will give you the most appropriate, functional, and fitting design as much as possible.
Has been around since 2006
Have worked with over 20 industries
Great knowledge and skills in SEO
Expensive
Getting a quote reportedly takes long
Customer Reviews
The team built a site that matched our brand and web mock-ups provided
"Volunteer Toronto worked with A Nerd's World to develop a video-subscription website in 2022. The project had some complicated elements related to video streaming functionality, which they troubleshooted and provided modern solutions for. The team built a site that matched our brand and web mock-ups provided. Grace was very responsive to answer questions and update copy, graphics, or other elements as we reviewed the development link. She was even available outside of regular hours close to launch as we wanted to ensure everything was perfect."
— Cara Eaton, via Google
The designers at A Nerd's World have vision and taste
"Great website designer. At some point, Upwork or Fiver designers are not going to cut it. The designers at A Nerd's World have vision and taste. I want people to tell me what to do and they certainly offered amazing ideas and approaches to the design that speaks professionalism but also creative at the same time." — Rich Zhou, via Google
4. RapidWebLaunch.com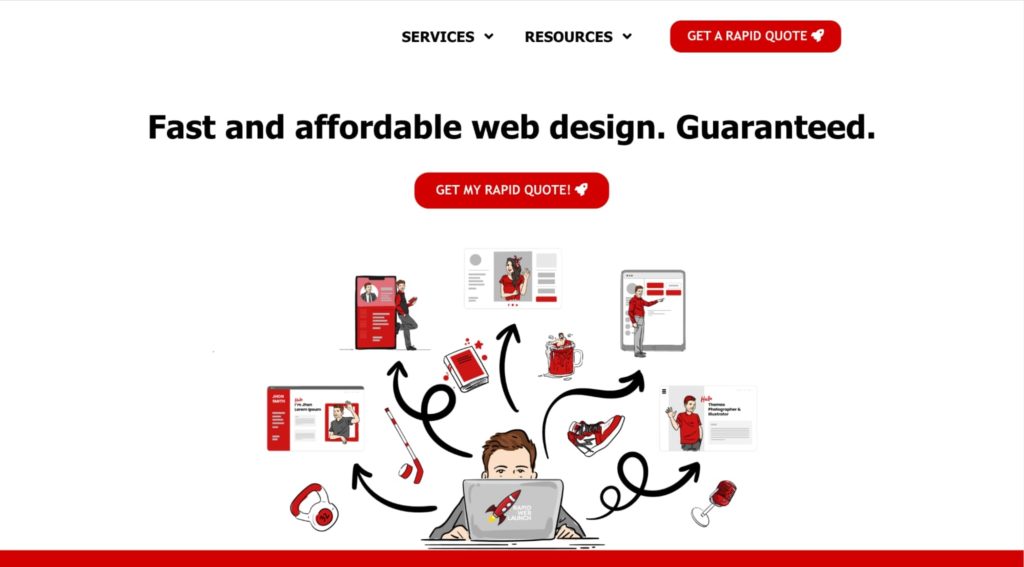 | Test | Info |
| --- | --- |
| WEBSITE | https://rapidweblaunch.com/ |
| ADDRESS | 99 Durant Ave, Toronto, Ontario |
| CONTACT INFORMATION | +52 954-153-1717 |
| OPERATING HOURS | Open 24 hours |
| | |
| --- | --- |
| EXPERTISE | ★★★★☆ |
| SKILLS | ★★★★★ |
| VERSATILITY | ★★★★☆ |
| CUSTOMER SATISFACTION | ★★★★★ |
With quick turnover and affordability at the forefront of their priorities, RapidWebLaunch is a great choice for those who are building a website for the first time. They began in 2014 and have been making a sound since then.
We are not exaggerating when we say that they have affordable rates. Their packages can start for as low as 60 CAD, which is something that you don't come across everyday.
The best thing about this service is that they deliver on functionality. They create websites that are fast, easy to navigate, and SEO-friendly.
They allow clients to own their site by creating a page that is easy to add something to and edit. They take care of all the technical stuff and polish all these so that their clients are free to simply improve their brand and focus on content.
We also like how they create websites that are easy to access via phone, tablet, and desktop. They maximise the aspects of innovation and adjust everything accordingly, leading to good results such as quick loading time and reduced home page size for each website they create.
What makes this service imperfect then? Well, we can say that their designs aren't the best.
They can still work on making pages and elements more appealing and attractive.
All said, RapidWebLaunch is surely worth going to as they are also contactable anytime. They will get the job done at an affordable price and with highly functional results.
Very affordable rates
Focuses on functionality and performance
Good with SEO
Can still improve their designs
Relatively younger than competitors
Customer Reviews
Always answered all the questions I had
"Working with Patrick @ RapidWebLaunch was/is great from the first consultation call all the way to web launch. He talked me (someone who knows nothing about web design) through the whole process. Through out the time he's worked on my website he always answered all the questions I had. He helped guide me to the add-ons like webmail services, etc. I would definitely recommend him." — Shad Baldwin, via Google
Delivered a professional, interactive site quickly and for an excellent price
"Rapid Web Launch was simply fantastic every step of the way! Patrick was easy to work with and delivered a professional, interactive site quickly and for an excellent price. The design is right in line with our brand and its features encourage client engagement… exactly what we wanted! We highly recommend Patrick at Rapid Web Launch and in fact, we look forward to launching our next site with him soon! -Carol Scott, Scott Silver Concierge Realty" — Carol Scott, via Google
5. KinexMedia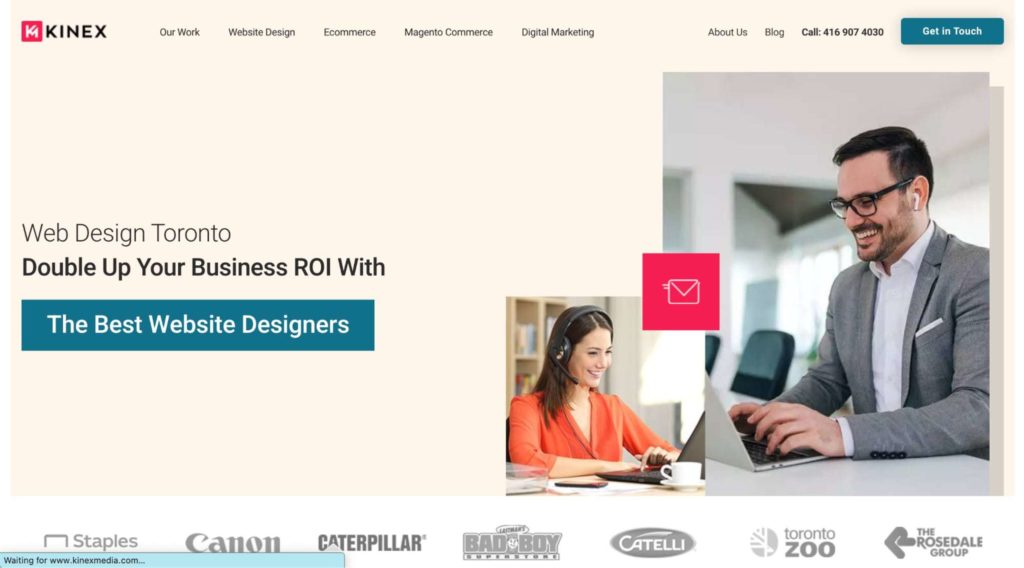 Test
Info
WEBSITE
https://www.kinexmedia.com/
ADDRESS
250 University Avenue #200, Toronto, Ontario
CONTACT INFORMATION
+1-888-679-7773
OPERATING HOURS

Monday to Friday

9:00 AM to 6:00 PM




Saturday and Sunday

Closed
| | |
| --- | --- |
| EXPERTISE | ★★★★☆ |
| SKILLS | ★★★★★ |
| VERSATILITY | ★★★★☆ |
| CUSTOMER SATISFACTION | ★★★★★ |
Kinex Media was founded in 2008 and is an all-inclusive and award-winning web development and digital solutions company. They are known for their assistance in helping businesses succeed and get the best out of the online world.
Website design is their primary service. They get each of their clients' websites well optimised in terms of search engine and mobile.
We like how they have website development and graphic design on top of their website services. They are also skilled in WordPress, which is one of the most prominent content management systems that make a website easy to use.
Digital marketing is something that they are also good with. This makes them an optimal choice for clients who wish to make the most of their brand by demonstrating their selling points online.
They serve 15 different industries for website design. This may be good, but we note that this can be a lot lesser as compared to other companies out there.
We also note that they aren't the most affordable and most of their inclusions come with a price.
On the bright side, they have launched more than 1,000 websites thus far and have a total of around 2 million hours of expertise.
We recommend them for their knowledge and skills. Their services are at par with industry standards and they leave many customers satisfied.
14 years' experience
Award-winning company
Skilled in WordPress
Good in digital marketing
Can still improve industry range
Rates are high
Customer Reviews
Helpful, knowledgeable, and always available
"Kinex team is helpful, knowledgeable, and always available, which is a tough combination to beat. They built the website, integrated it with another platform, and advised on user experience for marketing efforts. Kinex Media has done a great job so far and we look forward to continuing that momentum." — Rosette Stred, via Google
Impressed with their strong flexibility in providing customized solutions
"The new website provides robust metrics on traffic with Google Analytics and lead information with Salesforce. Kinex Media impressed with their strong flexibility in providing customized solutions beyond typical templates. Although there were a few delays, they handled them well with good communication "— Richardo Fink, via Google
FAQs about website builder in Toronto
---
And that concludes our list of where to find the best website builders in Toronto. Let us know your thoughts in the comments below!
If you're in need of more design expertise, check out our review of the best graphic designers in Toronto here.