The 6 Best Roofing Companies in Toronto
Proper roofing is crucial to the construction of any home: that's why you want to hire a reputable local contractor to handle the project. Lucky for you, the best roofing companies in Toronto can handle everything in that regard, from roof installation to maintenance.
Consulting our list below will give you chances for better warranties, higher-quality work, and the kind of peace of mind you need for home construction. Let's get to it!
How Much Do Roofing Companies Cost in Toronto?
How much you have to pay for a new well-installed roof is based on these eight factors:
Complexity of the project
Cost of chosen materials
Labor
Type of building
Area in the city
Protective measures
Length of the project (faster turnarounds are more expensive)
Contingencies
Here's what you can expect to pay for a standard 1800 sq. ft. downtown Toronto home based on common materials. Labor is included.
| | | |
| --- | --- | --- |
| Material | Average Cost | Lifespan |
| Asphalt shingle | $10K-$12K | 15-25 years |
| Metal roofing | $23K-$45K | 50+ years |
| Cedar shingle | $22K-$44K | 15-25 years |
| Slate roofing | $34K-$35K | 75-100 years |
| Rubber roofing | $14.5K-$19K | 25+ years |
| EPDM/TPO (flat) | $14.5K-$19K | 25-30 years |
| Elastomeric Membrane (flat) | $31K-$37K | 20-30 years |
| Asphalt & gravel (flat) | $18K-$25K | 30+ years |
| Green roof | $40K-$78K | 40-50 years |
The Best Roofing Companies in Toronto
Now that you know, more or less, how much you have to shell out for this project, let's take a look at the top roofing companies around.
1. 123 Roofing
SERVICES
Shingle/Sloped Roof Replacement
Flat Roof Replacement
Attic Insulation
Attic Ventilation
Eavestrough, Soffit & Fascia Replacement
Emergency Service
Roof Repair
Skylight Replacement
WEBSITE
https://123roofing.ca
ADDRESS
4145 North Service Road.
Suite 200
Burlington, ON L7L 6A3
CONTACT DETAILS
Phone: 647-695-0515
Email: [email protected]
OPERATING HOURS
Monday to Friday
8:30 AM – 5:00 PM
First on our list is 123 Roofing, a roofing company that has steadily built up a reputation for service excellence.
123 Roofing offers a wide range of roofing services designed to accommodate residential, commercial, and industrial properties.
The company has a large team of trained builders who are capable of working with different roof designs, including flat roofs and sloped roofs.
Aside from offering roof replacement and repair, 123 Roofing also provides attic insulation and ventilation, skylight replacement, eavestrough replacement, and emergency services.
In addition to that, 123 Roofing services come with warranty. Their builders also follow safety codes to ensure that each job finishes successfully.
It's also worth noting that 123 Roofing offers different financing options. These financing options come with zero-interest, low monthly payments, and open loans.
BBB accredited business
Accommodates residential and commercial clients
Various financing options available
Transparent, honest service and rates
Emergency services available
2. High Skillz Roofing Inc.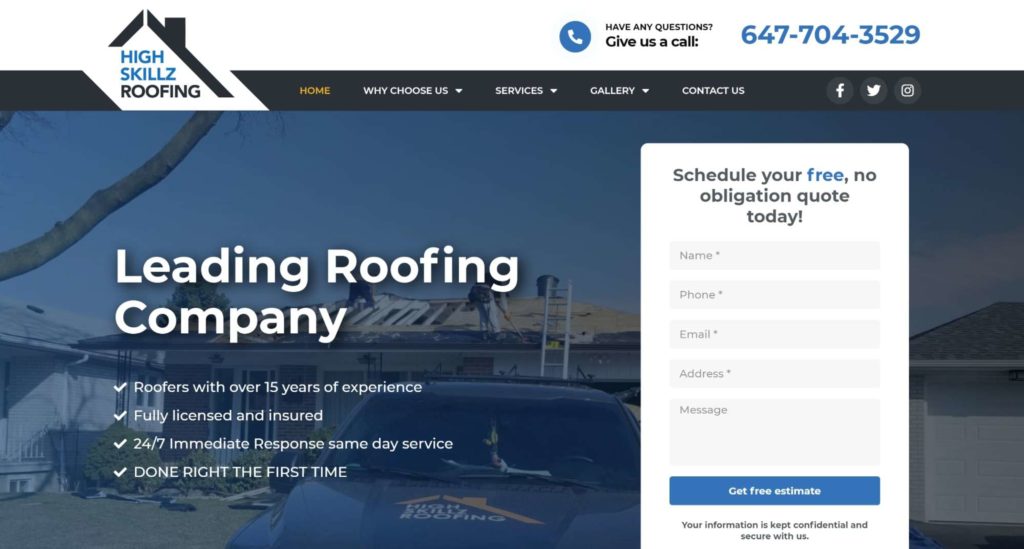 SERVICES
Emergency Roof Repairs, Leaf Guard Installation, Roof Leak Repair, Skylight Repairs & Replacements, Flat Roof Replacement, Repairing Roof Service, Roof Inspection, Flat Roof Repair , Shingle Roof Replacement, Roof Vents Installation
WEBSITE
https://highskillzroofing.ca/
ADDRESS
62 Alness St Unit 2 North York, ON M3J 2H1
CONTACT DETAILS
Phone: 647-704-3529
Email: 

[email protected]

OPERATING HOURS
Monday to Saturday: 8:00am-9:00pm
If you're looking for a roofing expert that can get the job done quickly at a reasonable price, then High Skillz Roofing is an option worth considering. These skilled roofers can quickly restore a broken roof, whether it needs a simple inspection, repair, or replacement.
In order to offer the finest service possible, High Skillz Roofing steers clear of conventional and time-consuming approaches and instead concentrates on cutting-edge solutions for roof repair. They also only use the highest quality materials to ensure that they're work lasts and keeps your home safe from further damage.
They've been fully trained to work at heights and are fully insured, so you don't have to worry about any liability when they're fixing your roof. They also provide free, no obligation in-home estimates and can respond in times of emergency.
So whether you need a complete roof replacement or just need your gutters cleaned, High Skillz Roofing is an option worth considering. With free quotations and speedy service, they're one of our top picks for one of the best roof repair companies in Toronto.
Affordable and transparent
Near-perfect reviews across all platforms
Free estimates
Complete insurance
Doesn't do emergency repairs in bad weather
Customer Reviews
"We had a small leak in our roof and Artur came out and did a fast job! They replaced about 8 shingles right before we had that big snowstorm yesterday! Great customer service and great follow up! Thanks Artur for your prompt and professional service!"– Lala
"I found a leak in my basement and traced it all the way to a leaky vent pipe flashing on the roof. In addition to this, I was also missing a portion of the fascia. I contacted a few companies on Homestars and Artur (High Skillz Roofing) was the first to contact me. As I needed to take a day off work to get this done, we set up a date and time. He came over, took a look and provided me with a quote. Once we finalized on the rate, he went up the roof & fixed the issues. He provided me with photos of the work and overall, it was easy & quick dealing with him. When we need to get our roof replaced in the summer, High Skillz Roofing will definitely be on the list."– Sachin
3. Coverall Roofing
| | |
| --- | --- |
| SERVICES | Flat roofing, cedar, eavestroughs, skylights, slate and tiles, repairs & maintenance, soffits and fascias |
| WEBSITE | https://coverallroofing.ca/ |
| ADDRESS | 1620a Dupont St, Toronto ON M6P 3S7 |
| CONTACT DETAILS | (647) 470-4076 |
| OPERATING HOURS | Monday to Saturday: 7:30am-7:00pm |
Coverall Roofing is a team of specialist Torontonian roofers who understand the city's weather and atmosphere. Their output is built to last harsh winters, as a result.
They're also certified and insured. That matters because unlike plumbing, roofing is an unregulated industry.
Hence, it's vital to hire a team that is certified and insured. You wouldn't want to end up paying more in repairs for a weak roof later!
Another positive point about them when it comes to cost-efficiency is that Coverall doesn't have unreasonable charges even for custom roofing. This is based on what we've seen of past project quotes.
And whether you need a new roof or your current one needs an upgrade, Coverall doesn't shy away from any project, however complex. Their estimates are given free and upfront, so you're not up all night worrying about how much this new roof is going to cost you.
There might be a chance that you don't even need to get your roof replaced entirely, actually. Coverall doesn't always push clients to spend on new roofing, especially if you're a homeowner on a tight budget.
Affordable
Extensive services
Free quotes upfront
Works fast
Often booked up, so getting a schedule isn't easy
Customer Reviews
Here are two Google reviews for Coverall Roofing:
"Coverall did a fantastic job for us. We were in a bit of a rush about our job too, but it was no problem for them. They were prompt and very accommodating, contacting us, quoting, and setting up the job. They then did a great job replacing our old and rough shingles with new ones that look great! They also did some roof repairs and cleaned out our eaves and left the place very clean and tidy when they were done.
They were very honest about the work that needed to be done. Did great work for a good price (I looked around too) and did I mention they did the whole job in one day? Ours might not have been as big as a job as some people, but trust me, getting it all in one day was awesome!"
– Kevin Paul
"Thank you to George and the team. It was my first ever roof replacement experience and he took the time to explain what the required steps are, how best to tackle the leak we had, and then seamlessly booked it within two weeks. I'd recommend these guys to anyone – the team definitely seemed like they really enjoyed their job too, lots of banter and good times too. Great people & great company!"
– Andrew W
4. Right Choice Roofing & Repair
SERVICES
Leak repair, roofing system replacement, roofing system installations, wildlife repair, sloped roof repair, drone inspections
WEBSITE
https://rightchoiceroofing.ca/
ADDRESS
2036 Dufferin St. Unit 1B, Toronto ON M6E 3R6
CONTACT DETAILS
(416) 651 8111


[email protected]

OPERATING HOURS
Monday to Friday: 8:00am-6:00pm
Led by Frank Gillis, a local Toronto roofer, Right Choice Roofing & Repair is a team of knowledgeable, licensed, and insured contractors. Aside from regular roofing services, they also offer emergency roof repairs.
So if you've got a project that can't wait, these are the guys to call. They typically inspect and give out a free quote the day after you contact them.
Now, many homeowners are wary of some roofing companies because they dole out jobs to inexperienced subcontractors with shoddy workmanship. Not here, though: Gillis will always be present in all the projects that they take on and always supervises his handpicked team of expert roofers.
We're particularly impressed with Frank's attention to detail, leaving all sites spotless and looking brand new. He understands the higher demand during wintertime, so he usually brings in larger crews to handle projects faster.
In cases where previous contractors improperly installed your roof, or you own one of Toronto's older homes, this company may be the top choice. Frank and his team can quickly provide solutions, especially if you need immediate service.
No subcontractors
Collaborative and personable team
Extensive services
Emergency services cost extra
Customer Reviews
Check out these reviews for Right Choice Roofing & Repairs:
"Definitely recommend Frank. He really cares about the quality of his work and is very responsive to any questions prior, during or after the job is complete. I had squirrel infestation in one place, hole in another, and so the entire suffit needed replacing.
Frank assessed the job using his drone (I ended up with plenty of pics of both before and after) and was able to give me a few options as to how to address the problem. When there were additional issues during the repairs, he was able to adjust well to the revised scope. All throughout, me being quite clueless about roofing, he patiently explained every step of the way."
– Rafal G
" Frank has done repairs to my roof on a few occasions and has always been extremely professional and thorough with his work. The previous owners of my house chose a roofing company that did a terrible job and has since left us with multiple repairs. Frank has not only done a wonderful job helping to fix these issues but he has also taught me how to care for my roof to mitigate future work. I would highly recommend this company for your roofing work."
– Chris Ramey
5. Cherry & Clark Roofing
SERVICES
Residential roofing, roof repairs, commercial roofing, shingles, metal roofing, siding, flat roofing, eavestroughs, skylights & sun tunnels, ice damming, Duradek, gaf inspections
WEBSITE
https://www.cherryandclarkroofing.ca/
ADDRESS
530 Finch Avenue E #32, Toronto ON M1S 5E8
CONTACT DETAILS
Email:

[email protected]


phone: 18004614435
OPERATING HOURS
Monday to Sunday: 8:00am-5:00pm
Cherry & Clark Roofing is a family-owned company that has been around for almost half a century. We wouldn't be surprised if you've already heard of them because they're a prominent figure in the roofing industry.
The thing we like the most about their services is that they include solid aftercare, based on what their previous clients say. Cherry & Clark is known for guaranteed follow-up labor should you ever need repairs.
They even have a full-time service department, ready to respond even when the smallest issues arise after every project. You don't have to worry about them flaking out on you, and that's evident in how long they've been around.
Lastly, their team is made up of experts, some of whom have been in this trade for 37 years. It's unlikely that there's something they'd overlook when working on your roof that might need follow-up services anyway.
Excellent customer service
Long warranties
Emergency minor repairs
No sales pressure
Customer Reviews
Take a look at these Cherry & Clark Roofing reviews:
"Cherry and Clark is the Best roofing company in Toronto and I am glad to recommend them. When we were ready to change our roof, we emailed probably six roofers, three replied with a quote. Cherry and Clark had the best offer, not only in terms of price but in terms of quality service which is important to us. They completed the work in two days. Their customer service and professionalism was superb."
– Irma Bocek
"These guys are one of the best roofing contractors Toronto can offer. My friend gave me their number and I needed some roof work done so I decided to give them a call. Their level of expertise and quality of service is just great. They got the job done quickly and they did the job right. I was very happy with the outcome and now my house looks amazing. Give these guys a call! You won't regret it!"
– Richard Lyman
6. Cadillacs Roofing
Led by father-and-son duo Marcelo and Brian Espinoza, Cadillac Roofing is a team of skilled roofers catering to the Greater Toronto Area. There's 30 years' worth of experience between the two, so they've encountered just about every roofing problem a Torontonian might have.
Cadillac's process is straightforward. After you sign them on to handle your project, the first thing they do is protect the rest of your property.
Most of your lot will be covered with tarps and plywood to protect the landscaping and existing features. Not many roofing companies will go this extra mile to protect you and your home from possible mishaps, so it's definitely worth noting.
Moreover, Cadillac Roofing is a solid company that has a reputation for showing that it truly values its customers. Brian himself will personally go to the project site to assess the work that needs to be done and educate you if you're totally clueless about how all this works.
Thorough setup and cleanup
Has a visualizer if you want to plan your roof design
Also offers financing services
Customer Reviews
Cadillac Roofing has a perfect 5-star rating on Google, and it's because of glowing reviews like these:
"I am so impressed with this company. I had the shingles and vents replaced. After comparing with 7 other quotes all of my questions and requirements were answered beyond my expectations. The work was completed efficiently and quickly. We are extremely impressed with the quality and service. The crew is professional and courteous and clean-up perfect. I would definitely recommend this company to others."
– Bonny Kirschner
"I had a great experience with Cadillacs Roofing. Brian was very knowledgeable. He educated us on all the material they would be installing and showed us samples of all of it. Brian checked out ventilation to see if we had adequate intake and exhaust venting on our roof. Some of the other contractors we met with did not show us which material they would be using or educate us about how different components of the roof work and how important ventilation is. We are really happy we went with Cadillacs Roofing."
– Belen Assis
What to Do If You Have a Roof Emergency
Since you're reading this list, we assume that you're looking to have a custom roof installed or you've got a roof emergency on your hands.
Don't panic if it's the latter! Before or immediately after you call a roofing company, here's what we suggest you do.
Protect your furniture.
When a roofing system is compromised, it will let elements like water inside the house. Even before the repair guys get to your home, do your best to protect your furniture.
If there are leaks, set down vessels to catch the water and protect your floors. Of course, you wouldn't want to require extra servicing and lose valuables.
Wait for the storm to subside.
As you know, Toronto is prone to strong gales and hailstorms, which could compromise the integrity of your roof. While there are roofing companies that will address emergency roofing situations in the middle of a storm, it's not an unreasonable request if a company wants to hold off its services.
Since we don't want anyone to get hurt, wait for the storm to subside to ensure the safety of the workers.
Never go up the roof and fix the problem yourself.
Even the simplest patch job could be difficult for the handiest homeowner. Plus, you risk falling off the roof and hurting yourself in the process.
Roofers get special training to get certified, and they usually have safety systems in place. Attempting to resolve a roofing problem yourself could even lead to more damage in the long run.
Apply a temporary solution from the inside.
Depending on the severity of the leak, you can address the problem from the inside before the workers get to your house. Use duct tape, sealants, rubber sheets, or tarps to minimize it.
Even if your temporary solution works, you still have to address the underlying issue. Don't rely on this fix for too long because the problem is only going to get worse.
FAQs about Roofing Companies
---
There you have it, our list of the best roofing companies in Toronto. By going with any of these companies, you can rest easy knowing that your roof can withstand harsh elements and the test of time.
If you're currently working on the house's exterior, you might want to check out the best painters in Toronto, too!