Reviewed: Toronto's Top 5 Tax Consultants
Tax season happens once a year, so planning ahead can help you be smarter about your decisions.
Tax consultants can help you identify deductions and give you advice on how to legally save on taxes. Isn't this great news?
We found the best tax consultants in Toronto to help you out. Read on to find out more about the usual processes.
The Best Tax Consultant Firms in Toronto
The top tax consultants who made this list met the following criteria:
How much is the fee for a tax consultant in Toronto?
A tax consultant can offer varied services based on the hourly rates:
| Services | Rates |
| --- | --- |
| Accounting  | CAD 150 - CAD 400 |
| Bookkeeping (per month) | CAD 400 - CAD 4,500 |
| Small Business Tax Accounting  | CAD 146 - CAD 457 |
| Corporation Tax Accounting  | CAD 500 - CAD 1,500 |
The scope of work and expertise of an accountant affects the rate for their services. Specialised work like tax planning and consultancy will also add up to the cost.
Some companies offer monthly or yearly packages if you retain them as an accountant.
1. Maroof H. Sabri – Maroof HS CPA
Test
Info
SERVICES
Income Tax Services

Accounting Services

Innovation Hub

WEBSITE
https://www.maroofhs.com/
ADDRESS
85 Queens Wharf Rd #4102, Toronto, ON M5V 0J9
CONTACT DETAILS
437-220-2074
OPERATING HOURS
Monday - Saturday: 9 am - 7:30 pm

Sunday: Closed
| | |
| --- | --- |
| Criteria | Rating |
| Client Servicing | ★★★★★ (5/5) |
| Consultant's Experience | ★★★★★ (5/5) |
| Consultant's Reputation | ★★★★★ (5/5) |
| Range of Services | ★★★★☆ (4/5) |
If you are looking for a well-rounded accountant, Maroof H. Sabri can be of help. He assists individuals and corporations with their tax planning and preparation, along with accounting and business setup.
What's more, he can help Canadian businesses with their local and US income tax as he is an IRS Certifying Acceptance Agent and Certified Public Accountant (CPA).
On the local front, his membership in the Chartered Professional Accountants covers Ontario and Alberta.
As the founder of Maroof HS CPA Professional Corporation, Maroof and his team have focused their services to help small and medium-sized businesses all over Canada.
These businesses benefit a lot from getting Maroof´s services as he has taken up further studies in Accounting, Finance, and Actuarial Science. A client was impressed with his knowledge of solving finance-related concerns.
This firm may be a small accounting firm but it seems that clients also get the same – or even better – quality compared to the big firms.
Clients who have dealt with various tax professionals have been amazed at Maroof´s level of professionalism and his friendly and accommodating personality.
What we appreciate is how clients get to experience Marrof´s personalised service. He takes the time to meet with clients and discuss their tax situations thoroughly.
When it comes to a well-rounded service, Maroof and his firm make it top of the list. With more than 12 years of experience, clients will get reliable and professional work.
Well-rounded certified accountant
Took further studies in accounting, Finance, and Actuarial Science
Tax service available for both local and US businesses
Personalised service
Customer Reviews
Helped tax transition easier
"Maroof is amazing, very professional, knowledgeable and friendly. He's been an integral part of our tax journey to move to Canada and now got done with our first tax return too. Made it easier than it was supposed to be. Great Job!" – Saad
Thorough and reliable service
"I had very much bookkeeping accumulated that needed to get done. Maroof and his team were very understanding, professional and had my taxes done on time. They were thorough and reliable. I am please to say that I am very happy with their service." – Kamelia
2. Joe Gervasi – SternCohen LLP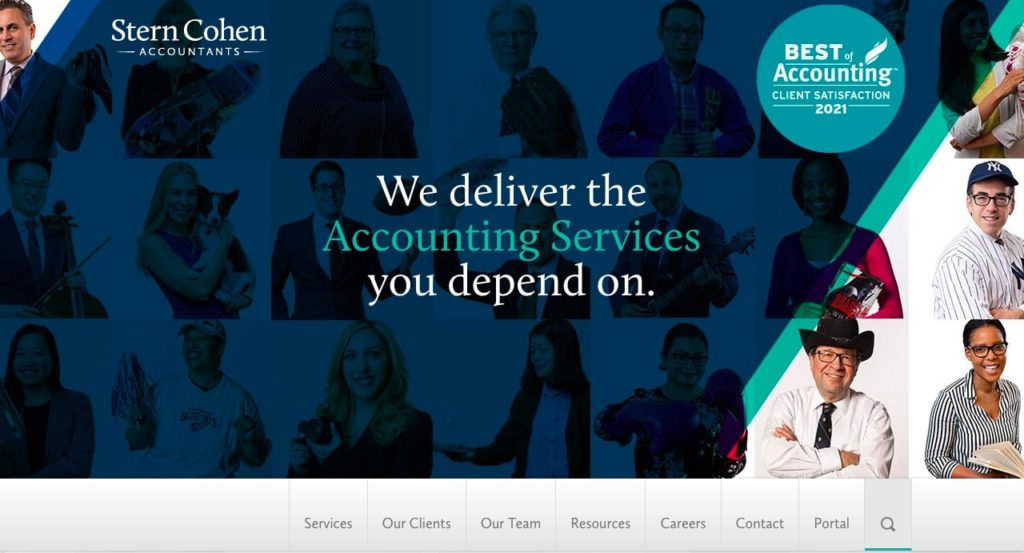 Test
Info
SERVICES
FIT Outsource Accounting

Tax

Accounting

Audit / Review

Not-for-Profit Accounting

Bookkeeping Services

Business Advisory

Estate Planning

HR Consulting

WEBSITE
https://www.sterncohen.com/
ADDRESS
45 St Clair Ave W 14th Floor, Toronto, ON M4V 1L3
CONTACT DETAILS
416-967-5100
OPERATING HOURS
Monday - Friday: 8:30 m - 5 pm

Saturday - Sunday: Close
| | |
| --- | --- |
| Criteria | Rating |
| Client Servicing | ★★★★☆ (4/5) |
| Consultant's Experience | ★★★★★ (5/5) |
| Consultant's Reputation | ★★★★★ (5/5) |
| Range of Services | ★★★★☆ (4/5) |
Since 1963, Stern Cohen LLP has supported family-owned businesses and not-for-profit organisations. As a licenced CPA firm, it is able to provide a full range of accounting services.
We think you are in good hands with one of the firm's partners, Joe Gervasi. He is a CPA, tax specialist, and a member of the Canadian Tax Foundation.
Since joining the firm in 2013, he has shared his tax planning knowledge with companies in various fields. He was able to help a client who had a difficult property sale successfully file taxes.
When it comes to estate tax planning, clients will be happy to deal with Joe as he is a Trust and Estate Specialist (TEP). Through his diligence, clients get to enjoy tax breaks and savings.
Joe and the team in Stern Cohen, in spite of being a big firm, strive to give advice that is helpful for both current and long-term planning. They even go through the documents one line at a time and explain tax laws in layman's terms.
However, there have been instances that they had to refer clients to solo practitioners because of the scope of work of the small business. It is worth mentioning that the staff was helpful enough to set up clients with their contacts who can help the client.
This firm was awarded 2021 Best of Accounting Client Satisfaction in Toronto. This affirms why this firm made it to our list of the best tax consultants in Toronto.
Licenced CPA practitioner 
Tax specialist
Trust and Estate Specialist
Explain tax laws in layman´s terms
Firm has more than 50 years in the business
2021 Best of Accounting Client Satisfaction in Toronto
Limited service for family-owned businesses and not-for-profit organisations
Some instances of referrals to other practitioners because of the scope of work
Customer Reviews
Knowledgeable and efficient manager
"I've had a remarkably positive experience with Stern Cohen over 25 years. The architect of my original tax strategy was Keith Rosen, a true tax genius/savant, and the structure he put in place prior to his retirement has served me very well. Since then, the annual compliance work has been done by Joe Gervasi, who is great to deal with; he has an unerring judgement about where I need to be involved (my preference is for as little as possible) and he is invariably knowledgeable, on top of the numbers, and a skilled and efficient manager of the process. I couldn't be more satisfied with the firm." – Gary
Experts in their field
"Over the past 18 months we have worked with Stern Cohen as our primary financial services provider. They have owned our financial reporting, tax, advisory, inventory management and cloud bookkeeping services. And we couldn't be happier. The staff at Stern Cohen are experts in their fields, who have a deep commitment to the success of our business, as well as our own personal financial stories. I highly recommend them – we sleep well at night knowing all our financial decisions and analysis are backed by their professional prowess and commitment." – Monica
3. Elliott Stone – MD TAX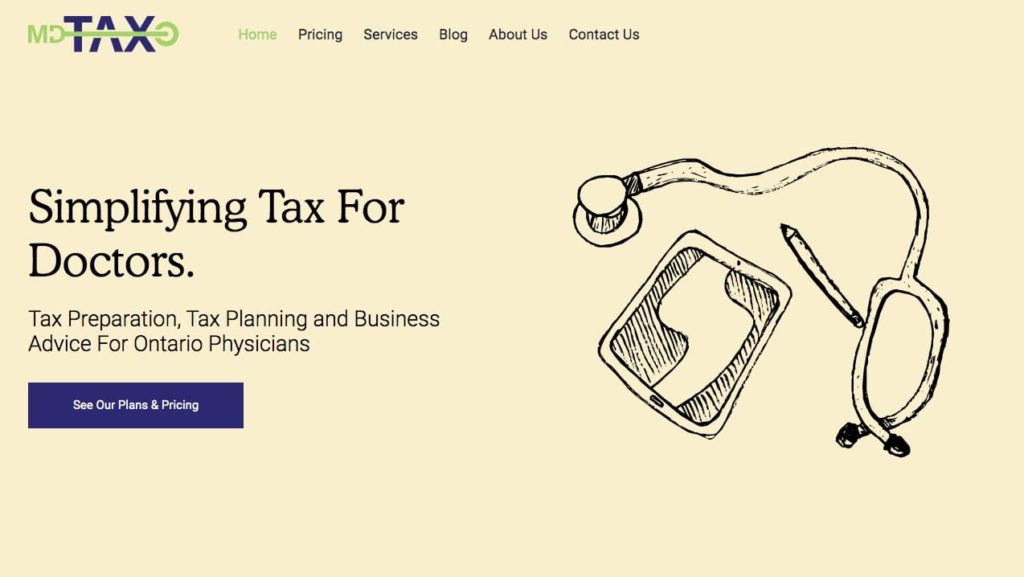 Test
Info
SERVICES
Tax Preparation

Tax Plans & Strategies

Medical Practice Incorporation

Accounting System

WEBSITE
https://mdtax.ca/
ADDRESS
3442 Yonge St, Toronto, ON M4N 2M9
CONTACT DETAILS
416-487-1463
OPERATING HOURS
Monday - Friday: 9 am - 5 pm

Saturday - Sunday: Closed
| | |
| --- | --- |
| Criteria | Rating |
| Client Servicing | ★★★★★ (5/5) |
| Consultant's Experience | ★★★★☆ (4/5) |
| Consultant's Reputation | ★★★★★ (5/5) |
| Range of Services | ★★★★☆ (4/5) |
MD Tax is headed by Elliot Stone with more than 10 years of tax advisory experience. Thus, he is able to explain well the nuances of taxation thoroughly.
It is also good to note that he is certified to practice accounting in Canada and the US. A client who works both in Canada and the US shared with us how only Elliot was able to provide him solutions after grappling with conflicting information.
Unlike other firms in this list, MD Tax focused its services on a niche group: physicians. It has streamlined the tax and accounting process to help clients focus on their main work of helping patients.
Even if it started only in 2015, it has a loyal group of medical practitioners because it understands physicians' finances well.
Being in a family of medical practitioners coupled with his experience in advising small businesses, Elliot found it easy to understand the needs of different medical practices. In doing so, he is able to help clients not dread tax season.
Clients of MD Tax actually don't feel anxious given the firm's fixed-priced packages. These are all-inclusive, meaning they come with tax strategies and return.
The packages also include year-round support, which means that they can course their queries and get answers promptly at any point within the year of availing it.
To top it all off, Stone is responsive and walks the clients through the process for better understanding. This is surely a big plus for busy physicians.
Elliot has more than 10 years of experience in tax advisory
Accounting practice in Canada and the US
Fixed package rates
Year-round support for clients
Niche customer base 
Business has less than 10 years in the field
Customer Reviews
Responsive and helpful in patients' questions
"Elliott is super nice, super patient with all my questions, and extremely helpful and responsive. He is always willing to call/zoom to help me understand something or walk me through a complicated process step-by-step. AND!! All of this for a reasonable, all-inclusive rate so I don't have to feel guilty about asking him questions and feel like I'm getting charged for each email. 11/10 would highly recommend!" – Tyler
Efficient and kind
"Elliott helped me file my taxes during my PGY2 year of residency. He was efficient, kind, and provided lots of education around how to get the maximum return around my residency expenses.
I'd strongly recommend MD tax and Elliott to anyone." – Gurjot
4. Fraser Simpson – Tax Mechanic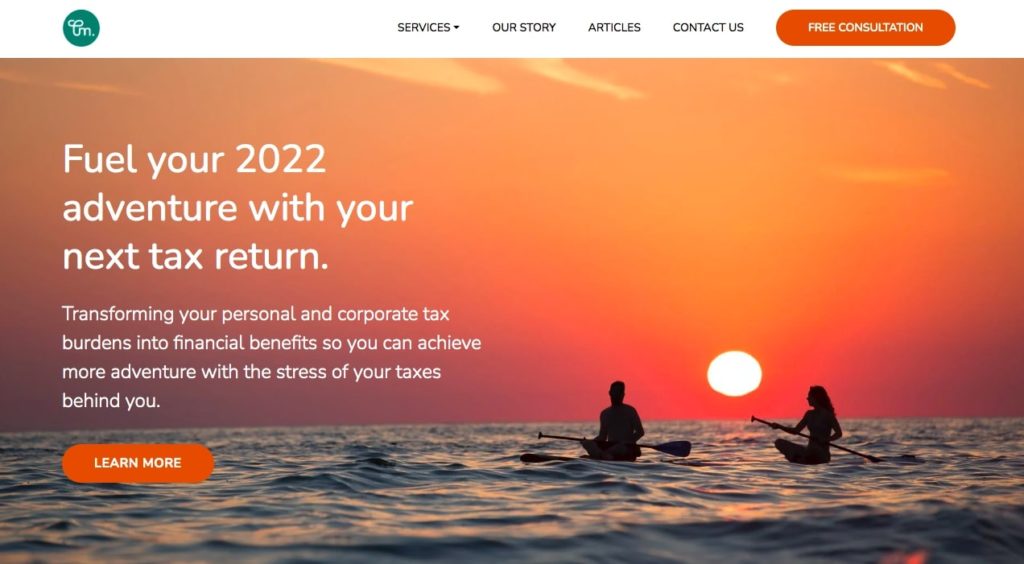 Test
Info
SERVICES
Unfiled Taxes

CRA Audits

Tax Planning

Tax Relief

Accounting

Crypto & NFT

WEBSITE
https://www.taxmechanic.ca/
ADDRESS
180 John St, Toronto, ON M5T 1X5
CONTACT DETAILS
647-884-1216
OPERATING HOURS
Monday - Friday: 8 am - 6 pm

Saturday - Sunday: Closed
| | |
| --- | --- |
| Criteria | Rating |
| Client Servicing | ★★★★★ (5/5) |
| Consultant's Experience | ★★★★★ (5/5) |
| Consultant's Reputation | ★★★★★ (5/5) |
| Range of Services | ★★★★☆ (4/5) |
Fraser Simpson's firm may have been rebranded to Tax Mechanic in 2017 but his experience in handling business and personal taxes started way earlier than this.
He has more than 20 years in this field handling companies listed on the stock exchange. He also deals with big corporation owners and law firms so he knows how to manage different tax requirements.
Being in the business for that long also gave him experience in handling disputes with the Canadian Regulatory Agency (CRA). Together with his team, he has helped clients get out of difficult tax situations.
For instance, Tax Mechanic's tax specialists were able to work on 2 years' worth of tax filing for a client in just a weekend. It came with a very detailed summary of taxes and claims, which impressed the client all the more.
They have a reputation for pacifying anxious clients who feel burdened by all the paperwork by assuring them that they've handled many complex cases. As a matter of fact, they have resolved 6,000 tax disputes in a short amount of time.
If you are looking for free consultations, this is the firm for you. Requests usually get a response within an hour.
This boutique accounting company handles more than 500 accounts and is still growing, which is impressive.
While this firm's rebranding may make them "newcomers" in this industry, it's backed by a well-experienced and reliable team.
Founder has more than 20 years' experience
Dealt with listed corporations and company owners
Experienced in handling CRA disputes 
Offers free consultations
Handles over 500 accounts
Not as well-known in the industry due to rebranding
Customer Reviews
Quick response
"I have recently started using Tax Mechanic for my 2019 and 2020 taxes. The quality and quick responses and service is excellent. Any questions I have are always answered within 24 hours if not sooner and I never feel ignored.
Maria Correa, the office and accounting manager has always been on top of my emails and she honestly is the best in helping to explain all my related questions.
I highly recommend Tax Mechanic and I plan on continuing to use this company for the future.
I promise you will not be disappointed .
Thank you Fraser and Maria." – Rayn
Exemplary service
"This is a very well run company and has all the right options for any situation. I worked with Maria, Janice and Fraser who all helped me navigate through the CRA while making a comeback from disabling cancer treatments and not filing for a few years. Everyone on this team is absolutely amazing! They provided exemplary service and support for both my business and personal taxes. The Tax Mechanic gave the best advice and very professional and timely with all aspects. Very impressed by Fraser as he is also a philanthropist and has helped many over the years. Would highly recommend their services to anyone as they are kid considerate and caring ! Very Well Done Tax Mechanic…" – Maria
5. Sami Ghaith – SDG Chartered Professional Accountants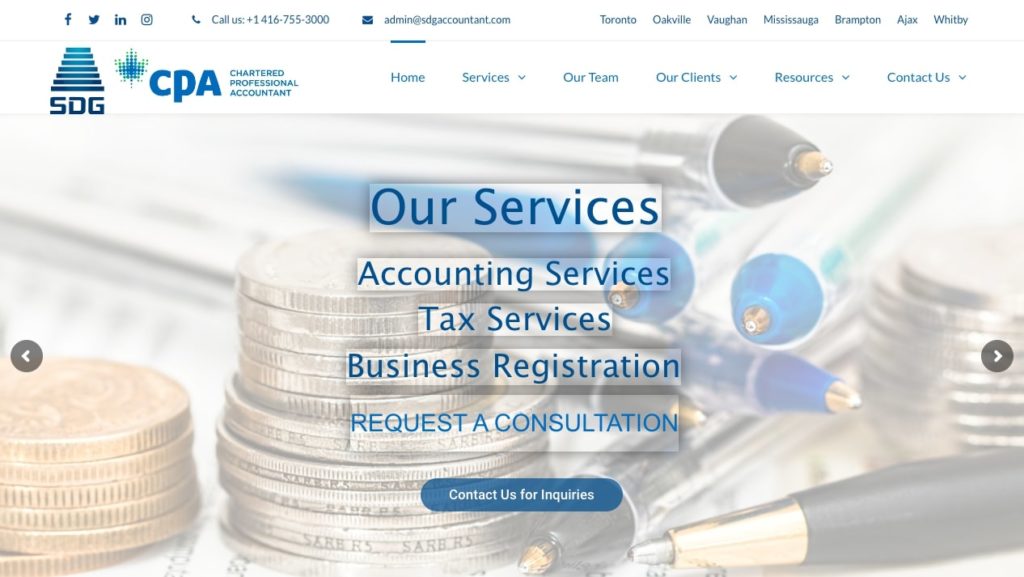 Test
Info
SERVICES
Tax Services

Accounting Services

Business Registration

WEBSITE
https://accountingtoronto.ca/
ADDRESS
2 Bloor St W #1902, Toronto, ON M4W 3E2
CONTACT DETAILS
416-755-3000
OPERATING HOURS
Monday - Friday: 9 am - 6 pm

Saturday - Sunday: Closed
| | |
| --- | --- |
| Criteria | Rating |
| Client Servicing | ★★★★★ (5/5) |
| Consultant's Experience | ★★★★★ (5/5) |
| Consultant's Reputation | ★★★★★ (5/5) |
| Range of Services | ★★★★☆ (4/5) |
SDG Chartered Professional Accountant is composed of a team of experts in tax and accounting. At the helm is its principal, Sami Gaith, whose skills in tax and business consultancy have helped high-net worth individuals and corporations.
Sami has several corporate work experiences prior to setting up SDG in 2014. He worked in different fields in various capacities such as a chief financial officer and in accounting and consultancy.
If you are a dual citizen, Sami can help you with your tax returns. Aside from being a CPA, he also got a certification in handling US taxation so even US tax credits are claimed by Canadians.
Three other accountants support Sami to deliver professional and detailed services. They can figure out difficult tax situations and achieve resolution in a few weeks.
We like the fact that they give clients a checklist so they don't miss out on any tax information. The data is used to determine maximum tax benefits and identify great savings opportunities.
The company offers a 10-minute free consultation but is often extended to accommodate more queries of clients. For longer consultations, it requires upfront payment and no flexibility on cancellations.
With excellent customer service, this firm has seen a good number of clients retaining their services. SDG is highly recommended by the clients and us as well.
Work experience covers finance, accounting and consultancy
Worked with high-networth individuals and corporations
Can handle the taxation of dual citizens
Provides clients with a checklist so no tax information is missed out 
Quick 10-minute free consultation
Upfront paid consultation
No flexibility in cancellations
Customer Reviews
Super professional and very responsive
"They are excellent! I run my own digital marketing business and couldn't be bothered to do my own taxes. A friend recommended this firm to me and I was more than happy with the outcome! Super professional, very responsive, and knew the answers to my questions. Will definitely be using them from here on out!" – Christian
Trustworthy services
"Sami and company are great!
I'm not the biggest fish in the pond, by any measure, but I was meant to feel that way by SDG. Everyone was very professional, timely and super-efficient. Sam provided all the answers that I needed to do the right thing, and look our for my needs with the clearest trajectory. No need to fear a bill out of the gate, initial consultations are free.
Here's who you want to trust, and where you want to be." – Mark
FAQs on Tax Consultants
---
The best tax consultants are a big help in planning your financial activities. We hope you find the right one for you from our list!
For general counsel on matters of business, check out some of our other reviews: