The 6 Best Railing Services in Toronto
When renovating your house or office, most likely you will be in need of adding useful railings to your patio, stairs, hallways and balconies for safety and accessibility.
If you're looking for the perfect contractor in this regard, this review is for you! We collated and assessed the best railing services in Toronto who will help you install these barriers that you need.
Best railing services in Toronto
We checked the following contractors with the best railing services in Toronto according to the following criteria:
How much does the best railing services cost in Toronto?
The budget that you must allot when you plan to install railings in your building ranges from $1,000 to $14,000. The actual amount depends on the type of railing you are planning to build.
Here are the following factors that affect the cost of railings instalment (plus the range of price):
| FACTORS | PRICE |
| --- | --- |
| Materials | $440 to $522 (depends on the project) |
| Length | $41.21 to $110 (per foot) |
| Type of Structure | $138 to $343 |
| Weatherproofing | $27.5 to $117 (per gallon) |
| Permits | $27.5 to $41.21 |
1. Ideal Stairs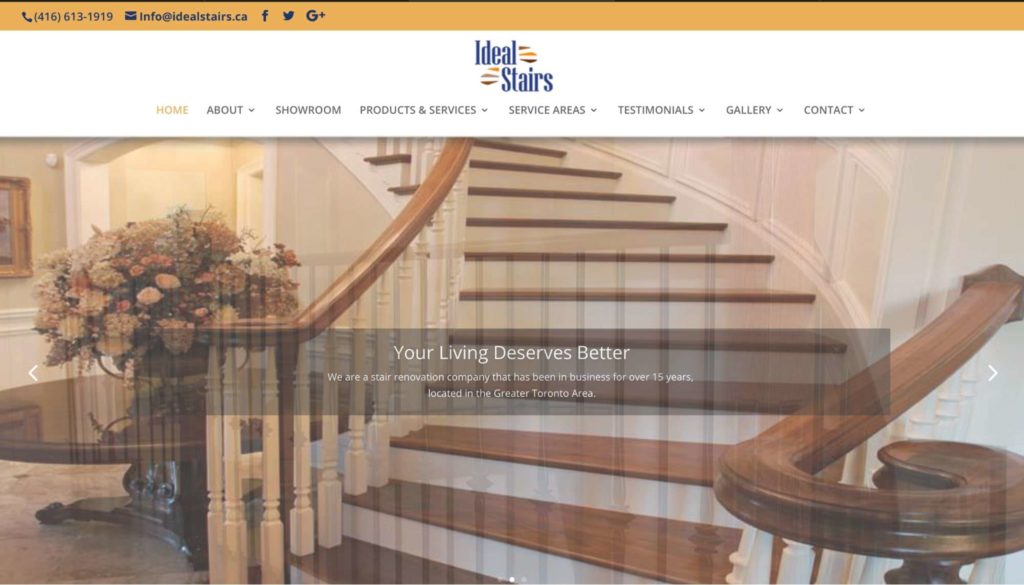 Test
Info
SERVICES
Stair Renovation & Finishing, Stair Recapping, Stair Railings, Custom Stair Railings
WEBSITE
https://www.idealstairs.ca/
ADDRESS
141 Nugget Avenue, Toronto, ON M1S 3B1
CONTACT DETAILS
(416) 613-1919
OPERATING HOURS
Monday to Friday, 9 AM to 5 PM

Saturday, by appointment
| | |
| --- | --- |
| EXPERIENCE | ★★★★★ (5/5) |
| SERVICES AND MATERIALS | ★★★★☆ (4/5) |
| CUSTOMER SATISFACTION | ★★★★★ (5/5) |
| COST | ★★★★☆ (4/5) |
For more than 15 years, Ideal Stairs has been providing renovation services, as well as the installation of chairs, balusters, and railings.
They also won the HomeStars Best Of Award in 2020, which tells us that they're highly-trusted and credible.
What we like about them is their wide range of railing styles, from romantic and contemporary to traditional. This allows customers to choose the best design that fits the aesthetic of their home.
They prioritise both aesthetics and safety, which we like. The company makes use of 100% Canadian Red Oak, which is known for its durability and natural beauty, for its handrails, spindles, and posts.
However, it seems like this company apparently only uses wood (and a bit of iron) for their railings. So, if you're looking for a company that does glass railings, you'll need to look elsewhere.
Installation prices range from $10,000 to $24,000. It seems a bit pricey for us since this is higher than the maximum average cost of railing installation services in Toronto.
Some clients we've spoken to, however, noted slight delays in starting their installation requirements. However, this is largely outweighed by those whose projects were completed before the deadline.
More than 15 years of experience
Can complete the job ahead of schedule
Wide range of stair railing styles
Limited to wood railings
More expensive compared to competitors
Customer Reviews
Courteous team
"Ideal Stairs was fantastic to deal with. Mesh, Rajan and the rest of the team were always courteous, professional and willing to answer any questions we had about the project. They were patient with us as we had many questions during the initial quote. We had originally wanted to stick with our old railing but after further discussion during the project and more patience from the team, we decided for a new one and could not be happier (with no added time either). The nosing on the 2nd floor was measured perfectedly for our LVP flooring\underlayment (which we installed afterwards) to slide underneath. Thanks again, we highly recommend Ideal Stairs." – Steve T., HomeStars
Very efficient
"I had an amazing experience with Ideal Stairs from initial planning stages to execution of the completed work! Mesh and Rajan were excellent communicators and offered great pricing for hardwood installation including two staircases. The team was very efficient, highly skilled and clean; completing the job ahead of schedule. I would highly recommend Ideal stairs and will be scheduling them again to complete hardwood renovations on my upper floor." – Rachel, HomeStars
2. Rosales W&D Glass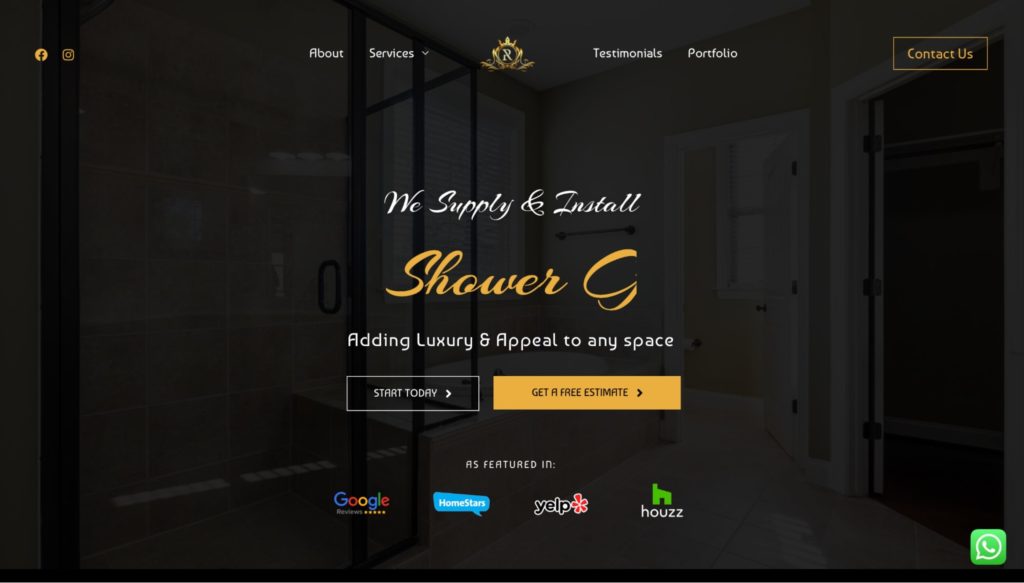 | Test | Info |
| --- | --- |
| SERVICES | Glass Railing, Glass Partition, Shower Glass, Door Inserts, Window Glass Replacements |
| WEBSITE | https://rosaleswd.ca/ |
| ADDRESS | 141 Nugget Avenue, Toronto, ON M1S 3B1 |
| CONTACT DETAILS | +1-416-456-0937 / +1-416-220-1484 |
| OPERATING HOURS | Sunday to Monday, 24 hours |
| | |
| --- | --- |
| EXPERIENCE | ★★★★★ (5/5) |
| SERVICES AND MATERIALS | ★★★★☆ (4/5) |
| CUSTOMER SATISFACTION | ★★★★★ (5/5) |
| COST | ★★★★★ (5/5) |
Rosales W&D Glass has been a leading provider of products made of glass and mirrors for 15 years. While their specialty is servicing offices and gyms, they also provide railing services in Toronto.
We're impressed by their ability to deliver high-quality and sophisticated railings for their customers, as we looked into their portfolio.
Given the quality of their work, it's good that their rates start as low as $3,000. We find this decent as this is quite close to the minimum average for Toronto.
We're also happy about their 24/7 availability. This makes them easily accessible should you encounter a safety issue with your railings outside the usual operating hours.
It's worth noting, though, that they focus on glass railings – so if you're keen on another type of material, you may want to check out the other entries on this list.
They also answer queries immediately and provide friendly services, which is reassuring to clients.
We also like how thoughtful they can be. One of their clients expressed their gratitude for the staff's considerate behaviour when they tried to install the railings carefully while their baby was taking a nap.
That said, we do note that they can be quite difficult to book and contact during peak hours.
24/7 availability
Cheaper price compared to competitors
Only glass railings services available
Difficult to book and contact during peak hours
Customer Reviews
Extremely respectful
"I was very happy with how my glass railings turned out! The process was smooth and completed in a timely manner. They arrived around my baby's nap time, Will and his team were extremely professional and respectful to not wake her. They also wore their masks throughout the duration of the project, I am very pleased with their service and will definetly use them again in the future." – Elaine Quezada, Google Reviews
Professional and kind
"Extremely professional and kind! Couldn't be happier with my results. Highly recommend them!" – Mohammad Shahin, Google Reviews
3. Ultra Stairs and Railings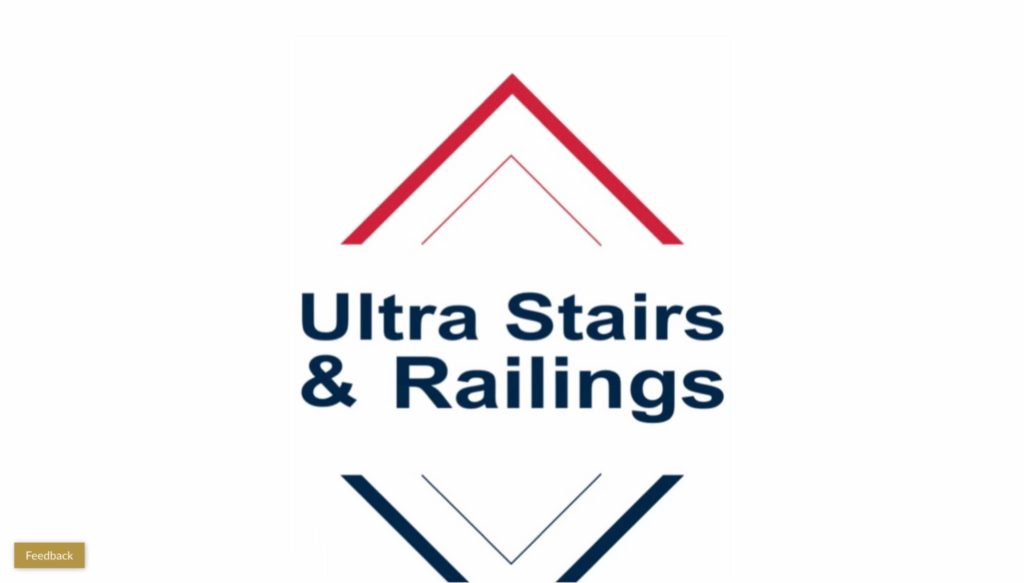 | Test | Info |
| --- | --- |
| SERVICES | Staircase planning and design, custom stair and handrail solutions, installation and renovations |
| WEBSITE | https://ultrastairs.ca/ |
| ADDRESS | 98 Lillian street, Toronto ON M4S0A5 |
| CONTACT DETAILS | +1 647-642-6620 |
| OPERATING HOURS | Monday to Friday, 8AM to 5PM |
| | |
| --- | --- |
| EXPERIENCE | ★★★★★ (5/5) |
| SERVICES AND MATERIALS | ★★★★★ (5/5) |
| CUSTOMER SATISFACTION | ★★★★★ (5/5) |
| COST | ★★★★★ (5/5) |
Ultra Stairs and Railings specialises in staircase planning and design, installing and renovating custom stairs and also railings. They also design the posts and pickets of the railings they install.
We're happy they offer both glass railing systems and wood railings here, allowing them to choose which material best suits their home aesthetic.
They work with architects and designers for the design and planning, which makes us confident in the high quality of their output. A quick look at their portfolio proves this.
We also like that when you opt for glass railings, you can customise it even more. You can choose to add wood elements, stainless, stand-offs or caps, making them a unique feature of your home.
Just note that they have shorter operating hours than their competitors and are not available during weekends.
Despite this, we have to give it to them in terms of customer service. A lot of the customers we spoke with noted their patience and enthusiasm when explaining the project to them.
Finally, you can count on them for efficiency. They start and finish on time, cementing their reliability among clients.
Offer both glass and wood railing systems 
Works with architects and designers
Glass railings can be customised
Not open on weekends
Shorter operating hours     
Customer Reviews
Detail-oriented
"We are so thrilled with our new railing! We had almost gotten used to the basement stairs without it, but it has completely transformed the space – not to mention made it safe for our son who's officially on the move.
Alvin was a pleasure to work with. He is professional and detailed oriented. The railing turned out exactly how we had hoped – matched our references perfectly!!
We're so happy with his work and now can't wait to, one day, do the rest of the railings in the house." – Danica Pardo, Google Reviews
Extremely professional
"We could not be happier with the work Alvin did. He is extremely professional and was a pleasure to work with. We love our new staircase/railing and would highly recommend. Thanks, Alvin!" – Emily Murphy, Google Reviews
4. Art Metal Workshop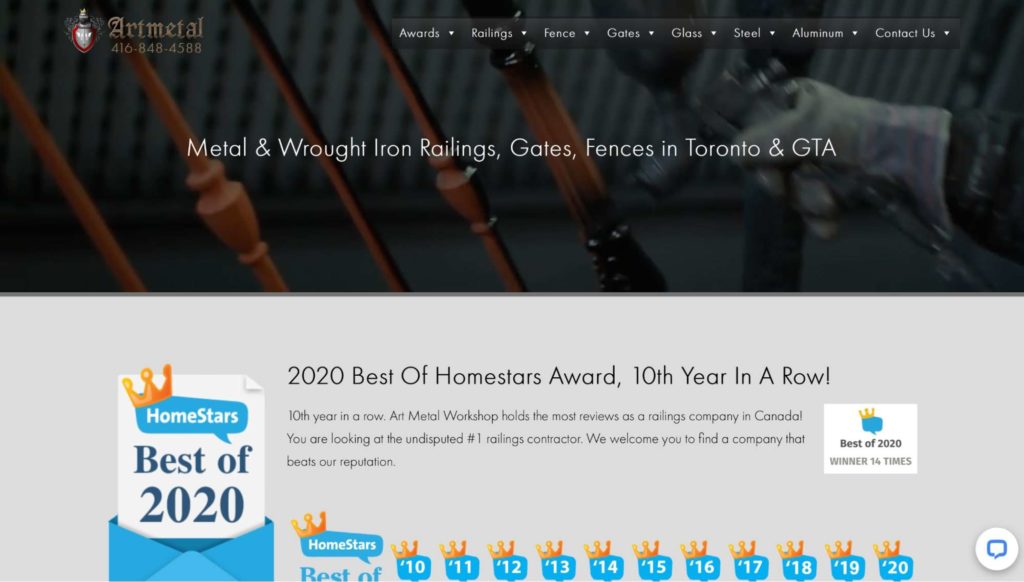 | Test | Info |
| --- | --- |
| SERVICES | Exterior and Interior Railings, Fences, Gates |
| WEBSITE | https://art-metal.ca/ |
| ADDRESS | 50 Paxman Rd, Unit 18-19, Etobicoke, ON M9C 1B7 |
| CONTACT DETAILS | 416-848-4588 |
| OPERATING HOURS | Monday to Friday, 8AM to 5PM |
| | |
| --- | --- |
| EXPERIENCE | ★★★★★ (5/5) |
| SERVICES AND MATERIALS | ★★★★☆ (4/5) |
| CUSTOMER SATISFACTION | ★★★★★ (5/5) |
| COST | ★★★★☆ (4/5) |
Since 2003, Art Metal Shop has been in the business installing and repairing railings, stairs, fences and gates in Toronto. They have been featured on 3 home improvement TV shows, which tells us that they've made a mark in the industry.
They also install railings for balconies and provide balusters, railing metals, and metal deck railing.
We like that they make sure the materials they are using are durable. Theirs are made from aluminium, steel and iron, which are some of the safest and toughest choices available.
Their prices range from $4,000 to $6,200, a bit higher than the minimum usual price for railings. However, we think these are reasonable because of the quality of the products they are offering.
That said, some clients have their fair share of unpleasant encounters with Art Metal Shop. Some of their staff apparently did not show up during the meeting with their clients, which is understandably a turn-off.
Some were complaining that the waiting time for the installation was longer than expected. The promised lead time of installation is 4-6 weeks, but it apparently took 14 weeks for some clients' railings to be installed.
On a brighter note, they offer a lifetime warranty for their products and services. You can count on them to assist you free of charge should you encounter an issue with their work.
Has lifetime warranty
Featured on TV shows
Durable materials
Longer waiting time
Slightly more expensive
Some incidents of no-shows with clients
Customer Reviews
Helpful and responsive
"Iryna and her team were very helpful and responsive from the onset and answered all of my needs in making a decision for a perimeter fence and gate. All the workers were professional and showed up when they said they would.
I waited a few months to write this review in order to ensure that everything was in working order.
Thank you Iryna and the Art-Metal team." – Ellis Ruddock, Google Reviews
Efficient delivery time
"The ornamental iron railings had to be right. We have a Victorian house that needs the proper look and feel. Art Metal was responsive from the first call. Their custom design was excellent. Delivery was on time and installation was very professional. Our neighbours have provided comments on how lovely the railings look. I'd highly recommend Art Metal and I'm looing forward to have them work for me again." – Dave Hardy, Google Reviews
5. GTA Railings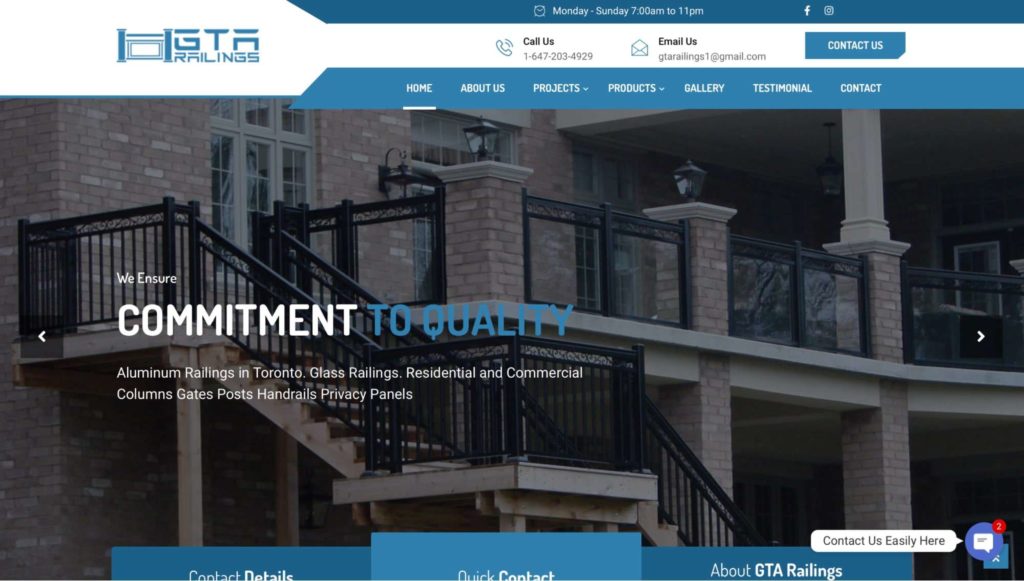 | Test | Info |
| --- | --- |
| SERVICES | Railings, Columns, Posts, Pickets, Double Columns, Gates, Fences, Accessories |
| WEBSITE | https://gta-railings.ca/ |
| ADDRESS | 767 Thornton Rd S., Oshawa, Ontario L1J, CA |
| CONTACT DETAILS | (647) 203-4929 |
| OPERATING HOURS | Sunday to Monday, 7AM to 11PM |
| | |
| --- | --- |
| EXPERIENCE | ★★★★★ (5/5) |
| SERVICES AND MATERIALS | ★★★★☆ (4/5) |
| CUSTOMER SATISFACTION | ★★★★☆ (4/5) |
| COST | ★★★★★ (5/5) |
GTA Railings is an established leading brand for railing services and has 20 years of experience in installing porch, deck and fence and gate railings.
What we like about GTA Railings is their genuine care for their clients, as customers commend their accommodating staff.
Their priority is also helping customers to be accessible and offer affordable high-quality railings – their price range is from $1,600 to $6,500.
The other plus we see in this company is their quick turn-around time. They can deliver their services in a maximum of 3 hours.
Customers appreciate their relatively longer daily operating hours, as they have a larger window of time to schedule a visit or relay a concern about their project.
We also like that they give their customers a wide variety of options for the styles of pickets for their railings. They can choose from 24 designs, which is certainly more comprehensive compared to its competitors.
However, we think they could work on their responsiveness. Some customers reportedly had to call them multiple times before they finally got an answer.
That said, we would still recommend giving them a try for generally friendly service, quality workmanship, and availability.
Longer daily operating hours 
Reasonable prices
Punctuality issues
Can be unresponsive
Customer Reviews
Prompt Service
"The GTA Railings team was prompt and professional. From a quick quote to measuring the area and installation – everything was done on time and without issue. The product is excellent and really gives our new landscaping a fresh look. I would highly recommend." – pauluxtroy, HomeStars
Competent Staff
"Enclose our pool with Mike GTA railing was easy peasy. Each member of team is smiling and very competent. Mike is super responsive and ultra professional, thrive by best quality/client result. Best team in town for this type of job" – ChetBaker 21, HomeStars
6. Toronto Deck and Rail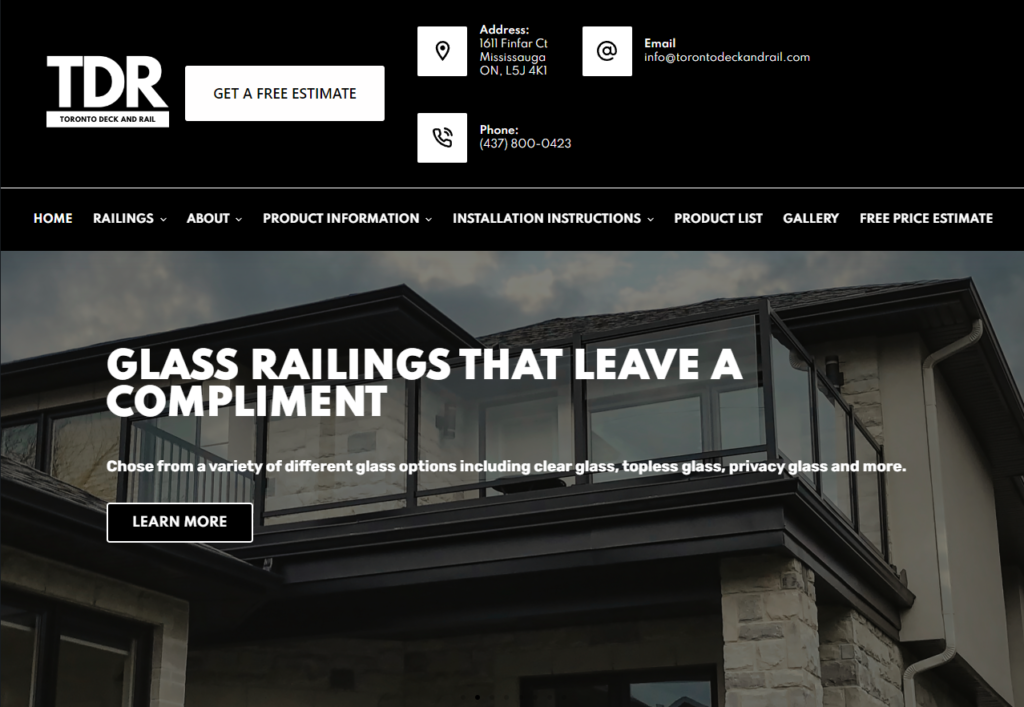 | Test | Info |
| --- | --- |
| SERVICES | DECK RAILING, FRONT STEP RAILING, TOPLESS GLASS, PRIVACY WALLS |
| WEBSITE | https://torontodeckandrail.com |
| ADDRESS | 1611 Finfar Ct, Mississauga, ON, L5J 4K1 |
| CONTACT DETAILS | (437) 800-0423 |
| OPERATING HOURS | Monday to Friday, 8 AM to 4 PM |
| | |
| --- | --- |
| EXPERIENCE | ★★★★☆ (4/5) |
| SERVICES AND MATERIALS | ★★★★☆ (4/5) |
| CUSTOMER SATISFACTION | ★★★★☆ (4/5) |
| COST | ★★★★★ (5/5) |
The railing is just as important as the deck or patio itself, so you want to be sure your railing is installed properly. That's why it's important to hire professionals like Toronto Deck and Rail for your deck railing needs in Toronto.
They specialize in glass rails, privacy walls, and other types of railings that look great and add value to your outdoor space.
Toronto Deck and Rail only uses certified materials, ensuring a superior quality product that will withstand all kinds of weather conditions without corroding or fading over time. Plus, they offer competitive prices and excellent customer service every step of the way.
With years of experience in the industry, you can trust their workmanship for a safe and beautiful-looking deck or patio railing for your home.
Many years of experience
Large variety of styles and colors
Installation services available
FAQs on railings
---
That wraps it up for our review of the best railing installation services in Toronto! We hope we've pointed you in the right direction in your search for the ideal provider for your project.
Here are other reviews that you might be interested in related to home renovations: