The 5 Best Music Venues in Toronto
Toronto is known for its breathtaking city landscapes, festive sports events, and top-rated museums and galleries, but it is also home to the best music venues.
Music has become a vital role in Toronto's culture. The city has built a notable music scene, from small acts to internationally acclaimed artists.
To hype up concert veterans and warm up concert newbies, we reviewed the best music venues in Toronto!
Top Music Venues in Toronto
We chose and evaluated the top music venues in Toronto based on the following criteria.
How much do tickets in music venues in Toronto cost?
Ticket prices depend on factors such as promotional commitments, the manager's opinion, and venue and transportation costs.
See the table below for estimated ticket price ranges.
| Music Venue | Local or Rising Artist/s | International or In-demand Artist/s |
| --- | --- | --- |
| The Opera House | $22 to $80 | $32 to $323 |
| Roy Thomson Hall | $47 to $145 | $112 to $404 |
| Meridian Hall | $45 to $160 | $90 to $562 |
| Budweiser Stage | $59 to $287 | $88 to $757 |
| Scotiabank Arena | $55 to $485 | $103 to $950 |
Prices also largely depend on the artist's reputation and popularity. To give you an idea, we reviewed the ticket prices of local/rising artists versus international/in-demand artists who have performed in the best music venues in Toronto.
1. The Opera House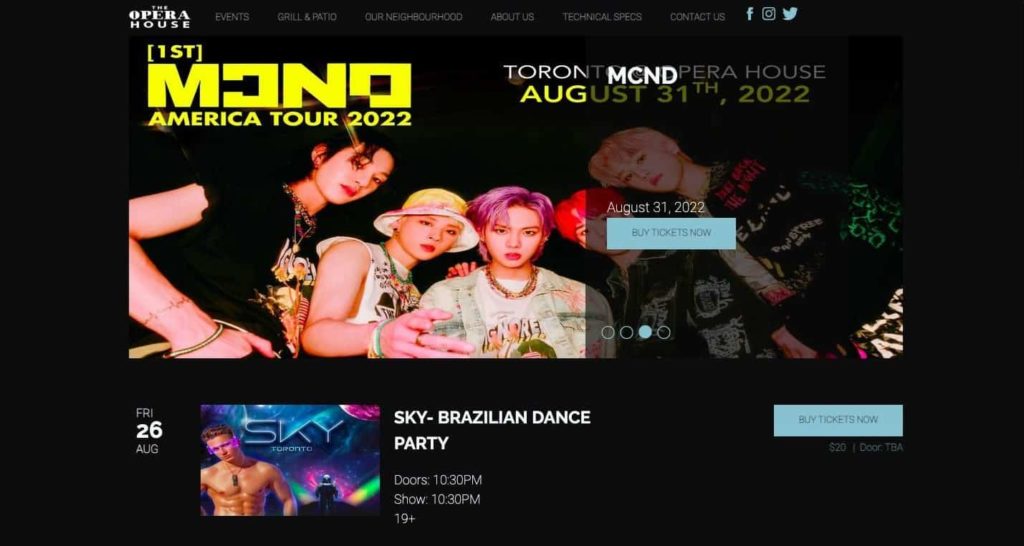 | | |
| --- | --- |
| LOCATION | ★★★★☆ (4/5) |
| QUALITY | ★★★★★ (5/5) |
| ACOUSTICS AND TECHNICAL SPECS | ★★★★★ (5/5) |
| AMENITIES | ★★★★★ (5/5) |
| FLOOR PLAN | ★★★★★ (5/5) |
| AMBIANCE | ★★★★★ (5/5) |
| CUSTOMER SERVICE | ★★★★☆ (4/5) |
The Opera House, which first welcomed guests in 1909, is one of Toronto's longstanding theatres hosting local and international acts. It was originally a vaudeville stage and also functioned as a cinema.
After extensive renovations, The Opera House is now a fully operational licenced venue with sound and lighting production, video, audio, and lighting staff, coat check, four bars, and a grill and patio restaurant.
All the same, we think The Opera House has maintained the charm of its historic architecture.
Initially, we were a bit bummed to learn that the venue can only accommodate two buses and three small vehicles at its allotted parking space.
Nonetheless, it is conveniently near Carpark 45, a public parking lot that is just a 1-minute walk away and is within walking distance of several transit routes.
Close-up, intimate shows are perfect for The Opera House. Despite its age, it has clean and well-balanced acoustics, smooth bass, treble sound, and creative lighting design.
The Opera House is a standing venue, but some promoters occasionally provide seated events.
We appreciate the venue's accessibility features, as it designates 12 reserved accessible seats for each show.
Furthermore, it has an accessible washroom on the main floor and a portable ramp.
However, just like the patrons, we find that the bathroom attendants may be unnecessary. The bathrooms are pretty small, plus some people may be uncomfortable with the constant presence of an assistant while they relieve themselves.
The bouncers at the venue could use some improvement as well. We think they should tone down their aggressive, tough attitude.
A minute's walk from a public parking lot
Clean and well-balanced acoustics
Creative lighting design
Coat check
Four bars
Grill and patio restaurant
Accessible venue
Historical ambience
Bouncers may be over-aggressive and strict
Bathroom attendants that may be unnecessary
Customer Reviews
The sound quality was wonderful, but above all the lighting was exceptional
"It's a wonderful venue, almost 32 years of providing the local and international artists [with] a venue to perform. Good drinks are available, and the sound quality was wonderful, but above all, the lighting was exceptional. Definitely recommend." —Akio Maroon, Google Reviews
They have a great balcony overlooking the stage
"This is one of my all-time favourite venues. If you aren't feeling being squished shoulder to shoulder, they have a great balcony overlooking the stage on the second floor. The sound system and acoustics are phenomenal. Also, the staff and security have always been helpful and kind." —Chris Briand, Google Reviews
2. Roy Thomson Hall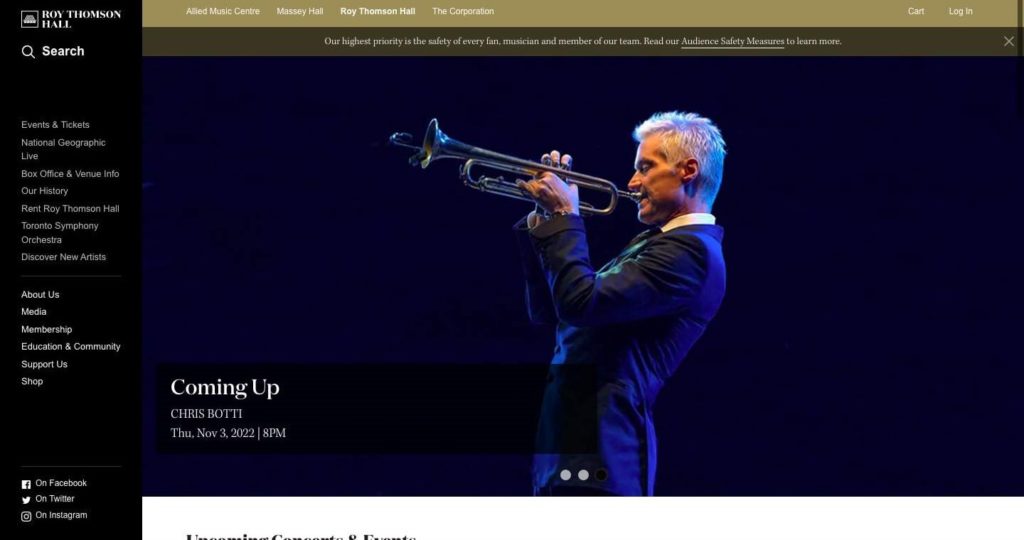 | | |
| --- | --- |
| LOCATION | ★★★★★ (5/5) |
| QUALITY | ★★★★★ (5/5) |
| ACOUSTICS AND TECHNICAL SPECS | ★★★★★ (5/5) |
| AMENITIES | ★★★★★ (5/5) |
| FLOOR PLAN | ★★★★☆ (4/5) |
| AMBIANCE | ★★★★★ (5/5) |
| CUSTOMER SERVICE | ★★★★★ (5/5) |
Roy Thomson Hall made its debut in 1982. Designed by acclaimed Canadian architect Arthur Erickson, it has been regarded as a cultural and architectural icon in Toronto's entertainment district.
In addition to their music hall, other multi-functional spaces include spacious lobby areas, outdoor patios, and a wine bar.
We love that going to Roy Thomson Hall is trouble-free. It is right next to the St. Andrew subway station and is in close proximity to the north and west of Union Station and the King streetcar.
On top of that, it has a 24-hour underground garage that can fit up to 377 cars.
Roy Thomson Hall is home to the Toronto Symphony Orchestra and Toronto Mendelssohn Choir. It is also well-known for featuring a beautiful Gabriel Kney pipe organ.
It should then come as no surprise that Roy Thomson Hall has incredibly rich acoustics. Moreover, significant enhancements have upgraded the venue's sound quality.
We like the addition of a mobile acoustical tent that will allow each performance to be customised for the audience. Retractable sound-absorbing banners and a more robust resonant stage floor are two further modifications.
Roy Thomson Hall provides accessible seating, wheelchair loans, and discounts for support persons that accompany patrons as needed, which is great.
We're just a bit disappointed that some of the hallways are narrow, making it a little difficult for wheelchairs to pass through.
Another drawback is that there are few bathrooms, which causes long queues. Still and all, we think you'd be happy with the polite and helpful staff and security personnel at Roy Thomson Hall.
24-hour parking
Near subway stations
Rich acoustics and modern onstage equipment
Multifunctional spaces
Wine bar
Classy interiors
Wheelchair-accessible
Discounts for support persons
Polite and helpful personnel
Some passageways are narrow
Few bathrooms
Customer Reviews
There really isn't a bad spot in the house
"I love this venue. Whether I am seeing Postmodern Jukebox or Toronto Symphony Orchestra or something else, I always have a great time. The acoustics are *chef's kiss* and there really isn't a bad spot in the house. Also, the staff on the floor, for the most part, are amazing and friendly and always willing to chat and just generally really great people." —Marla Minshall, Google Reviews.
The whole experience was beyond my expectations
"Perfect seats… Front row balcony. First time in this venue. Experienced the amazing composer Ludovico Einaudi. The whole experience was beyond my expectations." —Susan S., TripAdvisor
3. Meridian Hall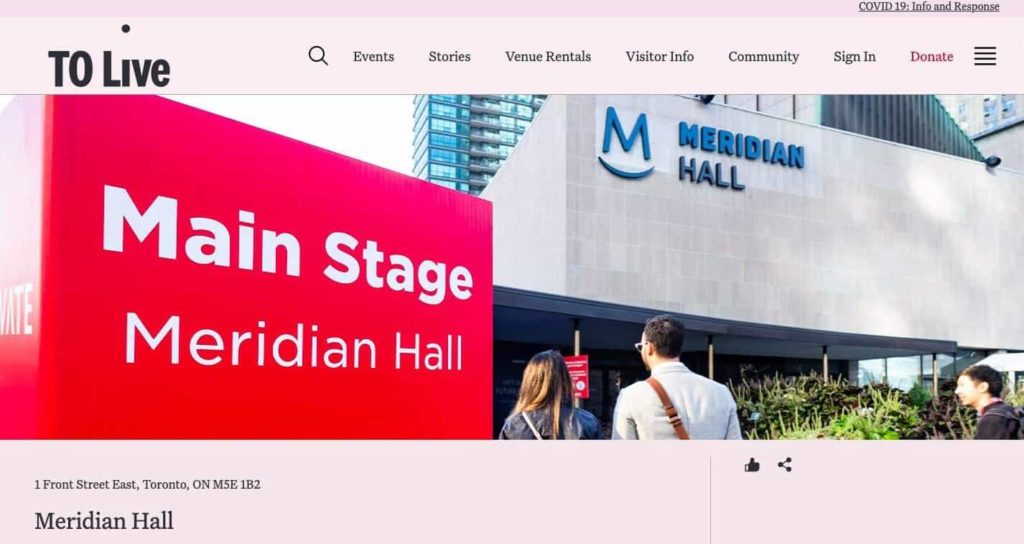 | Test | Info |
| --- | --- |
| CAPACITY | 3,172 |
| WEBSITE | https://tolive.com |
| ADDRESS | 1 Front Street East, Toronto, ON |
| CONTACT DETAILS | 416-368-6161 |
| | |
| --- | --- |
| LOCATION | ★★★★☆ (4/5) |
| QUALITY | ★★★★☆ (4/5) |
| ACOUSTICS AND TECHNICAL SPECS | ★★★★★ (5/5) |
| AMENITIES | ★★★★☆ (4/5) |
| FLOOR PLAN | ★★★★☆ (4/5) |
| AMBIANCE | ★★★★★ (5/5) |
| CUSTOMER SERVICE | ★★★★☆ (4/5) |
Meridian Hall is a prominent music and performing arts venue as it is the largest soft-seat theatre in Canada. It was even recognised as a heritage building by the City of Toronto in 2008.
Although there is no on-site parking at Meridian Hall, there are plenty of public parking spaces nearby (Brookfield Place, Scott Street, and The Esplanade). Public transport is also a simple way to get there (via Union station).
The venue does provide limited parking for visitors with particular needs, so kudos to them. Furthermore, the theatre has a reserved area for guests using wheelchairs, walkers, and other assistive devices.
The interiors of Meridian Hall wowed us with their clean and modern white marble décor. Inside the venue, a few selection of food and beverages are being sold.
Meridian Hall's fan-shaped auditorium has a spacious balcony, and after renovations and restoration work, cherry wood acoustic panels and a suspended acoustic ceiling have been installed.
This suspended ceiling appeals to us since it enhances acoustics by dampening sounds and helping with sound absorption.
The seats at the venue have cup holders, which is a nice touch. However, the chairs are quite small, and there is little space separating them; thus, adequate legroom is unavailable.
Nonetheless, Meridian Hall has kind and professional personnel to ensure you enjoy your stay.
Several public parking lots are nearby
Easily reachable by public transportation
Excellent acoustics and modern acoustical installations
Accessibility services
Clean and bright interiors
Kind and professional personnel
Chairs are relatively small
Not enough legroom
Customer Reviews
Terrific sound, amazing acoustics
"I watched Sigur Ros as my first show there and it was just a surreal experience. And a large part of it was just how good the visuals and sound was at the hall. Terrific sound, amazing acoustics, from a pin drop to thunder. Definitely looking to watch more at this venue." —Dhruv Kumar, Google Reviews
You can see the whole stage
"Went there on the 2nd March 2022. Great venue in walking distance from the hotel. Easy access to refreshments and amenities. Seats are great. You can see the whole stage. Will be back hopefully for more concerts." —Roving38946667555, TripAdvisor
4. Budweiser Stage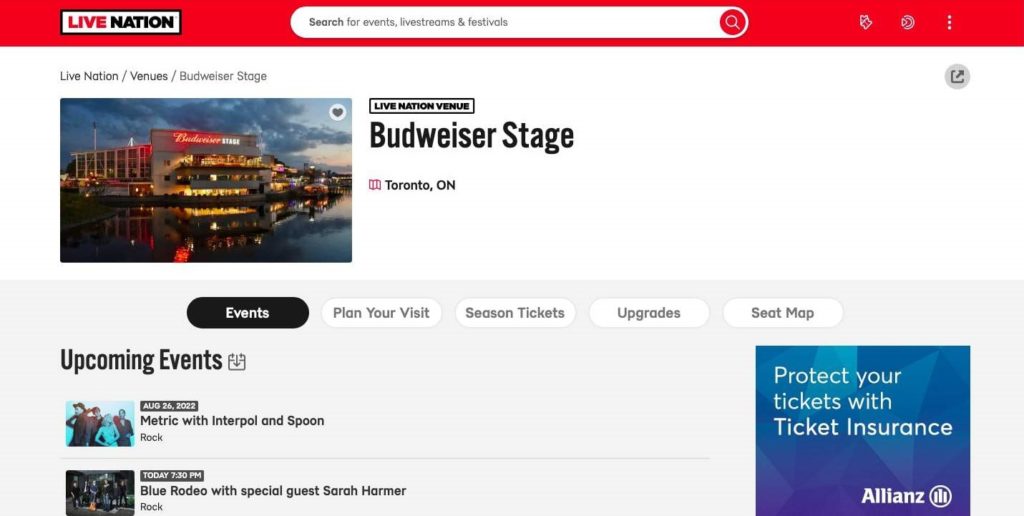 | | |
| --- | --- |
| LOCATION | ★★★★☆ (4/5) |
| QUALITY | ★★★★☆ (4/5) |
| ACOUSTICS AND TECHNICAL SPECS | ★★★★★ (5/5) |
| AMENITIES | ★★★☆☆ (3/5) |
| FLOOR PLAN | ★★★★★ (5/5) |
| AMBIANCE | ★★★☆☆ (3/5) |
| CUSTOMER SERVICE | ★★★★☆ (4/5) |
True Toronto music fans have had gone to or would have Budweiser Stage as part of their bucket list. The 16,000-seat outdoor music venue, formerly known as "Molson Amphitheatre" or "The Amp," promises a night to remember.
Budweiser Stage is located at Ontario Place's grounds and offers good Lake Ontario vistas and refreshing cool air, which is always nice.
Parking is available, though it is very limited and costly. Traffic usually gets awful in the area, too.
However, the venue is close to the Exhibition Go rail station and streetcar and bus routes pass near the site as well, so you can use these alternatives to your advantage.
Budweiser Stage has seats below a covered dome, outside beneath the open sky, and on the grass bowl. Even when you're seated at the lawn area, you won't be disappointed with the acoustics.
We like that the lawn sound system has been spruced up and Adamson Line Array System speakers that are perfect for outdoor settings were installed.
In spite of that, Budweiser Stage may not be the ideal venue for non-smokers. Smoking rules have not been enforced, and thus smoke clusters are common.
Additionally, having only a few washrooms is such a downside.
You'd be pleased by a lot of food and refreshment booths at Budweiser Stage though. There are also personnel who can deliver food at your spot.
Furthermore, there are excellent staff who are ready to assist you and offer wheelchairs as needed.
Easily reachable by transit, buses, and streetcars
Modern sound system perfect for an outdoor venue
Several food and refreshment booths
Accessibility services
Party-like atmosphere
Helpful staff
Limited and costly parking
Few washrooms
No enforced smoking rules
Customer Reviews
The sound systems were great
"We were there for the Backstreet Boys concert, it was also my first time going to this venue! The sound systems were great, it was an open stage. We were in the lawn section, very spacious compared to the seated section. Lots of food booth and alcohol options as well, it was very fun!" —BuriBuriBear, Google Reviews
Great accessibility services
Recently flew from Calgary for the EWF and Santana concert. I was somewhat anxious I had tweaked my knee, and was slowly, with a cane. As it was our first visit I was anxious about the amount of walking I would need to do. It was a delightful surprise when I was offered a wheelchair just after entering. We were taken to our seats, and picked up, at the end of the show. The venue itself was amazing." —67022, TripAdvisor
5. Scotiabank Arena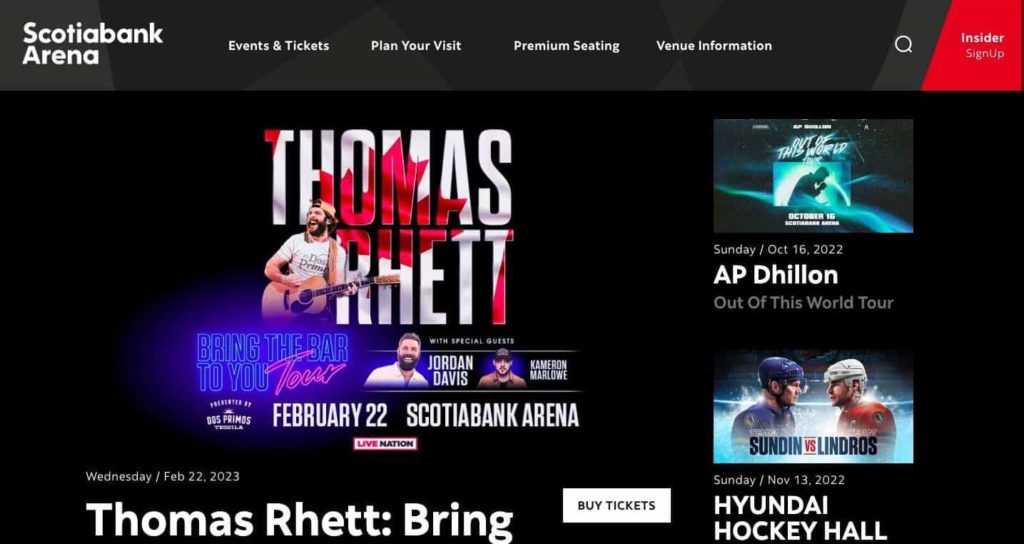 | | |
| --- | --- |
| LOCATION | ★★★★★ (5/5) |
| QUALITY | ★★★★☆ (4/5) |
| ACOUSTICS AND TECHNICAL SPECS | ★★★★★ (5/5) |
| AMENITIES | ★★★☆☆ (3/5) |
| FLOOR PLAN | ★★★★☆ (4/5) |
| AMBIANCE | ★★★★☆ (4/5) |
| CUSTOMER SERVICE | ★★★☆☆ (3/5) |
The National Hockey League's (NHL) Toronto Maple Leafs, National Basketball Association's (NBA) Toronto Raptors, and National Lacrosse League's (NLL) Toronto Rock all call this venue home.
That's right, it's Scotiabank Arena, and this review of the best music venues would not be complete without it.
Scotiabank Arena is the country's top choice for sports and entertainment events. More than 40 industry awards have been given to the multipurpose venue, praising its customer service, sales, accessibility, devotion to the environment, and security.
With two levels of parking and various public parking lots surrounding the area, leaving your vehicle won't be a problem.
Moreover, the arena is just a 2-minute walk away from Union station and GO Transit trains. It's a convenience that it is also connected to the PATH pedestrian system.
However, in our opinion, for such a large venue, the number of accessible parking spaces should be increased. The same thing goes for wheelchair-friendly seats.
Acoustics-wise, Scotiabank Arena boasts the cutting-edge, million-dollar BOSE speaker system, offering patrons spectacular sound quality.
It's just unfortunate that fans have had to go through long and tiring queues just to get inside the arena to experience these incredible acoustics.
There have been remarks that personnel manning the entrances appear to have a slow pace and that there are very few entrance points, which may be unsuitable for a venue with a nearly 20,000-seating capacity.
Maintaining cleanliness is a further issue. At times, floors are not thoroughly cleaned, making them sticky, and indoor air quality could be improved.
We think the arena should implement better sanitary measures to keep their facilities inviting.
On a brighter note, food and drinks are always available via the arena's three restaurants, various theme-based concession booths, and kiosks.
Multi-awarded entertainment venue
Two levels of parking
Several neighboring public parking lots
Near subway stations and connected to PATH
Cutting-edge BOSE sound system
Three restaurants
Various concession booths and kiosks
Few accessible parking spaces and seats
Remarks on staff's efficiency on manning entrances, thus long lines
Cleanliness issues
Customer Reviews
I have had great views from any seats I have sat in
"Been here many times for concerts, hockey and basketball games. I have had great views from any seats I have sat in. The food is good and staff are friendly. Also it's right beside the train bus and subway stations." —William Brewitt, Google Reviews
The staff is very accommodating and kind
"I saw Roger Waters here tonight, it was my 1st time at this venue. It's a comfortable place that has a great view anywhere in the house. Great atmosphere! The staff is very accommodating and kind as well. A very positive experience for sure. 5 stars for arena and 1000 stars for Roger! ⭐⭐⭐⭐⭐" —Rachael Shaddows, Google Reviews
FAQs About Music Venues in Toronto
---
Are you going to any of these music venues soon? Remember to save our list for future reference!
For the young adults and young at heart, if you're looking for your next adventure, read through our article on the top 50 fun things to do in Toronto!