4 Law Firms with the Best Estate Lawyers in Toronto
Preparing a valid will by yourself may save you money now but it can produce problems in the long run.
An estate lawyer can help you draft your will and how you divide your physical and personal property among your family members before your death. They can also ensure that your will covers potential "loopholes" that can invalidate your will.
Today, we've listed the firms with the best estate lawyers in Toronto that can help you plan and secure your family's future even when you're gone.
The Law Firms with the Best Estate Lawyers in Toronto
So, what did we consider in making the list of the firms with the best estate lawyers in Toronto? Here are the factors we considered:
provi
We would also like to note that all those listed in this article are licensed by the Law Society of Ontario (LSO). This society guarantees that the public is served by recognized, highly competent, and professional lawyers.
Now, we present to you the law firms with the best estate lawyers in Toronto.
How much does it cost to hire an estate lawyer in Toronto?
Typically, consulting and drafting a will with an estate lawyer ranges from $180 to $450 per hour. It can even go up to $1000 depending on the complexity of your situation.
For any changes to your will, a trip to the lawyer again will also incur fees. The total cost of an estate lawyer is thus highly variable and dependent on each individual case's circumstances.
1. Bales Beall LLP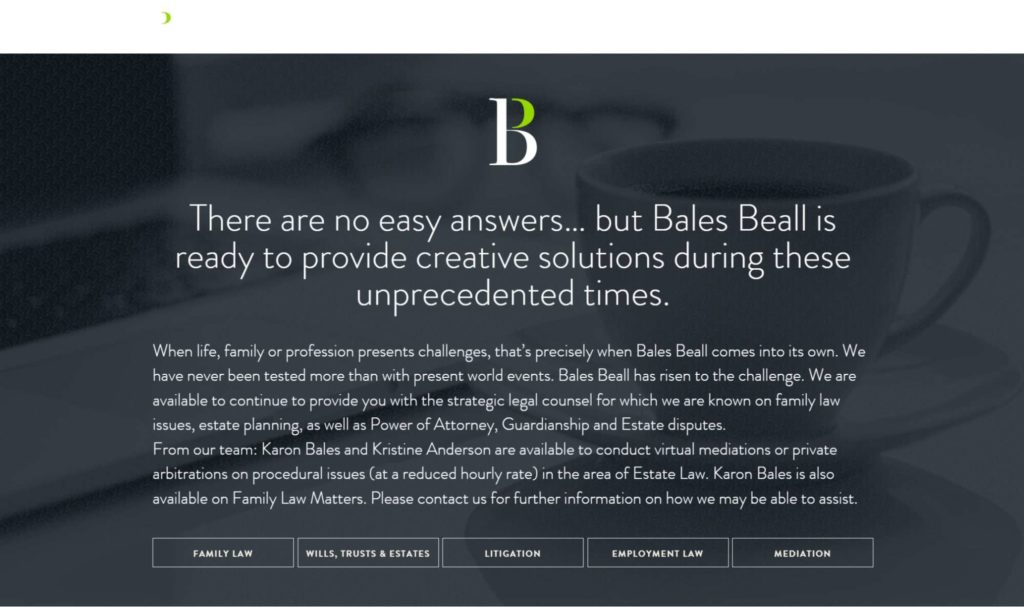 Test
Info
SERVICES

Family Law

Wills, Trusts, and Estates

Litigation

Employment Law

Mediation

WEBSITE
https://www.balesbeall.com
ADDRESS
1 Adelaide Street East, Suite 2501 Toronto, ON M5C 2V9
CONTACT DETAILS
416 203 8591
OPERATING HOURS
9 a.m. to 5 p.m., Monday to Friday
| | |
| --- | --- |
| Criteria | Rating |
| Years of experience | ★★★★☆ (4/5) |
| Lawyers' reputation | ★★★★★ (5/5) |
| Recommended by clients | ★★★★★ (5/5) |
| Awards and recognition | ★★★★★ (5/5) |
| On-site and online consultation process | ★★★★★ (5/5) |
Bales Beall was established in 2005 in Toronto. While the firm is relatively young, the expertise of their lawyers more than makes up for it.
The firm focuses on providing legal services to families as a way for them to preserve relationships and build and retain their assets. They excel in mediating complex family matters and securing the estates of those who avail of their services.
The firm has only been in the industry for almost 17 years but the accolades they've collected show their expertise. They are frequently lauded for their family law services, with the lawyers serving as advocates and legal advisors to their clients.
Their lawyers also received recognition from clients, associations, and peers. They were recognized by peers for High Professional Achievement this 2022 and one of Toronto's Top Lawyers for 2021.
The firm's lawyers also received praise from their clients. The lawyers, according to them, were timely, empathetic, and professional throughout the process.
Bales Beall made it easy for clients to proceed with their legal consultations during the pandemic. Apart from on-site availability, the firm also offered online consultations with a dedicated form that's secure and easy to fill up.
To add, the firm also reduced its hourly rate for its virtual mediations or private arbitrations on procedural issues during the pandemic. This is helpful particularly for those who need professional legal support but are short on funds.
These services help in decision-making, gathering, and distributing the client's assets. The firm's lawyers can also serve as litigators for any will contentions.
Overall, Bales Beall's relative youth in the industry doesn't seem to be an issue for them. From what we've seen, their lawyers provide estate legal planning that's on par with more established firms' work.
Professional and empathetic lawyers
Lawyers recognized and commended by various publications online
Reduced hourly rate 
Customer Reviews
Responsive, efficient, and most importantly, kind
"Jessica Feldman came highly recommended to me by a fellow colleague. I found her and her team to be highly responsive, efficient and most importantly kind. They helped me and my husband with our wills and answered all our questions quickly. The online portal to answer the questionnaire was incredibly easy to use and was a wonderful way to provide information. I highly recommended Jessica and her team and was so glad to have met them!" – Monika S.
Timely even during COVID
"My wife and I had our will and power of attorney completed by Kristine Anderson and she did a wonderful job of going through all the possible scenarios with our assets, guardianship of our child, my dependant father and things we did not even think of.
While we procrastinated on our end, when we finally provided Kristine with our information she was always timely. We were able to sign everything virtually due to COVID and it was quite easy. A great experience over all and I have already referred others to Kristine for their will and POA needs." – Evan P.
2. Weirfoulds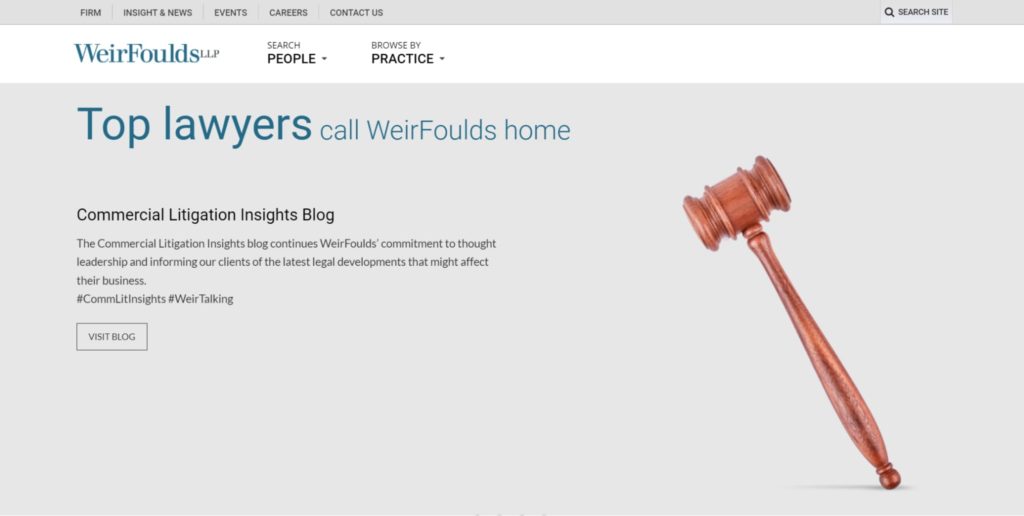 Test
Info
SERVICES

Litigation

Corporate

Property

Government Law

WEBSITE
https://www.weirfoulds.com
ADDRESS
66 Wellington St W Suite 4100, Toronto, ON M5K 1B7, Canada
CONTACT DETAILS
+1 416-365-1110
OPERATING HOURS
9 a.m. to 5 p.m., Monday to Friday
| | |
| --- | --- |
| Criteria | Rating |
| Years of experience | ★★★★★ (5/5) |
| Lawyers' reputation | ★★★★★ (5/5) |
| Recommended by clients | ★★★★★ (5/5) |
| Awards and recognition | ★★★★★ (5/5) |
| On-site and online consultation process | ★★★★☆ (4/5) |
Weirfoulds was established in 1968, making them one of the oldest law firms in Canada. Because of its seniority, the firm has been around for some of the best-known trials in Canadian history.
This is interesting but what advantage does it bring you as a client? For us, it means that Weirfoulds knows what they're doing and that they're trusted.
The firm actually didn't start out doing estate law. Only later did they start doing wills, trusts, and the like.
The firm's wills, trusts, and estates legal service covers all aspects of estate planning and resolving potential disputes. This is good, as their lawyers will be part of every step in the process, from drafting the will to advising and representing the clients in any contentions on the will and estate.
The firm is not only recognized for its historical contributions but also for their continuous innovation and quality of work. In 2020, Weirfoulds won the Ontario Law Firm of the Year Award at the 2020 Canadian Law Awards and was also one of the Top 10 Ontario Regional Firms for 2021.
Even the partners are recognized by associations. For instance, a partner was given an Award of Excellence by the Ontario Bar Association in 2021.
The firm's clients are also happy with the service they received. Apart from their expertise, the services were cost-effective too.
Currently, the firm focuses only on online consultations. This is both good and bad as clients and the staff are safe from COVID… but at the same time, they cannot immediately go to the office for their concerns.
Another thing that we took note of is how extensive their lawyers' profiles are on the website.
Each lawyer's associations, notable mandates, awards, and professional activities? All are listed and segregated by areas of practice for easier browsing.
This is probably one of the most digitally forward firms we found while doing our list and it shows.
Weirfoulds has both the expertise and a certain controversy in their history.
Clients then usually ask lawyers to be part of their Board. This signifies that the trust between both parties is high.
However, this can also lead to disputes and falling out especially when the lawyer acts as a Board member for the client.
This happened in the case of Weirfoulds and one of its clients. The event could have affected not only the client but also Weirfoulds as a whole.
It is a learning experience for the firm and other firms as well. Hence, if you're considering to integrate a lawyer to your Board or availing any legal services, make sure to communicate your needs, communicate well with your lawyer and draw limitations for both ends.
Has been in the industry for over 160 years
Lawyer profiles are public and comprehensive for easy background checks
Currently offers online consultations only
Customer Reviews
Talented
"Talented legal advisors." – Joe N.
Professional and genuine
"I am doing business with this firm and am involved at every level. The people are gracious and eager to learn, while demonstrating professionalism in their fields. Genuine people." – Kratos Management Consulting
3. Schwarz Law Partners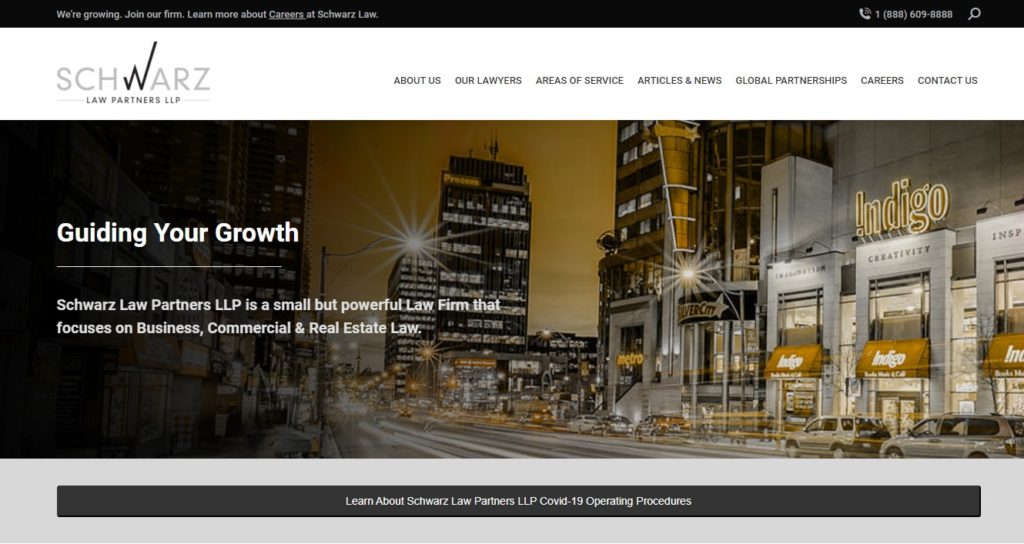 Test
Info
SERVICES

Residential Real Estate

Corporate and Commercial Business Law

Commercial Real Estate and Land Development

Wills, Powers of Attorney, Estate, Trust and Tax Matters

WEBSITE
https://schwarzlaw.ca
ADDRESS
1984 Yonge St, Toronto, ON M4S 1Z7, Canada
CONTACT DETAILS
+1 416-486-2040
OPERATING HOURS
9 a.m. to 5 p.m., Monday to Friday
| | |
| --- | --- |
| Criteria | Rating |
| Years of experience | ★★★★☆ (4/5) |
| Lawyers' reputation | ★★★★★ (5/5) |
| Recommended by clients | ★★★★★ (5/5) |
| Awards and recognition | ★★★☆☆ (3/5) |
| On-site and online consultation process | ★★★★☆ (4/5) |
Schwarz Law Partners is a boutique law firm offering services that focus on corporate and business security, estates and tax planning, and employment litigation.
While the firm is relatively small, it has partnered with various firms to extend its services to areas outside of Toronto.
Their Wills, Powers of Attorney, Estate, Trust, and Tax Matters practice guides the clients in will planning and drafting, preparing the Powers of Attorney, and estate administration.
While the firm has not yet earned recognitions and awards from associations, its affiliated and associate firms establish their credibility.
Clients also had a good experience overall with the firm. They loved the professionalism, timeliness, and flawless paperwork of the firm's lawyers and legal staff.
There is, however, the occasional missed deadlines from the firm's end. While these were in the minority, it's still worth mentioning, as it indicates that the firm may occasionally take on more workloads than it can really handle promptly.
Training their lawyers better on client management would be a good plus too.
The firm is also accessible by offering both on-site and online legal consultations.
On-site services require an appointment and follows a strict COVID protocol for the client's and staff's safety. And, if you can't go to their office for the signing, you can do it easily online.
Their online Contact Us page, however, can be improved. One improvement we suggest is by providing an option if they want to continue the consultation online or on-site.
Even so, despite it being a relatively small firm, Schwarz Law Partners seems to know how to cater to its clients. They also have partnerships with other firms that help them deal with different fields of law.
Partnerships with other firms bringing up their expertise in different fields of law
Responsive and professional lawyers that produce flawless paperwork
Some reports of their lawyers missing deadlines
Poor Contact Us page, especially for booking on-site consultations
Customer Reviews
Extremely pleasant experience
"I had an extremely pleasant experience with Schwarz Law Partners LLP. Evonne handled my case (and Agata was the clerk who assisted her); the team at Schwarz is professional, reliable and timely. I give Schwarz my strongest recommendations." – Wendy Y.
Very responsive and professional
"Schwarz Law Partners were recommended to us by Butler Mortgage. We had no previous experience working with lawyers and they made every effort to make the process seamless and safe. They had a great online signing process and were always very responsive and professional over the phone and via email. We want to give a shout out to Hamza Ahmad for really making everything feel good for us and for spending that extra effort to save us money!" – Nick R.
4. Wise Law Offices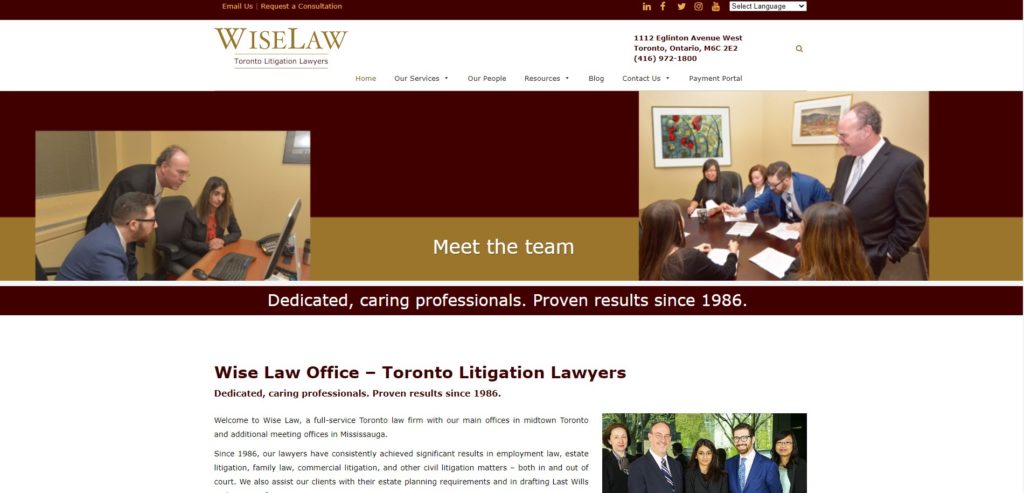 Test
Info
SERVICES

Employment Law

Wills and Estate Law

Family Law

Civil Litigation

Personal Injury

Business Law

Real Estate Law

WEBSITE
https://www.wiselaw.net
ADDRESS
1112 Eglinton Avenue West Toronto, Ontario, M6C 2E2
CONTACT DETAILS
416 972-1800
OPERATING HOURS
9 a.m. to 5 p.m., Monday to Friday
| | |
| --- | --- |
| Criteria | Rating |
| Years of experience | ★★★★★ (5/5) |
| Lawyers' reputation | ★★★★★ (5/5) |
| Recommended by clients | ★★★★★ (5/5) |
| Awards and recognition | ★★★☆☆ (3/5) |
| On-site and online consultation process | ★★★★☆ (4/5) |
Wise Law Office was established in 1986. Their years of being operational suggest that the firm knows their strengths and how to best serve their clients because they have survived and thrived for a time.
The firm's services also focused on assisting clients both in and out of court. This is good as the firm ensures that it resolves the case while still providing them assistance after.
The firm offers a straightforward legal service of Wills and Powers of Attorney for Care to their clients. This means that they help you with drafting your will and assigning an Attorney for Care to make medical decisions for you when you are in critical health.
While we like how straightforward it is, we would have wanted additional services such as tracking and guiding you for any changes to the will.
Unfortunately, the firm has not received any awards from associations or award-giving bodies since it was established.
Yet, what's notable is that the firm continues to improve their lawyer's client management skills. Before, some of the lawyers showed inexperience but over time, they became the firm's commended lawyers.
Clients liked the lawyers' responsiveness and dedication to providing legal support to their clients. They were commended especially for their timely response to client matters.
The law firm currently only offers online consultation. They have upgraded their technologies to ensure that clients can still talk with their lawyers.
Booking an online consultation with them is easy. They provided understandable online booking instructions while you book a legal consultation.
Another plus is that they offer a free initial consultation for interested clients. This is helpful, especially if you want to get a feel of how they operate before committing to any of their services.
Wise Law Office has established itself as a dependable law firm too. They continue to improve their lawyers and services to cater to the client's needs better.
Opening on-site consultations again should also be considered in the near future. This will be helpful especially for those who need immediate assistance with their concerns.
Straightforward way of securing a will and acquiring Powers of Attorney for Care
Free initial consultation for clients
No on-site consultations as of the moment
Customer Reviews
Helped me tremendously
"This review is way overdue. Wiselaw and it's staff helped me tremendously. They were always professional, respectful, knowledgeable, responsible, empathetic and responded quickly to any inquiry.
I truly felt they cared about me and my situation and that they did all they could to help me. I am extremely grateful for their help with my work related disability situation.
I'd like to send out a special Thank you to all the people I dealt with: Garry Wise, Joy Yusi, Nina Karaeva, and an extra special thanks to Simran Bakshi.
I would and have highly recommended them!" – Lina V.
Highly competent and compassionate lawyer
"I have found Garry Wise to be both a highly competent and compassionate lawyer. I highly recommend him." – Irv. H.
FAQs
---
That concludes our law firms with the best estate lawyers in Toronto. Having your estate planned out is good, and hiring a good estate lawyer is better to ensure that you do your will right.
If you're looking for real estate lawyers in Toronto, we also have an article to help you out.