The 5 Best Animal Cremation Services in Toronto 
When your beloved pet passes away, it can be incredibly tough. Yet, there's solace in knowing that their remains can be handled with respect, which can ease the pain and provide closure.
Toronto's best animal cremation services offer a dignified means to bid farewell to one's cherished pet while also providing the opportunity to preserve their memory with an array of keepsakes.
Whether you're a dedicated dog owner, an avid feline admirer, or the proud guardian of a feathered friend, these services can ensure your pet's final journey receives the utmost care. Give your beloved companions the farewell they genuinely deserve!
How We Chose the Best Animal Cremation Services in Toronto  
How much does animal cremation cost in Toronto?
In Toronto, most animal cremation services range from $150 to $500 CAD. The final cost will vary depending on the weight of your pet, the type of urn that will be used, and whether a memorial service is included or not.
1. Eco Elegance Pet Aftercare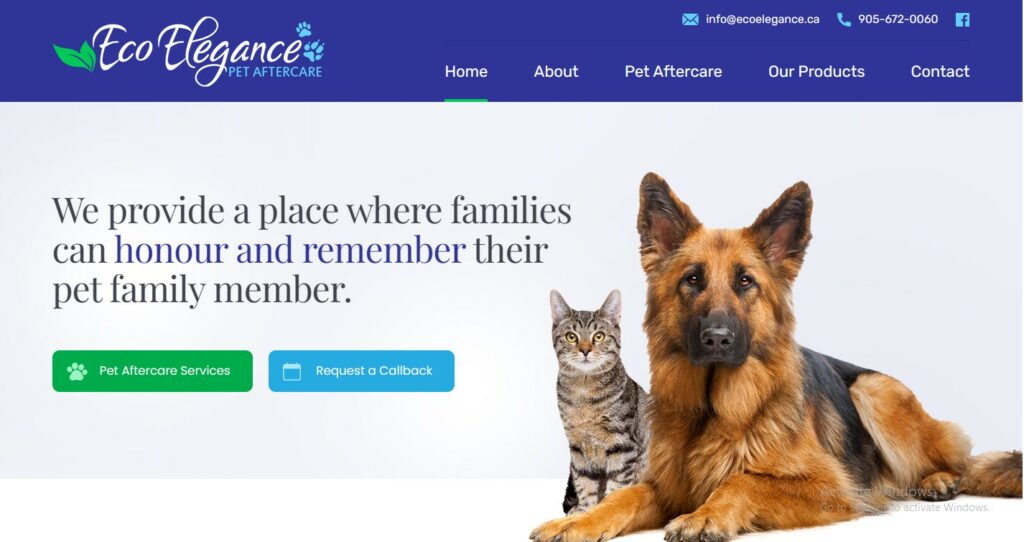 Test
Info
WEBSITE
https://ecopetaftercare.ca/
ADDRESS
7050 Bramalea Rd Unit 6, Mississauga, ON L5S 1T1, Canada
SOCIAL MEDIA
FACEBOOK
CONTACT DETAILS
(905) 672-0060
OPERATING HOURS
Monday - Friday: 9:00 am - 5:00 pm

Saturday - Sunday: 10:00 am - 5:00 pm
Eco Elegance Pet Aftercare is a cremation facility owned by Carlina, a licensed funeral director, and a passionate pet lover. Their mission is to offer families a caring experience when they must say their final goodbyes to their beloved pets.
The company specialises in Aquamation, an environmentally friendly alternative to traditional flame cremation. This responsible process eliminates the release of harmful greenhouse gas emissions, carbon monoxide, viruses, and chemicals into the environment.
Aqua cremation utilises a water-based alkaline solution instead of fire, closely emulating the natural decomposition process that occurs in soil, only at an accelerated rate.
In addition, they provide a serene and comforting viewing and visitation room, allowing pet owners to spend their pet's final moments in a peaceful environment.
They offer various memorial items, including urn engraving, clay paw prints, keepsake pendants, and fur clippings. The range of urn styles caters to the preferences and budgets of pet owners.
Environment-friendly cremation
Friendly and supportive staff
Variety of packages for different price points
Transparent pricing on the website
Individual services are pricier than competitors
Shorter office hours 
Very helpful understanding and patient
"We haven't forgotten. It was exactly one year ago today that we called Eco Elegance about the passing of Pappy. They were very helpful understanding and patient and were able to bring us in the same day. Erica provided us with excellent service showed us a lot of empathy and understanding. The whole process brought us closure and we felt it was the perfect way to say good bye to our loving girl. Thank you Eco Elegance. "
Joe Dancel, Google Review
Deserves all the 5 stars reviews that they have received
"Eco Elegance deserves all the 5 five star reviews that they have received. It's always a difficult decision to say goodbye to a pet with the respect and dignity that they deserve, but Eco Elegance made it very easy. Carlina provided our entire family with an exceptional service when our dear paw pal Ginger passed away. We were given same day service, which was great. The environment was very comforting and spacious. We had enough time to say our goodbyes and there were a variety of keepsakes that were available for purchase. We are very greatful and glad that we found such a wonderful establishment. Thank you to Carlina and Erica for all that you do!"
Andrea K, Google Review
2. Faithful Pet Memorial
Test
Info
WEBSITE
https://mmvhs.ca/aftercare/
ADDRESS
181 Weston Rd, Toronto, ON M6N 3P1
SOCIAL MEDIA
INSTAGRAM
CONTACT DETAILS
(416) 767-3572
OPERATING HOURS
Monday - Friday: 8:00 am - 4:00 pm

Saturday: 10:00 am - 2:00 pm
Faithful Pet Memorial provides a range of compassionate and environmentally friendly options for pet owners to handle their cherished animals' remains. The company takes pride in being an Aquamation pioneer in Toronto, a more eco-conscious alternative to traditional flame-based cremation or burial.
For private Aquamation, each pet is placed individually in the Aquamation vessel. This includes a choice of one of their standard urns, a memorial candle, a memorial stone, and a personalised certificate of Aquamation.
For communal Aquamation, the cremated remains are not returned to their individual owners. Instead, they are placed in a vessel with others and processed collectively.
A small portion of these cremated remains are placed in a special memorial urn within the facility, accessible by appointment. The remaining cremated remains are respectfully scattered in Lake Ontario at the scenic Prince of Wales Park in Etobicoke.
Eco-friendly cremation services
Option for private or communal cremation 
Packages are more cost-effective than competitors
Holding services during the winter season
Additional charges for memorabilia 
They presented the urn in a beautiful way
"My family and I were so happy with the professionalism and compassion from their team, they made sure we were kept up to date when our dog, Axl passed away. When we picked his ashes up, they presented the urn in a beautiful way and the stone/card was a special touch that warmed our hearts. We were rest assured that our boy passed away peacefully and with dignity from a company who cares. THANK YOU! <3 r.i.p to our sweet boy, Axl Rose"
Lucy Barrett, Google Review
Very warm and attentive
"Lovely, kind, caring experience <3 we lost our kitty unexpectedly and they were amazing with helping us through the grieving process, very warm and attentive through such a difficult time. They even washed and wrapped up my cat's favourite blanket, and gave a mold of her paw print, such a special sentiment and we'll have that piece of her to keep forever along with her ashes in a beautiful box ❤️ Thank you so much for everything, it means so much."
Chance Hall, Google Review
3. Pet Cremations by Turner & Porter
Founded in 1973 by the Porter family, the company boasts a legacy of 140 years in the funeral industry, preceding their venture into animal cremation.
All cremations happen in individualised compartments within a facility exclusively for pet cremations. Then, the remains are carefully retrieved and returned to the pet owners. An option for families to witness the cremation process is also available.
To maintain accuracy throughout, a system has been put in place ensuring the identification of each pet with a barcode.
In addition to its cremation services, this locally owned, family-operated business provides urn selection, pet transportation, and online memorial services. They also have memorial items such as urn engravings, clay paw prints, keepsake pendants, and fur clippings.
Barcode system for accuracy
Option to witness the cremation
With 140 years of industry experience
Pricier than competitors
No eco-friendly options
Thoughtful and respectful, totally devoted to all the details
"I found the staff at Pet Cremations by Turner & Porter to be very thoughtful and respectful, totally devoted to all the details to help you say goodbye to your beloved family member. Suzy made me feel welcome and relaxed and I was able to spend some private time with my lovely Lucy as she crossed over the rainbow bridge. Their services are top notch and competitively priced, I totally recommend them."
Mike W, Google Review
Absolutely loved the services that they provide for your family and your furry friend.
"The loss of my furry best friend is certainly one of the most painful experiences I have gone through. When my lovely Tynie passed at home, my family and I decided to seek out services outside of the vet. To find Pet Cremations by Turner & Porter was such a blessing! I absolutely loved the services that they provide for your family and your furry friend. From having your own viewing with your pet and family, to working with someone as amazing as Suzy who took care of us and my Tynie was an incredible experience. I never thought I'd say goodbye to my dog in such a beautiful and peaceful way, and I'm so thankful that Turner & Porter can provide pet lovers like me this type of service. If you're looking for people who truly care about your pets as much as you do, Turner & Porter will take care of you. Thank you so much, I can't recommend this place enough!"
Stephanie Alba, Google Review
4. Gateway Pet Memorial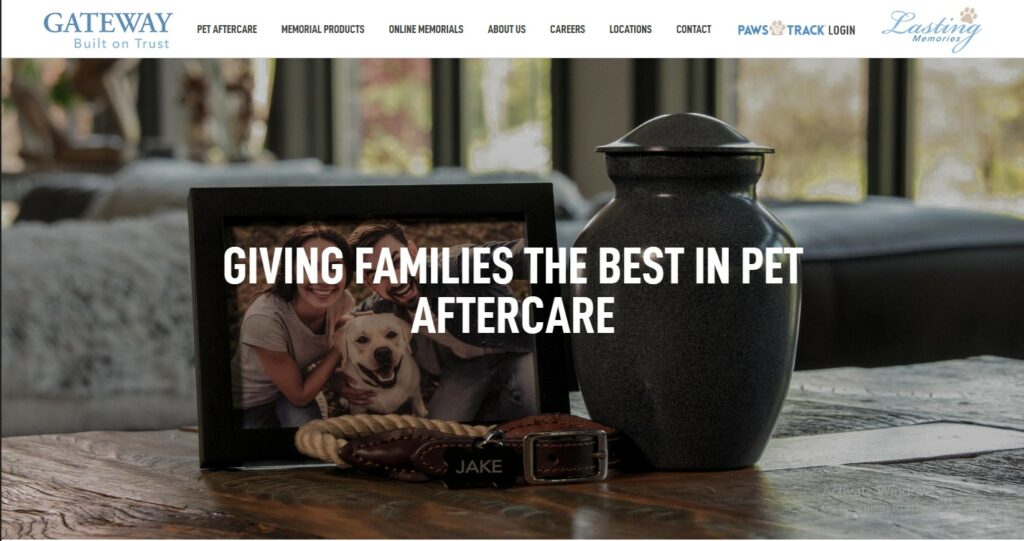 | Test | Info |
| --- | --- |
| WEBSITE | https://www.gatewaypetmemorial.com |
| ADDRESS | 86 Melford Dr. Unit 1, Toronto, ON M1B 2X7 |
| SOCIAL MEDIA | FACEBOOK |
| CONTACT DETAILS | 1-800-227-6915 or (519) 822-8858 |
| OPERATING HOURS | Monday - Saturday: 8:00 am - 3:00 pm |
In 1995, Scott Hunter experienced the profound loss of a pet. Faced with the lack of accredited services, he founded Gateway Pet Memorial, Canada's first accredited pet aftercare provider.
Gateway is a member of the International Association of Pet Cemeteries and Crematoriums (IAOPCC) and has undergone a rigorous two-year accreditation program to ensure the highest standards and integrity in pet aftercare.
It uses Paws e-Track, which uses a patented tracking system to track and monitor a pet's aftercare services. Each pet is assigned a unique ID tag, which stays with them throughout the process. They also have certified crematory operators and registered pet funeral directors.
In addition to their communal cremation services, they offer private cremation options, where your beloved pet is the sole occupant of the cremation chamber during the process.
Your pet's cremated remains will be returned in your chosen urn, with a certificate of cremation.
More urns to choose from compared to competitors
Has pet cemeteries for cremated remains
Experienced and compassionate staff
Patented tracking system
Always helpful and prompt with any questions we had
"We had to say goodbye to our girl, Halie, at the beginning of September and our vet's office made the arrangements for us with Gateway. We also arranged with Gateway about 9 years ago for our second girl, Sky. We are incredibly happy with the service provided for both of our girls. Customer service was always helpful and prompt with any questions we had. Along with the urn, we also ordered the paw print and pendant. Everything arrived beautifully and carefully packaged and each item was perfect. We thank everyone at Gateway for treating our girls with care and respect. We definitely recommend Gateway for your pet's aftercare. Losing your loved one is so difficult but they make you feel at peace knowing your pet is in good hands.."
Michelle Ramdass, Google Review
I couldn't imagine these pieces being any better
"I got a custom urn & paw print from Gateway & I cannot express how grateful I am for the services they provided for me. They handled the situation with such care & I couldn't imagine these pieces being any better. I will cherish these items forever. Thank you so so much."
Taylor Farley-Smith, Google Review
5. Petatree
| Test | Info |
| --- | --- |
| WEBSITE | https://www.petatree.com/ |
| ADDRESS | 404 Palmerston Blvd Suite 3, Toronto, ON M6G 2N8, Canada |
| SOCIAL MEDIA | INSTAGRAM |
| CONTACT DETAILS | (416) 732-2186 |
| OPERATING HOURS | Open 24 hours |
Petatree sets itself apart in the animal cremation industry by transforming your beloved pet's ashes into tree saplings.
Founded in 2019 by John Hall, an animal lover, and entrepreneur, Petatree was born out of a desire to provide a more personal and affordable alternative to traditional pet cremation processes.
Their Petatree Memorial Kit contains a fully compostable Green-Tech Petatree Urn, a pH buffer, conditioned soil, and a tree sapling of your choice.
In response to client requests, Petatree now offers a memorial service for pet owners who prefer to be present during the memorial process.
During this agnostic service, an experienced Petatree associate takes care of the details. This includes digging the hole for permanent burial and planting, preparing the planter, and mixing the conditioned soil, pH buffer, and ashes appropriately.
They also offer post-clean-up services and provide explanations as requested, all to ensure the healthy growth of the tree.
Uses eco-friendly burial methods
Cheaper compared to competitors
Open 24 hours
Limited services to choose from
He made the experience for us a lot more easy to go through
"I want to say that our experience with this company was very soothing. They did not try to take advantage of us at a difficult time. We lost our dear Pebbles and had taken her to John. He made the experience for us a lot more easy to go through. Thank for the exceptional service and taking care of our dearly beloved Pebbles."
Alana Mckechnie, Google Review
No other service was as helpful or personable as this one
"Great, friendly, and caring service! John was amazing during a hard time and took care of everything very quickly. No other service was as helpful or personable as this one."
James McCarthyl, Google Review
---