The 5 Best Truck Repair Services in Toronto
In Toronto's bustling streets, trucks drive the pulse of commerce. But even these workhorses hit a pothole or two. Enter adept repair heroes: masters of engines and suspensions.
They take care of common truck issues, including frequent brake replacements due to stop-and-go traffic, alignment problems from uneven roads, electrical sensor failures, and exhaust system leaks.
Whether you're a seasoned trucker or a business banking on punctual deliveries, these services are the pit crew you need.
So buckle up for a dive into Toronto's truck repair wizards, who excel at getting things back on track, quite literally.
How We Chose the Best Truck Repair Services in Toronto
How much does a truck repair cost in Toronto?
In Toronto, you can expect to pay anywhere from $100 to $10,000 or more for a truck repair. The cost can vary depending on the make and model of the truck, the severity of the damage, and the parts and labour costs.
1. Truck Equipment & Service Co Ltd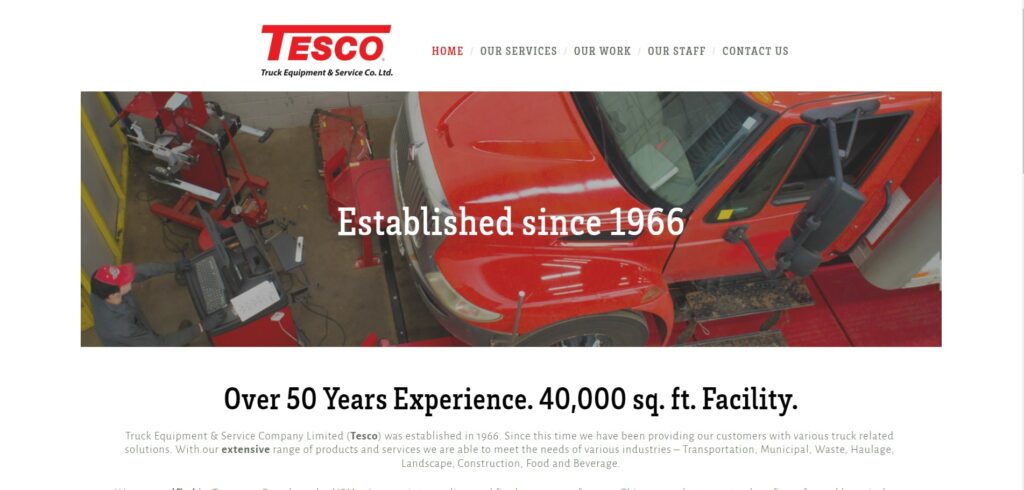 | Test | Info |
| --- | --- |
| WEBSITE | https://www.tesco.ca/ |
| ADDRESS | 2215 Midland Ave, Scarborough, ON M1P 3E7 |
| CONTACT DETAILS | (416) 291-6265 |
| OPERATING HOURS | Monday - Friday: 7:00 am - 5:00 pm |
Established in 1966, Truck Equipment & Service Company Limited (Tesco) has been providing truck repair and maintenance solutions on engines; transmissions; clutches; electrical, driveline, brake systems; A/C; fuel systems; exhaust; and more.
TESCO has a team of experts who specialise in various skills. They have licensed technicians, welders, hydraulic specialists, and body and paint professionals.
The company itself holds certification under NSM#169 from Transport Canada as an intermediate and final-stage manufacturer—meaning every time they work on a truck, it meets the high standards set by the government.
TESCO is an authorised MTO Inspection Station, offering annual, semi-annual, and 36-day inspections for safety and performance. They also have fully-equipped service trucks for mobile diesel emission testing, which allows them to test heavy-duty vehicles on-site.
Moreover, TESCO offers vehicle transfer services, taking care of the pickup and delivery of vehicles for service and repair.
24/7 key drop box is available
Fully equipped service trucks for mobile emission testing
Pick-up and delivery services for vehicle repairs
They are always friendly
"We have used Truck Equipment & Service Co Ltd, to provide various services for our fleet vehicles. They are always friendly and provide a service a quickly as possible. We are very happy to have a working relationship with everyone at Truck Equipment and will continue to engage their services."
Chris Swift, Google Review
Extremely knowledgeable staff
"We have been using tesco for sometime now and have never been disappointed. Their extremely knowledgeable staff have never pointed me in the wrong direction getting my fleet back on the road fast, efficient, and very cost effectively. I've personally have always found they go above and beyond any way they can to ensure I get my trucks back quickly and that they are fixed properly with out a doubt! I will definitely continue to use their services for many years to come!!!!!!!!!!!"
Peter Kahrimanis, Google Review
2. Campus Auto Collision & Heavy Equipment Refinishing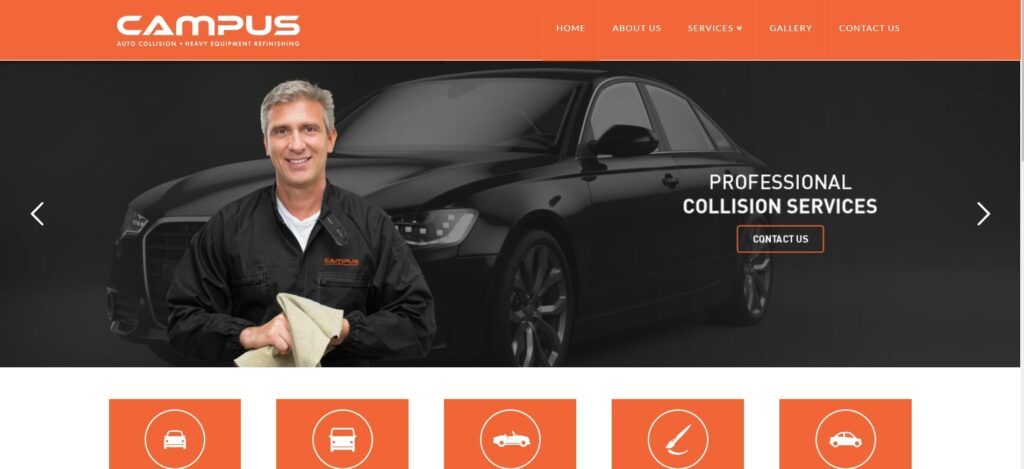 | Test | Info |
| --- | --- |
| WEBSITE | http://campuscollision.ca/ |
| ADDRESS | 45 Lepage Ct, Toronto, ON M3J 2A2 |
| CONTACT DETAILS | (416) 638-1022 |
| OPERATING HOURS | Monday - Friday: 8:00 am - 5:00 pm |
Campus Auto Collision has been in the repair services industry for over three decades, offering a range of truck repair services in Toronto since 1983.
Their expansive 60,000-square-foot facility is designed to accommodate a diverse range of vehicles, including large trucks, trailers, fleet transportation trucks, heavy construction equipment, buses, and coaches.
Equipped with repainting and refinishing technologies, Campus consistently delivers professional-grade finishes for projects of varying scales.
Campus offers body repairs, painting, frame straightening, colour matching, and auto glass repair and replacement with a lifetime warranty on all collision repairs. They ensure thorough interior and exterior detailing accompanies every repair.
For added convenience, Campus provides car rentals and shuttle services, particularly useful during emergency repairs.
The company's operations align with stringent standards set by municipal, provincial, and federal regulations, underscoring their commitment to environmental and safety compliance.
60,000-foot square facility for larger trucks
40 years of industry experience 
Car rental and shuttle service provision for emergencies
Lifetime warranty on all collision repairs
Clean facility, helpful and professional front-end staff
"After getting rear-ended Campus took care of my Ford Escape. They did outstanding work including digging around to find a hard-to-replace part and got the job done.
Clean facility, helpful and professional front-end staff, always greeted with a smile!
If you are looking for someone to help you through a stressful time in an accident, Campus is the place to go. Highly recommended. "
Angelo H, Google Review
Top-notch quality work
"Positive: Professionalism, Quality, Value
Very honest & friendly employees. Top-notch quality work. Great quality bodywork refinishes for heavy equipment & Cars. 10/10 would recommend to friends & family."
Daniel Tomasi, Google Review
3. Cargo Fleet Services | Truck Repair
Cargo Fleet Services is a truck repair service provider in Toronto and the Greater Toronto Area (GTA). They have a fully licensed and Ministry of Transportation (MTO)-approved team that makes sure these services meet safety regulations and industry standards, catering to trucks, trailers, and heavy-duty vehicles.
Their services include emission tests, preventative maintenance, engine diagnostics and repairs, safety inspections, roadside assistance, axle and kingpin repairs, air conditioning services, and more.
They also have specialised services, handling tailgate repairs to make loading and unloading more efficient. In case of collisions, their team quickly takes care of bodywork repairs, covering hoods, fenders, cabs, and frames.
They are also experts in hydraulic system repairs, including pumps, cylinders, lines, and valves, ensuring quick solutions to minimise any disruptions.
For emergencies, they have 24/7 on-call mobile services, with experienced mechanics and well-equipped trucks ready to respond promptly to any situation.
24/7 on-call mobile services
Handles specialised tailgate repairs
Roadside assistance for emergencies
Quick turnaround time
Limited warranty on parts and services
My truck were completed with care and in no time
"All-around great service!! The repairs to my truck were completed with care and in no time. Highly recommend Cargo Fleet, I will definitely be using their services again!"
Kennith Rowe, Google Review
They always charge us as was quoted
"They always charge us as was quoted & treat everyone right, no matter if they deal with me (the sup), the owner, or one of our drivers. Well deserved 5-star review!"
Jaclyn Goldner, Google Review
4. Master Mechanic High Park
Since 1982, Master Mechanic has been servicing trucks, cars, and other automotive vehicles across southern Ontario.
Scheduling appointments is easy through their online platform, which is available across their 37 locations run by local owner technicians. Additionally, their hotline is available 24/7 for various emergencies.
Their complimentary multi-point vehicle inspection report comes with the basic lube, oil, and filter service—going beyond repair recommendations and estimates.
It provides a comprehensive status report on the vehicle's mechanical condition, recommendations, and service cost estimates for the braking system, heating and air conditioning, steering and suspension, exhaust, tires, fluid levels, and more.
Cargo Fleet Services also has a fleet program that includes a bunch of services with a warranty. They do basic things like changing oil and filters, managing tires, and storing tires for different times of the year, making sure each vehicle meets safety standards set by the Ministry of Transportation.
Complimentary multi-point vehicle inspection report
Warrantied services under their fleet program
24/7 emergency response 
37 locations owned by local technicians
Relatively shorter warranties on truck repairs 
Very honest and friendly staff
"had my check engine light turn on the same day I received news of an urgent emergency that required a 2 hr drive from the city. They were able to take my car in immediately and take a look at it. Very honest and friendly staff at Master Mechanic. Highly recommend"
Melissa Valdez, Google Review
Incredibly friendly and service was top-notch
"The engine covers on the bottom of my car came lose and were dragging on the ground. They were able to fit me in the same day and didn't even charge me for the fix! Everyone I dealt with was incredibly friendly and service was top-notch – I will definitely be going back!"
Kyle Dovigi, Google Review
5. Road Star Truck & Trailer Repair Inc.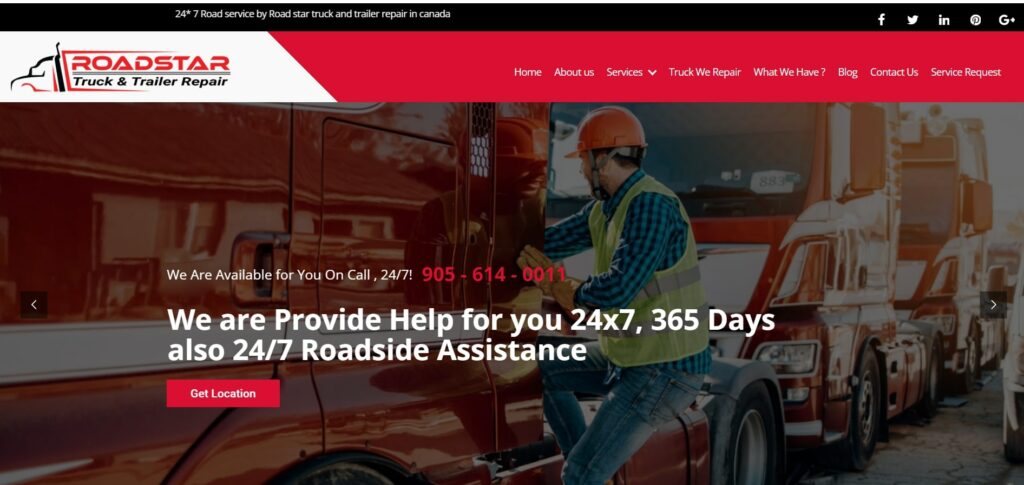 | Test | Info |
| --- | --- |
| WEBSITE | https://roadstartruckrepair.com/ |
| ADDRESS | 5138 Everest Dr, Mississauga, ON L4W 2R4 |
| CONTACT DETAILS | (905) 614-0011 |
| OPERATING HOURS | Monday - Sunday: 8:00 am - 8:00 pm |
Road Star Truck & Trailer Repair Inc. provides full-service solutions for commercial fleet vehicles, including trailers and class eight trucks, in Toronto. Their facility is equipped with security cameras, free Wi-Fi, and a comfortable waiting area with tea and coffee.
They offer a wide array of services, including electric sensor replacements, ECM diagnostics, and clinical readers. Their truck parts department is fully stocked with parts offered at competitive prices, including everything from light bulbs to new engines.
They deploy a fleet of 10 fully-equipped vans for mobile repair assistance, backed by certified mechanics who provide efficient service within 30 to 45 minutes. With a yard accommodating over 15 truck parking spaces, they are well-equipped to handle multiple clients at once.
With a network of over 30,000 tow truck providers, they also offer 24/7 emergency assistance. Their upfront pricing model guarantees that customers don't pay more than what they've been quoted for.
Connected to 30,000 tow truck providers
24/7 road assistance for emergencies 
Free Wi-Fi in the facility
10 fully-equipped vans for mobile repair assistance
They did work on time and professionally
"They are professional mechanics and the staff is very cooperative while I deal with Manveer Singh, his nature is very humble and kind although always ready to help. we regularly send our track and trailers to them. They did work on time and professionally."
Navneet Kaur, Google Review
Certified and well trained mechanics
"All-in-one Road Star Truck Repair Shop. Certified and Well Trained Mechanics. If you need oil change to engine repair, PM inspections, Safety inspections, Trailer work and Specialist in Road Service Calls."
Sshera Gurru, Google Review
---