Top 6 Office Cleaning Services in Toronto
A clean office space ensures productivity and safety. Nowadays, health and safety are the main priorities and public spaces like offices should ensure that their establishments are cleaned and sanitized.
That is why the demand for office cleaning companies is high. Luckily for you, we compiled the top office cleaning services in Toronto that will keep your production spaces clean and virus-free.
Top Office Cleaning Services in Toronto
There are a lot of office cleaning services in Toronto. To ensure that we listed the best, we considered the following criteria:
How much do office cleaning services in Toronto cost?
Typically, office cleaning services charge per hour or by square meter. Office cleaning rates average at $40 per hour or $0.03 per square foot.
Here are the prices for the office cleaning in Toronto that we've picked.
| Office Cleaning Company | Rates |
| --- | --- |
| Golden Lion Cleaning Services | By agreement |
| Mastermaid | Starting from total area is under 700 sq. feet $120 |
| MCA Group | Starting from 0-3500 sq.m., 2 days/week $0.08 – $0.20 per square foot monthly fee |
| Arelli Commercial Cleaning | By agreement |
| The New Canadian Cleaning Company | By agreement |
1. Ultraclean17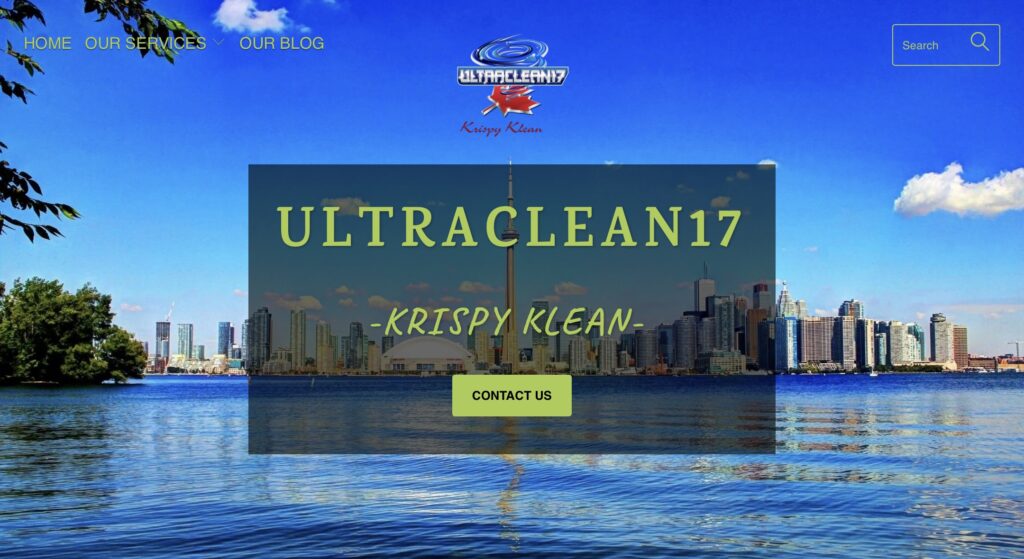 Test
Info
Best for
Residential & Commercial Cleaning
Services
FULL RANGE CLEANING

RESIDENTIAL CLEANING

OFFICE CLEANING

CARPET CLEANING

COMMERCIAL CLEANING

• Retail stores 

• Gym

• Banks

UPHOLSTERY CLEANING

CONSTRUCTION CLEANUP

MOVE IN / MOVE OUT

OTHER SERVICES

Website
https://ultraclean17.com/
Address
Toronto, ON, Canada
Contact details
+1(647)7037040
Operating hours
By appointment basis
| | |
| --- | --- |
| Criteria | Rating |
| Skilled cleaners | ★★★★★ (5/5) |
| Scope of Services | ★★★★★ (5/5) |
| Standard cleaning services | ★★★★★ (5/5) |
| Add-on services | ★★★★★ (5/5) |
| Booking process | ★★★★★ (5/5) |
| Cleaning supplies used | ★★★★★ (5/5) |
| Customer service | ★★★★★ (5/5) |
Ultraclean17's office cleaning service is a game-changer.
Ultraclean17's team arrives at our office with the utmost professionalism.
They are punctual, well-equipped, and ready to transform our workspace into a pristine environment that boosts productivity.
Office cleanliness matters, and Ultraclean17 takes it to heart.
Their thorough cleaning regimen covers every nook and cranny, from cubicles to conference rooms. No dust bunny or stray paper goes unnoticed.
They know every office is unique.
Ultraclean17 collaborates with us to create customized cleaning plans tailored to our specific needs and schedules, ensuring our satisfaction.
Our office contains sensitive information, and Ultraclean17 respects that.
Their team handles our confidential documents and equipment with care, providing us with peace of mind.
Unfortunately, they don't offer promos yet. We suggest checking their website for other affordable deals.
Professional staff
Exceptional quality
Timely service
Competitive pricing
Fully booked due to popularity
Customer Reviews
"Ultraclean17 exceeded our expectations! Their team not only cleaned our home thoroughly but also went the extra mile to make it feel like a brand-new space. We were particularly impressed with their attention to detail and the professionalism of their staff. Highly recommend!"
"We've been using Ultraclean17 for our office cleaning needs, and they've consistently delivered exceptional results. Their punctuality and reliability have made them our go-to choice. Plus, their pricing is reasonable, which is a huge win for our budget-conscious company. We're extremely satisfied with their service."
2. Golden Lion Cleaning Services
Test
Info
SERVICES

Commercial cleaning

Offices

Medical/Dental clinics

Banks/Financial Institutions

Educational Institutions

Gym/Fitness Studios

Theatre Cleaning

Car Dealerships

Restaurants

Warehouses

Janitorial

Carpet Cleaning

Window Cleaning

Around premises area

WEBSITE
https://www.goldenlioncleaningservices.ca/
ADDRESS
3250 Bloor Street West Suite 600 Toronto Ontario, Canada, M8X 2X9
CONTACT DETAILS
+1 416-568-5055
OPERATING HOURS
10 a.m. to 6 p.m., Monday to Friday
| | |
| --- | --- |
| Criteria | Rating |
| Skilled cleaners | ★★★★★ (5/5) |
| Scope of Services | ★★★★☆ (4/5) |
| Standard cleaning services | ★★★★★ (5/5) |
| Add-on services | ★★★☆☆ (3/5) |
| Booking process | ★★★★★ (5/5) |
| Cleaning supplies used | ★★★★★ (5/5) |
| Customer service | ★★★★★ (5/5) |
Golden Lion Cleaning Services has been providing quality commercial cleaning services in Toronto for more than seven years. They serve offices, clinics, banks, schools, and more.
Their cleaners are licensed and trained through Building Service Contractor Association International (BSCAI) and Building Owner and Manager Association (BOMA). These ensure that the quality of the cleaning service they provide remains top-notch.
The company offers vacuum and general cleaning for the space's floor furniture, tiles, and windows. They also clean the office areas like the main office, meeting rooms, and restrooms.
They also provide quality control practices for a top-notch cleaning service. They used the appropriate cleaning method and equipment that fit the area.
And, if you have any specific or additional cleaning needs, they are flexible enough to provide them. You just have to notify them a week before and pay the additional fee.
However, we do wish that they had a COVID prevention cleaning package. This would have been a good offer given the current situation.
The company's booking process is relatively easy. You first call them or fill in the Contact Us form. Apart from the type of establishment and floor area, you can also indicate the frequency of cleaning you wish to avail of.
The cleaning supervisor will then come to the establishment to assess the area for free. A free estimation and cleaning plan will be drafted and given depending on the details you provide.
Another good thing is that they provide an accurate price estimation. This means there are no hidden or additional fees.
The company is also fully bonded and insured with the work's completion. Certificates of insurance are provided upon request to ensure that their assets are protected and undamaged during the cleaning.
The company uses eco-friendly and environmentally-safe products that are safe for humans and pets. They also formulated their own cleaning products and now sell them in their online shop.
Clients loved the service Golden Lion provides. One customer said that the cleaners were attentive and careful in cleaning the facility.
A lot of them also loved the affordability and flexibility the company offered.
Flexible cleaning services depending on your cleaning needs
Fully bonded and insured cleaning services
Easy booking process
Doesn't have COVID-specific cleaning package
Customer Reviews
Office looks fantastic
"Service was great and the office looks fantastic" – Harris S.
Very professional and well-equipped company
GLCS is a very professional and well-equipped company to hire for your business cleaning needs. We hired Golden Lion on a contract basis for a quarter and extended their services to yearly basis after seeing the results. They provided us with floor cleaning, bathroom cleaning and facility maintenance services at affordable price." – Bombay C.
3. Master Maid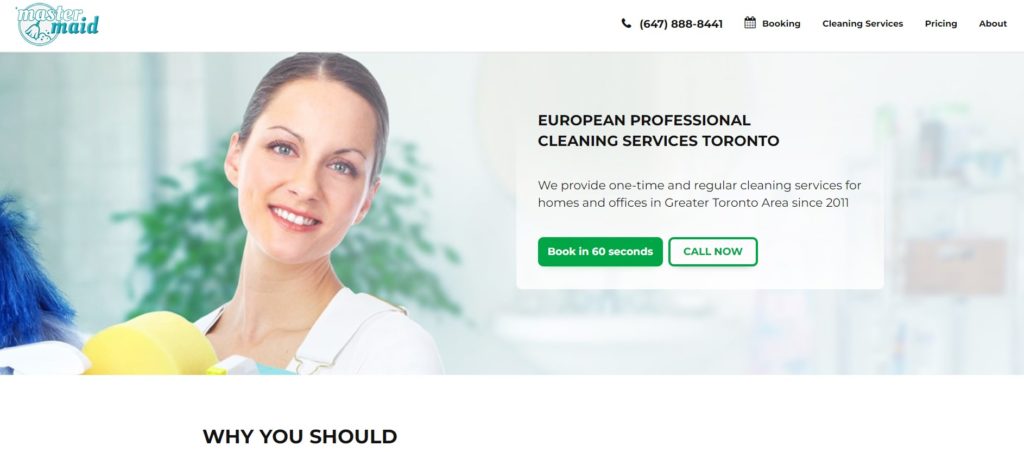 Test
Info
SERVICES

Condo and Home Cleaning Service

Move-In-Move-Out Cleaning

AirBnB Cleaning Service

Post-Construction Cleaning Service

WEBSITE
https://mastermaid.ca
ADDRESS
275 Shuter St unit 707, Toronto, ON M5A 1W4, Canada
CONTACT DETAILS
+1 647-888-8441
OPERATING HOURS
8:30 a.m. to 5 p.m., Monday to Saturday
| | |
| --- | --- |
| Criteria | Rating |
| Skilled cleaners | ★★★★★ (5/5) |
| Scope of Services | ★★★★☆ (4/5) |
| Standard cleaning services | ★★★★★ (5/5) |
| Add-on services | ★★★☆☆ (3/5) |
| Booking process | ★★★★★ (5/5) |
| Cleaning supplies used | ★★★★★ (5/5) |
| Customer service | ★★★★☆ (4/5) |
Master Maid has been cleaning homes and establishments since 2011. They offer various services, from cleaning your kitchen appliances to deep-cleaning and stage-cleaning your establishment.
The company's cleaners are highly-skilled and recognized. You can tell that from the fact that the company has been a six-year Consumer Choice Award winner.
The company offers regular and one-time cleaning services depending on your needs. You can also readily contact them for additional cleaning services.
Their services are also insured and bonded. This means fewer worries for you and the company if there were any casualties or damages during the cleaning.
However, we would have liked add-on cleaning service packages. This would have made it easier for clients to add on top of the standard cleaning service.
One sample of an add-on cleaning service package is a COVID disinfection package. Again, it's a shame they don't have this.
Anyway, we liked the simplicity of their booking process. They claim it takes as little as a minute to complete the form they provide.
The form includes all the details you need to choose from, such as the frequency, establishment type, or the number of cleaners you'll be hiring. The total cost (tax included) of the cleaning service you're availing of can be seen at the end even before you click submit, which we love.
This is particularly helpful if you're canvassing for an office cleaning service. Once you've decided, you can pay on the form itself as well.
They also consider health a priority, which gets them more plus points in our books. The company uses environment-friendly cleaning products by request to protect the health of everyone in the establishment, including pets (if you're a pet-friendly office).
The majority of the company's clients loved their services. According to them, the cleaners were professional, thorough, and reliable.
Some noted, however, that they did tend to be late. This is something to work on, especially when clients have a tight schedule they strictly follow.
Quick booking and confirmation process
Cleaning services are insured and bonded
They use environment-friendly cleaning products
Professional, thorough, and reliable cleaners
More cleaning packages would have been nice
Cleaners have a tendency to be late
Customer Reviews
Friendly, professional, and considerate staff
"The customer service before the scheduled day (over the phone) and on the day through the friendly staff was both professional and considerate. My first impression was how passionate all staff members were/are with their service. The quality of service was exemplary. I will be a return client who will be enjoy guaranteed satisfaction before and after the next appt. BRAVO!🌟" – Gabriel O.
Love the services
"We love the service provided by Master Maid! We've been using them for a while and they are super consistent and quick to respond. Our experience with them has been awesome and we're super thankful for what they do for us. We have confidence in their cleaning services and it makes everyone at our office more comfortable as we've returned to the office. Because of this, cleanliness is super important for the health and well-being of our employees. Big shoutout to Miguel for being an amazing Customer Service Manager! Thank you Master Maids! :)" – Anna-Maria D.
4. MCA Group Commercial Cleaning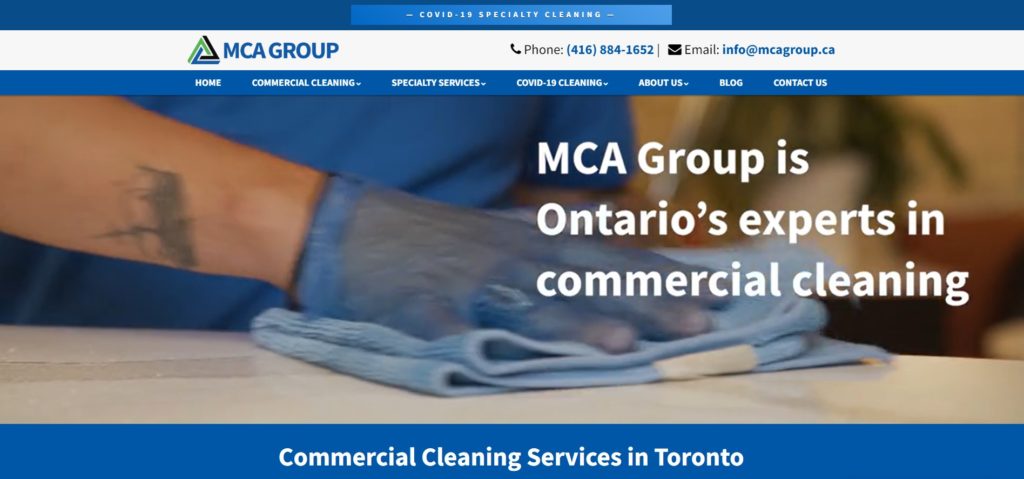 Test
Info
SERVICES

Commercial Cleaning

Specialty Services

COVID-19 Cleaning

WEBSITE
https://mcagroup.ca
ADDRESS
6021 Yonge St. Suite #220 North York, ON, M2M 3W2
CONTACT DETAILS
(416) 884-1652
OPERATING HOURS
9 a.m. to 6 p.m., Monday to Friday
| | |
| --- | --- |
| Criteria | Rating |
| Skilled cleaners | ★★★★★ (5/5) |
| Scope of Services | ★★★★★ (5/5) |
| Standard cleaning services | ★★★★★ (5/5) |
| Add-on services | ★★★★★ (5/5) |
| Booking process | ★★★★☆ (4/5) |
| Cleaning supplies used | ★★★★★ (5/5) |
| Customer service | ★★★★☆ (4/5) |
MCA Group Commercial Cleaning has been cleaning offices, manufacturing plants, schools, and leisure establishments since 1993. The company serves the Greater Toronto Area and continues extending to neighboring cities even now.
Their expertise and experience earned them a spot on the 2020 Top 3 Commercial Cleaning Companies in Toronto. They are also the Top Choice Awards Winner for Janitorial Services in 2021.
The company offers a comprehensive general cleaning service per establishment. What's also interesting is that they offer several specialty services as well.
These specialty services include janitorial services like window and restroom cleaning and restoration services such as flood and fire restorations.
Apart from that, they also offer two types of COVID cleaning packages. The COVID-19 cleaning involves disinfection, and the COVID-19 specialty deep cleaning and disinfection.
We certainly like that they're offering specialized services for COVID cleaning and other commercial sanitation issues. It means you no longer have to look elsewhere for supplementary solutions of this sort if you're already using them as your regular cleaners.
Their services are also insured and bonded to cover the personnel.
Their online booking process can be improved, though. Compared to the others on this list, their online Contact Us does not offer many details that the client can choose from.
That is why, if you plan to book with them, it is best to do it face-to-face. Doing an on-site consultation might be faster as you'll immediately get a quote for the services you need.
The company also uses environment-friendly cleaning products. Their steam disinfecting technology is also environment-friendly and energy-efficient.
We should note that clients loved the service they received from the company. People we talked to particularly praised the company's prompt response and action and professionalism, especially for emergency cleaning requests.
Their disinfection services were also well-received. Clients liked how thorough the company was, and that they even provided a Disinfection Certificate and video for each client.
Offers specialty and COVID-19 cleaning packages
Insured and bonded
Uses environment-friendly products
Very good face-to-face consultations
Could improve the online contact form 
Slightly awkward online booking system
Customer Reviews
Fair quote, incredible job
"I sent an inquiry for a big commercial industrial cleaning, and was contacted very soon after. I was given a fair quote, and the team came the following weekend and did an incredible job. They were communicative through the entire cleaning and made sure we were happy with the result. Wonderful experience" – Maddie Z.
Above and beyond a traditional cleaning company
"MCA Group has been cleaning for The Westlake Hotel for a year now and I must say, they have gone above and beyond a traditional cleaning company. As the manager, I have never had an issue with cleanliness or time taken to clean rooms; a pure joy! Any issues that have arisen were dealt with immediately and followed up with to ensure our satisfaction as a client. I will ALWAYS recommend MCA Group for their customer service, work ethic, and an overall phenomenal experience!" – Andy K.
5. Arelli Commercial Cleaning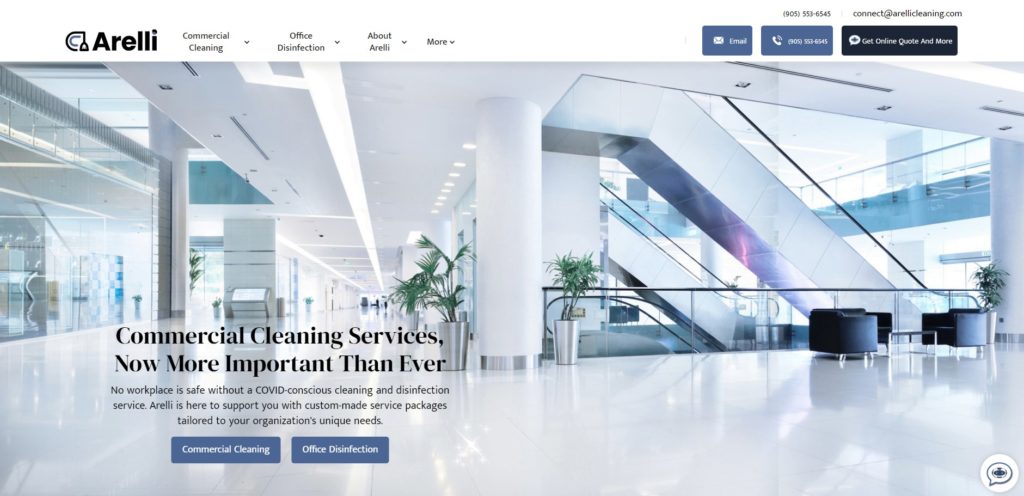 Test
Info
SERVICES

Commercial Cleaning Services

Specialty Services

COVID-Conscious Cleaning

Disinfection Services

WEBSITE
https://www.arellicleaning.com
ADDRESS
8707 Dufferin St, Thornhill, ON L4J 0A6, Canada
CONTACT DETAILS
(905) 553-6545
OPERATING HOURS
Open 24 hours
| | |
| --- | --- |
| Criteria | Rating |
| Skilled cleaners | ★★★★★ (5/5) |
| Scope of Services | ★★★★★ (5/5) |
| Standard cleaning services | ★★★★★ (5/5) |
| Add-on services | ★★★★★ (5/5) |
| Booking process | ★★★★☆ (4/5) |
| Cleaning supplies used | ★★★★★ (5/5) |
| Customer service | ★★★★★ (5/5) |
Since 2006, Arelli Commercial Cleaning has been providing commercial cleaning and disinfection services to the Greater Toronto Area and its nearby cities.
The company provides two services.
Their commercial cleaning services offer general cleaning, specialty cleaning, and COVID-conscious cleaning. These ensure that your establishments are free from dust and viruses, from the rooms to the carpets and door handles.
Meanwhile, their disinfection services ensure that your building is free from contaminants and harmful pathogens. The company provides various disinfection services, from an emergency fogging procedure to deep clean disinfection.
The company also ensures to implement Canada's best practices for cleaning and disinfection. They partnered with ECOLAB for industry-leading chemicals and implemented the approved application processes.
Availing of any of these services is good. But these days, having both services done is better.
And we like that the company offers both. You can create a custom cleaning package depending on your needs this way.
The company also offers an 8-step QA process and 24/7 customer support for their clients. These are nice things to offer to ensure good service and support to the clients should any issues arise.
Fortunately, the company offers a free, no-obligation sample cleaning as well. This is helpful for those who want to experience their services first before committing to a longer-term partnership with the company.
We also think the company's booking form on the website is decent. It's the typical Contact Us form, so nothing groundbreaking, but nothing complicated either.
The company also has an app on the Apple App Store. The app makes it easier for clients to book and ask for support for their services.
You can also rebook the services you have had before through the app. Ultimately, the app is a good addition and makes it easy to book through your phone.
Unfortunately, there is no counterpart on Google Play. That's quite an oversight, honestly!
In any case, the company has adopted green cleaning solutions, equipment, and methods. We like that, as well as the fact that their cleaners are trained to use their tools before being sent out.
Clients also told us that they loved the company's thorough, dependable, and reliable service. They also liked that the same cleaners were assigned to them when they booked repeatedly – a good way for the company to build trust and confidence, we think.
Free no-obligation sample cleaning
24/7 customer support
App available on the Apple App Store
Offers comprehensive cleaning and disinfection service
Custom app not available on Android
Customer Reviews
Regular quality control checks
"Arelli's customer service is methodical, field staff are friendly and quality control checks are done regularly. They have managed to keep service levels consistent for the past three years. We are also engaged with their mobile app that makes communication easy and effective.
Strongly recommend for any organization that is looking for a cleaning company that cares about its customers and takes feedback seriously!" – Ali S.
Amazing as always
"We have used Arelli Cleaning for our office for a few years. I'll be honest, we did switch cleaners for about 1 month…that was a disaster. We quickly went back to Arelli! They are amazing and ensure that your office is cleaned as thoroughly as if they were cleaning their own home. They always respond promptly to any inquiry you have. The office staff, the sales people and the cleaners all do amazing jobs!!" – Kim d.K.
6. The New Canadian Cleaning Company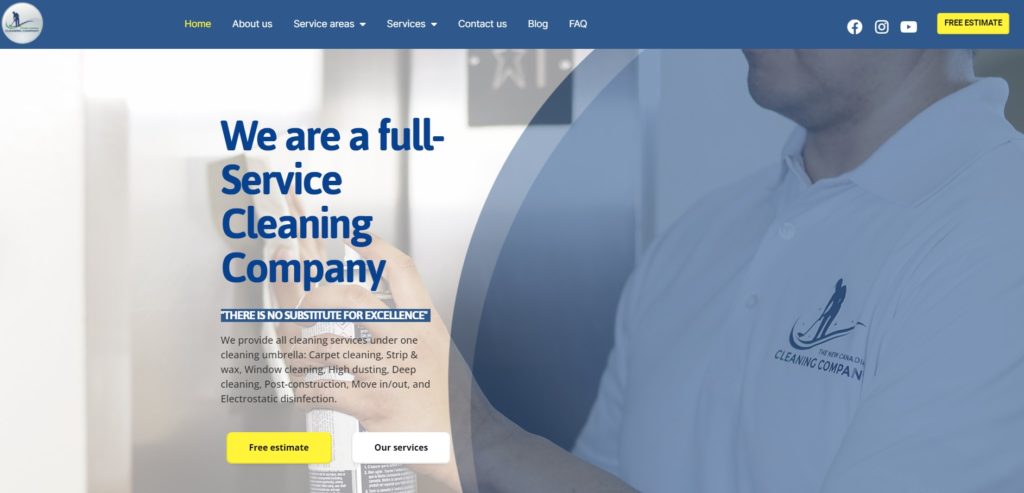 Test
Info
SERVICES

Disinfection and Sanitization

Commercial Cleaning

Commercial Office Cleaning

Deep Cleaning

Laundry Services

Carpet Cleaning

WEBSITE
https://www.mycleanersonline.com/
ADDRESS
8 Ridgecross Rd, Toronto, Ontario M9A 3Z4, CA
CONTACT DETAILS
6473307771
OPERATING HOURS
24/7
| | |
| --- | --- |
| Criteria | Rating |
| Skilled cleaners | ★★★★★ (5/5) |
| Scope of Services | ★★★★☆ (4/5) |
| Standard cleaning services | ★★★★★ (5/5) |
| Add-on services | ★★★☆☆ (3/5) |
| Booking process | ★★★☆☆ (3/5) |
| Cleaning supplies used | ★★★★★ (5/5) |
| Customer service | ★★★★★ (5/5) |
Since 2002, The New Canadian Cleaning Company has been cleaning and sanitizing commercial and events spaces in Vancouver, British Columbia, and cities in the Greater Toronto Area.
Their operations of more than 20 years give you an idea of their cleaners' expertise and the trust and confidence they have built with clients over the years. Their cleaners and staff undergo constant training to ensure that they conduct quality cleaning services.
The company's standard office cleaning services include more than the usual cleaning packages too. Apart from dusting, wiping, and emptying trash bins, the office cleaning package also offers steam cleaning and carpet cleaning.
We see this as a good move. It reduces the time and effort needed to book these services that other cleaning companies offer as an added service.
We do wish that their disinfection and sanitization service offered more than just a sprayer service. While helpful, it does not guarantee that all areas are evenly sprayed.
It might also leave marks on furniture and house items. Deep cleaning or using other disinfection methods would have been a nice addition.
Currently, the company only schedules appointments online. While it's a good thing for their employee's health, it can limit the company's potential clients, particularly those who want an immediate response to their inquiries.
To compensate, they offer 24/7 customer support. Just message them on their website or on their social media pages.
We also like that they use environment-friendly cleaning solutions. They also practiced proper segregation of their collected waste into organic, recyclable, and non-biodegradable items in every cleaning service conducted.
Clients shared with us that the staff's responsiveness and efficiency won them over. They noted how the cleaners were able to finish their tasks while being attentive that no dust is left unswept or vacuumed.
Their standard office cleaning services offer more than the usual packages
Uses environment-friendly cleaning solutions
Disinfection and sanitization service could have added more methods aside from their sprayer service
Currently offers online appointments only
Customer Reviews
Paid attention to every detail
"The service that they provide me was really good, they paid attention to every detail in their work." – Achach B.
Delighted with the service
"I am delighted with the service, super immediately for any emergency I will definitely request them again!!!" – Lorena J.
FAQs
---
That concludes our top office cleaning companies in Toronto. If you're considering any of the companies from the list, here's a guide to hiring cleaning services.