A Homeowner's Guide to Home Maintenance
Your humble abode is your personal oasis. With the level of comfort and safety it brings, it's only right to keep it in excellent condition for more years to come.
In this guide to home maintenance, we'll take a look at both seasonal and routine home maintenance. We'll also have a section that covers common repairs that you might need at home.
Seasonal Home Maintenance
We'll start by covering the most common maintenance tasks you must do every season. We'll walk you through the most relevant chores to start with to ensure that you're safe and well-prepared for every season.
Maintenance Chores in the Spring
Spring is usually the busiest season when it comes to home maintenance. You'll generally have to start in the third week of March and conduct maintenance for the next 14 weeks.
To prepare for the warmer weather after winter, here are some things you must do to keep your home in its best shape:
Conduct a tree inspection – Arborists can help you determine if your trees are still healthy by spotting any signs of rot. These damages can cause serious injuries as well as catch fire fast if not addressed immediately.
Wash the interior and exterior of your windows – The aftermath of the cold months can cause your windows to build dirt and moisture inside and out. It's best to hire a window cleaner for this matter to get into the tiniest areas of your windows.
See if your roof has any damages – As soon as you see any sign of damage, contact a roofing contractor immediately to deal with the issue. Depending on the scale of the damage, you may have to replace your roofing system entirely (although it's highly unlikely unless you experience extreme weather conditions).
Maintenance Chores in the Summer
Summer is typically the best time to do heavy-duty cleaning outside because of the warmer temperature. Starting in June, maintenance cleaning in the summer can last for about 12 weeks until late September.
Over the course of summer, here are some things you can focus on:
Repairing or upgrading the exterior of your home – Whether you want to get a new coat of paint or a new set of doors, summer is the best time to remodel. It's advisable to connect with a general contractor during this season as it's easier and faster to get work done.
Trim your trees and shrubs – If you have shrubs and trees in your home, it's necessary to prune them too, both for safety and aesthetics. It keeps the outside of your home looking neat while also preventing any serious damages with overgrown branches.
Inspect for water leaks in the kitchen and bathroom – Take a look at all the water pipes connected throughout your entire home. Call a plumber immediately to handle any issues that you may find.
Maintenance Chores in the Fall
Fall maintenance is pretty much about preparing your home for the coming winter. Once you're nearing the end of September, it's recommended to dedicate about 14 weeks to winter preparation and continuing any outdoor maintenance that you started.
Here are a couple of chores to keep in mind during this season:
Get any boiler or furnace serviced early – Have your boiler inspected and/or repaired once you notice any signs of damage. You don't want to spend winter without a source of heat so this is the best season to do this.
Have your outdoor pipes insulated – During winter, there's a risk of water freezing in the faucet, and when this happens, it may rupture the spigot. Insulating outdoor pipes prevents heat from escaping, preventing freezing from happening.
Check the weatherstripping/caulking on your windows and doors – Have a window and door professional take a look at the caulking of your home. Caulk is a wonderful sealant, so it's necessary to have it intact before winter comes.
Maintenance Chores in the Winter
Well, your maintenance chores during the winter aren't really that long and you'd probably love to stay indoors instead of dealing with maintenance.
Winter maintenance can go for about 14 weeks, starting from December to mid-March. Concentrate on the following instead to keep your home safe:
Remove ice and snow on your property – Focus on removing snow and ice in your driveway and sidewalks. Most service providers have emergency hotlines so it's great to have one on speed dial when the time comes.
Search for any signs of leaks in your basement – Water damage can be a serious issue once the ice thaws. If possible, check your basement every now and then to check for this, or better yet, waterproof your basement for future use.
Unclog your drains – Pipes collect debris that builds up over time so when winter comes, the cold may solidify this debris, leaving you with stopped-up showers in sinks. In short, call drain cleaning services to prevent this.
Routine Home Maintenance and Repairs
Now that we've covered seasonal home maintenance tasks, let's proceed with your guide to routine home maintenance and repairs.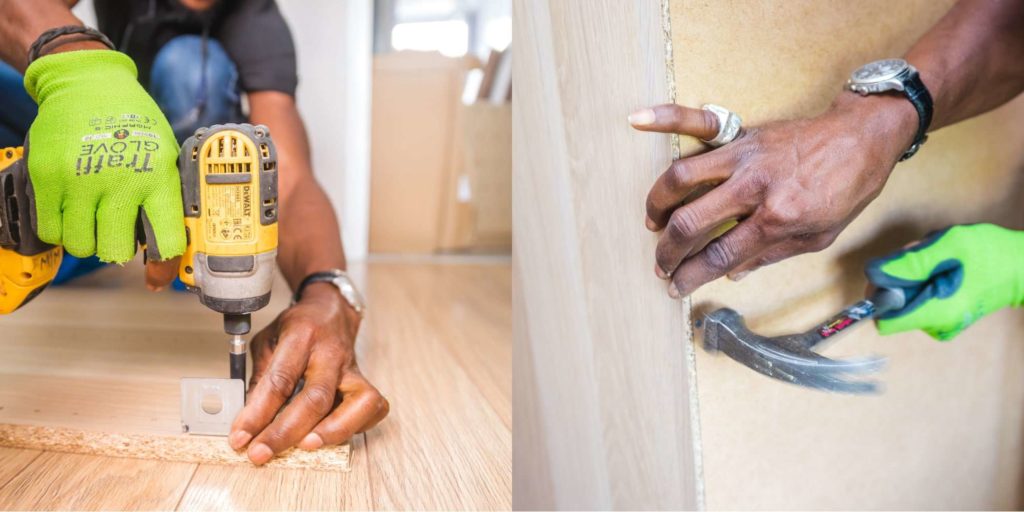 The difference between this and the season maintenance is that you can do routine maintenance at any schedule you please. Some of these, you can even do every month or every week depending on your preferences.
Monthly or Weekly Routine Home Maintenance
Let's start with the general maintenance matters you can do for your home first. This covers general cleaning, regular home inspections, security, and minor touch-ups.
Deep clean your home inside and out – Face it, no home is completely safe from dust build-up over time. Plus, with the threat of COVID these days, cleaning services are more essential than ever.
Clean your maintenance equipment – If you have cleaning tools and devices at home, it's always wise to keep them in tip-top shape too. For example, you can have your lawnmower serviced regularly so you don't have to deal with unexpected trouble.
Check if all the security tools you have at home works – Do this for all the locks in your home as well as any security systems you may have. Take a look if your fire alarms or carbon monoxide detectors are still intact (if you have any).
Look for any signs of exterior damage – But focus mostly on any foundational issues that may lead to serious consequences. Take a walk around your house and check for cracks, missing shingles, and anything that's visibly deteriorated over time.
Inspect your HVAC cleaning – Hire a professional to take a look at your heat and air conditioning system. The same professionals can also do general maintenance and repairs for you in case you get problems with the ducts or filters.
See if your outlets are still working – The accident rate with dead outlets may be low but it's potentially dangerous due to it being a fire risk. Contact an electrician immediately once you spot any dead outlets at home.
FIx up any chipped or faded paint – The exterior of your home says a lot about you more than you think. Plus, it also increases the resale value of your home so hiring professional painters is a wise choice.
Appliance Repairs to Keep in Mind
Appliances breaking down isn't really something you can expect regularly, but it's definitely a nuisance when it happens.
You may encounter these inconveniences at home, so keep an eye out on these commonly-repaired appliances to stay prepared:
Refrigerators – Fridge repairs can cover anything from compressor problems to gas leaks and rattling sounds. A broken fridge can lead to spoiled food so have your fridge repaired ASAP once you see it.
Washing Machines – Whether you want to replace a defective motor or have someone deal with water leaks, only washing machine experts can help you out.
Televisions – Once you get a cracked screen or get a circuit board broken, reach out to a TV repair service. Never fix things on your own as it's more dangerous than convenient.
Dishwashers – Call dishwasher repair services if you ever need replacements for the heating element or pump. Or you can simply call for a short diagnosis.
General Upkeep Home Tips
To wrap up this guide, here are some general tips to keep your home spotless all year round:
Divide maintenance tasks into long-term, yearly, monthly, and annual schedules. Thi creates organization and clarity in terms of what tasks need to be prioritized.
Keep a station of maintenance tools and supplies that you can readily access. You don't need to have a whole warehouse of it – a couple of common household items will do.
Always let the professionals do the hard stuff. If anything is beyond your knowledge, call someone licensed to take care of it.
Get your family on board when it comes to cleaning so they know how to respectfully maintain it too. Always keep them in the loop of the maintenance plans so you don't have to go over and over it again.
---
Home maintenance is an essential part of any homeowner's life. Keep this guide in mind so you can make the most out of your time and resources during home maintenance work.